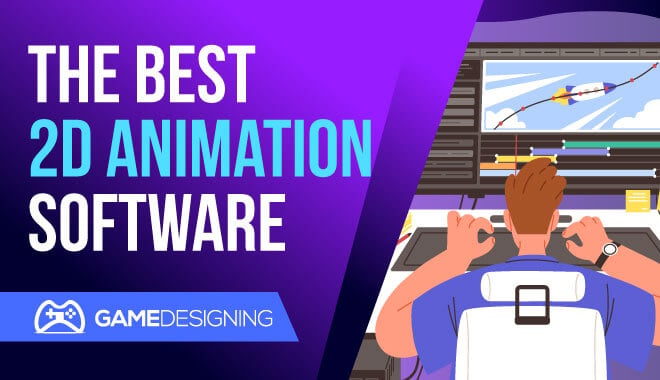 We are reader-supported. Purchases made through links on our site may earn us a commission. Learn More.
Animation has evolved immensely in the last decade. 2D animation is used in games, ads, educational resources, and traditional media. It's one of the most popular ways to enhance any design. Moreover, its ease of use is excellent for beginners and professionals alike.
Dozens of animation software programs are now available to cater to various niches and skill levels. If you're interested in learning about 2D animation and creating your own designs, we've got you covered.
Here are 20 top-rated free and paid animation apps worth checking out:
Our Ranking Criteria
In addition to professional reviews from within the industry, we use objective metrics like sales and user ratings to make our lists (read more). Some of these data sources include:
Free 2D Animation Software
Pencil2D
Pencil 2D – 4.7/5 Stars
This popular software has undergone many changes since its inception a decade ago, but its philosophy remains the same: simple design to serve a great purpose. The minimalist UI eliminates distractions and functions smoothly, even on older devices.
Features
Easy to use
Supports Tagged Image File Format (TIFF)
Free
Pros and Cons
✔ Free software that can be used for commercial purposes
✔ User manual for beginners
✔ Import images as frames
✘ Choppy tweening
✘ Limited features compared to other animation software
Available on
Why It's Great
I like this software because it's easy to use and compatible with almost all operating systems. However, it is unsuitable for motion graphics—the tweening process is somewhat choppy.
Considered one of the best free animation software on the market, Pencil 2D uses a great little design that gets rid of all the complicated mumbo jumbo that might intimidate animation amateurs. Its simple design is simple yet serves a great purpose.
It's a no-frills kind of experience, but one where even the most newbie animator can draw and create videos. Pencil2D also has great cross-platform capabilities.
Why We Like It
We like Pencil2D for several reasons. First, its user-friendly interface makes it accessible to beginners, allowing even new users to grasp the tool within a few hours. Its open-source nature means it's free to use, even for commercial purposes, making it cost-effective. It's also versatile, supporting both raster and vector graphics, and accommodating various animation styles.
Its cross-platform compatibility enables us to work on different operating systems and devices. Lastly, Pencil2D performs smoothly on budget-friendly systems, eliminating the need for high-end hardware, which is appreciated by many users including us.
Synfig
SynFig Studio – 4.6/5 Stars
Since its launch in 2005, it has been a favorite for many artists. It allows front-end and back-end design for maximum creativity.
There are two versions: The Stable version is excellent for beginners. Meanwhile, experienced designers can use the Development version to explore new features and experiment with different styles.
Features
Complete vector designs with images
Front-end and back-end design without coding
Compatible with multiple drawing tools
Easy imports
First up we have Synfig, one of the best animation apps, first released for free in 2005. This 2D animation software is great because beginners can just hit the ground running.
It allows for both front-end and back-end design, meaning that you can design the actual content at the appearance level, not being constrained to just code behind the scenes.
Pros and Cons
✔ Integrated soundtracks
✔ Animation with a simple record button
✔ No need for coding knowledge
✘ Limited tutorials for beginners
✘ High processing power needed
Why It's Great
Its ease of use makes this one of the best 2D animation software available. Moreover, it's great for motion graphics and layering, delivering sleek results. Note that these features require significant processing power.
Opentoonz
OpenToonz – 4.5/5 Stars
OpenToonz is a free animation software that enables artists to combine traditional drawing with 2D animation. Fun fact: Studio Ghibli's Princess Mononoke was made on this free software.
The software has free and paid versions. You can efficiently complete personal and commercial projects with just the free version.
Scan your drawings and play around with the software to complete your animation. OpenToonz is perfect for beginners and professionals.
Features
Four types of scanning: black, white, and colored with or without binarization
Compatible with TWAIN (Technology Without an Interesting Name) standards
Vector and raster images
Create effects with Graphic User Interface (GUI)
Pros and Cons
✔ Free software which can be used for commercial purposes
✔ Manipulate vectors and raster images with ease
✘ Getting a hang of the software may take a while
✘ UI could be a little more user-friendly
Available on
Why It's Great
OpenToonz is an all-around 2D animation software you can use to scan traditional drawings, create vectors or rasters, and animate them. It's a relatively steep learning curve for beginners, but creating professional 2D animation projects is a breeze once you are used to the interface.
Opentoonz has a range of cool in-house effects that can be seamlessly used while making your animations. An easy animation software to use; Opentoonz also allows for extensive editing of the code, too. So, once you get good enough at animation, you can bend the toons to your whim! However, that could be difficult for some users.
TubiTube
TupiTube – 4.⅕ Stars
If you wish to become a cartoon animator and create animation for children, TupiTube is the best option. The interface is easy to use and straightforward. It may not be ideal for animators who want to create intricate designs.
Features
Many customization options
Compatible with TWAIN (Technology Without an Interesting Name) standards
Functional on vector and raster images
Create effects with a Graphic User Interface (GUI)
Pros and Cons
✔ User-friendly interface
✔ Compatible with Windows, Linux, and macOS
✔ Intuitive customization options
✘ Plug-ins could be better
✘ No desktop app for Linux or macOS
Available on
Why It's Great
TubiTube is one of the most accessible 2D animation software available. The UI is straightforward and basic, which is great for beginners. More experienced professionals may want more advanced features.
TupiTube is an easy-to-use animation software focusing on the younger children's market of animation. This is a much more casual program for animation. But sometimes, the more casual the better, I say. It has great ease of access, with users being able to download it easily and get started making some videos.
This free 2D animation software is versatile, as it can be seamlessly used between different platforms.
Its casualness may rub some more serious-minded animators the wrong way, and that's why I'm lowering the score of this 2D animation program. But if you have no idea what you're doing at all, this 2D animation software can't steer you wrong.
PowToon
Powtoon – 4/5 Stars
Easy to use with a well-designed UI, Pawtoon is a beginner-friendly 2D animation software. It's best used to create educational content.
You must pay to access all features. That said, many templates and tools are available in the free version.
Features
Plethora of features
Integrated soundtracks
Plenty of videos and tutorials
Pros and Cons
✔ Great for interactive videos and presentations, not full-fledged animation projects
✔ Text-to-speech functions in 30 languages
✔ Ideal for beginners
✘ Free version could be restrictive
✘ Only available on Windows
Available on
Why It's Great
Powtoon is super easy to use, with various templates, animation tools, and assets. The free version has some good features, and the paid version is rather expensive.
This is entirely a web-based animation software. It's a nifty, free little browser gem. It allows you to move scenery around, props, and move your characters.
It's primarily used by businesses to spice up their boring old meetings. But good on them for moving in the right direction!
2D Animation Online Training

Animaker
Animaker – 4.7/5 Stars
Animaker is an excellent presentation tool for personal and professional use. It has numerous tools, templates, backgrounds, and animated characters. You can use the free version (with watermarks) or purchase a plan for high-quality results.
Features
More than 100 million stock photos and 200 sounds
Choose between handcraft, 2D, whiteboard, 2.5 D, infographics, and typography video styles
Videos can be exported in HD
Pros and Cons
✔ User-friendly interface
✔ Many templates, BGs, and animated characters
✔ Affordable pricing options
✘ Projects are watermarked in the free version
Pricing
Basic – $24/month, $150 (billed yearly)
Starter – $37/month, $300 (billed yearly)
Pro – $79/month, $468 (billed yearly)
Enterprise – custom pricing
Available on
Why It's Great
Animaker is well-loved by professionals who work on educational projects. Its wide range of templates, stock images, and soundtracks is impressive. However, the free version doesn't allow downloading videos without a watermark.
Animaker is much like PowToon in that you set up a storyboard and animate the characters or props in that scene. It's used by companies like Google, Verizon, Pepsi, and multiple animation companies.
It's ideal for ad placement on websites and it's super easy for beginners to use. In general, animation drawing software makes it super-fast and easy to get lost for hours animating.
Adobe Animate
Adobe Animate – 4.6/5 Stars
A part of the Adobe suite, Adobe Animate surpasses Adobe Flash. It supports video and audio embedding, raster graphics, and scripting. The software is easy to use and is perfect for creating animations for HTML5 Canvas, SVG animation, and WebGL.
Features
Various vector images to create natural textures
Export in multiple formats
Edit specific frames, highlight text, and audio sync
Pros and Cons
✔ Allows vector designs
✔ Easy to import and export
✔ Interactive e-learning material
✘ Complex UI for beginners
✘ Needs a higher graphic card for better function
✘ Expensive
Pricing
Price starts at $20.99 per month. You can use the free trial for seven days.
Available on
Why It's Great
Getting used to the ins and outs of Adobe Animate may take a while. In any case, it's an improvement from its predecessor, Adobe Flash. The price is quite steep, but it's worth investing in for your professional and personal projects.
Krita
Krita – 4.5/5 Stars
Krita has over 100 brush types that you can use for your animations. With the nine unique brush engines, you can further customize them to achieve your desired results. You can render animations, edit text, and create multiple design layers. It's best for professional use, as the software is quite advanced.
Features
Create comic panels and other designs with built-in vector tools
Import brushes and textures from other artists
Combine or flatten layers for organized fields
Pros and Cons
✔ Highly customizable
✔ Web applications available on all operating systems
✔ Affordable pricing
✘ May be confusing for beginners
✘ Learning the keyboard shortcuts may take a while
Pricing
Krita is free
Available on
macOS
Windows
Linux
Android
Why It's Great
This highly customizable, open-source animation software can be challenging to use, especially with its many keyboard shortcuts.
This one was a little gem I dug up, and I'm glad I did. Krita is a really good and free animation software for beginners created by a team of passionate artists who want everyone to be able to have access to advanced art tools.
You can create beautiful paintings, drawings, and animation scenes using Krita. It was voted the best animation application of 2019 by TechRadar.
Pencil Project

Pencil Project – 4.2/5 Stars
A GUI-prototyping software, Pencil Project is perfect if you want to add extra layers to your creations. You can also use cartoon effects and sounds to further enhance the final results.
Take advantage of desktop/web UI shapes, general-purpose shapes, and Android and iOS GUI shapes. You can export projects in multiple formats.
Features
Compatible with various import and export formats
Numerous templates and elements
Easy integration of sounds and animations
Pros and Cons
✔ Beginner-friendly
✔ Intuitive with mockup/wireframe tools
✔ Free for commercial and personal use
✘ Limitations on some additions
✘ Can be complex, with large mock-ups
Pricing
Pencil Project is free.
Available on
Why It's Great
The software has many limitations, but its beginner-friendly design and intuitive tools will help you create professional-looking results.
Plastic Animation Paper
Animation Paper – 4/5 Stars
This software is suitable for gamers, developers, students, and professionals. Users love the streamlined software because of its defined lines and real-time results.
Features
Suitable for small and large frames
Customizable toolbar and Speed Dial
Import and export in multiple formats
Pros and Cons
✔ Beginner-friendly
✔ Suitable for personal and commercial use
✘ Takes longer to load than most software
Pricing
Animation Paper is free.
Available on
Why It's Great
Animation paper is a great tool to express your creative genius. If the loading time improves, the software will be even more enticing for artists.
Plastic Animation Paper is another piece of 2D animation software that deals heavily with the concept of pencil drawing.
The program is designed for quick and easy use and includes clear resolution. You can do whatever you want with your drawings and using this program could elevate them to the next level.
Pencil
Pencil allows your drawings to come to life. It adds a little zest to your creations by allowing you to insert different image layers into your drawing, as well as integrating sound and different cartoon features.
It reminds me a lot of other animation tools like GIMP and Photoshop, except with the emphasis on the actual drawing. Pencil is one of the best free animation software on the market, and is a no-brainer for anyone who loves pencil drawing, or who just wants to casually tool around on it.
Adobe Flash
Ah, a classic – and one of the best animation software of our generation! Back in the day, Adobe Flash ruled the animation world for beginners. Users worked day and night on their cartoon series, their fun games, and other media ideas using this program. It has a long history, and it has earned its reputation.
Adobe pulled support for Flash by the end of 2020. I recommend one of the newer, more unique apps and software built to teach animation for beginners to start or continue your animation journey.
Now it's time for the more polished, paid 2D animation software. I'll use the same scoring criteria above: Light Recommend, Moderate Recommend, and Hard Recommend.
Paid 2D Animation Software
Moho
Moho Pro – 4.7/5 Stars
This is easily one of the best 2D animation software options for freehand artists who want to create vector-based 2D animations. It is also known for its bit-mapping features.
That said, the software is definitely not beginner-friendly. It can take a while to get used to the interface.
Features
Smart-bone technology to minimize distortions
Inbuilt bitmap for freehand drawing
Pros and Cons
✔ Ideal for freehand artists
✔ Plenty of resources available online
✔ Affordable
✘ Not beginner-friendly
Pricing
Moho Pro starts at $59.99.
Available on
Why It's Great
Moho Pro is an excellent software for artists. However, students or hobby creators may find the software intimidating. The price is affordable compared to its competitors, making this a perfect choice for professionals.
I've heard a lot about Moho and it's no wonder why. It's a comprehensive 2D animation program where your animations are basically on the level of some of your favorite creations. Yeah, I'm talking professional-looking animation here. It's geared toward animators looking to hone their craft.
Community Video
The price for this 2D animation software can be a little steep for first-time animators, so take care. But I think there's a lot of gold here. If you're up to the task, (and the price), you could create some unforgettable stuff here. Not to mention they're constantly adding updates.
Toon Boom Harmony
Toon Boom Harmony – 4.5/5 Stars
Toon Boom Harmony is the go-to software for professionals who create animations for the web, TV, and films. TV shows like The Simpsons and Rick & Morty have been made on this software.
Although Toon Boom Harmony is not easy to use, the results are spectacular once you get the hang of it.
Features
Bitmap and vector drawing and painting tools
Scan and clean up traditional sketches and turn them into 2D designs
Advanced tools to animate any object
Pros and Cons
✔ Plenty of animation and drawing tools
✔ Ideal for professional projects
✘ Not beginner-friendly
✘ Cannot record or edit audio
Pricing
Essentials – $27/month, $219.50 (annual billing)
Advanced – $67.50/month, $525 (annual billing)
Premium – $123.50/month, $1001.50 (annual billing)
Available on
Why It's Great
Toon Boom Harmony is an award-winning software for professional projects. It's not an easy software to learn; it takes a lot of practice.
Aside from having a catchy name, Toon Boom Harmony is especially geared towards beginners. Touting itself as 'The most powerful software ever created for animation production', it mixes user-friendly UI with advanced animation potential. The extensive features of this relatively cheap animation software are insane.
Training Course Preview
Detailed painting and drawing, 2D/3D integration, and even pipeline integration are all in this one package. However, the learning curve on Toon Boom Harmony might be problematic for some.
DigiCel FlipBook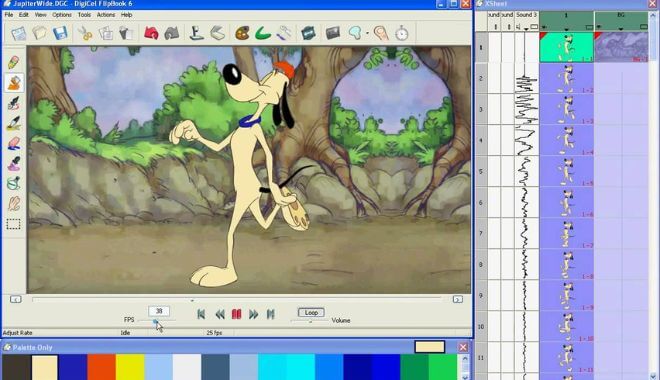 DigiCel FlipBook – 4.6/5 Stars
Want to create old-school Disney-style cartoons? DigiCel FlipBook is the software for you. It's a beginner-friendly option for simple animation videos. Scan your drawings and watch your creations come to life.
Features
Convert PDFs into flipbooks
Delete or insert frames
Import overlays and backgrounds
Pros and Cons
✔ User-friendly
✔ Importing PDFs is easy
✔ Cheaper than most software
✘ Data overload could make the program slower
Pricing
DigiCel has three price tiers:
Lite ($19.99)
Studio ($49.99)
Pro HD ($99.99)
Available on
Why It's Great
DigiCel Flipbook is one of the easiest and cheapest options for animation projects reminiscent of old cartoon styles. The price point is also reasonable, great for professionals and hobby artists.
FlipBook is one of the best animation applications in the market today that beginners can easily pick up. It teaches you the fundamentals of simple animation through the process of your creation. Watching the video about it was somewhat soothing with the simplicity and familiarity it exuded.
Just pick up your stylus and you'll be moving on from MS Paint to the big times. Senior Disney Animator Andreas Deja had this to say about FlipBook:
"As a lover of pencil animation, I am thrilled using FlipBook, because it is so user-friendly. It completely serves my needs to experiment with some short film ideas. I highly recommend it."
Need I say more?
RETAS!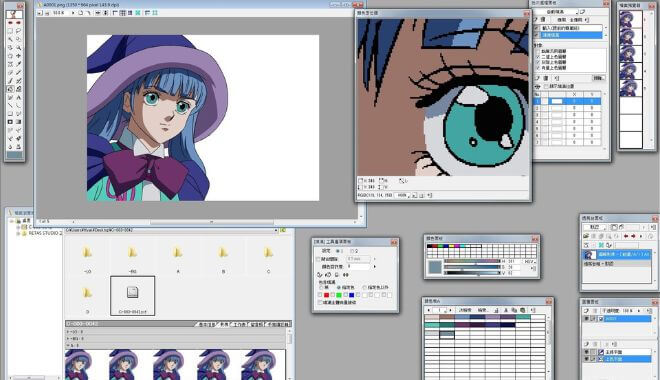 RETAS Studio – 4.5/5 Stars
This B2B animation software bundle is multi-functional: you can draw, trace, or export in Flash and QuickTime. You can scan hand-drawn creations and turn them into digital masterpieces using any refining tool.
Features
Scans hand-drawn work and removes distortions
Four different software options to draw, trace, scan, and edit
Strictly for B2B services
Pros and Cons
✔ Multi-disciplinary software
✔ Ideal for professional projects
✔ Imports and exports files in many formats
✘ Not beginner-friendly
✘ Limited accessibility for user manuals
Available on
Pricing
Not listed.
Why It's Great
Retas Studio is ideal for companies that specialize in animation creation. Because only professionals can use it, the features are quite advanced. Although software support is minimal, professionals can easily take advantage of the various tools.
Now here's a unique one for us Westerners. Retas is a special category of 2D animation apps that have to do with the creation and animation of anime. It's highly regarded in Japan as the gold standard in animation programs.
The sheer number of possibilities in this animation software is too numerous to list, but the endorsements it garnered are a testament to its greatness.
It seems to me that nearly all paid software is pretty dependable and robust. I noticed a lot of 'Hard Recommends' from me. Of course, some prices are steeper than others, but it depends on what you're trying to accomplish.
For my money, I would most likely go with Toon Boom Harmony or Stop Motion Studio if I were taking up the mantle of an amateur animator.
Regardless, we are all so fortunate to have such a great little menu of animation programs to choose from in this day and age. No matter your preferences as a beginner animator, you can find a 2D animation program for you.
Stop Motion Studios
Stop Motion Studios – 4.2/5 Stars
Add life to drawings and objects through themes and sound effects. Use the guides to position objects for a neat, finished look. The features are easy to use, and the price is quite reasonable.
Features
Capture frames automatically
Features effects for detailed animated content
Green screen camera to change backgrounds
Pros and Cons
✔ Easy to use
✔ Cheaper than most software
✘ No pre-made designs or templates
✘ Cannot record or edit audio
Pricing
Stop Motion Studio is a paid app downloadable on multiple devices; prices start at $4.99.
Available on
Windows
macOS
Android/Amazon Fire/Chromebook
Why It's Great
Stop Motion is an excellent app for professionals and beginners. Considering the price and the fun art projects you can make, it is undoubtedly a steal. However, it cannot record or edit audio.
Right off the bat, I'm drawn into Stop Motion Studio's opening pitch, 'Want to create movies like Wallace and Gromit or those groovy Lego shorts on YouTube? Stop Motion Studio helps you to create terrific stop-action movies with a whole host of unique features.'
Now I'm a huge fan of both of those beloved franchises, so I'm in. I guess those super cool and easy-to-use features are great too. This is great for everyone, as it's an easily downloadable animation app for PC, and you can use it across your Apple devices. For the price and potential, how could I NOT recommend it?
CelAction2D
CelAction2D – 4.2/5 Stars
CelAction2D is particularly liked because of its high-volume production. Thanks to its numerous tools, users can rig, animate, and create high-quality projects in no time. There are plenty of texture options that help make creations look even more realistic.
Features
Bone rig editor to create and edit designs with ease
Texture tools, such as traditional hand drawings
Multiple users can work on projects and merge them
Pros and Cons
✔ Multi-user interface
✔ Streamlined UI
✔ Quick results
✘ Needs a big graphic card
✘ Audio functions could be better
✘ Only available on Windows
Pricing
Studio Edition – $70/month
Studio Educational Edition – $140/year
Available on
Why It's Great
CelAction2D is great for multi-user projects. While some features could be better, the user-friendly interface can lead to top-notch results.
CelAction2D allows you to create truly unique animation projects. Its ease of use is a dream and the controls are pretty easy to pick up, even for newer animators. Not only that, but it's heavily used in making TV and movie spots, so you know its quality.
You'll look—and probably wince—at the price, but there are so many features in what is considered good animation software for beginners that I've got to say, it could very well be worth your time and energy.
Toonz Premium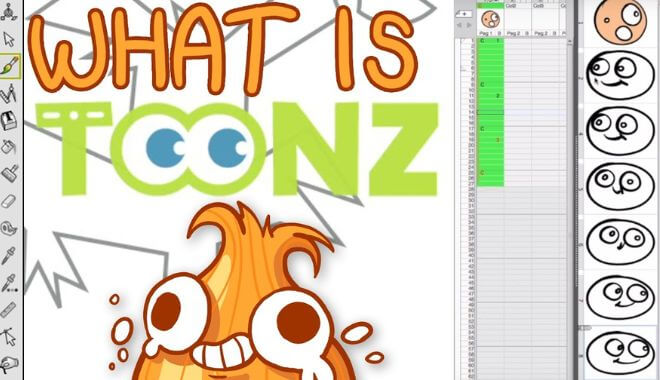 Toonz Premium – 4/5 Stars
Toonz Premium is a raster and vector-based 2D animation software. It bridges the gap between traditional and digital art.
Many of Ghibli's creations were made using this software.
Features
Scan sketches and remove distortions
Plenty of drawing tools
Tools to create animations based on mesh deformation
Pros and Cons
✔ Advanced compositing and rendering features
✔ Ideal for professional projects
✘ Limited art tools
✘ Not beginner-friendly
Pricing
Undisclosed. Interested users can request a quote. A 14-day free trial is also available.
Available on
Why It's Great
Toonz Premium software is primarily used by professionals for its advanced features. The software price is not listed.
I like this program and consider it one of the best animation software for beginners. As a sucker for pencil drawings, it harkens back to the older days when I was an avid sketch artist. They're determined to bridge the gap between paper animation and current as well as future animation.
Their autocorrecting software is great, always updating to make sure your drawing is up to date. Ever heard of a little show called Futurama? Toonz Premium was used for it. It's currently in build 7.4.
Spriter Pro
Spriter Pro – 4/5 Stars
Even novice artists aspiring to create game designs will find this software easy to use. Its advanced tweening and instant iteration make it one of the best options for beginners and professionals.
Features
Animate PNG images or Sprite Sheets
Advanced easing curve option
Advanced automated control features for animations within animations
Unlimited character variations
Pros and Cons
✔ Great for professionals and beginners
✔ Imports and exports files in many formats
✔ Lip-sync options via Papagayo
✘ Not widely reviewed
✘ Doesn't support all systems
Pricing
Spriter Pro is priced reasonably at $59.99.
Available on
Why It's Great
Sprinter Pro is a fantastic tool for professionals and beginners. Although learning it may take a while, its UI is quite simple. That said, the software is not talked about much, and it cannot be used on macOS.
Crazy Talk Animator 3

Crazy Talk Animator 3 – 4/5 Stars
Crazy Talk Animator 3 (CTA3) is one of the easiest tools to create professional animations. Users can make 2D animations with character templates, vast motion libraries, a powerful 2D bone rig editor, facial puppets, and audio lip-syncing tools.
Features
Various motion templates
Bone rig editor for easy designs
Live Facial Mocap to create instant facial expressions
Pros and Cons
✔ Multi-user friendly
✔ Multiple character templates for animals, humans, and objects
✔ Imports and exports files in multiple video and image formats
✘ Relatively expensive
✘ Not beginner friendly
✘ No drawing tools
Pricing
Pro – $179
Pipeline – $299
Available on
Why It's Great
CTA3 is great for big projects for teams. Its elaborate templates make up for the lack of drawing tools.
Crazy Talk is a fun free 2D animation software that requires little to no effort to make some cool animations. The company even states it's all about 'low effort' when it comes to its 2D animation software and its relationship with users. Want to dive right in and animate? Crazy Talk Animator 3 might be just what you need.
Currently, the 4th version of Crazy Talk Animator is in development, so keep an eye out!
DP Animation Maker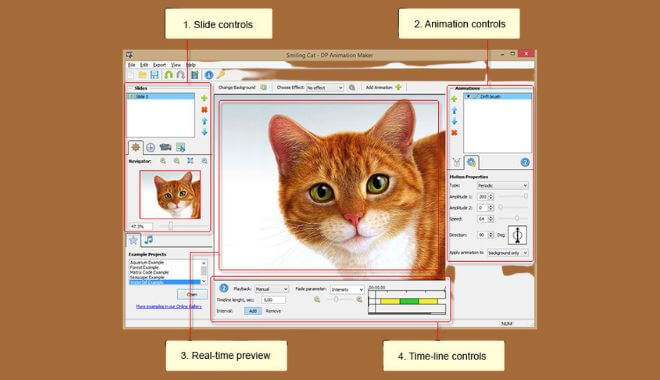 Now, compared to the others on this list, this 2D animation software is a little simpler in its aims. You can take any 2D image and animate it, bringing it to life. It has an easy user face and no complicated jargon or code to wrestle with.
It reminds me of a lot of photo editing programs, as it has a multitude of brushes and different effects that you can add to your image.
Spriter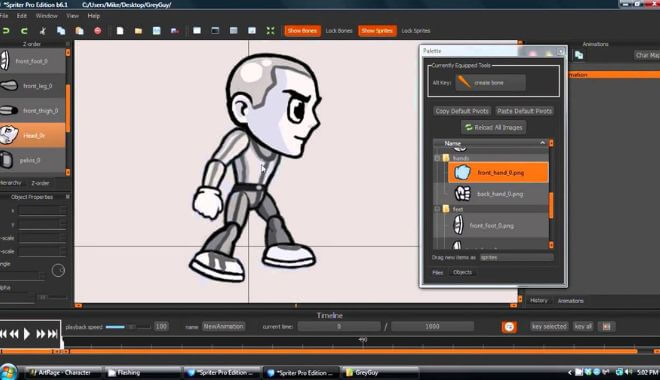 Spriter is great for animating games. I imagine if in the early-mid 2000s, the guys over at Newgrounds, known for animating, didn't' use Flash, they'd use Spriter. They utilize modular animation to make your gaming dreams a reality.
Modular animation is an animation built out of individual sprites. This allows for an easier time when animating and saves you time.
Conclusion
When looking for 2D animation software, consider factors like operating system, user level, customer ratings, and price. Take your pick based on your needs and the type of project you're working on.
Let's Compare Notes
We want to hear from you. To ask a question about this article or to provide additional information, shoot us a message at:
[email protected]
Resources:
https://www.trustradius.com/products/adobe-animate/pricing
www.powtoon.com
www.celaction.com
https://moho.lostmarble.com
https://jonathanhurlock.com/
https://crozdesk.com/
www.reallusion.com
www.retasstudio.net