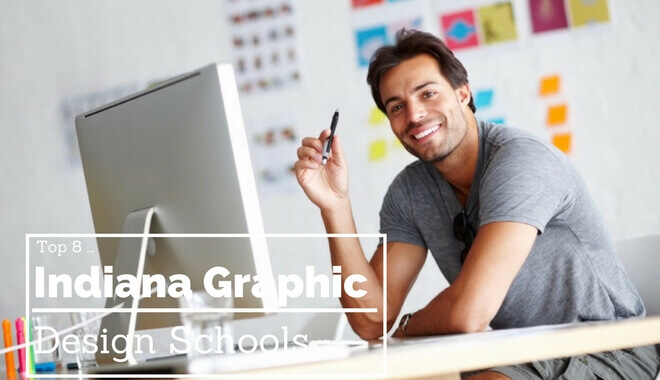 Located between Illinois and Ohio, Indiana is home to vast swathes of farmland. It also houses several best colleges for animation. And, of course, it is home to one of the biggest professional racing events, the Indy 500.
We've put together a list of 8 of the top animation schools in Indiana in an effort to make your search for higher education a tad easier. Whether you're considering Animation as a career or considering Indiana as your collegiate destination, this list is a perfect place to start.
We look at a number of elements when choosing schools to list: tuition pricing, quality of the animation program, faculty accessibility, and overall school quality. The schools selected for our list are top performers in at least one of these areas.
Because of our methodology, we don't rank schools in any particular order. The numbers are there for article clarity, not to indicate rank position.
Indiana Colleges for Animation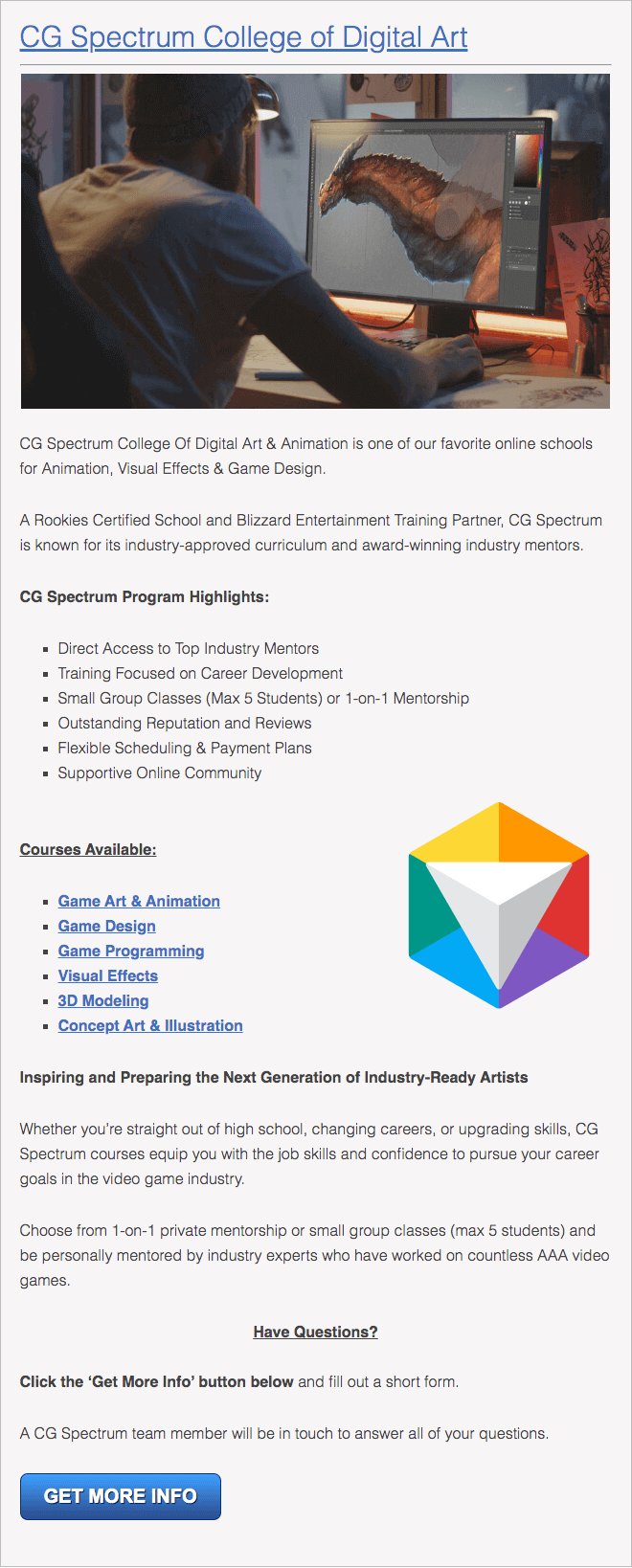 Indiana University-Purdue University
---
The Media Arts and Science program at Indiana University-Purdue University Indianapolis is a solid choice for getting undergraduate experience in animation. The Media Arts and Science program will help foster your creativity while teaching you about digital storytelling and building your skills.
The program focuses on building dynamic websites, creating 3D motion graphics, rendering digital illustrations and animations, producing games and simulations to entertain, educate, or both, and more.
The crux of the program is flexibility. You can go as deep or as broad as you'd like into the realm of animation. The Media Arts and Science program at IUPUI offers a handful of specialty areas, including Game Design and Development, Digital Storytelling, 3D Graphics, and Animation, Web Design and Development, and Video Production and Sound Design.
The flexibility will help you find your niche and hone the skills you need to develop into a real asset for a future employer.
The facilities at the School of Informatics and Computing are impressive. They have a virtual reality theater, an Advanced Visualization Lab, and a Media Arts Research and Learning Arcade. You'll build a portfolio of work to impress your future employers during your time in the program.
Ball State University
---
Ball State University offers a BFA program that will emphasize and explore traditional 2D and 3D animation. The Animation Program will prepare you for a variety of animation careers, like those in video games, film, or television, among others.
The curriculum at Ball State University features the current industry-standard animation software and teaches the modern techniques being used in the industry.
The BFA program starts with a basic foundational arts approach and then builds into the technical elements of animation. You can expect to learn all about visual effects, character animation, modeling, lighting, and texturing. The course encourages collaboration across disciplines, so you can expect to work with students in other courses on projects.
By the end of your time at Ball State University, you'll have a portfolio or demo reel to showcase your newly refined skills.
Indiana University-Purdue University Fort Wayne
---
The Visual Communication and Design program is part of the College of Visual and Performing Arts. As a student, you can attend IPFW to attain your BFA with a concentration in Modeling and Animation. Other concentrations include Graphic Design, and Imaging and Photography.
At Indiana University-Purdue University Fort Wayne your education will include history courses, and other general education courses, hosted in other departments at the school. You will also have access to studio courses that directly relate to your pursuits in visual communication and design.
If you put the effort in, you could land a career internship or enter an exhibition to showcase your work at the end of the program.
Even with a focus on animation and modeling, IPFW gives you plenty of new and traditional media courses to choose from, allowing for the interdisciplinary experience. The faculty in the Department of Visual Communication and Design are all currently practicing, either as artists or scholars, in their fields. Small classes ensure you'll get the attention you need from the faculty.
Indiana State University
---
The BFA program at Indiana State University is designed to help you build the skills you need to pursue a professional career within your chosen concentration. Indiana State University encourages students in its BFA program to collaborate and engage with other artistic and scholarly communities, which will help you build both your network and your collaborative skills.
Drawing is a pivotal part of the BFA program, so be prepared to spend time building your technical skills. The art foundation that ISU provides will ensure a solid base on which to build your animation skills. There is a portfolio review in this program, typically taking place at the end of your sophomore year.
This sets the tone and trajectory for the second half of your education, as the goal of the review is to assess your strengths and weaknesses. Exhibitions and lectures with both national and international artists are regularly scheduled, so you have an opportunity to see what's happening in the professional art scene.
Purdue University – Purdue Polytechnic Institute
---
The Purdue Polytechnic Institute is a cool schooling option. They offer great study abroad opportunities, have produced Oscar Award-winning alumni ("Big Hero 6"), Golden Globe-winning alumni ("How to Train Your Dragon 2"), and feature capstone experiences based in the real world.
The animation degree exposes you to the entertainment side of the field, but that's not all. They teach animation as it relates to education, healthcare, construction, and more.
According to the Purdue University website, in the Animation Major "you will focus on six areas of animation: 3D modeling, texturing, lighting, rendering and character rigging (creating a digital skeleton) and motion." Your portfolio can include work that you complete as part of the program alongside faculty and even real clients.
University of Saint Francis
---
Located in Fort Wayne, Indiana, the University of Saint Francis houses a solid Animation Program. Rather than going broad, you'll go deep, picking an area of concentration within Animation.
SOCA has seven different animation concentrations to pick from: Visual effects for film and television, Video game modeling and design, 3D computer animation, 2D traditional and computer animation, Motion graphics, Pre-visualization and product development, and Multimedia design.
The Animation Program at the University of Saint Francis offers projects with real clients, giving you early exposure to professional-level work. The University of Saint Francis also requires internships, so you'll have an opportunity to build relationships with companies located both in the area and nationally.
University of Evansville
---
According to the UE website, "The University of Evansville Department of Art believes learning is not a product but a transformative process." At the University of Evansville, you'll be able to pursue a Visual Communication Design degree in a structured format, while at the same time develop your own personal ideas and creativity.
You'll have access to courses in computer graphics, drawing, even metalworking. While your degree from UE won't specifically say "animation," you'll have an opportunity to grow your computer animating skills.
University of Indianapolis
---
The University of Indianapolis gives you options in regards to the type of degree you can pursue. The Bachelor of Fine Arts degree will require that you take more advanced design classes. It's a professional degree, so it will be more intensive, preparing you more thoroughly for a graphic design career or graduate school.
If you're looking to take more electives or even a double major, a Bachelor of Science or Bachelor of Arts degree makes more sense for you.
You'll spend your time working with industry-standard software and building your creative and conceptual problem-solving skills. Class sizes are small, so you'll have more quality time with the faculty in the Department of Art and Design.