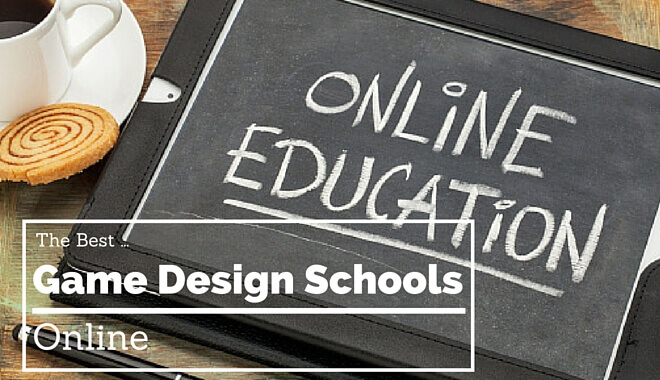 Online courses have been on the rise steadily since their inception. More and more colleges and universities are expanding their distance-learning offerings.
In a world where everyone seems increasingly busy, but has less money to show for it, more and more students turn to online degrees.
This isn't a bad thing. The right online program can be the perfect fit for some students who need extra flexibility when it comes to their course loads.
Online courses give you the opportunity to learn from anywhere: your favorite coffee shops, your house, your parents' house, your grandparents' house, even your hotel room or vacation home.
Literally anywhere you can bring a laptop and connect to the internet, you can access the online coursework.
Flexible Future
---
The flexibility of anytime, anywhere is a huge draw for a lot of prospective students (like you). "Getting your degree" no longer means dropping everything and putting the other aspects of your life on hold.
Instead, online courses offer an easy solution for accommodating continued education within the busy family and work lives already in place.
There are cost benefits too. The costs of lodging, commuting, meal plans, and even furnishing your new room disappear if you take the online path.
There will likely still be textbook costs in addition to the free course content provided over the web.
The 24/7 access to courses means you get to tackle your course work when you're best able to do so. If you're a night person, log in at night.
If you do better in the morning, you can find time to do it at the start of your day.
Featured Online Game Design Program
---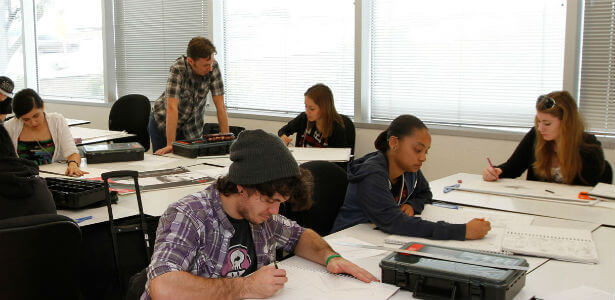 Programs:
For aspiring game designers, The Art Institutes is highly recommended and one of the most popular accredited art and design colleges in The US.
When you graduate you'll have the knowledge, skills, and experience to start creating quality games on your own.
Some of the Available Courses:
Character Development
Level Creation
3D Modeling
Computer Animation
Digital Programming
And much more …
You'll use the latest software and tools to start building your own creations, and portfolio in the process.
Have Questions?
To find out more about this program:
1. Click the 'Get More Info' link below
2. Select your desired campus location (or online)
3. Complete the short form – That's it!
You'll receive a free game design degree information packet and a designated rep from the school to answer any questions you can think of – with no obligation.
Extra Benefits
---
Virtual participation means honing your virtual communication skills. In a world where email, texts, and video calls dominate, it's more important than ever that you are able to communicate effectively via these methods.
Managing one's tone through text alone can be challenging, it isn't hard to lose track of how you sound to the person on the other end.
Beefing up your distance communication skills will serve you well as you eventually move forward into an office setting.
Hopefully, this introduction has you excited about the online course path. The great news is that there are some really worthwhile options out there.
We've sniffed out ten excellent choices for online video game design schools. Take a look at the list below, arranged in no particular order or ranking.
Top 10 Online Game Design Schools
1. Baker University
---
Baker University is an accredited university which offers the opportunity to earn many degrees completely online. They call their online program Baker Online, which makes up for in quality what it lacks in naming creativity.
Baker's game software development program is updated regularly to reflect the actual needs of the game industry. This means less of your time is wasted learning outdated skills.
In a ranking by GetEducated featuring the best affordable online Computer Science Bachelor Degrees, Baker ranks 20th.
If you consider that the majority of the online programs on that list are for degrees in things like business information technologies, as opposed to game design, Baker ranks even more strongly. Tuition ends up being around $38,000.
The curriculum for Baker's game software development program culminates in a senior design project. During the program, you will learn game modeling, programming, and animation skills.
2. Sheridan Technical College
---
Sheridan Technical College offers a game design program that results in certification and state licensure upon successful completion. They refer to the program as the GAME/ SIMULATION/ ANIMATION VISUAL DESIGN course.
It covers many topics like game engine technology, 2D and 3D animation design, storyboarding, development methodologies, and other pertinent coursework.
This is a short program that earns you a certification rather than a degree. For a full-time student, the course only takes you 6 months.
For a part time student, the program is spread out over a 12-month window. It is a 600-hour long course. However, it only costs approximately 2100 dollars.
There are some prerequisite requirements, like taking the mandated Test of Adult Basic Education (TABE for short).
This document outlines the program requirements and prerequisites in more specific detail if you want to explore the possibility of Sheridan Technical College's game design program.
This shorter certification path is a potential option if you're a gamer enthusiast looking to get a taste of the world of game design.
3. Full Sail University
---
Full Sail University is a viable online option for you if you're looking for a flexible online degree at a reasonable price. Full Sail offers Bachelor of Science degrees for both Game Art and Game Design.
The Game Art curriculum deals with the artistic elements of game design, like rendering characters in a 3D environment.
It involves learning how to take 2D artistic principles and transfer them into a 3D space, to make objects and characters that look realistic and move realistically.
Most Popular Gaming Degree Types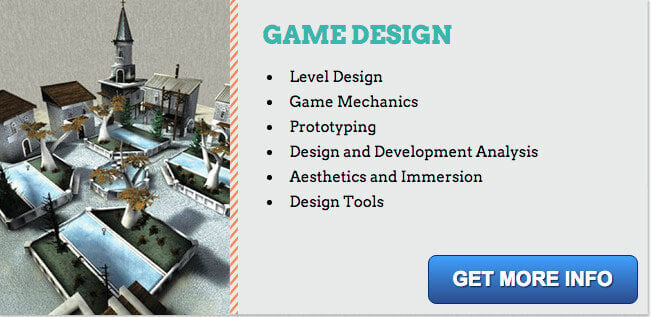 ---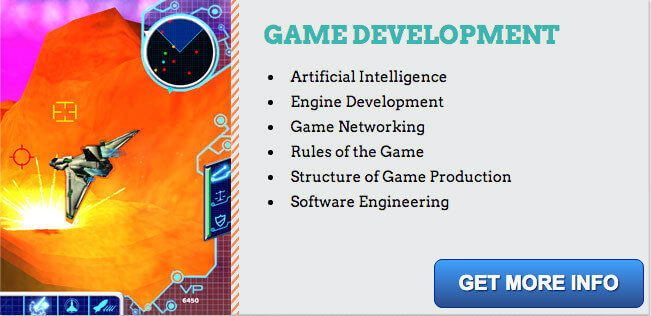 ---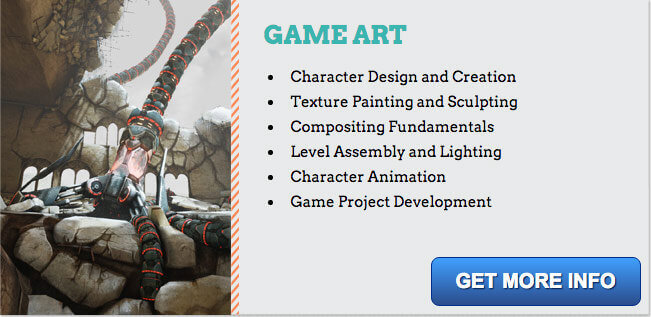 The Game Design curriculum does cover some aesthetic topics, but also deals with topics like game economics and usability. There are also courses that cover storytelling and others that hone your character development skills.
Both degree paths span a 32-month period when taken online (compared to 20 months in-class).
Full Sail is a cost-effective, flexible option that gives you more of a choice between two separate game design paths.
4. Franklin University
---
Franklin University is based out of Columbus, Ohio, but offers their Interactive Media curriculum online.
Sixty-five percent of undergraduates attending Franklin University in 2014 were enrolled entirely in distance education, with another 20% enrolled in both in-class and online courses.
A robust online student body bodes well for you as a prospective student.
Franklin University offers an Interactive Media Design program, where they have designed the curriculum to imitate an actual, real-life firm.
The program is only a 2-year program, with courses lasting anywhere from 6 weeks to 12 or 15 weeks.
They'll welcome you as a transfer student with up to 84 credits worth of learning from another school. The credits need to be related work in design or media fields.
This is a good program if you're looking to spend extra time on mobile and web interaction, or if you desire strong project management skills.
5. Southern New Hampshire University
---
One of the most standout elements in Southern New Hampshire University's offerings is their 24 hours a day, seven days a week technical support.
This support obviously covers online students, who also have access to both the university library and the university bookstore via the internet.
From a technological standpoint, you will never have to worry about feeling stranded.
Southern New Hampshire University is also listed in 18th place on the GetEducated list of the best affordable online computer science bachelor degrees (listed at $38,400 for the bachelor degree in business studies).
With SNHU, you have some increased flexibility in which degree you'd like to obtain. You can go for your business studies degree and pick game design and development as your concentration.
Or you can pick game design and development as part of a degree completion program.
The opportunity for immersion in both the gaming development and business and marketing side of the field make this a standout option.
They also offer the option to transfer up to 90 credits towards your undergraduate degree.
6. Academy of Art
---
Academy of Art offers one of the widest arrays of degree options out of all the schools on this list.
They offer everything from an online "Award of Completion" to a Master of Fine Arts Degree in Game Development.
They offer an Associate of Arts Degree if you're looking for a 2-year program. They offer a Bachelor of Science program for those students more mathematically inclined, looking to delve into the engineering side of programming for game design.
And there is a Bachelor of Fine Arts program as well, for the students looking to render characters both in and outside of games, and refine their storytelling skills.
Academy of Art employs up-to-date game engines in their curriculum to ensure that students get a taste of the current industry as they build prototype games.
For younger applicants, Academy of Art offers spring, summer, and fall pre-college art experiences. This gives high-schoolers a pinch of the college experience and lets them get a head start on their collegiate education.
7. Guilford Technical Community College
---
Guilford Technical Community College offers a 2-year Associate's program in Simulation and Game Development. In this 2-year period, GTCC's curriculum prepares students for a wide range of job fields.
That range includes everything from government organizations to healthcare to entertainment.
It is a degree that requires 70 credit hours, 12 of which are taken across two summer semesters (split evenly, six in the first summer and six in summer semester II).
The classes are scheduled with a specific order in mind, meaning students lose a bit of flexibility in picking their course work.
The aim of Guilford Technical Community College is to make sure your courses expand on what you've learned previously. You know, like beating levels in a video game.
Some states' residents are not eligible for the online game design program. Those who are, have a good option with Guilford Tech!
8. Art Institute of Pittsburgh
---
The Art Institute of Pittsburgh offers an online Game Art and Design course, where students can earn Bachelor Degrees for said program.
The curriculum they offer is comparable to other curriculums from schools on this list.
They tackle skills like scriptwriting, character design, storyboarding, game play strategies, level design and game production.
Where the Art Institute of Pittsburgh shines is in the career services department. From the very first day of enrollment, you get access to the career resources.
These include internship and freelancing opportunity access, resume building software, career assessment tools, and other helpful resources.
Even after graduation the Art Institute of Pittsburgh still offers you interview preparation help, cover letter and resume refinement services, and job search tools based on your chosen field and your geographic location.
They post substantial system requirements (for your computer) right on their Game Art and Design page. It's worth checking those out before trying to dive into this online course!
9. Liberty University
---
Liberty University is a Christian University that has over 95,000 online students enrolled.
They have a wealth of solid course offerings, covering topics like 3D graphics, digital imaging, and interactive game development.
Like most schools on the list, Liberty University is a regionally accredited school.
The Degree is a Bachelor of Science in Information Technology. The price of tuition is $375 per credit hour, with a minimum of 120 credits to graduate.
You need to take at least 30 credits through Liberty, meaning you could potentially transfer up to 90 credits of your own from a prior stint at an institution.
It is a growing online school that's putting much of its resources towards the improvement of its online program.
10. Savannah College of Art and Design
---
Savannah College of Art and Design offers a Bachelor of Arts in Digital Media, with a game development concentration.
They have a BFA program in Game Design, but that curriculum is not yet offered online.
Professors and instructors at Savannah College focus on how humans interact with machines.
They like to push the envelope when it comes to how people engage in and experience the world whether it is a virtual one or the physical one.
In a 2015 study conducted by the university, 97% of Savannah College of Art and Design undergraduate and graduate respondents reported they had a job, were furthering their education, or engaged in some combination of both.
In addition to that potent number, 88% of respondents said they were working in their field of study or a closely related field.
SCAD has strong data supporting the success of its program and is worth a look if you like to think outside the box and challenge the way things are done.
Final Thoughts
---
As you can see, you have options when it comes to getting your degree. Not all programs are alike. It's important to think about what you personally want to get out of a program.
Do you want to learn the business elements of game design? Do you want a broader understanding of computer science? Or are you looking for an artistic approach, using technology as the medium for your expression?
There are programs of varying lengths to suit your current timeline.
You'll remember from the list above that some of these schools offer certificate programs that get your feet wet, and others offer more comprehensive, portfolio-building, 4-year degree programs.
What do you have time for? Having courses that take place completely online makes the time less of an issue, but maybe you'd rather be finished in two years with an associate degree instead of taking four years for a bachelor degree.
One way to bring clarity to your decision-making is to look at companies where you'd want to work. What are the education levels of the current employees?
Do these companies display any information about necessary qualifications?
There's that expression: Don't put all your eggs in one basket; you don't want to completely tailor your education experience to line up with one single company. There's a chance it might not work out.
But, creating intention around your desired career path will help with the context of your academic experience. Keep doing your research!