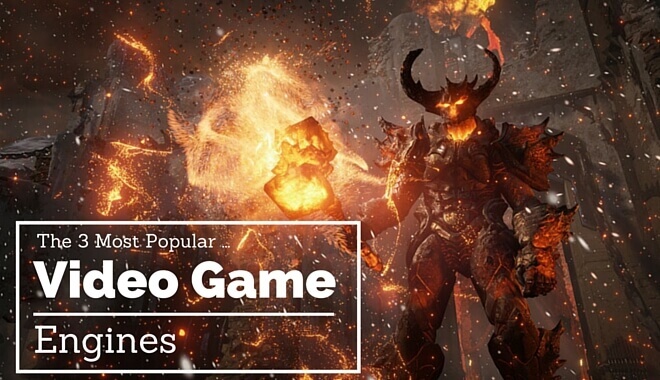 What are Game Engines?
---
You might have heard the term before but never really knew what a "game engine" is exactly.
Perhaps the best way to understand is by learning what their purpose is.
A game engine is the architecture that developers use to run the game.
Your average game engine provides developers with a way to add things like:
physics
input
rendering
scripting
collision detection
artificial intelligence
and more without the need to program them
Why are They Important?
---
Game engines are reusable components developers use to build the framework of the game.
This gives them more time to focus on the unique elements like character models, textures, how objects interact, etc.
If everyone made their games from scratch without the help of excellent game engines, games would take longer and be more difficult to make.
That being said, there are still plenty of large companies and even indie teams that create their own engines.
This requires using application interfaces like DirectX, OpenGL, and XNA as well as commercial and open source libraries containing physics, scene graph, and GUI libraries.
Creating on of the best video game engines is no easy task but sometimes necessary if the game is different enough that no existing engines will work.
Which Games Engines are Most Popular?
Unreal Engine
---

One of the most popular and widely used game engine is the Unreal Engine by Epic Games.
The original version was released in 1998 and 17 years later it continues being used for some of the biggest games every year.
Notable titles made with Unreal Engine include the Gears of War series, Mass Effect series, Bioshock series, and the Batman: Arkham series.
The strength of the Unreal Engine is its ability to be modified enough that games can be made into very unique experiences.
The latest version, Unreal Engine 4, is said to be the easiest one to use when in the hands of a professional.
However, there are other engines available that are easier for new designers.
Unity
---

One of them is Unity, a multi-platform game engine that allows you to create interactive 3D content with ease.
A lot of indie developers use Unity for its excellent functionality, high-quality content, and ability to be used for pretty much any type of game.
Recent notable titles made with Unity include Lara Croft Go, Her Story, Pillars of Eternity, and Kerbal Space Program.
One of the best things about Unity 5 is the Personal Edition, which is free for everyone to download.
It includes the engine with all features and can (for the most part) be used to make games on every platform.
The problem is that the Professional Edition, which has a host of excellent tools, requires that you pay a monthly fee.
These features include beta access, game performance reporting, customizable splash screens, a team license, and more.
GameMaker
---
Unlike most other game engines, GameMaker: Studio has become widely used because it doesn't require programming knowledge to use.
Instead, users can "point-and-click" to create games much easier and faster than coding with native languages.
Some of the best titles made with GameMaker include Spelunky, Hotline Miami, Super Crate Box, and the upcoming Hyper Light Drifter.
GameMaker is popular because you can make a game without having to learn a programming language first, and those that do have coding experience can use it to make their game better.
The problem with GameMaker and other point-and-click engines is that developers are much more limited than with other engines.
And while there is a free version, getting the most out of GameMaker requires you to buy either the Professional or Master Collection versions.