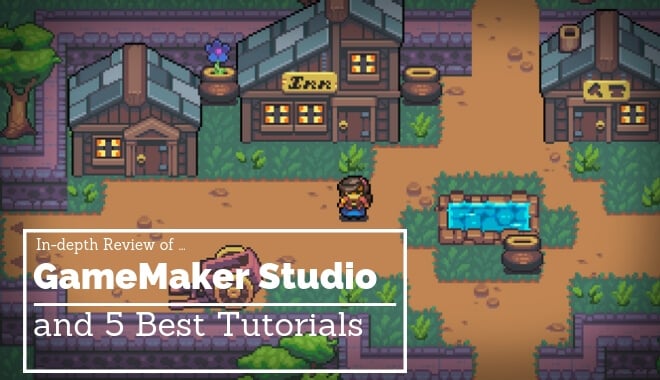 Game Maker Studio is probably one of the most popular engines for 2D top-down or side-view games. Nidhogg, Cook Serve Delicious 2, Nuclear Throne, Paper Knight, Gunpoint, and the list goes on and on. If you're familiar with indie games, you'll probably notice some of the biggest indie releases in the past few years.
The real question though: is this engine right for you?
What Can I Do With Game Maker Studio?
---
One of the things that GMS spearheaded, is game creation with minimal coding skills.
If you aren't very program savvy, you can use their visual programming language to drag and drop code. You can run and call functions, alter and interact with files and other data, run scripts, even drop in an in-app purchasing system.
As such, GMS is targeted to the novice users, and with their recent overhaul of the drag and drop system, it's even more versatile than ever.
What's cool here is that you can actually look at the code behind the drag and drop boxes. That means that you could theoretically learn to code as you create your game, and customize it according to your needs, even with no coding experience. Of course, that being said, it's generally best to not be learning a new skill as you're making a game.
Now, on the other hand, if you do have some programming skills, you can use their own scripting language, creatively called Game Maker Language (GML). GML is based on C, so it's a little bit outdated in that aspect, with most modern programmers learning C++ or C#. Either way, if you do know how to program, it's very likely you won't have any issues getting comfortable with GML.
Part of this easy-of-use philosophy is Game Maker Studio's 'Room Editor'. Essentially, this is the building block of your game. With the Room Editor, you can alter layers, use tileset brushes, share code and resources between objects (this system is called 'inheritance'), and so on.
Furthermore, GMS provides you with a powerful Tileset Editor and Image Editor. Together, they allow you to add animations, create assets quickly, automate tile placement and even create quick and easy animations. All in all, it's a powerful little toolset.
Of course, it doesn't end there. GMS offers a lot of extra awesome features:
Github integration
In-engine debugger
Support for sportsxpro
Easy to use full shader support.
In-engine Physics.
A sound mixer
Behind the scenes Client/Server support.
Third-party libraries and SDKs
A GMS marketplace, similar to Unity's or Unreal's marketplace.
What's the Licensing Situation?
---
The good news is that Game Maker Studio supports several platforms:
Windows Desktop
Mac OSX
Ubuntu
Playstation 4
Xbox One
HTML 5
Android
iOS
Android TV
fireTV
Unfortunately, the bad news is that GMS has both a subscription model and a permanent license model broken up over 4 categories, so it might get confusing as to which version you'll need for your budget.
First of all, there is a free trial of Game Maker Studio. While you can play around with most of the features of GMS, you cannot save to an executable. It also has a bunch of resource limitations, which you can find here.
Secondly, there is the 'Creator' license. It costs $39 for a 12-month subscription and is available for Windows and Mac. The biggest downside of this license is that you cannot change the splash screen. While at face value that may not be a big issue, pretty much every other game engine out there allows you to change the splash screen once you pay some amount of money.
As such, the Creator license is targeted more to hobbyists rather than people who want to release a full game.
Thirdly, you have the 'Developer' License. The licenses in this category are permanent licenses, which means you buy the license once and that's it. Here are the details:
Desktop – Costs $99 for a permanent license and allows you to publish to Windows, Mac, and Ubuntu.
Amazon Fire – Costs $149 and allows you to publish to Amazon's Appstore.
Web – Costs $149 and allows you to publish HTML 5, which is pretty versatile, so it's a good option.
Mobile – Costs $399 and allows you to publish to Android, iOS and Amazon App stores.
UWP – Costs $399 and allows to you publish to Windows 10, as well as Xbox One through the Creator's Program.
Finally, you have the 'Console' category, which is mostly subscription-based, except for the UWP license which is permanent. Details below:
UWP – Same as above.
Nintendo Switch – Costs $799 for a 12-month license.
Playstation 4 – Costs $799 for a 12-month license.
Xbox One – Costs $799 for a 12-month license.
Ultimate – Costs $1500 for a 12-month license, and is essentially a combination of every other single license, so you can publish to any platform that is supported by GMS.
It's probably an appropriate time to mention that there's also an Education License, but it's quite complicated, so I'll just let the company itself describe to you the process.
What's the Downside?
---
Of course, it's not all rainbows and sunny days when it comes to Game Maker Studio. The biggest issue by far is that GMS is absolutely not made for 3D game development. If you're looking to make a 3D game, then you might want to consider something like Unity or Unreal.
Another issue seems to be YoYo's (the parent company) tech support. There have been complaints about it being slow. That being said, there is a great and active community, so you can always find some form of help.
While a bit nit-picky, the syntax used with GML isn't always industry standard. If you don't have any programming experience and learn through GML, you'll end up learning a lot of bad practices. So this is definitely something to keep in mind.
There is the stuff mentioned earlier, such as the inability to edit the splash screen even when you pay and the slightly confusing licensing options.
Overall though, Game Maker Studio is definitely a competitor to Unreal, Unity, and other engines of that caliber. It's even possible that Game Maker Studio exceeds those engines when it comes to 2D, which is expected in a specialized game engine. There are some downsides, but if you're going 2D, then you should absolutely consider GMS.
Get Started With These GameMaker Tutorials
---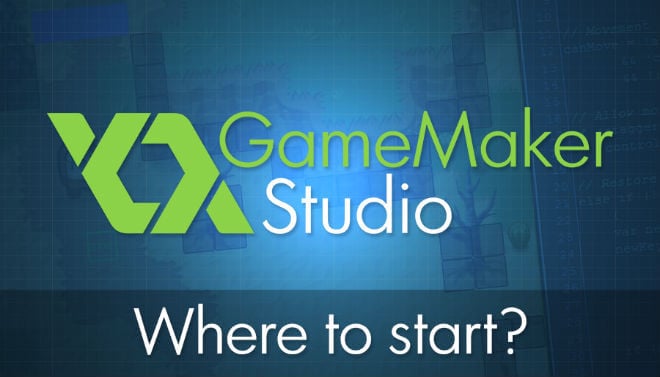 Great, so you've taken all that info in, and you want to move forward with using Game Maker Studio. Here are a few resources to get you started on making your very own game:
YoYo Games' Learning Resources
Handily, YoYo games actually has its great little list of tutorials and guides to get you started on Game Maker Studio.
Most of these are youtube videos giving step-by-step instructions on how to do things. While you won't likely find any information on the more advanced and varied topics, it's a great starting place if you have zero experience making games. Also, they're free, so that's pretty great!
Udemy Courses
If you want something with a little bit more information and variety, Udemy is a great website for learning resources. Not surprisingly, there are quite a few courses on Game Maker Studio. Here's two that might tickle your fancy:
The Complete GameMaker Studio 2 Game Development Course
To start, this is a great course made for complete beginners. You don't need any coding experience, or any design experience, so for those novices out there, this a perfect solution.
Right now it's going on sale for $9.99, but if you're reading this when it's more expensive, you should wait for a sale, or check out one of the other options listed here.
Make an Action RPG in GameMaker Studio 2 (V1.4 Compatible)
If you've got a little experience under your belt, and have Action RPGs in mind, this course will help you get accustomed to the more advanced features of Game Maker Studio.
Some of the highlights include programming AI, Inventory systems, using Game Maker Language and damage management systems.
If you're interested, it's going on sale for $49.99, but again, if it's not that price when you're reading this, wait for a sale, or check out some of the other options.
Bless Hay Gaming


Bless Hay has been a developer making game-related guides and tutorials for a while now, most of them focusing on Game Maker Studio. He's actually quite experienced, and a lot of people within the community recommend his work. If you're more of visual learning, this is definitely one you'll want to check out.
Now, while he himself closed down his youtube channel (apparently some issues with changes in YouTube), you can still access his videos here. One warning though, his accent can be hard to understand from time to time! Thankfully, Hay opened up his own blog with more recent and relevant tips and tricks. You can find all those learning resources here.
Shaun Spalding's Videos
If you've checked out the first link to YoYo's resources, you'll be familiar with this name.
Shaun Spalding actually makes tons of tutorial vids on YouTube. He's also a former Ubisoft game designer, as well as having been the former YoYo games, community manager. So if anything, this guy knows what he's talking about.
Since he does a lot of different content involving Game Maker Studio, it's hard to point to a specific video or playlist. Instead, we suggest you check out his channel over here.
The HeartBeast YouTube Channel


If you're looking for educational content specific to certain genres, then HeartBeast is the way to go. Every so often, a new genre is picked upon which a complete course is made. Right now the focus is on Hack-n-Slash, but there's also Platformers, RPGs and other general videos that teach useful skills.
Incidentally, it's important to point out that these really are fleshed out courses. That means everything from boss fights to music, to enemy AI, dialogue, art and graphics, coding, and everything in between. So if you prefer to have on a resource to learn from that's more linear and targeted, this is where you should go.
You can find the HeartBeast YouTube Channel here.
Community Forums
---
Alright, so maybe you've got a bit of development under your belt and you want to go for the nitty-gritty under the hood stuff. Maybe you have a very specific issue that you can't find information on. Well, the best place for that is the community forums:
Game Maker Community Forum
One of the first obvious places is YoYo Games' own community forum.
There are so many sub-forums and topics, you're really spoiled for choice. Anything from programming, to graphics design, and general game design. There's even a specific sub-forum to find others to collaborate with.
Game Maker Reddit
Another really great resource is Reddit.
If you aren't familiar with Reddit, it's essentially the same as a forum, the only difference is that there aren't sub-forums for a specific topic. At face value, it might not seem that great, but since each thread created is asking a specific question, it's a great resource to find detailed discussions.
Currently, the Game Maker Reddit has over 27k subscribers and is very active.
In Conclusion
---
Ultimately, Game Maker Studio is a great engine if you're looking to make a 2D game and have very little or no coding experience. Even if you do have the experience, GMS offers a ton of features that you'd find on other AAA engines. It can easily compete with Unity and Unreal in the 2D space, and it also has fairly good, although slightly complicated, licensing options.
In addition to that, it's very well supported, either through Udemy, Youtube Videos, or community forums. So, if you're a first-time developer or an experienced developer who wants to make a 2D game, definitely check out Game Maker Studio.