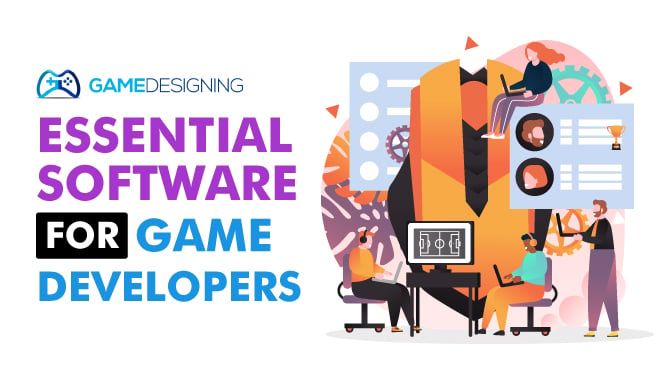 We are reader-supported. Purchases made through links on our site may earn us a commission. Learn More.
What software is used to develop games?
There are so many tools and pieces of software for robust game design right at your fingertips!
We're living in truly amazing times; the internet is host to all kinds of excellent software to help game designers of all calibers make their very own games.
Well, which platform is best for game development? The PC, no question. While game development can be utilized on any platform, namely mobile devices and consoles, the PC is the most widely used and documented. It also comes with some of the best software and engines available to would-be developers.
There are software options that are incredibly simple to use. There are a ton of options that are so easy; you don't even need programming skills or coding knowledge to use and master them.
What is the best free game development software? Unity.
Unity is a fantastic free engine that nearly everyone can use. Although it's always recommended to have some coding knowledge, you don't need to be a Unity master to reap the benefits of the game engine.
Then some serious tools will require some moderate (and more) experience with coding.
Which software is best for game-making? It all depends on your style of game development.
If you're a bigger studio, then maybe something like the Unreal Engine would be right up your alley.
If you're a one-person team, like Eric Barone of Stardew Valley fame, you might test your game-making skills with a program like Quest or Stencyl.
The point is, there are plenty of options available to you, regardless of the kinds of games you want to make, and your current skill and experience levels. Let's take a look at some good options!
Our Review Criteria
In addition to player and critic ratings, we use objective metrics like sales, users, and sales growth rate to make our lists (read more). Some of these data sources include:
Beginner Game Development Software
Quest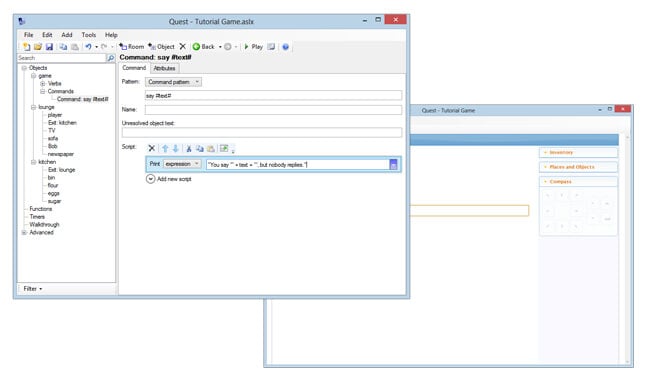 Let's start at the very beginning with a super-basic game design program. It is easy to have super high expectations when you're first starting out.
We're talking about "I'm going to create the next Skyrim" ambitions. Dream big, always dream big, but know that you won't be able to achieve a game like that overnight, especially if it's your first night designing a game (someday, pal! Keep at it!).
Instead, you could start with a design tool that will let you focus on crafting a power-house narrative. Good storytelling is something that's always appreciated. Hone your in-game storytelling skills by using Quest. Quest is a totally free program that runs in your browser.
This program will let you make a text-based adventure game. It won't be much to look at (since it's text-based) but it will let you focus on the story and choice-elements of a game. This linear approach to making a game will help you avoid any feelings of overwhelming.

Twine
Twine is another great tool for generating text-based games. It is also another completely free program. It publishes to HTML, which means you can post it wherever you want. It's another great starting point for delving into interactive storytelling.
You can generate a stellar, nonlinear story without worrying about making the game's aesthetic. It's a great place to start if you're looking to make RPGs moving forward (baby steps, hey?). There was a time before all the fancy graphics and gameplay mechanics, after all, so there's no shame in starting in text!
Stencyl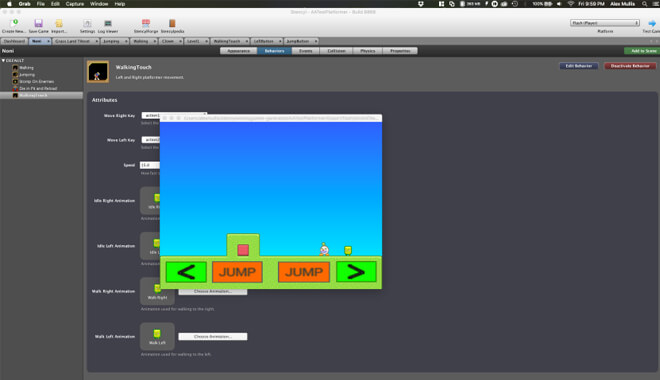 Here's a great program for making a game that isn't text-based, and still without using any code! For beginners with no coding experience, Stencyl has a drag and drop interface that is, for the most part, pretty easy to use.
If you're a designer with some coding experience, Stencyl allows you to augment the program's existing creation capabilities through code of your own.
You are able to design worlds by molding tile and terrain to your liking. You can also upload your own graphics to create different actors and game elements, and then tweak them until they're perfect. You can design games for Mac, Windows, and Linux, but it's definitely geared towards mobile games.
They offer a free version that only lets you publish to the web and there's an indie version for $99 a year that lets you publish to the web and desktop. Then there's also the studio version which costs $199 a year and lets you publish to iOS, Android, Web, and Desktop.
Construct 2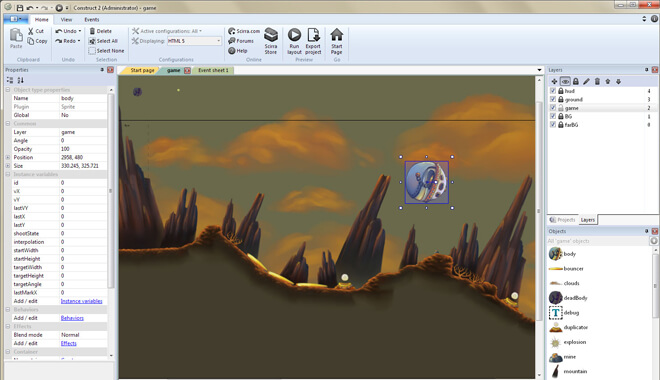 Construct 2 is another powerful 2D game creation tool, that lets you publish to HTML5. It is another program that is beginning-designer-friendly, requiring no coding experience to make the magic happen. Like Stencyl, it has tiered payment options. There is a free version where you can publish to the web.
To make mobile games, you'll need to pay. Instead of yearly fees, there is a one-time fee that you pay upfront, which gives you access to Construct 2 and all future software updates.
Construct 2 has a showcase page that features games developed using the program, as well as a tutorials page and a forum to help you with any problems you may have. Those are good resources to see how other developers are using the software and to get you off the ground with your programming.
The Top Game Design Sofware
RPG Maker
We suspect you can guess what this program is best for… It's right in the title, after all…
That's right! RPGs! There are a number of different versions of the RPG Maker. All of them are available for a free trial download.
The latest, RPG Maker VX Ace, goes for $69.99 and gives you "the most powerful RPG making tools ever" (according to their website, of course). It's yet another tool that doesn't require you to have coding knowledge.
It's pretty easy to pick up and use, but there is a very helpful community of users behind this program if you ever get stuck. With music and stock character images provided, you can make a pretty cool game without ever leaving RPG Maker.
Gamesalad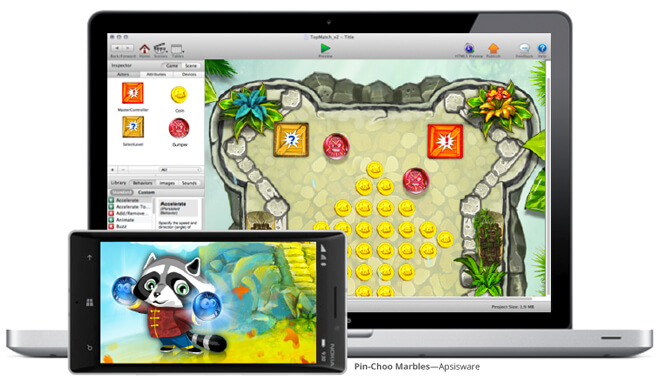 Here is another tool with a free option. Like other programs, Gamesalad uses a drag and drop interface, letting you build a game quickly, without putting effort into coding it yourself. When you finish a game, which the website says could happen in as little as an hour, you can publish it to "almost every platform known to man."
A "Featured Games" section lets you check out sixty of the coolest games other developers have created using the program. There's also an option to submit your own creations to the Gamesalad team, giving you an opportunity to have your game featured on the program's site.
Game Maker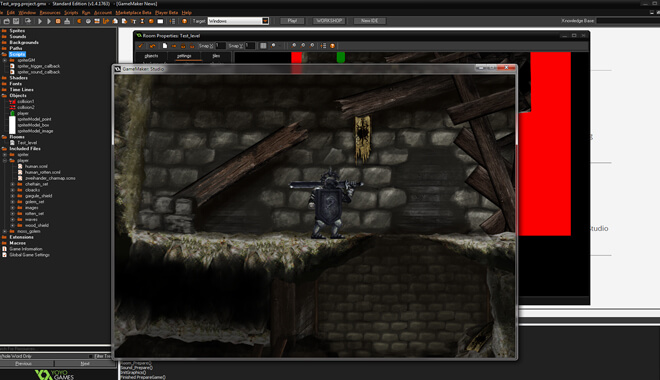 Game Maker, like Gamesalad and others listed before it, uses the drag and drop, code-free approach to game design. There is, as you probably guessed, a free version. There is also a studio version that starts at $150 dollars and increases in price as you choose more export options.
And, of course, there's a Studio Master Collection, which goes for $800 dollars.
The interface is one of the easiest to use and ends up being one of the most powerful, too. Combine the in-program ease-of-use with the experience backing the program's forum community, and this tool becomes quite a good place to start your code-free (for now) game design career.
Unity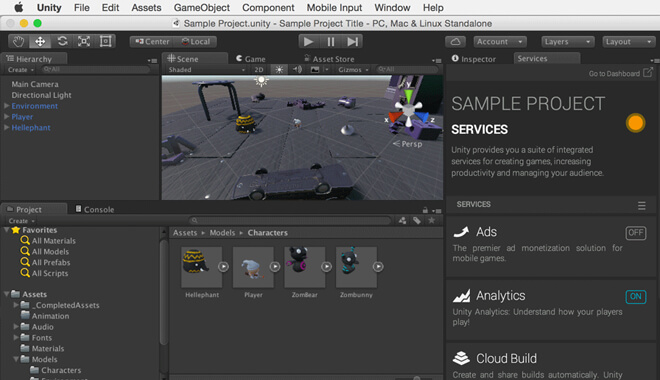 Finally, we stray from our code-free path. In order to use Unity, you'll need to know how to code. If you have some experience with coding, then Unity will be an exceptional tool for you. You'll be able to design both 2D and 3D games. For free, too, as the personal edition is downloadable at no cost.
A professional edition is available as well, which is subscription-based with prices starting at $75 dollars per month. If you are interested in more than just creating a game for personal reasons, Unity has some really cool engagement tools.
The powerful design elements of this software, in conjunction with its end-user data collection and game monetization help, makes it a great tool for building a game that you could profit from.
Even if you don't care about the monetization aspects and aren't as concerned with engagement, this is still an awesome program for practicing your game building and honing your coding skills.
Unity does so much more, but one of the other cool things it offers is a collaboration feature. When you want to create a game easily with some of your friends or colleagues, Unity has systems in place to make it very easy for you.
Unreal Engine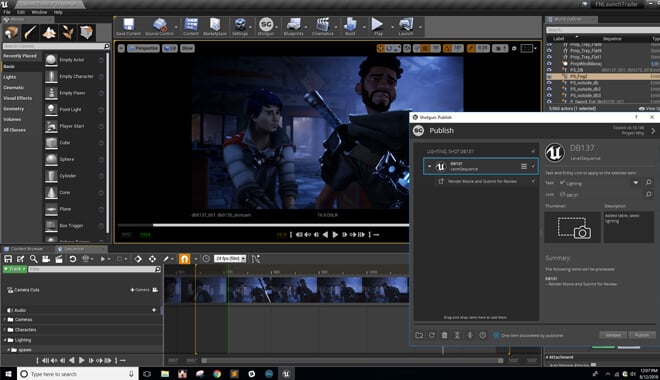 In March of 2015, Unreal Engine became free to download. The stipulation is that, if you monetize your creation, Epic Games gets 5% of your profits after your first $3000. You can use the Unreal Engine to make everything from 2D mobile games to stunning 3D open-world games.
You could be a student, an indie developer, or a professional game designer. This engine is being used by all levels of game designers, and your only limits are your time and creativity. The engine is powerful enough to keep up with your wildest game creation dreams.
3D Character
Before we dig in, let's straighten a few things out. For optimal 3D character creation, you're going to need the best character creator software.
Another aspect to be aware of is that 3D character creation isn't for everyone. So if you feel an idea isn't coming together, don't feel like it's the end of the world.
Recommended Character Creator Software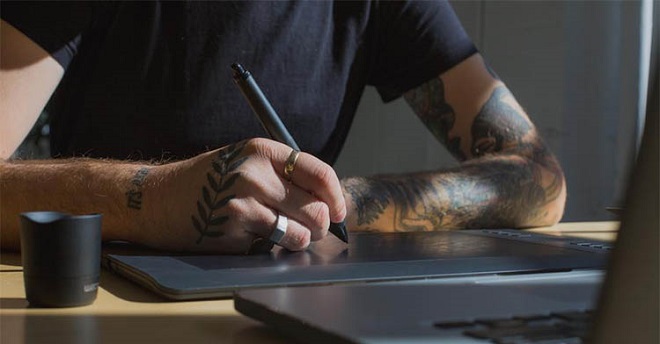 MakeHuman
This is an open source character creator and is extremely versatile. It pays a lot of attention to the minuscule details of a character, allowing you to further build your ideal character more realistically.
Daz Studio
With different subsets of its program, Daz Studio is a varied and multifaceted character renderer. You can even export your character to other programs for further tweaking and perfecting.
iClone
iClone is favored by professionals the world over. You have a ton of human features to choose from, including countless generated faces. The program sets you up for success by having all of the small stuff settled already; everything is already generated and mapped out.
Mixamo
Calling all beginners! Mixamo is perfect for your first foray into animation and design. They have a huge collection of prefab characters for you to choose from and edit upon. These characters are fully developed in terms of mapping and animation, so you can jump right into the design.
Autodesk Character Generator
Part of the fantastic Autodesk Maya, Autodesk Character Generator is a web-based program that's best suited towards animation and for your future video game projects.
Maya
Maya is one of the best pieces of software for crafting alluring images in movies and games. Although not it's a strong suit, 3D character design is entirely possible.
ZBrush
Textures are the name of the game here with Pixologic's fantastic ZBrush. This program is perfect for character designers and digital painters. The program emphasizes the use of textures, digital paint, and 3D models.
About From Software
From Software is known for games like Dark Souls and Sekiro: Shadows Die Twice. From Software video games are identified by their extreme, punishing difficulty, leaving many gamers throwing controllers and shutting off their system in a rage.
This shift from games like Armored Core to these challenging titles like Bloodbourne is the work of president Hidetaka Miyazaki, who overhauled the studio.
Bloodborne
Bloodbourne sets the player in a Victorian-era setting with a deadly blood disease on the prowl. The player must navigate this cursed city and, more importantly, survive. This game is considered the best of the From Software video games and serves as the bridge from the Souls games to Sekiro
Sekiro: Shadows Die Twice
Set in Sengoku-era Japan, Sekiro has the player become a shinobi named Wolf, who can cheat death and come back, over and over. This game became less about stamina management and more about 'posture,' making sword duels the heart and soul of the game.
Dark Souls
Dark Souls was a gaming sensation when it was released. Praised for its tight gameplay and challenging difficulty, it has become a beloved staple in the gaming world. This was the game that took From Software video games from more of fringe stuff to more significant success, attracting hardcore gamers and piquing the curiosity of others.
Mobile Game Development

Brainstorm
You have to get your ideas in order. Whether you're flying solo or working with a team, you need to put your ideas on paper and work through them to find your potential game.
Hold meetings with your team, talk out your thoughts and ideas, write everything down, and more. Things like storyboards and writing exercises can help tremendously.
Tell A Captivating Story
People want to be drawn into a game world. This is no different than on a mobile game. In fact, it's probably more important because of how easy it is to engage and disengage with mobile titles. Bring the audience in.
Make It Addictive
We all love to play addictive games; it keeps us entertained and clicking or tapping just One. More. Time! Use mechanics from some of your favorite addicting titles and examine why they're addictive.
What makes classics like Temple Run, Bejewelled, and Words with Friends addictive? Use your brainstorming skills with your team to determine what makes a game addictive and try your best to implement these aspects into your game.
Platforms
Are you planning on developing for iOS or Android exclusivity? Or does everyone get a chance to play your game? You need to determine this during the coding process.
Impress Them With Your Design
This is the time for you to floor your fans with some top-notch user interface and user experience (UI/UX). A cleverly and beautifully designed game can stay in the minds of gamers for much longer than one with a shoddy design. Let your creativity go nuts here.
Monetization Strategy
How are you going to get paid from your product? You put a lot of hard work into this, it's only right to want compensation! You can do a subscription model, a flat fee for downloading your game, or something having to do with microtransactions.
If you pair up your addictive gameplay aspects with a successful monetization strategy, you could find your game becoming very profitable indeed.
Choose Your Team
This might be your most important decision. Who you work with will determine a ton of factors. It could determine how long the game development process is, how big your budget is, the software you use, and more.
Image Sources: (Textadventures, androidauthority, scirra, gamesalad, yoyogames, unity3d, unrealengine)