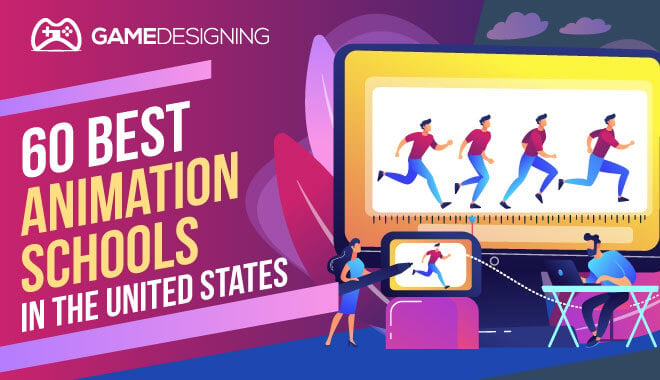 There has never been a better opportunity for aspiring animators to excel.
The digital revolution has animation companies and studio jobs popping up all over the place – but that doesn't mean it's easy to get a job.
Do You Need an Animation Degree?
---
For beginners, it can be intimidating to be on the outside of this massive industry, not knowing how to get started.
However, (although difficult) the process is simple enough.
You need experience.
But how do you get experience, when you need experience to get hired?
The answer … a top animation school, of course.
An accredited college for animation is a great way to get the hands-on training and experience you need to take the next step.
Benefits of attending animation school: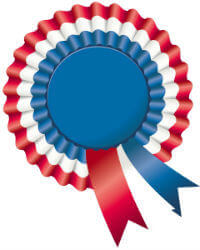 An accredited degree (you can leverage)
Hands-on experience
Networking opportunities
Time to grow your portfolio
Career placement opportunities
Access to latest software and tools
And much more …
Additionally, most professional studios want to hire animators that can prove they've received training and hands-on experience with the latest technology and software programs.
Search the Animation Colleges Below
---
To help you with your college search, we've highlighted what we believe to be the 50 top animation schools in the U.S.
We included a wide variety of schools, including: 4-year universities, specialty schools, flexible training programs, and accredited online degree programs.
The factors we used to determine our rankings:
Graduation rates
Average starting salary
Professor reviews
Tuition & fees
Reputation and student feedback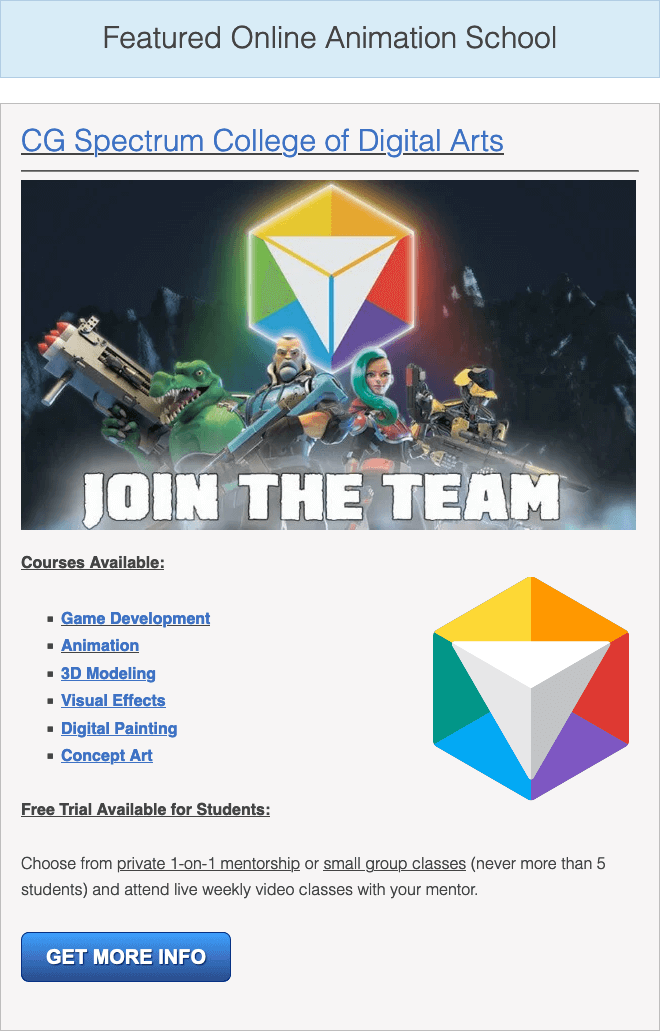 Our Favorite Animation Colleges
California Institute of the Arts
---
School of Film/Video

Bachelor of Fine Arts
Master of Fine Arts
The Character Animation program gives you an understanding of the art of character performance in story-driven digital designs. Individuals receive top-level artistic and technical training in both computer-generated environments as well as traditional animator methods.
Ringling College of Art and Design
---
Computer Animation

This computer animation program will teach you how to create characters for the purpose of storytelling. This includes designing, modeling, texturing, painting, animating, lighting, and editing your own animation films. Many of today's top digital design companies have Ringling College alumni.
Savannah College of Art and Design
---
Animation

Bachelor of Fine Arts
Master of Arts
Master of Fine Arts
This animation school offers a robust selection of animation degrees at various levels. Each one focuses on the various types of animation, including 2D, 3D, and even stop-motion, while providing training in digital modeling, rigging, lighting, and more. The provided tools and software are used by the top professional animators in America.
Rhode Island School of Design
---
Film/Animation/Video

RISD's program will give you an understanding of the art of moving images while you master the tools needed to create your own film, animation, and/or interactive projects. A combination of aesthetic, technical, and conceptual questions are used by professors to help graduates create their own voice.
School of Visual Arts, New York
---
Animation

This college degree program has some of the best animators in New York City helping you create your own voice and art with the latest software and hardware. 36 different animation courses are offered, and graduates get to show their thesis films at the Dusty Film & Animation Festival.
University of Southern California
---
College of Letters; School of Cinematic Arts

The Animation & Digital Arts program offers you training in character design, visual effects, 3D computer graphics and modeling, interactive animator classes, science visualization, and experimental animation.
A Game Animation minor focuses more on the combination of programming and design skills required to make game art. (See more California animation schools)
University of California, Los Angeles
---
School of Theater, Film, and Television

This program works to provide you with a strong balance of technology and creativity while also touching on other areas in filmmaking. This includes scriptwriting, editing, and other skills that need to become an effective storyteller. Individuals also get to participate in a number of student film productions to build their portfolio and gain experience.
Carnegie Mellon University
---
The Integrative Design, Arts and Tech Network

One of the greatest strengths of Carnegie Mellon's academic programs is the connection with other interdisciplinary fields.
This means that most 4-year university degree students can also choose a concentration of Animation and Special Effects, as well as one in Media Design, Sound Design, Game Design, and more.
Rochester Institute of Technology
---
Film and Animation

Bachelor of Fine Arts
Master of Fine Arts
The B.F.A. program is designed to give you a curriculum that develops your skills in film, animation, video, and other creative media. The M.F.A. degree allows you to then continue your studies by creating your own productions in 2D, 3D, stop motion, or even live-action. Screenwriting courses are also involved.
Full Sail University
---
Computer Animation; Game Art

Full Sail offers a host of college courses valuable to future animators. The best choice is a B.S. in Computer Animation that prepares you for the role of animator in any field. The other strong choice is the Game Arts degree that focuses on creating characters, cartoons, environments, and other objects for games. Both degrees are available online and on-campus.
Animation Mentor
---
3D Animation
The strength of this online animation school, which operates 24/7, is the experienced professionals with actual industry experience teaching your courses. Students learn everything from character and storyboarding while mastering the latest software programs like Autodesk Maya.
Brigham Young University
---
Fine Arts and Communications

BYU's animation major is offered in collaboration with the College of Fine Arts and Communications, Department of Theatre and Media Arts, and Department of Visual Arts.
You'll take a strong variety of valuable college courses such as Scripting for Animation, Screenwriting, Drawing for Animation, and 2D Animation Production during your journey toward graduation.

The DAVE School
---
Digital Animation & Visual Effects

Visual Effect Production Diploma – 12-month Program
Game Production Diploma – 12-month Program
Bachelors in Motion Graphics (Online)
Bachelors in Production Programming (Online)
What makes The DAVE School unique is that the instructors are all experienced industry artists, the curriculum simulates studio environments and pipelines and the curriculum is constantly evolving to meet industry needs based on feedback from studios such as MPC and Double Negative. (Complete DAVE School Review)
Pratt Institute
---
Interactive Arts

One of the best colleges for animation, The B.F.A. in Interactive Arts gives you the option of two different areas of emphasis. One focuses on the production of 2-D animation and how it can be used to develop characters and tell a story.
The 3-D Animation area of emphasis involves teaching students digital animation techniques for creating believable 3D animations.
New York University
---
Department of Art and Art Professions

The Digital Art and Design minor at New York University briefly covers everything from technical training and visual communication to digital fabrication skills. You'll have access to the college department's digital imaging, design, and fabrication schools where they can make use of the latest software, including 3D printers, CNC routers, and laser cutters.
Texas A&M University
---
The Department of Visualization

From learning how to sketch to mastering the art of computer-generated animation, the Visualisation degree program teaches you how to share your ideas, content, and messages with your audience. Unique to this curriculum is the requirement that college students study abroad for a semester in a foreign studies program related to their industry of interest.
Ohio State University
---
Department of Art
Bachelor of Fine Arts
Master of Fine Arts
Both the M.F.A. and B.F.A. program seeks to give you the skills needed to use the latest and widely-used technology toward the creating of art. This includes 3D modeling and animation as well as digital imaging, internet art, holography, tactical media, moving images, interactive projects, and more.
Maryland Institute College of Art
---
Animation

You'll receive hands-on experience with the latest design tools and software used by professional animators across the globe. College graduates leave the school fully capable of producing 2D and 3D animation as well as stop motion for games, movies, and more.
University of Pennsylvania
---
The Digital Media Design

Bachelors in Engineering and Science
This Digital Media Design interdisciplinary major is a combination of computer graphics courses that teach you how to use interactive technologies toward the creation of games, films, and more. The school boasts graduates at top animation and gaming companies like Disney, Electronic Arts, DreamWorks, and Pixar.
Academy of Art University
---
School of Animation & Visual Effects

Online Certificate
Associate of Arts
Bachelor of Fine Arts
Master of Fine Arts
Aspiring 2D or 3D animators have plenty of degrees in animation to choose from at The Academy of Art that match their desired level and prepare them for a rewarding career.
This dynamic program also prepares you if you prefer a role as a storyboard artist or visual effects artist. There are three areas of emphasis: Storyboarding, 3D Animation, 3D Modeling, 2D Animation, and Stop Motion, and Visual Effects.
Laguna College of Art and Design
---
Animation

Laguna College boasts a number of degree programs that can lead to a career as an animator, with the B.F.A. in Animation being the best choice. Other options are the Game Art and Design + Digital Media programs. Graduates animators from this school are found in top studios like Pixar, DreamWorks, Obsidian Entertainment, Sony, and more.
University of Central Florida
---
Visual Arts and Design

Bachelor of Arts
Master of Fine Arts
Individuals interested in a career in animation will want to check out either the B.A. in Digital Media or M.F.A. in Emerging Media – Digital Media. Both offer a broad curriculum that spans animation, motion graphics, digital storytelling, visual language, and more.
Participants in the B.A. program can even choose between two specializations: Web Design and Game Design. (Reviews of Florida Schools for Animation)
Columbia College Chicago
---
The Cinema Art + Science Department

Minor
Bachelor of Arts
Bachelor of Fine Arts
Among the many degree program options for future animators, the B.F.A. in Computer Animation is the top choice. The B.A. in Cinema Art + Science, which focuses on the fundamentals of film production, also has a specialization in Animation. A minor in Animation and B.F.A. in Traditional design classes are also available.
University of Texas at Dallas
---
Arts and Technology

Bachelor of Arts
Master of Arts
Master of Fine Arts
PhD
The University of Texas offers an impressive number of college degree programs useful to people looking to prepare themselves for a career at a game or digital studio. These include B.A., M.A., M.F.A., and even Ph.D. degrees in Arts and Technology with an emphasis in Animation.
The Computer Game Development emphasis can also be useful if students want to work as an animator in the gaming industry.
Parsons The New School for Design
---
Design and Technology

This B.F.A. program was designed to cover everything a professional new media storyteller should know, This includes a strong curriculum covering not just animation but also computer graphics, data programming, motion graphics, physical computing, and game design. You can find our recommended colleges for game design here.
DigiPen Institute of Technology
---
Digital Art and Animation

As one of the best schools for animation in the country, the rigorous four-year program at Digipen will turn you into a master of the technology needed to create impacting imagery in a professional studio environment.
College graduates end the program with refined drawing and storytelling skills as well as extensive production and studio experience. This makes them well prepared to enter any digital media industry in the role of either an animator or production artist.
Gnomon School of Visual Effects
---
Digital Production

2-Year Full-Time Certificate
3-Year Full-Time Certificate
At Gnomon you can choose between two fantastic college certificates that both prepare students for a rewarding career in 3D production. One is a 2-year student program in Digital Production for Entertainment and the other is a 3-year program in Entertainment Design & Digital Production.
School of the Art Institute of Chicago
---
Film, Video, New Media, and Animation

Bachelor of Fine Arts
Graduate Program
This degree in animation gives you access to cutting-edge equipment and technology as they prepare for a career in one of many fields. Students get to choose one of the following concentrations: Film, Video, Installation, New Media, Animation, and Nonfiction.
DePaul University
---
Department: Animation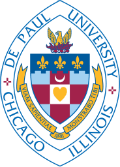 Bachelor of Arts
Bachelor of Fine Arts
Master of Arts
Master of Fine Arts
Both the B.A. and M.A. in Animation involve a host of useful courses such as 3D Animation, Animation Production, Narrative Development, and more. The B.F.A. and B.F.A. degrees in Animation are similar but also involve a concentration in either Cinema or Game Art.
Woodbury University
---
School of Media, Culture & Design

Students interested purely in animation will find interest in the B.F.A. in Animation, which combines courses that focus on story, art, sound design, technology, and performance. The B.F.A. in Game Art & Design is more designed towards creating 2D and 3D characters, animations, and environments for games.
San Jose State University
---
Animation/Illustration Program

The core curriculum of the B.F.A. in Art involves courses in tradition and 3D animation as well as character design, visual development, physics of motion, modeling, and storytelling. You can also further your knowledge of Animation by choosing the Animation concentration. There is also an Illustration concentration.
Loyola Marymount University
---
Animation

LMU's Animation school programs provide an understanding of both traditional and digital areas of animation, which are needed to apply for jobs in the film, television, video game design, and many other industries. Graduates obtain their own artistic voice while mastering advanced 3D, storytelling and production methods.
Rensselaer Polytechnic Institute
---

Bachelor of Science
Minor
The B.S. in Electronic Arts consists of a wide range of creative digital media courses and also offers a concentration in Visual Arts and Animation. A B.S. in Electronic Media, Arts, and Communication is also there to train futural digital artists and animators.
Art Center College of Design
---
Entertainment Design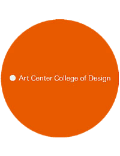 The Entertainment Design Program builds up students as creative storytellers able to conceptualize and create digital entertainment content. While the Concept Design concentration delves into animation, the Character course is arguably the stronger choice for aspiring animators.
California State University, Fullerton
---
Entertainment Art/Animation

Students involved in the B.F.A. in Art program can choose an Entertainment Art / Animation concentration. Coursework involves building up the student's practical, conceptual, and technical skills when it comes to using character animation to tell a story and communicate ideas.
Otis College of Art and Design
---
Digital Media

Digital Media incorporates three useful and popular areas of study: Animation, Motion Design, and Game & Entertainment Design. OTIS alumni can be found at top companies like WETA, Sony Online Entertainment, Blizzard, Electronic Arts, Pixar, DreamWorks, Disney, and more.
California College of the Arts
---
Animation

While being taught by professionals from top studios like Pixar and DreamWorks, students are trained to create character animations that evoke emotions and tell captivating stories. Award-winning directors and animators are often available to provide you with feedback and advice throughout the program.
California State University, Long Beach
---
Illustration/Animation

Students in the B.F.A. in Arts degree program can enroll in an Illustration/Animation program requiring demanding requirements. The Animation track offers you a number of valuable courses, including Drawing Figures in Context, Special Studies in Animation, Character Design, and more.
North Carolina State University
---
Art + Design

The Art + Design degree is designed to help you think critically while making use of solid art and design principles to create compelling content. Areas of study include computer imaging, interactive design, photography, and of course, animation. (North Carolina degree programs for animators)
University of the Arts (Philadelphia)
---
College of Art, Media & Design

An Animation program is offered that prepares you for a career as an animator in any field of interactive media. A Film + Animation degree is also available that leans more toward creating narratives through the use of computer-generated animation.
Florida State University
---
Motion Picture Arts

Bachelor's Degree
Master's Degree
The College of Motion Picture Arts has three degrees that aspiring animators should consider. They are – Bachelors in Animation and Digital Arts; Bachelors in Motion Pictures Arts – Production; Masters in Motion Picture Arts – Production.
Purdue University
---
Animation

Students involved in Purdue's computer animation major will receive training in six main areas: 3D modeling, rendering, texturing, lighting, character rigging, and motion. This will be done while you use the latest animation tools and software, including Autodesk Maya.
Emerson College
---
Department of Visual & Media Arts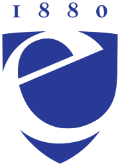 The B.F.A. in Media Arts Production has a Production Track that features courses useful to a future animator. These include Computer Animation, Film, Drawing, Photography, Interactive Media, and more.
Minneapolis College of Art and Design
---
Animation

You'll make use of the latest technology while learning how to produce your own 3D, 2D, and stop-motion animations. Top courses include 3D Modeling, Storyboard, Advanced 3D Animation Seminar, Advanced Animation Seminar, and more. Students also get unique training in hand-drawn 2D production.
Kansas City Art Institute
---
Animation

The acclaimed animation program at KCAI encourages you to create your own voice while learning all there is to know about computer animation.
This includes extensive training in leading animation programs like Maya, Dragonframe, and Adobe Creative Suite 6.
University of South Florida
---
Video, Animation, and Digital Arts
Students in the Video, Animation, and Digital Arts program get to use latest digital tools while learning the fundamentals of 2D and 3D animation as well as 3D modeling, Sound, and Digital Media. There is also an Advanced 3D Animation focus. (See more Florida animation schools)
Syracuse University
---
College of Visual + Performing Arts

Minor
Bachelor of Fine Arts
Master of Fine Arts
A B.F.A. in Computer Art & Animation classes are available if you're looking for a comprehensive education in 3D computer animation, computer-generated images, computer games, and more. An M.F.A. in Computer Art and Minor in Animation are also available.
San Francisco Art Institute
---
Film

The San Francisco Art Institute offers a Film degree that covers an extensive range of genres, including documentary, hybrid forms, narrative, and animation. You will also get experience with the latest sound and image editing tools.
Cleveland Institute of Art
---
Animation

CIA's B.F.A. in Animation prepares you for a career in a number of positions, including: 3D Character Animator, Game Designer, Concept Artist, Storyboard Artist, Animator, and Independent Filmmaker. A recent graduate was even a sculptor on Disney's Big Hero 6.
Montclair State University
---
Animation and Illustration

The B.F.A. in Animation/Illustration covers the foundations of not just 2D and 3D animation but also figure drawing, color, lighting, and other areas of using animation as a storytelling medium.
10 Amazing Animation Schools Outside The US
Vancouver Film School
---
3D Animation & Visual Effects

One-Year Certificate Programs
VFS has a number of excellent one-year programs that could be used as a path toward a career as an animator. The best one is the 3D Animation & Visual Effects program, but the Foundation Visual Art + Design path is also worth recommending.
Sheridan College
---
Faculty of Animation, Arts, & Design

The Bachelor of Animation degree will leave you with a solid understanding of not just 3D computer animation but also the fundamentals of 2D movement, performance, and expression.You'll also take courses in other areas such as storyboarding and scriptwriting.
Bournemouth University
---
Computer Animation

Bachelor of Arts
Bachelor of Science
You have a choice of four different programs at BU that can lead you to a career in animation. These are – B.A. in Computer Visualization and Animation; B.S. in Software Development for Animation, Games, and Effects; A B.S. in Game Technology; B.A. in Computer Animation Arts.
Nanyang Technological University
---
Art, Design & Media

With the Art, Design & Media program, you'll cover several areas useful to a professional animator. In four years you'll cover everything from Digital Animation, Digital Filmmaking, Interactive Media, Product Design, Visual Communication, and Photography & Digital Imaging.
Royal College Of Art (United Kingdom)
---
Animation

Bachelor's Degree
Master of Arts
RCA offers you a learning and teaching environment designed to help you develop your creative and technical skills to become a good animator. You'll also take courses covering scriptwriting, storytelling, improvisation, and more.
HKU University of the Arts Utrecht
---
Design and Media

Bachelor of Design At HKU University offers you a number of different paths in design and media to choose from. They include Animation, Fashion Design, Audiovisual, Media, Illustration, Graphic Design, and Image and Media Technology, Product Design, and Spatial Design.
Royal Melbourne Institute of Technology
---
Animation and Interactive Media

Graduate Diploma
Bachelor of Design
Master of Animation
RMIT's B.D. in Animation and Interactive Media is the best choice if you want to receive a solid education in 2D animation, 3D animation, motion graphics, special effects, and interactive media. There are also two Master's degrees and one Graduate Diploma in Animation, Games, and Interactivity.
University of Technology Sydney
---
Animation

Bachelor of Design
Master of Animation
The B.D. in Animation is perfect if you want to translate your passion for drawing, storytelling, and visual art into a career in animation. There is also a post-graduate Master of Animation program to further your studies.
Teesside University (England)
---
Computer Animation

Bachelor of Arts
Master of Arts
Teesside University has three excellent programs if you're determined to serve as an animator for a living. These are – a B.A. in Computer Games Animation; B.A. in Computer Character Animation; and a one-year M.A. in Concept Art for Games and Animation.
Beijing Film Academy (China)
---
School of Animation

BFA's Animation School has been preparing the next great animation directors and animation producers since 2000. You'll be trained by an experienced teaching team and have the opportunity to take part in several animation film festivals in the city.
The Animation Career Outline
Professional animators and graphic artists are at the forefront of a thriving digital industry that continues to grow.
Despite outsourcing minor animation projects, the U.S. Bureau of Labor Statistics has predicted a 6% increase in the field of animation, graphics, and media design over the next few years.
Too Many Options?
Careers in animation are as diverse and varied as the training programs available to those looking to learn.
Regardless of your background, age, or financial situation, there are many high-quality animation classes available to choose from.
Your Animation Skills Set The Stage
---
Many (but not all) of today's top animators started out with some natural talent. Typically memorable illustration skills, superior storytelling abilities, and a natural inclination towards the art.
Bob Godfrey, one of the most talented illustrators to ever grace the field of animation, has spoken often of his passion for bringing his drawings to life.
In one interview, part of what he believed animation to be was summed up, in part, when he said,
"…We want limitations; we want gravity. Basically, there is no gravity in animation. Animation is free, it can fly, and it can go anywhere. I don't think enough people realize this, they're too earth bound. It's not earth bound, it's fantasy.

You've got to have a very whimsical mind for animation, I think; you've got to be able to take off and be not of this world."
It is this passion and drive that brings many to the industry.
Searching for Animation Classes
---
In order to gain access to the world of animation, you have to pursue an education that trains you in 2D and 3D animation.
The ability to create realistic animation has grown exponentially with new techniques and computer software continually improving.
Depending on where you live, you can explore the many course offerings and degree tracks to place you where you would like to be in the field.
Typical Animation Courses List
---
Generally speaking, there are four broad categories of animation training.
Certification(s) 
Associate Degree(s)
Bachelor Degree(s)
Master Degree(s)
Also worth noting:
The US doesn't currently offer a Doctoral Degree in Animation.
Self-study via books and online courses are also gaining in popularity.
In addition to selecting the level of education you desire, choosing the right focus can be even more important.
Common focus areas of animation:
Animated advertising
Movies and television
Video game testing and development
Education
While these categories are not exclusive, they paint the choices with a broad brush for those wishing to narrow down their field of interest.
It May Seem Overwhelming at First
Just as there are many different jobs in the animation industry, there are a myriad of choices available for your training.
There are schools devoted entirely to the pursuit of graphic design and animation as well as universities adding in comprehensive degree tracks in media arts, animation and graphic design.
How to Choose the Right Animation Degree
---
Training ranges from the certificate level, where you can train in the core basics and give you enough of an introduction to the field to procure an entry-level position all the way to a Master of Fine Arts, which can find you teaching in a university or working on the next major animated film.
Level 1: The Animation Certification
There are several schools throughout the country that offer programs that provide a certificate after your training is complete.
These courses provide core basics in the animation field and usually require approximately 17-18 credits.
You can expect to take classes such as:
2D animation
3D modeling
Graphic design
And additional similar courses
These certificates can offer you a glimpse into the complex world of digital media, animation and graphic design.
You can take a certificate course to enhance an already existing degree, or to freshen your skills that might be outdated with emerging and improving technologies.
Level 2: The 3D Animation Associate Degree
Progressing to the next level of education available in the animation field, we arrive at the Associate Degree.
This typically two-year program adds in not just core classes, but other prerequisite courses at the college level that result in a more well-rounded education.
The animation classes that you will take during the pursuit of this degree can vary.
Some schools offer multiple tracks for degree completion that may result in Applied Science or Arts degrees in:
Multimedia
Graphic design
Game design
Animation specialties
Graduates from these types of programs can expect to obtain entry-level employment in animation studios, advertising companies, design firms and other creative artist positions.
As this article points out, just one generation ago, all animation was done by hand. Delving into the history of animation, you discover the incredible talents of those who worked animation magic with pen and paper.
Level 3: The Bachelor Degree
The exponential growth of the industry had lead to an equal rise in educational requirements for those at the top of the field.
For this reason, there are a ton of Bachelor Degrees in Animation available for serious aspiring animators.
When enrolling in a Bachelor of Animation Class or training program you can expect to learn the core skills of animation, the software, and tools used by pros, as well as a specialty to focus on for your career.
The Most Popular Bachelor Degree Programs Include: 
Level 4: The Master Degree
At the pinnacle of animation, education sits the Master's Degree in Fine Arts with a concentration in Animation, Design and Production.
These degrees are not as widely offered as certificates, associate and bachelor degrees.
Individuals who take their education to the top with an M.F.A are usually seeking higher-level positions in the industry such as:
Producer
Creator
Project Director
Studio Executive
This advanced degree also adds in unique components (not usually found in less intense degrees) such as:
Management
Production Skills
Logistics
Finance
In order to gain admittance to these selective programs, one must already possess a valid Bachelor's Degree in an Animation field and compete for a place in the program.
Upon completion, one can expect to gain a more lucrative position in the field. Some individuals obtain this degree in order to teach at these prestigious universities and transfer their knowledge to up-and-coming animators.
To set the record straight, there aren't any Doctoral degrees in animation currently available in the U.S.
If your passion extends to the height of wanting to pursue your Doctorate degree in Animation, you will have to look outside the US to find a suitable program.
Most people who pursue a degree in digital arts at this level are often seeking to teach at universities or work at the highest level of the industry. This degree is extremely rare and takes years to complete.
Online Animation Schools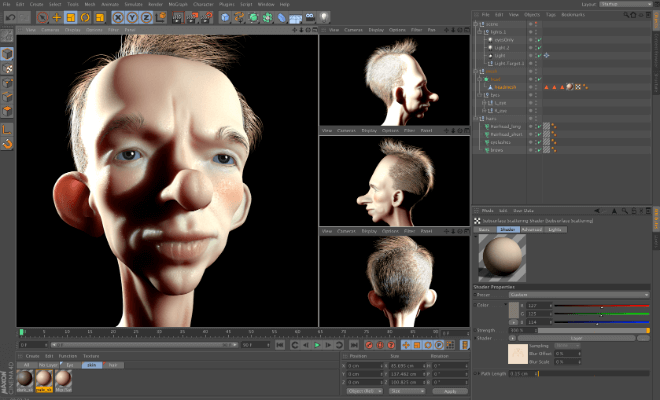 There are many reasons students choose to enroll in an animation school online.
Sometimes, it is simply a financial decision.
Online design schools are usually less expensive than traditional colleges. As the student is not on campus and provides their own classroom so to speak.
Also, online schools offer the student the flexibility of taking the course at their own pace, working around work, family and other obligations.
This can be a very attractive draw to choosing an online path.
Some people wish to obtain their degree in the fastest possible time and at the lowest cost.
High-Quality Online Animation Schools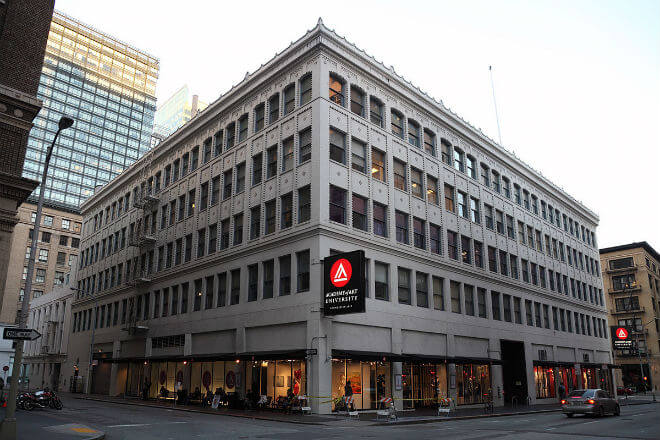 Animation Mentor
---
3D Animation
Game Animation Fundamentals (6 Week Workshop)
Game Animation Combat Attacks (6 Week Workshop)
AnimSchool
---
3D Animation Program
Animation Track
Animation Program
Academy of Art University
---
Animation and Visual Effects Program
Associate's Degree
Bachelor's Degree
Master's Degree
Master's of Fine Arts
Certificate Programs
California College of the Arts – Kadenze (Online Courses)
---
Introduction to 3D Modeling and Animation with Maya: Tradition Meets Technology
Certificate Program (5 Sessions/11 hours per session)
Rocky Mountain College of Art and Design
---
Animation
Full Sail University
---
Computer Animation
Bachelor's Degree (20 Months/29 Months)
Southern New Hampshire University
---
Graphic Design
Bachelor's Degree: 3D Modeling & Animation
Savannah College of Art and Design
---
Animation
Bachelor's Degree (35 hours)
Master's Degree (45 hours)
Master's of Fine Arts (90 hours)
The DAVE School
---
Animation
Bachelor's Degree (30 Months)
Academy of Interactive Entertainment – Australia
---
3D Animation & VFX for Film
3D Animation Foundations Certificate (2 Semesters – 15 Weeks)
Game Art Foundations Certificate (3 Semesters – 20 Weeks)
Gnomon School of Visual Effects
---
Creature Modeling and Sculpting (10 Weeks)
Hard Surface Modeling 2 (10 Weeks)
Introduction to 3D with Maya (10 Weeks)
Photoshop for Digital Production (10 Weeks)
CG Spectrum Online School for Animation and VFX
---
Introduction to 3D Animation (6 Months)
Advanced 3D Animation Diploma (10 Months)
Advanced 2D Animation Diploma (10 Months)
Introduction to Character Rigging (3 Months)
Berkeley College Online
---
Graphic Design
Rasmussen College Online
---
Graphic Design
Associate's Degree
Bachelor's Degree
Liberty University Online
---
Graphic Design
Bachelor of Fine Arts (8 Weeks)
Downsides to Animation Schools Online?
One of the main drawbacks to taking your animation course online is that you can sometimes miss out of the collaborative effort that taking a course in-person offers.
Many animation and graphic design courses rely on the concept of teamwork to put together class projects and learn ways that a complete graphic design team sits down and designs the product from conception to completion.
While there are certainly ways to have a discussion online through video conferences, chatrooms, and forums, this can be a drawback for some.
Some colleges and universities can alleviate this deficit by offering meet-ups and workshops that tie-in to the course and other collaborative opportunities.
Also, one must consider another important issue. If you are interested in specializing in a particular niche in the animation field, attending a brick-and-mortar school will allow you access to more hardware and software used directly in the industry.
Unless you are fortunate enough to already own or have access to these advanced tools, your best option might be to take at least a few of your animation classes on a campus that can provide you with this interactive environment.
Online schools are sometimes the only option if you do not live anywhere near an institution that provides the classes and moving to live near or on campus isn't an option.
How to Pay for School
---
The cost of your program can vary greatly depending on several factors.
Community colleges tend to have great in-state rates for students and can be a very affordable option to start out with.
Private tech school programs often cost more, however, they are also accredited schools which are eligible for funds like student loans, scholarships and grants.
Don't forget to consider the state and economic status around the institution. If you are looking to attend a brick and mortar school, you will need to not only seek out information about the cost of the education program, but the cost of living for housing, food and other necessities needs to be factored in.
If you are taking all of your courses online, you will need to add in additional costs as well.
Will you need to take workshops or participate in internships in order to complete your training or degree? While you may save on program costs, factoring in these additional fees are important too.
Speak to an Advisor
Once you have narrowed down your animation school and program selections, taking the time to speak to an advisor is a crucial step in the process.
They can answer vital questions that will help you avoid signing up for courses you don't need or guiding you towards a course track that will point you in the direction of the career you seek.
Advisors can also help you figure out the often complicated world of financial aid and get you on the right track.
Animation Scholarships
In addition to traditional funding, there are scholarships that are specifically geared for students pursuing an education in the animation field.
Many of them require that you submit portfolios and other forms of completed work.
You will find that the requirements vary for each scholarship, as is normally the case with most targeted awards.
Some scholarships are available for women pursuing degrees in animation, while another may target an individual coming from a disadvantaged background.
A different scholarship may require that you maintain a certain G.P.A. in order to apply. If you take the time to do some research on these programs, you may be able to fund a portion of your tuition costs.
List of scholarship opportunities via CalArts.
The Future of Animation
---
Pursuing your dream of an education in the animation field is a great way to turn your artistic background, talents and ideas into a lifetime career.
With so many colleges, tech schools, universities and options to help you realize your dream, you can begin your search to find the perfect program track and degree that will propel you forward towards your pursuits in the industry.
No one knows what the future of animation looks like. But one thing is certain; animation is here to stay and the demand for content is growing.
Gaming, film, television and advertising agencies will continue to seek out new talent and story ideas that spark new content and new ideas that push the boundaries of technical limits.
You already know that's what you want to do, so why not start your search for the perfect animation classes today?
Common Questions About Animation Colleges
---
Do I need to attend one of these animation colleges to have a successful career?
No, definitely not. However, it's likely the quickest and most effective way of accelerating your career. &l
What if I'm only curious about animation?
No problem. You can either check out various free online resources or enroll in a "Beginner's Certificate Program" via online training from Post University.
All credits from that class are transferrable should you decide to continue your animation education.
What if I can't afford college right now?
Check out some of the scholarship and grant opportunities available:
---
Written by Dustin Tyler [Updated November 10, 2021]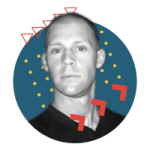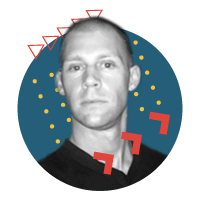 Initially focused on web dev, Dustin was introduced to game design by a friend after college and was immediately attracted to the combination of technical skill and creativity required to make an awesome game.
While not a professional game developer himself, he's utilized his web dev skills and desire to help others by creating a resource where expert game designers can share what they've learned with the next generation of aspiring game makers. Meet the rest of the team.