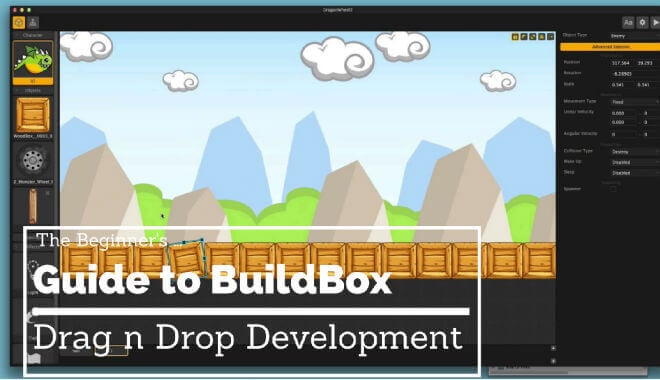 Have you heard of BuildBox yet? Let's talk about it!
Buildbox is a game development platform. Unlike some traditional game development platforms, there's no code involved with BuildBox. As the name suggests, you just drag and drop to build games. Nice and easy.
Is It Any Good?
---
Since it's release in January of 2015, over 40 games built by BuildBox have been featured on Apple's Featured page. More top 100 hits have been built with BuildBox in the past 1.5+ years than the other game builders combined.
Colorswitch, a game built with BuildBox, has over 75 million downloads. It was created in less than a week. With stats like that…yeah, it's "any good."
Buildbox states its goal simply: "design the ultimate game builder that allows anyone to make a video game."
Based on their metrics, it certainly seems like they succeeded.
Buildbox Features
---
The big deal with BuildBox is that it requires 0% coding knowledge. That's right: you don't have to be a coding guru to learn the professional-looking game development tool's ins and outs.
Features:
Image Drop Wheel
Scene Editor
Monetization options
Asset bar
Option bar
Collision editor
Physics sliders
Game Design Barriers
---
One of the biggest barriers to building a game has always been learning coding and programming skills. What the Drag N' Drop Buildbox does so effectively takes all the coding and programming requirements out of game design.
The development platform hides all the coding and programming behind the scenes, which makes for an intuitive, easy-to-use, any- person's development platform. Every tool you need to build the game you want to make is included in the BuildBox.
Can You Actually Make Anything Cool With It?
---
Drag n' Drop is more than accessible; It's powerful. It has been used to create not just "hit games," but multiple number one hit games:
It's easy enough to get started, too. You can start building a game right now for free, just by entering your email address.
The team at BuildBox compares using their drag and drop game builder to making a PowerPoint presentation. Making a PowerPoint is a piece of cake, can designing a game really be that easy?
Time to Unpack the BuildBox
---
Let's take a look at the capabilities of BuildBox. How does it actually work?
Adding a new character? Drag the image into the level editor. Need a new enemy? Drag and drop. Looking to add objects, platforms decorations, powerups, effects, or backgrounds? All are draggable and droppable. That's all it takes. It is, for the most part, all drag n' drop.
When it comes to the properties of the elements you're dragging and dropping, you can edit them by selecting them. It is an intuitive interface, even beyond its dragging and dropping simplicity. BuildBox will open the door to many game creatives that never cared to learn how to code.

Seeing Your Work: In Action and Behind the Scenes
---
At any time you can hit "play" and you're immediately transported into the game. The play mode renders itself instantly, so you can immediately get a feel for what you've created so far.
The "creator tool" assembles a skeleton of your desired game. It functions as a quick-start feature. You pick the game type that you want to design around from a list of full-world gameplay presets.
You can pick anything from a runner game to a dogfight game, and BuildBox applies the appropriate presets to the world you're creating. This affects everything from the physics properties to the character settings.
The "scene" editor ("scene" is used synonymously with "level") lets you quickly expand from the loose framework BuildBox provides in the beginning. The starting placeholder graphics are very simple and based on the gameplay type that you chose.
It starts with a single enemy, a character, a platform, and they round it out with a single particle effect. You can easily edit these to your liking, then copy them to add more, or change things to flesh out the scene however you see fit.
This Is A World's World
---
Buildbox lets you create more than one world in your game using the World Settings feature. This lets you do a number of things. When a player reaches the end of the world you can choose to automatically send them to the next world. Think Super Mario Brothers.
Or, you could send the player to a level select screen like Super Mario Brothers if you took advantage of the level-warp pipe. Or, you could make your world endless. If players were good enough, they could keep going indefinitely.
Cast of Characters
---
What about Character Settings?
BuildBox lets you add effects and animations to different characters. You can adjust how they move, how they shoot, how they jump, and how they interact with the world. You can adjust the sounds for each character's action, too.
As of BuildBox 2.0, you now have multiple character support. This means you can have separate sounds, separate special abilities, and different powers and functions for multiple characters in your game. With multiple characters, support comes unlockable parameters.
That's right, you can set parameters for unlocking different characters in your game. In-game currency or level completion are two popular options for unlocking characters.
"But I'm Complex…."
---
Those looking to make more complex games might enjoy hearing about the auto-depth sorting feature that BuildBox contains. It serves its titular function; it automatically sorts out any possible depth issues that arise during complex game creation.
We don't know why you haven't started messing around with it yet, we're finished writing about it and it's free right now… See you on the featured games page!
Buildbox 3
---
BB3 is the latest iteration of the fantastic no-code game engine, BuildBox. Although in its infant stages, BB3 is undoubtedly going to be one of the best options for beginner developers out there. It launched in May 2019 with a wide array of brand new features and an impressively in-depth series of tutorials to get anyone on the right track to make impressive Buildbox games.
The BuildBox team even offers free online courses in the use of BuildBox and all of its features.
Buildbox Free
---
BuildBox Free was released in late 2019 to accommodate those casual and first-time game developers who wanted to dip their toes into the water of impressive game design without a substantial financial commitment. This is an excellent alternative with no pressure to pay, and will undoubtedly convince total newbs to start creating professional-looking games.
Game Wizards & Interactive Tutorials
These tutorials are a great stepping stone to starting your game development journey. You'll regularly receive help in the form of specific tutorials (2D and 3D) and how to bring your game to the next level. They cover the basics and more advanced options.
Pre-loaded 2D And 3D Smart Assets
Buildbox has a ton of preloaded assets for you to choose from. You can acquire more, but the original lineup of options is awe-inspiring. You can make an entirely 3D or 2D title, or switch it up and combine the two perspectives. There are well over a whopping 300 to choose from right off the bat.
Brainboxes
Brainboxes are drag and drop features with built-in logic systems that help animation and assets work on their own. This adds new life to the games you make, literally, and gives you a sense of realism and considerable computing power.
Easy Monetization
Monetizing your game via BuildBox has never been easier. It's already built into the engine to make it a seamless process and gets your game on the market in no time by using AdMob or IronSource.
Advanced Options
The advanced options add even more life and features to the game creating process. Nodes, specifically, play a massive part in the newer advanced options. They give logic to assets and characters, allowing them to act a certain way.
Buildbox for PC
---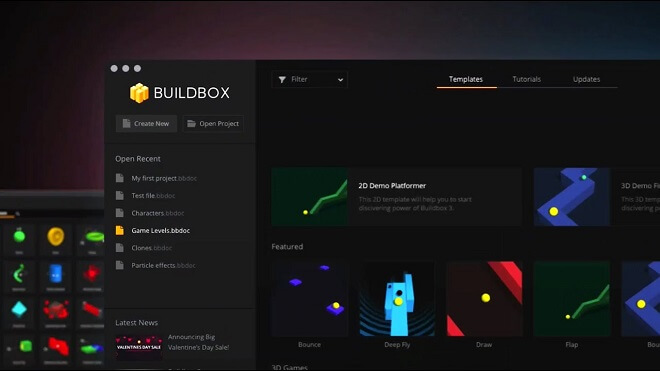 How does it work?
Buildbox uses a great and easy drag and drops tool to make games in the blink of an eye easily. The developer, (that's you!) will use things like an asset wheel, a toolbar, multiple physics options, monetization settings, and more to crank out games that look like they were made with a high-end engine, but without all the complicated coding!
What games has it made?
It has made a slew of impressive games you can see here.
Who is it for?
BuildBox is for first-time game developers who don't want to muddy up their creative experience with all of the complicated codings that can come from developing games. The company's original aim was 'to democratize game development and create a way for anyone to be able to create video games without having to code.'
Character Settings
Buildbox offers a lot in terms of character settings. You can make them do nearly anything, from a backflip to having them walk a specific path without aberration.
Scene Editor
The scene editor is a fantastic way to set the scene of your game. However, you wish it to look and act.
Debug Mode
Make sure that everything is running smoothly and without glitches. The debug mode allows you to check up on your game's status and if any glitches are present.
Node Menu Editor
The nodes are plentiful in this version of the BuildBox download, and you'll need a menu to keep everything in check. Luckily, the node menu editor allows easy access to nearly all of the nodes at a click.
Menu Animations
Every game needs the main menu to outline what the player can engage with. Buildbox has a menu animator to make sure your menu is as creative as the game itself.
Coins
A BuildBox download comes with a coin asset to award the player if they do a preferred or correct action within your game's framework.
Light Effect
The light effect allows you to edit how the lighting works and looks in your game.
Custom Fonts
Who doesn't like a great custom font? In BuildBox, you can take advantage of making your own creative fonts to decorate your game with.
Free Assets
---
Buildbox Games
---
All-Star Games
Balls vs. Maze
Matchy Moods
Colors Breaker!
Snake Color Bump
Brick Break 3D!
Drive and Park
Pocket Coin Stack
Go Escape!
Flip or Drink: a Knight's Game
Hyper Fruits
…and many more
Buildbox Reviews
Pros
Easy interface
Fast-tracking assets
Ad integration
Fast loading times
No coding
Cons
Limitations on game variety
Lacks FBX support
BuildBox 3 doesn't have the same integration of features as BuildBox 2
FAQ
Is Buildbox free to use?
---
There is a version called 'BuildBox Free, ' which is entirely free to use. It includes features like no coding whatsoever and android and iOS support.
Is Buildbox any good?
---
Yes, it's consistently one of the most accessible game engines to use, especially for beginners with no coding experience. It is often considered one of the best Android game development tools out there.
How much does Buildbox cost?
---
There is BuildBox Free, which is entirely free of charge. There's also Buildbox 3, which comes with two licenses, Plus and Pro, costing $20 and $50.
There's also an annual license program of the two options, priced $190 and $500, respectively.
How do I make a game without coding for free?
---
Download BuildBox 3, an engine that emphasizes drag and drops to create beautiful, professional-looking games. There's the free trial, and two paid versions, as well as a free trial to test it out. It was developed to be the premier no-code game engine.