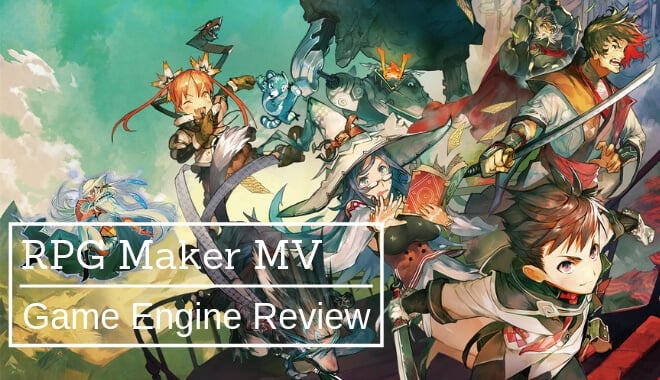 Over the years, chances are you have played or at least heard of some iconic RPGs.
RPG's = Role-Playing Games
The Final Fantasy franchise, Fallout, and its sequels. Plus newer franchises like Pillars of Eternity 1 and 2.
I remember being awed at the depth of these games, letting you feel like you are part of a vibrant, living world, complete with its own wildlife, heroes, villains, and potentially world-ending events.
How did they even make these games?
When exploring different game engines, of course, you have Unity and Unreal, which have played an important role in gaming as we know it.
However, I wanted to know what's a good game engine for making RPG's?
That brings me to RPG Maker MV, the newest iteration of the RPG Maker software.
It seems simple, right there in the name it tells you its expertise. But is it truly a decent RPG maker? I did some research to find the pros, cons, and some tutorials for those RPG fans who are curious like me.
RPG Maker History
Touhou Wandering Souls & Platforms
---
I had first heard of RPG maker years ago when the original PlayStation was still lurking around on the game market. I was attracted to it immediately; the cover had Final Fantasy-esque characters on the cover, and I thought that the possibilities would be great.
Initially released in 1992—yes, 1992—RPG Maker is a Japanese engine that has enjoyed success on multiple platforms. Buckle up: Super Famicon, Sega Saturn, Windows, Mac, Xbox One, Nintendo Switch, Nintendo 3DS, Linux, PlayStation, PlayStation 2, PlayStation 3, PlayStation 4, Gameboy, and the list goes on….and on…and on. It was developed by a company called ASCII, now known as Enterbrain.
Steam actually has countless titles in its catalog developed using the different versions of RPG Maker. They are based on sprites and are usually seen from a 2D perspective, much like the earlier Final Fantasy titles.
When looking into it for reviewing, I actually found a game that stood well apart from the other 2D games. It is called Touhou Wandering Souls, and it reminds me of a cutesy Castlevania: Symphony of the Night. Great music, seemingly solid gameplay and classic RPG elements have me interested. I was impressed by the depth and scope that some games could be made using the engine.
Using RPG Maker
---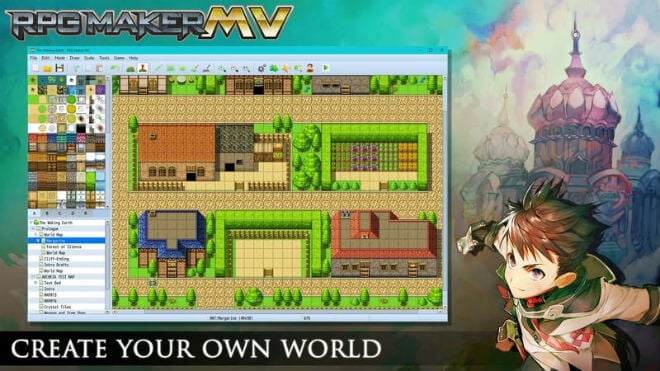 If you yourself want to create using RPG Maker, you saw the list of platforms it was released on, so you have no excuse not to try! If you are a big fan of earlier RPGs, this could be a great stepping stone for you to enter game development.
The slogan that the program uses on its Steam page states, "POWERFUL enough for a developer SIMPLE enough for a child VERSATILE enough for any platform!" So, everyone is covered, from the veteran among us to your little cousins that annoy you at holiday parties by touching all of your stuff!
One reviewer on Steam, Guild Sweetheart, had this to say about not only using RPG Maker MV but the entire catalog:
"I've been using RPG Maker for nearly 20 years. I've used MV since launch (but not on steam, the standalone. Thousands of hours spent there, and 4 games published, 2 of which are commercial) … You don't need to learn how to code…RPG Maker can be used for simple, quick prototypes, personal projects or more full-fledged commercial games."
This sounds awesome. Guild Sweetheart goes on to say that, although there are more robust engines like Unity and Unreal, you can still make a project that you are proud of using RPG Maker. Honestly, I am already on board since I don't know how to code at all.
It seems you can develop and launch games rather easily, compared to other engines. Guild Sweetheart then emphasizes the real meat of the engine is using different (mostly) free plugins which offer more to creators while also simplifying the process of implementing these assets.
Prices
---
Currently, RPG Maker MV sells for $80 on Steam. Now that isn't so bad for one of the best game developing software. However, it seems like Enterbrain makes a large profit off of the attractive DLC that they offer, with over 200 listed DLCs in the store ranging from about $5 to upwards of $25 on average. To be fair, it seems that these DLCs are full of different objects and aren't just cash grabs, which is nice.
Prices aside, I think that the vast network of DLCs available for RPG Maker MV is staggering. These DLCs offer a valuable asset if you need to jog your creativity or spark your imagination.

Public Opinion
---
To get a better feel for the engine's success or failure, I reluctantly ventured into the belly of the beast: The Steam community reviews. While helpful, I take some reviews with a grain of salt, especially those left in frustration and anger. As I had mentioned before, Guild Sweetheart was the top positive review on the page, leaving positive feedback and tips for potential RPG makers.
Other positive reviews include words of encouragement like 'You can make the game of your dreams', and 'Your imagination is the limit'. However, the negative reviews are bitingly harsh, but not without merit. A review by the user Dröhnung Light is a 1000+ word tour de force, listing the pros and cons, and elucidating each and every point. He ends his scathing review with "For 74€ it's garbage. For 20 bucks it might be okay." Yikes. This actually works for our purpose here, as I list the pros and cons.
Pros and Cons
---
First off, a debated point was the helpfulness of the community. Some users claimed that the user base did not help as much as they thought they should, while other users said that the RPG Maker's Discord server was lightning fast with its replies from the community. It seems this is one of those things where it varies from person to person.
Pros:
Simple to use
No coding knowledge required
Robust character creation options, (my absolute personal favorite aspect in every RPG. I'll spend hours on character creation)
Ease of use when enabling and disabling plugins
Good tutorials for new and old users for the newest build of the engine
Cross-platform capability: as with other engines, I believe this is essential for them. Cross-platform ensures that everyone can either build or play on nearly any platform.
DLC options. Of course, they mostly cost money, but the content is definitely there. I perused some packs and was amazed at the creativity in them, and even imagined what I myself would do with those different assets
Plugins. This is a big one. People are always working hard to make plugins that make your experience with RPG Maker as good as it can be.
MV is considered to be the most robust build of RPG Maker by fans
Cons:
Sensitive memory: if you calculate wrong about an asset in game, it could make your game run slower
Space issue: along with it eating memory if you make a mistake, each project takes up about 400 Mb no matter what, and sometimes the software copies your project, eating up further space
High Price. The price, especially on sale, isn't terrible for game development software, but the addition of over 200 DLC packs can make this a little unrealistic to younger gamers. Overall, it could end up costing in the ballpark of at least $500, conservatively. That's if you buy about 50 DLC packs that are only $10, (which most are). It builds and builds, which could cause concern for those who are developing games on a budget. Luckily, the base software is on sale for half price often.
Clunky exportation of your projects.
RPG Maker MV Tutorials
Tutorial #1 SRDude
This guy's energy is great. He tries to keep things interesting as he explains the basics you'll learn while developing an RPG. He starts off his first video with drawing the map to your game, offering valuable insight into the process.
He has over 30 videos for RPG Maker MV alone, along with other videos using the engine to create things like the HUD and other aspects.
I was entertained just by his casual manner and goofiness that was endearing. He even shows you how to make plugins for the engine, which, I've stated before are essential to your enjoyment.
Tutorial #2 Driftwood Gaming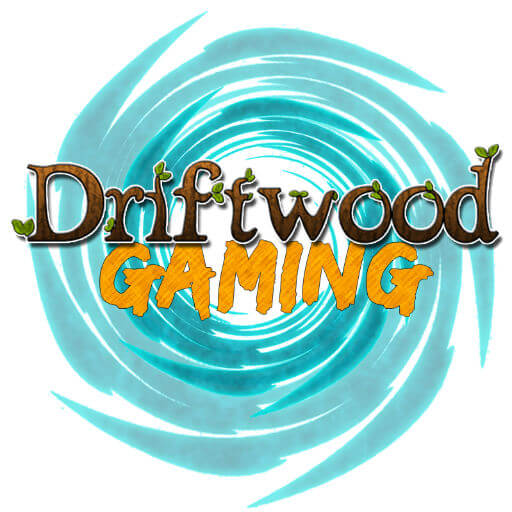 As I've stated in other reviews, I'm a big fan of YouTube as a medium for teaching you things. It shows what you need to do visually, instead of sometimes painting a mediocre picture with words, especially by people whose writing leaves much to be desired.
Enter Driftwood Gaming, a channel run by a longtime RPG Maker veteran. He does something I really like; he introduces gamers to RPG Maker aspects through fan-made versions of games like Chrono Trigger and Kingdom Hearts. What better and more fun way to learn than through familiar franchises?
"I'm an RPG Maker and this channel mainly consists of RPG Maker MV tutorials. I take special requests for tutorials and generally help people who ask for it. I love RPGs and all aspects of video game design. Let me know if you need help with anything related to game design."
Tutorial #3 Steam Community
The RPG Maker MV community, regardless of which website you find them, are supportive. These are like-minded RPG creators who support imagination and creativity. With such a big name like RPG Maker, there are thousands of gamers who might be stuck, and thousands of helping hands to solve those problems. Right away, the community hub on the Steam version of RPG Maker MV is a great resource.
You have a forum built into the interface, in-depth guides (either for plugins or general newcomer developer things), and generally helpful words for those who find themselves in a rut. It's a pretty active forum, with hundreds of topics going on as we speak. If you're not into YouTube, I believe this is your best bet to find what you're looking for.
Tutorial #4 Reddit Community
Another community tutorial, but they're in abundance for a reason. RPG Maker has built such a humongous following over the years that there's no shortage of helpful users. I loved this one thread where a gamer was asking other RPG Makers if he could borrow elements from other developers for a game.
I love the concept of sharing content to better your games. One user even linked a very interesting comic that doubles as a tutorial. Not only does RPG Maker MV allow you to use your imagination for games, but it also seems to bleed into other mediums as well.
Tutorial #5 Official Website PDFs
No better place to educate yourself in game development than the people who made the engine and are constantly updating it. The RPG Maker team has posted an extensive list of tutorials, mostly in PDF format, (not my favorite to be honest), for you to browse and apply to your game. They include the basics and even things like tile creation for your RPG.
Verdict
---
So, is RPG Maker MV a good fit for you? It depends. If you're a huge fan of JRPGs like Final Fantasy and Chrono Trigger and you're looking to create your own game in that style, I think this is a great fit for you.
However, if you're a more seasoned game developer and know how to code well and all that comes with it, I might suggest something like Unity or Unreal. But for me, I think I would gladly use RPG Maker MV to create my game.
It emphasizes creativity, story-making, character creation, and imagination. With great, in-depth tutorials, you can't really go wrong. The only thing I would suggest is waiting for it to go on sale on Steam first, especially if you're completely new to game development. Once you have it, get that imagination pumping and go create!