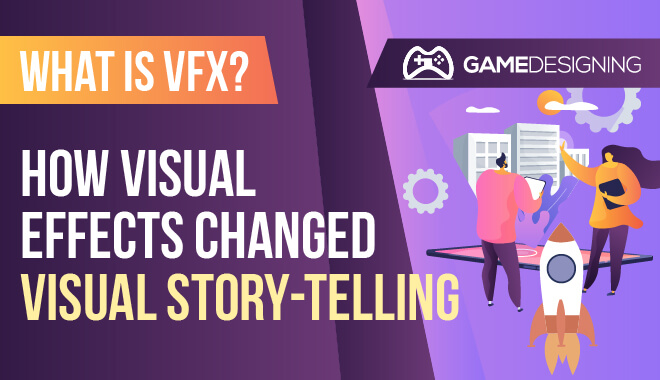 We see the magic of visual effects everywhere. The chances are good that some of your favorite movies or TV shows have some impressive visual effects added in.
Before we get into the nitty-gritty, let's take a step back and see just how visual effects, or VFX, have transformed storytelling in some of our favorite mediums. Whether it's The Lord of the Rings trilogy or the Marvel Universe, visual effects have left an indelible mark on art.
What is VFX?
---
Visual effects, or VFX, are effects that professionals use to create almost magical imagery to add a sense of realism to an otherwise utterly ordinary film set.
Visual Effects vs Special Effects
---
There also exist special effects of SFX right alongside visual effects. Things like movie special effects amount to using optical and mechanical means to create optical illusions and other desired outcomes, that are well, special.
Take, for example, the aforementioned Lord of the Rings. In the very first fifteen minutes of The Fellowship of the Ring, the wizard Gandalf seems to absolutely tower over all of the hobbits. Believe it or not, but Ian McKellan is not 8 feet tall. Instead, the filmmakers used forced perspective to give the appearance of a massive wizard compared to hobbits.
Movie special effects take place primarily on the set, where visual effects take place mainly in post-production.
Why Are Visual Effects Significant?
---
Visual effects are fantastic additions to any movie. They allow filmmakers to envision and execute detailed and miraculous effects, worlds, and characters that just can't be harnessed by actors on a soundstage.
History of Effects (SFX and VFX)
---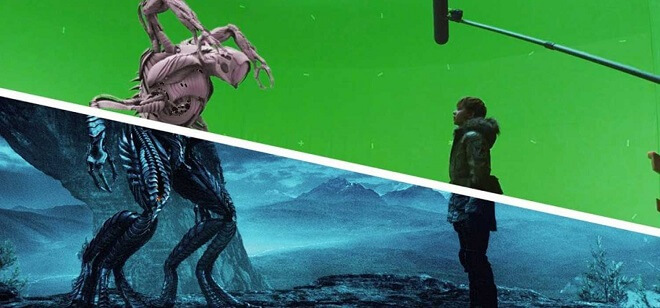 Pioneers of Movie Special Effects
---
If you were to guess when the first movie special effects were, when would you guess? 1930? 1915?
It turns out that the first special effects precede even the American Civil War. In 1857, Oscar Rejlander created the very first form of special effects by performing composting on images, splicing them together to make a convincing sequence of events.
Decades later, filmmaker Alfred Clark was able to simulate Mary Queen of Scots' execution by having the actress put her head under the headsman's ax and stopping the film. The actress then (thankfully) left the scene while everyone remained in place.
A dummy was put under the ax, and filming resumed. This stop motion trick made it seem realistic, especially for audiences who could never dream of such a striking effect occurring before their very eyes.
Special Effects in Modern Times
---
What we have now in terms of movie special effects is nothing short of miraculous. Filmmakers can film entire movies using the magic of green and blue screens, practical effects, prosthetics, and more. This is efficient in scouting for filming locations, but it can cut down work time significantly.
2019's extremely popular Avengers: Endgame was almost entirely made up of impressive visual effects, including filming on green screens. This allows actors to focus on acting and making it seem that they're actually on a war-torn battlefield instead of physically creating such a place.
What is VFX Used For in A Film?
---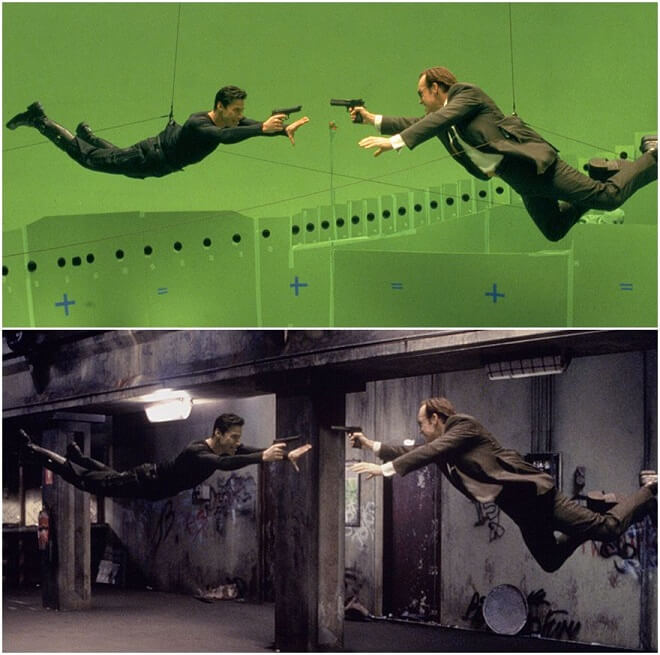 Basic Uses for VFX
---
VFX's primary uses in movies are for filmmakers to add impressive and downright impossible aspects to their films. Without special effects, you definitely wouldn't have some of the most impressive visual elements of the most popular movies like Star Wars, Pirates of the Caribbean, and The Matrix.
Although it would be great if Neo could actually fly through the air, it just isn't possible, sorry!
What Are Some Advanced VFX Uses?
---
Once you get familiar with the effectiveness of basic VFX like green screens and prosthetic makeup, it's time to move onto the more complicated forms of special effects.
Things like CGI aren't just conjured up in a computer program overnight. Creating compelling and believable CGI is a long and sometimes arduous process where experts create hyper-realistic images to fit into the movie's style (or maybe a little goofy, in the case of Jar Jar Binks in Star Wars Episode I).
If the entire film or scene requires 100% CGI, then it's a little simpler. However, if CGI takes up 50% of the scene, the CGI artists have some more complicated work ahead of them. They have to account for the movement of actors, lighting, and more.
VFX vs. CGI
---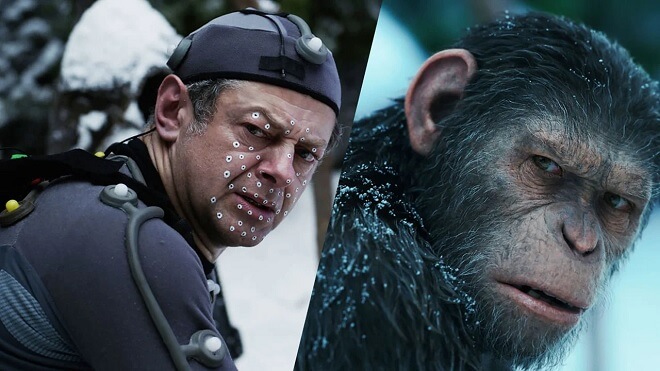 While it may seem that these two are similar, and indeed they share similar properties, there's a world of difference between what is VFX and CGI.
VFX, as you now know, are visual effects. These are things added after filming that just weren't possible during the actual filming process.
Where VFX takes existing footage of a scene and modifies it, computer-generated images are completely fabricated all the way through. You may be more familiar with CGI when watching movies in the Star Wars franchise. Many characters, locations, and objects are direct CGI implemented by the filmmakers.
Before the widespread use of CGI, scenes in Star Wars and other films were actually hand-painted. CGI improved the quality and quantity of available backdrops, locations, and characters.
However, CGI is not without its detractors. Some people prefer matte paintings, along with practical special effects. Regardless of opinion, CGI was a welcomed addition to the world of movie special effects.
Types of Special Effects in Movies
---
There are multiple types of movie special effects. Here are but a few popular uses for movie special effects.
Matte Painting
---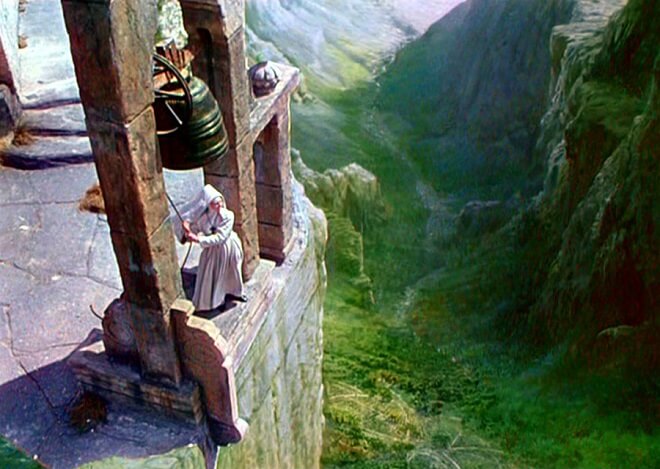 We had mentioned matte painting before, but why was it so popular in movie special effects? If an artist working on a film paints an impressive matte painting of a background, it can transform the measly soundstage in Hollywood to a far off planet or remote Tibetan mountainscape.
In the film Black Narcissus, nuns try to establish themselves in a Himalayan valley. While the director could have filmed in the Himalayas, it probably would have been more trouble than it was worth.
Instead, they employed matte paintings from Alfred Junge. Alfred Junge painted the stunning landscapes found in the finished film. He even won the Academy Award for Best Art Direction. After seeing Alfred Junge's work, you can see how valuable a masterful matte painting can be.
Digital Compositing
---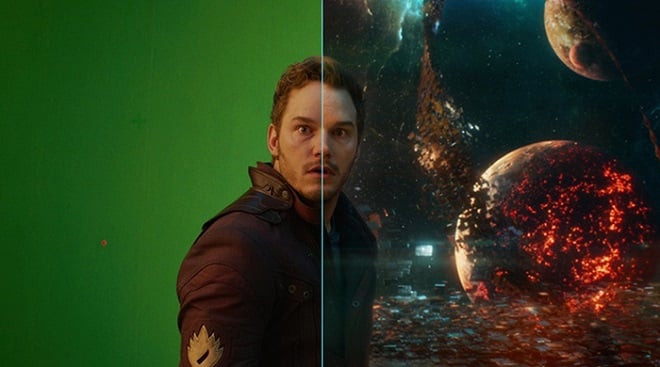 This is the practice of taking multiple images and splicing them together to make a completely unique image. It allows for numerous impressive aspects of special effects to blend together for a cohesive whole. Designers will take a base image and put objects, characters, or other locations into the frame.
Stop Motion Animation
---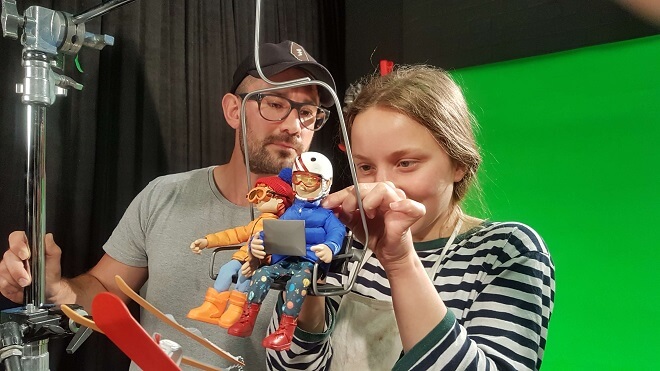 Any old school fans of Gumby or Coraline will know precisely what stop-motion animation is. Designers will take puppets or figures and pose them in different positions while taking pictures of them in these different positions. What results is the fantastic illusion that these characters are alive.
Prosthetics
---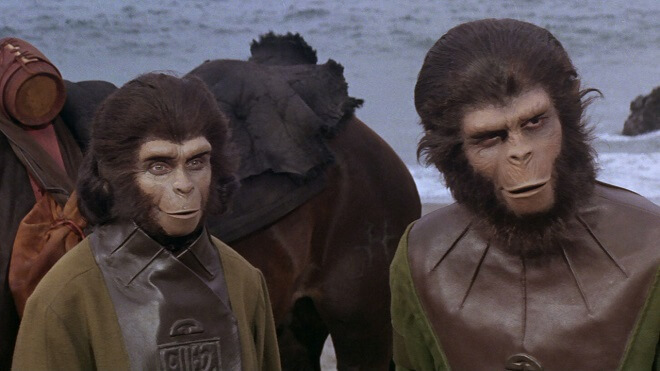 This is where actors and characters wear different figure-altering protheses. In Planet of the Apes, actors applied detailed makeup and prosthetics to give the uncanny illusion that apes could function and interact identically to humans.
These are some of the most timeless and significant movie special effects that paved the way for more complicated procedures.
Chroma Key
---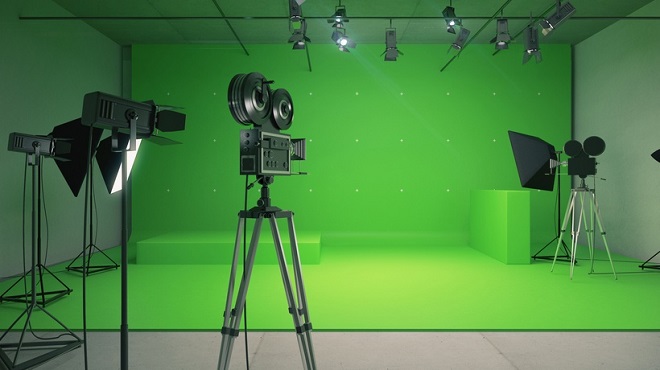 For many moviegoers, this might be the most widespread one. However, it's also somehow the most subtle. A good designer, much like a matte painter, can effortlessly pull moviegoers into the fictional world they've designed.
People act out their scenes in front of green and blue screens, with effects applied in post-production. A bit of digital compositing is involved and blends multiple special effects techniques together for a more cohesive scene or film.
VFX Techniques
---
Here are some unique VFX techniques that filmmakers use to bring fantasy worlds to life.
Bullet Time
---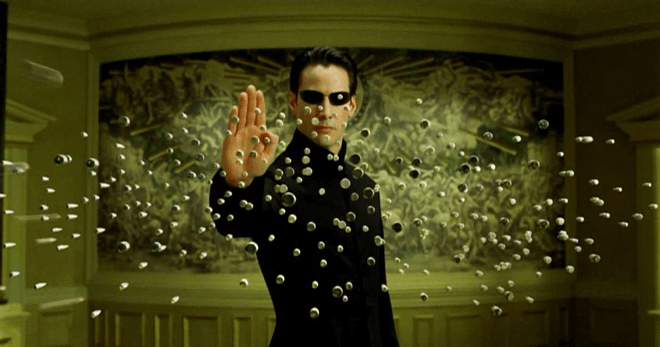 Those familiar with the Matrix series of movies will instantly recognize the miraculous scenes in which various characters participate in superhuman gunplay. Bullets go in slow motion, or outright stop their trajectory. This effect allows filmmakers to emphasize the minute details of the action, illustrating how complex and nuanced a scene is.
For a stretch in the early to mid-2000s, bullet time was a favorite technique found and period in movies, ads, TV shows, and video games.
Doubling
---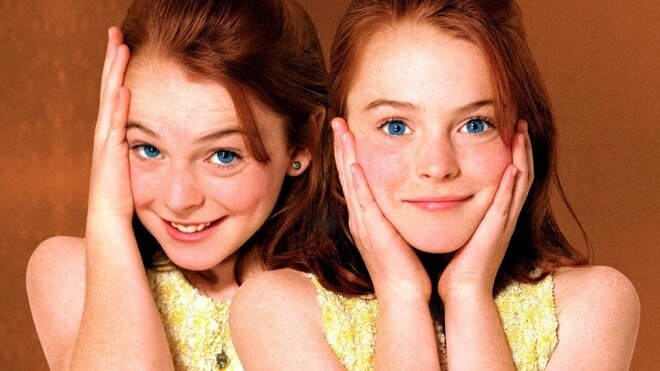 Anyone who has watched the Parent Trap or other movies involving twins or clones already knows the act of doubling. This is where an actor (who doesn't have twins or clones….or maybe they do) is filmed in two different locations separately and has the footage spliced together, giving the effect of two distinct people.
This adds an exciting dynamic to filming, as an actor who has been doubled needs to then act like they have another actor on set and even interacts with their fictional counterpart.
How to Make Special Effects
---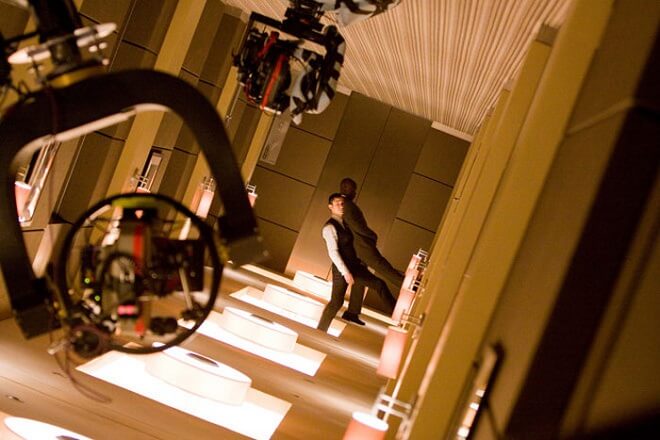 Live Special Effects
---
Now, these are fascinating. Live special effects take place in front of a live audience. How can actors and productions effectively entrance an audience in real-time?
There are a few famous examples, like laser light shows and fog machines. While simple, these visual effects attempt to immerse an audience in whatever they're experiencing in person.
An incredibly popular live special effect is pyrotechnics, the use of fire to dazzle live audiences. This is wildly popular with over the top bands like KISS, who make live special effects a cornerstone of their performances.
Ever been to a celebration in which confetti is used? You have experienced a live special effect.
Mechanical Effects
---
Mechanical effects are what you would typically see in something like an action movie. In these cases, teams of mechanical engineers build rigs to act out a scene.
If a movie character is in an airplane crashing, the airplane's mechanical rigs will simulate violent turbulence and give the appearance of an actual plane crash. Professionals use things like gimbals to achieve this result.
In Inception, Christopher Nolan had an entire mechanical hallway crafted to have actor Joseph Gordon-Levitt act out the impressive action sequence.
Movie Scenes Before and After Special Effects
---
Now let's have some fun examining what some of your favorite movie scenes looked like before and after the implementation of special effects.
Man of Steel (2013)
---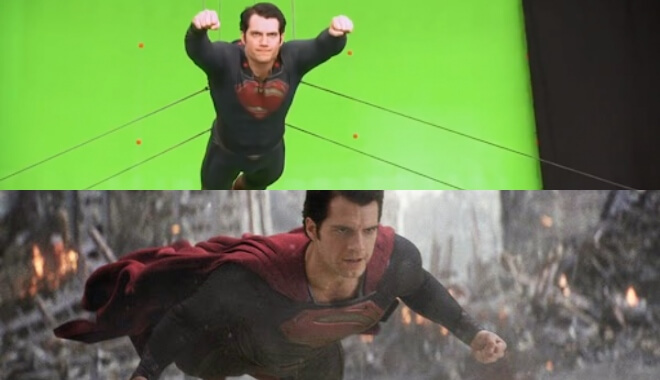 We know that Henry Cavill in Man of Steel didn't actually fly, (or did he?). This image shows how he achieved the iconic flight of Superman, using wires and a green screen. They even added Superman's cape in post-production.
The Life of Pi (2012)
---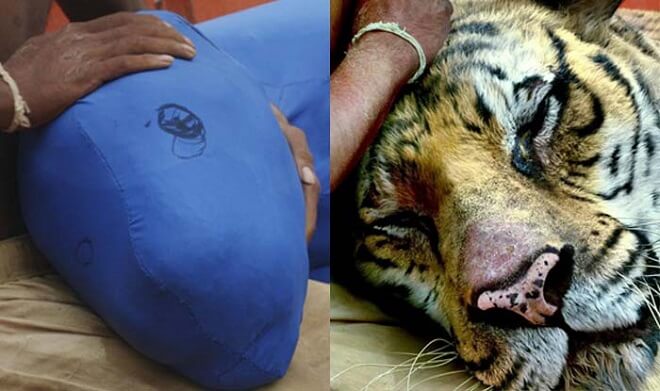 Sorry to break it to you, but the tiger in The Life of Pi wasn't real. Instead, a stand-in was used and the tiger special effects were added in post-production.
Pirates of the Caribbean: Dead Man's Chest (2006)
---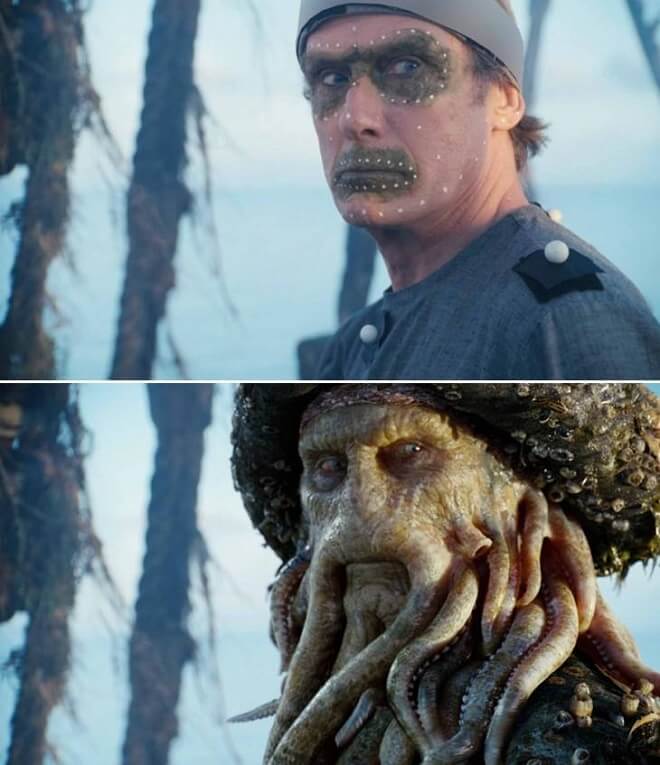 The special effects department deserves some serious praise for making Bill Nighy turn into the fearsome Davy Jones. Although the film is over a decade old, this is still some of the most impressive special effects we've seen.
Oz the Great and Powerful (2013)
---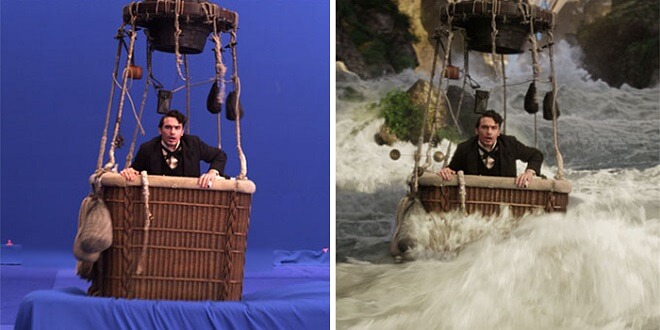 Although it may seem like James Franco is being violently thrown about on a river, he was actually just stationary on a soundstage. Not so great and powerful, if you ask me.
The Dark Knight (2008)
---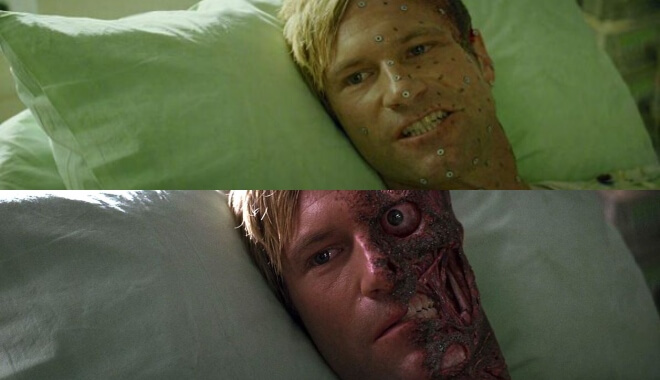 The gruesome effects applied to Aaron Eckhart's face in The Dark Knight made you believe he was Two-Face. However, it was just the miracle of special effects magic.
Final Thoughts on VFX
---
Hailing from years gone by, VFX and SFX have been a cornerstone of filmmaking for over a century and counting. While some may criticize what they feel is an overuse of special effects in movies, they are so intertwined in efficient and creative movie-making that to criticize special effects would be criticizing movies themselves.
Whatever your position on special effects in movies, they are undoubtedly a huge benefit towards the filmmaking process, and will only increase in complexity and technological prowess.
Image Sources:
---