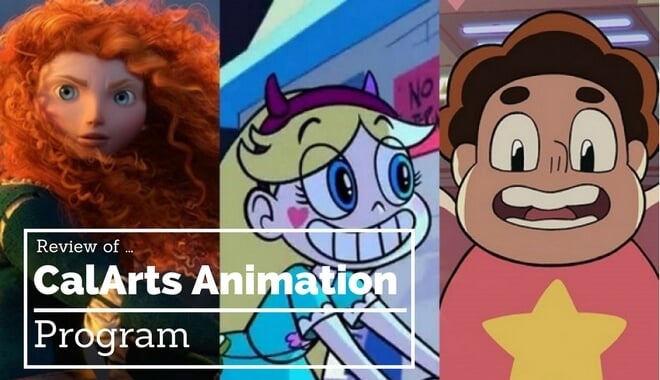 With tuition costs for colleges with animation programs only going up, the decision to go to college isn't so "common sense" anymore. The internet has made it easier to learn the most current techniques and best practices and to stay up-to-date on the most current information.
You also have access to a la carte learning with online courses from platforms like Coursera and Udemy (Why take statistics again for college credit when you just want to spend your time animating? Am I right?)
That being said, there are some schools out there whose resources, network, faculty, and student results make their programs worth the price tag.
Are CalArts Animation Programs Worth the Cost?
---
As with any program, you only get out what you put in. And the $46,830 annual cost at CalArt isn't an easy pill to swallow (This is the cost for two semesters, or one academic year, for both graduate and undergraduate programs).
Depending on which animation program you enter, you could be spending another $1300 to $3500 on necessary books and supplies. CalArts recommends factoring in another $12,500 for things like meals, transportation, medical fees, and miscellaneous expenses.
Are you ready to put in $60,000 dollars' worth of effort every single year? Where you get your degree doesn't matter—it's the portfolio you build and the network you cultivate.
And before you start getting crafty by spending two years at a community college and trying to transfer to CalArts to save six figures—it's not a viable option for these programs.
According to the portfolio audition requirements for their four-year character animation program, "all students begin at [the first-year undergraduate level] because of the highly sequential nature of the curriculum." Your transfer credits might lessen your course load, but they "will not shorten the length of residency."
There are financial aid options that you might be eligible for. But it's still a lot of debt to take on. Let's look at some of the reasons why you might want to pursue a degree at CalArts in animation.
The Character Animation Program at CalArts
---
We'll start with what these animation programs contain. It's important you know what you're getting!
According to the CalArts website, "The BFA program in Character Animation is designed for students who seek an understanding of the art of character performance and storytelling animation." This program will show you the ropes for traditional animation and computer-generated animation.
Here's a breakdown of your four years at CalArts (as we said above, this program has to be four years—transferring won't shorten it).
Year one: you spend both semesters in life drawing, color and design, character animation (CG and traditional), and storytelling courses. This is your foundation year.
Year two: Music, dialogue, sound effects—these elements are incorporated into your skillset. You build on your visual skills from year one by incorporating sound elements.
Year three: This is where you enter the advanced level of your studies. Your course load will likely depend on your interests, but will incorporate the following to some degree:
CG computer animation
Short-form traditional animation
Specialized work in painting, illustration, graphic novels, or advanced visual design
Year four: In your final year, you finally get control over your courses. This year will include the core classes that you want to pursue, based on what you're most interested in.
Throughout your time at CalArts, you'll be developing your portfolio (a huge asset when it's time to job hunt).
The Character Animation Program at CalArts also requires you to attend lectures and presentations. The school brings in an impressive roster of guest speakers from all corners of the industry. Animators, artists, showrunners, filmmakers—there's a guest speaker for everyone!
We'll talk more about guest speakers later, but first, let's look at the portfolio admissions process for the Character Animation program.
Applying for the Character Animation Program
---
First, you'll want to spend some time looking at other student submissions. YouTube is a great resource for this—you can find videos showing accepted submissions and videos showing rejected submissions.
On the admissions site, CalArts says "the committee values artwork that reveals a unique and imaginative voice, showcasing the applicant's artistic interests and conceptual abilities. [They] welcome a range of creative work, including drawings and other traditional artwork, 2D digital art, and computer graphics."
The whole submission process will require an artist statement.
The artist statement will focus on a few questions:
What inspires you to make your art?
Why are you applying to the character animation program at CalArts?
What are your artistic goals?
You'll submit a sketchbook (by mail). And you'll also submit an online portfolio, including observational work, creative work, and a video introduction.
There's a lot of opportunities to show yourself off, to showcase your originality, and to let your personality, talent, and passion shine through.
The Experimental Animation Program
---
The Experimental Animation Program is offered as a 4 year BFA and a 3 year MFA. CalArt says "Art principles and practices are at the heart of the undergraduate- and graduate-level tracks in experimental animation—courses of study designed for innovative artists wishing to develop personal visions within the ever-expanding parameters of animation."
This is the "off the beaten path" program. You'll have an opportunity to "develop and refine intellectually demanding, aesthetically progressive concepts and professional practices in [your] personal cinematic art-making."
Faculty, alumni, and students from this program at CalArts constantly win top awards at festivals around the world.
BFA in Experimental Animation
---
The BFA track puts students through foundational courses in 2D drawing, working directly on film, and computer animation (CalArts says prior experience in animation is helpful but doesn't list it as a requirement).
You'll work closely with an Experimental Animation faculty mentor—someone who will help you expand and play with your unique vision.
This program has two big perks: "visiting artists provide critiques and perspectives on current animation practices, and recruitment professionals come to campus annually to review student portfolios to offer internships and employment at leading animation studios."
MFA in Experimental Animation
---
The MFA provides you with "a comprehensive foundational background in addition to [encouragement] to seek out poetic, lyrical, structural, and other modes of experimentation with the materials and forms of the moving image."
You'll get a lot of experience with the submission process for film festivals and with film festivals themselves. With diligent work, you could eventually become a creative leader on projects. It takes a strong artistic vision to join the Experimental Animation program.
Applying for the Experimental Animation Program
---
CalArts says "in making admissions decisions, the program's faculty looks for animation and other creative works that express a strong personal aesthetic in whatever media you choose. Applicants should submit portfolios that contain examples of unique, personal, expressive art that reflects their individual style, including samples of animation if at all possible."
Submission tip: stay away from group projects, because your contribution is harder to evaluate. There are more parameters for what is and is not acceptable, and you can find them on the admissions site.
The Artist Statement seems to carry a bit more weight in your interview process for Experimental Animation than it does for Character Animation. The site stresses multiple times that you should really explain why you're seeking experimental coursework.
Questions include:
What issues and concerns inform your artmaking practice?
Why are you interested specifically in the program in Experimental Animation at CalArts?
What are your artistic goals?
You'll also need to include a short autobiography of academic, professional, and artistic achievements, a synopsis of your work, and any comments on films, books, art, etc. that inform your work.
All three of these programs require a final review of your portfolio before you can graduate the program.
Who Teaches Animation at CalArts?
---
There are a lot of professors and faculty at CalArts who are still active in the industry. There are others who've worked on projects you're very familiar with. All in all, it's a pretty impressive roster. You would be lucky to have many of these people as your mentor.
A few examples for you:
Jesse Aclin: has worked with Pixar, Laika, Warner Brothers, Disney TV, Blue Sky Studios, Cartoon Network, Nickelodeon, Paramount Animation, and more.
Abe Audish: Has worked on the Simpsons movie, Futurama, Powerpuff Girls (the recent episodes), Spaceballs: the animated series, and more.
Dale Baer: Has worked on Lion King, Zootopia, Princess, and the Frog, Tarzan (animated from 1999), and more.
Jerry Beck: Is a Former studio executive with Nickelodeon Movies and Disney, author of 15 books on animation, and way more.
The faculty is one area where CalArts really shines.
To succeed, you need to meet people in the industry. You need to build relationships with people working in the industry. These are the people that will recommend you for open positions.
They will introduce you to people who can change your life and your career trajectory. Having a mentor is huge, having a great network is huge. If you do go to CalArts, don't squander these opportunities! Be ready for them.
Who Gives the Guest Presentations?
---
We mentioned earlier that guest artists drop by to give presentations. These presenters have included:
Brad Bird: Ratatouille, The Incredibles, Tomorrowland, The Simpsons, Disney Infinity, and more.
Mark Andrews: Brave, Spider-Man (2002), John Carter, Cars, Samurai Jack (the original), The Iron Giant, and more.
Sue Nichols: Lion King, Mulan, The Princess and the Frog, Enchanted, Lilo & Stitch, and more.
This is a very small taste from the character animation visitor list. There are more from experimental and from film, and all around it's a great opportunity.
Clubs and Organizations
---
There are a number of relevant clubs that could help you network and hone your skills outside of the coursework.
Here's the shortlist:
Acting for Animators
CalArts Anime club
CalArts Comedy
Film Tonight
Game Makers
These are the most relevant for your animation career, but the full list has plenty more.
Is CalArts the Right Opportunity for You?
---
Really, only you can know.
There are a lot of good opportunities at CalArts. The staff, the facilities, the guest speakers, the network. But it's an expensive price tag. And the degree—your investment—doesn't guarantee success.
Plenty of people have made it without spending CalArts money on a CalArts education. But plenty of people have also made it by doing just that. There are pros and cons. Consider what you want out of the next 3 or 4 years. Consider how you want to get it.
Good luck.