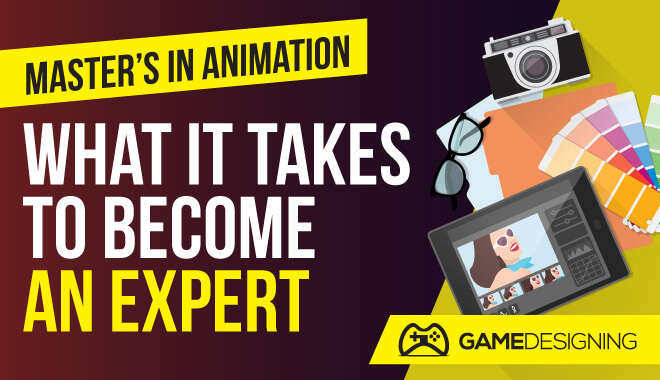 There is a lot to consider when setting out to achieve a degree in any field. Everyone knows it's somewhat of a Herculean task to get a law degree or medical degree. Maybe you'd be surprised to find out that getting a master's in a field like animation is also nothing to turn your nose down at.
Don't believe me?
Let's examine the ins and outs of earning a master's degree in animation, and in turn, becoming an animation expert in the process.
Can you get a master's degree in animation? Yes, absolutely.
When you think of masters, you probably think of an English professor or some other such fancy subject. However, you'd be surprised to find out that along with animation, there are a ton of different possibilities when achieving a master's degree.
What is a master's degree in animation?
On a basic level, it's the most advanced animation degree you can earn. A master's degree in animation shows to the entire world that you know your stuff, inside and out.
More importantly, it shows your proficiency in different subsets of animation like 2D, 3D, drawing, and stop-motion. It also exhibits that you have a grasp on applicable software like Autodesk Maya, Cinema 4D, Adobe Animate, Blender, and Adobe Animate.
Either way, having your Master's degree in animation will show that you have what it takes to rub elbows with the best of the best in the industry, and could potentially net you a spot at Pixar, Lucasarts, and Disney.
The best way to break down how best to achieve a master's degree in animation is by breaking it down into basics to get a better feel for the path you can, (and should) take.
Master of Arts (M.A.) vs. Master of Science (MS)
---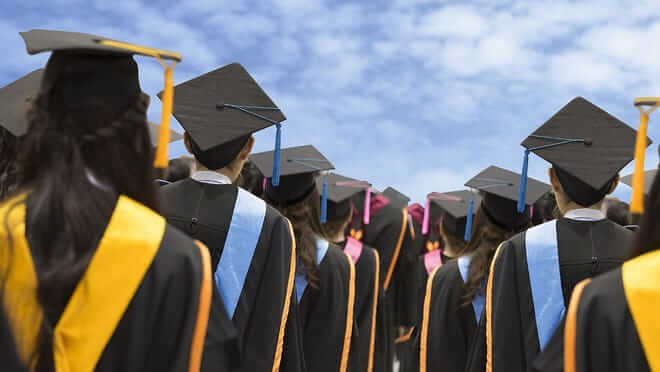 If you aren't familiar with degrees, there are differences abound. You may have heard the term B.A., M.A., M.F.A., M.S., and others. But what's the difference exactly?
The main two types you have to consider first are a Master's of Arts and a Master's of Science.
A master of arts or M.A. is generally a master's degree in which a student has completed a wide array of different subjects dealing in the humanities. This includes history, sociology, languages, and political science.
More specifically, with a master's in animation, the curriculum is obviously very art and animation-centric, having students focus entirely on the main subjects of study.
A Master's of Science, or M.S., is a master's degree dealing more in fields like medicine, mathematics, and other scientific pursuits. Breaking it down into these two different types and categories helps us understand where we might fit in when choosing a degree program.
If you're more of a person leaning towards scientific pursuits, a Master's of Science is your best bet. If you are into animation, a Master's of Arts is right up your alley.
What Is An M.F.A.?
---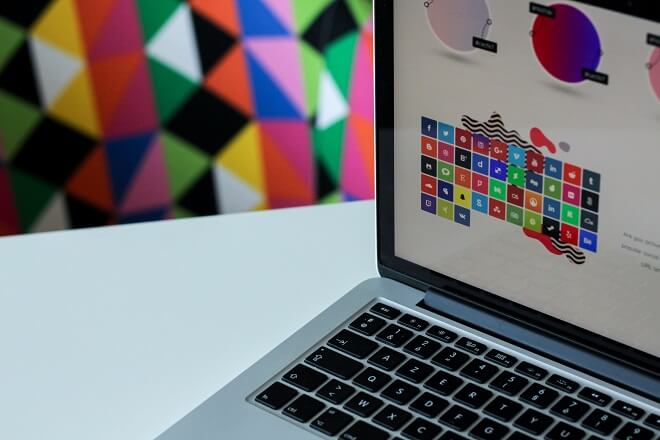 Another term that you may have seen before is an M.F.A. or Master of Fine Arts. Going back to our two definitions of the different degree types, the Master's of Fine Arts degree obviously lines up with the Masters of Arts.
An M.F.A. is basically one of the highest degrees you can achieve in the artistic field. It is considered a 'terminal degree' or a degree that is heavily focused on one track, namely animation), or represents the end of the student's learning path if they don't plan on continuing to do doctoral work.
For doctoral work, a terminal degree is one of the lowest rungs if you're planning on becoming a full-fledged doctor in your field. But with animation, you don't have to worry about all the stress that comes with a Ph.D.
Think of a Masters of Fine Arts as the degree with the most focus on your specified field, rather than a culmination of other related subjects combined.
How Long Does It Take To Complete?
---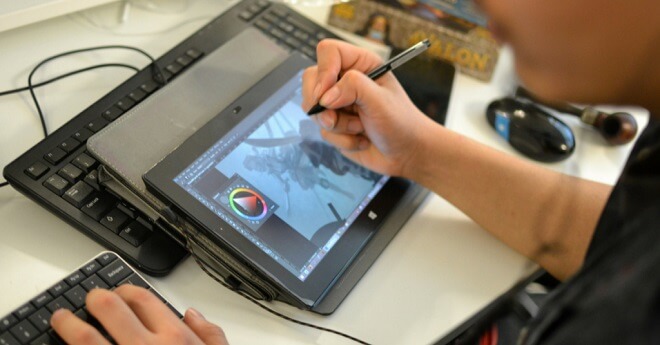 Depending on where you are studying, this could vary. Usually, since students are concentrating on a single subject, it could very well take less time than a regular bachelor's degree. Some programs require four or so years as well, so it depends on where you study, as well as what subset of animation you're pursuing.
For example, studying animation at the Pratt Institute will take about two years of constant study. Studying animation at U.S.C. will net you around three years of hard work. It is entirely at the discretion of the institute, college, or university.
With a possibly much shorter length of a bachelor's degree, and you have both the appropriate finances and work ethic, what do you have to lose in achieving this more advanced degree?
Luckily for many animators, a master's or Master's of fine arts aren't the required degree for much of the field. It does, however, set you apart from other eager animators on the job hunt.
Education and Career Path
Pay/Salary
---
While examining the potential salary for animators,
"Animators in the bottom 10 percent get under $38,520 a year, and the top 10 percent get higher than $115,960 a year. Animators working for the motion picture industry average $75,630 a year, while those working for computer systems design companies earn a slightly lower $73,800 annually on average."
Salary also depends on which city you're currently in. For example, a 2D animator in Philadelphia can make anywhere between ~$43K to ~$87K.
What You Can Do With A Master's In Animation
---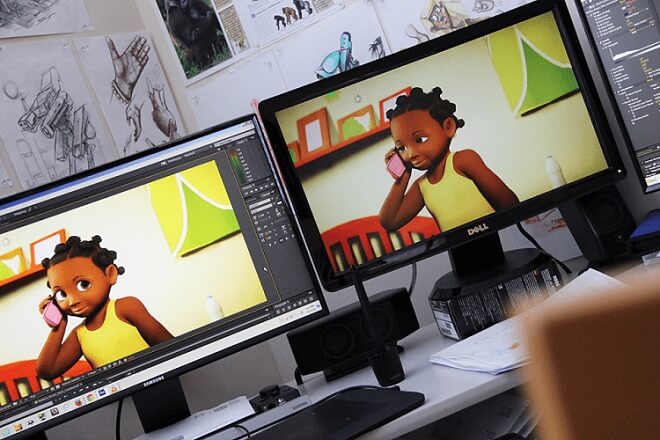 What can you do with a degree in animation? You can work alongside some of the most talented artists in the fields of entertainment today. You can apply for higher up positions and explore more advanced career options. The area of animation is projected to increase in employment rates over the next ten years, opening the doors of possibility for would-be animators.
Keep in mind, being an animator, (as well as merely studying the field), is a very time-intensive craft. Like many art careers, you can easily find yourself spending long nights working to achieve deadlines.
To make this a little more palatable, you'll most likely be working alongside other talented individuals. It is really a team effort, with different people pulling together their respective strengths to make a project work.
You can work in movies, T.V., or even make simple animations for educational or medical use. Not every animation job is as glamorous as working at Pixar or Disney.
A friend of mine has created an extensive portfolio making animation based on blood vessels and circulatory systems for pharmaceutical companies. While he isn't shaping the next Star Wars, he has honed his skills enough to be a go-to animator in the medical field.
Finding your animation niche is critical, and can help you along in the job search after achieving your Master's degree.
A crucial aspect of breaking into any business is networking. I know it may seem like a pain, especially if you're already going above and beyond with building your animation portfolio. However, networking is one of the most vital things you can do in the arts industry.
"But in today's world, networking is a necessity. A mountain of research shows that professional networks lead to more job and business opportunities, broader and deeper knowledge, improved capacity to innovate, faster advancement, and greater status and authority. Building and nurturing professional relationships also improves the quality of work and increases job satisfaction."
If there are events at college or people you know in the business already, make sure to mine those resources. Many career opportunities can knock on your door if you familiarize yourself with the aspects of the market, as well as learning the 'landscape' to apply for better jobs, and pad your portfolio with some of your best work.
Mentorships and advice can make a huge difference.
Requirements for a Master's in Animation
---
The requirements for a master's degree or masters of fine arts in animation are at least having your bachelor's degree in a related field. You can't apply for a master's program with just a high school, G.E.D., or certification. You're going to have to really put in the work to show that you got the stuff for an intensive master's program.
Best Master's Animation Degrees
---
Which degree is best for animation?
Although it can be a subjective answer for many, we compiled a list of some of the best animation master's degrees and degree programs to help you on the journey to becoming an animation expert. Be sure to explore the different schools and different programs fully, as they may apply to you more than others.
Top Animation Schools and Masters Programs
California Institute of the Arts, (CalArts)
---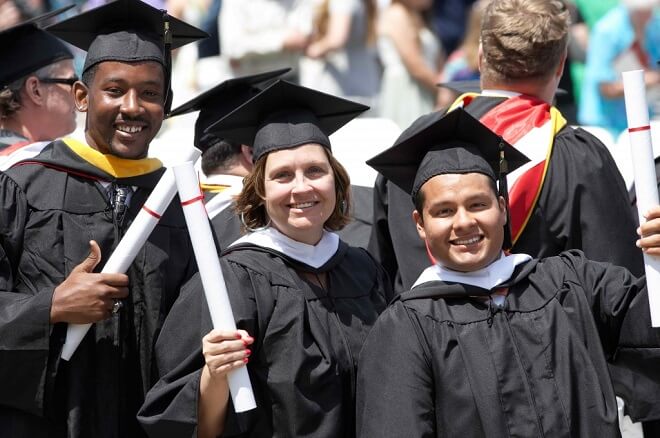 Located in Santa Clarita, California
Founders: Walt Disney, Roy O. Disney, Nelbert Chouinard
Tuition: $46,000 after aid
Graduation rate: 87%
Students: ~1,500
Famous Alumni: John Lasseter, Tim Burton, Ed Harris, Alison Brie, Don Cheadle, Craig McCracken
CalArts is consistently ranked as one of the best places to achieve a high degree in animation and other related artistic fields. Animation genius Walt Disney founded it, need I say more?
It's a fantastic place to get your start on an animation journey. The program takes four years, but that's 4 years of hard study and nailing don every aspect of animation. Here are some of the courses in the program.
Character Animation Program – 4 Years

Life Drawing
Storytelling and Character Animation
Short-form Traditional Animation
C.G. Computer Animation
Painting
Illustration
Portfolio Building
School of Visual Arts – S.V.A.
---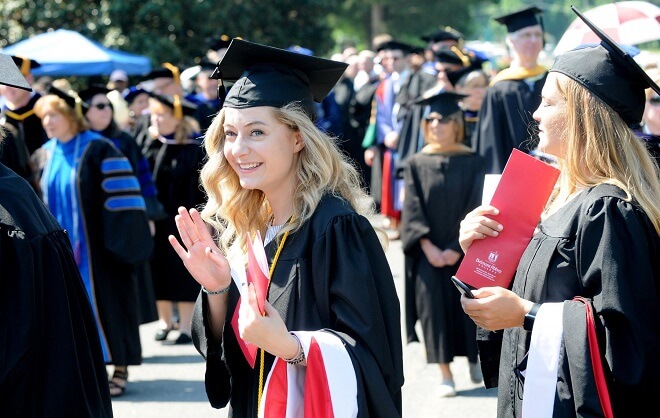 Located in New York City, New York
Founders: Silas H. Rhodes, Burne Hogarth
Tuition: $43,000 after aid
Graduation Rate: 68%
Students: ~4,500
Famous Alumni: Keith Haring, Jared Leto, Steve Ditko, Fred Armisen, Gerard Way, Ti West
The School of Visual Arts is an iconic art school in New York, New York fits in perfectly with the wholly unique art scene of the city that never sleeps. Their animation program is modern and 'with the times,' as many classes directly reference or examine the work of modern artists and animators.
S.V.A. also provides a class entirely dedicated to strategies on getting animation work after graduating. S.V.A. keeps this fresh and interesting by interspersing their program with lectures by industry experts, workshops, and more.
Animation Program – 4 Years

Animation: From McCay to Burton
Storytelling, Storyboarding and the Art of the Pitch I, II
Advanced Animation Workshop I, II
Life Drawing: Figure, Form, and Function
Career Strategies for Animation
Anatomy I, II
Animation Thesis I, II
The University of Southern California
---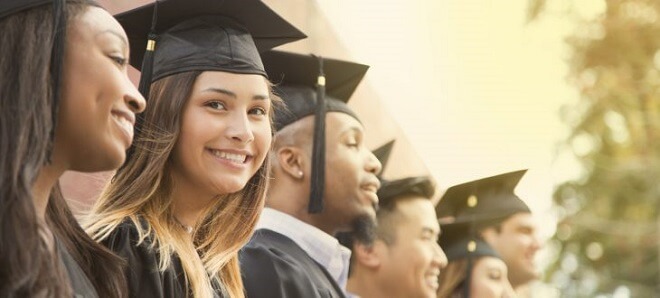 Located in Los Angeles, California
Founder: Robert M. Widney
Tuition: $30,000 after aid
Graduation Rate: 92%
Students: ~45,700
Famous Alumni: Will Ferrell, Neil Armstrong, George Lucas, Robert Zemeckis, Judd Apatow, Rian Johnson, Shinzō Abe
Although this sprawling urban campus in Los Angeles, California, isn't centered specifically on the visual arts, it still has some great programs to apply to, especially in animation. It's the alma mater of some famous directors, producers, and visual artists working for companies like Pixar, Disney, and DreamWorks.
Animation and Digital Arts (M.F.A.) – 3 Years

2D Character Animation
Motion Graphics
Interactive V.R. Installation
3D Character Animation
Stop Motion Animation
Fundamentals of Animation
The Business of ANimation
Master's Thesis
Pratt Institute
---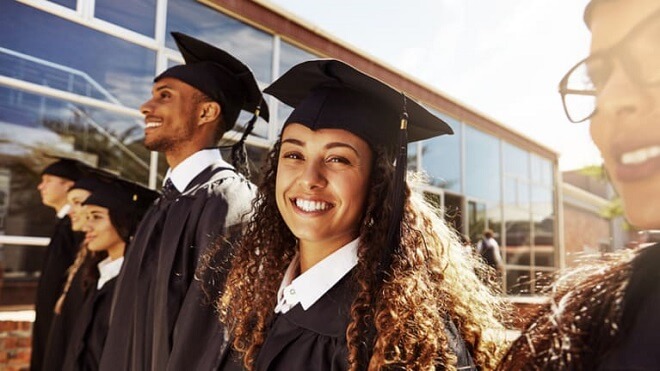 Located in Brooklyn, New York
Founder: Charles Pratt
Tuition: $44,000 after aid
Graduation Rate: 64%
Students: ~4,800
Famous Alumni: Robert Mapplethorpe, Stefan Sagmeister, Rob Zombie, Joseph Barbera, Jack Kirby, Ellsworth Kelly
Aside from S.V.A., the Pratt Institute is the place to be in New York City. Situated in the borough of Brooklyn, the Pratt Institute is one of the only art schools in the city with a full-fledged campus resembling other universities. Hungry artists flock to Pratt for some great arts education.
Many alumni work at the following studios:
N.B.C. Universal, Inc
Psyop
Rhythm and Hues Studios
Shadow Machine Films
Sony Imageworks
Steror D
Thorlabs
Threshold
Thrillist
Titmouse
Walt Disney Animation Studios
Master of Fine Arts Program
Digital Animation and Motion Arts M.F.A. – 2 Years

Digital Arts Practicum Graphics
Digital Animation Studio
Thesis I, II
Post-Production
Languages
Graduate Seminar I, II
Savannah College of Art and Design – SCAD
---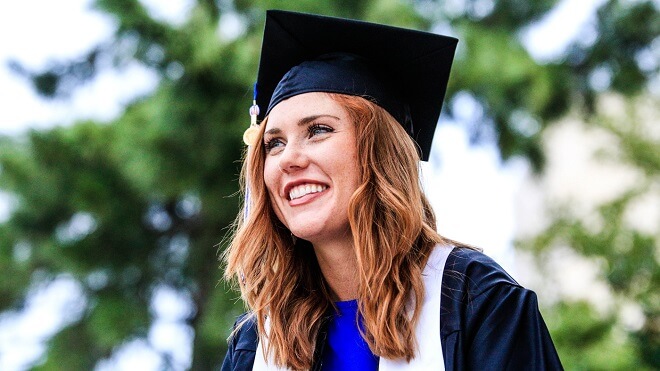 Located in Savannah, Georgia
Founders: Richard G. Rowan, Paula S. Wallace, May L. Poetter, and Paul E. Poetter
Tuition: $41K after aid
Graduation rate: 65%
Students: ~13,000
Famous Alumni: Mir Z. Ali, Matt Davies, Scott Fischer, Azéde Jean-Pierre, Ricardo de Montreuil, M. Alice LeGrow
We are huge fans of Savannah College of Art and Design. It is one of the best hubs or artistic talent in the entire country. Along with a Master's of fine art in animation, SCAD has multiple other programs, both online and off, in other artistic pursuits. We're talking almost 50 minors and more masters options. Let's take a look at what SCAD has to offer
SCAD's Animation M.A. – 45 credit hours

Art Criticism
Animation Aesthetics and Practice
Computer-generated Modeling and Design
Drawing in Motion
3-D Cartoon Character Animation
Character Look Development
3-D Naturalistic Character Animation
Environment Look Development
Collaborative Project
Animation M.A. Final Project
SCADpro Collaboration
Graduate Internship
SCAD's Animation M.F.A. – 95 credit hours

Art Criticism
Animation Aesthetics and Practice
Computer-generated Modeling and Design
Drawing in Motion
Media Theory and Application
Storyboarding and Previsualization
Collaborative Project
Animation M.F.A. Thesis Exploration and Research
Animation M.F.A. Thesis Visual Component Production
Graduate Internship
Animation M.F.A. Thesis Completion
SCADpro Collaboration
Multiple electives
As you can see, SCAD's M.F.A. is a bit more intensive than the regular Master's program. This high focus is to be expected, as you're going above and beyond to prove your worth!
University of California Los Angeles
---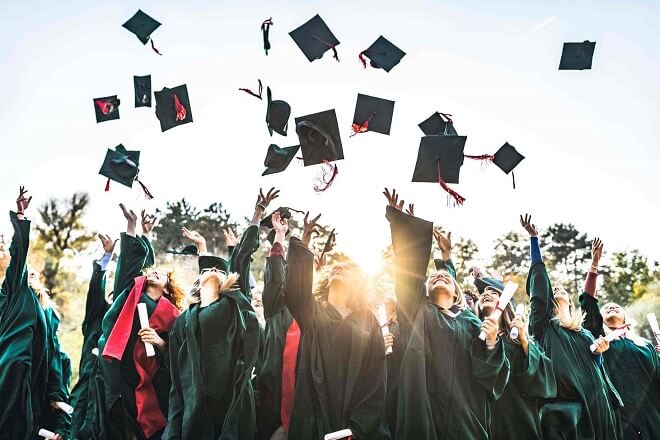 Located in Los Angeles, California
Founders: Reginaldo Francisco del Valle
Tuition: $14K after aid
Graduation rate: 91%
Students: ~45,700
Famous Alumni: Francis Ford Coppola, James Franco, Ben Stiller, Jack Black, Steve Martin, Randy Newman, John Williams, Sean Astin
University of California Los Angeles, AKA UCLA, is the iconic southern branch of the University of California. It's a world-renowned school with over 45,000 students. Specifically, its animation school was founded by William Shull, an animator from Disney.
The M.F.A. program at UCLA is extremely competitive; only around 10-12 students are accepted into the illustrious program. Requirements for applying for the program include having a bachelor's in a related entertainment field.
UCLA offers a unique feature for students: the Summer Institute Symposium. The Summer Institute Symposium is perfect for networking, as students can meet industry leaders and get a jump on the curriculum.
UCLA's Animation Workshop – 3 Years
If you're able to find yourself amongst the elite of UCLA's animation program, career options will surely open up for you, having the industry turning its head in your direction.
Rochester Institute of Technology
---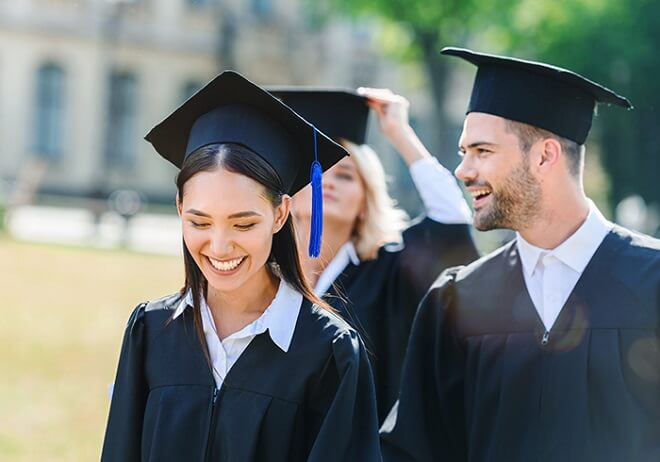 Located in Rochester, New York
Founders: Nathaniel Rochester
Tuition: $30K after aid
Graduation rate: 68%
Students: ~19,000
Famous Alumni: John Resig, George Hotz, Jerry Uelsmann, Bruce Davidson, Walid Raad, Charles Gaines
R.I.T. is a celebrated college in Rochester, New York. Starting as a school that majored in mechanical drawing and design, it has since evolved into a haven of creative photographers, artists, and animators.
RIT School of Film and Animation
---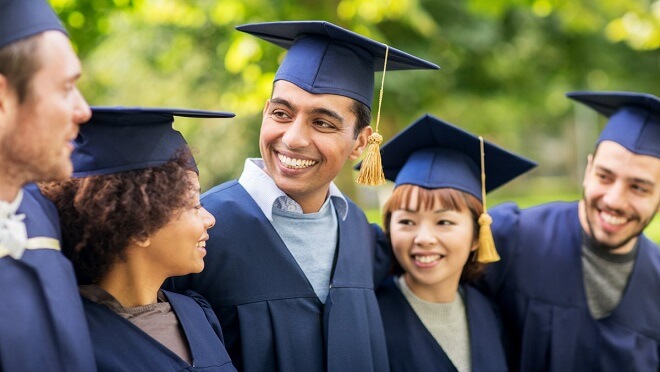 Film & Animation M.F.A. – 3 years – 65 Credit hours
Year One:

2D Animation I: Fundamentals
Basic Sound Recording
Graduate Seminar
History and Aesthetics of Animation
3D Animation Fundamentals
Stop Motion Puppet Fundamentals
Animated Acting Principles
Pre-Production for Animators
Animation Writing and Visual Storytelling
Concept and Character Design
Stop Motion Master Class
Animation Film Language
Year Two:

2D Animation II: Mechanics
Alternate Frame by Frame
Business and Careers in Animation
After Effects for Animators
Animation Workshop
Thesis Preparation Seminar
Year Three:

Research and Thesis I
Research and Thesis II
Final Thoughts
---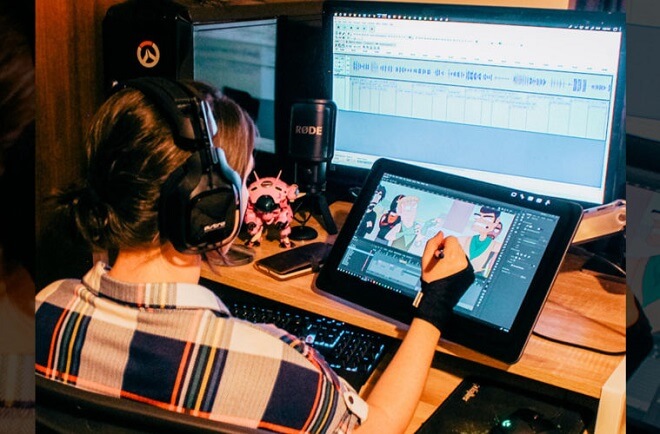 Although a master's degree in animation is an optional path, it could be one that allows you to work with some of the most creative and brilliant minds in popular animation. While you could no doubt find a decent career with a bachelor's degree (here's a list of the top 71 animation schools around the globe), don't you possibly want to take it to the next level?
With some of the best schools to earn a master's in animation, and some of the necessary tools you need to prepare, you could very well find yourself in some of the best studios in the world. If you are great at working in a team, a master's degree in animation is a fantastic idea.
Let's break down the process one last time:
Explore different options for a master's or Master's of fine arts in the field of animation
Apply to schools
Choose applicable classes to your specific interests
Network
Build your portfolio
Apply for jobs
Successful animation is the sum of many parts, and no one person can make a massive project come together. Keep your ego in check, study the material, practice, use the software, and collaborate, and you'll go exceptionally far.