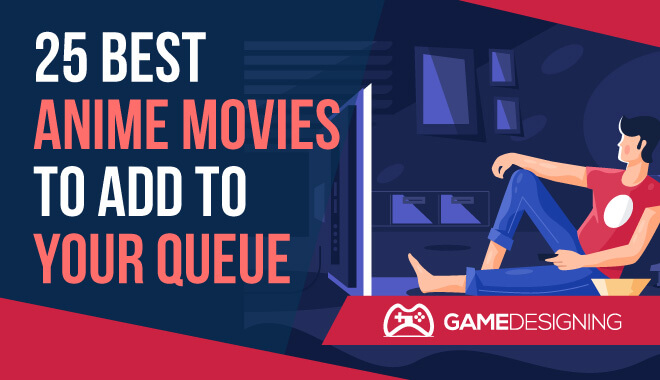 Anime movies are some of the most breathtaking spectacles in film.
The painstaking attention to detail and the mix of drama, action, romance, and other genres really sets them apart as a tour de force when it comes to the art form.
Directors like Hayao Miyazaki have enchanted audiences for decades with his work.
If you're an aspiring animator yourself, check out our list of free and paid 2D animation software to get you started.
You may be asking yourself, "What are the best anime movies of all time?". Fear not, because a list of top anime movies is exactly what you need, and I'm here to deliver.
Our Ranking Criteria
In addition to viewer and critic ratings, we use objective metrics like sales, and sales growth rate to make our lists (read more). Some of these data sources include:
The Best Anime Movies of All Time
Your Name.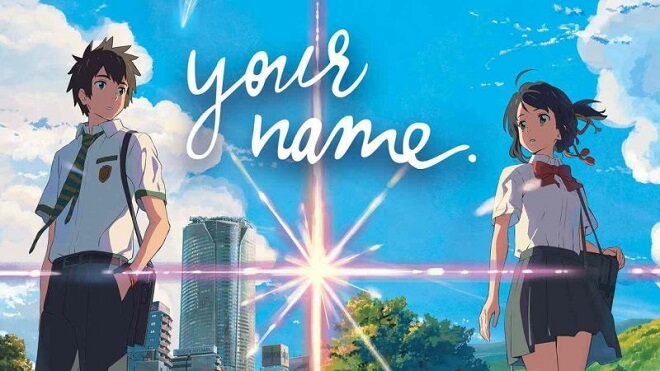 Director: Makoto Shinkai
This movie is breathtaking. Your Name. is a great blend of drama, fantasy, and romance. The summary alone pulls you in, "Two strangers find themselves linked in a bizarre way. When a connection forms, will distance be the only thing to keep them apart?"
However, it's so much more than that. The two main characters, Taki and Mitsuha find themselves drawn towards one another, and all seemingly connected to a mysterious natural disaster…I wish I could say more, but it's truly a work of art that you need to see to believe.
Based on 26 critics, the Metacritic score is 79. With publications like The Telegraph and The Austin Chronicle giving it glowing ratings and reviews. NPR had this to say about it:
"…you'll have realized this is not the cute little switcheroo comedy you thought you were watching at the beginning. It's deeper, more resonant, in some ways a meditation on fate."
The user scores, on the other hand, are fantastic, averaging over 9.0.
This anime movie has grossed over $355 million—earning some of the most impressive records: the fourth highest-rated film of all time in Japan, the highest-grossing anime and Japanese film, (again, of all time!), and the 9th-highest-grossing non-English film worldwide to name a few. Do you need any more convincing to check out this anime movie?
Stop what you're doing and watch it now!
What Makes It Great
Touching Slice-of-Life Moments: The anime doesn't just rely on grand visuals; it also captures the beauty of everyday life. Scenes like characters having breakfast or snapping food pictures are emotionally resonant and heartwarming.
Unique Artistic Identity: While the influence of legendary animator Hayao Miyazaki is evident, Makoto Shinkai, the director, brings his own unique style to the table, setting the film apart from others.
Rich Thematic Depth: ""Your Name"" is not just a simple story; it's a layered narrative that combines elements of comedy, action, and time-travel drama, offering a rich and complex viewing experience.
Interesting Facts
Notably, "Your Name" became the top-grossing anime film ever, surpassing Studio Ghibli's "Spirited Away." It's the sole anime to exceed 10 billion yen at Japan's box office.
In "Your Name," director Makoto Shinkai subtly nods to his past work. Taki's restaurant, "Il Giardino Delle Parole," references his earlier film "The Garden of Words," and Mitsuha's school teacher is Yukari Yukino, the heroine from the same film.
In "Your Name," the pivotal location is the fictional town of Itomori, inspired by the real-life Hida City in Gifu Prefecture. Following the film's immense success, Hida City experienced a boost in tourism.
Grave of the Fireflies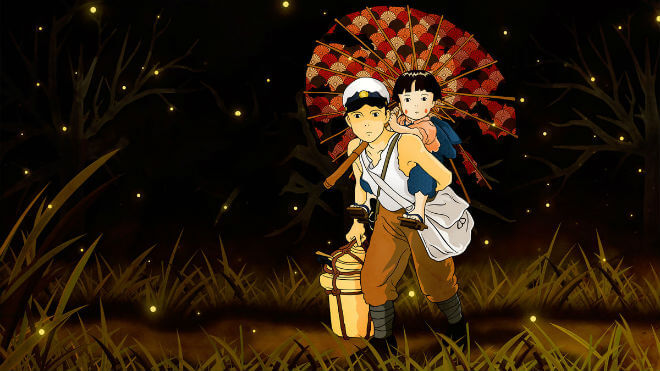 Director: Isao Takahata
Based on a short story by the same name written by Akiyuki Nosaka, Grave of the Fireflies was animated by a little studio you may have heard of: Studio Ghibli. You know you're getting amazing animation right off the bat.
Grave of the Fireflies tells the emotionally harrowing story of brother and sister Seito and Setsuko trying to survive in the during and in the aftermath of World War II.
This isn't a feel-good movie, but it's emotionally powerful and beautiful. The two find themselves going through many hardships, starting with a firebombing in Kobe, the loss of their mother, and the desperate struggle for survival in a country that is torn apart by war, food shortages, and death.
Check out this anime movie if you are looking to be emotionally moved, experience great animation, and have a powerful story about bonding between two siblings that can't be matched.
What Makes It Great
Human Impact of War: The strength of the storytelling lies in director Isao Takahata's first-hand experiences of war. The film brings to life the human cost of conflict, capturing moments of "pure shell shock" that are as beautiful as they are terrifying.
Anti-Hollywood Narrative: The film challenges Hollywood's typical portrayal of heroism in desperate times. Instead, it advocates for humility, patience, and self-restraint as the real keys to survival.
Enduring Relevance: Even 30 years after its release, the film's message about the human impact of war continues to resonate. It serves as a counter-narrative to the stereotypes often associated with anime.
Interesting Facts
Grave of the Fireflies initial theatrical release was accompanied with My Neighbor Totoro as a double-feature in Japan. The release was a box office failure.
"The Grave of the Fireflies" is based on a real girls story.
Princess Monoke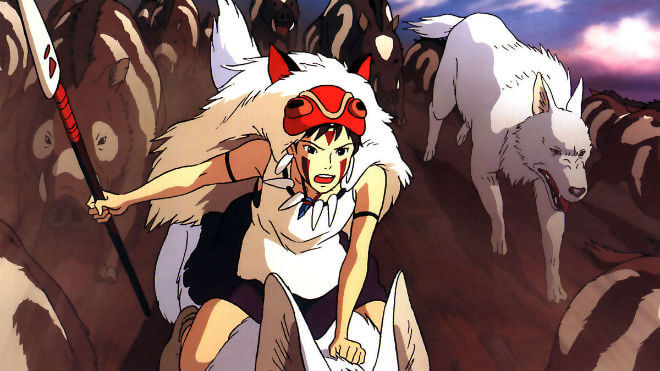 Director: Hayao Miyazaki
Princess Mononoke is a heavy-hitting anime movie that tackles several issues, namely conservation of nature and environmental concerns.
Uncharacteristically violent for a normal Ghibli film, Mononoke tells the story of Ashitaka, searching for the cure to a curse, and finding himself caught up in a conflict between forest spirits and an evil mining company. Bloody, but brilliant, this film highlights some of the best high-octane animations from Miyazaki.
You won't forget the haunting image of San, the titular character, covered in blood after hard-fought combat. Although it's unlike many of Ghibli's films, it stands apart in a beautiful and lasting way, and worth checking out, along with earning the number 3 spot of the best anime movies of all time.
What Makes It Great
Moral Ambiguity: The film challenges conventional storytelling by presenting characters and situations that don't fit neatly into "good" or "evil" categories.
Cultural Impact: The anime's nuanced approach was a point of contention during its U.S. release, suggesting that cultural perspectives can significantly influence the reception of art.
Environmental Relevance: The film's themes of environmental conservation and the complex relationship between humans and nature make it particularly relevant in today's context of environmental crise.
Interesting Facts
"Princess Mononoke" dethroned E.T. as Japan's box office champion after a decade with its impressive 18.25 billion yen (approximately $134 million) earnings.
Princess Mononoke didn't just break commercial records. In 1998, it became the first animated film to be nominated for and win the top prize at the Japanese Academy Awards.
"Princess Mononoke" stage adaptations were previously declined, but UK's Whole Hog Theatre received approval with their unique pitch. It sold out in the UK nine months before opening and later found success in Tokyo with larger audiences.
Kiki's Delivery Service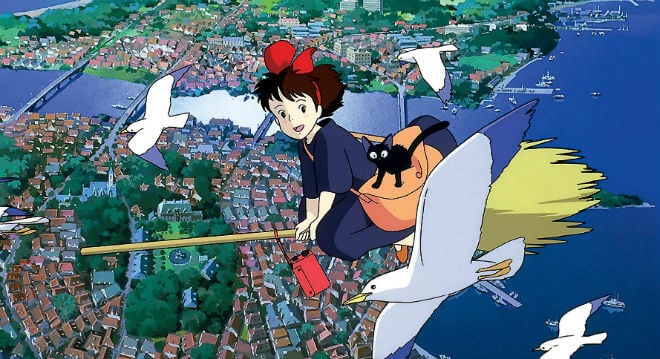 Director: Hayao Miyazaki
Another of my personal favorite top anime movies is Kiki's Delivery Service. You knew Studio Ghibli would make another appearance, and it's easy to see why.
Kiki's Delivery Service tells the story of Kiki, a young witch who runs a courier service, trying to fit in and feel like she belongs during her mandatory year of independence. She struggles with a lot of different things, loss, identity, and even depression.
A quote that sticks out to me is when Kiki is feeling low and says:
"I think something's wrong with me. I make friends, then suddenly I can't bear to be with any of them. Seems like that other me, the cheerful and honest one, went away somewhere."
Some heavy stuff. Not as depressing as Grave of the Fireflies, but it examines the inner workings of the emotionality of growing up and feeling like we don't belong. The friendship between Kiki and her cat, Jiji, is so heartwarming.
He's Kiki's best friend and can even be considered an extension of Kiki herself. Check out this anime movie to see beautiful animation, a touching story, and classic elements of Miyazaki all in one.
What Makes It Great
Exploration of Loneliness: The film tackles the often-overlooked aspect of growing up: loneliness. Even when surrounded by friendly faces in a new city, Kiki feels isolated. This emotional depth adds a layer of realism to her character and the story
Evolution of Relationships: The film shows that relationships, even those as close as the one between Kiki and her cat Jiji, evolve over time. This change is portrayed as a natural part of growing up, adding a bittersweet element to the narrative.
Interesting Facts
The Town By the Sea is Modelled After Stockholm: The town where Kiki lives, Koriko, is inspired by the Swedish cities of Stockholm and Visby. The film's artists and Miyazaki even traveled to Sweden for research.
It Was Ghibli's First Big Hit: The film grossed Yen 3.6 billion, making it a massive hit in the Japanese film industry. Before this, Miyazaki wasn't a global icon.
Cameo by Director Hayao Miyazaki: A man with glasses who appears at the end of the movie is modeled after Director Miyazaki. This was a rare inclusion of his figure in his films.
Ghost in the Shell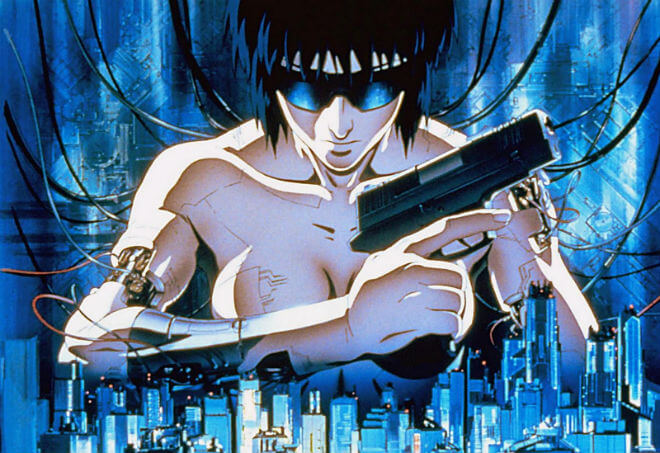 Director: Mamoru Oshii
Aside from the controversy surrounding the casting of Scarlett Johansson in the live-action adaptation, Ghost in the Shell is a wild ride from start to finish.
Originally a manga from 1989 written by Masamune Shirow, it tells the story of a cyborg police officer named Motoko Kusanagi and Batou hunting down a mysterious hacker named "The Puppet Master" in New Port City in the mid-twenty-first century. This anime movie has influenced other works like The Matrix and other cyberpunk works.
On Metacritic, Ghost in the Shell has a score of 76, with it garnering great reviews as well as winning a bunch of awards, namely the #20 Best Movie of 1996, (beating out The Hunchback of Notre Dame, Matilda, and Twelve Monkeys), the #23 Most Discussed Movie of 1996, and the #6 Most Shared Movie of 1996.
User reviews are glowing, with users saying that there is a beautiful balance of peace, serenity, and neo-noir action.
It originally was a box office failure, but thanks to dedicated fans, it ended up making up its budget by raking in $43 million in sales since its release. If you love drama, thrillers, and a wild story that'll keep you guessing, Ghost in the Shell is right up your alley.
What Makes It Great
Philosophical Depth: The anime doesn't shy away from asking big questions about the nature of consciousness and identity. It's not just an action-packed cyberpunk tale but also a philosophical inquiry
Artful Action Sequences: The anime is praised for its meticulously choreographed action sequences, which are not just thrilling but also serve as a vehicle for deeper philosophical dialogues. It's a blend of mind and muscle, making each scene more than just eye candy.
Artful Action Sequences: The anime is praised for its meticulously choreographed action sequences, which are not just thrilling but also serve as a vehicle for deeper philosophical dialogues. It's a blend of mind and muscle, making each scene more than just eye candy.
Interesting Facts
Relevance to Modern AI Ethics: The film's story about an AI evolving to demand recognition as a new life form is more pertinent today than when it was made in 1995.
Sequels and Remakes: The film has seen various remakes and sequels, including a 2008 reboot and a 2017 live-action version.
Perfect Blue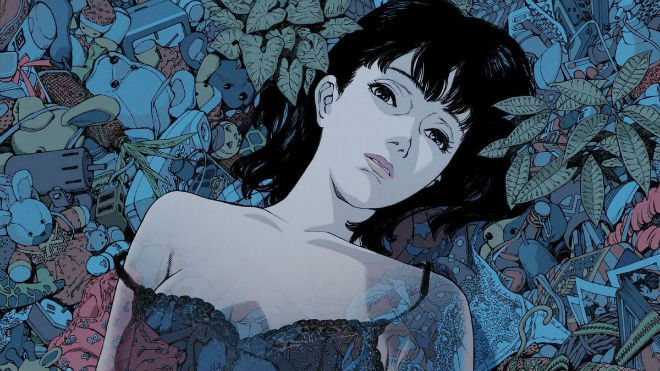 Director: Satoshi Kon
Another thriller for you. Perfect Blue is the story of a former pop idol, Mima Kirigoe, seemingly being stalked by an obsessive fan. However, not is all as it seems, as the fan seems to be a ghost of her past. Which is it? You'll have to watch to find out.
It explores deep themes, like what the true cost of fame is, and do we know ourselves? It has it all. Twists and turns, beautiful, striking animation with paranoia and dreamy visuals will keep you pulled in for the entire 81-minute running time. This movie had me on the edge of my seat the entire time.
Not only that, but I found myself thinking about this film long after I had finished it, and THAT is the trademark of one of the top anime movies.
What Makes It Great
Visual Storytelling: Satoshi Kon's unique visual style and editing techniques are praised for adding to the film's psychological depth. The film uses the medium itself to make the viewer feel Mima's disorientation and breakdown.
Confrontational Narrative: The film is often called as a ""masterclass of confrontation,"" forcing the viewer to confront the psychological degradation of the protagonist. This makes the film's message more intimate and powerful.
Interesting Facts
Influence on Hollywood: The movie has influenced several Hollywood films, including Darren Aronofsky's "Black Swan" and Christopher Nolan's "Inception"
Live-Action Version: A live-action version was eventually made in 2002 but received mixed reviews.
Katsuhiro Otomo's Involvement: The creator of Akira, Katsuhiro Otomo, was credited as a "Special Supervisor" to help sell the film.
A Silent Voice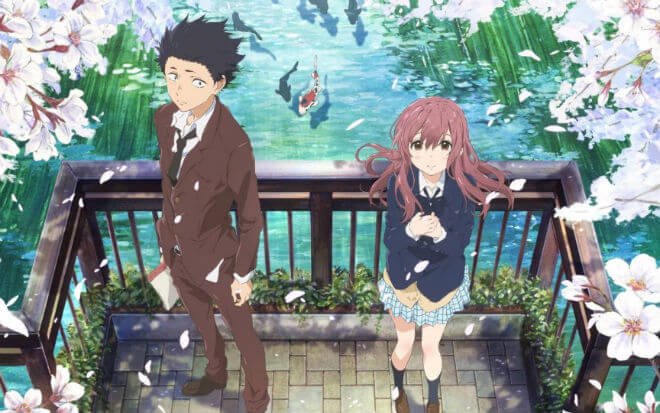 Director: Naoko Yamada
Based on the manga of the same name by Yoshitoki Ōima, A Silent Voice is based around a young boy named Shōya who finds himself on a bridge about to commit suicide. He reminisces about his past and why he's arrived at the bridge.
Shōya had been bullying a deaf student named Shōko Nishimiya and has alienated himself from his classmates for doing so, becoming the victim of bullying himself. He sets out for possible redemption with her throughout the film. This is a great anime movie with a strong anti-bullying message, as well as emotional depth that will resonate with anyone who watches it.
With beautiful nuances in the animation, color, and a unique, haunting soundtrack, A Silent Voice will keep you up late at night thinking about the impact it has had on you. Will Shōya get redemption and atone for his bullying. Only one way to find out!
What Makes It Great
Deafness as a Metaphor: The film ingeniously uses the concept of deafness to explore broader themes of isolation and miscommunication. This adds a layer of complexity, making it more than just a story about bullying but a deeper look into the intricacies of human interaction.
Feminine Sensibility: Directed by Naoko Yamada, the film brings a unique, delicate touch, especially in how it handles the romantic elements between characters. This feminine perspective adds a unique flavor to the anime, distinguishing it from other works in the genre.
Innovative Visual Storytelling: The anime employs creative visual symbols, like the blue crosses on characters' faces, to represent the protagonist's feelings of being an outcast.
Interesting Facts
The film won several awards, including 2016's Best Animation Feature Film at the Japanese Movie Critics Awards.
Young Author: Yoshitoki Oima was only 18 years old when she started working on A Silent Voice.
Castle in the Sky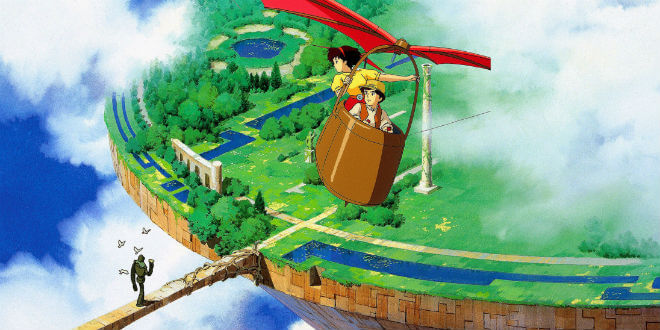 Director: Hayao Miyazaki
Another gem by Studio Ghibli, Castle in the Sky tells the story of Sheeta and Pazu, two kids who find themselves on an epic search for an airborne island named Laputa. However, their search for the island isn't without its hardships; airship pirates are on the hunt for Sheeta and her mysterious amulet.
Later in the quest, you learn more about Sheeta's origins and that of the mysterious island of Laputa. It's a great anime movie for those who crave adventure with Hayao Miyazaki's patented, iconic style of animation. One scene I loved was when Sheeta gets her braids to get shot off has to be one of my favorite in all of the animation, check it out!
What Makes It Great
Historical and Literary Roots: The film draws inspiration from Jonathan Swift's "Gulliver's Travels," adding a layer of literary depth to its narrative. This connection to classic literature enriches the story and gives it a timeless quality.
Narrative Pacing and Structure: The story is immaculately paced, keeping the audience engaged from start to finish. The mystery surrounding Laputa and its ancient technology serves as the narrative's core, providing enough intrigue to sustain interest throughout the film.
Character Depth and Empathy: The characters of Pazu and Sheeta are crafted in a way that makes the audience empathize with their quest. Their interactions with the roguish pirates add charm and complexity to their journey, making the characters relatable and endearing.
Interesting Facts
The movie was financially successful in Japan. It became the highest-grossing film of 1986 in the country.
Castle in the Sky received widespread critical acclaim. It has a 95% approval rating on Rotten Tomatoes, with praise for its storytelling and visual splendor.
The movie's English-language adaptation was released in 1998. It introduced a whole new generation of viewers to the enchanting world of Studio Ghibli.
Nausicaä of the Valley of the Wind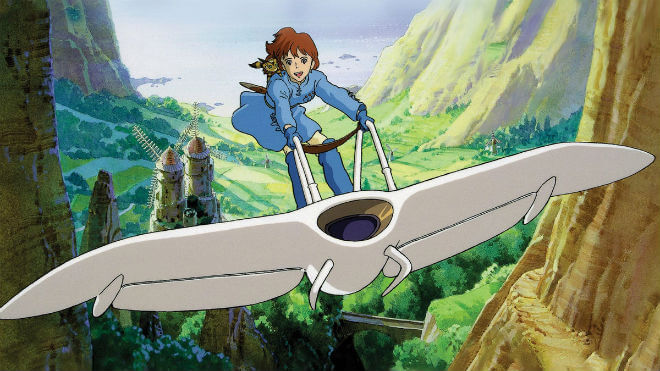 Director: Hayao Miyazaki
Yep, you guessed it: Miyazaki again. There's a reason he's a legend, and this further proves that he has some of the most enduring and powerful animations in anime movies. It's based on the manga of the same name by Hayao Miyazaki himself. Right away, the unbelievably beautiful environments Studio Ghibli had created blew me away.
Nausicaä of the Valley of the Wind comes in with an impressive 86 on Metacritic, no small feat. Publications like The New Yorker, IGN, and the AV Club have praised it as a remarkable animation feat.
Users likewise say that Nausicaä of the Valley of the Wind ranks up there with some of Miyazaki's best work, period.
You'll find yourself becoming almost distracted by the beauty and detail of each environment. However, the story itself is just as beautiful. It involves Nausicaä, who attempts to save a jungle of insects from a kingdom trying to eradicate it. It takes place 1,000 years after the cataclysmic war that wiped out industrialized society.
This film serves as a chilling allegory to not only warnings of our industrial expansion on nature, but it also harkens back to an earlier entry on the list, Princess Mononoke, (which Miyazaki would make 13 years later). A thing I love about Miyazaki is his attention to detail and love of the natural world, showing that it's worth saving and being mindful of your own life.
What Makes It Great
Musical Brilliance: The score by Joe Hisaishi uses a mix of orchestral and synthetic styles to create a sonic landscape that complements the film's retro-futuristic technology and idyllic natural settings. This musical layer enhances the thematic richness of the film.
World-Building Excellence: The setting and worldview in the anime are thoroughly thought out, grounding the narrative and adding a layer of consistency. This attention to detail sets it apart from much of modern anime, providing a more immersive experience for the viewer.
Visual and Emotional Complexity: The film's animation style can be described as minimalist yet extravagant, capturing a wide range of emotions in its characters.
Interesting Facts
Originally Planned as a Short Film: Initially, the project was supposed to be a 15-minute short film. However, it eventually became a feature-length film.
Color Palette: The film uses a total of 263 distinct colors, contributing to its vibrant art style.
U.S. Release Edits: The U.S. release was heavily edited, leading Miyazaki to enforce a "no cuts" rule for foreign releases.
Cowboy Bebop: The Movie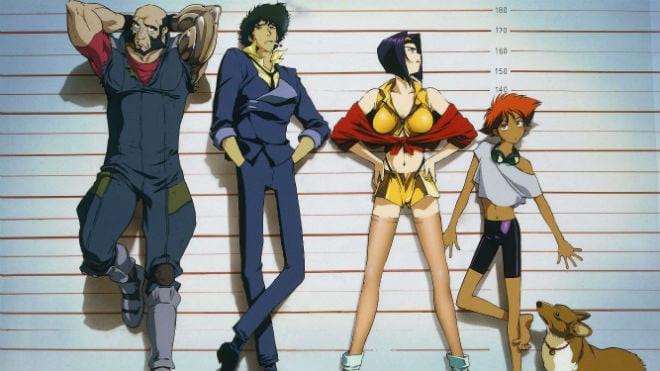 Director: Shinichirō Watanabe
The wildly popular and wildly stylish neo-noir sci-fi series goes feature-length. The Bebop crew, Spike, Faye Valentine, Jet Black, Edward, and of course Ein, are back to follow the trail of a terrorist who plans to eradicate the population of Mars with a deadly virus. Only the Bebop crew has what it takes to put a stop to it.
Director Shinichirō Watanabe has said that he viewed Cowboy Bebop as miniature films, and indeed viewed the film as just an extension of that premise. Lovers of the anime will not be disappointed; it retains that signature style from the anime T.V. series and adds an amazing musical score and visual flares that tie this work to the series in a beautiful way.
It takes place story-wise between episodes 22 and 23 of the original show, and you can tell that nothing is out of place. This is a no-brainer for fans of the show who want to see more of the crew.
What Makes It Great
Multilayered Narrative: The series masterfully blends humor, action, and deep contextual elements. It explores existentialism, loneliness, and the meaning of friendship and love, adding depth to the story and making it more than just an action-packed anime.
Visual and Action Elements: Despite its age, the animation by Sunrise still complements the narrative effectively. The action scenes, which include martial arts, cowboy-style gunfights, and spaceship battles, are still impressive, adding to the series' enduring appeal.
Character Complexity: fans are praising the series for its deep character analysis, making the protagonists, who are essentially losers and anti-heroes, incredibly likable. Their flaws are highlighted as their main source of appeal, adding a dramatic element to the series.
Interesting Facts
Limited Original Run: During its original run on TV Tokyo, only 12 of the 26 episodes were aired due to mature themes
Impact in the U.S.: The anime made history in the U.S. by being the first anime broadcast on Adult Swim. It was well-received due to its Western influences and mature storytelling.
Initial Toy Sponsorship: The series was initially envisioned as a project to sell toys through a sponsorship from Bandai. However, the company pulled out due to the anime's dark tone.
The Secret World of Arrietty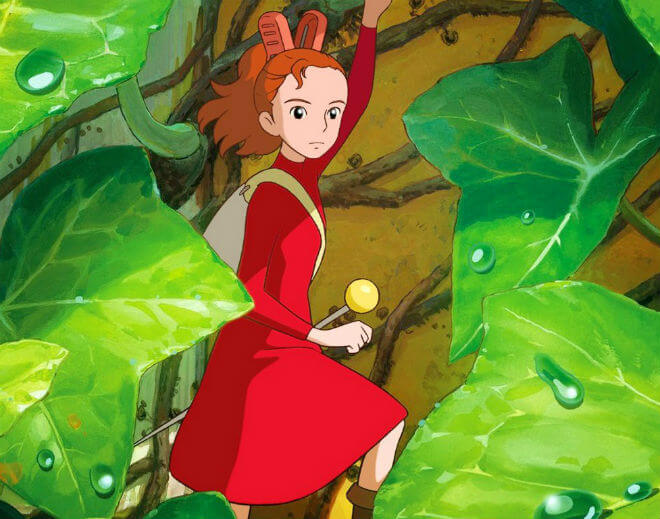 Director: Hiromasa Yonebayashi
Based on the 1952 children's fantasy novel, The Borrowers, The Secret World of Arrietty introduces us to the Clock family—four-inch-tall people who live in a family's house. The Clock family borrows small items to furnish their own homes. However, on an expedition, their daughter Arrietty gets discovered. Arrietty is on a nighttime mission when she's seen by the family's son, Shō.
She's warned that her existence is at stake and to never interact with humans. Nevertheless, she tries to pursue a friendship with Shō. This anime movie has such impressive animation coupled with an engaging and heartfelt story on existence, life, and friendship. The aspects of everyday life are captured in such a magical way in Hiromasa Yonebayashi's debut film.
It even reminds me a little of Spirited Away. This version of the story blows the 1997 American version out of the water.
What Makes It Great
Atmosphere Over Story: anime focuses more on creating a mesmerizing atmosphere than on intricate storytelling. The visuals and the setting are so captivating that they sometimes overshadow the actual plot, making the viewer feel like they've watched a well-made episode of a series that has yet to unfold.
Underlying Messages: While the anime may not dive deep into personal tragedies, it does focus on the ignored ""little people"" and their frugal lifestyle, contrasting it with the excesses of modern society. This adds a layer of thought-provoking undertones to the film.
Musical and Design Elements: The music by French artist Cécile Corbel adds a unique layer to the anime's atmosphere. The interior design, a mix of Japanese and European post-war styles, also contributes to the film's unique ambiance.
Interesting Facts
Box Office Success: The film became the highest-grossing Japanese film at the Japanese box office for the year 2010, and has grossed over US$145.6 million worldwide.
Awards: The film won the Animation of the Year award at the 34th Japan Academy Prize award ceremony.
Book Sales: Around 125,000 copies of the Japanese edition of "The Borrowers" were sold, reaching the Oricon charts for the first time in two years.
Neon Genesis Evangelion: The End of Evangelion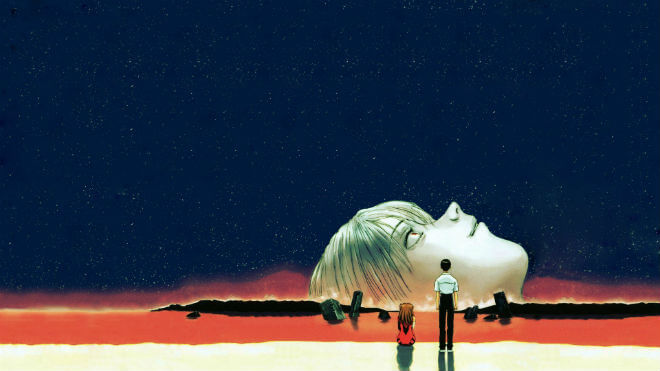 Directors: Hideaki Anno, Kazuya Tsurumaki
Another anime movie from a TV series, fans of the dark, philosophical, and entertaining Neon Genesis Evangelion have to watch this. As the title says, it's the end, although an alternative one. Shinji Ikari and his fellow mecha EVA pilots fight mysterious life forms called 'Angels'.
This series and this anime movie include strong thematic content, emotionally straining moments, and thoughts on the future of humanity. The EVA pilots are faced with the impossible task of defending earth from the encroaching angels—by all means an invincible force of supernatural beings.
User Vegeta-2 on IMDb says about the film:
"Never before has a movie put me through so many emotions. Anger, joy, fear, depression, hope, all flowed through me as the epic film unfolded before me. I was left emotionally wrung out the first time I watched it, and my view of life has been changed forever because of it."
Just be warned, if you haven't seen all the TV episodes, you will be totally lost by this movie. Oh, and hope you haven't developed too much of an emotional attachment to the characters.
What Makes It Great
The Challenge of Self-Acceptance: The anime pushes its characters, and by extension its audience, to confront their fears, insecurities, and the pain of existence. It challenges us to accept these as part of life and to move forward.
The Art of Storytelling: anime serves as a medium that can connect people on a primal level, transcending the limitations of language and overt speech. How does this form of storytelling impact our understanding of complex emotional and psychological themes?
The Duality of Human Nature: anime explores the dual nature of humanity—our desire for connection and our inherent capability to cause pain. It raises the question: Can we ever truly connect without causing or sharing pain?
Interesting Facts
Box Office: It grossed ¥2.47 billion in Japan, which is approximately $19 million.
Awards: The film was honored at the Awards of the Japanese Academy, the Animation Kobe, and the 15th Golden Gloss Award. It also won the 1997 Animage Anime Grand Prix.
The Girl Who Leapt Through Time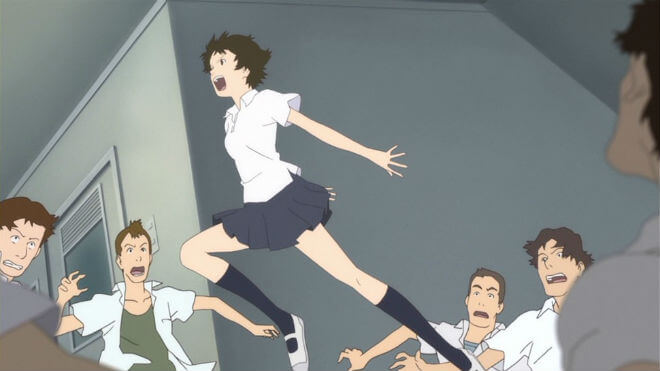 Director: Mamoru Hosoda
A favorite of mine—time travel movies. Teenager Mokoto can travel through time, unaware of the consequences her actions have on others in the past. Mokoto uses this ability much like I think many would—by fixing mundane and frivolous problems with your own life. Think of how many mistakes you could easily fix.
But Mokoto shows that it isn't that easy, or free of consequences. This movie had me emotionally torn up. It's supposed to be about time travel and ends up being an amazing lesson on life and the choices we make and the solidity of them. The character designs were by the animator of Neon Genesis Evangelion, Yoshiyuki Sadamoto, a nice little touch I enjoyed.
What Makes It Great
Visual Expression: One of the standout features of the anime is its unique visual expression. The art design for its minimalist approach that still manages to be rich in depth. It successfully captures the essence of old-school '80s anime while also feeling modern.
Longevity and Re-watch Value: The anime has a unique mood that gives it longevity in terms of re-watch value. In between the low-key sci-fi adventure, there is always something new to discover and some deeper emotions to explore. This makes it a timeless piece that can be enjoyed multiple times, each viewing offering something new to discover.
Adaptation Excellence: The anime is an adaptation of a novel, it surpasses its source material in every way. The characters in the anime version are more developed, and the storytelling is slowed down to focus on drama and character depth.
Interesting Facts
The movie received critical acclaim and won several awards, including the Japan Academy Prize for Animation of the Year in 2007.
Soundtrack: The movie's soundtrack is composed by Kiyoshi Yoshida, adding another layer of emotion to the film.
Tokyo Godfathers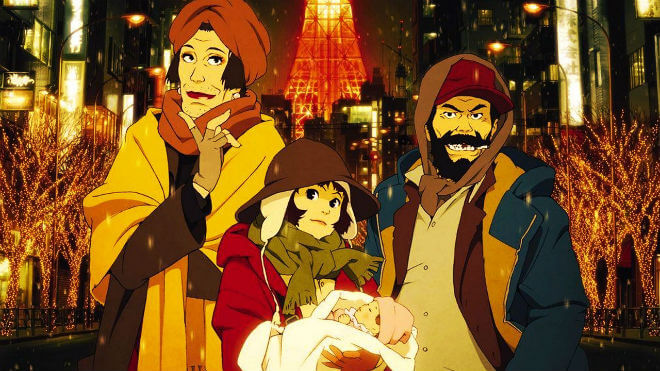 Director: Satoshi Kon
Tokyo Godfathers tells the story of 3 homeless people on Christmas Eve who discover a baby and attempt to search out its parents. With the script co-written by the same writer of Cowboy Bebop and Wolf's Rain, I knew the writing would be good, and I wasn't disappointed.
The story cut me right to the core, with loveable characters and their determined quest to find the missing mother of baby Kiyoko.
"There's a strong sense of karma here with "what goes around comes around". Doing nice things and you most likely will be rewarded.

However, turn your back or refusing to help someone in need may come back to haunt you when you are stuck with no one to turn to. Hey, maybe it's never too late to learn a lesson, no matter how much it hurts."
For me, this was one of the top anime movies.
What Makes It Great
Inventive Storytelling and Direction: The film stands out for its captivating storytelling, guided by the expert direction of Satoshi Kon. It's not just another anime; it's a compelling journey that involves a diverse cast, from gangsters to immigrants.
Deep and Relatable Characters: What makes ""Tokyo Godfathers"" truly special is its characters. They're not just figures on a screen; they're complex, flawed, and incredibly human. As the three homeless protagonists embark on their quest, they not only seek to reunite a child with her mother, but also find redemption and self-worth.
Interesting Facts
Public Limelight: "Tokyo Godfathers" was Satoshi Kon's third movie but his first step into the public limelight, premiering in 2003.
Critical Reception: The film was not widely seen in the U.S. upon its initial release in 2004, but has gained more attention due to its restoration and availability on VOD.
Whisper of the Heart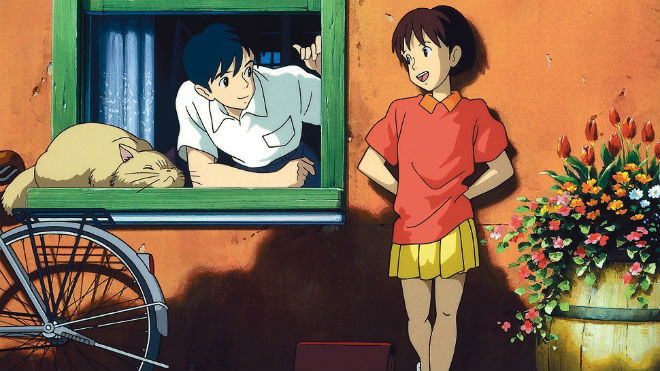 Director: Yoshifumi Kondō
As much of a reading fan as I am, this one really got to me. Whisper of the Heart is about two people, Shizuku, a girl who loves reading books, and her love interest, a boy named Seiji. Looking through the checkout cards of the books she reads, Shizuku discovers it's the same person, who ends up being Seiji. It's animated by Studio Ghibli, and it shows.
The environments in Ghibli movies is unmatched, and it's no exception here. You'll never hear 'Take Me Home, Country Roads' the same way ever again.
See our favorite animated movies list.
What Makes It Great
A Fusion of Dream and Reality: The anime is not just a simple teen drama; it's a blend of dreamlike elements and real-world experiences. This fusion adds a layer of depth to the story, making it relatable yet magical.
The Power of Detail: The anime is lauded for its hyperreal detail, from the cozy clutter of Shizuku's flat to the panoramic landscapes of Tokyo. These details are not just for visual appeal; they serve to immerse the viewer in the world of the characters. The Blu-ray version of the film even enhances these details, making the viewing experience even more enriching.
A Message of Hope and Self-Belief: The anime aims to inspire viewers who "tend to give up too easily on the idea of being the star of their own stories," according to Miyazaki's film proposal. This underlying message of hope and self-belief elevates the anime from being just a love story to a tale that can inspire people of all ages.
Interesting Facts
25th Anniversary: The film celebrated its 25th anniversary in 2020 and is considered one of Studio Ghibli's most emotional works.
When Marnie Was There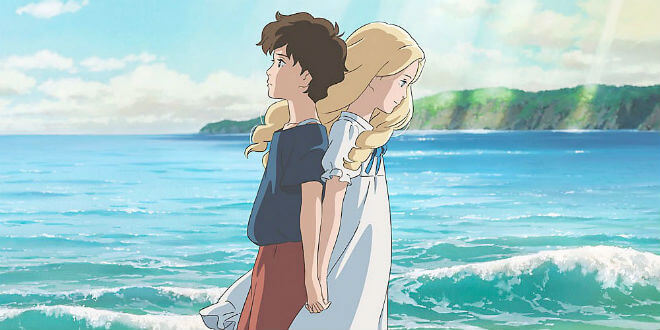 Director: Hiromasa Yonebayashi
Another one to tug on your heartstrings, When Marnie Was There is a Family/Drama film in which we see a beautiful and close friendship develop between the main characters, Anna and Marnie. This is a great, poignant view on friendship. When Anna is staying with her foster parents in Hokkaido, she meets the mysterious blonde-haired Marnie.
Marnie makes Anna promise to keep their secrets from everyone. These secrets you find out during the viewing of this anime movie are shocking. You can't miss this story—it's so filled with heart and reality that I'm not used to in anime movies. Truly one that sticks out, and from Studio Ghibli before their short hiatus, too.
What Makes It Great
A Farewell to Studio Ghibli's Legacy: The film is considered something of an elegy for Studio Ghibli, as it was the last film from the studio for some time. This adds an extra layer of emotional resonance to the movie, making it not just another entry in the Ghibli canon but a poignant farewell.
Raw Emotional Material: The film doesn't shy away from exploring deep emotional issues. Anna, the protagonist, is not just sad; she's borderline suicidal. This raw emotional material makes her character arc more impactful, as it feels like a fight for survival rather than a mere fantasy.
Blurring the Lines Between Reality and Fantasy: The film plays with the concept of reality and fantasy, especially in the relationship between Anna and Marnie. It's as if both characters are what the other needs to get through their respective worlds, adding a layer of complexity to their friendship.
Interesting Facts
Second Directorial Work: This was Hiromasa Yonebayashi's second directorial work after "The Secret World of Arrietty" in 2010. It was also his final film before leaving Studio Ghibli to join Studio Ponoc.
Academy Award Nomination: The film was nominated for the Academy Award for Best Animated Feature at the 88th Academy Awards.
A Letter to Momo
Director: Hiroyuki Okiura
Momo is a young girl who travels to the island of Shio and begins to live among its people, learning their ways and customs. However, all is not as it seems.
Weird goings-on begins to happen on the island of Shio and Momo soon finds herself banding together with Kawa, Mame, and Iwa, three Imps with distinct personalities to discover the source of these strange happenings. Like many others, I found A Letter to Momo much like My Neighbor Totoro but honestly seems like a more modern improvement on that old classic.
I was surprised by the comedic elements and how much I enjoyed them. Add to that the crazy emotional latter half and you have my ideal movie.
What Makes It Great
A Long Journey to Completion: The film took seven years to make, showcasing the meticulous effort put into its detailed, hand-drawn production. This long journey adds a layer of depth and authenticity to the movie, making it a labor of love that resonates with audiences.
Focused Storytelling: The film stays focused on Momo's emotional journey, making her the central element around which everything else revolves. This focus ensures that the narrative doesn't stray into unnecessary subplots, making the emotional payoff in the end all the more powerful.
Playfulness Amidst Grief: The film manages to incorporate playful elements without undermining its emotional gravity. The imps bring a sense of humor and childishness, which serves as a counterbalance to Momo's grief. This blend of playfulness and emotional depth makes the film a well-rounded experience, appealing to both the heart and the mind.
Vampire Hunter D: Bloodlust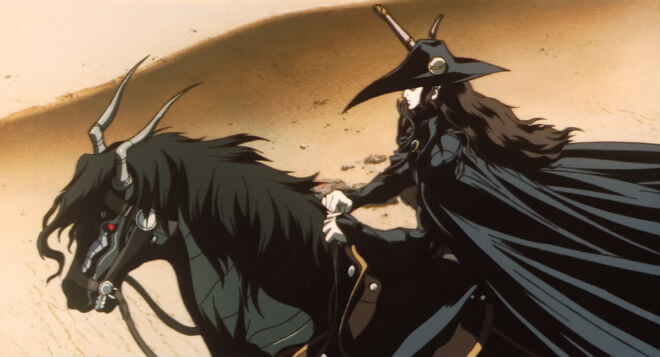 Director: Yoshiaki Kawajiri
Now for a quick change of pace. Here we have an action/adventure movie based on the Vampire Hunter D series of novels written by Hideyuki Kikuchi. This is the story of the future in which vampires have been hunted down by the ruthless D, a half-human, half-vampire hybrid.
The animation is so perfect in this movie, and the subject and themes are so gripping. With a mix of western, Dracula, and drama, D is tasked to hunt down the daughter of a wealthy man who has been abducted by a vampire. Things heat up quickly and soon, things aren't what they seem. This is truly a unique and enjoyable anime movie.
What Makes It Great
Provocative Character Design: The film showcases provocative and imaginative character design, a hallmark of director Yoshiaki Kawajiri. The antagonists in the film are particularly noteworthy, as they are designed to be freaky and unsettling, adding another layer of excitement and intrigue to the story.
Emotional Complexity: Despite being an action-packed film, "Vampire Hunter D: Bloodlust" doesn't shy away from emotional complexity. The characters, especially D, face prejudice and have to grapple with their own inner demons. This adds a layer of depth to the film, making it more than just a visual spectacle.
A Blend of Genres and Influences: The film is noted for its eclectic blend of genres, incorporating elements of action, adventure, and horror. It also draws inspiration from various sources, including Westerns and the Dracula mythos.
Interesting Facts
Unlike most anime, English was the initially recorded dialogue track for "Bloodlust,"" which was later dubbed in Japanese.
Adaptation: The film is based on the third novel of Hideyuki Kikuchi's "Vampire Hunter D" series, "Demon Deathchase."
Wolf Children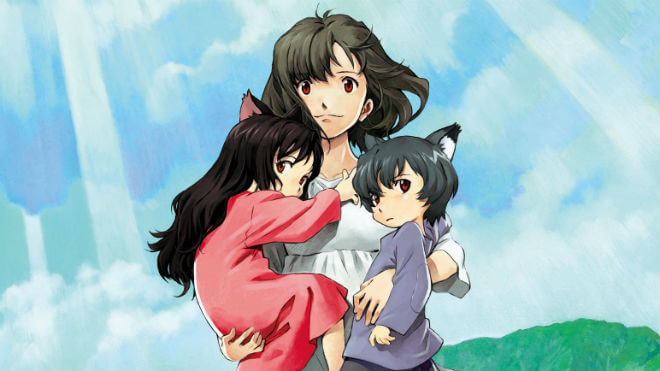 Director: Mamoru Hosoda
The director of The Girl Who Leapt Through Time brings you this loveable anime movie. Wolf Children centers around Hana, the human mother of half-wolf, half-human hybrids, and her struggle to raise them as a single parent after her lover dies trying to get food for the family.
This anime movie paints a loving portrait of a single parent trying to provide for her children in the aftermath of loss. Not only is single parenthood difficult, but Hana has to hide the fact that her children can change into human and wolf forms. The thing that stayed with me so long was how loveable the characters were.
It helped me care about their troubles and if they'd be okay in the end. Overall, a beautiful story about family, growing up and sticking by those you love.
What Makes It Great
Realism in a Fantasy Setting: The film takes a fantastical premise and grounds it in reality, making it emotionally resonant. The challenges Hana faces in raising her half-wolf, half-human children are portrayed in a way that feels genuine and relatable.
Dynamic Relationships: The film excels in portraying strong, dynamic relationships among its characters. Whether it's the bond between Hana and her children or her interactions with the villagers, each relationship is unique and adds depth to the story.
Emotional Resonance: The film's emotional power is highlighted as one of its strongest points. It manages to capture a range of emotions, from joy to sorrow, in a way that feels deeply affecting. Scenes like the family playing in the snow are described as gorgeously animated and emotionally resonant, leaving a lasting impact on the viewer.
Interesting Facts
Director's Journey: "Wolf Children" is directed by Mamoru Hosoda, who also directed "Summer Wars" and "The Girl Who Leapt Through Time." This is his third stand-alone feature and the first by his fledgling Studio Chizu. His previous films were by Madhouse
Box Office Success: The film earned more than $50 million in Japanese cinemas, which is phenomenal for an anime film not linked to Studio Ghibli or an established franchise. For comparison, Hosoda's "Summer Wars" earned $17 million.
Tatsumi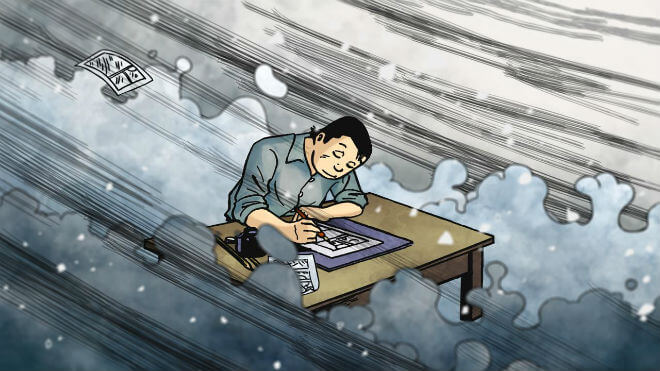 Director: Eric Khoo
This anime movie is somewhat a biography of Yoshihiro Tatsumi and his unconventional animation style, gekiga. It's a Singaporean anime movie, based on Tatsumi's biography, A Drifting Life. The film follows Tatsumi's life from working on comics and inventing the gekiga style.
A user on IMDb states:
"The animation style, which looked a lot like simple cut out animation, played to the production house's strengths, where things are kept simple based on the artistry of Tatsumi himself, therefore having his books serving as natural storyboards, with the obvious understanding that the look and feel of the film cannot and should not venture too far that it doesn't look like what had been designed by its creator."
What Makes It Great
Unique Visual Experience – One of the standout features of "Tatsumi" is its unique visual experience. The film doesn't aim to look like traditional anime, but instead focuses on linework and atmosphere.
Exploration of Adult Themes: "Tatsumi" delves into adult subjects and themes, reflecting the gekiga style of manga that Yoshihiro Tatsumi pioneered.
Narration Over Animation: The film relies heavily on voice-over narration to tell its stories, rather than intricate animation.
From Up on Poppy Hill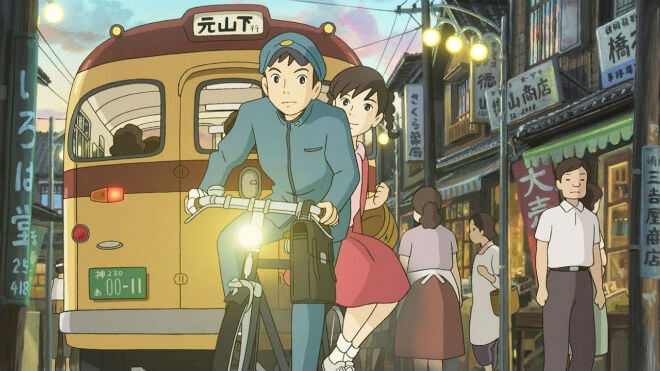 Director: Gorō Miyazaki
This anime tells the story of students trying to save their school clubhouse from demolition before the Tokyo Olympics in 1964. This is primarily a character piece. The characters are so strong in this anime movie, and the subject of friendship is so prevalent and touching throughout the film.
It's no surprise that Hayao Miyazaki wrote the script, his signature style is omnipresent. Umi and Shun are two friends that work so hard to keep their clubhouse standing, and in the process, strengthen their friendship.
What Makes It Great
A Different Kind of Miyazaki Film: While the film is a collaboration between Goro Miyazaki and his legendary father, Hayao Miyazaki, it diverges from the fantastical elements often associated with Studio Ghibli films. Instead, it opts for a more straightforward narrative focused on ordinary college students.
A Clubhouse as the Hero: The film's unique focus is not just on its human characters but also on a ramshackle old mansion named the Latin Quarter. This clubhouse is a labyrinth of performance spaces, studios, laboratories, galleries, and other areas favored by its bohemian members. The Latin Quarter serves as a metaphorical hero, embodying the collective spirit and creativity of the students who inhabit it.
Interesting Facts
Review Score: The film received a score of 7 out of 10 from IGN, indicating it's a "good" film but not without its flaws.
Cultural Upheaval: The film is a meditation on the cultural changes Japan was undergoing. It captures the tension between the old and the new, especially with the student body divided on whether to preserve their old clubhouse or embrace progress.
The Tale of the Princess Kaguya
Director: Isao Takahata
This movie was nominated for the Academy Award for Best Animated Feature in the 87th Academy Awards. It tells the story of a young girl found in a bamboo stalk and raised by those who found her. She grows into an alluring, captivating, and lively presence. The art style of this movie is so attractive and fluid, I really can't describe it better without you seeing it.
Just know it's alluring, much like the character of Princess Kaguya herself.
What Makes It Great
A Visual Feast of Impressionism: The film abandons the traditional anime style for an impressionistic approach, using lush illustrations that bleed on and off the screen. This artistic choice allows for a more realistic reflection of the human experience. The film's art style amplifies Kaguya's innocence and makes her emotional journey even more poignant.
A Philosophical, Dreamy Story: The film is not just visually stunning but also deeply philosophical. It delves into themes of youth, maturity, and the impermanence of life. The knowledge that Kaguya will one day return to her home on the moon adds a layer of tragedy that lingers in the background of every scene.
Interesting Facts
Box Office: The film debuted at first place during its opening weekend in Japan, producing ¥284 million (US$2.8 million). By February 2014, it had produced ¥2,313,602,733 (US$22,613,153) at the Japanese box office. The total worldwide production was $24,149,665.
Critical Reception: The film received overwhelmingly positive reviews and holds a score of 100% on Rotten Tomatoes with an average rating of 8.3/10.
Based on a Folktale: The film is based on the Japanese folktale "The Tale of the Bamboo Cutter," one of Japan's most famous and oldest narratives.
Barefoot Gen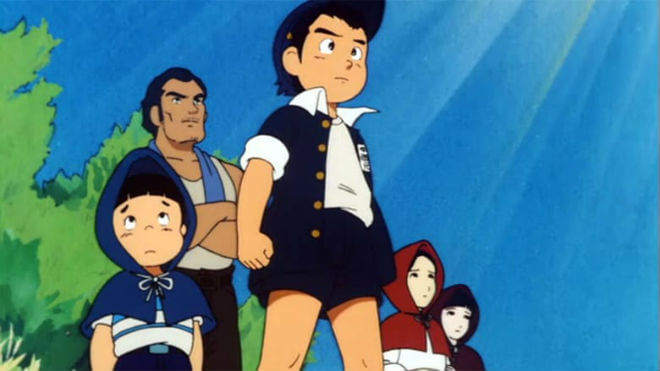 Director: Mori Masaki
Based on the anime manga series, Barefoot Gen takes place during the events of the bombing of Hiroshima, giving a dramatic view of the tragedy. Gen and his family are suffering from the effects of the war: food shortages, air raids. and other assorted panics. Sometimes the best anime movies have to be very dramatic and realistic.
The story reminds me a lot of Grave of the Fireflies. It is less cartoonish and more realistic in not only art style but in the story too. That may seem to be a bad thing, but it serves the movie well.
What Makes It Great
A Personal Account of an Unimaginable Tragedy: The anime "Barefoot Gen" is not just a work of fiction; it is a personal account of the horrors of the atomic bombing of Hiroshima. The film's creator, Keiji Nakazawa, was a survivor of the bombing, and the story is based on his own experiences. This lends an air of authenticity and emotional weight to the film that is hard to match.
The Unflinching Gaze at the Aftermath: The film doesn't shy away from showing the devastating effects of the atomic bomb, both immediate and long-term. From the graphic portrayal of the explosion to the haunting scenes of its aftermath, "Barefoot Gen" forces the viewer to confront the realities of war and its human cost.
Interesting Facts
Based on Real Experience: The anime is based on the manga "Barefoot Gen" by Keiji Nakazawa, who was just 6 years old when Hiroshima was bombed. The manga was first published in 1973 and ran for over a decade.
40 Years Before Oppenheimer: The anime "Barefoot Gen" was released 40 years before Christopher Nolan's film " Oppenheimer," which also deals with the atomic bomb. The anime tells the story of the bombing of Hiroshima from a Japanese perspective.
Ninja Scroll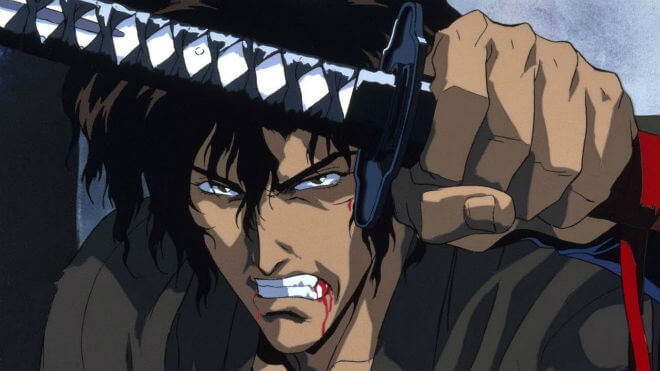 Director: Yoshiaki Kawajiri
Taking place in feudal Japan, a lone swordsman, Jubei has to fight against a demonic clan of warriors trying to overthrow the shogunate. With the help of others, namely Dakuan and Kagero. Dakuan is a former spy and Kagero is a ninja. Ninja Scroll has been cited as being one of the most influential anime movies, influencing movies like Ghost in the Shell and The Matrix.
"A great movie to just sit back and enjoy, not in the mindset of Akira, Ghost in the Shell or Perfect Blue just a great all out action film. When I first saw this movie I was amazed by the high quality of the action and the animation. To this day they both still stand the test of time.

One of the best anime's set around the time period of feudal Japan, although the main reason to see this film is for the characters. Not so much for the good guys but the villains. The designs of the villains are outstanding and there individual powers uniquely brilliant."
What Makes It Great
Fast-Paced, High-Stakes Action: "Ninja Scroll" distinguishes itself with its fast-paced action sequences. Unlike some anime where battles can drag on for episodes, this film gets right to the point. Characters meet, fight, and someone dies—all within a few short minutes. This rapid pacing keeps the audience on the edge of their seats and allows for constant growth in the story.
Intricate Character Development: The film does an excellent job of revealing character details gradually, adding layers of complexity as the story progresses. For instance, Kagero is not just a beautiful female ninja; she is also a poison taster with a body that has become toxic. This adds a unique twist to her character and the dynamics between her and other characters.
Interesting Facts
Influential Anime: Alongside "Akira" and "Ghost in the Shell," "Ninja Scroll" is considered one of the most influential anime films ever made. It has been cited as an influence on the Matrix franchise.
Global Popularity: By May 1996, the North American video release of "Ninja Scroll" had sold more than 70,000 copies, becoming Manga Entertainment's best-selling title at the time.
Sword of the Stranger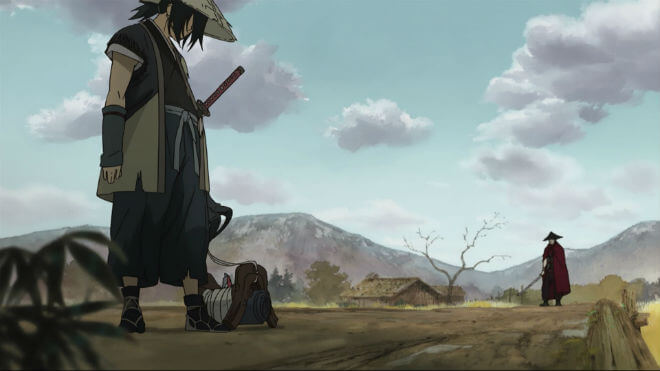 Director: Masahiro Andô
Once again we find ourselves following a skilled swordsman in his wanderings, specifically through Sengoku period Japan, and his interactions with a colorful cast of characters. Kotaro, our swordsman, finds himself caught up in the conflicts of the pandemonium of Japan. Tasked into service to help an injured person, Kotaru has to use his skills to make it out alive.
The detail in this anime movie is unreal. I mean it was awe-inspiring. I'm not sure if I've seen such impressive animation.
What Makes It Great
Action-Packed Sequences: The anime features some of the most intricately staged and gorgeously animated fight scenes in anime history.
Hollywood-Style Narrative: The film adopts a Hollywood-style narrative arc, blending it with strong character archetypes.
Balance of Style and Substance: The anime successfully balances style and substance, ensuring the story remains compelling without overreaching.
Cultural Representation: The film touches upon the dynamics between China and Japan, which could be seen as a reflection on their historical or modern-day relations.
Interesting Facts
International Festivals: The film has appeared at many international film festivals and won the award for Best Animated Feature at FANTASPOA (International Fantastic Film Festival of Porto Alegre) in Brazil
Critical Reception: The film received positive reviews and was nominated for Best Animated Feature Film at the 2008 Asia Pacific Screen Awards. It was also Japan's submission for Best Animated Feature at the 81st Academy Awards.
Sources
https://screenrant.com/behind-the-scenes-facts-your-name/#grossed-over-1o-billion-yen
https://www.vox.com/2017/4/4/15138682/ghost-in-the-shell-anime-philosophy
https://www.forbes.com/sites/olliebarder/2022/10/23/castle-in-the-sky-blu-ray-review-arguably-the-best-anime-movie-ever-made/?sh=190b47a34150
https://time.com/6120831/cowboy-bebop-original-explained/
https://ghibli.fandom.com/wiki/The_Secret_World_of_Arrietty#Release
https://facts.net/movie/33-facts-about-the-movie-the-girl-who-leapt-through-time/
https://www.animenewsnetwork.com/review/whisper-of-the-heart
https://www.ign.com/articles/2012/09/10/from-up-on-poppy-hill-review