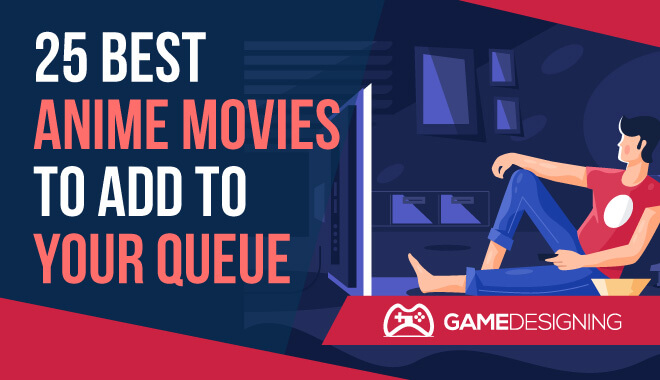 Anime movies are some of the most breathtaking spectacles in film.
The painstaking attention to detail and the mix of drama, action, romance, and other genres really sets them apart as a tour de force when it comes to the art form.
Directors like Hayao Miyazaki have enchanted audiences for decades with his work.
If you're an aspiring animator yourself, check out our list of free and paid 2D animation software to get you started.
You may be asking yourself, "What are the best anime movies of all time?". Fear not, because a list of top anime movies is exactly what you need, and I'm here to deliver.
The Best Anime Movies of All Time
Your Name.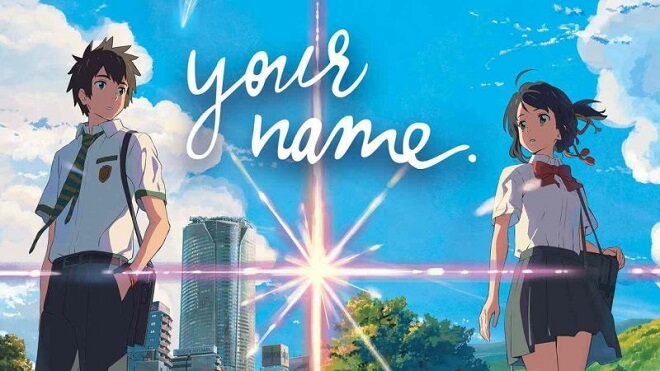 Director: Makoto Shinkai
This movie is breathtaking. Your Name. is a great blend of drama, fantasy, and romance. The summary alone pulls you in, "Two strangers find themselves linked in a bizarre way. When a connection forms, will distance be the only thing to keep them apart?"
However, it's so much more than that. The two main characters, Taki and Mitsuha find themselves drawn towards one another, and all seemingly connected to a mysterious natural disaster…I wish I could say more, but it's truly a work of art that you need to see to believe.
Based on 26 critics, the Metacritic score is 79. With publications like The Telegraph and The Austin Chronicle giving it glowing ratings and reviews. NPR had this to say about it:
"…you'll have realized this is not the cute little switcheroo comedy you thought you were watching at the beginning. It's deeper, more resonant, in some ways a meditation on fate."
The user scores, on the other hand, are fantastic, averaging over 9.0.
This anime movie has grossed over $355 million—earning some of the most impressive records: the fourth highest-rated film of all time in Japan, the highest-grossing anime and Japanese film, (again, of all time!), and the 9th-highest-grossing non-English film worldwide to name a few. Do you need any more convincing to check out this anime movie?
Stop what you're doing and watch it now!
Grave of the Fireflies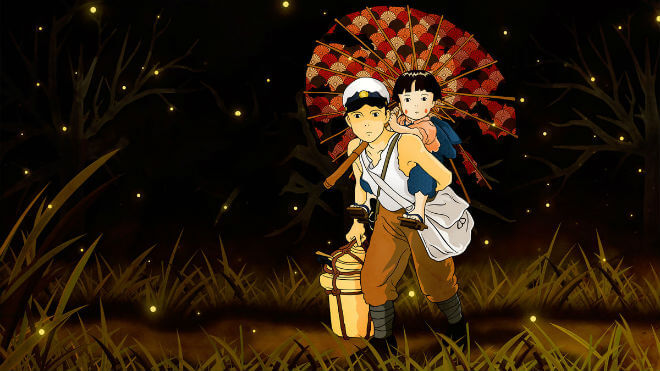 Director: Isao Takahata
Based on a short story by the same name written by Akiyuki Nosaka, Grave of the Fireflies was animated by a little studio you may have heard of: Studio Ghibli. You know you're getting amazing animation right off the bat.
Grave of the Fireflies tells the emotionally harrowing story of brother and sister Seito and Setsuko trying to survive in the during and in the aftermath of World War II.
This isn't a feel-good movie, but it's emotionally powerful and beautiful. The two find themselves going through many hardships, starting with a firebombing in Kobe, the loss of their mother, and the desperate struggle for survival in a country that is torn apart by war, food shortages, and death.
Check out this anime movie if you are looking to be emotionally moved, experience great animation, and have a powerful story about bonding between two siblings that can't be matched.
Princess Monoke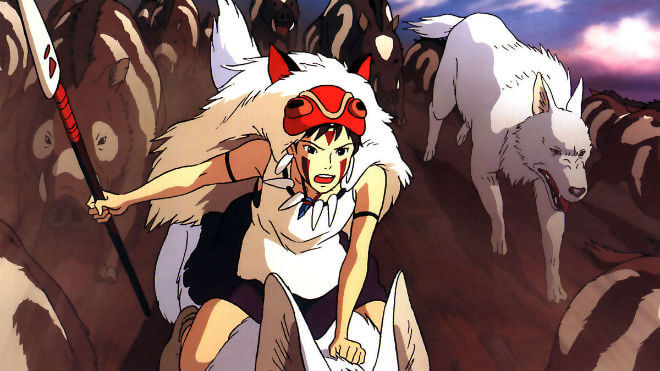 Director: Hayao Miyazaki
Princess Mononoke is a heavy-hitting anime movie that tackles several issues, namely conservation of nature and environmental concerns.
Uncharacteristically violent for a normal Ghibli film, Mononoke tells the story of Ashitaka, searching for the cure to a curse, and finding himself caught up in a conflict between forest spirits and an evil mining company. Bloody, but brilliant, this film highlights some of the best high-octane animations from Miyazaki.
You won't forget the haunting image of San, the titular character, covered in blood after hard-fought combat. Although it's unlike many of Ghibli's films, it stands apart in a beautiful and lasting way, and worth checking out, along with earning the number 3 spot of the best anime movies of all time.
Kiki's Delivery Service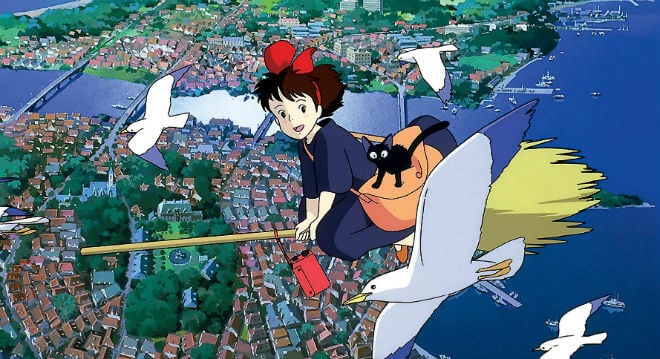 Director: Hayao Miyazaki
Another of my personal favorite top anime movies is Kiki's Delivery Service. You knew Studio Ghibli would make another appearance, and it's easy to see why.
Kiki's Delivery Service tells the story of Kiki, a young witch who runs a courier service, trying to fit in and feel like she belongs during her mandatory year of independence. She struggles with a lot of different things, loss, identity, and even depression.
A quote that sticks out to me is when Kiki is feeling low and says:
"I think something's wrong with me. I make friends, then suddenly I can't bear to be with any of them. Seems like that other me, the cheerful and honest one, went away somewhere."
Some heavy stuff. Not as depressing as Grave of the Fireflies, but it examines the inner workings of the emotionality of growing up and feeling like we don't belong. The friendship between Kiki and her cat, Jiji, is so heartwarming.
He's Kiki's best friend and can even be considered an extension of Kiki herself. Check out this anime movie to see beautiful animation, a touching story, and classic elements of Miyazaki all in one.
Ghost in the Shell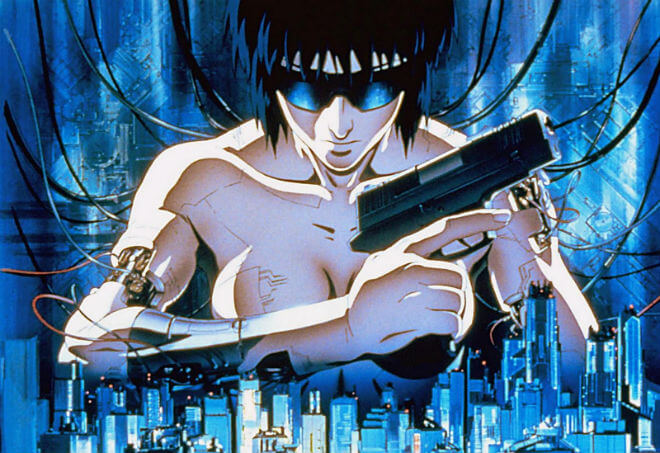 Director: Mamoru Oshii
Aside from the controversy surrounding the casting of Scarlett Johansson in the live-action adaptation, Ghost in the Shell is a wild ride from start to finish.
Originally a manga from 1989 written by Masamune Shirow, it tells the story of a cyborg police officer named Motoko Kusanagi and Batou hunting down a mysterious hacker named "The Puppet Master" in New Port City in the mid-twenty-first century. This anime movie has influenced other works like The Matrix and other cyberpunk works.
On Metacritic, Ghost in the Shell has a score of 76, with it garnering great reviews as well as winning a bunch of awards, namely the #20 Best Movie of 1996, (beating out The Hunchback of Notre Dame, Matilda, and Twelve Monkeys), the #23 Most Discussed Movie of 1996, and the #6 Most Shared Movie of 1996.
User reviews are glowing, with users saying that there is a beautiful balance of peace, serenity, and neo-noir action.
It originally was a box office failure, but thanks to dedicated fans, it ended up making up its budget by raking in $43 million in sales since its release. If you love drama, thrillers, and a wild story that'll keep you guessing, Ghost in the Shell is right up your alley.
Perfect Blue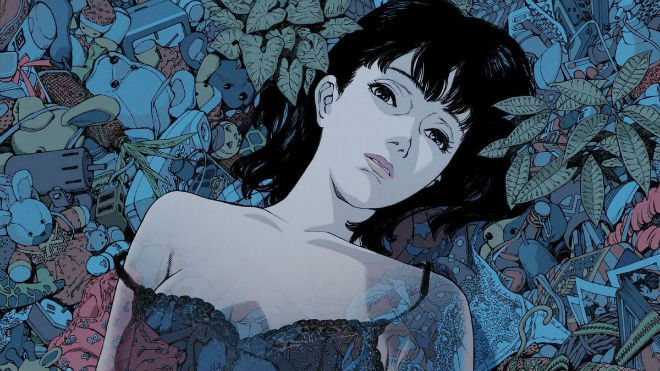 Director: Satoshi Kon
Another thriller for you. Perfect Blue is the story of a former pop idol, Mima Kirigoe, seemingly being stalked by an obsessive fan. However, not is all as it seems, as the fan seems to be a ghost of her past. Which is it? You'll have to watch to find out.
It explores deep themes, like what the true cost of fame is, and do we know ourselves? It has it all. Twists and turns, beautiful, striking animation with paranoia and dreamy visuals will keep you pulled in for the entire 81-minute running time. This movie had me on the edge of my seat the entire time.
Not only that, but I found myself thinking about this film long after I had finished it, and THAT is the trademark of one of the top anime movies.
A Silent Voice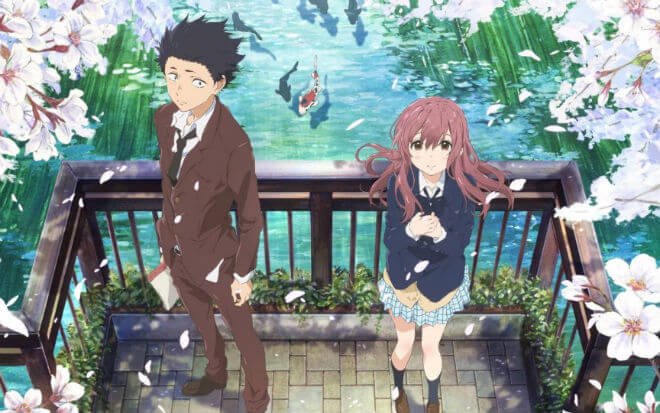 Director: Naoko Yamada
Based on the manga of the same name by Yoshitoki Ōima, A Silent Voice is based around a young boy named Shōya who finds himself on a bridge about to commit suicide. He reminisces about his past and why he's arrived at the bridge.
Shōya had been bullying a deaf student named Shōko Nishimiya and has alienated himself from his classmates for doing so, becoming the victim of bullying himself. He sets out for possible redemption with her throughout the film. This is a great anime movie with a strong anti-bullying message, as well as emotional depth that will resonate with anyone who watches it.
With beautiful nuances in the animation, color, and a unique, haunting soundtrack, A Silent Voice will keep you up late at night thinking about the impact it has had on you. Will Shōya get redemption and atone for his bullying. Only one way to find out!
Castle in the Sky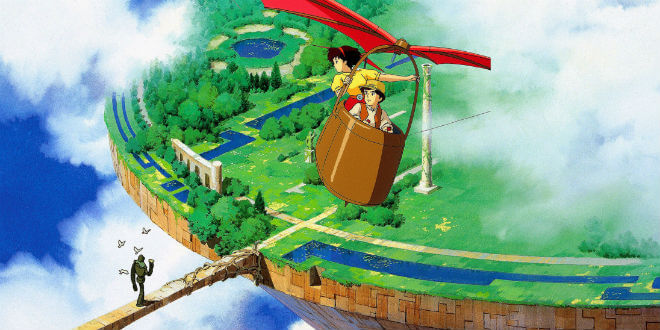 Director: Hayao Miyazaki
Another gem by Studio Ghibli, Castle in the Sky tells the story of Sheeta and Pazu, two kids who find themselves on an epic search for an airborne island named Laputa. However, their search for the island isn't without its hardships; airship pirates are on the hunt for Sheeta and her mysterious amulet.
Later in the quest, you learn more about Sheeta's origins and that of the mysterious island of Laputa. It's a great anime movie for those who crave adventure with Hayao Miyazaki's patented, iconic style of animation. One scene I loved was when Sheeta gets her braids to get shot off has to be one of my favorite in all of the animation, check it out!
Nausicaä of the Valley of the Wind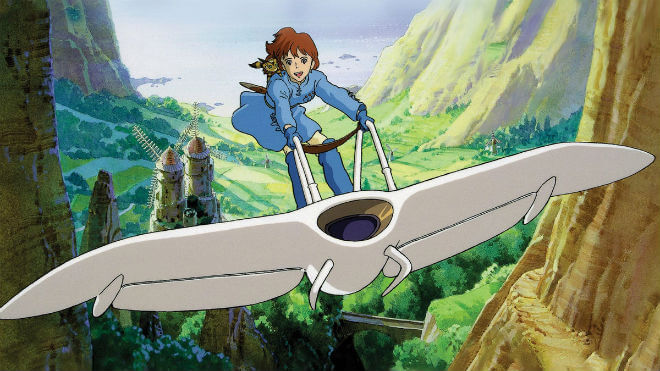 Director: Hayao Miyazaki
Yep, you guessed it: Miyazaki again. There's a reason he's a legend, and this further proves that he has some of the most enduring and powerful animations in anime movies. It's based on the manga of the same name by Hayao Miyazaki himself. Right away, the unbelievably beautiful environments Studio Ghibli had created blew me away.
Nausicaä of the Valley of the Wind comes in with an impressive 86 on Metacritic, no small feat. Publications like The New Yorker, IGN, and the AV Club have praised it as a remarkable animation feat.
Users likewise say that Nausicaä of the Valley of the Wind ranks up there with some of Miyazaki's best work, period.
You'll find yourself becoming almost distracted by the beauty and detail of each environment. However, the story itself is just as beautiful. It involves Nausicaä, who attempts to save a jungle of insects from a kingdom trying to eradicate it. It takes place 1,000 years after the cataclysmic war that wiped out industrialized society.
This film serves as a chilling allegory to not only warnings of our industrial expansion on nature, but it also harkens back to an earlier entry on the list, Princess Mononoke, (which Miyazaki would make 13 years later). A thing I love about Miyazaki is his attention to detail and love of the natural world, showing that it's worth saving and being mindful in your own life.
Cowboy Bebop: The Movie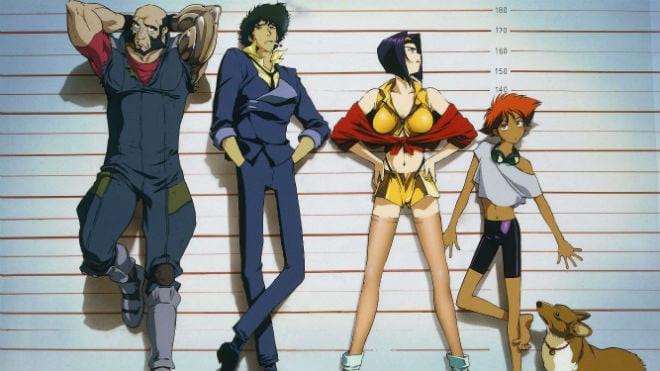 Director: Shinichirō Watanabe
The wildly popular and wildly stylish neo-noir sci-fi series goes feature-length. The Bebop crew, Spike, Faye Valentine, Jet Black, Edward, and of course Ein, are back to follow the trail of a terrorist who plans to eradicate the population of Mars with a deadly virus. Only the Bebop crew has what it takes to put a stop to it.
Director Shinichirō Watanabe has said that he viewed Cowboy Bebop as miniature films, and indeed viewed the film as just an extension of that premise. Lovers of the anime will not be disappointed; it retains that signature style from the anime T.V. series and adds an amazing musical score and visual flares that tie this work to the series in a beautiful way.
It takes place story-wise between episodes 22 and 23 of the original show, and you can tell that nothing is out of place. This is a no-brainer for fans of the show who want to see more of the crew.
The Secret World of Arrietty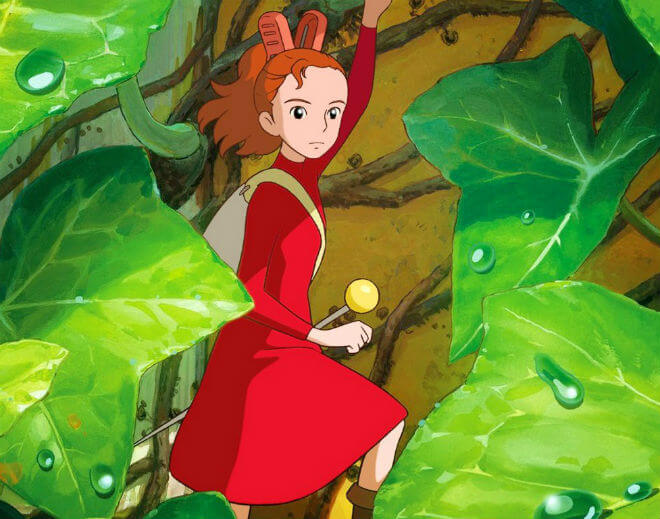 Director: Hiromasa Yonebayashi
Based on the 1952 children's fantasy novel, The Borrowers, The Secret World of Arrietty introduces us to the Clock family—four-inch-tall people who live in a family's house. The Clock family borrows small items to furnish their own homes. However, on an expedition, their daughter Arrietty gets discovered. Arrietty is on a nighttime mission when she's seen by the family's son, Shō.
She's warned that her existence is at stake and to never interact with humans. Nevertheless, she tries to pursue a friendship with Shō. This anime movie has such impressive animation coupled with an engaging and heartfelt story on existence, life, and friendship. The aspects of everyday life are captured in such a magical way in Hiromasa Yonebayashi's debut film.
It even reminds me a little of Spirited Away. This version of the story blows the 1997 American version out of the water.
Neon Genesis Evangelion: The End of Evangelion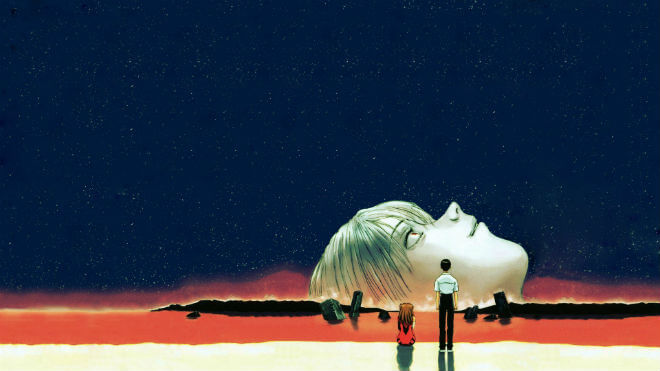 Directors: Hideaki Anno, Kazuya Tsurumaki
Another anime movie from a TV series, fans of the dark, philosophical, and entertaining Neon Genesis Evangelion have to watch this. As the title says, it's the end, although an alternative one. Shinji Ikari and his fellow mecha EVA pilots fight mysterious life forms called 'Angels'.
This series and this anime movie include strong thematic content, emotionally straining moments, and thoughts on the future of humanity. The EVA pilots are faced with the impossible task of defending earth from the encroaching angels—by all means an invincible force of supernatural beings.
User Vegeta-2 on IMDb says about the film:
"Never before has a movie put me through so many emotions. Anger, joy, fear, depression, hope, all flowed through me as the epic film unfolded before me. I was left emotionally wrung out the first time I watched it, and my view of life has been changed forever because of it."
Just be warned, if you haven't seen all the TV episodes, you will be totally lost by this movie. Oh, and hope you haven't developed too much of an emotional attachment to the characters.
The Girl Who Leapt Through Time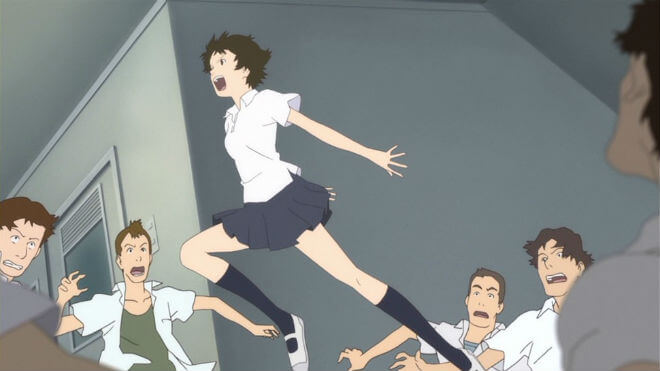 Director: Mamoru Hosoda
A favorite of mine—time travel movies. Teenager Mokoto can travel through time, unaware of the consequences her actions have on others in the past. Mokoto uses this ability much like I think many would—by fixing mundane and frivolous problems with your own life. Think of how many mistakes you could easily fix.
But Mokoto shows that it isn't that easy, or free of consequences. This movie had me emotionally torn up. It's supposed to be about time travel and ends up being an amazing lesson on life and the choices we make and the solidity of them. The character designs were by the animator of Neon Genesis Evangelion, Yoshiyuki Sadamoto, a nice little touch I enjoyed.
Tokyo Godfathers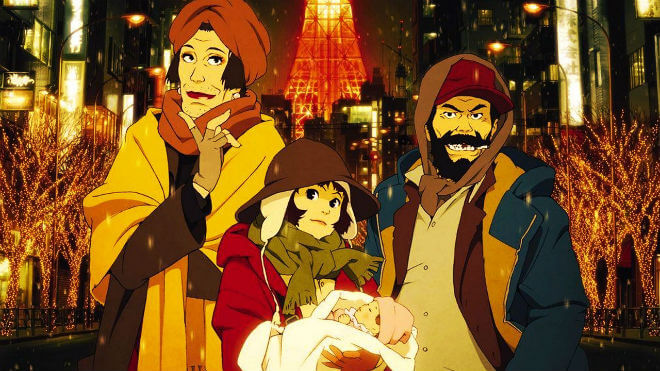 Director: Satoshi Kon
Tokyo Godfathers tells the story of 3 homeless people on Christmas Eve who discover a baby and attempt to search out its parents. With the script co-written by the same writer of Cowboy Bebop and Wolf's Rain, I knew the writing would be good, and I wasn't disappointed.
The story cut me right to the core, with loveable characters and their determined quest to find the missing mother of baby Kiyoko.
"There's a strong sense of karma here with "what goes around comes around". Doing nice things and you most likely will be rewarded.

However, turn your back or refusing to help someone in need may come back to haunt you when you are stuck with no one to turn to. Hey, maybe it's never too late to learn a lesson, no matter how much it hurts."
For me, this was one of the top anime movies.
Whisper of the Heart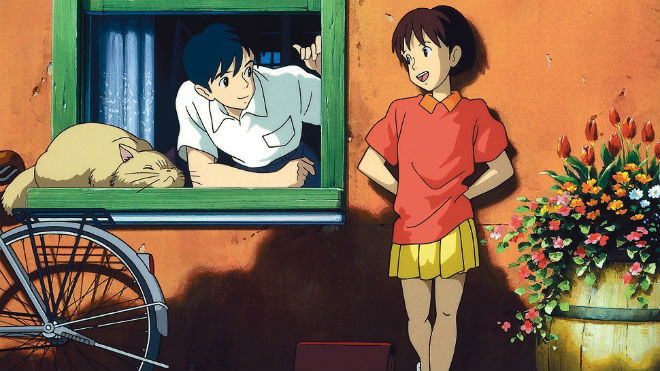 Director: Yoshifumi Kondō
As much of a reading fan as I am, this one really got to me. Whisper of the Heart is about two people, Shizuku, a girl who loves reading books, and her love interest, a boy named Seiji. Looking through the checkout cards of the books she reads, Shizuku discovers it's the same person, who ends up being Seiji. It's animated by Studio Ghibli, and it shows.
The environments in Ghibli movies is unmatched, and it's no exception here. You'll never hear 'Take Me Home, Country Roads' the same way ever again.
See our favorite animated movies list.
When Marnie Was There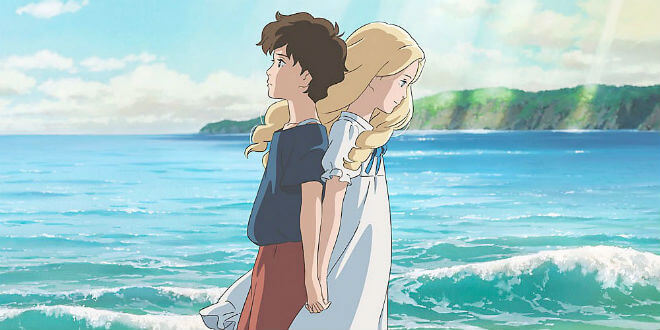 Director: Hiromasa Yonebayashi
Another one to tug on your heartstrings, When Marnie Was There is a Family/Drama film in which we see a beautiful and close friendship develop between the main characters, Anna and Marnie. This is a great, poignant view on friendship. When Anna is staying with her foster parents in Hokkaido, she meets the mysterious blonde-haired Marnie.
Marnie makes Anna promise to keep their secrets from everyone. These secrets you find out during the viewing of this anime movie are shocking. You can't miss this story—it's so filled with heart and reality that I'm not used to in anime movies. Truly one that sticks out, and from Studio Ghibli before their short hiatus, too.
A Letter to Momo
Director: Hiroyuki Okiura
Momo is a young girl who travels to the island of Shio and begins to live among its people, learning their ways and customs. However, all is not as it seems.
Weird goings-on begins to happen on the island of Shio and Momo soon finds herself banding together with Kawa, Mame, and Iwa, three Imps with distinct personalities to discover the source of these strange happenings. Like many others, I found A Letter to Momo much like My Neighbor Totoro but honestly seems like a more modern improvement on that old classic.
I was surprised by the comedic elements and how much I enjoyed them. Add to that the crazy emotional latter half and you have my ideal movie.
Vampire Hunter D: Bloodlust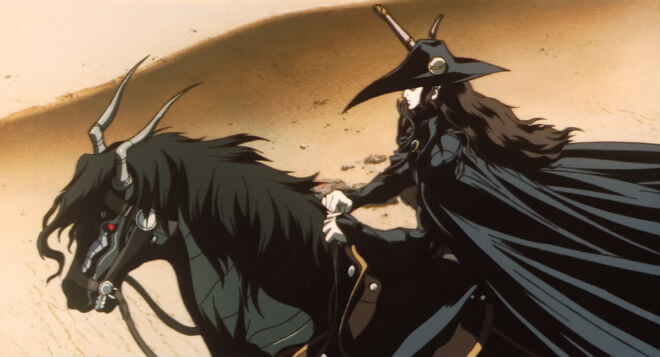 Director: Yoshiaki Kawajiri
Now for a quick change of pace. Here we have an action/adventure movie based on the Vampire Hunter D series of novels written by Hideyuki Kikuchi. This is the story of the future in which vampires have been hunted down by the ruthless D, a half-human, half-vampire hybrid.
The animation is so perfect in this movie, and the subject and themes are so gripping. With a mix of western, Dracula, and drama, D is tasked to hunt down the daughter of a wealthy man who has been abducted by a vampire. Things heat up quickly and soon, things aren't what they seem. This is truly a unique and enjoyable anime movie.
Wolf Children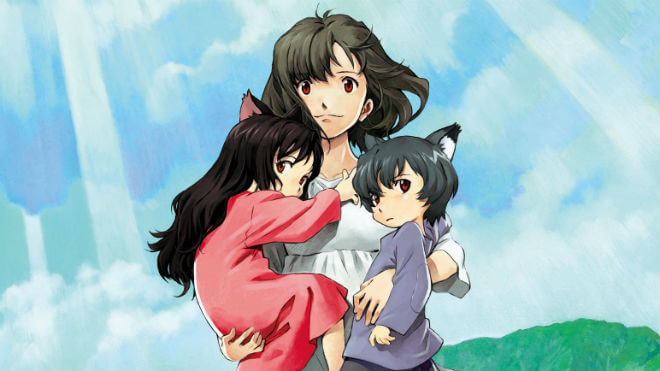 Director: Mamoru Hosoda
The director of The Girl Who Leapt Through Time brings you this loveable anime movie. Wolf Children centers around Hana, the human mother of half-wolf, half-human hybrids, and her struggle to raise them as a single parent after her lover dies trying to get food for the family.
This anime movie paints a loving portrait of a single parent trying to provide for her children in the aftermath of loss. Not only is single parenthood difficult, but Hana has to hide the fact that her children can change into human and wolf forms. The thing that stayed with me so long was how loveable the characters were.
It helped me care about their troubles and if they'd be okay in the end. Overall, a beautiful story about family, growing up and sticking by those you love.
Tatsumi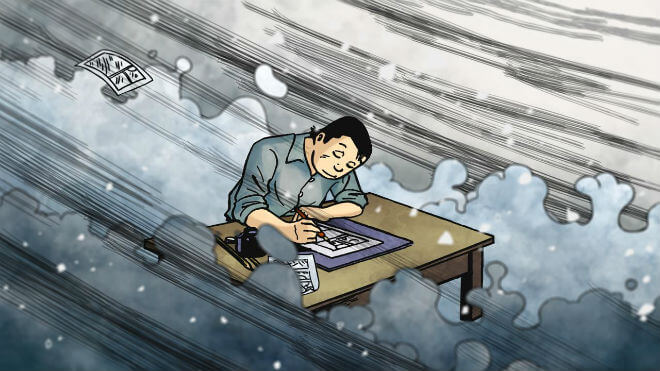 Director: Eric Khoo
This anime movie is somewhat a biography of Yoshihiro Tatsumi and his unconventional animation style, gekiga. It's a Singaporean anime movie, based on Tatsumi's biography, A Drifting Life. The film follows Tatsumi's life from working on comics and inventing the gekiga style.
A user on IMDb states:
"The animation style, which looked a lot like simple cut out animation, played to the production house's strengths, where things are kept simple based on the artistry of Tatsumi himself, therefore having his books serving as natural storyboards, with the obvious understanding that the look and feel of the film cannot and should not venture too far that it doesn't look like what had been designed by its creator."
From Up on Poppy Hill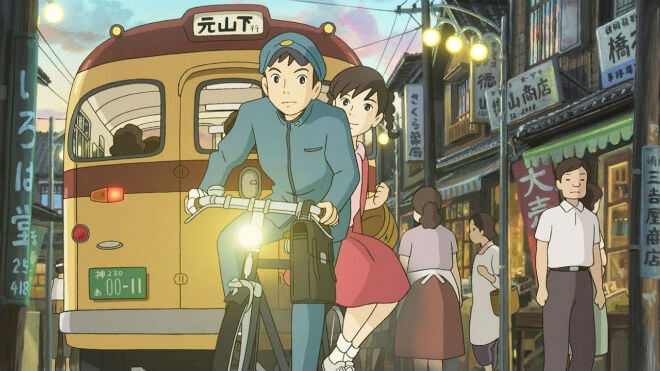 Director: Gorō Miyazaki
This anime tells the story of students trying to save their school clubhouse from demolition before the Tokyo Olympics in 1964. This is primarily a character piece. The characters are so strong in this anime movie, and the subject of friendship is so prevalent and touching throughout the film.
It's no surprise that Hayao Miyazaki wrote the script, his signature style is omnipresent. Umi and Shun are two friends that work so hard to keep their clubhouse standing, and in the process, strengthen their friendship.
The Tale of the Princess Kaguya
Director: Isao Takahata
This movie was nominated for the Academy Award for Best Animated Feature in the 87th Academy Awards. It tells the story of a young girl found in a bamboo stalk and raised by those who found her. She grows into an alluring, captivating, and lively presence. The art style of this movie is so attractive and fluid, I really can't describe it better without you seeing it.
Just know it's alluring, much like the character of Princess Kaguya herself.
Barefoot Gen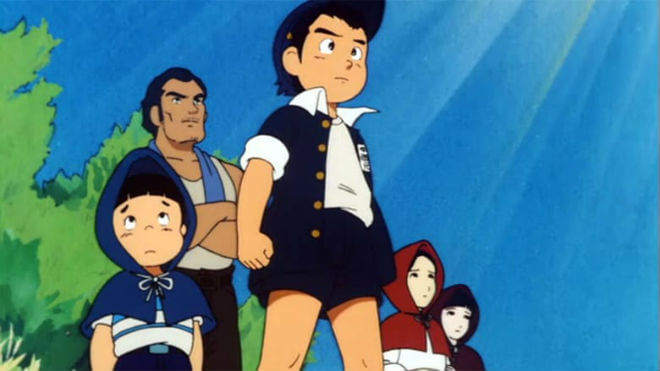 Director: Mori Masaki
Based on the anime manga series, Barefoot Gen takes place during the events of the bombing of Hiroshima, giving a dramatic view of the tragedy. Gen and his family are suffering from the effects of the war: food shortages, air raids. and other assorted panics. Sometimes the best anime movies have to be very dramatic and realistic.
The story reminds me a lot of Grave of the Fireflies. It is less cartoonish and more realistic in not only art style but in the story too. That may seem to be a bad thing, but it serves the movie well.
Ninja Scroll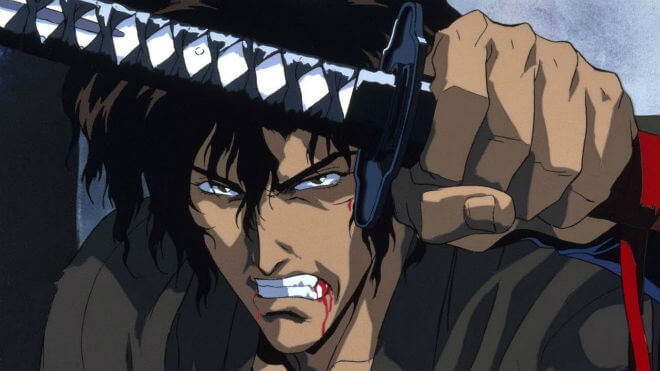 Director: Yoshiaki Kawajiri
Taking place in feudal Japan, a lone swordsman, Jubei has to fight against a demonic clan of warriors trying to overthrow the shogunate. With the help of others, namely Dakuan and Kagero. Dakuan is a former spy and Kagero is a ninja. Ninja Scroll has been cited as being one of the most influential anime movies, influencing movies like Ghost in the Shell and The Matrix.
"A great movie to just sit back and enjoy, not in the mindset of Akira, Ghost in the Shell or Perfect Blue just a great all out action film. When I first saw this movie I was amazed by the high quality of the action and the animation. To this day they both still stand the test of time.

One of the best anime's set around the time period of feudal Japan, although the main reason to see this film is for the characters. Not so much for the good guys but the villains. The designs of the villains are outstanding and there individual powers uniquely brilliant."
Sword of the Stranger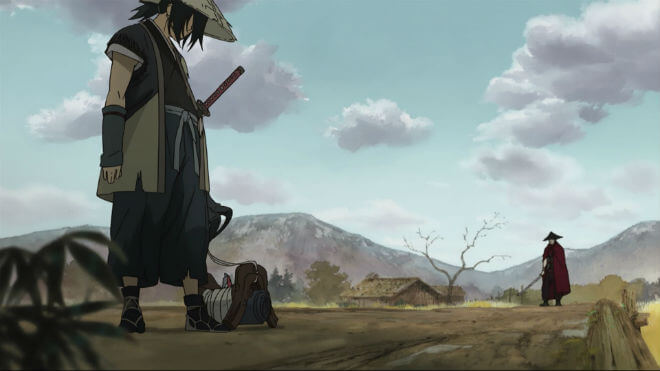 Director: Masahiro Andô
Once again we find ourselves following a skilled swordsman in his wanderings, specifically through Sengoku period Japan, and his interactions with a colorful cast of characters. Kotaro, our swordsman, finds himself caught up in the conflicts of the pandemonium of Japan. Tasked into service to help an injured person, Kotaru has to use his skills to make it out alive.
The detail in this anime movie is unreal. I mean it was awe-inspiring. I'm not sure if I've seen such impressive animation.