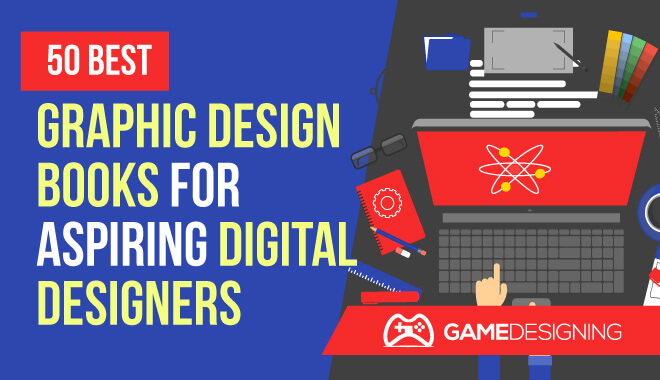 GameDesigning.org is reader support. When you purchase through links on our site, we may earn an affiliate commission. Learn More.
Digital designers have never had a better time to break through into the business of graphic design. Today, degrees in college, professionals, and companies offer so much knowledge in terms of graphic design basics.
It is great to go through different examples of designs from the digital design greats from years gone by, but how best to glean all that valuable info in an easily digestible place and format?
Graphic design books of course!
These are some of the best books on not only graphic design but art in general. Ranging from general surveys on graphic design to specific tomes dedicated to celebrated artists, learning graphic design has never been more accessible.
Need proof? How about the top 50 graphic design books to give you some graphic design inspiration?
The Top 50 Graphic Design Books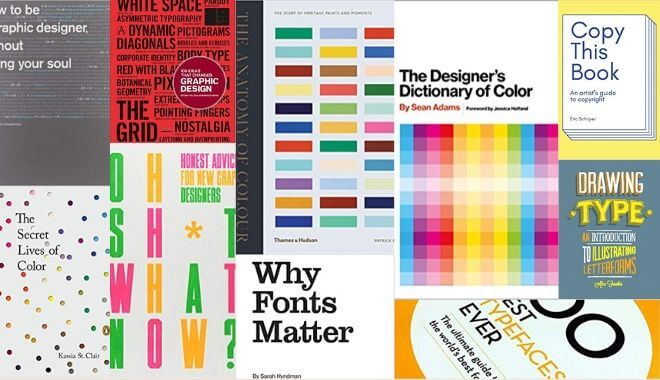 100 Best Typefaces Ever—Various Authors
---
Starting with a simple, yet extremely creative and informative book, 100 Best Typefaces Ever shows you exactly that. Viewing all of these great fonts are sure to be a good means of greasing the wheels of creativity for the burgeoning graphic designer.
How to be a Graphic Designer, Without Losing Your Soul—Adrian Shaughnessy
---
I wish there was a 'how-to' guide like this for every profession. Sometimes graphic design inspiration does not come easily. London-based Adrian Shaughnessy takes you through the essential steps of becoming a graphic designer, all while not burning out under some pressure the business presents.
Adrian Shaughnessy has a great tone in this book, and it is amazingly readable and informative.
Oh, Sh*t… What Now?: Honest Advice for New Graphic Designers—Craig Oldham
---
Craig Oldham brings a frank and funny view to the rookie designer and the anxieties and confusion one would have when breaking into the business. It proves to be one of the great graphic design resources, as Craig Oldham gives you advice through stories, tidbits of knowledge, and more.
For those would-be graphic designers who aren't looking for a dry text that will put you to sleep, Oldham's book will sometimes be having you laugh aloud.
100 Ideas that Changed Graphic Design—Steven Heller and Véronique Vienne
---
Heller and Vienne present some truly revolutionary ideas and actions that changed not only graphic design but design in general. This covers everything from dust jacket design to different experiments with typeface and white space.
If you are looking for inspiration, why not take a look at some of the most famous innovations in the field?
The Secret Lives of Color—Kassia St. Clair
---
Less having to do with actual graphic design, this is simply a great graphic design resource as it lists hundreds of different colors and their unique, interesting histories. I was hooked on this book by Kassia St. Clair, and it inspired some of my work.
The Anatomy of Colour— Patrick Baty
---
Much like Kassia St. Clair's The Secret Lives of Color, The Anatomy of Colour provides interesting history and insight into colors we see and interact with daily. Not only that, but it is a great introduction to the importance of colors to the budding graphic designer.
We aren't talking about simple stuff like primary colors here—this isn't an elementary school art class. Baty goes over richly detailed histories of these important colors, providing one of the most basic graphic design resources.
The Designer's Dictionary of Colour—Sean Adams
---
Back at it again with color. Although we listed two other color books so far, I cannot stress the importance of learning the ins and outs of what many of us would deem 'common knowledge'. When perusing this reference tome, you will notice that it focuses on only 30 colors, rather than the multitude in the other two.
You will find everything you need to know—spectrum by spectrum, proving this is a great reference for color knowledge.
Copy this Book, an Artist's Guide to Copyright—Eric Schrijver
---
This is a solid reference for copyright information, something we may overlook as graphic designers. In art, you will quickly learn that lifting designs from other artists, (in music, literature, and art), is common and a dangerous situation.
Eric Schrijver writes about copyright law and guides you through the process of copywriting. The thing that stands out about this book is how readable it is, considering the subject matter.
Drawing Type: An Introduction to Illustrating Letterforms—Alex Fowkes
---
This is a great introduction to learning graphic design. You will work through different letterforms, honing your skills in creating letters, and more. You'll become familiar with famous letter types and hear from famous designers as well.
Why Fonts Matter—Sarah Hyndman
---
Why do they matter? From simple MS Paint and WordArt to Photoshop and design, you'll learn that fonts are some of the most important things in design, communicating ideas and more through the written word.
This book delves into a lot of psychology behind viewing certain fonts—what they trigger in the human psyche, what triggers memories, and how art influences people.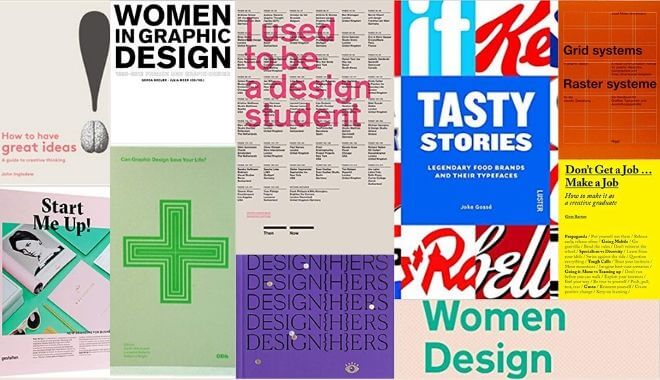 Don't Get a Job… Make a Job: How to make it as a creative graduate—Gem Barton
---
Hallelujah! Just the info a lot of new designers need! People of all levels of society need advice for what to do right out of school, so this is the best graphic design books in terms of career tips and advice.
Many different aspects of post-education, job-related strategies are explored: release early release often, put yourself out there, question everything and create positive change. Not only is this one of the best graphic design resources, but it can also help those involved in other creative pursuits as well.
I Used to Be a Design Student—Frank Philippin
---
Another great resource for young designers, I Used to Be a Design Student explores many aspects of how famous artists went to school and their experiences there. Like most fields, everyone has had different experiences, and you'll see quickly how some designer greats made it through and how they did so.
Can Graphic Design Save Your Life?—Lucienne Roberts
---
What a title! This is a super interesting book where Lucienne Roberts explores the deep connection between graphic design and health. I was surprised when I first learned about this, as it was a concept that I didn't even think of. It also goes into theories of communication through art and more.
Grid Systems in Graphic Design—Josef Müller-Brockmann
---
The layout is key if you hope to teach yourself graphic design. It is a basic concept in art, but one of the most important. The right layout can change your piece of art from something that doesn't even draw a glance to something that deeply affects people.
Originally published in 1981, Müller-Brockmann goes over the ever-important grid system in design, spanning from the 1920s to today.
Women Design—Libby Sellers
---
An important look into the iconic work of some seriously talented women in the field, Libby Sellers explores famous graphic design by women and how gender does not affect great, everlasting design.
DESIGN(H)ERS: A Celebration of Women in Design Today—Published by Viction:ary
---
This is another great look into some of the most iconic modern female graphic designers.
Like Women Design, DESIGN(H)ERS profiles 30 different women who have changed the field for women and designers in general, showing off their designs as well.
Start Me Up!: New Branding for Businesses—Robert Klanten
---
Another valuable reference in terms of graphic design in the real world after schooling, Klanten's in-depth look at corporate design shows the reader what different companies have done to stay relevant visually.
This is another in the long line of solid graphic design resources to draw from.
Women in Graphic Design 1890-2012—Gerda Breuer
---
Another valuable look into women's impact on graphic design, Gerda Breuer's book takes a longer look back into the history of graphic design—namely the late 19th century.
In a field that was dominated by men, women still were creating great works that may have fallen out of the spotlight in the intervening years.
Tasty Stories: Legendary Food Brands and Their Typefaces—Joke Gossé
---
This book will get your stomach rumbling. It examines a lot of different food brands and what they did extremely well to promote their product. Gossé tells stories along with examining the simple aspects of different typefaces used by giants in the food industry.
How to Have Great Ideas: A Guide to Creative Thinking—John Ingledew
---
For those of us with some trouble coming up with ideas, (myself included), this is one of the best graphic design books for helping spark some great ideas.
John Ingledew starts by saying 'Creativity=Play. Don't play safe!' It implores young designers—and those with some creative struggles—to break out of the box and start thinking creatively, pushing designers out of their comfort zones.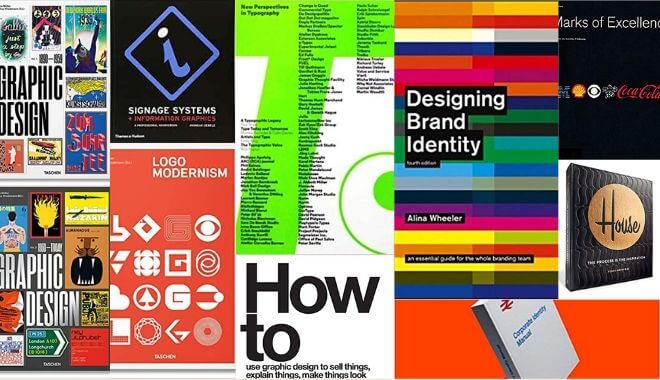 Marks of Excellence: The History and Taxonomy of Trademarks—Per Mollerup
---
This book rules. Seriously, just look at the cover. It examines trademarks and some seriously iconic logos and what made them 'click'.
Taxonomy is the method in which things are categorized, and this book goes into a deep history in regards to both taxonomy of design and trademarks.
Designing Brand Identity—Alina Wheeler
---
Brand Identity is one of the best aspects of design. Not only corporate, brand identity could be for your small business or art page. Aline Wheeler has put out 5 editions of this book showing practices for optimal brand development. Things like social media are explored heavily in this book.
The History of Graphic Design Vol. 1
---
History is important. This applies to every aspect of life. Politics, war, human behavior; all of it involves illuminating history.
This is no different for graphic design. You will examine the trends and history of graphic design. Hopefully, you can glean some graphic design inspiration from the in-depth examination of nearly 70 years of graphic design history.
The History of Graphic Design Vol. 2
---
Here it is—the second volume of the definitive history of graphic design. This volume tackles more specific designs and designers from the '60s to the modern-day. You'll be flooded with thousands of great designs and concepts that made graphic design one of the most influential fields in art today.
Andreas Uebele Material
---
Inspired by a famous German designer Andreas Uebele was inspired by numerous things: other artists, architecture, and signage. In this book, you will see his inspirations, his work, and his revolutionary ideas.
Logo Modernism (Design)—Jens Müller
---
I love the designs in this book. This is a great graphic design inspiration for any artist out there focusing on minimalist design. I am a personal fan of minimalism and modernist structures, so I feel right at home with this entry. Müller examines 40 years and the rise of different logos and more.
How to Use Graphic Design to Sell Things, Explain Things, Make Things Look Better, Make People Laugh, Make People Cry, and (Every Once in a While) Change the World—Michael Bierut
---
Bierut is a godsend. You may remember him from being a designer for Hillary Clinton's 2016 campaign logos and has been a partner at the famous design firm, Pentagram, for nearly 30 years. What can I say that the title hasn't already said?
In this book, you will—surprise surprise—learn how to do a multitude of things by using graphic design to its full potential. With a guide like the legendary Michael Bierut, you can't go wrong.
British Rail Corporate Identity Manual
---
I know what you're thinking—What's so important about the British Rail Corporate Identity? This crowd-funded manual examines a huge swath of different British railway typefaces, maps, and more. It is a great graphic design resource, as it exhibits different aspects that just work.
House Industries: The Process is the Inspiration—Andy Cruz
---
Andy Cruz and Rich Roat, two Delaware-based designers, founded House Industries, a type foundry, in 1990. Andy Cruz takes the reader through different successes, designs, and other aspects of the rise of House Industries.
Type: New Perspectives in Typography—Scott Williams
---
Scott Williams, of the London-based studio A2/SW/HK shows off many different graphic designers to pique your graphic design interests. I love when famous designers use their platform to raise other great designers, bringing them to the forefront of readers' minds.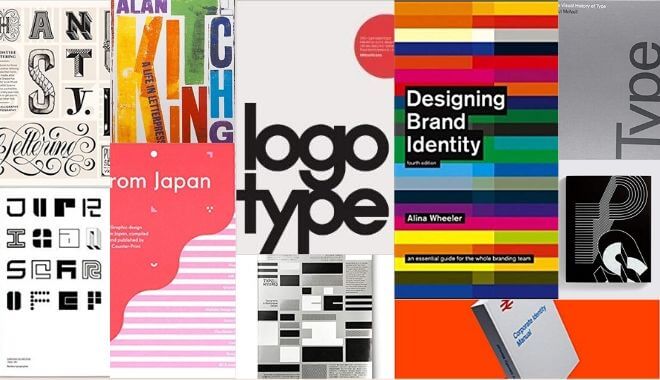 Watching Words Move—Ivan Chermayeff and Tom Geismar
---
"Words have the power to move", or so says the iconic work that is Watching Words Move. In this celebrated work, different pieces of typography are depicted to create different illusions, ideas, and designs. It has been updated in the mid-2000s with commentaries from different designers.
Alan Kitching: A Life in Letterpress—Alan Kitching and John L. Walters
---
This is a book dedicated to the designs of Alan Kitching, released in 2017. It spans Alan Kitching's 50-year career, including typography, design, and his work at The Typography Workshop.
Paula Scher: Works—Unit Editions
---
Anyone familiar with graphic design knows the work of Paula Scher. Another member of the famous design firm, Pentagram, Paula Scher has been designing for years, originally working for Atlantic Records and CBS. She made the logos for Windows, Citibank, and Tiffany & Co.
This great book should serve as an inspiration for those designers looking to make logos and typefaces.
From Japan, Scandinavia, and Eastern Europe Set—Counter-Print
---
This is a set of three books based on the specific countries listed. These countries and regions have been responsible for some truly great and attractive designs. Things like IKEA's aesthetic, the Tokyo Games posters by Yusaku Kamekura, and more are all great inspirations for the amateur and professional graphic designer alike.
Handstyle Lettering—viction:ary
---
Calligraphy has become amazingly popular in recent years. No longer does it conjure up images of monarchs from the 1700s penning a letter with a quill and ink, but it is a legitimate form of typography, adding life and creativity to daily life.
It reminds us all of the human aspects of design, exhibiting the delicate human touch that can't be replicated by computers.
Special Edition—viction:ary
---
This collection by viction:ary provides the reader with some great and attractive designs to look upon. The designs are explored in terms of what makes them successful and how and why people can connect with them. It explores unique and creative brands.
Type Hybrid: Typography in Multilingual Design—viction:ary
---
This book has to be one of the best-looking products I have seen. Not only that, but it serves as a great graphic design resource in terms of typography—the staple of modern graphic design.
Viction:ary has done it again with some seriously impressive typefaces emphasizing multilingual properties. This is a great concept, showing that typefaces can bring people of different languages and cultures together.
Logotype—Michael Evamy
---
Even if you weren't a graphic designer, you would be remiss not to have this attractive and informative book on your bookshelf or coffee table. Michael Evamy lists a ton of different logotypes and different companies responsible for these great typefaces.
Jurriaan Schrofer (1926-90) Restless Typographer—Unit Editions
---
Total Design artist Jurriaan Schrofer is celebrated in this definitive retrospective examining the Dutch artist's work. He did it all, from corporate design to brand identity and photography books, it is all here in one book.
The Visual History of Type—Paul McNeil
---
Much like many different genres of art—oil paintings, still life paintings, impressionism—type has a long a varied history in the art world. This book by Paul McNeil goes back in time—the 1400s to be exact—and examines the trials and tribulations of designers and their journey to creating a beautiful, revolutionary art form.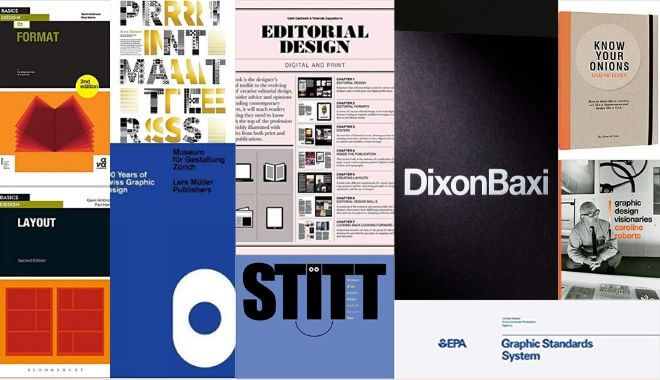 The EPA Graphic Standards System— Ivan Chermayeff, Tom Geismar, and Steff Geissbuhler
---
Purely a work of reference, the EPA Graphic Standards System was used to centralize governmental design, making it easier for multiple agencies and organizations to be on the same page design-wise. This is an interesting trip down memory lane, showcasing the different pillars of design, mixed with the involvement of the United States government.
Graphic Design Visionaries—Caroline Roberts
---
Not only a great book but also a great idea for a Google search, Graphic Design Visionaries by Caroline Roberts examines those who pioneered the creative side of the text and graphic design.
These are individuals who are sure to give you some serious graphic design inspiration on your journey through schooling and art career. It features 75 different artists, along with some stories and inspiring words about them.
Know Your Onions: Graphic Design—Drew de Soto
---
Listen up, rookies! Drew de Soto has created the definitive book for graphic design basics and creating ideas. From guiding you through creating concepts, fundamentals, and eventually executing ideas, Dre de Soto has imparted some serious graphic design knowledge, helping those of us who want to teach ourselves graphic design.
It is extremely readable and presented in a casual format resembling an artist's notebook. Drew de Soto has added his asides and tips along the margins of the book to make it more accessible and informative.
100 Years of Swiss Graphic Design
---
Any graphic artist and digital designer worth their salt know how big of an influence the Swiss-style had on graphic design. If you weren't familiar with Swiss-style, that is ok too, as you can learn all about it in this book. Bone up on your graphic design knowledge, and perhaps teach yourself graphic designs using these influences that shaped the world of modern digital design.
Editorial Design: Digital and Print—Cath Caldwell and Yolanda Zapaterra
---
With the growing popularity of grassroots and amateur journalism, this guide to corporate, magazine, and newspaper editorial design is crucial. This book will help guide the would-be graphic designer through the hurdles that people will potentially face in the industry.
It explains the fundamentals of editorial design, as well as being an unofficial sociological foray into the design in terms of case studies within.
DixonBaxi Monograph
---
"SAY NO. You are more often defined by what you don't do." This is but one thoughtful and innovative design snippet from this 300-page collection. In it, it examines the visionary work of London-based design firm, DixonBaxi.
It is a great little snapshot and primer into the interesting work that they do.
Basic Designs 01: Format—Gavin Ambrose and Paul Harris
---
The first part in Ambrose and Harris's treatise on basic designs introduces the basic idea of the format. This book is extremely important, as it delves deep into the fundamental aspects of design and what further propels a creator to build upon ideas and develop a design into a—you guessed it—successful format.
Basic Design 02: Layout—Gavin Ambrose and Paul Harris
---
We come back to Ambrose and Harris for their second volume titled 'Layout.' In it, the two authors go over in excruciating detail how best to format graphic design, pulling examples from famous designs. They show you how best to utilize a layout space, typography, and numerous different aspects of a project. These two volumes are must-haves.
Print Matters: The Cutting Edge of Print—Viction:ary
---
Print matters. Viction:ary back yet again to blow us all away by some seriously awesome curated designs and methods. It is a beautiful collection of various forms of creative digital print works. My personal favorite is book designs, especially for classic literature.
Stitt Autobiographies—Alexander Stitt
---
The late great Alexander Stitt was a famous Australian graphic design artist. Along with involving himself with some advertising campaigns, he created numerous cartoons, namely Sid the Seagull and Norm.
His most famous work, the 'Life. Be in it.' The campaign, which promotes physical activity and getting outside more. The aforementioned character Norm was part of this campaign, which featured Norm and a few other cartoon characters taking part in some outdoor sports.
In his autobiography, Alexander Stitt goes over some of his most famous works, including nearly 2,000 different works ranging from ads to comic strips that he made during his long, celebrated career. Although he created seminal works in cartoons, some feel that he perhaps did not get the proper recognition in life.
There you have it, designers, and would-be designers: the 50 best graphic design books for aspiring digital designers. I hoped you learned a few things, and hopefully got some serious graphical design inspiration from the list.
Without a doubt, these are some of the best graphic design resources you can get your creative hands-on. There are hundreds of graphic designers out there who have shaped the world for the better; will you count among them after perusing and taking examples from these books? Only one way to find out—get creating!