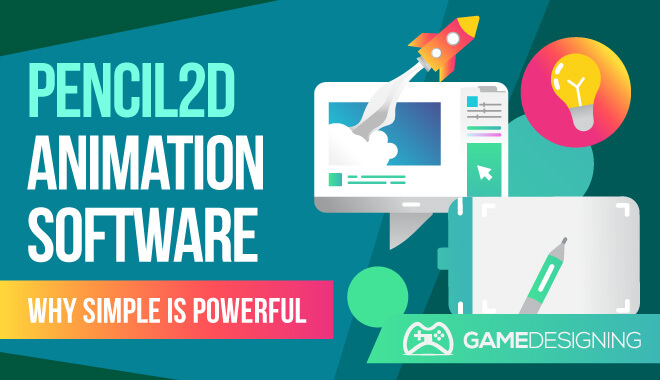 There has never been a better time to be an animator. Don't believe me? First of all, how dare you. Second, there are tons of programs that help you out immensely. One of those programs is Pencil2D.
Here we'll introduce you to some background info, features, and Pencil2D tutorials to get your 2D animator career started on the right path. But first thing's first: what is Pencil2D.
What is Pencil2D?
---
Pencil2D is an open-source 2D animation program. For those of you not in the know, open-source means free. Pencil2D is the perfect resource for those who want to get into 2D animation without the financial commitment. Open-source art programs like GIMP and Pencil2D have made creating using simple tools a ton of fun.
Pencil2D software uses the GNU General Public License. This means that Pencil2D is completely open, free, and ripe for modifying. Developer Matthew Chang and his team took the source code from an earlier project called Pencil and created what is now Pencil2D.
For over 15 years, Pencil2D has evolved with the times, updating software and user interface and experience features to give amateur animators the ability to create impressive 2D animations. It's cross-platform software you can get for nearly any operating system.
Features
---
Some notable features of Pencil2D are as follows:
Animation
Video support
Open-source (FREE)
Detailed Color Wheel
Customizable Templates
Dynamic Zoom In/Out
Pop-up Colour Palette
And other features are found in similar software, i.e., smudge, blur, various image effects.
Installing Pencil
---
Okay, so now that you know that Pencil2D is a pretty detailed and reliable animation tool for animators of any skill level, let's get this thing installed, shall we?
The first thing to do is go to the official Pencil2D website. There will be a button on the top edge of the screen, where you'll find 'Download.' Simply choose your operating system. In my case, I decided on Windows 64-bit.
As we said before, this program works for multiple operating systems like Linux, Ubuntu, Flatpak, and Homebrew Cask.
From there, you need to unzip the files in the downloaded folder. Follow the instructions from there, and you should be good.
They even have a handy troubleshooting section on the download page if you run into any trouble.
Right on the front page, they have a detailed guide for installing the program. This is fantastic, as sometimes installing programs (especially ones you aren't familiar with) can be a hassle. The Pencil 2D team has taken all of the headaches out of the process.
Reviews
---
Okay, so Pencil2D has been around a while and has some helpful artistic features. That doesn't necessarily mean it's perfect. So what are people saying about Pencil2D? Is it worth the download, practice, and use? The verdict so far is 'absolutely.'
Artists consistently praise its fantastic user interface, ease of use, and its versatility.
Even those who weren't as enthusiastic about it praised its ease of use. Check out more Pencil2D reviews at G2.
Pencil2D Tutorials
Now it's time for tutorials. Sure, you can jump right in and learn the user interface and various tools on your own. However, that can be pretty frustrating. Let's see what other people are doing to guide you through Pencil2D.
Pencil2D Official Site
---
It's always a great idea to check out the official site for any software you download. You'll find firsthand knowledge of a specific program or product and gain insight from the developers.
This site is jam-packed with resources and especially Pencil2D tutorials. There are specific Pencil2D tutorials for certain actions and more general videos to help get you familiarized with the entire user experience.
Pencil2D Tutorial from Same Animate
---
Sam Animate is a YouTuber who has put together a pretty solid video that nails all of the basics for starting your first Pencil2D project. After your particular Pencil2D download, click the link to Sam's channel.
WikiHow to Animate with Pencil2D
---
Like Wikipedia, WikiHow is filled with useful, step by step instructions for doing nearly anything.
Want to know how to refill coolant in your car? How to milk a cow? What about CPR? It's all there on this unique site.
That includes Pencil2D. WikiHow's step by step guide with pictures is perfect for the visual learner.
Wrapping Up with Pencil2D
---
So is Pencil2D worth it? Absolutely.
If you are just beginning your animation journey, a Pencil2D download is exactly what you need. While everyone will have their personal favorite piece of animation software, Pencil2D is a solid starting point.