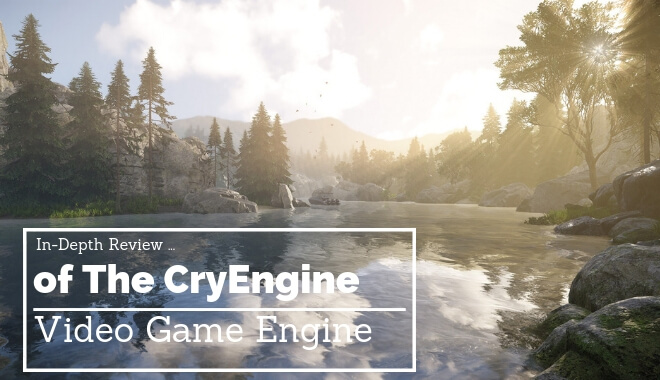 Starting with the iconic first-person shooter Farcry in 2004, Crytek's CryEngine blazed a path into the gaming world. Developed in 2002, CryEngine is now a mainstay in game development. Many games use CryEngine: the Farcry series, Crysis franchise, and Warhorse Studio's Kingdom Come: Deliverance to name a few. With an impressive list of games and rich history, how does CryEngine hold up today?
FarCry
---
Forgive me, but I'm about to age myself. Back when I was seventeen and I first played
FarCry
, I was floored. It was truly like being in breathing, living world with different aspects of nature immersing you in an intense gaming experience.
I remember spending time ignoring game objectives to take in the environment: swaying palm trees, dynamic shadows, and animal life. I knew I was experiencing something different.
Crytek states on their site, "With CRYENGINE, we have a simple goal: to create the most powerful game engine in the industry, and to give creators all across the globe the tools to harness this power to create world-class gaming experiences, no matter their budget or team size." I believe that they do just that.
With the newer Far Cry titles, this engine truly shines. I still count FarCry 3 as one of my favorite games ever. I've probably never had such an immersive experience. I still have yet to have an experience like hang gliding off of a massive cliff and ambush a group of pirates with my silenced machine gun.

If CryEngine can create these moments where you can fondly remember them years later, that counts for a lot.
Kingdom Come
---
I'm fortunate to have been able to play games using the CryEngine for a long time now through its different forms. The most recent was the somewhat controversial
Kingdom Come: Deliverance
for the Xbox One and I wasn't sure what to expect.
Online, (the ultimate realm of positivity), people had been saying how difficult the learning curve was and how frustrating it was. Personally, I loved the game. Sure, it was hard to get used to fluid dynamics and button registers that don't give you instant gratification like in Street Fighter or Call of Duty.
It made you plan out your strategies in combat. Going up against a foe in plate armor? You need to use more blunt weapons like a mace and account for the slower swing that weapon has to defeat your foe. I thought this to be a good system, and it serves the game well, however, I could see how gamers could have had an issue.
It takes a little while, and some would say the engine is a little clunky, and I'm inclined to agree, although I personally was able to look past it.
That's the thing though; with games, it can often be a case-by-case deal. You could find the game to be unplayable because of the engine, and someone else could just roll with the punches, embracing the framework of the engine. It really does come down to your personal preference of games.
Once you get the basics down, you'll be amazed at the size and scope of the world, something I find common in CryEngine games. Warhorse Studios said as much:
"We had very close contact with the Crytek guys. It's no secret that when we started with Kingdom Come, the engine had to be modified at our end, so we could get specific needs like 1000 NPCs and some features that were not completely ready in the first place, as with any engine.
But we had very good contact with the dev team at Crytek. We made things happen, we're very grateful for that collaboration. Kingdom Come looks amazing on CRYENGINE." (Crytek).
CryEngine 5
---
Things are moving forward for CryEngine, with the latest iteration of the engine,
CryEngine V, which allows for VR support
. Only two games so far will be for the home consoles, specifically the PS4:
Robinson: The Journey
, and
SNOW
.
Robinson, a sci-fi tale of a man stranded on a planet of dinosaurs. Sounds like a great Jurassic Park sequel, where's Steven Spielberg and the studio funding? The game uses Playstation VR and Oculus headsets.

In SNOW, (still technically in early access on Steam), the official website touts it as being 'The
only
free-to-play winter sports game'. You're able to compete against friends in skiing, snowboarding, and other winter sports on a mountain that you can completely customize.
Although I haven't played it, I'm curious to see how the CryEngine rises to the task of implementing all the different kinds of mountain activities into one universe.
I checked out the Steam reviews and unfortunately, it seems to have mixed reviews. Steam user Soaster states:
"This game actually used to be good.
When I played it the first time it was an amazing open world skiing game.
well, now this game actually could've been programmed by ea.
the first three days you can play every event and three different mountains,
after the three days you cant [sic] do anything fun. you have two mountains and one event…
snow used to be good, but today it's just pay to play early access scam…"
However, on Steam, it gives you the option to pay $14.99 to get the 'Starter' Pack—something that seems to give you more features or access, something that Soaster referred to as the dreaded 'pay to play'.
Conclusion
---
After spending hours playing CryEngine games, I got a piece of news that made my ears perk up:
"Warhorse Studios has released regular updates and their first piece of premium DLC, From the Ashes, alongside a free hardcore mode for all players. At Gamescom, Warhorse Studios showcased their forthcoming premium DLC, The Amorous Adventures of Bold Sir Hans Capon, and Tournament, a substantial free content update."
(Crytek)
Sounds like I have my work cut out for me. I'll be back soon to tell you if I still feel positive about CryEngine, or if this 'hardcore mode' makes me a diehard anti-CryEngine warrior. For the time being, I'll be hashing out my issues with remote island terrorists, Hungarian warriors, and aliens in immersive worlds and I'll get back to you guys. Now if you'll excuse me, I think I just saw a bandit asking for some punishment.