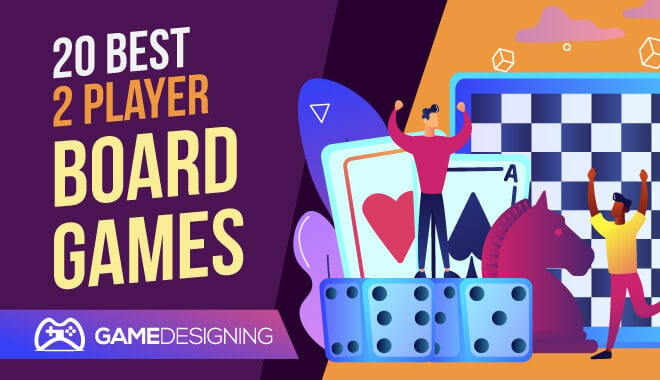 It is easy to get caught up in the glow of video gaming, but it is always refreshing when you spend time playing a board game with a friend.
If you are a person who thrives on multiplayer cooperation, competition, and more, board games can be a great pastime to pick up. I'll help you out by listing the best 2 player board games – from easy and casual to difficult and hardcore.
Pandemic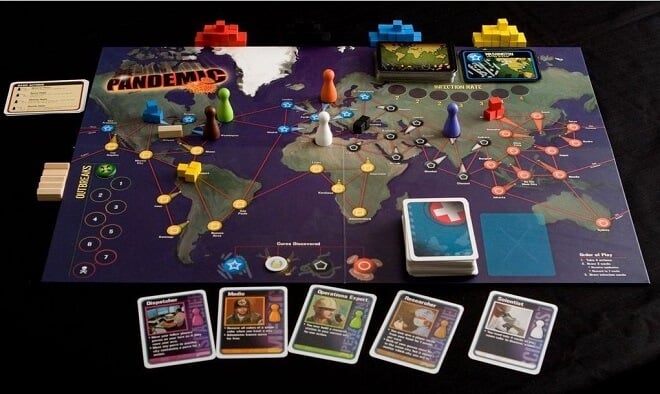 Customer Review: "Great co-operative game for just the right level of brain challenge!" (Rating: 5/5)
This is a board game staple these days. Pandemic has you and your friends pitted against a deadly disease threatening the human race. If you are geared towards more cooperative games like Left 4 Dead and Payday, this is the board game for you.
You band together with your friends and try to stop the spread of a tenacious disease. It can get frantic, as the disease can evolve and spread insanely quick. It could take up to an hour or so to play, but that hour will fly by as you try to save the world.
Expansions for the game have been released, including one where the world fell to a virus, and now you have to survive the wasteland.
What Makes It Great
Innovative Cooperative Gameplay: Pandemic is renowned for its cooperative gameplay, where players must work together to stop the spread of four deadly diseases, making it an engaging and unique gaming experience.
Multiple Roles: Players can choose from seven distinct roles, each with its own abilities and advantages, adding depth and replayability to the game.
Real-Life Inspiration: The game draws inspiration from real-world events like the 2002–2004 SARS outbreak, grounding its narrative in a relatable context.
Expansions and Variations: Pandemic offers expansions like "On the Brink," "In the Lab," and "State of Emergency," which introduce new roles, events, and rules, allowing players to tailor their experience.
You Should Know
There is an unofficial way to lose the Pandemic board game that isn't listed in the rule book. Players may inadvertently lose the game by discarding too many of the same color city cards, leaving them without enough cards at the end to cure the final disease.
This can happen when players are dealt a nice hand at the beginning, and decide to collect those cards, discarding the other colors. If it takes too long to collect the colors they want, they may end up discarding too many of the other color and not have enough left at the end to cure the disease.
Gloomhaven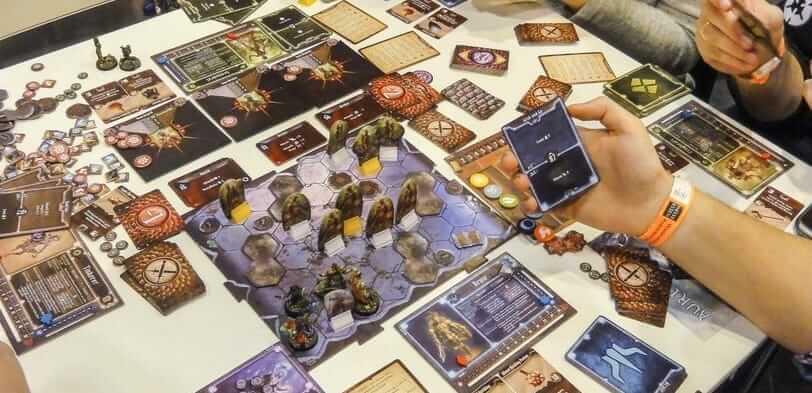 Customer Rating: "Whether played solo or with a group, you will not be disappointed." (Rating: 5/5)
This one is a real treat and will cater to RPG fans. You take on the role of a lone adventurer, a drifter who inhabits this ever-changing world with companions.
Some things you will partake in are clearing dungeons, fighting enemies and more. No playthrough is the same, so you can replay this game over and over, even solo. It takes about one to two hours to play, so it's a moderate investment of time.
This is the perfect game for a group of friends, or just two, to sit down and enjoy. It was the 2018 SXSW Tabletop Game of the Year Winner, no small feat! Many board game players have this consistently at the top of their lists.
What Makes It Great
Epic Campaign: Gloomhaven offers an immersive and expansive narrative campaign, comprising 95 unique scenarios, enveloping players in a rich and evolving storyline.
Cooperative Gameplay: Designed for one to four players, the game encourages teamwork and strategic collaboration as players embark on challenging adventures together.
Branching Story: The game features a branching narrative, allowing players' decisions to shape the course of their campaign, and enhancing replayability.
Legacy Format: Gloomhaven introduces legacy elements, such as stickers, sealed envelopes, and evolving components, creating a dynamic and evolving gameplay experience.
7 Wonders: Duel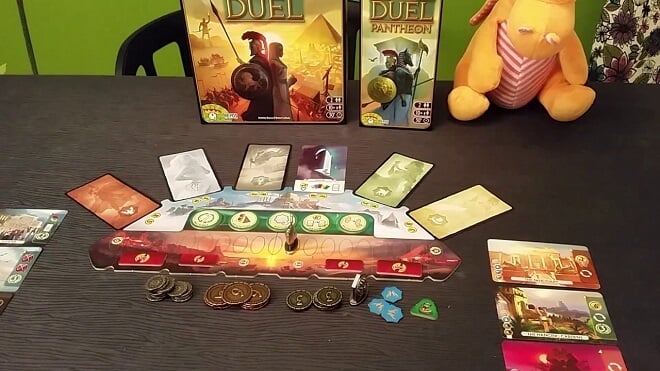 Customer Review: "A tad inconsistent but great theme and worth playing" (Rating: 4/5)
Fans of games like Civilization will be drawn to this historical battle game.
Your goal is to duel against your opponent through eclipsing their civilization. This can be done in several ways. You need to build wonders throughout your game session, which should last around a half hour or so. Victory conditions can be met through science, culture, and military to name a few.
I love any game that emulates the addictive gameplay of Sid Meier's Civilization, and 7 Wonders: Duel is one of those games.
What Makes It Great
Intense Two-Player Strategy: 7 Wonders: Duel is designed specifically for two players, offering an intense strategic experience.
Age-Appropriate: While recommended for ages 10 and up, this game can be enjoyed by a variety of age groups.
Challenging Gameplay: The game's complexity is a testament to its depth. With multiple winning strategies, it offers a mental challenge for serious gamers.
Strategic Variety: Players can win through military dominance, scientific supremacy, or civilian victory, providing diverse strategic options.
Ticket to Ride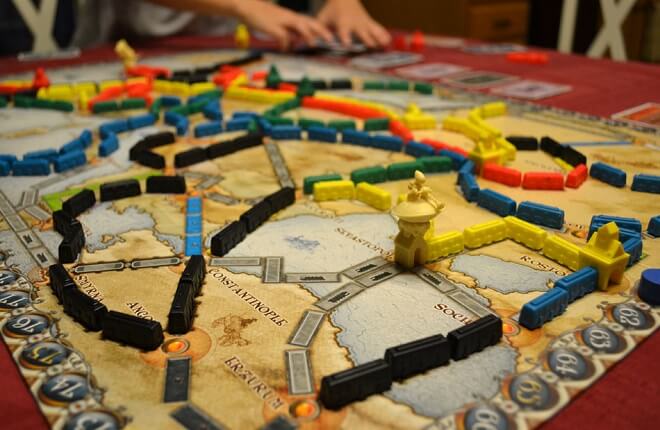 Customer Review: "As a whole this is a great game. It is very simple for new players …" (Rating: 4/5)
No, it isn't the Beatles song.
Ticket to Ride is a competitive game in which your goal is to build railroad tracks across the country. You need to score points by building through cities and other areas. It will take about a half-hour, so it is an easy game to pick up and play again and again.
It's really fun to see who can build the longest track, or at least the one who scores enough points. I've had some heated games were tempers flared and competitive spirits soared, all over trains!
My stepmother became so addicted to this game, that she had to physically stop herself from playing!
What Makes It Great
Classic Family-Friendly Gameplay: Ticket to Ride has been a beloved strategy game since its 2004 release, offering an accessible yet engaging experience for players of all ages.
Expansive Universe: The game's success led to various versions set in different parts of the world, providing players with diverse settings and challenges.
Board Game Prestige: Ticket to Ride received the prestigious Spiel des Jahres award in 2004, establishing its reputation as a top-tier board game.
Digital Adaptations: The game's popularity extended to digital platforms, offering both PC and mobile versions, making it accessible to a wider audience.
Codenames: Duet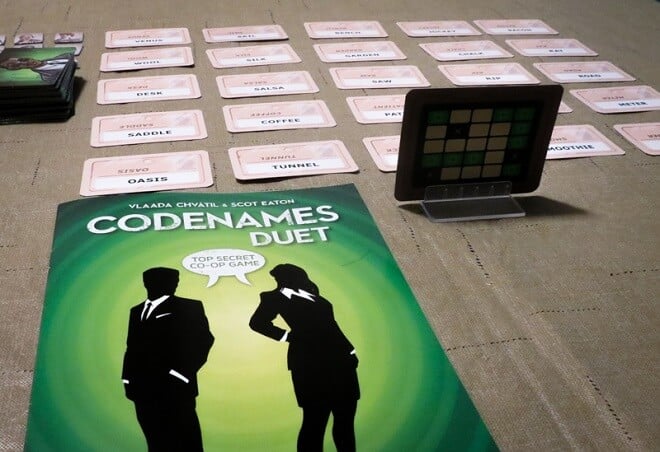 Customer Review: "Excellent combination of Codenames gameplay and co-op mechanics" (Rating: 5/5)
Codenames Duet is tailored for two players working using word association. It's based on the original board game, Codenames, which has become very popular.
You and another player need to give each other clues in the form of one word to advance the game forward until you can guess the names of targets or their 'code names' with as few guesses as possible.
This is a great game for bonding with another, as you'll be working with them and their thought processes.
What Makes It Great
Team Collaboration: Codenames Duet takes classic Codenames gameplay and transforms it into a cooperative experience, fostering teamwork and communication.
Engaging Theme: The game immerses players in a thrilling spy theme where they work together to uncover their agents while avoiding assassins.
Quick Setup: Setting up the game is straightforward, with a 5×5 grid of word cards and a key card that's easy to prepare.
Tense Decision-Making: The challenge of finding all fifteen agents without revealing assassins creates a tension-filled atmosphere, keeping players engaged throughout.
Scythe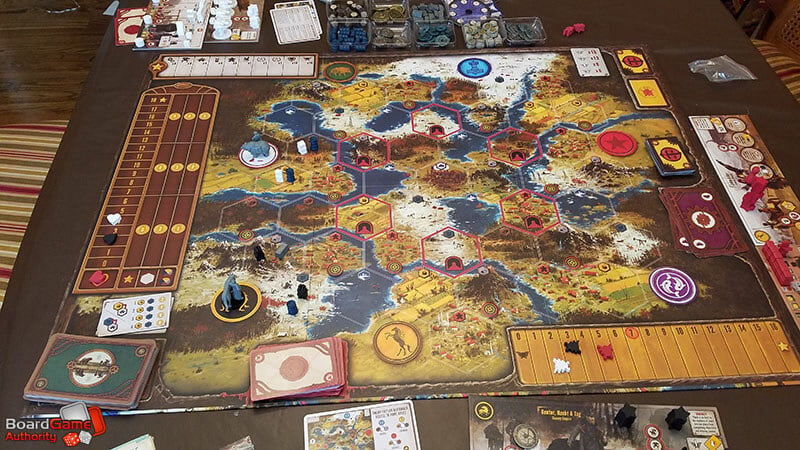 Customer Review: "Strategy packed civilization game but maybe too complex for casual game players" (Rating: 4/5)
This game, right off the bat, is a very serious and stark portrayal of war-torn Europe following World War I.
Players portray different Eastern European teams that have their traits, motives, and resources. Each nation has to build up its arsenal and make their way in a grim landscape.
This game will have you scheming and building, often at the same time. It takes around an hour and a half to two hours and is extremely detailed. You can even build a huge mech!
What Makes It Great
Stunning Dieselpunk Theme: Scythe's alternative history 1920s Europe setting, complete with combat mechs and captivating artwork, immerses players in a visually striking and unique world.
Engaging Faction Control: Players control factions vying for dominance, each with its distinctive abilities and strategies, adding depth and replayability to the game.
Resource Management: Scythe offers a rich resource management system, allowing players to develop their economic engines, trade goods, and optimize resource production.
Strategic Decision-Making: The game's action selection system challenges players to plan their moves carefully, with multiple actions to choose from, leading to meaningful decisions.
Caper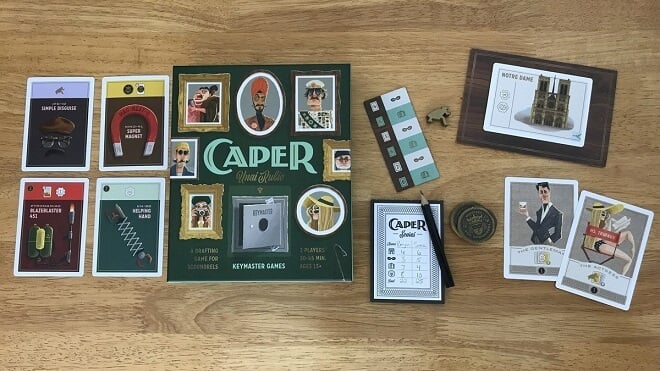 Customer Review: "Clue meets 7 Wonders: And It's Amazing!" (Rating: 5/5)
This is a card game that mixes and matches players' wits with a murder mystery. The artwork is great, and contrary to what you might think, it only requires 2 players to get a game up and running.
Your goal is to hire a crew for a heist, thieving your way across Europe. The art style is unique and beautiful, leading to a feeling of whimsical mischief. It doesn't take itself too seriously and is a lot of fun.
What Makes It Great
Strategic Depth: The game combines card drafting, set collection, and area control, offering a variety of strategic choices and decision-making opportunities.
Unique Theme: Caper's theme of recruiting thieves, equipping them with gear, and stealing art across European cities adds a captivating and immersive layer to the game.
Colorful and Quirky Design: The game's visually appealing and quirky design enhances the overall enjoyment and immersion, making it visually engaging.
Twilight Struggle: The Cold War, 1945-1989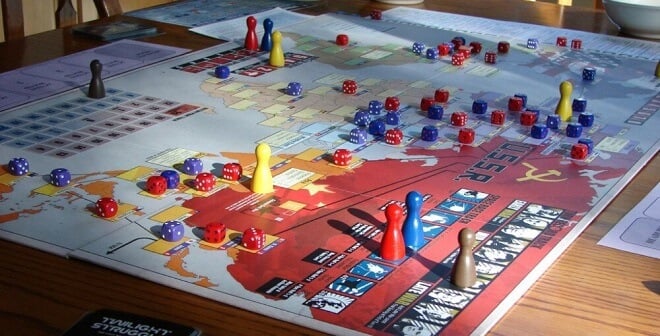 BE WARNED: this isn't a casual game! It can take 3+ hours to complete.
That being said, this is a game for strategy and history fans. It isn't light and airy like most party games. It simulates the Cold War between the United States and the Soviet Union.
Considered a hardcore classic, Twilight Struggle has the two players facing off by way of competing spheres of influence through actual historical events. You'll plan coups, and covert military actions, and advance the Space Race.
This is a great choice for those board gamers looking for a heavy strategy game or an investment in time.
What Makes It Great
Historical Immersion: The game faithfully captures the essence of the Cold War, allowing players to engage in the geopolitical struggles of the era.
Two-Player Intensity: Designed specifically for two players, it creates an intense and strategic head-to-head gaming experience.
Historical Accuracy: Despite its fictionalized elements, the game adheres to the logic of the Cold War era, providing an immersive experience for history enthusiasts.
Why We Like It
Twilight Struggle has one goal: Don't start a nuclear war. But as simple as the goal is, the game is a masterpiece of strategic board gaming. It is both challenging and rewarding with solid mechanics that underpin every decision.
It's a battle of wits, and requires foresight to outwit your adversary. It is rich in history and captivates the players from start to finish!
The Fox in the Forest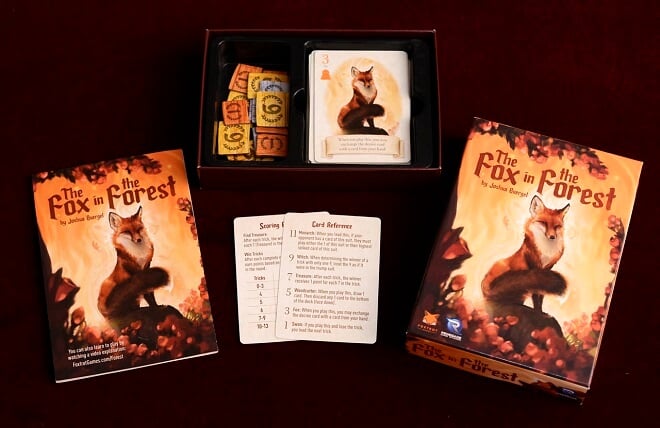 Customer Review: "Halfway between a game of traditional Playing Cards and something like Love Letter.." (Rating: 5/5)
This artistically brilliant trick-taking game has you dealing with foxes and other fairytale creatures in a fantastical setting. You need to win more tricks than your opponent to defeat them.
In the 30-minute playing time, one player starts by putting a card from their hand, followed by the second player then playing one of theirs. Whoever has the highest card wins the 'trick'. Pretty simple, right? However, if you win 10+ tricks, you become 'Greedy', bringing you back to 0.
The aim is to get a cool 7-9 tricks under your belt to be victorious. The subtle strategy and beautiful art make this an easy recommendation.
What Makes It Great
Tension-Filled Gameplay: Despite its simplicity, it offers surprising tension and excitement, leaving players eager for one more round.
Unique Theme: The game's forest theme, featuring adorable animals, adds charm and uniqueness to the experience, aligning with the popular trend of nature-themed board games.
Strategic Trick-Taking: Incorporating well-established trick-taking mechanics, it offers strategic depth as players aim to outwit their opponents.
Special Card Abilities: Odd-numbered cards introduce special abilities that can shift the course of the game, adding depth and unpredictability.
Tiny Towns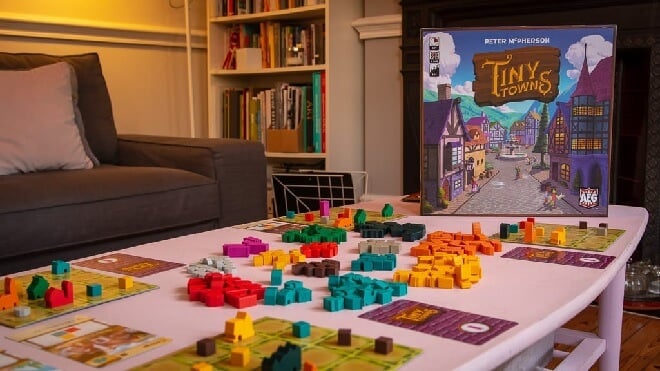 Customer Review: "Fun game for everyone with good amount of replayability." (Rating: 4/5)
Tiny Towns is a sweet little resource management game, (who doesn't love those?), where 2-6 players get together and build their towns.
The story is that you, (woodland creatures), are building a town away from predators in the woods. Resources are very rare, so you have to play things smart.
The playtime is 45-60 minutes usually and will have you scoring victory points by actions like building buildings. The game ends when no one has any more pieces to use.
What Makes It Great
Accessible Complexity: Strikes a perfect balance between simplicity and depth, making it easy for newcomers to enjoy while offering strategic challenges for seasoned gamers.
Quick Setup and Playtime: A game that can be set up swiftly and played in 45-60 minutes, making it ideal for various gaming situations and groups.
Unique Gameplay Concept: The game introduces a fresh city-building concept that revolves around abstract planning and spatial arrangement, offering a refreshing departure from typical city-building board games.
Scalability: Accommodates up to 6 players, making it versatile for different group sizes and ensuring a lively gaming experience.
Morels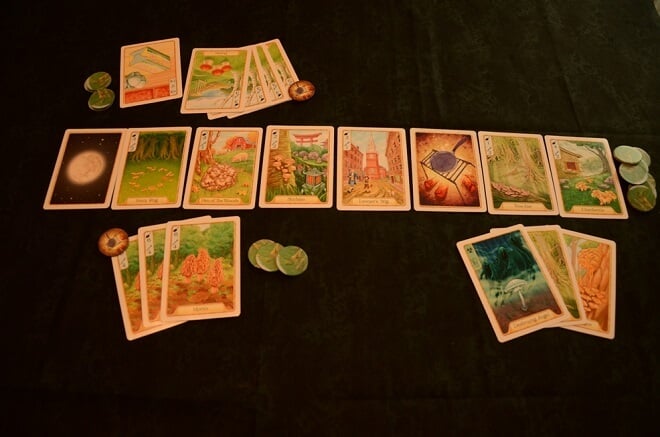 Customer Review: "Such a fun date night game for you and the cook in your life!" (Rating: 5/5)
This is a game all about mushrooms. Yep, you read that right.
Foraging for morels is your goal in this quaint little card game where you are tasked with finding mushrooms, cooking them, and more to get the best of your opponent. Who thought that competitively gathering mushrooms could be this fun?
For 30 minutes, you and an opponent will use strategy to get the most points for the most strategic plays. Just watch out for the poison mushrooms lurking in the deck!
What Makes It Great
Engaging Theme: Set in an enchanting forest filled with mushrooms, the game immerses players in a delightful woodland setting, adding charm to the gaming experience.
Strategic Depth: Combines strategic card play with resource management, providing ample opportunities for thoughtful decision-making and planning.
Decay Mechanic: The gradual decay of the forest, coupled with card replenishment from the Day Deck, simulates the evolving nature of mushroom foraging, adding a sense of realism to the game.
The Game of Life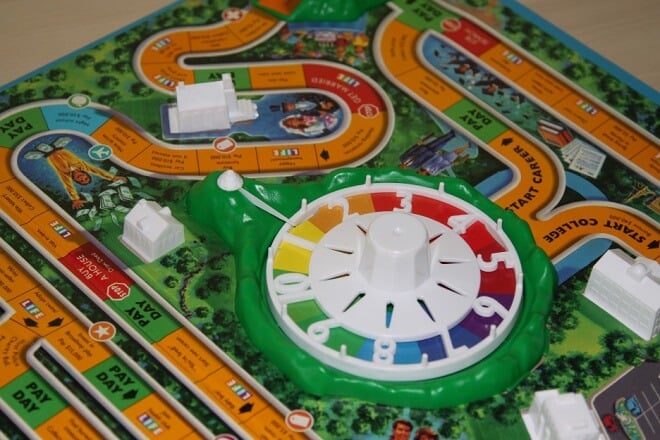 Customer Review: "Easy for kids but not what I remember" (Rating: 2/5)
I am obligated to include this classic board game on this list.
The Game of Life has you and others, (anywhere from 2-6 players), start out graduating from college, (or not), and starting your 'life' in the game. This includes buying insurance for your house, having kids, and choosing an occupation.
It is a great mash-up of simple and strategic gameplay aspects, allowing casual players and competitive players to join in on the fun. If you haven't played 'Life', you owe it to yourself to give it a go.
What Makes It Great
Historical Significance: "The Game of Life" holds the distinction of being the first-ever board game created by Milton Bradley, making it a pioneer in the world of tabletop gaming.
Timeless Concept: The game simulates a journey through life, from early adulthood to retirement, reflecting the universal experiences of education, career, marriage, and parenthood.
Multiplayer Fun: Accommodates up to six players in its traditional version and even more in variations, making it an ideal choice for gatherings and family game nights.
Enduring Legacy: The modern version of the game, introduced in 1960, is now a part of the permanent collection at the Smithsonian's National Museum of American History and a National Toy Hall of Fame inductee.
You Should Know
Milton Bradley developed The Game of Life in 1860 amidst the American Civil War, intending to offer a moral compass to children during an era when it was notably lacking.
Terraforming Mars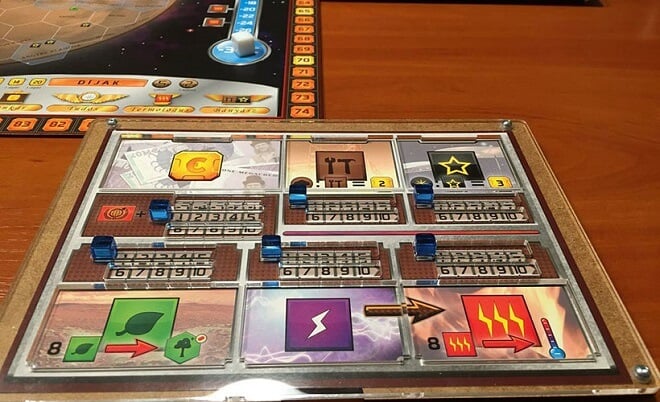 Customer Review: "Confusing" (Rating: 1/5)
I love a good story setup for a game, and Terraforming Mars has exactly that. It takes place almost 400 years in the future, and man has started to terraform Mars to make it more habitable.
Playing as different large corporations, players acquire cards that allow them to build cities, industries, and more if there are adequate oxygen and water. This is a good blend of city-building as well as resource management that I love to see in PC games, so I'm delighted it transferred so well to board games.
Players increase their terraforming rating, and by the end of the game, the player with the highest rating wins.
What Makes It Great
Unique Theme: "Terraforming Mars" offers a fresh and captivating theme centered around the scientific challenge of transforming the Red Planet into a habitable world, making it stand out in the world of board games.
Engaging Gameplay: The game combines resource management, engine building, and strategic planning, providing players with a dynamic and intellectually stimulating gaming experience.
Multiple Victory Paths: Players have various routes to victory, including contributing to terraforming efforts and building human infrastructure, allowing for diverse strategies and replayability.
Corporate Competition: Players take on the roles of competing corporations, adding an element of rivalry and intrigue as they work toward shared terraforming goals.
Arkham Horror: The Card Game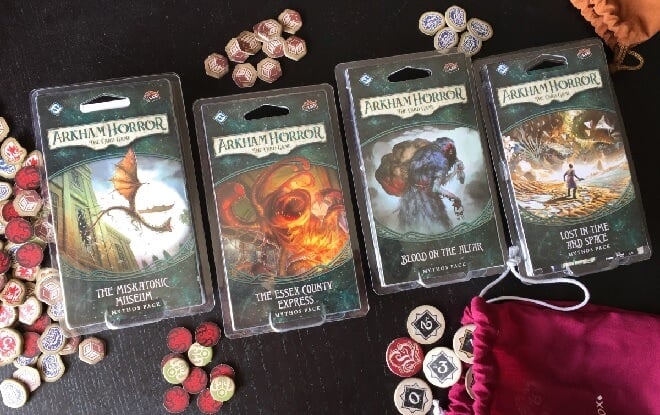 Customer Review: "For RPGers who want a board game. Less so for boardgamers moving towards RPG" (Rating: 3/5)
Fans of H.P. Lovecraft and ghoulish ghosts will feel right at home with this terrifying card game.
In Arkham, players take on the role of the residents of Arkham, a town situated in New England. Each character has pros and cons, adding an interesting role-playing aspect to the game.
This game will be a true test in endurance, as you and others will come up against some seriously scary encounters. You and another player go through the deck and use your skills to overcome the terrors that await you.
Each game lasts about an hour or two, so this will be a good little time investment. For fans of horror, this is your game.
What Makes It Great
Immersive Lovecraftian Theme: The game is set in the eerie world of H.P. Lovecraft's Cthulhu Mythos, delivering a deeply atmospheric and immersive experience that keeps players engaged in the cosmic horror narrative.
Cooperative Gameplay: Players work together as investigators, fostering collaboration and teamwork, a refreshing departure from competitive board games.
Narrative Depth: The game's campaign mode offers a rich narrative experience, with choices made during scenarios affecting subsequent gameplay, ensuring a captivating and evolving story.
Deckbuilding Strategy: Building investigator decks adds a layer of strategy and customization, allowing players to tailor their approach to different scenarios and challenges.
Kingdom Death: Monster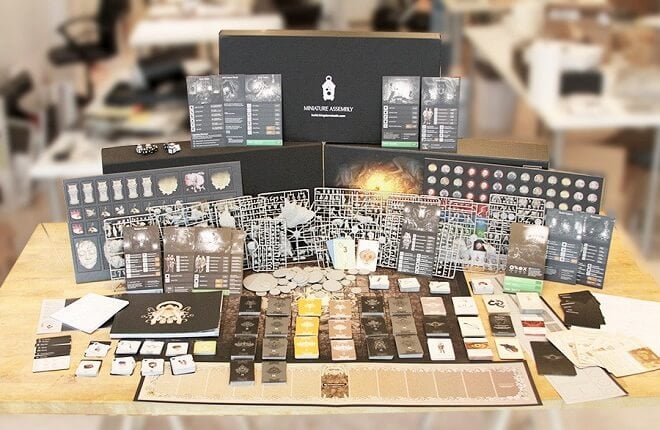 Another entry for those of us who have a masochistic streak in their souls.
Kingdom Death, along with being one of the most successful Kickstarter campaigns for a board game, is a punishingly difficult and time-intensive game. Playing time can easily rack up to 60 hours and combines multiple genres like role-playing and survival horror.
This is no 'pick up and play' like some of the games on the list, but if you're a hardcore board gamer and have some cash to spare, this might be what you're looking for.
The game works in three phases: Settlement, Hunt, and Showdown. The settlement phase has the players using resources to build their settlements and prepare themselves for battle with new tech. The hunting phase is where the story aspects kick in and you're treated to event cards. Finally comes the showdown where the players will fight the monster.
If you're lucky enough to win, you'll reap some serious benefits and be able to invest in your town to take down the next baddie.
What Makes It Great
Unique and Immersive Theme: The game immerses players in a nightmarish world reminiscent of Lovecraftian horror, providing a deeply atmospheric and captivating experience.
Emergent Storytelling: The game unfolds over multiple "lantern years," allowing for the creation of unique, emergent narratives as players build their settlement and face various monsters.
Cooperative Gameplay: Designed for 1 to 4 players, it encourages cooperative play, fostering teamwork and strategic planning to survive in the harsh game world.
Deep Lore Integration: Lore is seamlessly woven into the game through monster descriptions, item details, and other components, enriching the storytelling and creating a mysterious atmosphere.
Carcassonne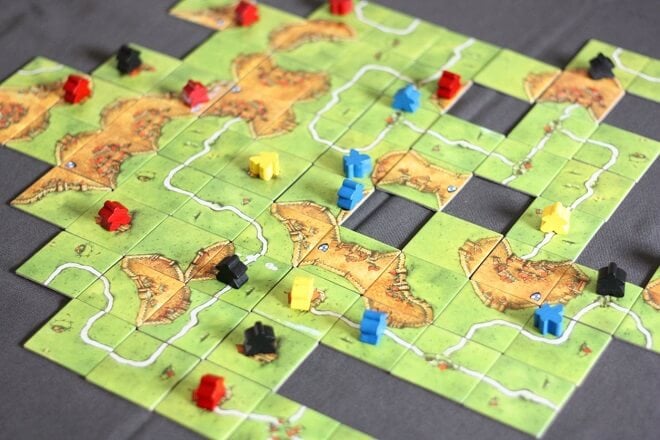 Customer Review: "A great game for beginners which experienced players can enjoy" (Rating: 4/5)
One of my personal favorites, Carcassonne is a tile-based game where you need to connect rivers, paths, and buildings. The player has control of 'meeples', or game pieces and must decide what best place to set them is. If placed strategically, a player can score major points. It scratches the itch of city building, organization, and more.
The game moves lightning-fast and lasts about 30 minutes. This is a great game for 2 players or more; a perfect choice for any small gathering of friends or family.
What Makes It Great
Easy-to-Learn, Accessible Gameplay: Designed for 2 to 5 players, "Carcassonne" offers a simple yet engaging tile-laying experience suitable for players of all ages and skill levels.
Dynamic Game Board: The game board evolves organically as players add tiles, creating a unique medieval landscape in each playthrough.
Strategic Tile Placement: Players must strategically draw and place terrain tiles to extend existing features, including roads, cities, fields, and cloisters.
Tactical Follower Placement: The option to station followers on features allows for tactical decision-making, as players compete for control over key areas of the board.
Dominion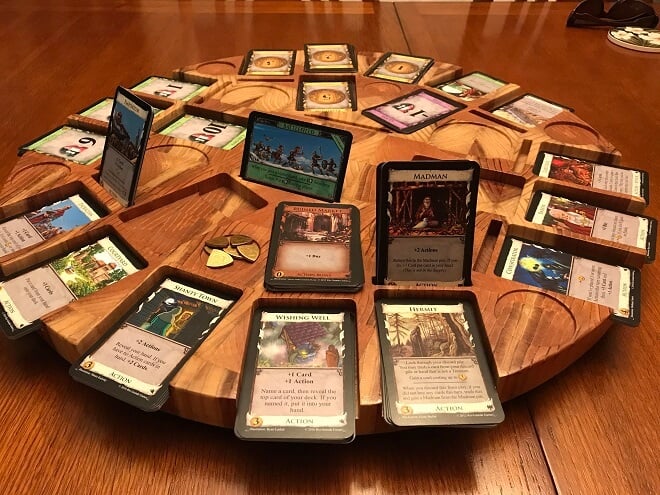 Customer Review: "One of My All Time Favorite Games + Most Accessible Expansion for a Good Price" (Rating 5/5)
Dominion is a card game where you find yourself as a monarch facing off against other monarchs for control of the land. Players achieve their victory points through building the most ideal deck by acquiring different cards to their initial hand at the beginning of the game.
All the mainstays of resource management are here: building castles, hiring goons, and getting money. I love the look and feel of this game; it draws heavily from medieval history.
Games are pretty quick, with games typically lasting about a half-hour.
What Makes It Great
Pioneering Deck-Building: "Dominion" introduced the innovative deck-building mechanic, setting the foundation for a genre of board and card games.
Strategic Depth: Players compete to build the most efficient deck, combining actions, treasures, and victory cards in a dynamic and strategic manner.
Expansions Galore: The game boasts a wealth of expansions, offering diverse cards and mechanics, ensuring long-term replayability and variety.
Medieval Theme: The medieval theme and artwork provide an engaging backdrop for the game, immersing players in a thematic experience.
Agricola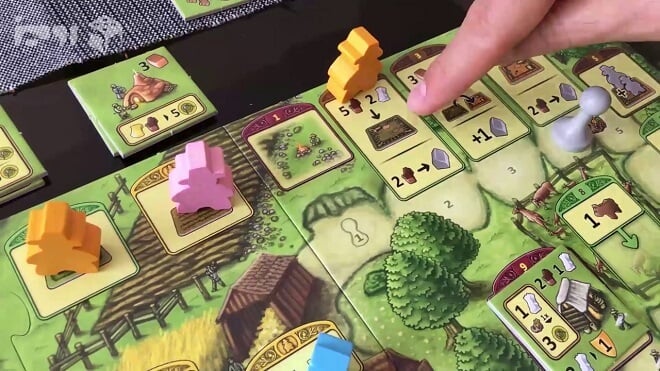 Customer Review: "One of the greatest board games of all time!" (Rating: 5/5)
Agricola is a game originally released in the Netherlands and portrays the life of a simple farmer. However, you'll soon see that farm life is anything but simple.
It's a turn-based game where players engage with action cards that are activated. Players have the option of engaging with Occupation or Minor Improvement cards. This builds and builds and eventually culminates in the Harvest at the end.
How bountiful will yours be?
What Makes It Great
Resource Management: The game revolves around resource management, requiring players to efficiently gather resources like wood, clay, and reeds to develop their farms and feed their families.
Family Farming Theme: The game immerses players in the role of farmers, emphasizing the struggle to build a prosperous farm and provide for their family, enhancing immersion.
Round-Based Gameplay: With 14 rounds structured around harvests, "Agricola" keeps players engaged, as they must plan their actions carefully to maximize their progress.
Victory Points Scoring: Scoring in "Agricola" rewards balanced strategies, discouraging players from overly focusing on one aspect of the game, adding depth and complexity.
The Lord of the Rings: The Card Game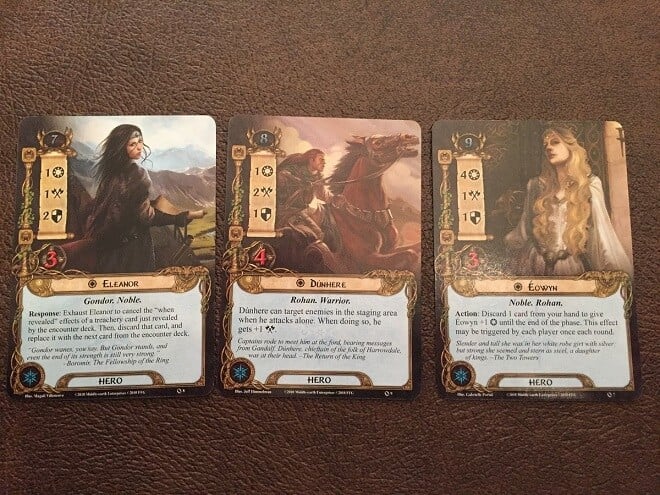 Customer Review: "Great game overall, however this core set is a bit lacking" (Rating: 4/5)
Fellow fans of The Lord of the Rings rejoice! This card game is a great coop option for those more non-competitive gamers. You join up with a friend and venture into the rich world of Middle-Earth.
Players will, along with a deck of allied characters, fight monsters and deal with different scenarios where they'll be forced to strategically play their hands to mitigate losses and complete quests. You'll have to be careful, so you and your team aren't spread '…thin, sort of stretched, like butter scraped over too much bread', as Bilbo Baggins once said.
What Makes It Great
Deck Construction: Players have the freedom to construct their decks, making strategic decisions about heroes, allies, attachments, and events, allowing for personalized gameplay experiences.
Solitaire or Group Play: The game caters to both solo and group play, accommodating various player counts, making it versatile and suitable for different gaming situations.
Engaging Mechanics: The game's mechanics challenge players to overcome obstacles and make meaningful choices, providing a satisfying and intellectually stimulating gaming experience.
Thriving Community: An active and passionate player community has spawned podcasts, blogs, and custom content, offering valuable resources for players to explore strategy, deck-building, and game-related news.
The Oregon Trail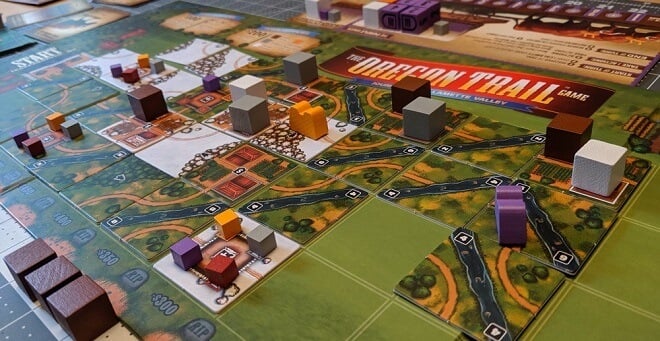 Customer Review: "Grade school computer class memories relived with entertaining and accurate game" (Rating: 5/5)
Fans of the classic computer game will recall these iconic images now in card form. Players can join up together in a wagon party to traverse the unforgiving American Midwest, hopefully reaching Oregon and winning.
This game is tough and unforgiving. You and your wagon train will experience snake bites, broken arms, dirty water, starvation, and of course, dysentery. Players are given resource cards like extra clothing and oxen as well as drawing event cards, slowly but surely making their way west.
Things can go bad quickly, and you need to work together to even have a chance at surviving. In the 45-minute-long games, you'll find yourself on the edge of your seat, expecting the worst and hoping for the best.
There's no feeling like being able to rest at a fort, mosey on into town, and reaching the Willamette Valley in Oregon. Safe travels!
What Makes It Great
Historical Immersion: The game offers a captivating journey back in time to the 19th century, allowing players to experience the challenges and adventures faced by pioneers on the Oregon Trail.
Role-Playing Element: Players take on the role of Trail Boss, adding an immersive dimension to the game as they make critical decisions and lead their party through the rugged terrain.
Strategic Decision-Making: Success in the game hinges on the strategic choices made by Trail Bosses, including resource allocation, route planning, and risk management.
Let's Compare Notes
We want to hear from you. To ask a question about this article or to provide additional information, shoot us a message at:

[email protected]
Sources:
Amazon Customer Review
https://en.wikipedia.org/
https://www.thespruce.com/7-wonders-duel-review-4693176
https://www.polygon.com/23734751/ticket-to-ride-legacy-game-trailer-daviau-leacock-moon
https://boardgamegeek.com/boardgame/224037/codenames-duet
https://www.meeplemountain.com/reviews/the-fox-in-the-forest-game-review/