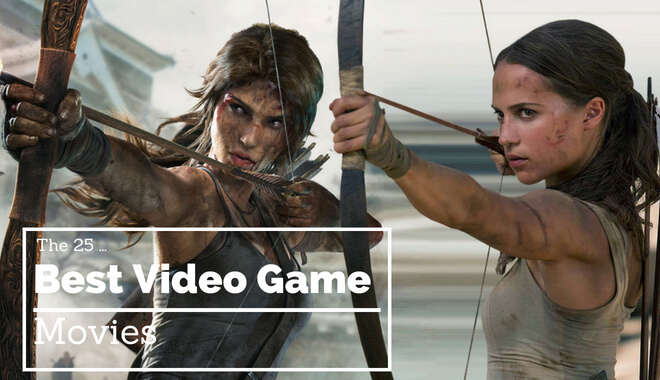 Critics on Rotten Tomatoes are not kind to video game movies.
It could be because the critics have a chip on their shoulder, or the audience reviewers weren't fans of the franchise, or because the movie was bad. Even our love for a franchise can't always overcome the painful experience of watching our favorite characters go through two hours of nonsense on the big screen.
But, that doesn't stop studios from putting out movies based on video games.
This list ranks the top 25 video game movies to ever grace the big screen. Our rating system involves a proprietary blend of Rotten Tomatoes scores and gross domestic box office numbers. We take the average ranking of the scores from both lists. In the event of a tie, the movie with the higher Rotten Tomatoes score takes precedence.
Spoiler alert: Super Mario Bros doesn't make the list.
Video Games Made Into Movies
Ratchet and Clank

Kicking things off here is the animated PG feature, Ratchet & Clank. The movie netted $8,821,329 in domestic gross sales. That number has no context yet, but you'll see that's it's pretty low compared to many other movies on the list.
Rotten Tomatoes has Ratchet & Clank at a solid 17% (still almost three times the rating of The Last Airbender, Shyamalan's bungled big screen miss from 2010, based on the incredible TV series of the same name–it's all about perspective).
The audience score came in at 42%, which is probably the better figure to go off of if you're a fan of the series.
The movie sees the titular characters square off against an evil alien looking to destroy the galaxy. "Along the way, they'll learn about heroism, friendship, and the importance of discovering one's own identity." It's rated PG for all the rude humour and the action.
DOA: Dead or Alive

DOA: Dead or Alive came out in June 2007 and scored a domestic total gross of…$480,813.
Not the most lucrative movie in the states. Foreign sales made up over 90% of the movie's gross earnings: $7,035,719.
With low domestic earnings, how did DOA make the list? Its Tomatometer comes in at 33%, nearly double that of Ratchet & Clank. The audience score sits at 36%, meaning the audience and critics must have watched the same movie.
If you're familiar with the DOA fighting games, you can anticipate the gist of the movie: fighters receive invitations to participate in an illegal, battle royale fighting tournament on a private island. Some recognizable characters make appearances in this live-action adaptation: Tina Armstrong, Kasumi, Helena Douglas, Ayane, Ryu, Bass, Bayman, and more.
It's worth a watch if your brain needs a break and your eyes want some action.
Pokemon the Movie: I Choose You

This Pokemon movie came out in 2017 to the tune of $2,401,722 in domestic grosses.
The title might give away the premise, especially to avid fans of the series. This movie follows Ash Ketchum, starting with his 10th birthday, on which he expects his first Pokemon from Professor Oak. We all know who that ends up being.
The pair pursue the legendary Ho-Oh pokemon. You can expect to see some familiar faces from the TV series.
The Tomatometer registers Pokemon The Movie: I Choose You at a solid 43%, with the audience score at 65%.
Final Fantasy VII: Advent Children

This animated feature was released direct-to-DVD (with English dubs) in North America in April 2006. The Japanese voice acted version shipped in 2005 in Japan.
The general consensus: Great animation, questionable plot. The total earnings for this film are a bit elusive, but as of 2009 over 4.1 million copies had been sold worldwide.
The story centers around a disease that's destroying the world. Cloud leaves his isolation to save the people from the disease and from the old enemies who have returned for vengeance.
Rotten Tomatoes critics give the move a 33%, with several critics praising the animation. Audiences, however, give Final Fantasy VII: Advent Children a whopping 84%. If you're a fan of the series, this is definitely a great way to kill some time on a rainy day.
Resident Evil: Vendetta

This won't be the last time you see Resident Evil on this list.
This 2017 release came to theaters in the US for just one night. It's the third movie in the Resident Evil franchise to pit Leon as one of the main characters.
Although domestic box office earnings aren't available, this movie made $15,000 in Australia, $176,409 in Mexico, $58,711 in Thailand, and $6,145 in the United Arab Emirates.
The Tomatometer reads 50% for critics and, in a funny twist, 47% for audiences.
The story for this movie takes place between Resident Evil 6 and Resident Evil 7: Biohazard. There's a new virus on the scene, and some bad people want to use it for bad things. Also, zombies. Fans of the franchise will likely get a kick out of this one.
Pokemon 3: The Movie

Pokemon 3 raked in a domestic gross of $17,052, 128 in 2001.
Rotten Tomatoes critics ranked it at 22%, and audiences doubled that and then some with 52%.
The movie features Ash Ketchum, Pikachu, Brock, Misty, and more. This movie centers around the Unown pokemon. Ash and company fight to save Molly, a young orphan tangled up with some bad mystical forces. This is the kind of movie you should only see if you're an avid fan of Pokemon. Or a kid. Or have kids who like Pokemon.
Doom

This movie felt like it could've been so much more fun. Still, it has a place in mindless entertainment, especially if you like Karl Urban or the Rock (Dwayne J, not the Connery movie).
Doom brought in $28,212,337 at the domestic box office with its 2005 release.
While it made decent money, the critics were not as generous. Doom sits at 19% on Rotten Tomatoes with a 34% audience score.
A portal to Hades opens up on a research colony on Mars, and a special marine response squad is mobilized to address the issue. It's a race against time and death as the marines fight to keep the monsters from leaving Mars and invading Earth. It's a fun romp, if a bit cheesy and predictable. There's a nice first person scene to look forward to, too.
Street Fighter

1994's Street Fighter took a domestic total gross of $33,423, 521. Not bad, especially since that only accounts for 33% of worldwide earnings.
When a crazy dictator holds a relief team hostage, a military commander is sent in to take him out.
With a Rotten Tomatoes score of 18% (and 20% from audiences), Street Fighter is more of a cult film than a "recommended for everyone" movie.
Need for Speed

$43, 577,636. That's how much Need for Speed raked in domestically. This isn't too much of a surprise, considering how popular the video game franchise is.
Audiences liked it, with a 57% audience score on Rotten Tomatoes. Critics were less kind, giving it a 22%.
The protagonist is hoping to save his struggling garage but ends up getting framed for murder. The film hoped to capture "the thrills of the game in a real-world setting."
Assassin's Creed

Michael Fassbender starred in this cinematic adaptation of the popular video game franchise. The domestic total gross for Assassin's Creed was $54,647,948.
If you're familiar with the franchise, you'll recognize pieces of the story. The animus brings Callum Lynch (Fassbender) back in time to relive the memories of his Assassin ancestor. As with the games, the skills from these memories impart to the modern-day user. Callum uses his skills to fight the society of Templars, both in memory and in modern-day.
Rotten Tomato critics hit this with an 18%, while audiences gave it a more generous 43%. It's a fun movie, but you might shake your head at it a few times.
| | | | |
| --- | --- | --- | --- |
| | | | |
| | | | |
| | | | |
| Pokemon the Movie: I Choose You | | | |
| Final Fantasy VII: Advent Children | | | |
| | | | |
| | | | |
| | | | |
| | | | |
| | | | |
| | | | |
Resident Evil: Apocalypse

This movie brought in a domestic total gross of $51,201,453. It was released in 2004.
In this series of instalment, Alice teams up with other warrior survivors to fight some zombies and to try and save what's left of Earth. In addition to the living dead, the survivors are pitted against the Umbrella Corporation, who might be their only hope in finding a cure for the zombie problem.
Critics gave this instalment a 20%, while audiences gave it a noteworthy 60% score on Rotten Tomatoes.
Resident Evil: The Final Chapter

Domestic total gross for Resident Evil: The Final Chapter was $26,830,068.
Rotten Tomatoes Critics gave the film a 36%, but audiences liked it a little less than its predecessor at 49%.
In The Final Chapter, Alice is the last hope for humanity. She sets about gathering allies in the coming showdown against the Umbrella Corps and the unending mass of zombies.
Resident Evil: Extinction

Resident Evil: Extinction was released in 2007 to the domestic gross tune of $50,648,679.
The critics gave it 23% while audiences doubled down with 58%.
This is the third instalment in the Resident Evil series. Alice gets her groove back in this one–she has amplified dexterity, strength, and senses thanks to an Umbrella Corporation experiment.
She teams up with some friends to fight zombies and stop the virus that's causing the living to rise again.
Resident Evil: Retribution

Total domestic gross? $42,345,531.
Critic reviews on Rotten Tomatoes put Resident Evil: Retribution at 31%. Meanwhile, audiences put it at 51%.
The world is still under attack from the T-virus. That's the virus Umbrella Corporation created and released, which is rapidly turning the Earth's population into ghoulish zombies.
Some old friends are back, as are some new allies. Alice learns more about her past as she tracks down the evildoers. And, no spoilers, but…the movie description teases a "mind-blowing revelation that will force [Alice] to rethink everything that she once thought to be true."
Silent Hill

DTG: $46,982,632.
Silent Hill was released in 2006, based on the game of the same name.
Audiences liked it, giving the movie a 62% on Rotten Tomatoes. Critics settled at 29%.
The movie centers on a mother looking to find a cure for her daughter's illness. This ultimately leads her to the titular town, Silent Hill. It's a spooky place covered in a perpetual fog. It's also home to a living, transforming darkness.
Resident Evil

Yes, another Resident Evil has made the list. The first installment in the series, Resident Evil netted $40,119,709 at the US box office.
Alice and her commando team battle through an underground research facility owned by the Umbrella Corporation. The corporation has released the zombie virus into the facility and has turned the employees into the zombies Alice spends so much time fighting throughout the series.
Rotten Tomatoes gave it a critic score of 34% and an impressive audience score of 67%.
Warcraft

Warcraft earned $47,365,290 in the domestic box offices, but that only makes up a little over 10% of the movie's worldwide earnings. Warcraft made over $386,000,000 in foreign theaters.
Critics gave it a 27%, but audiences ranked it much higher: a whopping 77%.
One of the coolest elements is orc animation. They're really fun to watch, voiced well, and impressively animated.
This movie tells the story of how the orcs came to find themselves in the realm of humans. Gul'dan, Anduin, Medivh, Durotan, Orgrim Doomhammer–fans of the World of Warcraft universe will have fun watching this, as long they take it for what it is!
Final Fantasy: The Spirits Within

This 2001 release made $32,131,830 in the US.
It was a landmark film, as it was "the first feature-length motion picture to use computer-generated imagery to create not only effects, props, and environments but also the human cast members themselves".
The world has been overrun by space monsters as a result of a meteor collision. Civilization has taken shelter in the remaining cities, which are only safe from the alien phantoms because they're protected by barriers.
The protagonists are up against the clock in their search for a solution to this alien invasion.
Critics say 45%, audience members say 48% on Rotten Tomatoes.
Resident Evil: Afterlife

Yes, another Resident Evil makes the list. The domestic total gross for Resident Evil: Afterlife came in at $60,128,566.
Fans were so-so about the film, giving it a 48% audience score. Meanwhile, critics hit the Afterlife with 23% on Rotten Tomatoes.
This movie takes place five years after the world was decimated by the release of Umbrella Corporation's zombie virus. Alice is still on the hunt for those responsible, and for those in need of saving. She teams up with survivors to track down rumours of a safe haven in LA.
Lara Croft: Tomb Raider

Lara Croft: Tomb Raider is the highest domestic grossing film on this list, coming in at a substantial $131,168,070.
Unfortunately, the reviews don't match the earnings. Critics gave it a 20%, while audiences gave it 47% via Rotten Tomatoes.
Lara Croft is a relic hunter. The first movie in the franchise pits her against the Illuminati. She races against time and her enemies to find an ancient artefact, the kind of magical tool that would give its owner control over time and death.
Lara Croft Tomb Raider: Cradle of Life

The back-to-back! Tomb Raider: Cradle of Life managed to eke out a more favourable critic rating on Rotten Tomatoes than its first instalment: a 25%. Audiences gave it a 44%.
The movie earned $65,660,196, just about half of its predecessor.
In Cradle of Life, Lara Croft is on the hunt for Pandora's Box. This time she's pitted against a Chinese crime syndicate and a malicious genius who wants to harness the relic's power to build an unstoppable weapon.
Mortal Kombat

Mooortal Kombaaaaaat! FIGHT!
So iconic. Mortal Kombat netted $70,454,098 back in 1995 when it was released.
According to Rotten Tomatoes, critics gave it 34% and audiences gave it a 58%.
The story centres around an intergalactic fighting tournament. The fate of humanity, as to be decided by aliens, all comes down to this face-off. Liu Kang, Johnny Cage, and Sonya Blade team up (with help from Rayden) to save the world.
This movie is all about combat, so don't dive into this one unless you're hungry for the plot!
Tomb Raider (2018)

The Tomb Raider reboot released in 2018 has earned $57,352,530 at the time of this list.
Also at the time, Tomb Raider has a 49% critic score and a 63% audience score, making it the highest-rated video game movie…of all time (with Resident Evil: Vendetta at a close second).
In the reboot, Lara Croft is trying to find herself (figuratively) and her missing dad (literally) who disappeared when she was a teenager during one of his adventures. She needs to travel to a "fabled tomb on a mythical island that might be somewhere off the coast of Japan." That's the last known location of her father.
Prince of Persia: Sands of Time

The Prince of Persia earned a heavy $90,759,676 in domestic total gross, just 27% of its worldwide gross.
It's well-rated as far as video game movies go. Critics on Rotten Tomatoes gave it 35%, while the audience score sits at 58%.
The titular struggle of the movie involves a legendary dagger: the Dagger of Time. It has the power to manipulate time: slow it, turn it back, etc. Prince Dastan undertakes the mission of keeping the Dagger of Time out of the possession of an evil tyrant.
Angry Birds Movie

Yeah, admittedly a pretty funny choice for number 1. But we made our rules for ranking this list, and we had to stick to them.
The Angry Birds Movie earned $107,509,366 in domestic total gross.
And, on top of that, critics gave it a 43% on Rotten Tomatoes! That's a high score in the realm of video game movies. Audiences gave it a 46%.
The success of this movie no doubt stems in part from the massive success of the mobile game (which really was a blast).
This movie allegedly answers why the birds are so angry…as recognizable birds from the mobile game investigate the appearance and motives of green pigs that show up, suspiciously, on the birds' island.
For sticking with us 'til the end, you get a bonus!
5 Movies Based on Video Games Coming Out In the Next Few Years:
Rampage

We'll just miss the release of Rampage, but this movie looks like a lot of fun. A giant alligator? A flying wolf? An enormous white ape?
And who doesn't love The Rock?
We'll admit it. There's some nostalgia mixed in, here. But with how beautiful CGI has gotten, we're looking forward to this one.
Minecraft

A movie based on the game? If it's anything like the Lego movies, we might have a real romp on our hands!
Hopefully, it's not as addictive as the game (it won't be, that's never how it works). We've already dumped too many hours of our lives into building sky towers, water temples, and hobbit holes.
Dynasty Warriors
This movie has a cast and production photos available, which is always a good sign. It's slated for a 2018 release.
Fingers crossed for gorgeous scenery and awesome combat. And no shoddy English language dubs!
Sleeping Dogs

We're hoping this will be even more fun than the Max Payne adaptation (honourable mention). It feels like one of those concepts that could translate to the big screen.
Uncharted

Details surrounded this movie is hard to come by, but we're looking forward to spending more time in the Uncharted world.
Sources:
http://www.boxofficemojo.com/movies/?id=doadeadoralive.htm
https://www.imdb.com/title/tt1464335/
https://www.imdb.com/title/tt1464335/