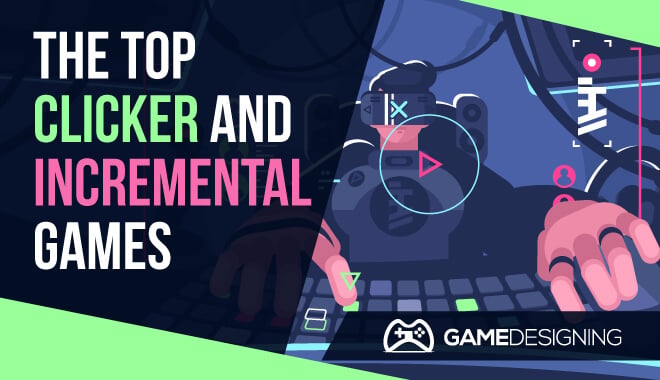 I know what you are going to say.
Idle games? Aren't games meant to be played, not just, well, be idle? Isn't that just a loading screen? Where's the gameplay?
Slow down, easy. I'll let you in on an emerging genre of gameplay that you probably never heard about before.
Idle games, sometimes known as 'clicker' or 'clicking games', are a type of game in which the player incrementally clicks, (or performs a similar simple action), to achieve some goal within the game.
In some instances, the 'idle' in idle games becomes apparent, as the game may start to effectively play itself without the player's constant input by way of upgrades and abilities.
The game will often have the player wait for the construction of buildings, or the gathering of resources to extend gameplay.
In short, you usually start small: a lone warrior, a small building, a lowly butterfly net. Soon you become an expert, acquiring resources, and dominating the game with nothing but the click of your finger.
Before I knew what these incremental games were, I was very skeptical. However, I booted up a few and found myself entranced.
By their very nature, the games are addictive.
This is the perfect genre of game for literally any gamer, especially those looking to relax, kill time, or just casually play a game that maybe you wouldn't engage with normally.
I started playing an idle game at around 9 AM to see what all the fuss was about, and before I knew it, it was two hours later with my hand a little sore, but I was enraptured by these simple mechanics.
I consider myself a bit of a hardcore gamer, so I was surprised by this.
In short, I recommend trying out these games. But which are good ones to try? Which are the best games?
Our Ranking Criteria
In addition to player and critic ratings, we use objective metrics like sales, users, and sales growth rate to make our lists (read more). Some of these data sources include:
The 20 Best Idle Games
Cookie Clicker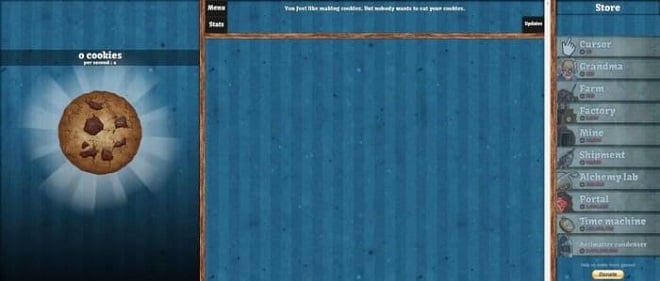 This is the trailblazer of the idle game genre. It is considered the most important incremental game in terms of developing the genre further.
In it, the player gains a cookie each time they click. With the cookies gained by clicking the giant cookie, buildings and other things can be purchased. After a while, upgrades and the like can be utilized to get more cookies per click, and even collect cookies on its own.
It was created and released by Julien "Orteil" Thiennot in 2013. Although not exactly the first clicker game, this was by far the most popular release at the time.
Its addictive gameplay, so simple yet complex, was so alluring to many gamers that hadn't played a game like this before.
Doge Miner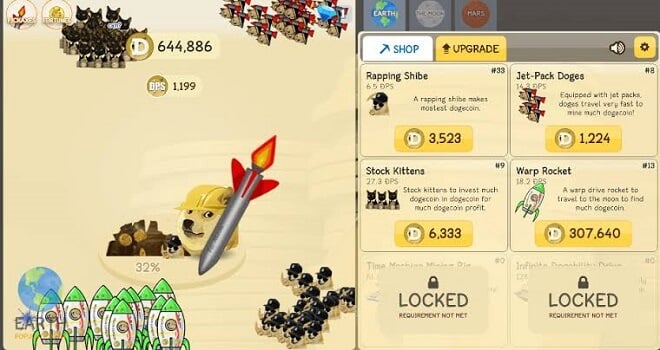 One of the internet's favorite memes has its own idle game.
In Doge Miner, everyone's favorite Shiba dog mines for 'dogecoin'. You start with one mound of rock to mine. Quickly, you earn enough coins to hire more Shiba Inu pups to help you mine some coins. Your DPS, (dogecoin per second), will be displayed.
I got sidetracked by playing this game as I was researching for it. It's truly addicting, and it is so simple!
You will acquire more coins, eventually buying a rocket ship to fly to the moon. If you love the internet's quirkiness and want something more unique to play, Doge Miner will scratch that itch.
Enchanted Heroes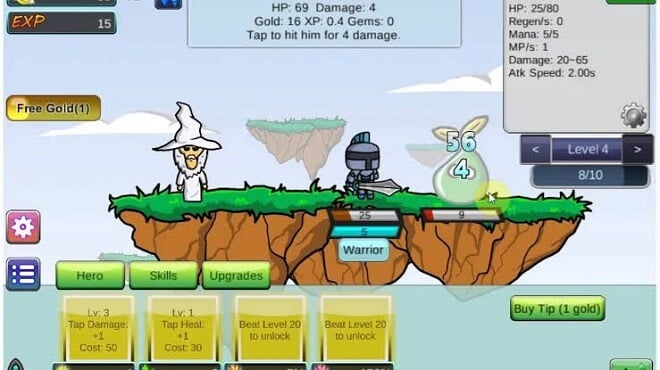 RPG fans rejoice! Enchanted Heroes is an incremental game in which you take on the role of one of the enchanted heroes.
You can be a knight, attacking enemies with a simple click. Who needs to punish a monster by executing a bunch of moves using a bunch of different keys? All you need to do is click directly on the monster to hear it. You can also click yourself to heal after taking damage.
Upgrades include new weapons and armor for your hero. When you take a break from the screen, heroes will continue to slay beasts for you, earning your income to buy the upgrades and power-ups.
Grow Defense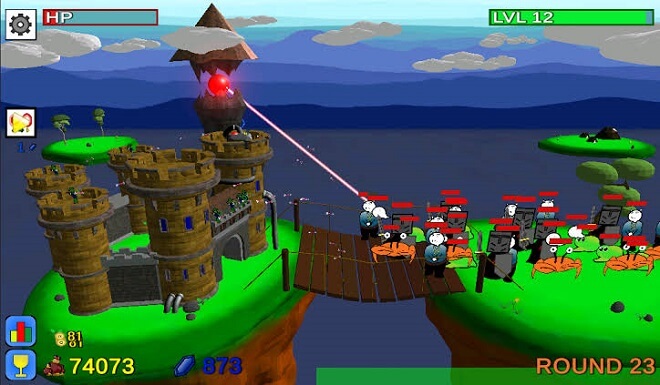 Fans of tower defense games will eat this one right up. The 3D graphics are super stylish and cartoonish, conjuring up images of Orcs Must Die and its derivatives. You, of course, need to click to defend your castle. You start with a little tiny gatehouse being assaulted by the equivalent of the goombahs from Super Mario.
Instead of clicking merely anywhere, you need to click directly on the enemy to launch projectiles at them. The game is presented through different rounds in which you will defeat a certain number of enemies. Eventually, you upgrade to a bigger fortress, culminating in an imposing citadel, fighting off stronger enemies.
People who gravitate towards real-time strategy games like Age of Empires and Stronghold will find something for themselves with this idle game.
Doge Miner 2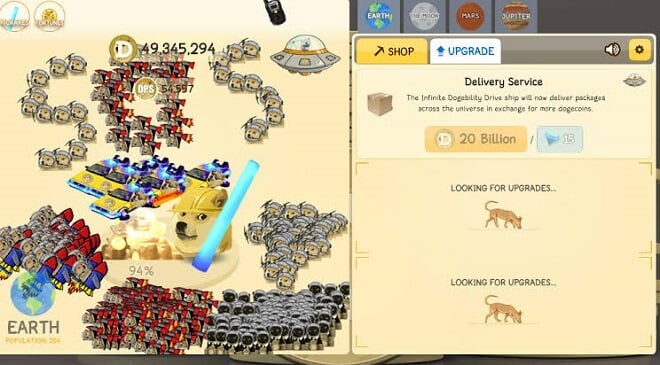 We're back with our favorite internet dogs, (doges), for the second round of addictive clicker action.
You need to get to the moon to mine it for even more coins. Along with your population of doge miners as well as 'slave kittens' who post cute videos to the internet, you'll be raking in coins in no time.
Different quirky upgrades, bonuses, and more allow you to bring in the coin without even clicking. You'll get pickaxes made of moonstone, moon bases, higher doge salaries, and more to increase your gold per second.
Room Clicker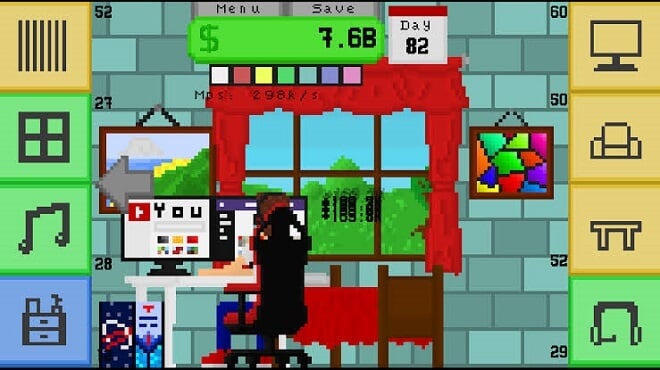 Created with the Construct 2 engine, Room Clicker puts you in the role of a character sitting in—you guessed it—a room!
In it, you start clicking to earn income. You can eventually afford to earn upgrades that fill out the room and make you passive income in the process. Things like a comfortable chair, new headphones, and a table will net you in the big bucks.
Not only that, but the art style is great. It is reminiscent of old school games from the NES. Some of the upgrades are worth thousands and thousands of dollars, which can be intimidating. However, if you click enough and spend your resources well on some upgrades, you will be purchasing these super expensive powerups in no time at all.
This incremental game is a cool little stylish title you should check out.
Idle Breakout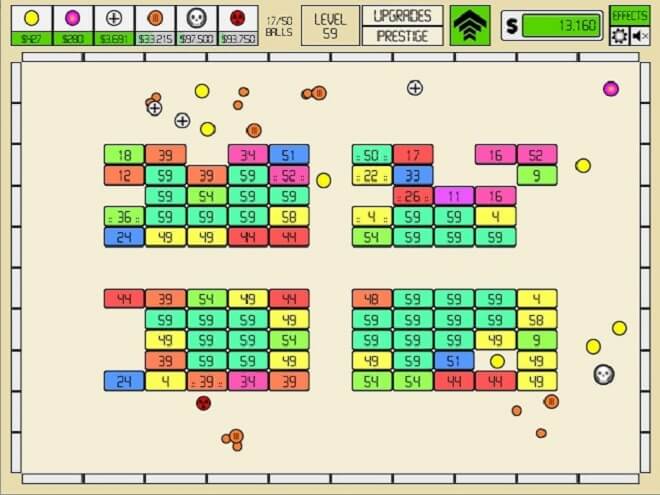 This colorful and fun game is based on the original game, Breakout, in which it borrows heavily some of the aspects of it. You need to destroy blocks with numbers, (indicating the number of times that they need to be hit) and clear the board.
Upgrade the dots in which to cause damage, so a block with a '156′ on it can eventually be destroyed with a touch of a certain, powered-up dot. Then, you get a slew of upgrades like speed and power to make the board not just an idle game but a simple, yet effective and colorful work of art.
The power of it lies in its simplicity.
Darts Idle

If you love darts, this is right up your alley. This simple yet effective game takes darts and adds a bunch of interesting features. With one click, you choose your dart color type, your name, and your opponent.
Once you start, it is not as simple as just throwing the darts. You need to manage your stamina and nervousness meters to make your best throw and vanquish your opponent. The upgrades, in turn, increase stamina and lowers your nervousness.
Clicker Heroes

This incremental game for iOS is super satisfying. Fans of RPGs will eat this one right up, as you start with a single hero, with all the clicks turning you into a veritable god.
Idle games fit right into the RPG genre flawlessly. The more you click, the stronger you get. The upgrades you get, in turn, make you hit harder and defend you more. Eventually, you'll be stomping enemies left and right.
Egg, Inc.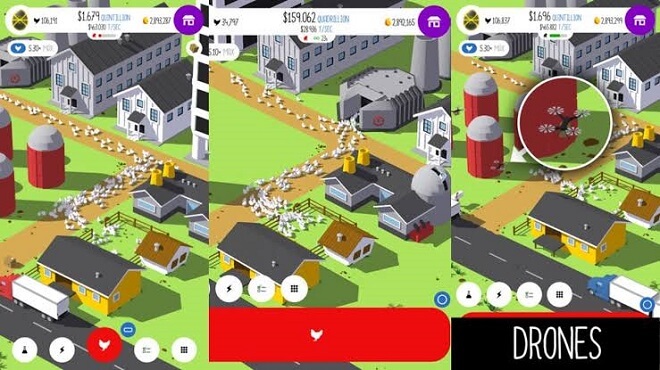 This idle clicker game deals in hatching chickens. It seems simple and a bit innocuous, right? Well, like many other clicker games, appearances can be deceiving. You need to have the best farm and have chickens lay more eggs. These eggs, in turn, can hold the secret to the universe.
You read that correctly. Idly, you start small but then quickly became an egg tycoon. You have to build different buildings, acquire trucks, and farms. Power-Ups include getting unlimited chickens for 30 seconds, golden eggs, and more.
Cow Clicker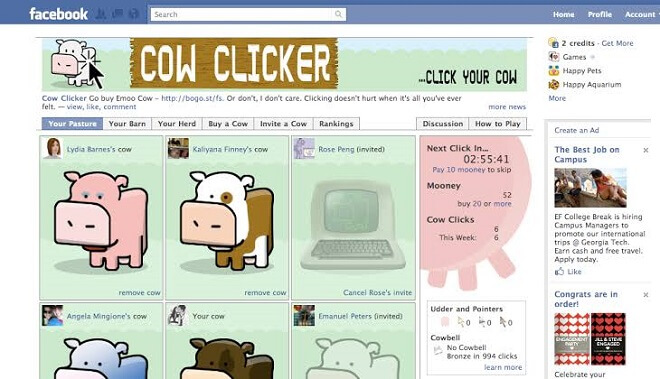 Cow Clicker is an idle game on Facebook, making it perfect for nearly everyone to easily play. The aim of the game, however, is satirical for social media games like FarmVille and others. You need to click on a cow every 6 hours.
The creator made the game to make a scathing point about much-abused aspects of social media gaming.
Players can visit each other's cows and click for them, and acquire money, er excuse me, 'Mooney' to buy upgrades and such. This game is genius because not only does it include good gameplay, but it also has a great social commentary behind it.
The gamification of social media, as well as exploiting players for income rather than for the art of the game were the main aspects of creator Ian Bogost's philosophy while creating aspects of the game.
A game that's fun as well as having a valuable and current commentary on civilization and social media? Sign me up.
Candy Box!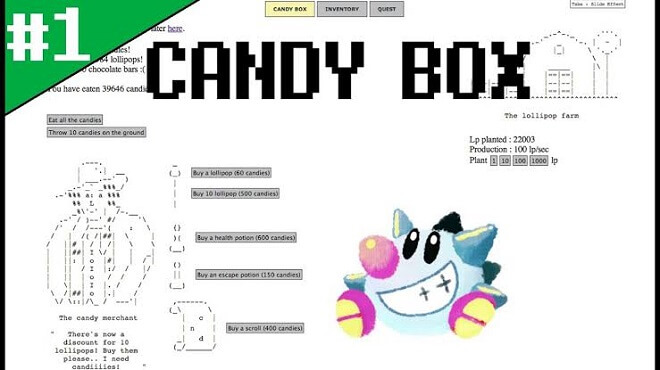 Released in 2013, Candy Box! was developed by a 19-year-old dubbed 'aniwey'. This just goes to show that age doesn't matter when you want to accomplish your game designing goals.
Anyway, the game is based on candies of course. You start with zero candies but click enough and you will earn an impressive bevy of them. The game evolves from simple clicking and incremental aspects to going on quests and slaying monsters.
I love this wild progression from a simple time-killer game to something with a surprising amount of depth to it. Not only that, but it was developed by a college student!
AdVenture Capitalist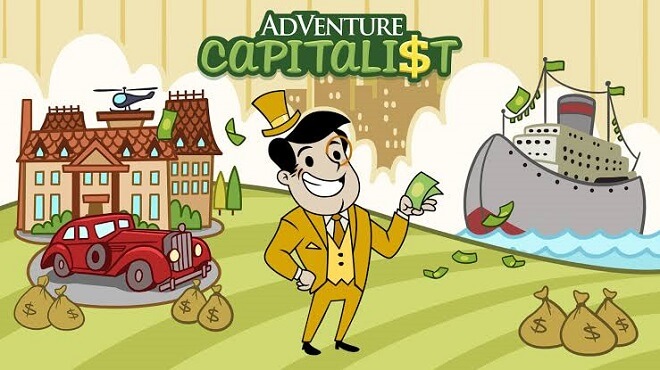 In this incremental game for the PC, you play as a young go-getter trying to start their own business.
In a parody of starting your own business, you begin with a lemonade stand, but quickly make your way up through the ranks, tackling every business venture you can. You hire managers, and that's where the 'idle' comes in. Your managers keep getting you money even while your attention is elsewhere in the game.
Plantera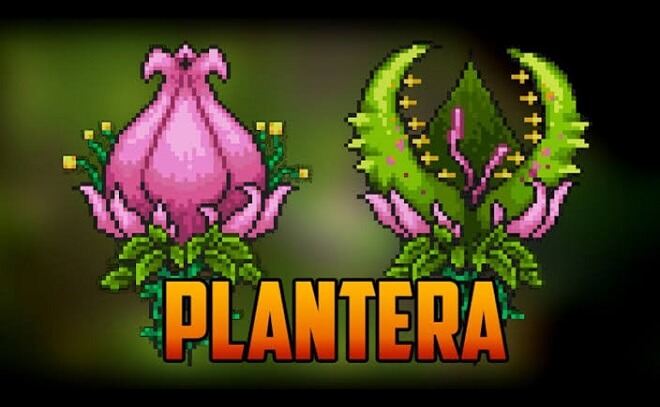 This whimsical game has you clicking to catch butterflies, and eventually, you'll move your way up to planting different crops. Blueberries, carrots, you'll plant it all.
The clicks will keep you upgrading different crop types as well as defending against annoying animals trying to taste the (literal) fruits of your labor. Check this one out if you are a Stardew Valley or Harvest Moon fan.
Crafting Idle Clicker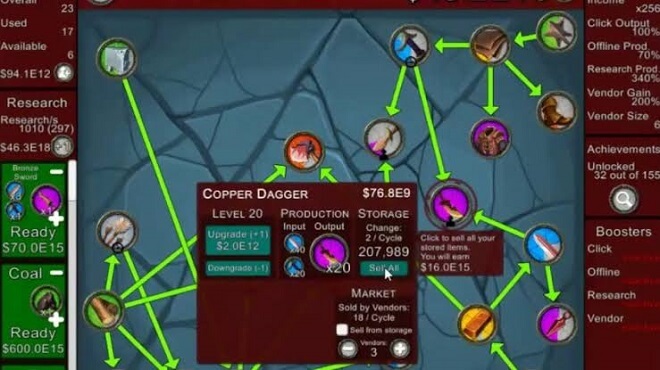 This clicker game takes place in the distant past, namely the 5th century. Instead of taking part in the battling, this incremental game emphasizes creating armor and weapons. You craft different items for upgrades like blueprints, lore points, and gems.
It is jam-packed with goodies to come across in your usual clicking. You harvest resources to make jewelry and advance to new eras where more upgrades and power-ups are available to you.
You can 'reincarnate', which allows you to start over with your powerups and the like but allows you to gain achievements once more and stack your resources even more. You'll dominate.
Bit City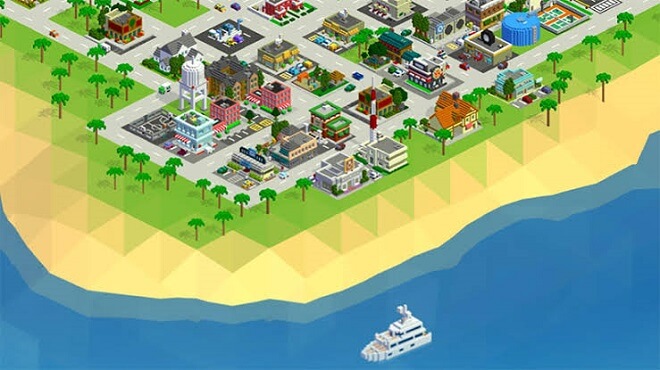 Some of my favorite PC games are City Builders, so this clicker game drew me in immediately. Ever since my first time playing SimCity back in the 1990s, I was hooked.
Here is the idle game response to city building.
In Bit City, the player starts with a tiny town and eventually fleshes it out into a full-fledged city by upgrading buildings like firehouses, police stations, and different houses. Each of the many buildings has its upgrade, so they will earn you currency to further upgrade buildings. You will earn power-ups like an increased tax rate, making buildings give you a larger output than normal.
Not only are buildings sources of income, but things like the DMV and toll roads affect the output of cars as well.
Crusaders of the Lost Idols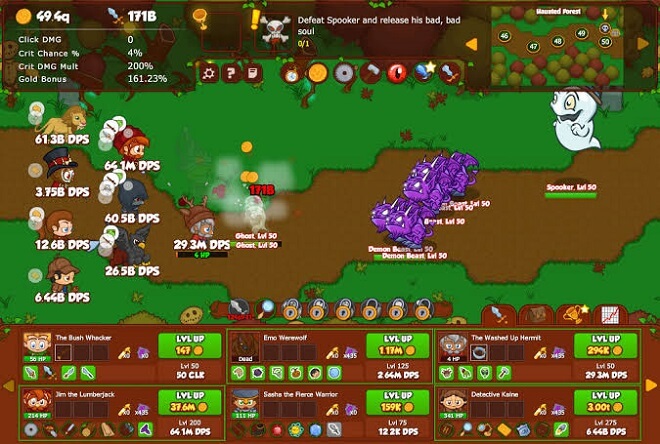 First of all, I love the title. Fans of Final Fantasy, side scrollers, and other RPGs will be familiar with the setting and characters. It's RPG-heavy, in that you control fantasy characters as they fight monsters. The more coins from defeating monsters earn you more heroes, therefore being able to attack more monsters at once, netting you some serious coin.
You need to also be strategic, as party formation, (like in Final Fantasy titles), is super important.
Realm Grinder

In this RPG idle game, you rule over a kingdom in which you need to build certain buildings to make you income. These include inns and blacksmiths.
It builds the realm's economy and earns you income, and you can ultimately choose to form alliances with other creatures, kingdoms, and more.
Fans of RTS and RPG titles will eat this one right up. This idle game for Android is a perfect game for fantasy fans looking for a fun little way to unwind.
Time Clickers

I love the visuals in this game. For a second, I thought it was a spin-off game from the TimeSplitters franchise.
It is played as a first-person shooter, in which the player shoots blocks, upgrading to better and bigger weapons. You'll eventually fight against bosses and get better guns to shoot the blocks for you, adding the idle aspect.
The visuals and the gameplay are both really solid and impressive for such a simple game.
A Dark Room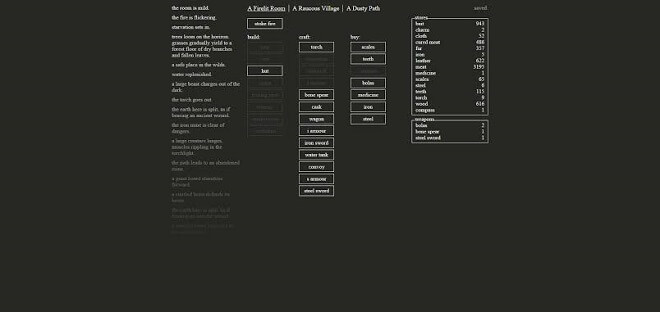 This is an interesting one. It is a text-based, atmospheric survival game reminiscent of many text-based games from the earlier days of gaming. You need to find the resources to survive the titular dark room and utilize survival methods by engaging in incremental clicks.
This is a great title since it seems, at face value, to buck the trends of the entire genre. It's more in line with a story-based survival horror game. Genre hopping like this is a great sign going forward for idle games.
So, there you have it: some of the best idle games out there.
Idle games can appeal to those types of gamers who need to unwind and just let a simple story or game mechanic take them away. Escapism can be fun and simple, folks!
As exhibited by the list, incremental games have a great future on the market. I can without a doubt give my full endorsement to this genre of game. Now I'm going to go through this list myself and try each idle game and spend the rest of my day mining for some dogecoin.