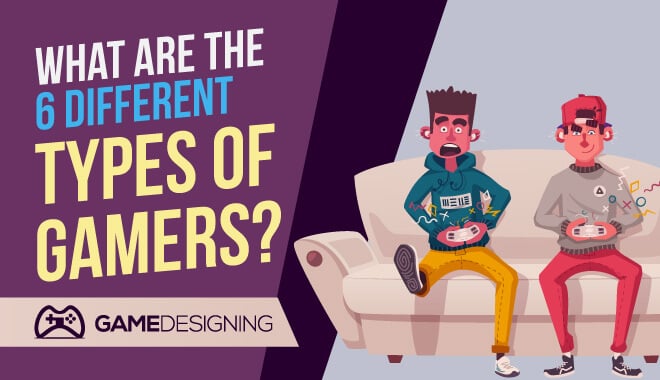 To the outside world, gamers must seem like a uniform bunch: people who play games fit conveniently under one umbrella as gamers. However, this couldn't be farther from the truth!
For the general public, there are 6 different types of gamers.
For developers, there are 4 types of gamers, as described by Bartle's Taxonomy. We'll cover that below as well.
The Hardcore Gamer
This is the ultimate gamer. This type of gamer takes no prisoners, including themselves.
One night I was playing Call of Duty Modern Warfare 2 with my friend John. He was a hardcore gamer, spending hours on hours trying to reach all prestige levels and dominate the game. He would become involved in the game; he got angry at others and would learn the multiplayer maps in-depth so he could take advantage of all of the most beneficial spots.
As the night went on, I got tired and retired for the night. I was not very invested in Call of Duty. For me, it was just a fun diversion with friends. The next morning, I texted John to see how his night of improving his kill to death ratio went. 'I never went to bed,' he replied. I was shocked.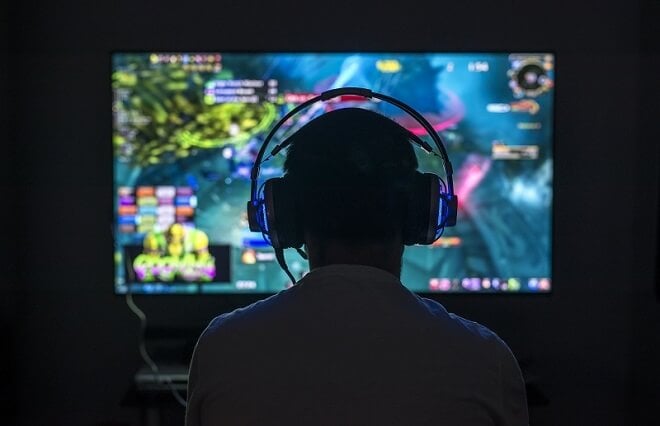 I mean, I am not a stranger to staying up late playing games, but this was almost too much to comprehend. Not every hardcore gamer is like my friend John, but when I think 'hardcore', I think of someone who is heavily invested in besting the game, no matter the challenge or consequence.
Some more well-known hardcore gamers would be professional players found in the Esports league. These gamers train nearly every day, attempting to beat other players in their chosen games, as well as their high scores and personal bests.
Being a hardcore gamer can be extremely profitable s well, if you can prove yourself and make it to the top of the heap. For example, the recent winnings of Fornite alone in Esports was a pool of nearly $15 million. Even split between the winning team, this money is nothing to put your nose up at.
The downside to hardcore gaming regarding Esports is that you invest much of your time and life into playing the game of choice. If you are okay with that, then go for it!
The Casual Gamer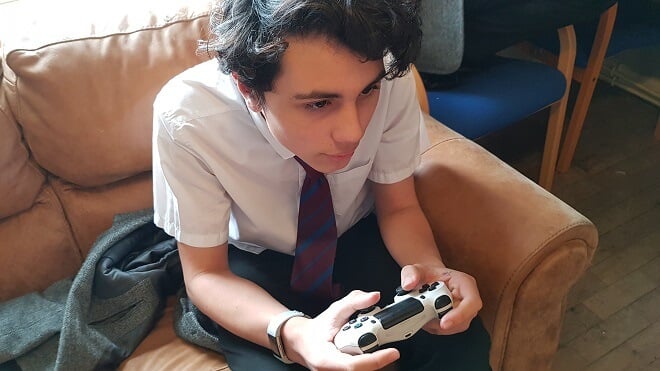 Okay, so I know that there may be somewhat of a negative connotation concerning the term 'casual. Indeed, I have had it hurled at me as an insult in some online games like Call of Duty and Dark Souls. The latter specifically regarding my low dexterity. 'Get Gud, casual' was the refrain.
Casual gamers make up a huge portion of the gaming population.
Those who play for the story of a game, who go at their own leisurely pace are gamers that take in the scenery as much as they can, making it into a full-blown atmospheric experience. Casual gamers need not necessarily be 'rookies' or 'noobs', but rather have an attitude that the outcome of the game is not the main reason they play games.
Perhaps when picturing a casual gamer, you think of someone playing sudoku or completing crossword puzzles. Not so!
A casual gamer can be someone who merely plays on a lower difficulty than others. Where the hardcore gamer plays The Witcher III on the highest difficulty, attempting to 100% complete the game, the casual gamer spends time collecting herbs, slaying the occasional beast in their way, and experience the rich open world and amazing storyline.
To the hardcore gamer who threw insults of 'casual' my way: you're right I am! I don't feel shame anymore in picking the lower difficulties in games, so I don't get frustrated and get to experience some great story-driven games.
Single-player RPGs are my specialty, and experiencing the world for hours should be fun, not difficult and frustrating.
The Mobile Gamer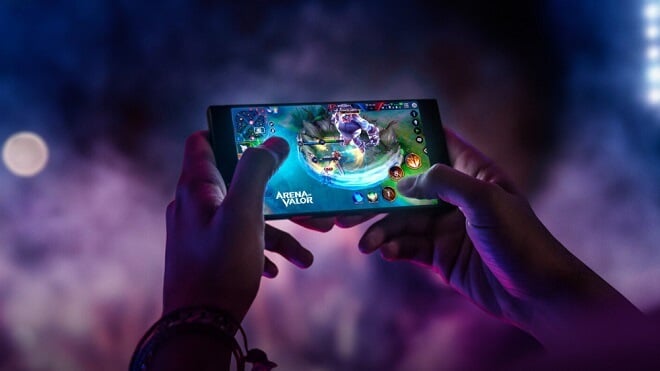 Again, preconceived notions of mobile gamers conjure images of peoples' mothers playing Bejeweled Diner Dash, and Tetris.
Are we going to trash-talk Tetris? Not on my watch.
While that can certainly be true, the mobile gaming market rakes in billions of dollars. It's a great, evolving market within gaming that impresses year after year.
Recently, Stardew Valley was released for mobile. This is a pretty in-depth game that is jam-packed with content; basically, the polar opposite of Bejeweled.
I have played some great, addicting games on mobile, and can recognize the amazing potential these platforms have. I dare you to download Piffle and not get instantly hooked on its tight, impressive gameplay. In it, you must break blocks using a limited number of projectiles.
Sounds simple enough, right?
Well, there are plenty of levels, and they can get pretty unrelenting. The thing that should be emphasized is that many of these great little gems you can download are sometimes completely free of charge.
Think of Word with Friends by the cellphone gaming giant Zynga. I was hooked to the digital Scrabble variant for YEARS.
People eventually stopped playing with me because I would keep sending them reminders, then promptly destroying them through my meticulous placing of letters.
Some mobile games have given me some great gaming memories, and that's what makes them memorable and a category all their own.
The Online Gamer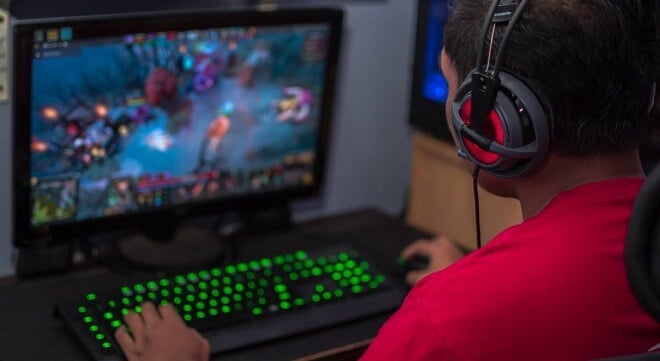 We all know the online gamer. Someone who plays games like World of WarCraft or Overwatch for hours. These gamers take pride in their in gaming expertise, often taking their skills to the rest of the world through the forms of player versus environment and player versus player gaming modes.
My friend Chris was an avid Dark Age of Camelot player back in the early 2000s. He was dedicated to a fault; he had multiple characters leveled nearly to the level cap. He knew all the game mechanics and ins and outs of the different servers. He didn't need to use a map anymore since he knew the terrain of the virtual world as his surroundings.
It is easy to categorize Chris as a hardcore gamer as well.
RuneScape is another great example of a game that fostered the online gamer. RuneScape offered a free, comprehensive, yet casual online gaming RPG experience.
Online gamers love to enter a gaming world populated by other players, either combating them or teaming up to defeat an insanely difficult boss that they wouldn't be able to defeat on their own.
The Observer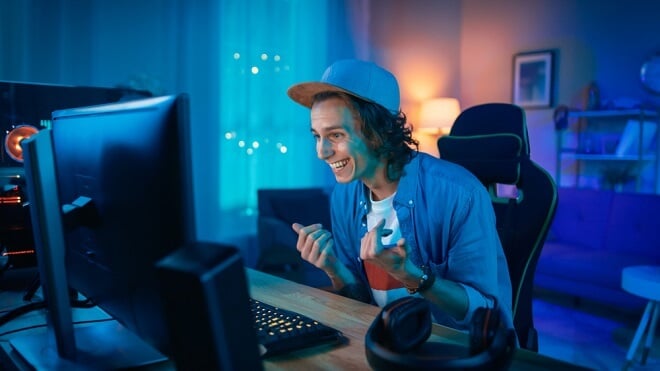 The observer is a gamer who loves to watch others play games. This is a storied tradition for anyone who had older siblings or friends that were perfect at gaming. I remember watching my friend play Resident Evil 3: Nemesis because I knew that I would be way too scared to play myself. This has become an explosive phenomenon as of late.
Streaming games on platforms like Twitch and YouTube has become commonplace on the internet. I love to settle in with some dinner, get comfortable, and watch someone play a great, story-driven game. This allows gamers and watchers to see the games that they might be interested in getting. This is the perfect chance to see aspects of the games and judge for yourself if you want it. You can also utilize these gaming communities to connect with other observers like you.
The Armchair General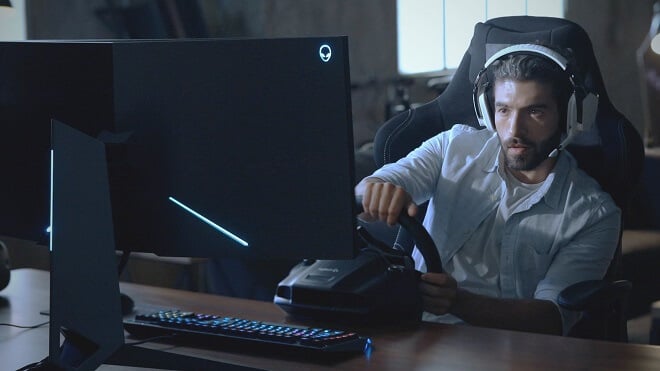 These gamers are burgeoning strategists and players who dream of glory. Games like those in the Total War franchise, Europa Universalis, Civilization, and Crusader Kings II are the bread and butter of the Armchair General.
These players blaze trails through the global stage, attempting to use their guile, cunning, intelligence, and military might shape the face of the world they inhabit.
I remember learning how to play Crusader Kings II on my own. It was challenging, but once I got the hang of it, I dominated the medieval European continent as the impressive, fearsome empire of Sweden, led by an elderly emperor with a penchant for cruelty and torture.
Armchair generals can thrive on the personal narratives they create through their gameplay. They may also be history buffs, like many strategy games on the market either deal with historic elements or entirely take place in specific historical periods.
For example, the classic real-time strategy game, Age of Empires II, is based entirely during the medieval period, having you command historical heroes like Joan of Arc and William Wallace.
Now, armchair generals can also extend to more casual games like Cities: Skylines. They need not necessarily be obsessed with grand strategy, but it is the dominant genre.
Which Type of Gamer are You?
So ends the categorization of gamers. Again, just because one gamer falls into one category doesn't mean they can't belong to others as well.
For me, I'm a casual observing mobile armchair general. A mouthful, surely, but I can be categorized as nearly all of them.
The most important questions through all of this are:
Which type of gamer are you?
Are you the hardcore type; those that 100% complete a game, beating every aspect and mastering game mechanics?
Or are you more like a casual mobile gamer who relishes in playing Words with Friends over a few days?
The Bartles 4 Gamer Types
For us game developers, we organize our users into four groups. To do this, we'll use Bartle's Taxonomy of Player Types.
Bartle Player Taxonomy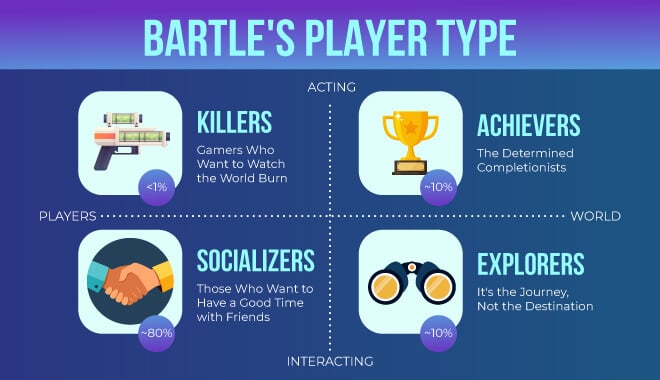 While it sounds rather fancy, the Bartle test of Gamer Psychology is a simple way to determine the psychology a player while playing a single-player or multiplayer game.
Categorizing players and their different playstyles gives you a better idea of who is playing your game, and what kind of psychological profiles players have.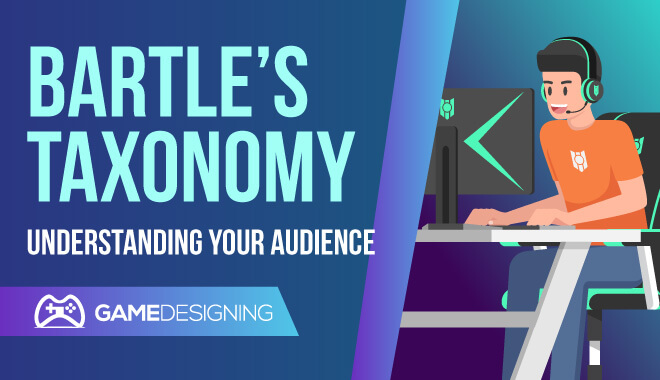 Having a clearer picture of what types of gamers populate certain games and online communities, incorporating that as a factor in game design is crucial in some cases. Depending on what genre of a game someone develops, key aspects appeal to different Bartle types.
Call of Duty probably appeals more to achievers and killers, with a leaderboard and fierce competition being the main focus of gameplay. Call of Duty wouldn't really hold much appeal for explorers, as there are timed rounds, fast-paced gameplay, and the game world is rather shallow.
If a game is more casual in nature, chances are that socializers and explorers will flock to it.
It seems that role-playing games are the types of games that frequently hold all of the Bartle taxonomy of player types. Achievers earn gold and XP, socializers carouse and talk with friends, explorers scour the game world, and killers raise hell.
The Origin of the Bartle Player Taxonomy
The Bartle taxonomy of player types was developed in 1996 by Richard Bartle. Bartle, a British writer, professor, and game researcher, brought forth the taxonomy in a paper he authored.
Later on, around the year 2000, the actual test was developed by Erwin Andreasen and Brandon Downey and has people answer a set of 30 random questions. These questions, with binary answers, are framed to determine which of the 4 types of gamers you most relate with.
The original site with the test is no longer available, but some alternatives closely resemble the test enough that test-takers can find out their psychology.
A diagram containing four sections, each with the different categories, shows which of the Bartle types a player is. The different Bartle types are determined through four different mixes of things: Players, Acting, World, and Interacting.
Bartle's Taxonomy: Types of Gamers
The different groups of player taxonomies are:
Socializers
Explorers
Achievers
Killers
Abbreviated as SEAK.
While any Psychology student could attest, nothing is definite, and that behaviors lie on a spectrum or gradient. This is true for the Bartle test as well.
Let's take a closer look at the 4 types of gamers and determine which type you relate to the most.
Achievers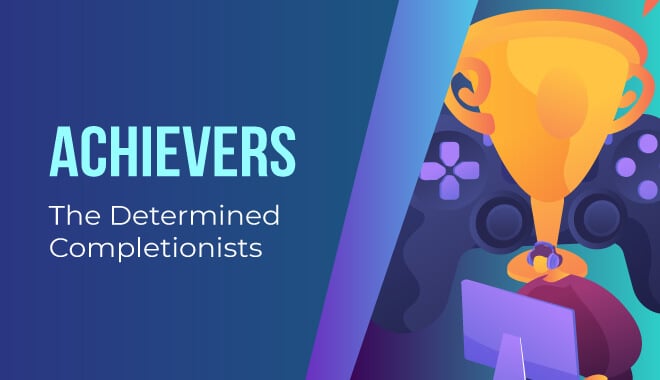 Achievers, also known as 'Diamonds,' are players that are entirely dedicated to achieving impressive gaming feats. This manifests itself in different ways:
In first-person shooters, it could be killing every player on the opposing team.
In role-playing games, it can be earning the best equipment and completing all of the available quests.
For achievers, it seems like it is never enough. They are highly motivated to complete in-game activities for potential loot and will dedicate hours of time to bettering themselves and potentially maxing out everything in a game.
If you have ever tried to earn a 100% completion rate in a game, chances are you have the makings of an achiever Bartle type.
For achievers, games are meant to be beaten, nothing else. You will most likely find achievers at the front of the pack, seeking glory and fame.
Single-player Appeal to the Achiever
Single-player games can be an excellent outlet for achievers. In these titles, achievers will try to complete every quest and level with 100% completion. This can apply to in-game achievements as well.
Some single-player games like Ghost of Tsushima and Final Fantasy VII Remake have unique trophies dedicated to players who earn all of the game's trophies. A trophy for winning trophies. That's a strong lure for achiever-type gamers everywhere.
Achievements and trophies range from the simple, unavoidable ones awarded for progressing a story, to others that require the player to complete challenging and specific tasks in-game.
Multiplayer Appeal to the Achiever
Where trophies and achievements may be a driving force for the achievers in single-player games, multiplayer games are fertile ground for earning rewards.
Whether it's an MMORPG or a first-person shooter, there are plenty of rewards, titles, points, and in-game currency to warm for the determined player. Trophies also apply to multiplayer games, as things like Gamerscore can be used to flaunt one's accomplishments.
With multiplier games, it's easy to see some of the Bartle types overlapping with each other.
Explorers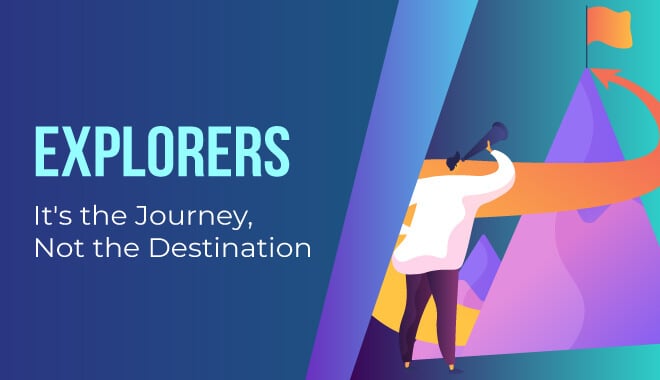 Explorers, also known as 'Spades,' are players that delve deep into the game's world. They enjoy the background, lore, and story of a game.
Time is of no value to these determined and passionate players. These players love to dig around in a game's world for resources, easter eggs, game secrets, and more.
Explorers are dedicated to familiarizing themselves with a game, knowing everything about mechanics, story, and the environment. These players value freedom and exploration above all else.
Single-player Appeal to the Explorer
A single-player game is perhaps best suited to this Bartle type of gamer.
In a single-player game, time limits and restrictions are lighter, so an explorer can truly immerse themselves in a game world.
They aren't into earning lots of experience points and gold, so more open-world games with fewer restrictions are more their type. Explorers tend to gravitate toward games like Myst and other mystery or puzzle games. It's about the journey, not the destination.
Multiplayer Appeal to the Explorer
Depending on the genre, explorers may not find much of worth in some multiplayer games. If it's a game featuring lightning-quick combat rounds and competitive sports play, they likely won't be interested.
These players want substance to their game experience. They will often tire of particular game types and are quick to drop a game if it starts to seem like work to engage with it.
This goes for MMORPGs, too, if the game isn't updated frequently enough.
You will most likely find an Explorer scrounging around the far reaches of a game map, sometimes far away from any other gamers.
Socializers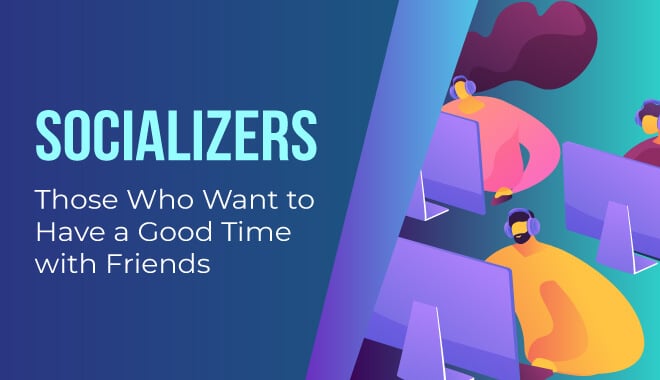 Socializers, known as 'Hearts,' are gamers that value socializing in a game. Whether in a party chat online or in an MMORPG, they want to be included in a group or go off on adventures with friends.
Single-player appeal to the Socializer
Single Player games don't really allow for much, if any, socializing for the gamer. There are NPCs in many games to interact with, but their potential for socializing is minimal. RPGs have more NPCs with more in-depth dialogue, but even that runs dry.
Where the Socializer thrives in terms of single-player titles is the community surrounding the game. Games with healthy communities can attract socializers in droves.
Game communities on Steam and Reddit are particular hotspots for these gamer types.
Multiplayer appeal to the Socializer
This is the comfort zone of the socializers. Multiplayer games offer a fantastic amount of interaction with other players.
The sky's the limit with online games, especially MMORPGs. With new quests and thousands of new players at every turn, the Socializer truly feels at home among a group of gamers.
You will most likely find a socializer in a tavern with their guild or clan, casually planning out their adventures.
Killers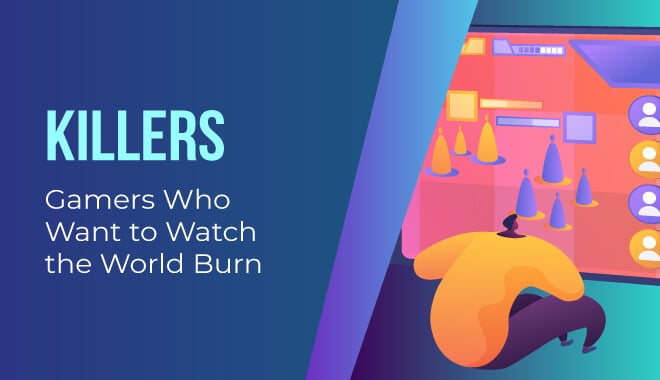 As you'd probably expect, towards the more chaotic end of the Bartle test are the 'Killers.' Killers, known as 'Clubs,' are the players who join multiplayer games to basically ruin others' experiences in myriad ways.
These are players who love to wreak havoc in games, killing opponents with skill and reckless abandon. The most severe 'killer' types of players like to push boundaries.
They try to change the game's experience for themselves and other players in a haphazard way. They do this by hacking, cheating, and more.
They could engage in behaviors like spawn camping, friendly fire, exploiting bugs and glitches, and are above all driven by personal desires. They are the ultimate epitome of 'fiddling while Rome burns.'
Single Player games appeal to the Killer
Single-player games don't hold much sway with killers. While they can find certain aspects of games to mess around with, there is only a limited amount of havoc they can cause within the framework of single-player games. Instead, they thrive on the chaotic interaction between players online.
Multiplayer games appeal to the Killer
While Killers can enjoy exploiting a game's glitches in a single-player game, they put their chaotic behavior on full display in multiplayer games. Out of the 4 types of gamers, killers are agent provocateurs who just want to watch the game world burn, laugh (and receive the benefit) while it does.
Pros and Cons of the Bartle Taxonomy
It's fascinating to have a test and taxonomy that determines what category or spectrum a gamer can fit into. This explains a lot of different gamers' behavior, and it could further help decide which type of gaming environment you want to foster in your own game.
However, there are a few things to keep in mind when examining Bartle's taxonomy. Richard Bartle was specifically considering players in a MUD or multi-user dungeon. These are often text-based MMORPGs. It's not the definitive measure when applying it to other game genres.
While it certainly can apply to games like Halo and Assassin's Creed, Richard Bartle himself doubled down, emphasizing that the Bartle taxonomy should be used with caution regarding games that weren't MMORPGs.
Player Interactions (Dynamics)
The real exciting aspect of this is the interaction of the 4 types of gamers. If you can find a game, usually an MMORPG, that brings all of these player types together, you mostly have a living, breathing world filled with unique personalities.
Everyone has a different personal goal, attitude, and personality. This adds extreme depth to the game world but could present problems.
What happens when a killer interrupts the detailed digging of an explorer. What happens when a socializer gets berated by an achiever teammate for not taking the game seriously? These are all things to consider when developing and playing a game.
The Bartle Test
Why don't you give the Bartle test spin for yourself?
You can see what type of gamer you are and what category you fall in.
Are you the chaotic Killer who only wants to see the game and players bend to your will? Or are you a socializer who enjoys playing and cooperating with others?
Personally, I received a score of 87% Socializer. Out of all of the gamer types, I would like nothing more than to relax in a tavern with my bard friend and talk about the latest gossip and treasure of the game world.
What appeals to you more? Friends or fame? Gold or role-playing? Ultimate power or joining a clan?