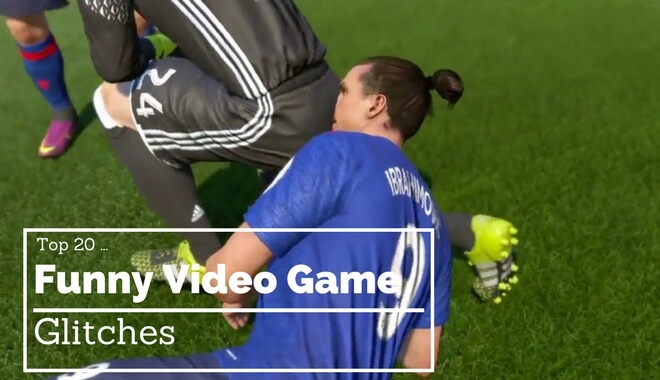 The Red Dead Redemption Pimped Out Ride
---

In honor of the second installment of the incredible Red Dead Redemption franchise, we thought it'd be good to start out with a thumpy jaunt down memory lane.
Red Dead Redemption is a real blast, and is wonderfully executed in so many ways…but things can still go wrong….
No doubt the Wild West was a bumpy ride, but…surely not this bumpy?
Mass Effect's Effect on a Neck
---

Another powerhouse franchise that warrants a nod of respect from gamers is Mass Effect. Another big world with interesting characters and an engaging story, and another…glitch.
We don't know the long-term effects that space travel will have on humans, and it's safe to say that Commander Shepard has seen a lot, but it's safe to say neither of those warrant this kind of trapezius torque.
The Wolf Among Us – Strip Dance
---

The Wolf Among Us is a neat interactive graphic adventure game from 2013. Another season is around the corner in 2018, which has the cult following for the game pretty excited.
They're so excited, in fact, that they're probably dancing. Dancing like the main character from the first installment after he caught an inappropriately timed boogie bug.
Passing Well Beyond the Sky's Rim
---
Spend enough time in Skyrim, and you'll feel like you've seen it all. Dragons flying backwards, your arms dislocating from your shoulders, horses flying around erratically—another big game, another breadcrumb trail of glitches.
One of the most celebrated glitches rests in the power of the giants clubs. The first time we experienced this, a sabre cat was chasing us up a hill. We accidentally ran right into a giant's camp. The sabre cat followed, and landed a perfect slam from a giant.
The cat disappeared….skyward. Watching, amazed at the height this cat was climbing, we were unprepared for what happened next. This isn't our video, but it recreates our out-of-this-world experience.
2K17 – A Year of Limbless Beasts
---

NBA 2K17 was a pretty looking game…for the most part.
Every once in a while, a glitch would kick out the stool beneath the realistic graphics. You'd end up with giant, wing-like arms, short little legs, or, in some cases, you'd just turn into Rayman.
Is it easier or harder to dunk, do you think, if your hands aren't attached to your body?
The Battlefield 3 Beta Meets Worms
---

Did you ever play any games from the Worms franchise? They're a real romp of 2D explosive fun.
How about Battlefield—have you played any games from that franchise?
A wonky glitch in the Battlefield 3 beta turned some perfectly capable players into worm-people that used their buns, not their hands, to fire the weapon. It's outrageous and we can't get enough of it.
UFC 2 – Fighting the Kangaroo
---

UFC 2, developed by EA Sports, had a funny glitch where combatants could get locked in weird positions…or just up and jump out of the ring entirely.
One poor player had a fight where his opponent peaced for a bit. Then she came back and they had to fight through the cage around the ring. It…doesn't go well. Give it a look, it gets good around the 0:50 mark.
You can also check out the parody commentary for a whole compilation of these UFC glitches.
PUBG Driving Through Walls Simulator
---

PUBG is a wild game that has a lot of people talking with it's innovative battle royale game format.
And, while it's available to buy and play, it's not quite a "finished" title—The devs are actively working on the game and acknowledge this when they sell the game.
There are occasionally some glitches where the world won't render properly, and buildings just won't appear at all.
A bit of a problem there…but it gets even worse when you give players a vehicle in an area that's supposed to have a lot of buildings to hide in, like Pochinki.
Mount & Blade: Warband – the Mighty Face
---

It's like Face from Nickelodeon meets the sun baby from Teletubbies…except terrifying. There's a glitch in Mount & Blade: Warband that turns the blue sky into the huge, warped face of a character. It's wild. Not for the faint of heart.
Assassin's Creed Unity – Horror Face
---

There was a funny glitch (that has allegedly since been patched) for Assassin's Creed Unity that would prevent your character's face from rendering, especially during certain cutscenes.
Instead, sometimes just your eyes or teeth (or both) would appear. As if being an assassin didn't carry enough weight, now you're a horrifying monster, too. Talk about a game changer.
Star Wars: Battlefront 2 – Failure to Light
---

Thank goodness for Luke Skywalker (for the sake of the Starwars universe), without him the galaxy would be doomed.
There's a glitch in Star Wars: Battlefront 2 that means Luke's lightsaber doesn't always light up…Which means it looks like he beats down on Darth Vader with good, ol' fashioned fisticuffs. Not the funniest glitch, but satisfying for any supporters of the light side out there.
RDR – Cougar Man, Meet Bird Man
---

For this one, we once again head out West to the old stomping ground of John Marston. Yep, we're double-dipping for seconds and thirds on Red Dead Redemption. There's a glitch in this game where, somehow, a mountain lion hid in human's clothing.
With the speed and strength of a cougar, but the look of a contorted NPC, this beast engages in a ferocious assault on Mr. Marston.
And, just when it couldn't get any more bizarre….along come the bird men. These peaceful counterparts to the cougar man are still jarring, but there's something majestic about them.
It's funny and terrifying in equal bits, but either way you can't look away. Very thankful to have not come across any of these hybrids in our own adventures.
Fallout 4 – Lining Up that Perfect Shot
---

The VATS system in Fallout 4 makes it easy to line up some top notch shots and let your enemy have it before they even know what hits 'em.
At least, that's what should happen. Sometimes you'll just inexplicably launch into the air and fall to your death, leaving your prey to live another day. The wasteland is a dangerous place—didn't anyone warn you?
Crysis – Shark's Jumping Ship
---

So, land sharks aren't nearly as bad as sharknados, but they're still considered a crysis (see what we did there?).
And in Crysis, sharks are not afraid to do whatever the heck they want—water be damned.
So, you know, next time you fire up an old favorite, be really careful on the beaches. They're coming for you.
Sims 4 – A Parent's Love
---

They say nothing can compete with a parent's love for his/her child. Apparently the Sims 4 wanted to put that to the test.
There's a glitch in the game where, when your sims have a baby, the perfect little angel doesn't always render like a perfect little angel….
In fact, there are some pretty demonic creations. In some cases, babies have melded with frying pans. In others, their eyes jut out of their heads, their torsos stretch like taffy, and their arms and fingers look like some kind of slenderman conspiracy photo.
Can your Sim love their demon baby?!
Madden  NFL 15 – We Are the (Tiny) Titans
---

Madden NFL 15 was a fun game but had a pretty wild glitch—one where a certain player was really small. Like, Honey I Shrunk the Kids small.
He functions as a regular character in terms of his power and speed. Even though he's the size of a bug, he hits like a mule.
The cool part is, Madden embraced the mistake. EA Sports even did a spoof on his "larger than life story."
Assassin's Creed Origins – Oh Chariot
---

Another dip into Assassin's Creed, this time with full hearts and full…faces.
Yes, the faces rendered properly here. But that doesn't make it any easier for this player to use his chariot. Sometimes it's better to let the video do all the talking. This is one of those times.
Behold, the mighty chariot pilot.
Heavy Rain – SHAUNNNNNN!
---

The Shaun Glitch is a popular one, but does contain a spoiler. If you haven't completed the game yet and want to do so without knowing what to expect, don't watch the video.
There's a prompt in the game that lets you "Press X to Shaun" which makes your character call out the name "Shaun!"
But, the glitch lets you continually spam the name…which gets increasingly more hilarious as the game continues, as your character keeps yelling Shaun in more and more outrageous, nonsensical points in the game.
It's a riot. Remember though—spoilers.
FIFA
---

Many a heated hours of competition have been dumped into the FIFA franchise the world over. It's no wonder people get so upset when things don't go the way they're supposed to.
Fifa's collection of glitches over the years never fails to impress. The most recent, from FIFA 18, show players walking through walls to go in the stands, goalies misbehaving, and characters simply disappearing, among other things.
It's a wild ride, so strap in.
LOTR Online All Aboard!
---

This is an irrational first pick but there's something that's so hilarious and ingenious about it, we couldn't help ourselves.
This glitch in Lord of the Rings Online let players use the "follow" command on chairs, which would cause the chairs to follow the player around. It's even better when players used the command on multiple chairs and then sat in these chairs while one player just paraded everyone around.
Lord of the Rings! And instead of defending Middle Earth, people are sitting in self-driving chairs out in the rolling hills. Something about that really tickles us.