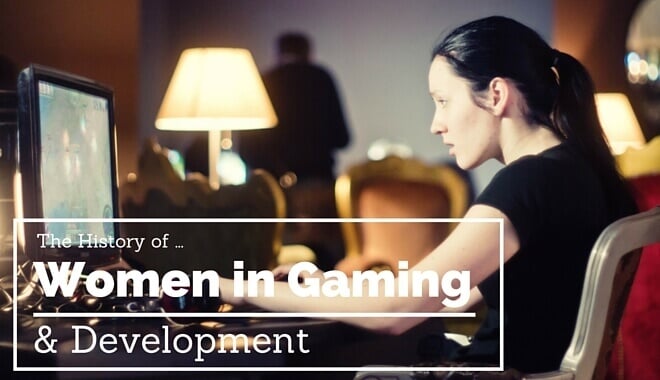 In 2014, the International Game Developer's Association released a report detailing the prevalence of women in the gaming industry.
While the presence of female developers has doubled since 2009, there was still a significant male dominance in the field.
A History of Male Dominance in Gaming
---
For a long time, games have traditionally been developed with males in mind.
There are tons of games that feature a beautiful, scantily clad female who is in some sort of distress and the main male character's entire focus is to fight and claw his way to her eventual rescue.
Then, he is rewarded with her undying love for happily ever after.
Thankfully, that is beginning to change.
Game developers are starting to recognize that 44% of their customers are females and that in order to keep the playing field fair, they are going to have to change.
With more female developers creating games behind the scenes and women themselves joining up as players, a changing mindset towards women in the world of gaming is starting to emerge.
Gamergate and the Winds of Change
---
While some time has passed since Gamergate exposed some of the uglier sides of what females in the gaming industry have endured.
The fact that it happened (and brought pain, threats, and real-life suffering to those involved), there has been good and real change coming about because of it.
Kate Edwards, who is the head of the International Game Developer's Association poignantly said,
"Gaming culture has been pretty misogynistic for a long time now."
(says Edwards, 50, a lifelong gamer and developer who worked on Microsoft's Halo.)
"There's ample evidence of that over and over again . . . What we're finally seeing is that it became so egregious that now companies are starting to wake up and say, 'We need to stop this. This has got to change'."
Some major signs that change is already happening are becoming evident. In Seattle, home to some of the gaming industry titans, there is news of a venture capitalist who has made an announcement that he would only invest in the tech industry where there is at least one female co-founder.
Intel has invested $300 million dollars towards female diversity in the game division. They have also committed to double the number of women working as developers in the next decade.
Some games themselves are now incorporating strategies in their programming to combat gender bias in their communities.
Riot Games, the creators of League of Legends have implemented in-game strategies that let players know when their comments are unwanted by the community.
Pay Equality: Male versus Female Developers
---
According to a 2014 study on pay equality done by Gamasutra, there is a pay gap between male and female developers.
The disparity equals about 86 cents on the dollar women make for every dollar men make.
Sadly, one of the factors theorized as linked to the pay gap is the notion that women are more likely to take breaks from their careers to take care of family, which leads to lesser earnings over time.
Government officials, including Obama's administration, are working to close the gender pay gap. In addition to introducing legislation that will close loopholes in the Equal Pay Act of 1963, the President will hold a summit entitled "The United State of Women" this year that will examine gender equality.
The average salary at the time of the 2014 survey clearly showed the differences in pay. Men made an average of $85K while women only earned $72K on average. Clearly, this disparity should not exist with equal responsibilities, education, and experience, but hopefully, over time this gap will no longer exist.
The Future is Bright. But …
---
While the future for female game developers is looking up in many ways, there are still the shadows of Gamergate.
Many women dropped out of gaming majors at the time and were intimidated by the serious threats that emerged during the height of the crisis.
Thankfully, people are beginning to look towards the future and at a changing and emerging culture of acceptance that is tentative still, but a work in progress.
However, tucked within the negative press was a hopeful story that put the spotlight on women in game development. Tracy Fullerton, who is the chair of the University of Southern California's Media and Games Division was very proud of a recent announcement.
In 2014, the incoming class of gaming majors was made up of more women than men. It may seem difficult now to see this as a shift in attitudes, but it's a great place to start.
From the early days of gaming when Atari first marketed itself as an activity to do as a family, a male-dominated culture erupted out of the ashes of that failure and grew to be a culture that truly didn't take responsible ownership of itself.
Now, the tides are hopefully turning towards equality not just in gender for game development but for the gaming culture itself.
Women in the Video Game Industry
In the Corporate World
---
The rise of the representation of women in gaming has led to more noteworthy women in corporate positions. Some of these talented individuals have effectively paved the way for even more representation for women going forward.
Let's look at some of the most impressive and noteworthy.
Jade Raymond
---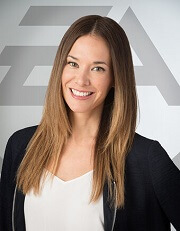 CEO of Stadia Games and Entertainment, founder of Ubisoft Toronto, and Motive Studios.
2002-present
Jade Raymond is perhaps the grand dame of women in game design. She's directly responsible for the inception and execution of the first Assassin's Creed, leading to the worldwide phenomenon and one of the most beloved gaming series ever.
Her first project was The Sims Online at Electronic Arts. She quickly moved up the ranks, eventually becoming the lead for Assassin's Creed, Assassin's Creed II, and Assassin's Creed: Bloodlines.
She has recently been the executive producer for Watch Dogs, Splinter Cell: Blacklist, and The Mighty Quest for Epic Loot.
Amy Hennig
---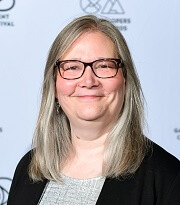 Scriptwriter and director at Naughty Dog
Late 1980s-present
Amy Hennig is responsible for some of our most beloved video game heroes and quality writing. She played a massive part in developing games like Jak & Daxter, the Uncharted series, and the Legacy of Kain series.
Her work has blazed an impressive trail in the male-dominated industry and has opened doors for many female game designers, writers, and directors. She's currently part of Skydance Media after leaving Naughty Dog in 2014.
Gamers
---
Female gamers are more prevalent than ever. Although they're still outnumbered compared to male players, they're quickly closing that gap at 48% of the gaming population.
This is historically significant; in the past decade alone, this has grown from a measly 10% of the overall gaming population. Although the average age for the female gamer is around 30-31 years old, many women over 50 have taken on the gamer's mantle, albeit more casual through games like Bejeweled and Candy Crush.
Genre Preferences
---
Which game genres do the majority of women gamers prefer? Compared to their male counterparts, who enjoy shooters, adventure, and strategy games, women overall prefer puzzle, simulation, and arcade titles.
Competitive Gaming
---
Women have also enjoyed more presence in competitive gaming, with a significant number of women dominating specific eSports. Female competitive gamers like Sasha Hostyn, Katherine Gunn, and Sioban Bielamowicz have earned millions of dollars competing in games like StarCraft, Dead or Alive 4, and Halo: Reach.
Support Groups
---
Women have faced polarizing reactions from male gamers, ranging from welcoming and accepting to outright hostile interactions that can alienate many women. There are valuable resources for female players to achieve more representation and acceptance. Here are some great support groups for women in gaming.
WIGSIG (Women In Games Special Interest Group)
Women in Games International
WIGJ (Women In Games Jobs)
Women in Video Game Streaming
---
With the meteoric rise of streaming video games, women have played a big part in gathering huge audiences on platforms like YouTube and Twitch. In 2019, men made up 65% of the streaming population, while women made up 35%. Some of the most famous female streamers are:
Many women on Twitch have experienced a lot of discrimination and outright harassment, solely for being women.