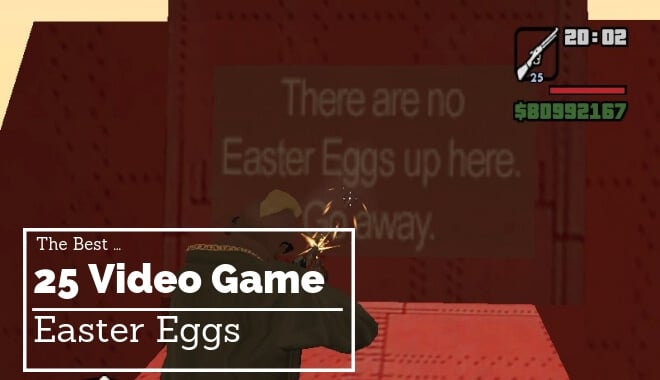 Easter Eggs need no introduction! You're not here for our eggy pandering, you just want the yolk!
Feast, dear reader. Gorge yourself on these Eggs:
The Very First Easter Egg
If you know video game history (or SPOILER ALERT recently saw Ready Player One) you're familiar with the Easter Egg hidden in Adventure on the Atari 2600.
This egg is recognized as the first one to appear in a video game. The process of getting to the easter egg is a bit complex, which makes you wonder how anyone found it in the first place.
But, find it they did. The trick is to perform a specific sequence of events that reveal a "dot" (a hidden pixel) on the corner of one screen. Bring that dot to a specific area and you'll be treated to the Easter egg:
"Created by…Warren Robinett…"
Yeah, it's just the creator's name. Which might not be as exciting as other eggs on this list, but for the time it was fantastic. Games didn't include a whole lot of "credits" back then (if they included any at all), so Robinett hid his name in the game. Genius.
Rumor has it that this easter egg may have been the first hidden and discovered in modern media, and many credits this secret with coining the term in the first place.
Head Knock, Who's There?
Have you played Star Wars Battlefront 2? Seen the movies? Fan of both? One? Neither?
Well, a hard-to-spot egg hides on the neck of a stormtrooper in one cutscene in the game. It comes from A New Hope, where a stormtrooper comically bumped his head on a low-hanging door.
The game's cutscene shows two stormtroopers walking far in the background of some imperial hangar, and, as they go to walk under a staircase, the stormtrooper bumps his head.
Same guy? Who knows!? Either way, it's an easy thing to appreciate, even if you aren't a diehard fan of the galaxy far, far away.
Speaking of all-things-knocks…Ground Pound, anyone?
Time for some monkey business with this one…We travel back in time to a game that came out in November of 1999 on the Nintendo 64:
Donkey Kong 64.

There was a lot to like about the game, like an unforgettable rap in the beginning and a fun cast of characters.
And then there was something that went overlooked for 17 years…A rainbow coin.
The coin was hidden underground on a floating island. You had to use Donkey Kong's ground pound move to reveal the coin, and never has a ground pound made so many so unhappy.
All of a sudden, all the speedrun records and completion records were….wrong. No one else had found this coin, and so no one else had technically hit 100% completion.
It makes you wonder…. What else have we missed?!
About that Swimming Pool…
Here's an Easter Egg that did not take 17 years to find.
In Uncharted 2, you can go to the top of the Hotel Shangri-La in chapter 6.
If you decide to go into the pool for some R and R, Nathan will start playing the classic game Marco Polo, with his female companion. She reluctantly provides a "polo" to answer his call.
Is that You, Mr. Ratman?
Portal 2 is a fun, distance-warping jaunt where you get to use a portal gun to navigate a series of challenges.
It's a total blast, just like its predecessor.
When you do finally decide to fire it up, be on the lookout for some peculiar graffiti (and a mug collection).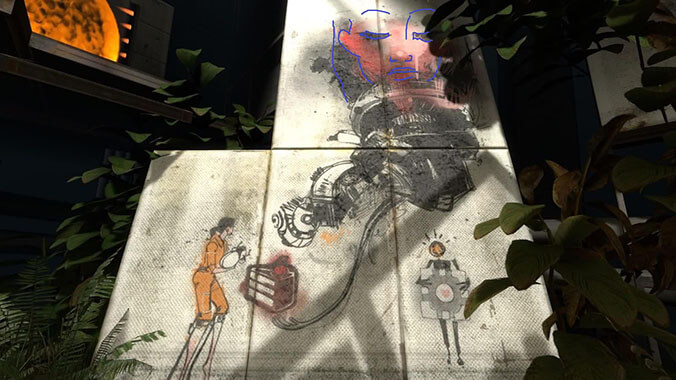 If you walk up to the walls where you see these drawings (from a character named Ratman), you can hear faint noises playing in the background. Is it chanting? Is it a song playing? Is it Doug Ratman, giving you the runaround again?
No one is sure, but it's a fun egg to hunt nonetheless.
It Doesn't Matter How Dark it Gets, Someone Always Find the Cheese
Perfect Dark came out for Nintendo 64 and was a real blast, especially for players itching for gameplay similar to Goldeneye.
It didn't take long for players to find curious additions to every level in the campaign…
Yes, a piece of swiss cheese.
No one knows what the cheese is for. To this day, gamers go back and forth on why the cheese is there.
Was it supposed to do something? Did its original purpose get cut? Was it for fun? Are we the butt of the ultimate video game cheese prank?
We might never know, but we can still find dat cheez.
Yosemite Bear
January 8th, 2010 was an incredible day for…rainbows?
On that day "it was rainbowing for at least an hour…It was incredible. The camera could not capture the vivid intensity and brightness. Look into the mirror, look into your soul!"
Yes, it was on this day that the infamous double rainbow blessed the world with its appearance. YouTuber Yosemitebear 62 went on about the double rainbow for over 3 minutes: marveling at its beauty, unpacking its meaning, and enjoying the phenomenon like no one else could.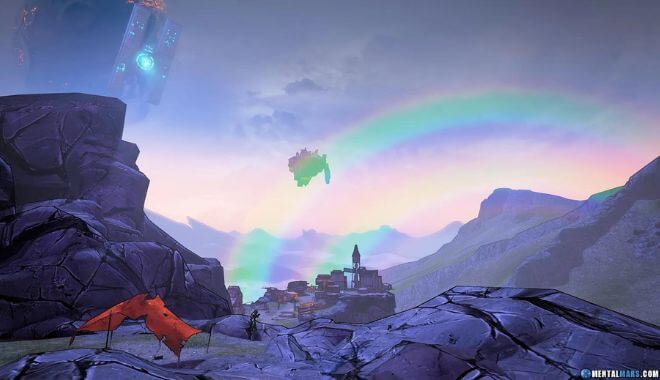 But we're not talking about nature's Easter Eggs, here. We're just giving you context for a great little diddy hidden in Borderlands 2. Find a secret spot behind a Hyperion base and you're treated to either ClapTrap or Handsome Jack recreating the original double rainbow reaction.
In Honor of Pacific Rim
With movies coming out every couple of years where giant creatures rise from the depths (as if the ocean wasn't terrifying enough?), it's no surprise that some of that murky madness should find its way into video games.
In Saints Row 2, it's possible to find a giant monstrosity, deep in the ocean. What is this magnificent, terrifying beast?
It's not Godzilla. It's a giant pink rabbit.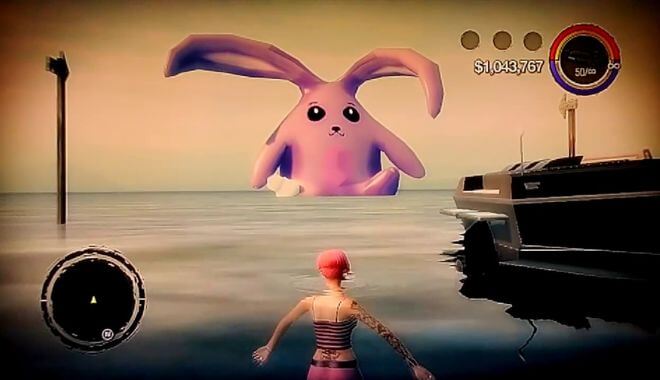 Once you catch the scent of this easter egg, you just follow the arrows until you make it to the rabbit's resting place. It will slowly rise out of the water to reward you for your perseverance.
Whatcha' Lookin' at, Robbie?
It turns out size isn't everything, gang.
There's a character in the Silent Hill series that works its way into Silent Hill 4 as a plush doll.
This doll is Robbie the Rabbit. Robbie the Rabbit is a pink bunny with a bloody face.
You can peep Robbie in a room in your neighbor Eileen's home. Take a look through the hole in the wall, and there it sits (watch without sound, you don't need it), slouched over. Why would Eileen have a Robbie doll?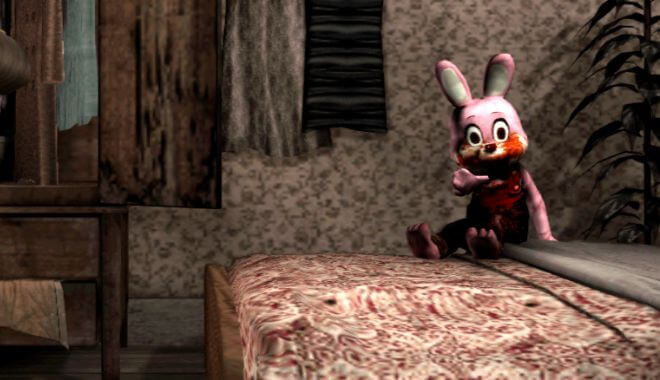 Who knows? Everyone has their own "stuff" to work out. Leave her be.
But, it gets worse for you. If you look after Eileen has gone missing, Robbie is staring right at you, fluffy, plush, murderous finger-pointing.
Boo!
How Did This Get Here?
Nothing tickles us more than cross-IP Easter Eggs.
And X-Men Origins: Wolverine doubles down on the references.
First, there's a cross-medium reference to a hit television series: Lost. Hidden in the jungle for Wolverine to find is the famous hatch from the show.
If that's not enough, how about a corrupting blade imbued with a sorrowful cold?
Frostmourne, the blade of World of Warcraft fame, lies hidden in the game as well. Not that Wolverine needs any additional blades or anything corrupting his spirit…
Is that Your Heart Beating?
Do you know who has fun with their Easter Eggs? Rockstar games, that's who.
In Grand Theft Auto IV, you can get inside the Statue of Happiness (via a helicopter and some doors).
You'll know you're in the right place when you see a sign that says "no hidden content this way" (classic). Walk through that door and voila, you'll be inside the statue and you'll find the heart of the city.
Or at least the biggest heart in the city. Lady Happiness has an enormous beating heart chained up and suspended inside of her.
Where is the line, Rockstar?? And does nothing phase Niko?
Bonus: In GTA: San Andreas you can get to the top of Gant Bridge, via jetpack, and you'll find a sign that says "there are no Easter Eggs up here. Go away."
These are just the tip of the iceberg for GTA Easter Eggs.
Should Have Read the Obits in Orbit
Spoiler alert, gang.
If, for some reason, you haven't beaten Dead Space…. SKIP TO #13.
But, if you don't mind having the ending ruined for you (or if you've already finished the game), then read on!
You play as Isaac and you're on a derelict space station looking for Nicole.
If you look at the chapter titles for each of the 12 chapters…
And take the first initial from each…
It spells out a foreboding message. You can learn the truth before experiencing it in the campaign:
A Link to Chris's Secret Room
We always appreciate a good acknowledgment of a random kid in a video game. Who doesn't love the thrill of someone being featured or the excitement at the thought of worming your way into a video game?
In the Legend of Zelda: A Link to the Past, that lucky winner was Chris Houlihan. Nintendo held a competition back in 1990. The winner would get programmed into a future NES game. Chris won. So he was immortalized in the game in the form of a secret room.
As the Zelda Wiki points out, this room isn't a normal part of the game. It exists in the game as a failsafe against the game crashing. If the game doesn't know where to send Link (as in what room he's supposed to go to next), the game will send him to Chris Houlihan's secret room.
It's not a total bust though–it has a whopping 45 blue rupees in there. What a hoard!
Who Are You Callin' Turkey?
The assassin bloodline runs deep and wide through history in the Assassin's Creed universe.
Sometimes the power of assassins crosses the gap into other species.
In Assassin's Creed 3, you can get a turkey to come to you by whistling at a specific homestead.
When you find the turkey, you need to do the Konami code. The classic: up, up, down, down, left, right, left, right, B, A.
Poof!
Assassin Turkey! The turkey will put on an Assassin hood and take justice into his own hands (not really). Watch out, Templar scum!
Shoulda' Left the Flying to Turkeys
Do you know anyone who loves cross-game jabs? Us, probably everybody.
In Witcher 2: Assassins of Kings, you might come across a dead man lying next to a hay bale. Geralt of Rivia lives in a dangerous time, a dangerous world. Monsters, men–they both abound, and they can be violent and ruthless.
A closer inspection of this dead man reveals that his death likely wasn't caused by a monster or man (unless he was Lannister-ed).
No, the man, wearing a white assassin-style outfit, appears to have jumped and missed his target: the hay bale.
When you walk up, Geralt will say something like "Hm…Guess they never learn" totally ribbing Assassin's Creed for the jump-into-hay-bales gameplay mechanic.
Don't Forget Your Sandwiches!
You were almost a Jill sandwich!
This A+ line appeared in Resident Evil. Not only did it work its way into a meme, but it also worked its way into Dead Rising.
If you look at the names of some of the shops in the mall, you can find a restaurant named….you guessed it: Jill's Sandwiches!
Still Better than Snakes?
There's a scene in Indiana Jones and the Kingdom of the Crystal Skull where Indy's trapped in a nuketown as a nuclear test, is about to go off.
To save himself, he climbs into a lead-lined fridge. The explosion launches him miles and miles from town until he eventually rolls out of the fridge onto some desert.
In the movie, he lives…But in the Fallout: New Vegas universe? Well…the fedora-wearing skeleton in an old fridge seems to tell a different story.
More Nuketown, Fewer Fridges!
In Call of Duty Black Ops 3, there's a way to bring the mannequins to life on the Nuketown map.
The goal: shoot the heads off of every mannequin in two minutes or less.
Next step: fight for your life.
The mannequins will start spawning and chasing you around, similar to the zombie play mode.
If it gets to be too much, you could always try hiding in a fridge…
Yeehaw!
What's more fun than playing video games? Playing video games in style!
And few games let you do that better than this Gears of War 2 Easter Egg. In the chapter where you're riding those big vehicles, there are 3 cowboy hats hidden at the beginning of the level.
If you manage to shoot all three with your pistol as you drive past, some real magic happens:
Everyone gets a cowboy hat! These hats instantly appear on everyone's head in your unit.
It's not just your unit that gets hats, though…The Corpse you fight has a hat, too!
Everyone could do with just a pinch more rustic charm.
From Rumor to Legend
In the original Diablo, everyone believed these rumors that there was a "low level."
There wasn't.
But that's not where this story ends. When Diablo II came out, there was a cow level! Though traditionally a bit more benign than their minotaur cousins, the bovine on the cow level mean business.
They walk on their two back legs and all wield two-handed axes. And, they travel in serious herds.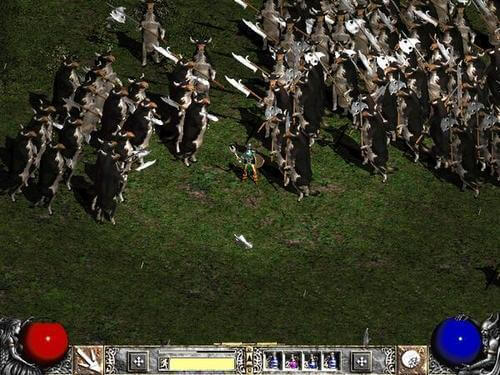 Have you made it to the Secret Cow Level? Have you experienced the "bovine bliss" that can only be found in Diablo?
Southern Hospitality
In Hitman: Blood Money there's an Easter Egg that lets you take a proper southern hootenanny from above-average get-together to "where did everyone's pants go?"
And it only requires a single, well-placed bullet.
There's a coin hidden near the outside of the mansion. If you find it and shoot it with your pistol, well…Some party guests figure congratulations are in order.
A bunch of male NPCs will run over to you and start clapping.
The catch? They've all stripped down to their underwear.
Can't say for sure if that coin has anything to do with the titular blood money, we'll leave that mystery for 47.
Bonus: There's a great Easter Egg in Hitman: Absolution during a time when you have a tough decision to make.
In "End of the Road" you can either shoot your target or leave him alone to die in the middle of the desert.
But those aren't your only two options… Five vultures are sitting around you. Walk near them until they take flight. If you shoot all five while they're in the sky, an ice cream truck will come careening out of nowhere and drive right into the target.
I scream. You Scream.
We all scream for ice cream.
Guy Savage
Ever had a dream about vampires? What about zombies?
It was probably nothing like Snake's from Metal Gear Solid 3: Snake Eater.
There is a minigame embedded in MGS3 that you can only access by saving at a very specific point in the game: at Groznyj Grad after Naked Snake is placed in the cell, right after his torture session with Volgin.
When you load that save up, you won't be in the cell (at first). Instead, you'll be in Snake's dream. You'll have two hook swords, and you'll be chased by zombie-like, police uniform-clad characters. Oh, and they have hook-swords too.
These enemies seem zombie-like, but the conversation before and after Snake's dream revolves around vampires.
This dream sequence doesn't appear to work on the 3DS version or the MGS3: HD version.
Bonus: Also in MGS3: Snake Eater, there's a character called The End. An old sniper fella'.
There are a few ways to kill him: snipe him early, sneak up and attack him, or….wait him out.
If you save your game after initiating your hunt of The End and wait one week (or adjust your console's internal clock to reflect a week+ later), when you do find The End, he'll have died from old age.
Such a cool way to deal with an old enemy!
Can't Pick Just One
There are several fun Easter Egg inclusions worked into the Halo franchise over the years.
Some the game tells you about (i.e. the skulls). Others, the game does not.
Like when you stumble on two nondescript guards stationed near crates and a forklift at the beginning of chapter 6 in Halo 4. If you give it a minute, the guards will start talking. They're voiced by Andy Richter and Conan O'Brien.
Or the "monkey" family with identical human faces in the first level of Halo 3.
If you want to see every Easter Egg from Halo: The Master Chief Collection in a condensed 22-minute video, you can do that too.
Just a Day Trip to the Lake
Ash Lake, that is…
There's an entire zone in Dark Souls that's easy to miss. It's hidden behind a fake wall, where you'll find a chest. And then behind that chest is another fake wall. Walking through will take you to Dark Hollow. From there it's a long trip down trunks and roots and mushrooms until you reach the bottom and find Ash Lake.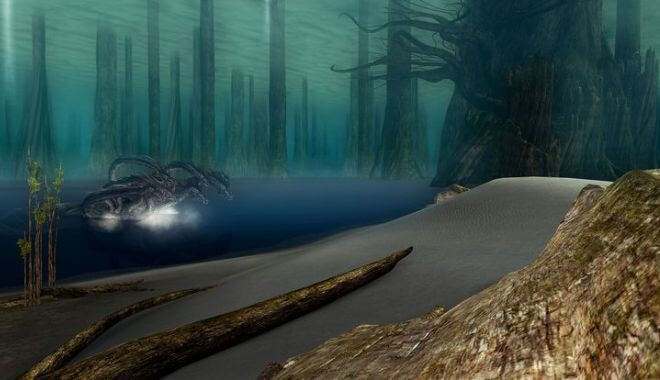 There are all kinds of things to worry about: Little mushrooms. Giant mushrooms. Getting cursed. Falling off the narrow paths. And, when you do make it to Ash Lake, it turns out there's a hydra down there.
Oh, and let's not forget the Everlasting Dragon who calls Ash Lake home, too.
Binding of Isaac
For the penultimate Egg on our list, we wanted to pick something that took a lot of people, a lot of clever thinking, and a lot of physical, real-world searching to find.
The Binding of Isaac expansions did just that. People went on a real-life treasure hunt, decoded clues, looked for hints everywhere, and finally found what they were looking for in the real world. As a result, they unlocked a new character in the game.
The cleverness and dedication of both the game creators and the fans make you appreciate human ingenuity (and our propensity for both fun and solving problems).
You need to read the full story of the Binding of Isaac almost-goose chase.