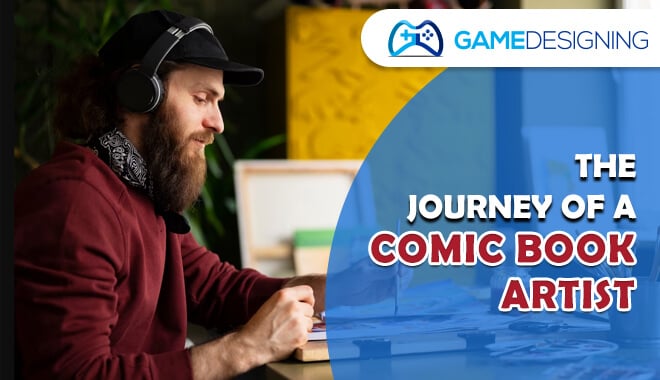 Believe it or not, the demand for comic books, manga, and graphic novels is steadily increasing—beating mainstream books. The comic book industry is currently valued at $15.5 billion and is predicted to be worth a whopping $22.37 billion by 2030.
If you're a creative person, love comics, and absolutely love drawing, pursuing a career as a comic book artist might be an excellent option for you. Admittedly, it isn't the fastest-growing occupation but that's typically the case for artistic fields such as this.
Onlinedegree.com pegs the annual growth rate for comic book artists at 3% while the US Bureau of Labor Statistics estimates the demand for craft and fine artists at 4% until 2032.
But if you've decided that you're going to be the next Jack Kirby, Jim Lee, or Alex Ross, the journey of a comic book artist is an enriching, creative, and fulfilling one.
Join us as we take a closer look at what the role entails, how you can establish a niche for yourself, how to become a comic book artist and more!
What Do Comic Book Artists Do?
Creative individuals who make illustrations for comics or graphic novels are known as comic book artists. They create illustrations in a sequence so that they make sense and follow a narrative flow.
Comic book artists aren't usually responsible for adding dialogue or text to comic strips, however, they must support the narrations they want to tell through illustrations.
Almost anyone can become a comic book artist but it isn't easy to reach the top. Aside from drawing skills, you'll need a solid portfolio, a knack for storytelling, and an ability to collaborate with others.
Comic Book Artists Who Changed the Industry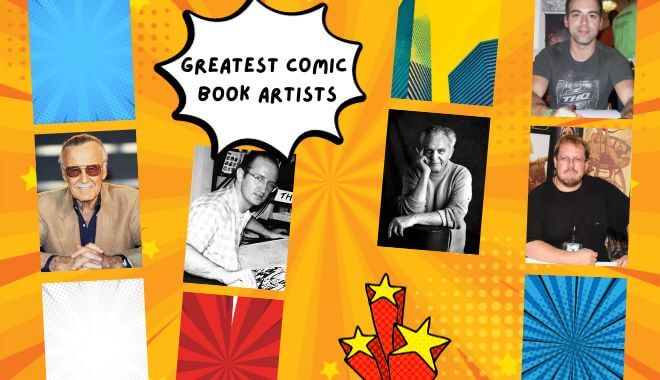 From blockbuster action to comedy films, comic books have massively influenced pop culture. Today, everyone knows Marvel, especially when the company helped reignite people's interest by producing a series of superhero movies that redefined the genre as we know it today.
Every new release has outdone the previous one in terms of box office numbers. In fact, Avengers: Endgame set the record for the highest-grossing film by earning an impressive $2.5 billion!
This wouldn't be possible if it weren't for the excellent work of comic book artists like:
Stan Lee
Jack Kirby
Steve Ditko
Adam Hughes
Joe "Joe Mad" Madureira
John Romita Jr
Will Eisner
Brian Bolland
Jim Steranko
Frank Miller
They managed to draw people of all ages and genders with their storylines, creating relatable characters and outstanding graphics.
Some of their celebrated titles include The Amazing Spider-Man Omnibus, Vol. 1, Mighty Marvel Masterworks: the Amazing Spider-Man Vol. 4 – the Master Planner, Thor: Tales of Asgard, Marvel Comics Library. Spider-Man. Vol. 1. 1962-1964, The Avengers, and Essential Iron Man – Volume 1, to name a few.
There are a plethora of comic book artists who are celebrated for their work. Now that you're familiar with some iconic comic book artists, you may be wondering what sets them apart from cartoonists. The answer is simple.
Are Comic Book Artists and Cartoonists the Same?
Although comic book artists and cartoonists work in the visual arts and have similar jobs, their career paths differ.
Cartoonist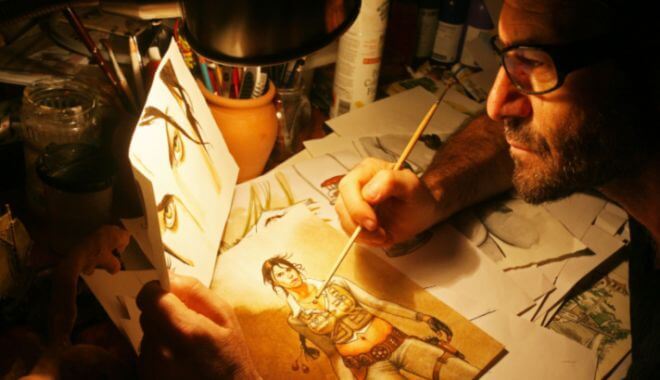 A cartoonist usually creates illustrations on a single panel to deliver a message that's political, humorous, and persuasive. Cartoonists also write their own text, so they must be capable of telling a story or sharing their views in the space of a few graphic boxes.
Usually, they create a draft and get it approved by the publication's editor. Once they have the green light, they can start drawing. Cartoonists can find jobs in many industries, including entertainment, graphic design, publishing, and marketing. But they are most in demand in newspapers and magazines.
Comic Book Artist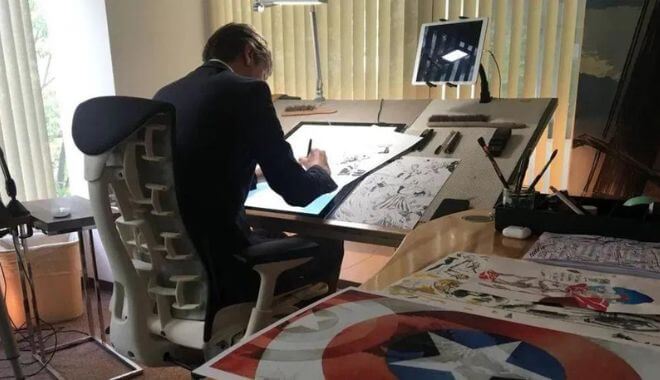 A comic book artist draws on panels in a sequence to tell a story. Although comic book artists do not write the dialogues, they work closely with writers and must have a sound knowledge of typography.
They create storyboards to narrate what a story would look like if it were in motion. Most comic book artists also develop a particular style to make their work stand out from the rest. You'll most likely find professionals working with publications rather than other industries.
Do You Need a Degree To Become a Comic Book Artist?
Although you need to have knowledge about art, you need not pursue a particular degree or comic book artist training to become a successful comic book artist. As long as you know how to draw and use software, you should be good.
Many comic book artists study graphic design and animation to help them advance in their careers and create a solid portfolio. However, there are a plethora of self-taught artists who have made it out of sheer love for the craft.
This includes famous comic book artists such as:
Jim Lee
Todd McFarlane
Rob Liefield
None of them graduated from college but they learned on their own, practiced, and sought feedback from others in the industry.
So, should you consider going to art school?
It certainly won't hurt, especially if you want to work in marketing or advertising sometime in the future. Having a knowledge of how illustration, editing, and graphic design software work and being extremely creative can take you a long way.
Software Used To Create Comic Strips/Books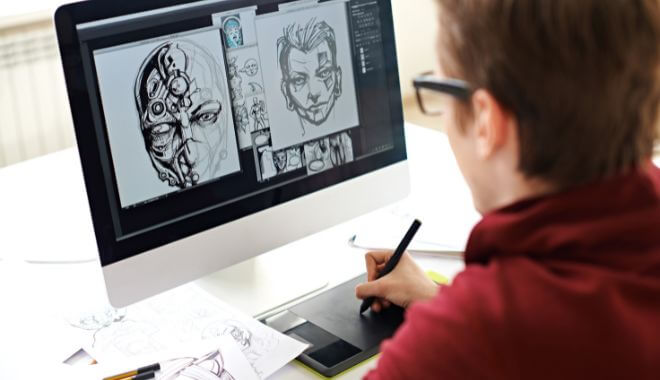 Initially, comics were hand-drawn, but a lot has changed since then. Today, artists use more than one medium to achieve their artistry.
Consequently, this has made production more efficient, standardized, and easier to make. This also means that comics are more detailed than ever, improving the quality and overall feel of their work.
Some of the applications used to create comics include:
Adobe Photoshop, Illustrator, and InDesign
Clip Studio Paint
Corel Painter
Autodesk SketchBook
Skills Required To Become a Comic Book Artist
Comic book artists usually have a knack for story-telling. They also have knowledge about current events and pop culture. Here are other skills you need to master on your road to becoming a comic book artist.
Knowledge of Graphic Design and Illustration Software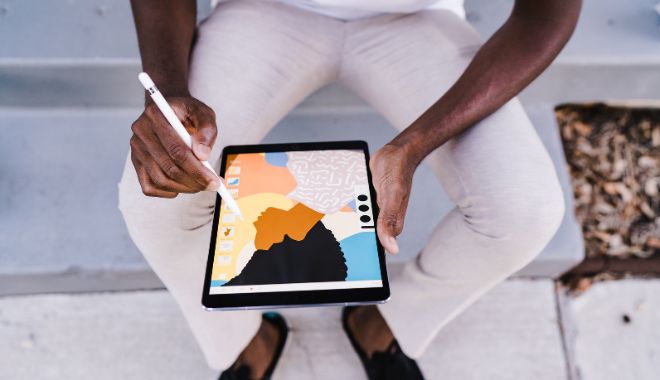 Comic book artists need to know how to make their drawings come alive. Hence, they must be familiar with various visual elements like texture, color, dimension, scale, perspective, shade, composition, depth of field, proportion, and spatial awareness.
To learn the latest comic book art techniques and tools, you need a sound knowledge of graphic design and illustration software. Even if you like to draw old-school, many of today's images are made or enhanced with graphic design software.
If you want to keep up with your contemporaries, you'll need to know how to put industry tools to use.
A Strong and Original Work Portfolio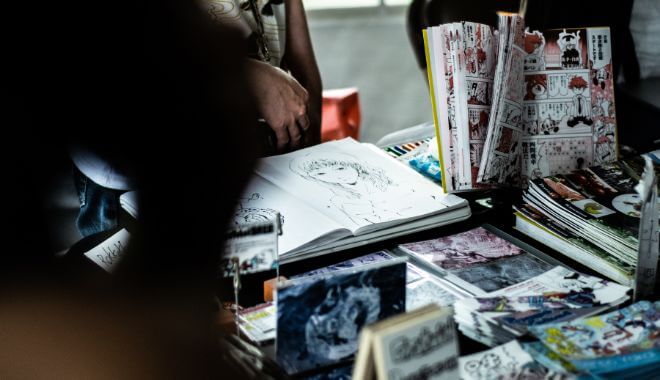 What are comic artists without bodies of original work? When you're getting started, one of the first major projects you have to undertake is building a strong portfolio of your work.
Whether you're looking for employment or someone to collaborate with, a portfolio that highlights your strengths is a great way to demonstrate your capabilities.
Choose pieces that best showcase your signature style. You can also include some experimental work to show your range. Additionally, companies appreciate artists who can work on multiple mediums. You might even add some sample layouts if that's something you're interested in pursuing.
As your work evolves and you develop your style, expect to keep updating your portfolio. Maintain a body of your work online and invest in a well-formatted website to make sharing and impressing potential colleagues easier.
Communication Skills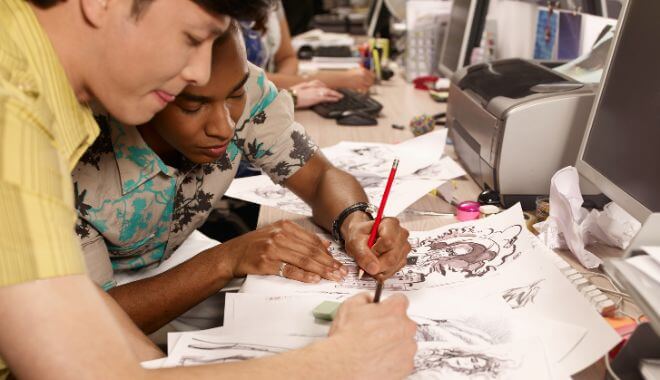 Communication skills refer to your ability to create connections between images and the story you'd like to tell. It also means being able to effectively collaborate with others. Many successful comic book artists are good collaborators.
People like working with them because they can make appropriate suggestions and that helps them tell a compelling story.
Familiarity With Various Comic Genres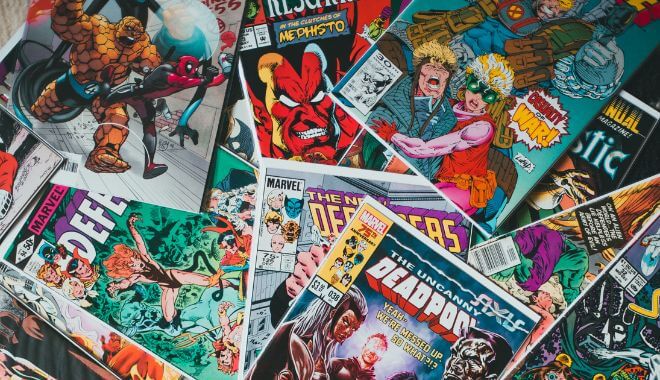 As a comic book artist, you'll likely be working on more than one project at a time. And not every comic might have the same genre or even artistic style.
For example, a superhero comic would not have the same style as a manga. Similarly, a detective comic would widely vary from a slice-of-life piece.
As a result, companies might want to hire someone who knows various comic genres and drawing styles when looking at potential comic book artists.
Storyboarding Skills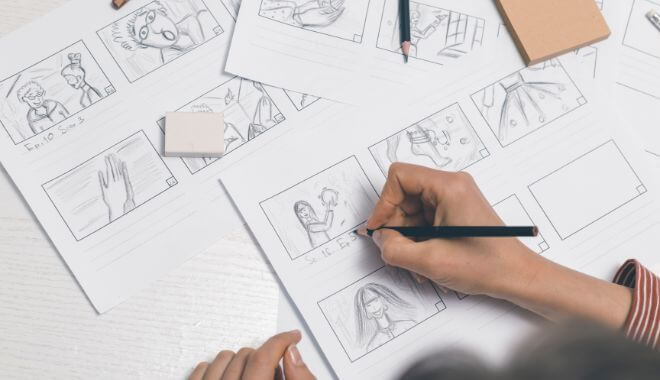 Storyboards are a collection or an organized sequence of illustrations and graphics that narrate a story. Naturally, comics need to have a sequence in mind so they make sense to a reader.
Before creating a full comic, artists usually have to come up with a storyboard that shows the pivotal developments in a story. Once it's been approved, comic book artists can then execute a more comprehensive sequence of panels that flesh out the entire story.
Typography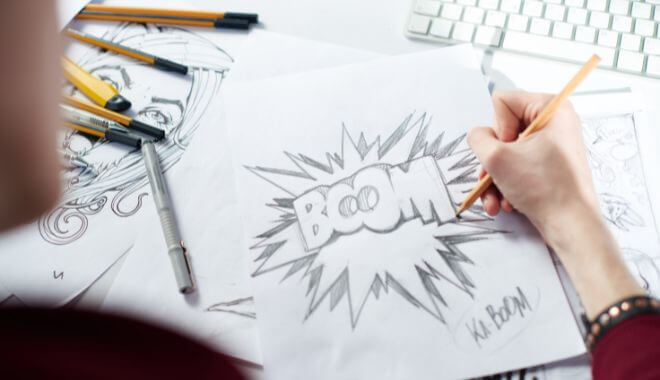 Although comic book artists don't add dialogue, they have to create typography for titles and such. As a result, assessing the type of typography that a genre, specific style, or comic requires can perfect a strip and make it look professional.
How Does One Become a Comic Book Artist?
If you want to join the likes of Stan Lee, Jack Kirby, Adam Hughes, and Joe Madureira, you're probably looking at ways to upskill yourself and get hired as a comic book artist. Becoming a comic book artist takes persistence, commitment, and determination.
When looking at your portfolio, a publication will look at the following aspects to see if you have what it takes:
Technique
Comic book art techniques are different from those of a regular artist. This is what will set you apart from someone who doodles or paints. An artist who knows how to skillfully use shading, lighting, perspective, color, composition, and other elements is a strong candidate.
Knowing techniques like rendering, draftsmanship, drawing bodies, and expressions to accurately represent realistic body language and facial expressions is also valuable.
Storytelling
Remember, comics are stories, so a comic book artist should be able to tell a story through imagery. They should have the skill or imagination to turn any story into a comic. Any story should become visually appealing regardless of the genre (action, romance, horror, or comedy).
That said, not all comics can have the same style. You should be able to adapt various styles as each project comes along. Adapting to various formats with ease and having the ability to turn basic stories into compelling narratives is a talent very few possess.
Experience
Obviously, no one gets experience without working. But if you're a beginner, you may want to begin working on your portfolio to showcase some of your best work. Work with different mediums, styles, textures, bodies, and expressions to show your range.
This can help a publication hire you as a comic book artist, even if it's an entry-level job.
Tips To Get Started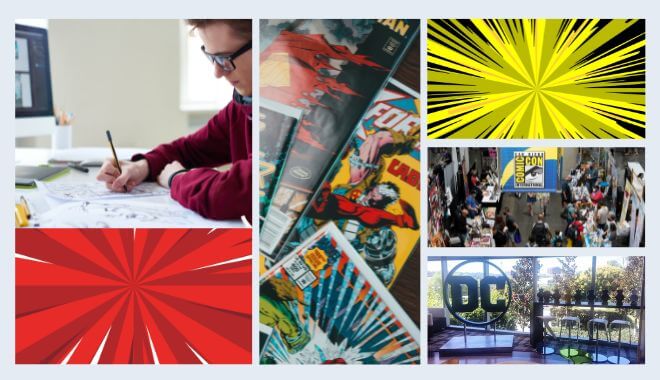 It's essential to get as much experience as possible in order to work with a publication. Here are some ways to hone your skills and show them off:
Start Creating Webcomics
Webcomics are posted online. They're an excellent way to practice and showcase your work. This will also help you find like-minded people, be part of a community, and challenge yourself to try new styles. In addition, posting a webcoming can also help you get noticed.
Create a Portfolio
Create a portfolio. Showcase work that you're proud of and show your skill. Curating a portfolio is the best way to represent your style and impress potential employers.
Start Networking
You want to branch out and meet people from the industry that you're keen on working with. Consider attending comic book conventions or festivals. By doing so, you can meet editors and publishers that you can learn from and show your portfolio to.
There are at least a dozen major comic book conventions hosted throughout the country each year. Visit as many as you can. Get advice and feedback from experts so you can expand your portfolio and network.
Apply to Major Comic Book Companies
If you're proud of your work and have an impressive portfolio, go ahead and start applying to reputable comic book companies. Although companies like DC, Marvel, or Dark Horse might be a little tough to get into in the beginning, other independent companies may be willing to give you a shot.
Even if you don't get to work on a major comic book, you could have the opportunity to work on some out-of-the-box webcomics, graphic novels, manga, and anime which can help you build your portfolio.
These are some of the ways to get started on your journey as a comic book artist. While talking about a career as a comic book artist, we need to mention one of the most important aspects: the comic book artist's salary.
What is a Comic Book Artist's Salary?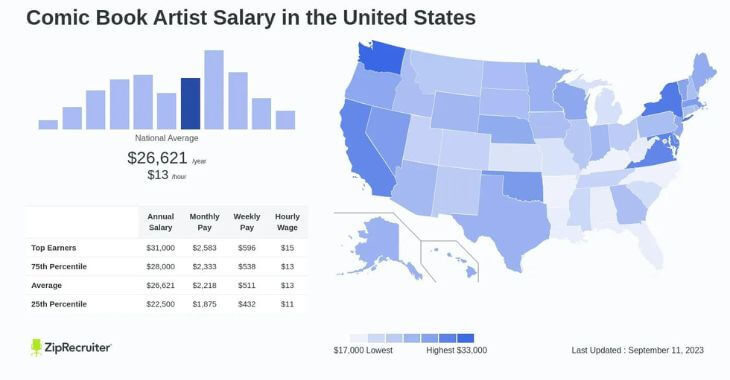 A beginner or entry-level comic book artist could make about $29,000-$40,000 annually. However, this range depends on your skillset, geographical location, and education.
As you get more experience, an associate or senior could get about a 6-figure salary. Moreover, most full-time and freelance comic book artist jobs tend to charge per page. The average page could be worth between $100 and $300. Elite artists are known to charge as much as $1,000! Needless to say, this could be a lucrative skill.
Some artists also get back-end royalties on merchandise, trade paperbacks, and movie royalties which are more than generous. The paychecks are rather steady and the more experience you have, the better.
The Current Comic Book Industry
Before Marvel and DC decided to turn their most popular superheroes into box office hits, the industry had died down a bit and wasn't as popular as before. Comic books that still rely on published volumes weren't as saleable in the new era of digital media.
But thanks to the brilliant idea of movie production companies and comic book publishers, a new generation of readers is learning to appreciate classic comic book titles.
Today, the comic book industry is worth billions. In fact, many old-school comics are now considered "collector items" and re-sold at exorbitant prices. A man in Kentucky sold about 175 comics, including the first issues of Superman, Batman, and the Flash for $1.5 million.
So, besides getting paid for your artistic abilities, being a comic artist gives you flexibility while letting you unleash your creative side and become part of a legacy.
Conclusion
Becoming a comic book artist is perfect for creative people who love comics. Knowing about fine art as well as an understanding of storytelling, storyboarding, visual communication skills, and familiarity with comic styles and genres can certainly help you get one step closer to your dream job.
Additionally, creating a portfolio that showcases your best work and shows off your skills will also help you get noticed. That said, you should be realistic. Don't expect to be poached by top firms right away. After all, there's no harm in starting with independent publishers who have smaller projects.
Now that you have a deeper appreciation for what a comic book artist does and what it takes good luck! We wish you success and a rewarding journey.
Sources:
https://www.alliedmarketresearch.com/comic-book-market-A98892
https://www.bls.gov/ooh/arts-and-design/craft-and-fine-artists.htm
https://www.theverge.com/2019/5/5/18529601/avengers-endgame-marvel-disney-box-office-2-billion-worldwide
Image Sources:
https://katv.com/news/local/arkansas-comic-book-artist-and-creator-makes-a-name-for-himself-in-the-comic-industry
https://www.careers360.com/careers/cartoonist
https://edition.cnn.com/2022/07/21/entertainment/comic-con-preview/index.html
https://www.ziprecruiter.com/Salaries/Comic-Book-Artist-Salary