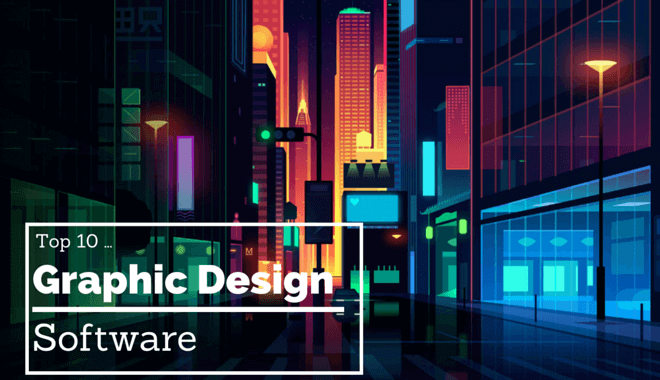 We get it! Different graphic designers are going to want different things out of their software options. After all, it's not like all graphic designers are working on the same project. Different scenarios call for different tools. Maybe you're a graphic design veteran, in which case you probably have your tried-and-true software options all picked out.
Maybe you're fresh to the field and you want to get a sense of what's what as far as software is concerned.
What's cool is that these days, there's all kinds of open-source software or at least free-to-use software on the internet. In the spirit of experimentation, let's get to listing! We'll explore a number of free options, and some paid options, and leave it up to you to figure out what fits best.
1. Sumopaint
---
In the spirit of diving right into it, let's start with a program that works right in your web browser! Sumopaint is both a painting application and an image editor, and like we said it works right in your browser. You don't have to download anything. You can if you want to, but you don't have to.
You can create an account with Sumopaint for easier access to your work. You can upload images from your computer into the program to edit them. It has brushstroke options, pencils, a standard color picker, and a light, familiar-feeling interface. Yeah, and it's free.
Check it out here: https://www.sumopaint.com/home/
2. SVG-Edit
---
Looking for another browser-based, totally free program? How about a vector image editor? SVG-Edit is a handy little browser-based program that lets you do exactly what it's name suggests: edit an SVG file. Of course, you can also quickly generate a new SVG file, too.
The program is browser-based, so whether you're loading an image into the program or whipping up something new, you can access it from any modern browser.
3. Serif DrawPlus
---
OK, we are out of the browser software now, but it's still free! You can download a free version of Serif DrawPlus here. Wait until you hear some of these features! So Serif DrawPlus supports the creation of web graphics and animations. Whether it's banner ads or rollover-graphic web-buttons, you can embed them with HTML no problem.
The program also offers a good array of painting "techniques:" charcoal, pastel, watercolor, and even spray-brushes let you augment photos or create something from scratch. DrawPlus also lets you add a touch of 3D to your drawings; you can apply surface effects and lighting effects to make your creation come to life.
4. Daz 3D
---
Are you guys ready for a cool one? Guess what, it's still free. It's a 3D content creation tool. It's called Daz 3D. You can pose, animate, morph, and render models, all in 3D. Humans, animals, props, vehicles, it's all there for you to animate or create.
Daz 3D boasts ease of use to all skill levels, whether you're just starting out or you've been animating for years. Daz Studios offers some even more powerful software, but the price starts jumping up drastically. It's also available for both Mac and Windows.
5. Alchemy
---
Alchemy is a very neat program. It's kind of like brainstorming software. There isn't an undo button. There isn't much editing functionality, and there's minimal selecting functionality too. According to the Alchemy site, "interaction focuses instead on the output of a great number of good, bad, strange, and beautiful shapes."
In a field where it can be hard to let something go as "finished," losing a lot of that control and only moving forward with the creation is liberating and refreshing. It's free!
6. Blender
---
Remember that open source code we mentioned earlier? Time to bring it out! Blender is an open source 3D modeling software that lets you go hog wild without breaking the piggy bank (as in it's free). It's available for Mac, Windows, and Linux.
With Blender you have the power to do photorealistic rendering, fast rigging, sculpting (with 20 different brush types), and even game creation. Blender has a full game engine included right in the software. Not bad for a totally free, open-source program.
7. Inkscape
---
Inkscape is available for free download on Mac, Windows, and Linux. It's another program operating with SVG files as its primary format. In addition to being free, it's also open source.
It's a powerful software tool that compares itself and its functionality to that of Adobe Illustrator. It's worth popping over to the Inkscape site to take a look at what it's capable of in the right hands.
8. Pixlr
---
Pixlr is an app available for iOS and Android. It is a free photo editor, replete with all the right tricks: red-eye removal, teeth whitening, not to mention hundreds of overlays, filters, and effects. Plus, it lets you post things right to social media.
It might not be a tool you add to your professional arsenal, but doing a little free-editing on your phone to make sure your social media profiles are looking good isn't going to hurt you!
9. Adobe Illustrator
---
Did you think we wouldn't actually include a product you have to pay for? We aren't crazy. If we promise it in the introduction, you'll get it in the article! That's how this trusting relationship works. Adobe Illustrator is the industry standard app for vector graphics.
It is the option (unless you don't want to pay for it, in which case you can mess around with all those free versions of vector graphics software we turned you on to!). In the latest version of Illustrator, they've made the whole program faster and they've made it easier to recover your work after a system crash. Talk about peace of mind.
10. Adobe Photoshop
---
Got you again. Hit you with the "Adobe Double." It's one of the oldest graphic design gags in the book. Photoshop is an imaging and design app. You can do some awesome photo editing with this software: you can combine several images, retouch photos, and even completely remove objects from the image.