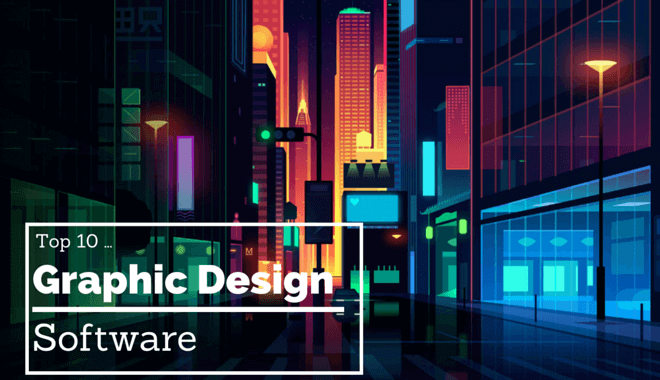 When we booted up our video game consoles back in 2011, we were introduced to a living world. Lush foliage, gritty characters, and amazing weather effects. We are treated to a lengthy sequence in which the player-character is held a prisoner in the back of a wagon through treacherously dangerous mountain passes.
Waterfalls, rockslides, and woodland creatures were all present, pulling you into the dense world. Of course, I am talking about Bethesda's Elder Scrolls V: Skyrim. The RPG brought presentation and graphics to a new level and really kicked off gaming in the 2010s in style.
Bethesda has mastered the graphical arts of their games, really harnessing the software they use to bring you into their beautiful, imaginative worlds. How do they do it? How do they seem to work a special kind of magic that bewitches our senses and fully immerses whoever plays their game?
12 Best Software for Graphic Designers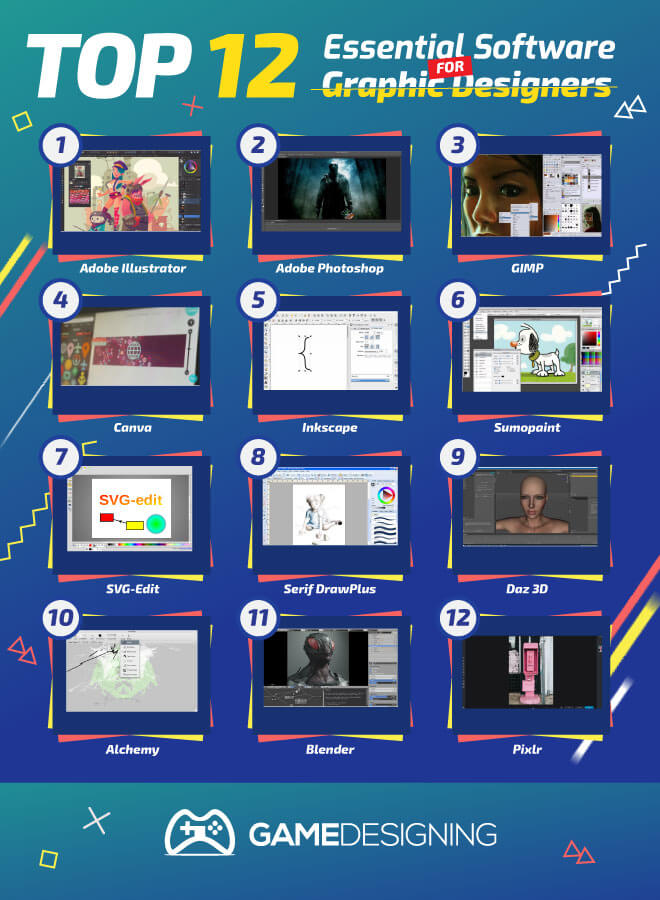 More importantly than their physics and engine, they create beautiful textures in the game to literally paint a picture for us gamers to ogle at. I personally love to be able to play a game, go to its options settings, and crank up textures to 'ultra'.
In the Total War franchise, I love to see the intricacies of a warrior's armor, the blood, and gore splattered on their weapons, and the overall chaos of the battlefield that the creators have put into the game.
Think of games like the Banner Saga, in which the background and characters are beautifully drawn and meticulously animated. The developers spent hours working on them through graphic design software.
A unique blend of early Disney-esque backgrounds and old-school animation features, graphic designers can really up their game with practice and vision.
Although it is a beautiful thing to just stay ignorant and imagine it, there is actually a very simple answer: a great gaming engine and quality graphic design software.
Graphic Design Software
A big part of our lives is created by graphic design. The ads we see, the products we love, and signs all around us are created by graphic design.
There are so many passionate designers around the world that want to harness powerful software to create and share. Well, lucky for them, I have compiled a little list for them.
Okay, I have rambled So, what is the best graphic design software? Is it possible to design something of the same caliber as Skyrim? Hold on there, cowpoke. Let's start with the basics. Here is a list of 5 of the best graphic design software products you can create within 2022.
Adobe Illustrator
---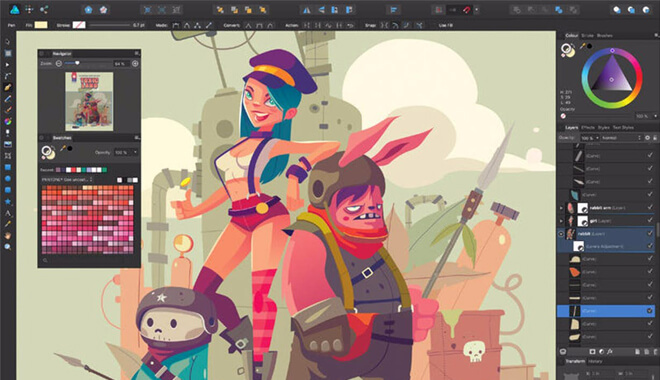 If you are design literate at all, you know the name Adobe. Adobe Illustrator was launched in January 1987 for Apple computers. It has been in production ever since. That is 32 years, folks. Not only that, but it is constantly updated, with its most recent one being a month ago.
This is the first software for graphic designers to go to. It is the gold standard.
So what makes Adobe Illustrator great, being trusted by hundreds of thousands of artists? Here are some pros and cons for you to mull over.
Pros:
I cannot stress this advantage. The great user interface is the bare bones expectation for a great program. Think about some of the worst user interfaces around. Isn't it a real pain to get around some of your favorite apps or games?
GTA IV springs to mind, where the weapon wheel is poorly designed, where you can end up being riddled with bullets if you try to change weapons for too long. ANYWAY: Adobe Illustrator has a great user interface that won't get you stuck in the muck and mire of complicated menus.
In-panel editing
Great scalability
Accessibility on other platforms:
Although it started its life on Apple computers, you can now use it on nearly every computer platform, so there is no excuse not to use it
Cons:
This might be a little frustrating for some. Although you can create great projects, it will take some time to get better at it. But if you are determined to get better and make the best project you can, this is just a hiccup in your journey.
Make sure your computer has enough space because this baby takes up a large amount of space on your computer.
Pricing:
Adobe Illustrator is currently on sale for a hefty two options:
$239.88 a year for the Illustrator Single App
$599.88 a year for Creative Cloud Apps, Illustrator + all Adobe creative apps
The license for Illustrator is an in-house proprietary license. This means that it is closed source software, controlled by the company, namely Adobe. This includes patent rights, copyrights, and makes the Adobe Suite of graphic design into intellectual property, (IP).
Adobe Photoshop
---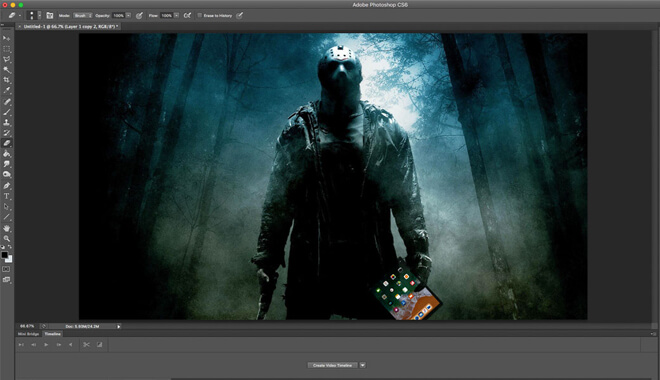 No surprise here: Adobe is a quality suite of programs for your computer. Like Illustrator, Adobe Photoshop is well known in the graphics software world. We all know great quality images o all over the internet with Photoshop's fingerprint all over it.
Used by graphic designers, advertisers, and even students, Photoshop is synonymous with photo editing software.
Released not long after Illustrator, in 1990, Photoshop was also originally designed exclusively for Apple Macintosh computers by two brothers, Thomas and John Knoll at the University of Michigan. Here are some pros and cons for the storied program.
Pros:
As with its contemporaries in Adobe, Photoshop is constantly updated with the best current build of software constantly. This caters to both new users and veteran users.
Right in the program, you are able to design beautiful graphics. Few other programs can say the same. This is a godsend for those who deal in advertising, as it creates aspects of that field in a heartbeat.
Need a flyer made? Fear not, because not only can you create quick projects, but also harness great graphics to enhance them, making the most creative projects possible.
Quick, quick, quick. This is a great mantra to use when using the program. Everything that Photoshop can create is able to be created rather quickly. If you are a veteran user, you can harness this program and make great projects with unsettling ease.
Watch colors, pictures, and editing unfolds around you as you master what Adobe has to offer.
Cons:
Yep, much like Adobe Illustrator, the learning curve of Photoshop can be a little much for those users out there who are not exactly familiar with the suite of programs.
I remember opening Photoshop myself back in the day, only to be examining the user interface with a confusion, almost like I was staring at hieroglyphics or cuneiform.
To be fair, I had no experience with editing and graphics software. It isn't something where you learn by trial and error; you should look at the many tutorials online.
The pricing of Adobe programs can be extremely steep, especially for users who aren't exactly well-versed in the programs. If you are simply dabbling in the program, it could be daunting to fork over hundreds of dollars for a shot at creating graphics.
Photoshop also utilizes the proprietary license that Adobe Illustrator uses. Again, this means that it is a closed source, not available for free editing by other users of the community. Adobe controls everything about it.
Pricing:
Photoshop Single App $239.88 a year
Creative Cloud Photography Plan (20 GB) Photoshop + Lightroom $119.88 a year
Creative Cloud All Apps Photoshop + all Adobe creative apps $599.88 a year
GIMP
---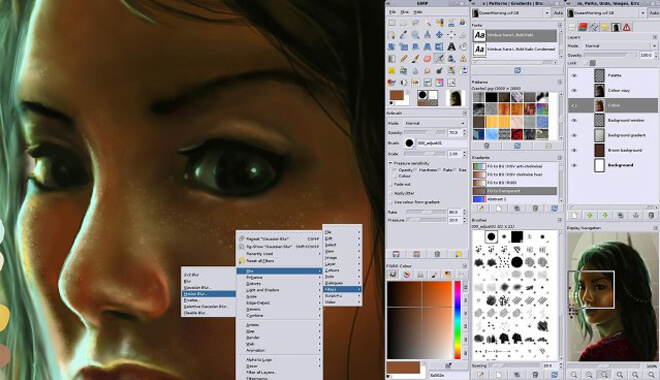 Ah, GIMP. I spent many hours on this cool little program. For newer users for graphics and photo editing, GIMP serves as a nice introduction to graphic designing.
As I said before, I sat in front of Photoshop confused by its very presence. This wasn't the case with GIMP. With GIMP, it was a quick and easy download online, followed by an easier user interface.
Developed by Spencer Kimball and Peter Mattis in 1996, GIMP, (GNU Image Manipulation Program), has been a great alternative software to the expensive suite of Adobe programs. It has a great interface that is a little less intimidating for those rookies starting out on their first projects.
They also have great tutorials online for those just starting, so it is welcoming software as well. Its slogan should be 'Designers Welcome'. Hey guys, I will collect my royalty check now. The license GIMP uses is the GNU General Public License, (GPLv3+).
Pros:
There is none! As opposed to the steeper price of Adobe products, GIMP is completely open and free. This is without a doubt the best FREE graphic designing program available on the market today.
GIMP is a great program for small or medium-sized businesses trying to create some great graphics, brochures, or web sites for their companies.
Cons:
Since it is free, GIMP might not contain the same quality updates as something like Illustrator or Photoshop.
This might be off-putting to more experienced graphic designers, as they will probably be looking for something that really ups the ante in the creative department.
As much of a con as this may be, the ease in which anyone can download the program, I believe, offsets this aspect.
Pricing:
This program is completely and utterly FREE! That's right, my artistic friends, GIMP can give you many great features and other aspects for no money at all. This is being an artist on a budget; something I think we can all appreciate.
Canva
---
At first, I thought this was a typo: shouldn't it be Canvas? Nope, it is something all its own: Canva. Canva is a great little program released in 2012 that allows users to easily create more complex art projects in a manner of minutes.
It was created by Melanie Perkins, an Australian-based designer. Creating a website has never been so easy going into 2020. This program allows for wide accessibility for both veterans of graphic design as well as greenhorns.
You could even use it on a tablet! I really dig the ease of which Canva can be used. It can primarily be used, like other programs, for any size business to create the best-looking websites for visitors to see.
That is so important: there is nothing worse than accessing a company's website and seeing it looking like a blind mouse designed it back in 1998 on GeoCities. It is perfect for creating advertisements as well.
Pros:
This is so crucial, especially for newer designers. Powerful drag and drop features are what fuels Canva into what it does best. Users can seamlessly drag and drop and edit layers with ease that users may even prefer over Adobe products.
Canva has a host of great features that it shares with some of the premier best graphic designing software. It has a great set of templates to ease the use, getting you started on projects where you may come upon a creative block in your designing process.
There is a great support system for Canva as well, so if you are ever stuck in a tricky design, or if something goes wrong with the program itself, there is someone just a call away. This priority for customers is reassuring.
Cons:
The difference between the bare-bones program for free and that of the subscription really makes the user need to use the $12.95 subscription to actually accomplish your projects with ease.
Pricing:
This is a good 'in-between' for users who don't want to drop a fortune on software like the Adobe Suite but want to kick up their experiences more so than what GIMP may have to offer.
It has a free trial so you can go for a test run.
The base program, simply Canva, is free as well. It includes a lot of features, however, not all of them are included in the full version. A certain feature, namely folders for your designs, is limited to 2 in this version.
Canva for Work is a reasonable $12.95 a month.
This version allows you to have unlimited folders for anything your heart desires. It gives you unfettered access to many other features, like over 8,000 templates for the great beginning design.
Inkscape
---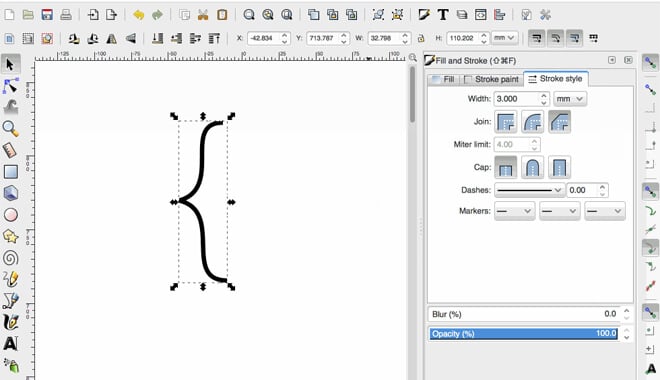 I love Inkscape. It was released back in 2003. This is a great option for those with a handy stylus and a keen sense of what they want to draw and create.
Not only that, but it also prides itself on its ease of access for many platforms. With its strong vector creation, it clears the way for any designer to make a number of things with ease.
It uses the GNU Public License, (GPLv3+), which allows for every derivative work within the program to be released under the terms of the license. GIMP also utilizes this license.
Pros:
This is the crux of the program. It is so easy to create vectors, which in turn opens the way for creating stunning visuals with ease and style.
This software is free and open-source. Like GIMP, it allows users of any experience level to create, share, and edit anything for free. This is essential for those designers who are hesitant to jump into the deep end of high-end graphic design software.
Cons:
for a con, this is small potatoes. Some users have complained that earlier versions were a little buggy: possible crashing, a laggy interface. With the current releases, problems like have eased up a lot.
Pricing:
That's right, folks, it is free. As I said, it is open source and free to use by everyone. With its license, the only stipulation is that works under it also are licensed by it.
Sumopaint
---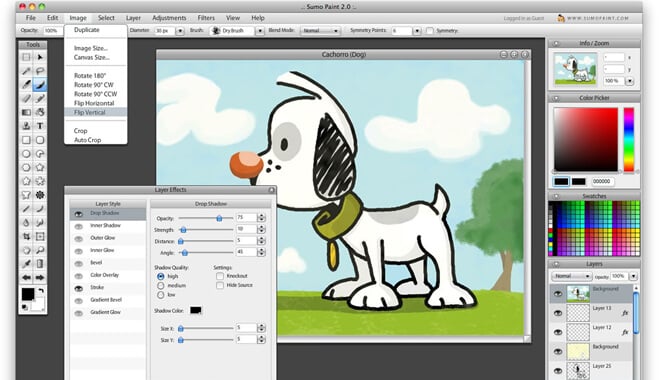 In the spirit of diving right into it, let's start with a program that works right in your web browser! Sumopaint is both a painting application and an image editor, and like we said it works right in your browser. You don't have to download anything. You can if you want to, but you don't have to.
You can create an account with Sumopaint for easier access to your work. You can upload images from your computer into the program to edit them. It has brushstroke options, pencils, a standard color picker, and a light, familiar-feeling interface. Yeah, and it's free.
SVG-Edit
---
Looking for another browser-based, totally free program? How about a vector image editor? SVG-Edit is a handy little browser-based program that lets you do exactly what its name suggests: edit an SVG file. Of course, you can also quickly generate a new SVG file, too.
The program is browser-based, so whether you're loading an image into the program or whipping up something new, you can access it from any modern browser.
Serif DrawPlus
---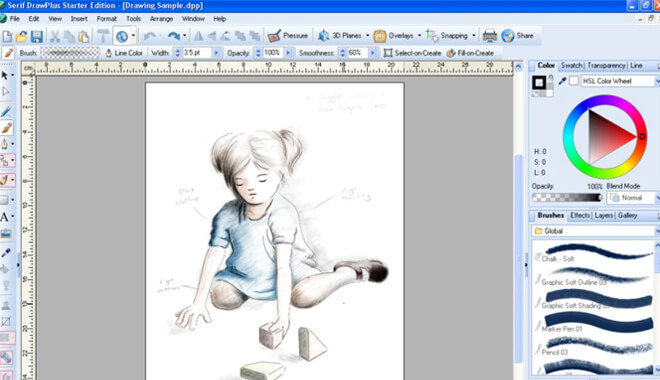 OK, we are out of the browser software now, but it's still free! You can download a free version of Serif DrawPlus here. Wait until you hear some of these features! So Serif DrawPlus supports the creation of web graphics and animations. Whether it's banner ads or rollover-graphic web-buttons, you can embed them with HTML no problem.
The program also offers a good array of painting "techniques:" charcoal, pastel, watercolor, and even spray-brushes let you augment photos or create something from scratch.
DrawPlus also lets you add a touch of 3D to your drawings; you can apply surface effects and lighting effects to make your creation come to life.
Daz 3D
---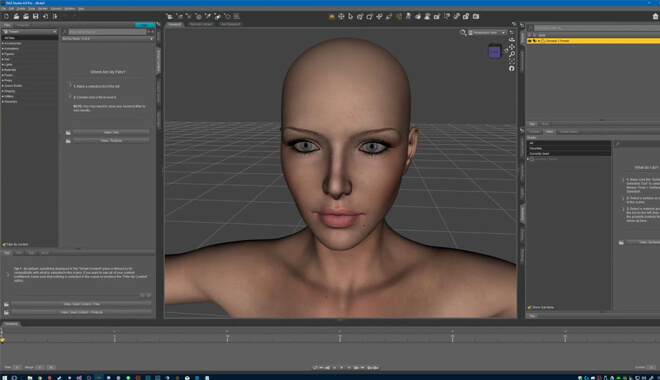 Are you guys ready for a cool one? Guess what, it's still free. It's a 3D content creation tool. It's called Daz 3D. You can pose, animate, morph, and render models, all in 3D. Humans, animals, props, vehicles, it's all there for you to animate or create.
Daz 3D boasts ease of use to all skill levels, whether you're just starting out or you've been animating for years. Daz Studios offers some even more powerful software, but the price starts jumping up drastically. It's also available for both Mac and Windows.
Alchemy
---
Alchemy is a very neat program. It's kind of like brainstorming software. There isn't an undo button. There isn't much editing functionality, and there's minimal selecting functionality too. According to the Alchemy site, "interaction focuses instead on the output of a great number of good, bad, strange, and beautiful shapes."
In a field where it can be hard to let something go as "finished," losing a lot of that control and only moving forward with the creation is liberating and refreshing. It's free!
Blender
---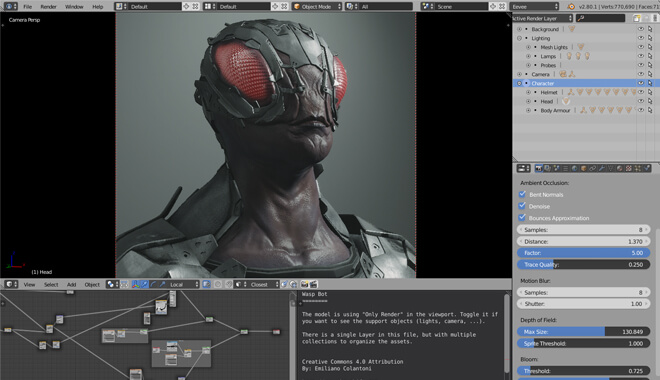 Remember that open source code we mentioned earlier? Time to bring it out! Blender is an open-source 3D modeling software that lets you go hog wild without breaking the piggy bank (as in it's free). It's available for Mac, Windows, and Linux.
With Blender, you have the power to do photorealistic rendering, fast rigging, sculpting (with 20 different brush types), and even game creation. Blender has a full game engine included right in the software. Not bad for a totally free, open-source program.
Pixlr
---
Pixlr is an app available for iOS and Android. It is a free photo editor, replete with all the right tricks: red-eye removal, teeth whitening, not to mention hundreds of overlays, filters, and effects. Plus, it lets you post things right to social media.
It might not be a tool you add to your professional arsenal, but doing a little free-editing on your phone to make sure your social media profiles are looking good isn't going to hurt you!
Never fear, designers! There is a slew of graphic design software for you to explore, create, and publish for all to see. This was barely scratching the surface when it comes to the different avenues and options you have for whatever you need as a designer.
While these are just a few programs, I believe that these are the kings of graphic design software that will dominate 2022 and possibly even further. What will the year bring in terms of great graphic design capabilities? I am not sure, but I sure am excited to find out. Happy designing!
Image Source: (Newatlas, Engadget, Extremetech, Stackexchange, Sumopaint, Softonic, Blender)