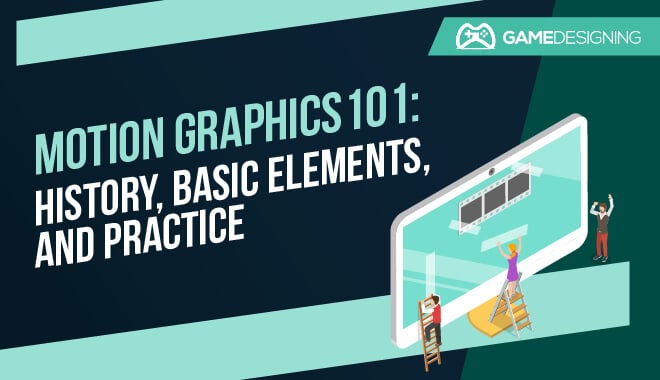 Ever see a great intro or beginning to a movie or television show? One that had a great mix of graphic design, animation, and visualization? Art and culture have played huge parts in forming the experience of millions of viewers via motion graphics.
In particular, motion graphics have significantly impacted how we, as viewers, partake in storytelling, topics, and learning skills.
Let's look a little closer at this unique visualization and graphic design style that has been around for quite a while.
The Term 'Motion Graphics'
---
First off, is motion graphics graphic design? Yes, absolutely. It's much more than drawing on your tablet or designing a new logo. Not that those aren't essential parts of art and design.
The actual term 'motion graphics' sprang up around the 19th century. While there is no concrete timeline for the exact beginning of motion graphics, experts agree that it began in the 1800s.
Specifically, Walter Ruttmann, a German filmmaker, was the first director to actually employ visualization techniques like motion graphics. He used oil paints on glass plates for more straightforward graphic effects and motion.
Further on, in 1960, graphic designer John Whitney actually founded a company called Motion Graphics Inc. John Whitney, a fantastic graphic designer, created the art for the Alfred Hitchcock film, Vertigo.
Whitney's use of the newly dubbed 'motion graphics' paved the way for the medium's future. However, the big breakthrough for the term was via a book titled Creating Motion Graphics, written with Adobe After Effects in mind.
What's the Story with Animation?
---
What is the difference between animation and motion graphics? Animation is the broader term for anything and everything that has animated facets to it. Motion graphics are graphic design in motion.
Something that sets motion graphics apart from more reasonable animation practices is that motion graphics and other visualization techniques usually cover more abstract concepts. Instead of a linear story, these animation pieces represent concepts surrounding politics, history, and different types of subjects.
Motion graphics are pretty diverse, and you can find them in 2D and 3D, computer-generated, or hand-drawn. Let's explore some of the most prevalent forms of motion graphics and how they transform an idea into a story.
Computer-Generated Motion Graphics
---
It isn't a surprise that with the rise of widespread computer usage from accounting to playing video games, that a graphic designer's job became more diverse. Different software, like Adobe Photoshop or Illustrator, allows production teams to forge worlds, capture full stories, and more.
When the 1980s turned into the 1990s, motion graphics quickly became even more advanced. They were even called 2.5D, being a unique mix of 2D and 3D animation.
Particle Systems
---
You may have heard of particle systems, especially in video gaming. Under the scope of motion graphics, particle systems are enacted to empty multiple animations. This could range from having a few different characters moving at once on a screen or other background elements in play.
Particles themselves are 2D or 3D (or both) points where things can be displayed.
Particle systems, especially in Adobe programs, are included as part of packs. Crowd scenes are perfect examples of particle systems in effect. If the graphic designer wants to create the illusion of a crowded city street, a particle system needs to be employed. Once that's activated, a production team can create multiple animated elements at once.
Particle effects are just some of the many parts of the detailed and nuanced machine that make up motion graphics.
Animation: Tell the Story in Motion
---
The animation is where motion graphics really shine. The special effects of influential motion graphic designers make it seem like stationary objects or characters are moving. A great example of the meld between animation and motion graphics is author John Green's video series.
In his Crash Course video series, the types of animation are helping educate through simple computer-generated movement. The effect? Powerful explainer videos and cohesive character animation, powerful stories from history, and more.
It also works as a piece of effective data visualization, furthering the significance of design skills and programs like Adobe Illustrator.
Notable Motion Graphics Artists
---
Now let's see some sterling examples of motion graphic design mastery by looking at famous illustrators who executed great ideas.
Saul Bass
---
Among many talented graphic designers, few have had the impact that Saul Bass had. Responsible for hundreds of iconic animations, illustrations, logos, and every other type of graphic design, all before advances in computer animation took hold.
Saul Bass won Oscars for his special effects for movies like Psycho, The Man With the Golden Arm, Goodfellas, Casino, and North By Northwest.
He also crafted the iconic logos for AT&T, United Airlines, Minolta, Dixie, Quaker Oats, and Girl Scouts of the USA. His uncanny talents as a graphic designer formed a vast swatch of pop culture and the way we view logos.
Alexsander Barhøn
---
Moving into the present, Alexsander Barhøn is a fantastic motion graphics designer who focuses heavily on UX/UI design in his work.
Alexsander Barhøn has also worked extensively with big name brands like Nike and Calvin Klein.
Nidia Dias
---
Nidia Dias is a talented artist who breaks down animations of 2D and 3D art into its barest, most simple aspects to create fully comprehensive motion graphics. It's all about the individual frames for her, and her work with Adidas and Nike is impressive.
Studios
---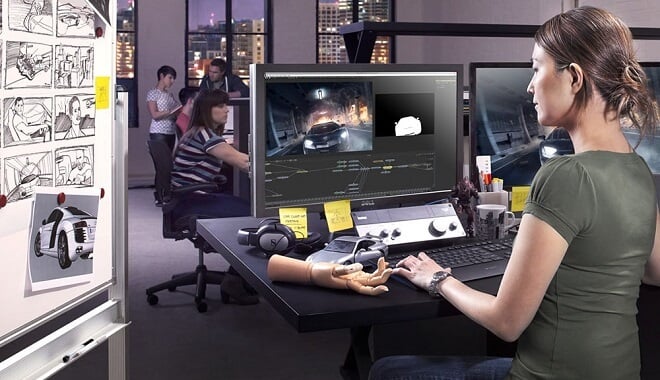 There are quite a few world-famous motion graphics animation studios creating amazing content at a break-neck pace.
Thought Café
---
Thought Café, formerly Thought Bubble, is the talented studio responsible for John Green's Crash Course series of lectures. For years, Thought Café has illustrated and animated hundreds of videos for John Green's History course and spin-off lectures in the Crash Course series, like statistics, sociology, and mathematics.
Buck.tv
---
Buck.tv is an impressive group of individuals. The prevailing philosophy at this company is the sheer power of effective collaboration. They believe, along with talent and computer programs, that the art of collaboration and communication can give way to breathtaking design. And they're not wrong. The company has worked alongside Amazon, Hulu and had a hand in PSAs and more.
Jumbla
---
Jumbla is an impressive company that has a significant presence in motion graphics. They primarily work in developing art for commercials and YouTube ads and logos, gaming, and television.
Blur
---
If you have seen the movie Deadpool, then you are already familiar with Blur's impressive work. These animators specifically work in TV and movie motion graphics. They bring characters to life in feature films, game cutscenes, and more.
Motion Design and Digital Compositing Software Packages
---
Some of the most famous pieces of animation and illustration software are perfect for the medium. Most notably, Adobe has been perhaps the most influential force in creating art.
Adobe Illustrator and Photoshop are motion graphics animators' go-to artistic programs. Let's see a more comprehensive list of software you can get right now. Prepare yourself. It's a pretty long list. What software is used for motion graphics? Let's see:
Adobe Illustrator
Adobe Photoshop
Adobe After Effects
Mocha AE
Cinema 4D
Red Giant
Premiere Pro
The Trapcode Suite
Adobe Animate
Moho
The Unreal Engine
Zbrush
Blender
Cavalry
Nuke
Houdini
Autodesk Maya
SynthEyes
TurbulenceFd
EmberGen
3D Coat
Substance Painter
I told you it was long. Make sure you explore a few of these programs. A lot of your success can derive from how comfortable you are with particular 3D software.
Motion Graphics Examples
---
Branding
Television title sequence
Telling a story
Creating awareness
Explaining a concept
Telling a story
Share a product video
Motion Graphics Templates
---
So now you want to be a graphic designer. More specifically, you want to be a graphic designer that specializes in 2D and 3D animations and visualizations. Whether you want to tell powerful stories or teach others skills, creating killer visual strategies has never been more accessible.
Here are some great templates to get you started on your motion graphics production process.
Can You Become A World-Class Illustrator?
---
There is quite a lot of info to digest regarding motion graphics. It only goes to show how much of a staggering influence the art form has had on our society. Transforming pop culture, the way we view media, and more motion graphics are integral parts of the human experience.
With these tools, histories, and links to various templates, the ball is in your court now. Are you the next Saul Bass? Get to work and find out!