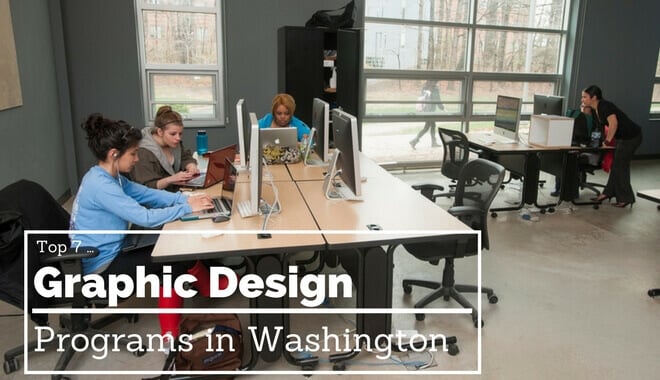 Washington is a pretty cool state. Coffee, technology, scenic views–it's got everything!
If you're looking to pursue a career in visual communication and problem-solving, Washington just might be the right option for you.
We've put together a list of 7 of the top Graphic Design schools in Washington in an effort to make your search for higher education easier.
Whether it's Seattle or greater Washington you're after, or you're just considering a career in Graphic Design, this list is a great place to start.
Our Ranking Criteria
In addition to feedback from schools and alumni, we rely on public data sources to determine our school rankings (read more). Some of these data sources include:
Because of our methodology, we don't rank schools in any particular order.
Washington Graphic Design Colleges
University of Washington – Seattle Campus
The Computer Science and Engineering department at the University of Washington is an exceptional school for all things computer science. There are only 770 undergraduates in the entire department. The low number lends itself to the strong social community and an empowering academic environment.
You won't be able to jump right into the Computer Science and Engineering Department programs. First, you have to apply to the University of Washington. After they accept you, you'll need to take prerequisite courses. Once you've completed the prerequisite courses, you can make a bid for acceptance into the CSE program–they don't let just anyone in.
The University of Washington is a research university, they explain the benefit of that on their website "we believe that a research university is a unique institution that can provide a unique undergraduate education – an education in which bright and committed students are brought to the very forefront of knowledge, closely mentored by faculty who are (with their students) working to redefine that forefront."
At the University of Washington you won't just be keeping up with the industry-standard practices, you will be on the cutting edge of the field. Even though this isn't technically graphic design, you'll be at the vanguard of industry practices, and will have developed plenty of skills that could help you pursue graphic design.
Featured Online Graphic Design School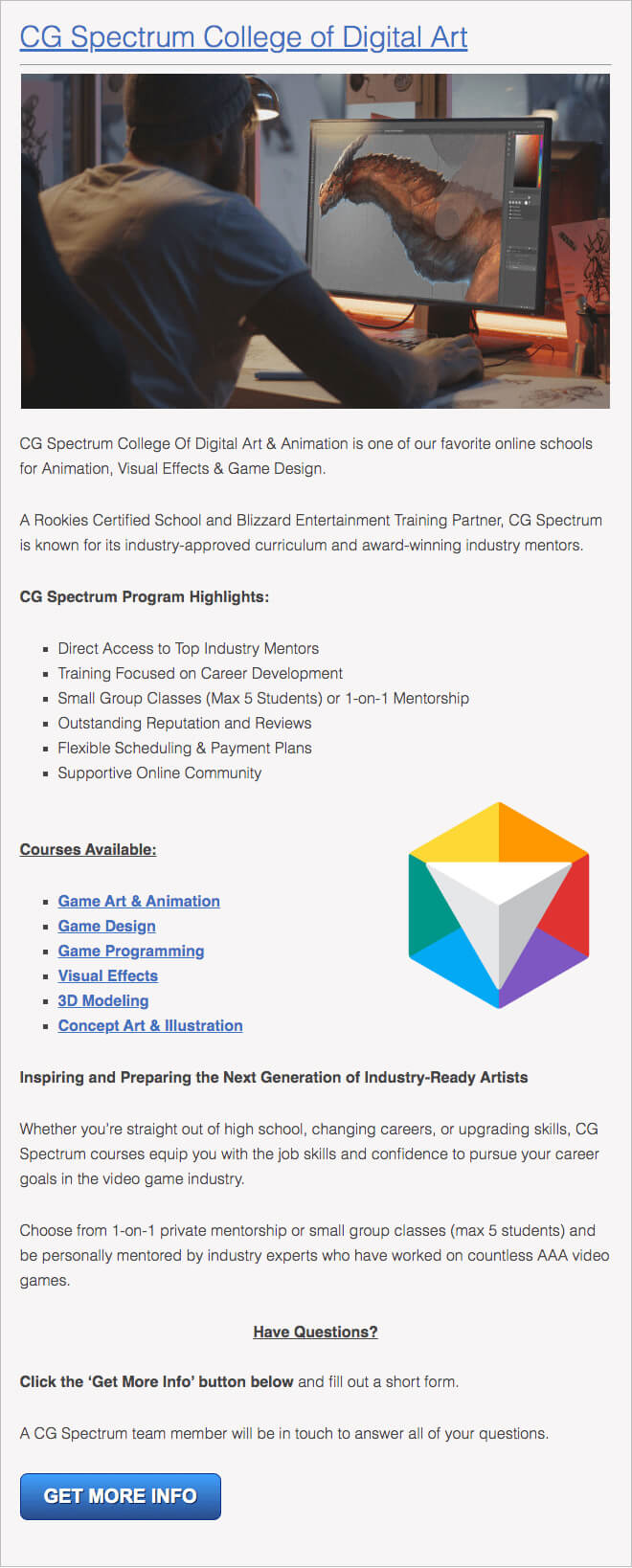 Art Institute of Seattle
Regardless of your path, there are courses shared between the concentrations of Visual Design. Some of these include Color and Design Fundamentals, Image Manipulation, Web Page Scripting, Digital Illustration, Traditional Typography, and Interactive Motion Graphics.
If you take the Graphic Design Concentration, you'll be exposed to Advertising Concepts, Package Design, and Advanced Layout Design. The Graphic Design Concentration includes business and advertising concepts. These concepts separate graphic design from its web design counterpart.
If you follow the Web Design Concentration, you will be exposed to topics such as Information Architecture, Interface Design, Design for Mobile Devices and Emerging Technologies, Web Page Design, and more.
Both paths have their merits. The concentrations are better suited for different career paths. Once you know what you want to do, deciding on a concentration will be much easier.
Central Washington University
If you're looking for a program that will challenge and develop your critical thinking while exposing you to digital media and print media, then it's worth taking a look at Central Washington University. CWU offers a Graphic Design Bachelor of Fine Arts program.
If you've read any of our other School List articles, you know that a Bachelor of Fine Arts program can be an intense undergraduate program. In order to be admitted to Central Washington University's BFA program, you'll need to pass a portfolio review, which doesn't take place until your Junior year.
There's a grade-point average requirement as well– keep your grades up because your admission into the Graphic Design BFA program depends on it. The Department of Art recommends that you enroll in the Bachelor of Art Graphic Design Track program during your Freshman or Sophomore years.
This will ensure you're paired with an advisor and you can plan your path and discuss your options for the program. The BFA program requires you to complete a 10-12 credit summer internship program.
Washington State University
The Digital Technology and Culture course at Washington State University is, interestingly enough, located in the English Department. Don't let that deter you–this program can prepare you for a career in Graphic Design.
You'll be exposed to strong design principles as you create your own works, and analyze the work that's out there today. Washington State University gives you access to the latest technology to practice creating and proliferating your own digital works across various mediums.
This interdisciplinary degree program, according to the WSU website, "combines the creative production and critical exploration of digital media. DTC emphasizes a historical, rhetorical, and cultural understanding of digital media so as to prepare students for problem-solving and communicating both locally and globally."
Your creative thinking abilities, your audience awareness, your project, and information management skills — these are all traits you'll have and be able to market upon completion of the program.
Eastern Washington University
Attending this program at Eastern Washington University requires two years of a single foreign language at the high school level or one year of a single foreign language at the college level. In the BA Visual Communication Design program, you will receive the help you need to prepare for a career in web design, multimedia design, or graphic design.
The Visual Communication Design Bachelor Program will expose you to fundamental art topics like Drawing and Typography. As you move further into the program, you'll learn elements like Computer Graphics, Color Management, and Web Page Design. Your education in Visual Communication Design can be customized and enhanced with a hefty assortment of approved electives.
The Visual Communication Design Bachelor of Fine Arts Program is a bit more intense.
According to the Eastern Washington University website, the program was "founded on four major concerns: developing the highest levels of individual creative performance and professional education; providing courses for all students which develop ability in both technical visual communications, as well as important core skills in the area of fine art; giving students a greater cultural and historical understanding and aesthetic appreciation of the function of design in the arts and in the world around them; and functioning as dual centers of emphasis and resource for the visual arts, visual communication, and technology in the cultural activities of both the university community and the community at large."
Lake Washington Institute of Technology
The Lake Washington Institute of Technology is located just outside of Seattle, so it's no wonder that the school would want to cater to the demands of the technology industry. The Digital Design degree is a program that will teach you how to create compelling visual graphics for websites, hone your eye for design layouts, and help you produce great content for mobile devices.
Part of the Digital Design program at Lake Washington Institute of Technology involves online learning. They even have an "Evening Hybrid Degree Program." If you work during the day and need to attend school in the evening, this program is for you. Part of it takes place in front of an instructor, and the other half of the program is conducted online.
If you need a program in the greater Seattle area that caters to your very busy schedule, give the Digital Design program at Lake Washington Institute of Technology a look.
Shoreline Community College
In-state tuition at Shoreline Community College costs about $4,000. Out of Station tuition is about $3,000 more expensive. In the Graphic Design Program at Shoreline Community College, you will learn how to design user interfaces, web page layouts, and branding materials. You'll be exposed to advertising and marketing strategies and concepts, as well.
At Shoreline Community College, you are tasked with fostering and developing your creativity while learning the latest technology and software. You'll learn how to organize and conduct market research to create better products. You'll explore traditional graphic design elements, such as illustration, typography, and letterforms.
You'll learn how to effectively use colors, textures, lines, and other art elements for the purpose of visual communication. This is an affordable 2-year option, which could provide you with a solid foundation on which to build your graphic design career.