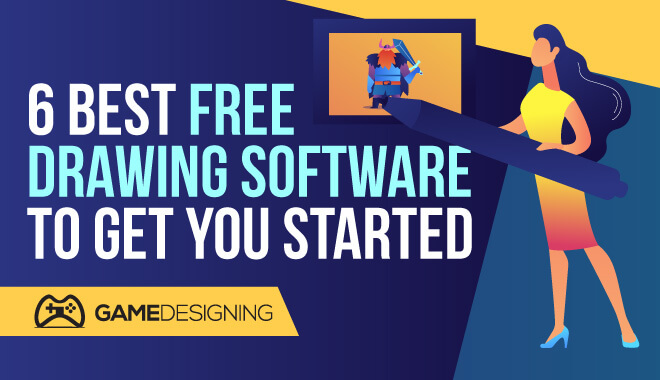 A close friend of mine is a World of Warcraft addict. Not that there's anything wrong with that!
What matters is that I would always see her hunkered down with her tablet, drawing not only her personal character but other World of WarCraft characters. This was the beginning of an established online art career for her. How did she do it?
Part of it was practice, another part dedication, but a surprising part was that she used a free piece of software.
That's right; she used a bit of free drawing software online to kickstart her freelance artist career, in which she has thousands of Instagram followers.
You may have had the misconception that you need a high-end paid drawing program to exhibit your artistic flair. There is a ton of free drawing software to get you started.
Before going forth, it's recommended to have something like a drawing tablet if you want to draw and paint on the go. Not that it's necessary, but carrying around your mobile tablet could be a great alternative to being cemented in your computer chair for hours.
But what are the best programs to use? Some are free, but are they all necessary good options for you? Only one way to find out: here are the top 6 pieces of best free drawing software to get you started on your artistic journey!
Criteria
---
Out of all of the free software, we determined several aspects that had them scoring a position on the list. These were things like ease of use, quality of the software, and how loved and used by the online artist community. Now let's take a look.
Top Free Drawing Software
---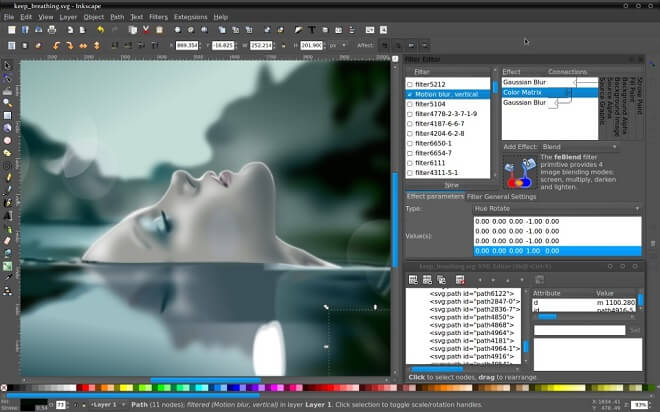 Platforms:
FreeBSD
Linux
macOS
Windows
Inkscape is an impressive piece of software that, right off the bat, has a fantastic online community in which you can actually contribute to the development of the program if you're familiar with coding. Part of why it's on the list is the fact that you can actually implement change as a user.
Community aside, the program itself is a versatile and popular free drawing tool. You're able to draw, edit, retouch, and even animate pictures.
Inkscape has been around since 2003 and is constantly updated and is available in 90 different languages.
It might take a bit to get over the learning curve if you're not used to drawing and art software.
However, there's more than enough resources on the site and in the community if you find yourself out of your element.
Here's where you can download Inkscape for free.
Pros
---
Great alternative program to Adobe products like Illustrator
An excellent online community to engage with
Scaling is fantastic; you can change the scale of an image without sacrificing image quality.
Cons
---
It can be laggy sometimes.
Different versions seem to have different qualities. Mac, for example, appears to be less polished than other versions.
---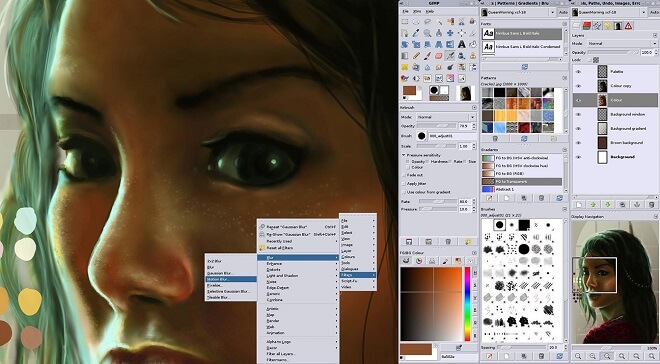 Platforms:
Linux
macOS
Microsoft Windows
BSD
Solaris
My personal favorite free drawing program, GIMP is an impressive piece of software that rivals Adobe Photoshop in many ways. In that regard, it's perfect for beginning artists and graphic designers.
It serves as a great introduction to the world of online art and has been around since 1996. Over 20 years since its release, GIMP has been a favorite of many budding artists' toolboxes. The learning curve is minor to moderate, and once again, the documentation and community are fantastic resources for any help you need in getting the basics down.
I guarantee that two different artists, one using Photoshop and the other using GIMP, that many won't be able to tell the difference between art retouched or drawn in both. Although Photoshop is the go-to program for many companies, GIMP is an invaluable tool for those who don't want to pay for a subscription to Photoshop, especially if they're not familiar with drawing and art.
Overall, a great option. Here's where you can download it from their official site.
Pros
---
Less complicated than Adobe Photoshop
Solid user interface
Versatile with different file formats and exporting
Great documentation and tutorials
Cons
---
No CMYK support
Limited options compared to Photoshop, especially with 3D images.
Some features aren't as intuitive as they could be
Possible slow load times
---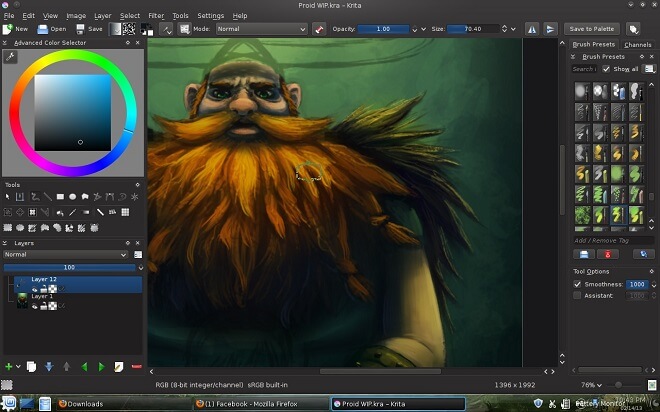 Platforms:
Krita is a video game artist's dream. For over 15 years, it has been a reliable program where lovers of Final Fantasy, the Witcher, and more can assemble and create concept art and digital paintings that rival their favorite game titles, creating their own personal projects to add to their repertoire.
Krita is an open-source painting program. This, of course, means that it has been made entirely free by the developers, KDE. Krita has earned some much-deserved praise and attention from some big industry names.
Imagine FX said of Krita, "…it is clear that Krita is not half-baked or an amateur home project: indeed it looks and feels very professional."
In 2019, it was awarded the #1 Best Free Painting Software honor by TechRadar, and it's easy to see why.
Krita heavily emphasizes artwork for 2D animation and has an excellent, attractive user interface. Along with that, it caters to beginners maybe more so than other programs, which goes a long way. It includes many of the same tools as Adobe Illustrator and is perfect for anyone, from a small business owner, hobbyist, to a high-ranking artist at a corporation.
Pros
---
Great customization of tools
Good user interface
Easy editing
Always being updated
Cons
---
Touch controls could be better.
Less than ideal documentation for beginners
More testing is needed with newer features; they can sometimes be erratic.
Here's where you can download Krita for free.
---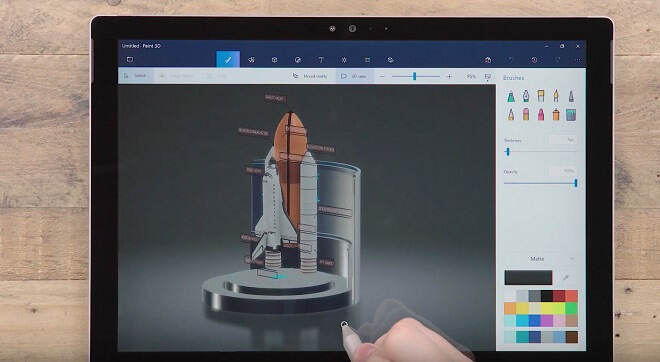 Maybe coming as somewhat of a surprise, Microsoft Paint, the famous artistic program that comes with your PC, is actually a fantastic option for free drawing software. If you find yourself away from the Internet, or would rather keep things super simple, Microsoft Paint is really the go-to option for creating free art.
I've spent many hours experimenting in past versions of the iconic Microsoft program.
Its user interface is simplistic with no frills, which is perfect for artists that aren't interested in fancy user interfaces and layer control. I've made many paintings and humorous drawings in my younger years with the aid of Microsoft Paint and can endorse it unabashedly.
However, Microsoft Paint has had upgrades in recent years, so it's no longer the super basic program that just came with a computer. Instead, it has evolved into an easy to use avenue for quick doodles and harnessing the power of 3D objects.
Out of every program listed, this is definitely the most simplistic, but perhaps the best entry point for artists that don't want to jump into the deep end with programs like GIMP and Krita. It's the perfect step from the most bare-bones Microsoft Paint program to something more aesthetically pleasing and easy to use.
Overall, Microsoft Paint 3D is the perfect drawing software to basically learn the ins and outs of drawing and playing around with 3D objects at a beginner level. It's also great for killing a bunch of time.
Here's where you can download Microsoft Paint 3D.
Pros
---
Simple interface; no frills or complicated concepts to learn compared to other programs
Easy 3D design and implementation
Online sharing of projects
Great for beginners
Cons
---
Limited features compared to other software due to the lack of complexity.
Not recommended for artists to use in professional settings
Some consider it more 'toy' than 'tool.'
Pixlr
---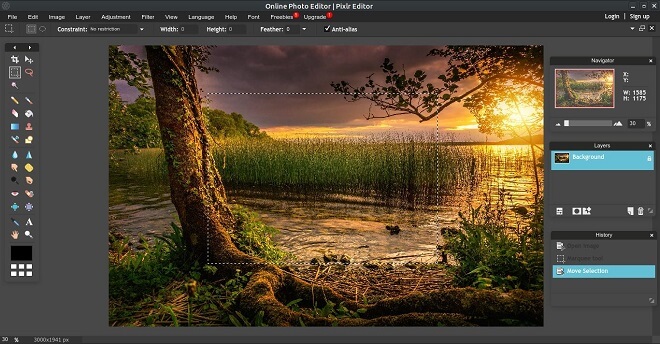 Platforms:
Boasting over 500 million global users, Pixlr is a photo editor based entirely in your web browser. Yep, you just get on the Pixlr page and choose between 'Advanced Pixlr' and 'Playful Pixlr.'
You can probably guess which is best for you; do you want to engage in some more advanced artistic tools and concepts, or do you want just to mess around and kill time?
Pixlr was released in 2008 by Swedish developer Ola Sevandersson.
If you are familiar with Photoshop, you'll be pleasantly surprised that Pixlr shares many similarities with the heavy-duty program in terms of tools and user interface.
Although primarily dealing with photo editing and retouching, much like GIMP, Pixlr can also be used to draw things.
Here's where you can access Pixlr's two different browser versions.
Pros
---
Easy access: it's all online in your browser of choice
Great for beginners and moderately experienced software artists
Functional versatility in terms of different file saves, i.e., JPEG, PNG, and even PSD, (Photoshop)
Cons
---
Community is lacking
Depending on the Internet could put your artwork in danger of not being saved.
---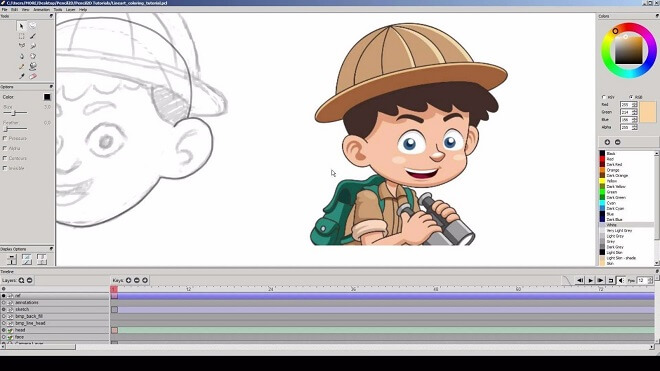 Platforms:
Pencil2D is a 2D-based piece of open-source drawing software that was released in 2006 by Pascal Naidon, Patrick Corriari, and Matthew Chang.
Pencil2D is excellent because of its simplicity. But don't let that same simplicity fool you into thinking that it isn't capable of some great artwork capabilities.
Along with Microsoft Paint 3D, Pencil2D is simple yet effective. You can quickly get your artistic start here with its friendly user interface and exceptional abilities. It's simple yet packs a punch, something we all need in free drawing software.
Here's where you can download Pencil2D
Pros
---
It's straightforward to use
A vast amount of documentation for newbies
Good layer functionality
Cons
---
Exporting files can use some improvement.
Some features aren't available based on the version and operating system you are using.
Final Thoughts on Free Drawing Software
---
Choosing any of these options will land you with some seriously powerful pieces of software that can accomplish a lot of what programs like Adobe Illustrator and Photoshop can do. Some users and artists actually prefer free programs to some more professional software.
Of course, things like Photoshop and Illustrator are industry standards, and if you're breaking into graphic design or freelance drawing, you may eventually want to buy into them.
But for the time being, if you're a rookie artist, you can hone your skills and get some impressive work under your belt, and even add some to your artistic portfolio to impress future employers.
Even better if you want to just mess around in your free time. There are a ton of online courses in drawing with these pieces of specific software. So if you're finding yourself stuck and trying to find some way to make it work, check out the fantastic YouTube resources and online courses.
Another note: since these pieces of drawing software are free (which is incredible), you should consider donating to your personal preference. These developers work around the clock to make sure their programs are up to date and working well, so if you have used one program in particular, show your love and kick them a few bucks!
Overall, the decision is up to you, but what do you have to lose by checking out free drawing software? Find your preferred program based on your style and comfort level, and let 'er rip!