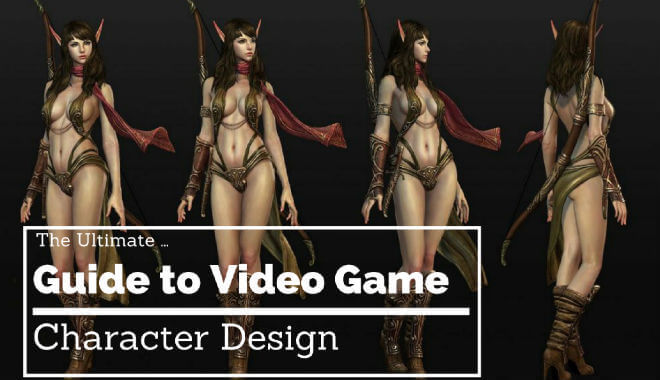 Everyone has one…
Do you know what we're talking about? Favorite characters, of course!
Everyone has a favorite video game character, whether they admit it or not. You can ask just about anyone what their favorite video game character is, and they'll have an answer for you. They don't even have to be avid gamers. Some characters are so great that they transcend the video game barrier.
Your parents probably know about Zelda (or Link, if they really know their stuff) and Pikachu. Heck, even your grandparents probably know about Mario. What's the trick to making characters stick? How do you create characters that will resonate with people? How do you design something that has decades-worth of staying power?
Going Vague
---
When it comes to character design, one does not simply dive in. It's important to plan exactly what you want out of your character. This is a daunting task, so a good place to start is with your character's general nature.
Is your character a heroic, morally righteous person? Is she a gunslinger? Is he a cunning rogue? A smelly trickster? A fiendish creature? This archetypal play can help you define some parameters and focus your brainstorm.
Once you know, very generally, what you want your character to be, you can move on to the backstory.
Creating a Back Story
---
Backstory is important to a character. It will inform the character's actions, and provide the character with motivations. Every experience is subjective and inherently different. Even if two people experience the same event, they will process it differently, it will impact them differently.
The reason we're so different, even from our brothers and sisters, is because our path of sensory input from birth to the present is completely unique. Everything you've processed since you popped out of the womb has been processed through your unique perspective, digested by your one-of-a-kind neural pathways.
The effects of this are compounding, and not for the scope of this article. But, it should serve to illustrate the importance behind a fleshed out backstory. Don't be afraid to get a little crazy with your backstory depth.
Defining Your Character
---
This part can be challenging. In order to resonate with the audience, the character should come from an authentic place. That means you'll have to really dive into this guy and figure out what makes him tick. Why does he do what he does?
Yes, we have the backstory. That's a great start for motivations. But there's more to think about. For example: Does your character ever tell a lie? What would he lie about? To whom?
People don't act without reason, and neither should your character. Arbitrarily assigning backstory points and character traits won't make for a good character. It's important to ground your character's decision-making and action-taking in reality.
Researching and understanding how (and why) people react in situations is a powerful character development tool.
The Subtle Touches
---
There are subtle ways to bring depth to your character. There is a difference between a middle-aged man, well-dressed, with his music playing and a middle-aged man, well-dressed, who always has jazz on in the background. This distinction might not show through in the game, i.e. you might not actually have the character ever listen to jazz.
But you know he likes it. You know he would stop and tap his foot if he heard jazz coming from a bar when he walked down the street. It's that kind of knowledge of detail that informs your character's actions in a deeper way. It's those depths and complexities that add up to really make a character stand out.
Your backstory and your deep-dive into the psychology of the character will also inform the character's relationships with other characters. One example of character interaction we found particularly satisfying took place in Diablo III. Playing as a barbarian, nothing was quite as gratifying as our interactions with Maghda.
It didn't matter whether she had the upper hand or how bleak things looked. Our barbarian always promised to cleave her head from her shoulders. As the player, you feel that. You see the nephilim's unrelenting spirit. You recognize how completely sure of success your character is.
The Visual Element
---
Ok, so you've mapped out just about all there is to know about your character. We know what wakes her up in the morning. We know what lets her sleep at night. And we know why she eats what she eats each day for lunch. From that, we determine how she looks. We can use archetypes to determine a loose starting point for your character's appearance.
Tanks are beefy and look like they can take some damage, rogues are lithe and darkly dressed. Healers embrace robes and radiate golden auras.
In every step of the visual stage, you need to make sure you're capturing the essence of the character. In Overwatch every character has a totally unique appearance but still manages to fit within an archetype. Each character has a distinct personality and psychology.
If you're familiar with the game, you know that McCree, Reaper, and Soldier 76 are all gunmen. Despite being male, offensive heroes that use guns, they are completely distinguishable. The dangerous charm from McCree is very different from both the gristled badassery from Soldier 76 and the insidious lethality of Reaper.
Not only are these characters completely distinct from each other, their personality, appearance, and overall design informs the players of how they should be played. Overwatch is a great example of how to create impressively distinct characters with archetypes as inspiration.
A Final Note
---
A final note here, before we send you off into the world of character creation. The character should be fun. Fun doesn't necessarily mean a character that is happy and jolly. We mean fun for the player. The character should be fun to play, fun to look at, and fun to listen to.
Good character design will make the audience think back to the moments they've shared with that character, and long for more.