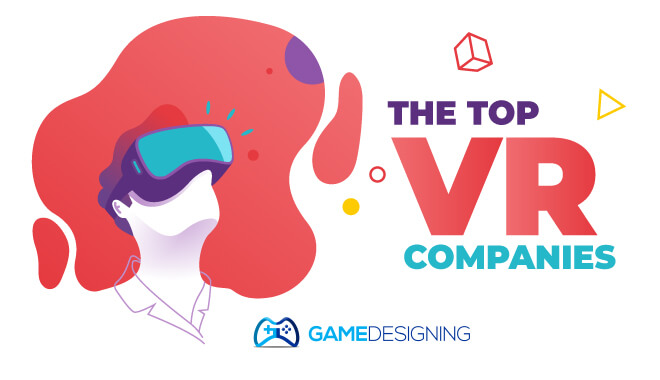 We know that gaming is evolving constantly. With the way things are going, it seems that the controller may become an artifact of gaming, much like the joystick from the 1970s and 1980s.
How could such a thing happen?
Controllers are essential. Well, if these virtual reality companies have anything to say about it, our bodies will be the only controllers we need.
This extends to further aspects, like apps and video technologies.
Out of these companies, who stands out? Who's leading the way? In this list of virtual reality companies, I'll show you who and what just might be the 'next big thing'
Our Ranking Criteria
In addition to player and critic ratings, we use objective metrics like sales, users, and sales growth rate to make our lists (read more). Some of these data sources include:
Top 30 Virtual Reality Companies
Oculus VR

Oculus is a name you should know by now. Facebook purchased the company for a whopping $2 billion dollars in 2016. The team even included a famous gaming visionary of id Software and 'Doom', John Carmack. Carmack eventually left Oculus over legal disputes with Zenimax, but Oculus hasn't let that stop their creative engines from working overtime.
They've announced a standalone headset called the 'Oculus Quest' due to release in 2019. Oculus isn't just a recognizable name in terms of VR companies, it's *the* name to recognize.
Google

Yes, Google is possibly going to be one of the heavy hitters in the VR world. Gone are the simple searches for "how to tie a tie', and 'pie recipes'. Google is now dabbling in VR technology. Their move onto the scene was brilliant. They released the 'Google Cardboard', a cardboard VR headset that cost $15.
It was specifically designed to put over your phone or smart device and interact with different apps and games. This led to their release, the Google Daydream View. It's not hard to see that Google will continue to explore this world of VR and possibly branch out with a larger presence.
Is it possible that Google will be known as a VR company as well as a prolific search engine? Only time will tell.
HTC Vive

The HTC Vive is a mix of The Matrix, Ready Player One, and the entire cyberpunk genre. HTC has released this headset for $799 (Current price is $599), distinguishing the professionals from the amateurs. It includes a headset, sensors for your room, and handheld devices. The thing I love about HTC is that they partnered with Valve on this project to make it more robust.
I imagine this extends to many VR Steam games as well. The reason they score so high is not only the technology in which they present but the fact that this VR company is partnering with one of my favorite companies to team up and revolutionize the VR field with tanklesslab.
With their hardware, you're going to be moving all around the room, not just sitting in a solitary spot as you confusedly look around. Check out their Formula 1 racing software for a rush.
Unity

Unity is a great developer in the field of 3D animation, so it's no surprise that they released software that is compatible with VR. Maybe something people don't think about much, but most of the existing content that has been used in VR has gone through the Unity 3D engine, making Unity an integral part of VR and a top VR company.
One visit to their site floods you with a truly impressive resume of projects, but resources to turn to in your own creative projects.
Microsoft

Another big name, another possible heavy hitter as a VR company. Microsoft comes onto the list, showing that VR companies can also be big existing companies as well. A big thing Microsoft is focusing on is not only VR but Augmented reality. We should all be familiar with this, as it's the main thing that fueled 2016's Pokémon Go.
You're able to see the Pokémon against the backdrop of our world: Pikachu in your room, onyx at the bookstore, and Snorlax in the park. Microsoft is now releasing the HoloLens, which supports not only games but practical applications as well. I think that's an important factor when it comes to VR companies: is it just games? Or is it a wide array of different uses?
This, I believe, sets companies apart from the innovators from the one-trick ponies.
Samsung

Many names we already know from our everyday life are making appearances here. They do so because, luckily for them, they already have a leg-up in technology, and Samsung is no stranger to technology, and this includes VR. Samsung did something pretty smart: they developed the Samsung Gear, a VR headset with the help of Oculus.
At $129.99, it's a more palatable purchase for more casual users than products like the Vive. It's for your phone, and you slip your phone right into the headset. Samsung has the enormous potential here, and I believe they can even begin developing games for their projects.
Magic Leap

A change from the list of VR companies so far, Magic Leap is actually a startup company. Magic Leap is focusing on more augmented reality than full VR. They place 3D objects in the world around the user, something I really dig. This opens up the potential for further expansion, as they could dominate the augmented reality market.
With the slogan 'Free Your Mind', Magic Leap is promoting their 'Magic Leap One'. They're so far only selling their creator edition of the VR, so hopefully, the apps and games they utilize will be in full swing by the time it launches on the market fully.
WorldViz

Another smaller company, but no small feat. WorldViz primarily makes VR apps for schools, something near and dear to my heart. As a university student myself, having professionally designed software for VR is an amazing experience. I did a psychological study in which transported me to a cityscape, which was truly groundbreaking.
They also make programs for safety training and architecture purposes. Think of how useful it'll be for architects to not only depend on drawings and models but to actually explore the different models they make. It would change the way buildings are made, and that's why we need more companies like WorldViz.
Snap Inc.

Snap is the company that developed Snapchat, so you know these people are on the top of the technological heap. They're masters of including aspects of augmented reality into their tech, proving they could be a top VR company. You can access different aspects of augmented reality every day, with no cost—only a phone camera.
You can place 3D models in pictures or videos of yourself or friends out on a night on the town. Namely, the famous, (or infamous), dancing hotdog model. People made a splash with placing this 3D hotdog in random places, even someone placing it at a funeral for a family member.
Other than that ghastly experience, this technology is introducing itself to the mainstream without a lengthy production and release of hundreds of dollars.
Wevr

Wevr is primarily based on creator content. This technology is put into the hands of ordinary people, something I like a lot. They hope to create a mainstream VR, the 'YouTube of VR' with their project, the Transport. They hope to have users publish their content for others to experience in VR, making it an easy and seamless process for users.
I love to think of viewing content created by other, regular users, in VR. The human race is so creative that I know, (much like real life), I'll go down a YouTube rabbit hole and spend hours viewing videos in VR.
Firsthand Technology

I love this company for its aim. It's a noble one that I think should possibly be at the forefront of VR companies. They focus primarily on healthcare. The programs help those with anxiety to help ease it, something I can personally relate to. Imagine having a rough day and your nerves are fried. You pick up your headset and you can relax via VR.
They encourage users to relax while using their product, as it is based on heart rate. This crosses a great boundary in VR; the company and product actually care for its user, something I think we can all benefit from.
NextVR

For all of our sports fans out there, NextVR is the VR company for you. It broadcasts sports games, so you feel more connected to your favorite sport.
How cool is that? I have a friend who loves the Philadelphia Eagles—imagine if you could feel like you're at the Eagles game, like at the past Super Bowl victory against the New England Patriots, without paying the ungodly prices for tickets.
I think right now this could be a godsend for those who either don't want to shell out the money or can't physically be at the game.
I'm sure that the sports companies will find a way to hobble this technology and make the user pay a fee of some sort, but for now it has so much promise.
Nvidia

We all know Nvidia's iconic dedication to top-of-the-line graphics cards that allow us to see our favorite games in the best quality possible. I myself have been using Nvidia graphics cards for as long as I've been gaming—a very long time.
Nvidia is another company, like Unity, who offers VR technology for creators and other VR companies to use to create better apps and games.
As a biased Nvidia user, I think this combo is a no brainer for gamers and avid followers of the VR trends. They specifically allow a more easy and seamless resolution when a player or user is in the program or app, allowing for a more realistic experience for all involved.
Prenav

Of course, along with VR, drones have become a mainstay in technology. Prenav gives drones a more robust program to be better at exploring structures, one with simple Google Maps or other GPS technology won't allow. These drones keep our cell service keep running smoothly, by creating 3D models of cell phone towers for drones to inspect.
The importance of everything running smoothly is the main reason that they score an important spot on the list of best VR companies.
Osterhout Design Group

For those of you who have played the Watch Dogs game franchise, Osterhout brings the game to life. Their technology gives you valuable information at what you're looking at, via their headset—or more accurately their glasses. Compared to Google Glass, Osterhunt's technology can give you the biographies of people you look at, and other useful applications.
Imagine getting a piece of furniture and being so frustrated that you don't know how to put it together properly. Osterhout aims to help you put it together, eliminating the frustrations that come with some aspects of everyday life.
I think that's such an important mission for a VR company. As much as I love VR gaming companies, the practical uses of it cannot be overstated.
Marxent Labs

Marxent is a lead developer in showing detailed models of showrooms. Lowe's hardware is their biggest client currently and uses their VR to model rooms and homes. One of my favorite parts of furniture stores, like IKEA, is walking through the displays of the rooms and viewing all of the different, beautiful layouts.
This makes you feel like you're on a TV set, as well as in the comforts of a model home. Now imagine being able to explore these rooms and view different aspects of the structure using VR. Lowes specifically uses their products in the demonstrations, so I wonder what other big-name companies will start to jump on the VR company bandwagon.
That's something I definitely want to check out soon, especially in the hunt for a great new home.
Bricks and Goggles

Another VR company that allows the user to inhabit a model is Bricks and Goggles. This company allows for creators to view, as well as edit, a structure that they're building.
I love how the current trend is to not only take a design off of the paper, so you can better see how it'll look when finished, but how you yourself can explore the rooms and structures as you go or see it as a finished product. This will breathe life into the design and VR companies like Bricks and Goggles are at the forefront of this revolutionary step.
AMD

Much like other graphics software, AMD is a famous brand name that is hoping to make its brand even more famous by becoming the selling of graphics cards for VR game companies. They sell the chips for our favorite game companies like Nintendo and Sony, so they'll perhaps be the reason we can finally play the Legend of Zelda or the Uncharted series in VR.
Right now, they sell a VR capable card for what I believe is a more than reasonable price for the valuable technology—about $200.
Retinad Analytics

Perhaps a more accurate company for the 21st century, Retinad focuses on users' browsing behavior. Much like Facebook and Google, Retinad observes browsing history and the behavior of users of the program. Although perhaps a pain for regular internet users like us, I believe their aim will bring them unbelievable success.
They can map out their ad strategies more accurately, something that companies will bend over backward for.
As much as I'm hesitant about this type of technology, blurring the lines between users and the space on the internet in which they inhabit, I have to recognize a beautiful business model that will revolutionize a technology, whether I necessarily agree with it or not.
Primarily, I'm interested in the success of VR companies and the way in which it can be used in different ways.
Groove Jones

Groove Jones is another VR company that has made its bones working with world-famous brands like McDonald's and NASCAR. They seemingly do everything, no exaggeration here. They deal in CGI, sound design, animation, you name it. Much like other VR companies, they're interested in augmented reality, something that's near and dear to my heart.
Their deals with so many different huge brand names mean that they'll not only have all the funding they need but revolutionize the way brands are recognized throughout the world.
Merge

Okay, now this is a cool one. If I had this technology as a kid, I would've been in heaven. Merge develops games and apps for children over the age of 10, something I think is useful and great that they're focusing on a specific market. They develop educational programs, which I think will be their defining success.
Imagine a school using VR headsets to educate children and keep them engaged in perhaps a less than interesting subject. One idea that I absolutely love, is exploring the universe.
A planetarium right there in front of you, from the comfort of a seat, sounds like a dream. A beautifully rendered solar system would have helped me a lot in elementary school science classes!
Virtuix

Combining a subtle way to exercise with gaming, Virtuix uses their 20+ VR games to include a treadmill of sorts to engage gamers in the VR space. They have it all: headsets, the treadmill motion, and a plethora of games already. I was surprised when reading about them and how much success they've already had for an independent VR gaming company.
I love this idea because you can duke it out in some of the multiplayer games they have while moving your entire body in a productive way, something I think many VR companies need to utilize more.
Survios

Survios attempts to make games work with human involvement as seamless as possible. They want to make games that are just taking place simply in the VR universe and make them work with the user. Specifically, they use their technology with the 'Creed' boxing game. Imagine feeling like you're actually in the boxing ring facing down a fierce opponent.
Long gone are the days of Punch-Out and Fight Night; this VR company wants you to feel like the VR experience isn't even VR, but an actual, human experience.
SpaceVR

Finally, we go into space, the final frontier! Using SpaceVR, you get exactly that: a more comprehensive space viewing experience. You can observe from the satellites orbiting the earth, and other aspects of space. This is revolutionary for the education model.
Instead of boring diagrams of the moon or Earth, students and others can actually view real-life footage of the things they're studying. This is invaluable for visual learnings, me being one of them. This also spices things up and might breathe life into students' interests in this subject material.
BackLight

This French company's motto is 'Producing emotions, experiences in virtual reality and animated films.' That's something I can get behind. This company seemingly does it all. They involve themselves with 360 models of buildings, film, and a plethora of others. Go to their site and please check out their demo reel, specifically the 'Renault Pitstop VR Project'.
In it, you're thrust into high-octane Formula 1 racing, putting you in the role of the pit crew, with an intensity you can experience with 3 other friends as you aim to serve your racer in the fastest time.
JAUNT

This one is sure to attract the attention of those who've been bitten by the travel bug. Inspired by trips into the American West, the team at JAUNT want to be able to bring their users a valuable travel experience, in which you can 'Jaunt' to anyplace whenever you desire. Their aim is 'telling amazing stories with new media.
I would love to visit exotic locales to which I've never been. It would serve as an amazing tool for those who are interested in travel. Imagine scoping out a location before going, getting the overall feel of the place.
Innerspace VR

Working with the aforementioned companies on this list like Oculus and Samsung, Innerspace is looking to become an entertainment giant. Specifically, they have a series of games called Firebird:
"FIREBIRD is an award-winning series of musical experiences, a celebration of the emotional power of classical music set in visually stunning settings. Episodes from the FIREBIRD franchise are available in English, Chinese and French."
Imagine experiencing an immersive classical music concert in VR. Luckily there are quite a few entries, all available on Steam, so you can immerse yourself in a truly unique world.
MAGNOPUS

This company is actually an Academy Award-winning company. In my opinion, that's all the credentials you need. They tout themselves as 'an experience company', and have released one of my favorite Pixar movies, Coco, like a VR experience. Now I can sob in Virtual Reality! In it, you or a friend can experience the rich world presented in the film in greater detail.
If you've seen the film, you know the art direction is stunning and the top of the line. They've also worked on a Blade Runner 2049 project that immerses you in the tasty cyberpunk world of Blade Runner.
Vertebrae

Vertebrae intends to become a giant in the augmented and virtual reality field. They're partnered up with companies like Lionsgate, and Mark Cuban owner of Dallas Mavericks to bring a better advertising and user experience. I think that augmented reality will be the first accessible step into full VR, so I think this VR company has the right mindset.
They have a mission and words of advice for companies:
"Don't just push a message. Create a two-way conversation using 3D & AR media to personalize and strengthen your consumer relationships."
Creating a more dynamic interaction with customers is just the ticket if future companies want to survive and actually grow a customer base.
Metagram

This unique company's aim is to help users build a narrative experience using VR and augmented reality. Their claim is that they offer users a 'glasses-free' augmented reality experience, something I think we can all be attracted to. They also advertise the 'world's first holographic film', which I'm so psyched up about.
This changes film forever, and could perhaps make the viewer feel more connected to the films they watch.