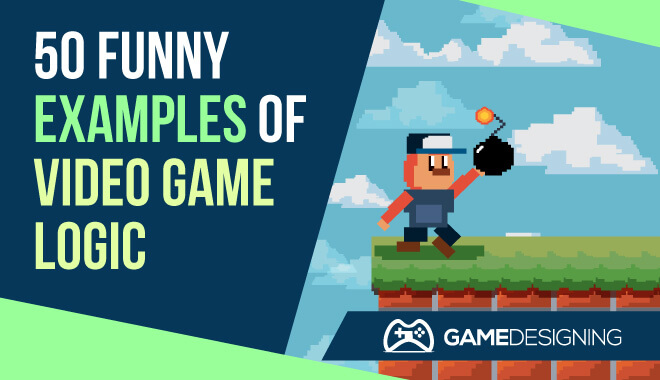 No matter how realistic modern games can be, there are still a few patchy areas where things just don't add up. Here I'll list 50 funny examples of video game logic.
Red Dead Redemption
---
John Marston is a one-man army, but he dies the second he touches the water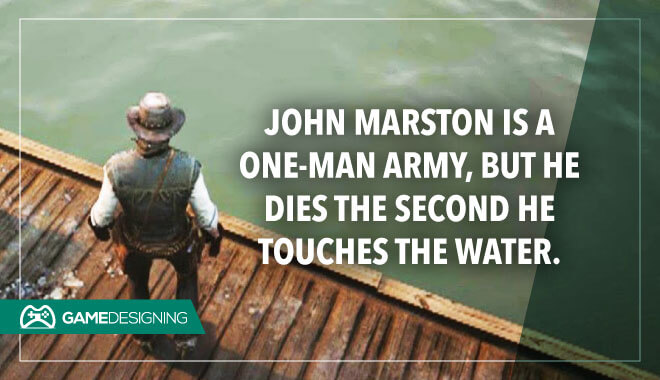 Batman Arkham Series
---
Batman vows never to kill anyone, but he's fine with absolutely crippling them through intense and brutal combat.

Assassin's Creed Series
---
If you view a synchronization point and jump 10 stories down, no one bats an eye. However, if you start scaling a chest-high wall, people lose their minds.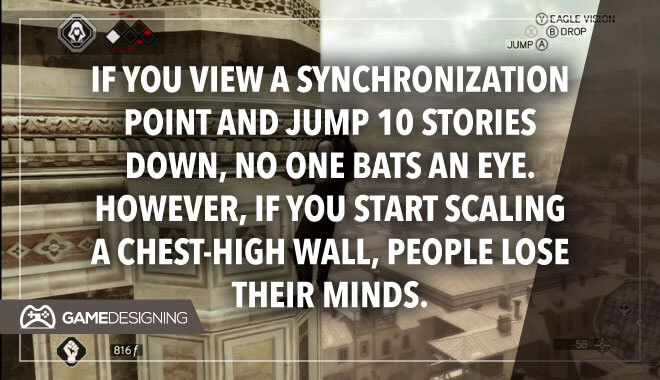 Resident Evil 4
---
The president's daughter has been kidnapped, but instead of sending a covert team of experts, you send one guy with a pistol and hope for the best.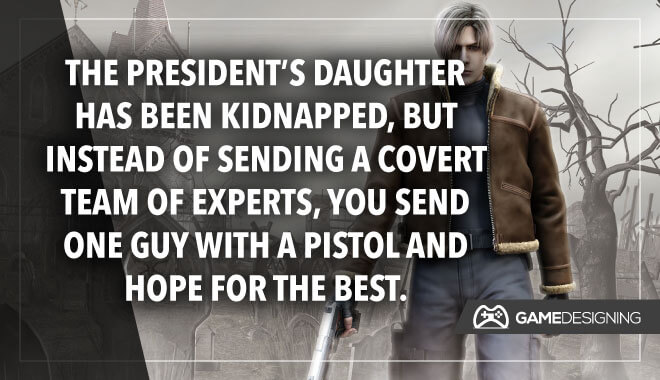 Wolfenstein: The New Order
---
B.J. spends years in a coma, yet once threatened by an enemy, all of his muscle mass and combat skills come back instantly.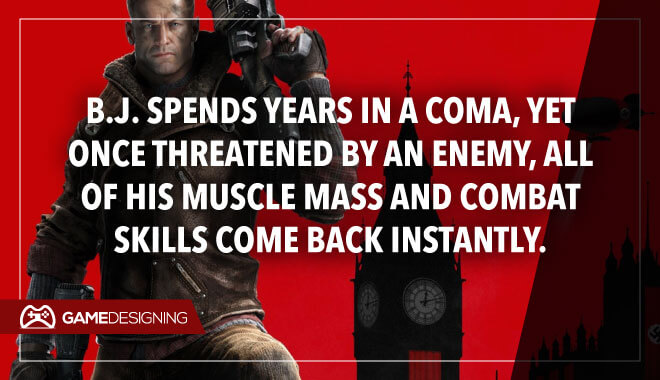 Splinter Cell
---
Try to be quiet as you can and blend in with the shadows. Never mind those 3 glowing green lights bobbing and weaving in the air.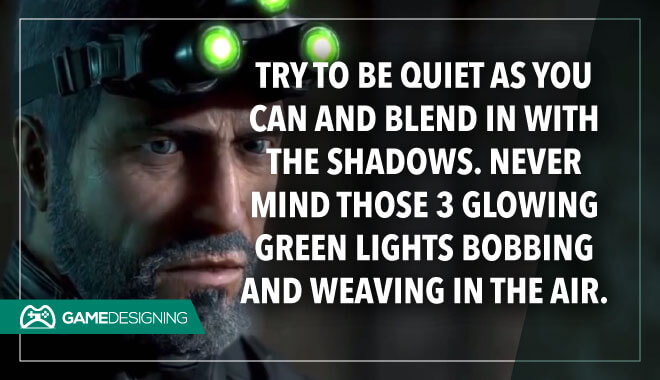 Dishonored
---
Corvo has been framed for the murder of the Empress. The only way to prove his innocence? Murdering people.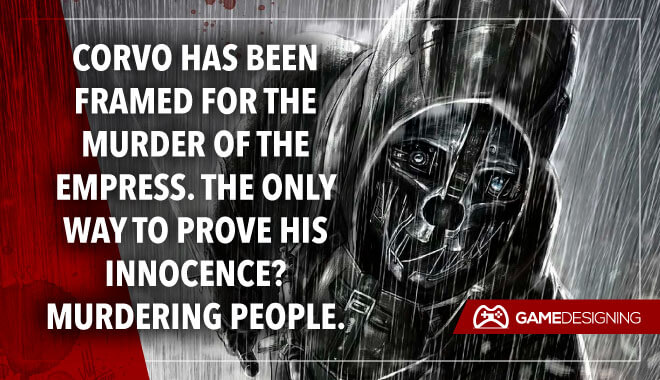 Final Fantasy VII
---
When Aerith dies, Cloud can't use phoenix down to revive her?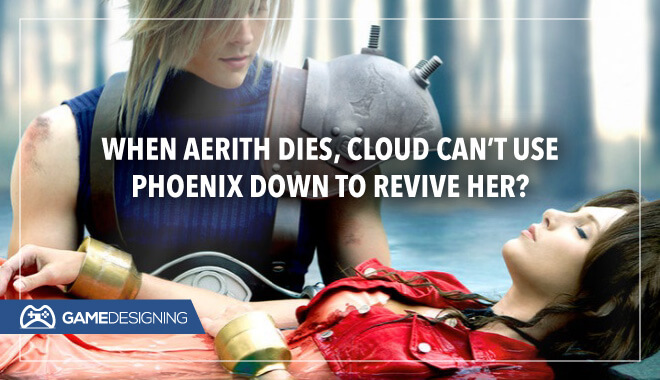 Batman Arkham Series
---
Batman doesn't fool around unless he's making sure his explosive gel is in the shape of a bat before triggering it.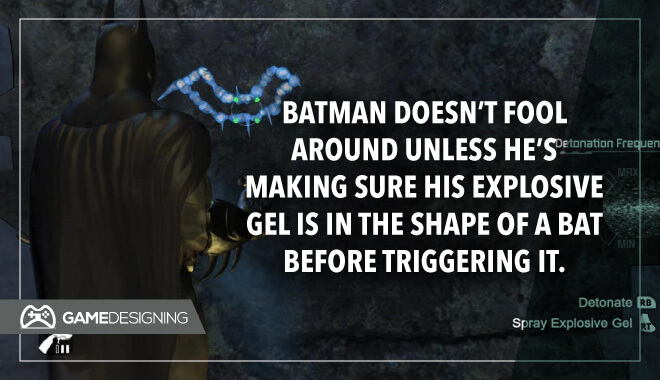 Sonic
---
Sonic can break the sound barrier, but he can't catch Eggman?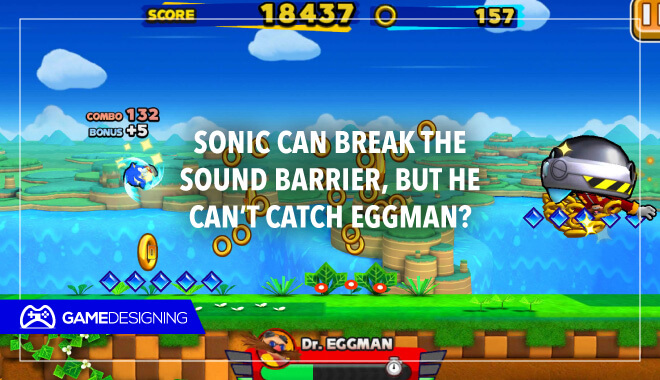 The Evil Within
---
You can carry multiple weapons and more, but only 5 matches?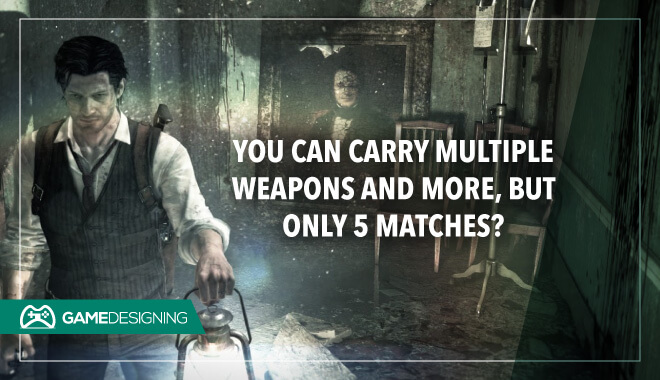 Skyrim
---
The lute player in the inns will play the lute even if the building is completely on fire.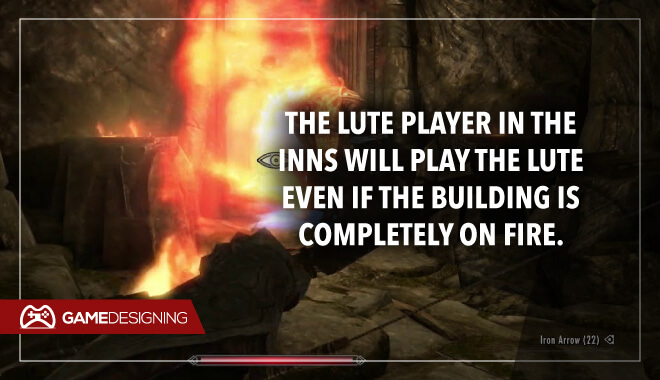 Skyrim
---
Eating 50 loaves of bread can heal you in the heat of battle with a tough foe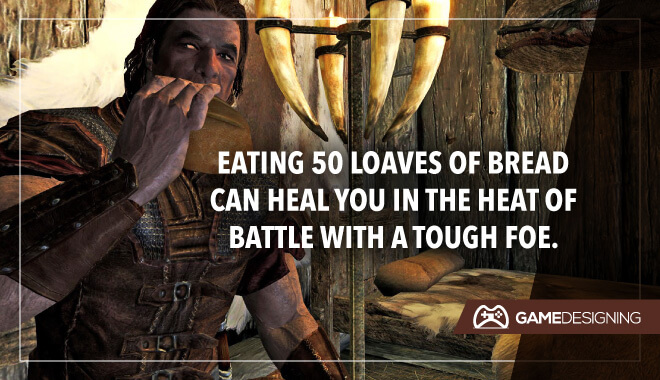 Metal Gear Solid 3: Snake Eater
---
Change camouflage in seconds to accommodate any area.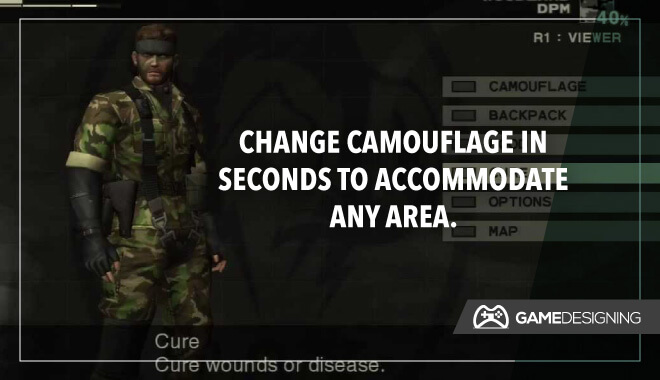 Skyrim
---
You can pickpocket ghosts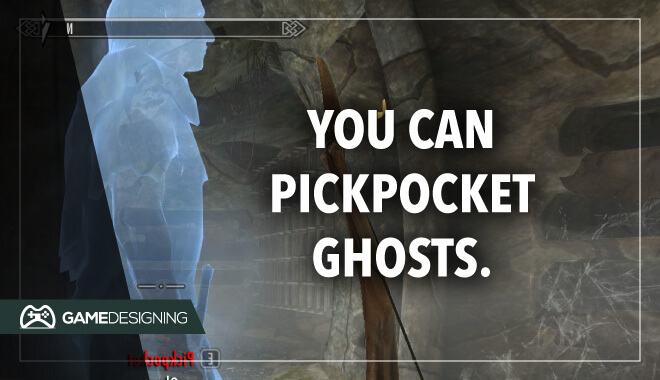 Fallout
---
All of your limbs are crippled? Just find a bedroll and nap for one hour, it'll heal you right up 100%.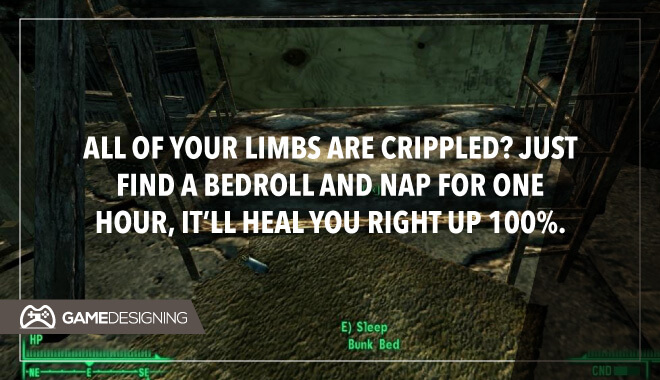 Grand Theft Auto
---
You're able to just waltz up to a police officer brandishing an RPG without batting an eye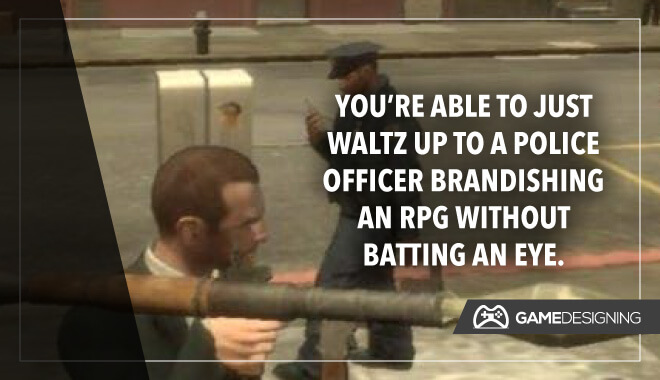 Halo
---
Master Chief has a super-suit fitted for a super-soldier. But he can't swim?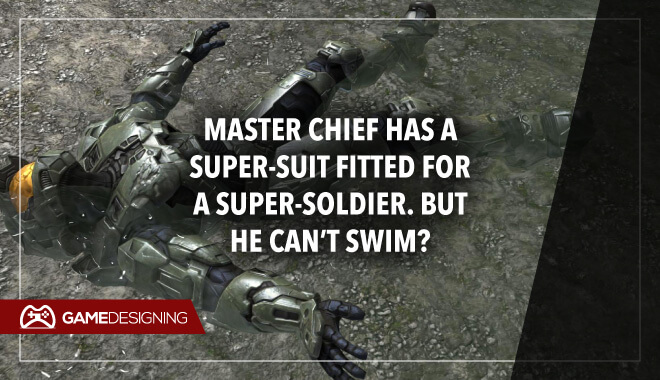 Far Cry
---
If you fall off of a building, you better heal. However, your character will start to remove a bullet from their body.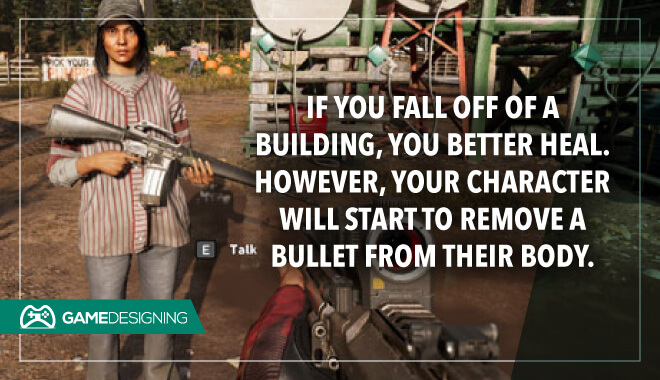 Fallout
---
Usually, you picture master locked doors as finely sealed. But what about when they're half busted doors that you can see through?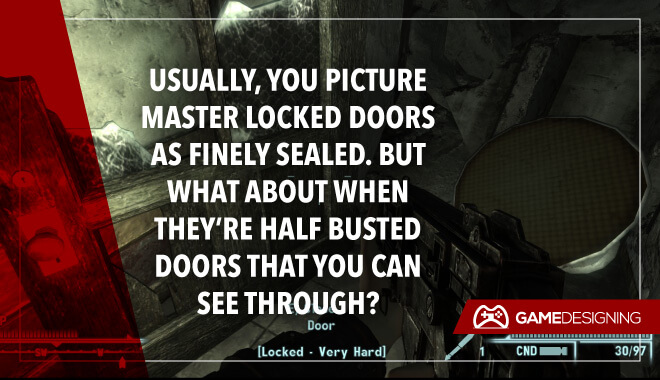 Call of Duty
---
Supersoldiers in super suits are the future, however, they can only sprint for a few seconds?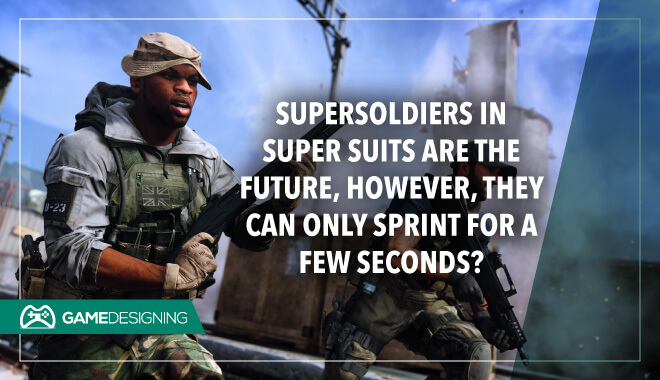 Mario
---
Can take Bowser by the tail and throw him with superhuman strength. However, if Mario touches a turtle, he crumbles.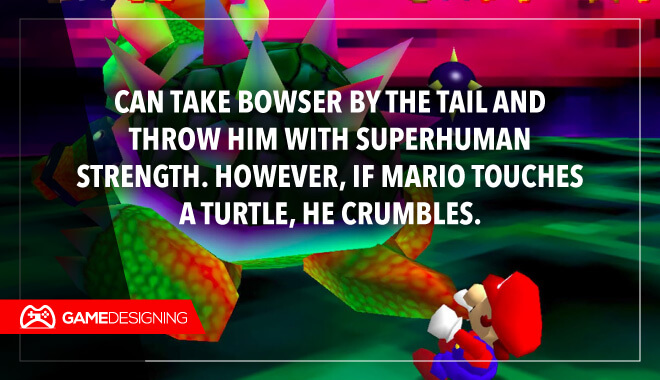 Assassin's Creed III
---
The crew of the ship trusts you with destroying ships even though you have no prior experience on the sea whatsoever.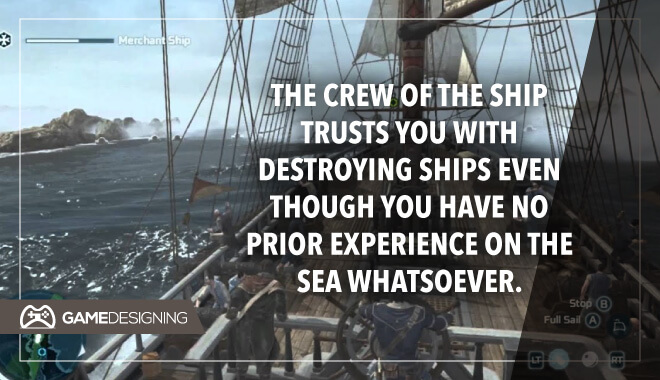 Fallout
---
Bandits and more will bravely charge you even though you'll be wearing unique power armor and wielding a laser weapon.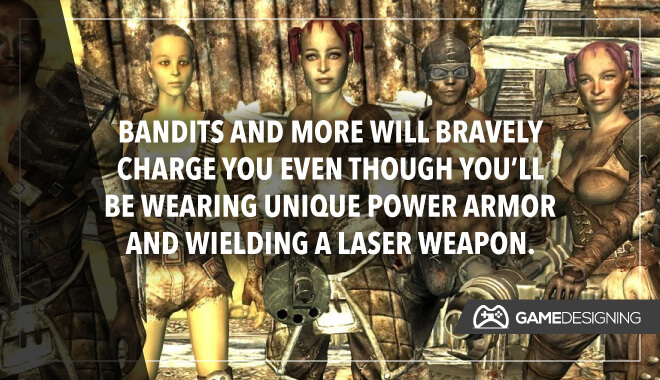 Call of Duty
---
Worried about dying after getting riddled with bullets? No worries just hide behind a box for 5 seconds. Good as new!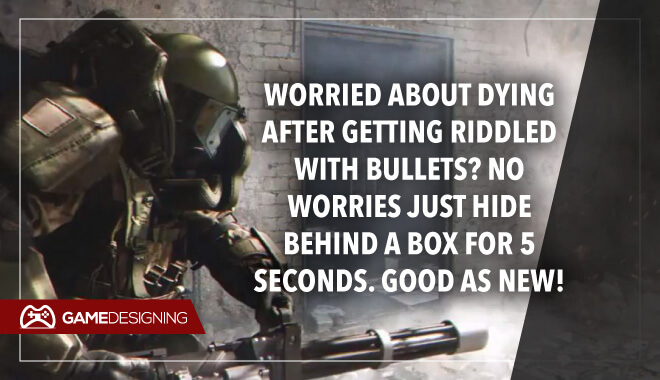 God of War
---
Kratos is a god killer and can do anything. However, he can't open a wooden door.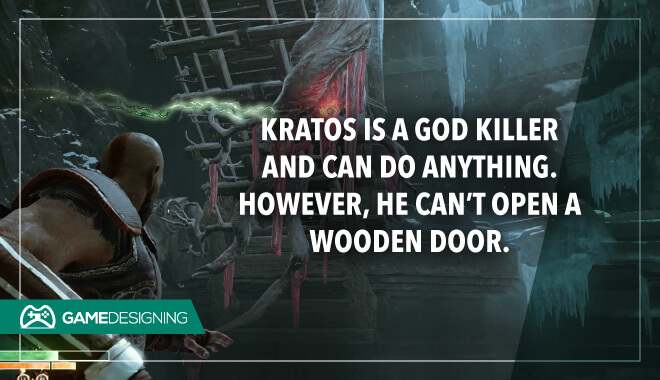 Gears of War
---
You are soldiers on a completely deprived planet and yet you keep amazing muscle mass and protein intake to maintain a burly physique.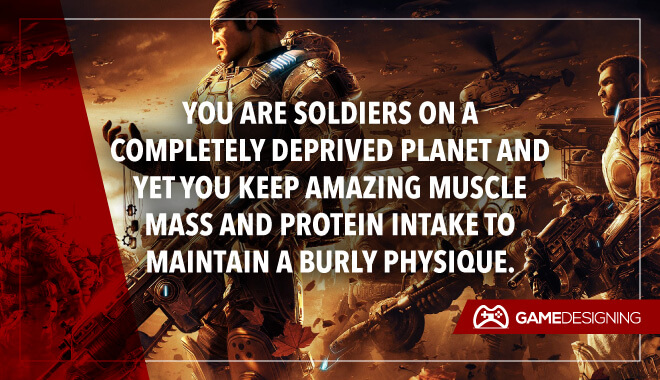 Pokémon
---
A bottle of water heals more hit points than an actual HP potion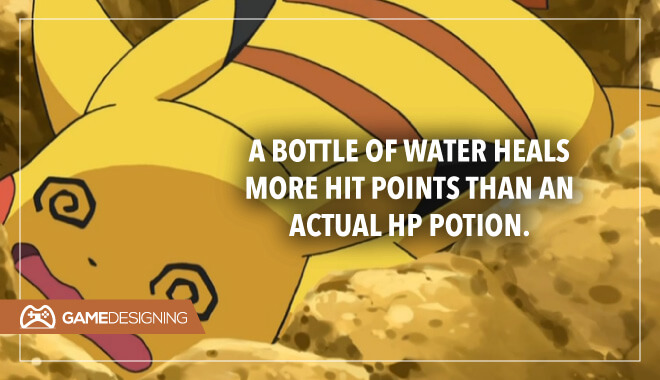 Tomb Raider
---
You are the first person to explore this tomb in hundreds of years. Except you'll find a machine gun upgrade waiting inside.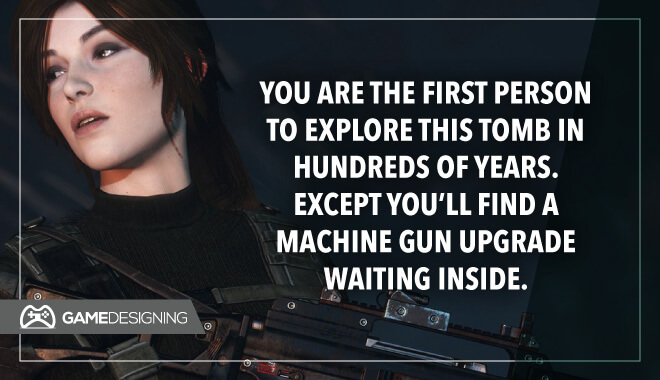 Grand Theft Auto
---
You can have a 6-star wanted level and be hounded by the army, but they'll leave you alone if you take a nap in your apartment for a bit.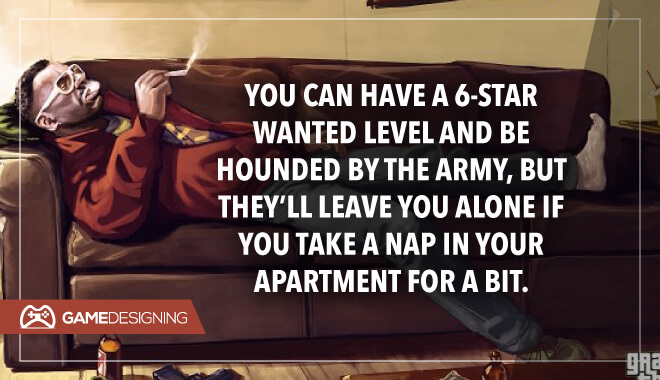 Metal Gear Solid: Peace Walker
---
Big Boss uses his lost eye to look through the iron sights of his rifle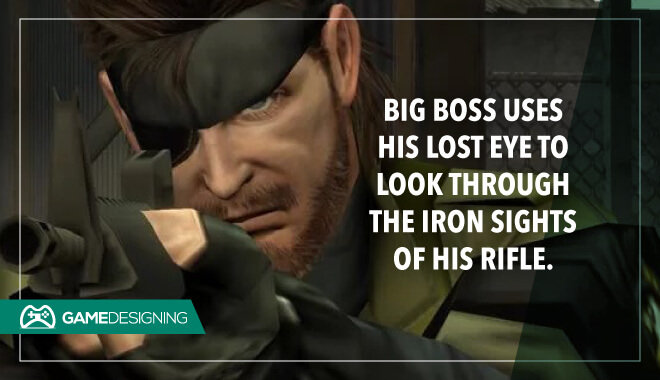 Pokémon
---
You're a young adventurer, fighting monsters and humans. However, if you come across a small shrub in your path, you're going to need a Pokémon to bypass it.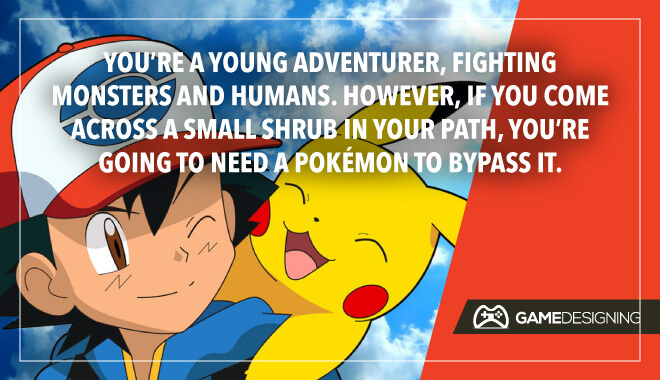 Grand Theft Auto
---
You can go into the barber bald, but leave with an afro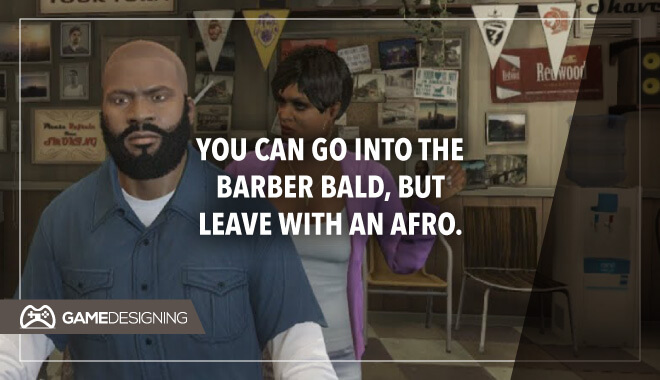 Pokémon
---
Professor Oak gladly and willingly gives 10-year old's monsters who can set fire to things. Where are the parents?!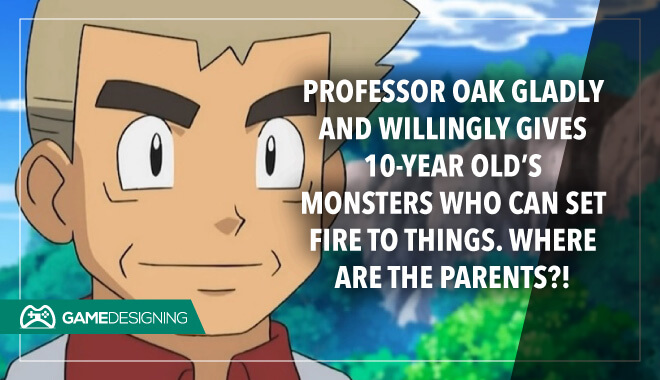 The Sims
---
Meet your neighbor at noon, by 9 P.M., you'll be married with one child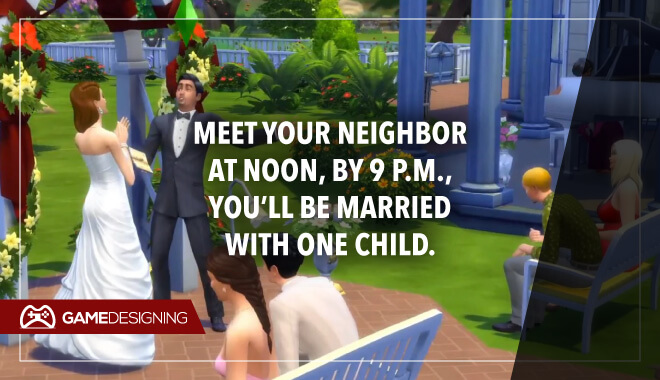 Skyrim
---
Defending villagers from a dragon? Better not accidentally hit a chicken, or else you're going to become public enemy number one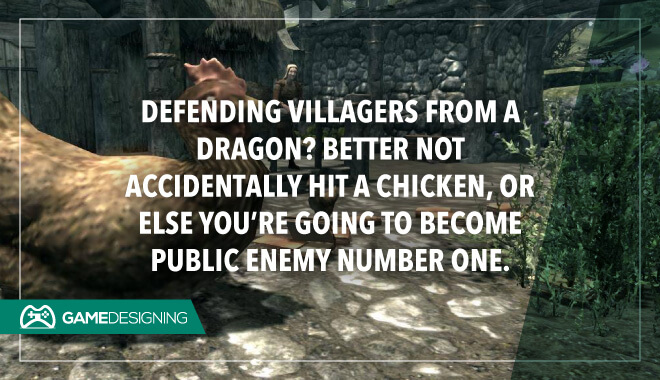 Just Cause
---
Riding a shot propane tank into the stratosphere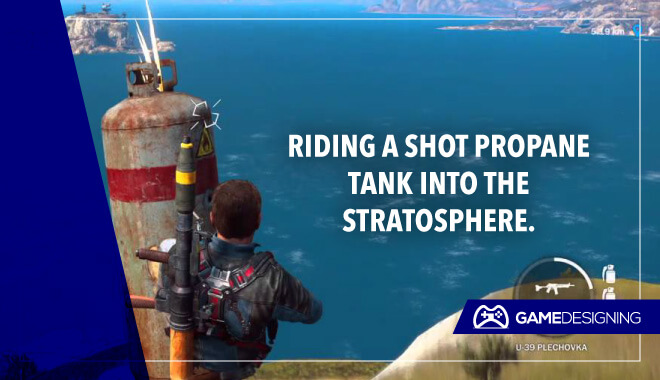 Frogger
---
You can fall in the water and die. Since when do frogs die in water?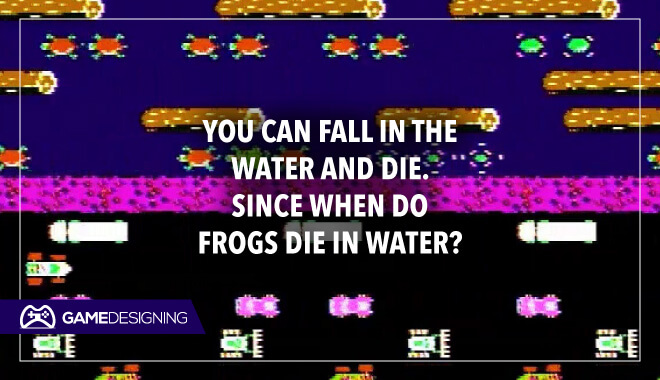 Armor for women in games leave wide open areas for their cleavage
---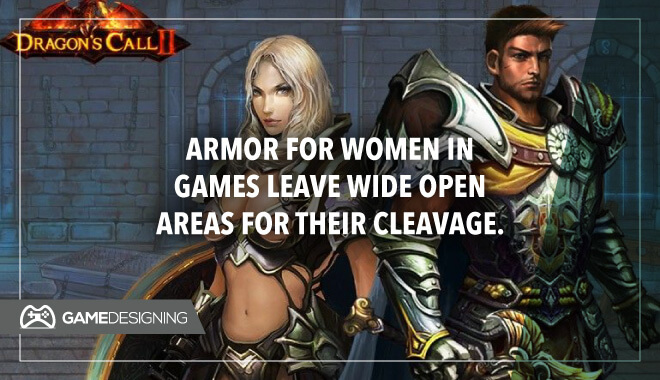 The Last of Us
---
Joel willingly punches infected enemies when the plague is spread through physical contact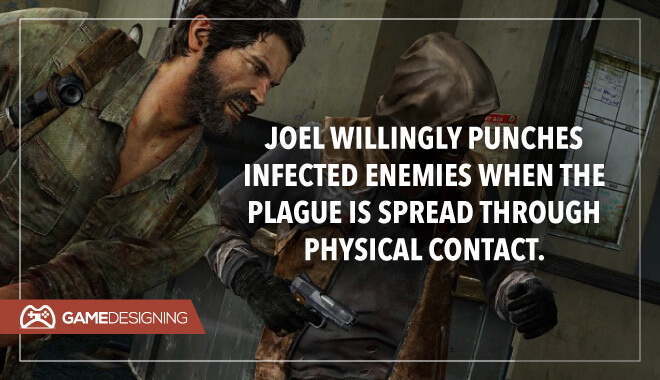 Halo
---
Master Chief can fall thousands of feet, burn up upon re-entry into the atmosphere, but if he falls 50 feet, he'll die.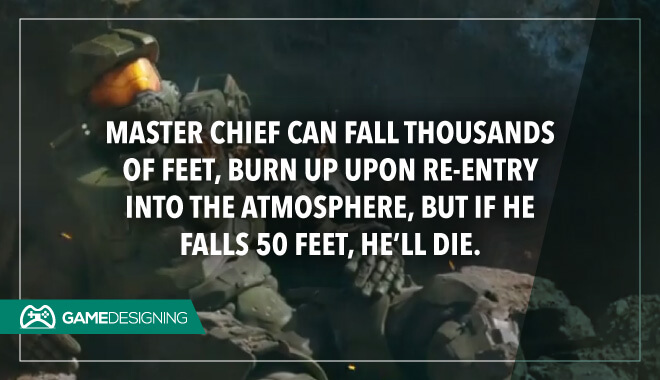 XCOM
---
A crack-shot team of super soldiers deployed to eradicate the aliens on earth. However, they miss a ton of easy shots.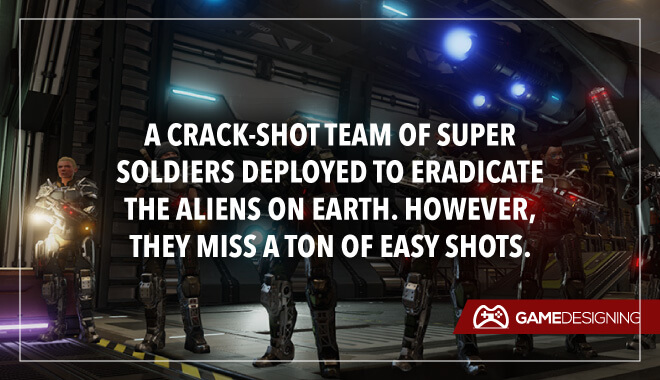 Super Smash Bros./Mario
---
Princess Peach can beat everybody but allows Bowser to kidnap her anyway.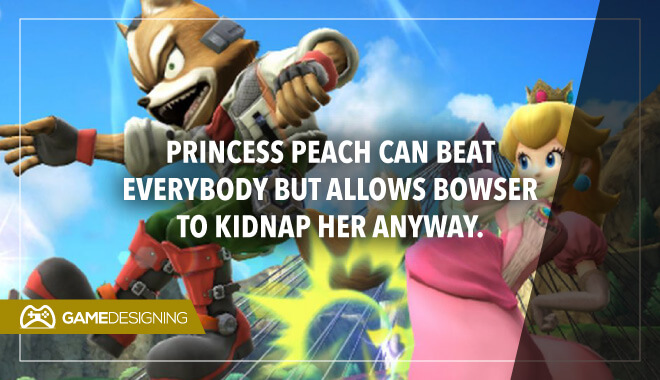 Batman
---
Batman is a billionaire superhero with state-of-the-art gadgets but can't cut through a flimsy chain-link fence.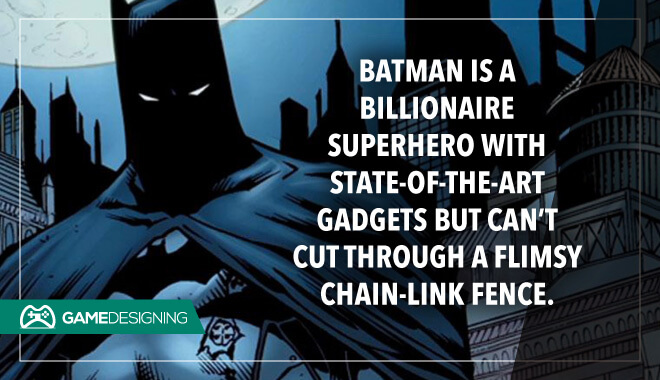 Left 4 Dead
---
The characters emphasize being quiet, and especially not shooting a car to activate its alarm. However, they're using pipe bombs and automatic weapons.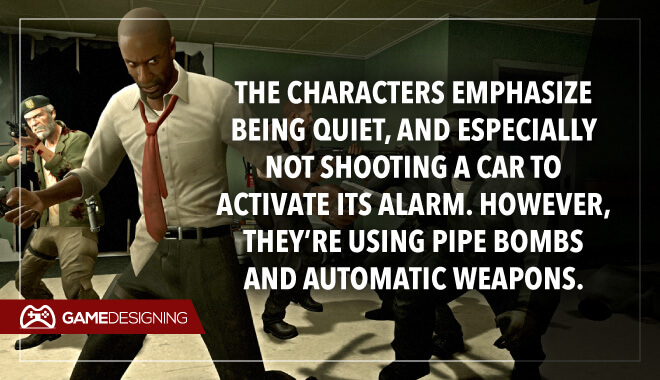 Mortal Kombat
---
When sub-zero freeze someone in midair, the laws of gravity no longer apply.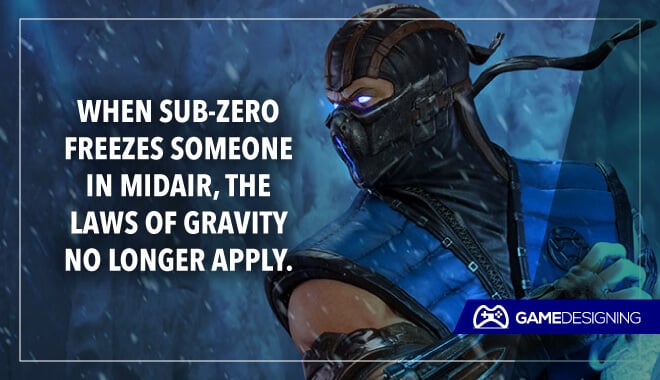 Stealth games
---
Enemies can be really stupid. In Splinter Cell, an enemy could be hunting you relentlessly, but then mutter 'hm, must have been nothing.'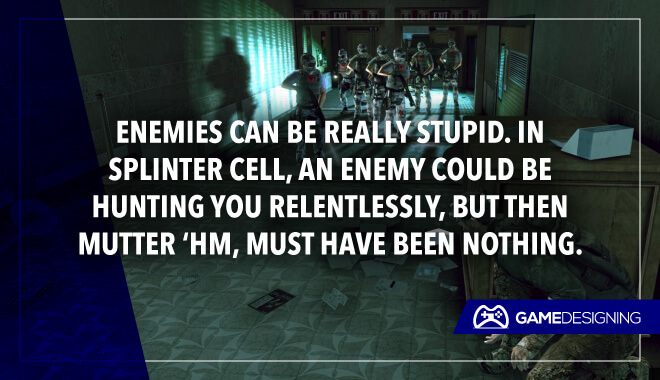 Animal Crossing
---
While you're working off your debt to Tom Nook, everyone else is just lazing about the town. Where are their jobs? Are you the only working stiff?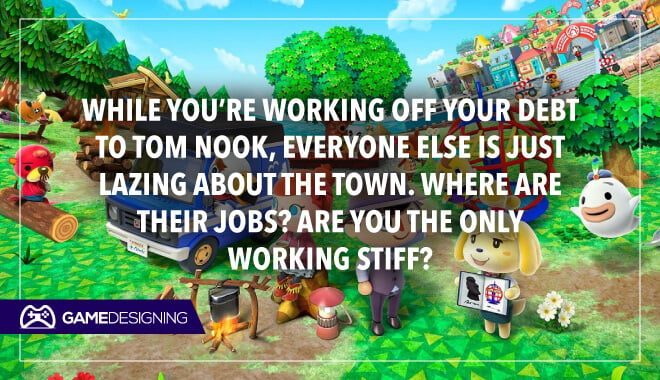 Dungeons and Tombs
---
Nothing like cracking open an ancient tomb, which hasn't been explored in centuries, only to find it perfectly lit with candles.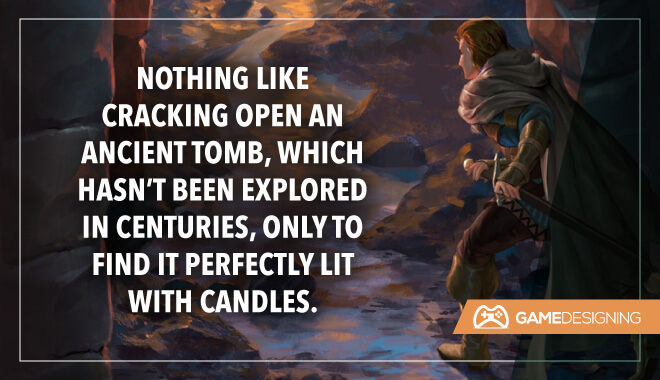 The Sims
---
You can be abducted by aliens and impregnated. The catch is, you need to be a man for this to happen.