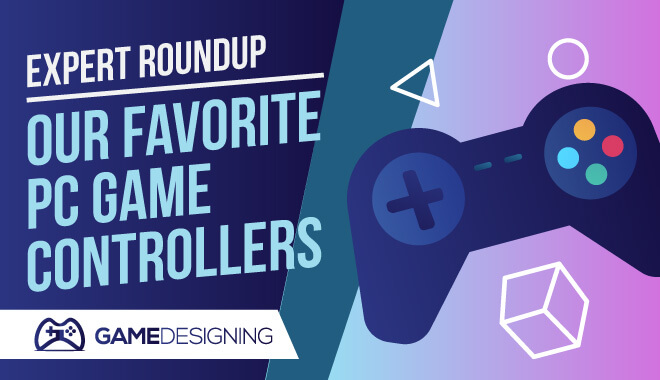 With Steam sales happening all of the time, great gaming deals, no matter how hard you try to ignore them to save your wallet, are taking place. I had heard great things about From Software's Sengoku era Japanese-inspired action game, Sekiro: Shadows Die Twice, so I embraced the holiday spirit and bought it.
Only one problem: I quickly realized that this game is optimized for controllers, not a mouse and keyboard combo like I am used to. I had no idea what to do. I was aware that players could technically hook up an Xbox or PlayStation controller, but I wanted to get the facts before I booted the game up.
I did some research and came away with our favorite PC game controllers.
Why You Need A PC Game Controller
---
Games like Sekiro: Shadows Die Twice, The Witcher 3: Wild Hunt and others are best experienced with game controllers. It doesn't mean that they can't be played with a keyboard and mouse, it is just that they are more optimized for that sort of gameplay.
I have read stories from Witcher players saying that they couldn't adequately access magical attacks because of the limitations set forth by a keyboard and mouse. Another aspect of gaming on PC with a controller is that PC has some of the biggest catalogs of games available; you can't shortchange yourself because you don't have the proper control scheme.
Imagine playing a game like Call of Duty without a mouse, just a trackpad and keys on a keyboard. Sounds ridiculous, right? Technically possible, but a nightmare to actually experience.
Controllers allow for non-console gamers to better experience games optimized for specific control schemes to play it on their favorite gaming rig and tricked out PC. You may be asking the same questions:
What controller should I use for PC?
You should use something that you are both comfortable with physically and play style-wise. If you are familiar with PS4 controllers, sticking with those could be a great option. The same goes for Xbox controllers.
Can I play Fortnite on PC with a controller?
Yes, you can. Some people prefer a mouse and keyboard for certain aspects of shooters, but the majority of Fortnite gamers enjoy the iconic Battle Royale with the aid of controllers.
Exellent Controllers for PC Gaming
PS4 Controller (Dualshock®4)
---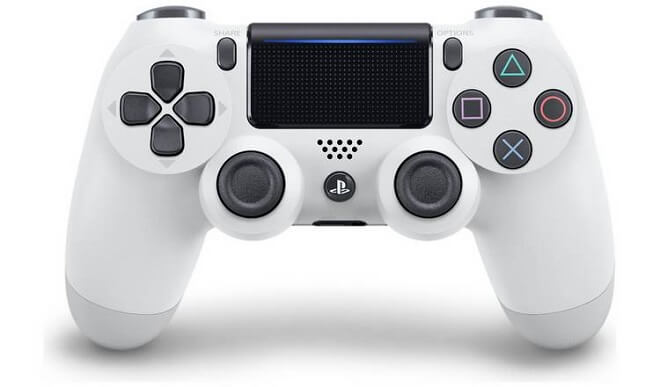 Price: $59.99
Weight: 210g
6 axis motion sensing (3 axis accelerometer, 3 axis gyroscope)
2 × Analog sticks.
2 × Analog triggers. (L2, R2)
2 × Pressure-sensitive buttons. (L1, R1)
10 × Digital buttons
Digital directional buttons
2-point capacitive touchpad with a click mechanism
Is PS4 controller good for PC? Yes. PS4 controllers are specially built for gaming right off the bat.
Console controllers like PS4 are designed with a specific system in mind, but after mapping the different buttons to your fancy, you can get gaming in no time with a quality PS4 controller on a PC game.
The Dualshock®4 controllers can run a pretty hefty price tag: anywhere between $50 to $70 depending on style, quality, and if it is used or not.
For PS4 controllers, the support through Steam is a lot more helpful due to its specialized configuration system rather than gaming with it outright: it needs a PC adapter that has gone out of stock in many places online. If you can find it, it too is an expensive buy like a controller, meaning you could potentially dish out over $100 just to play with a PS4 controller.
That being said, if money is no issue, or you happen to get it working through Steam, gaming with a PS4 controller can be a dream.
Xbox One Wireless Controller
---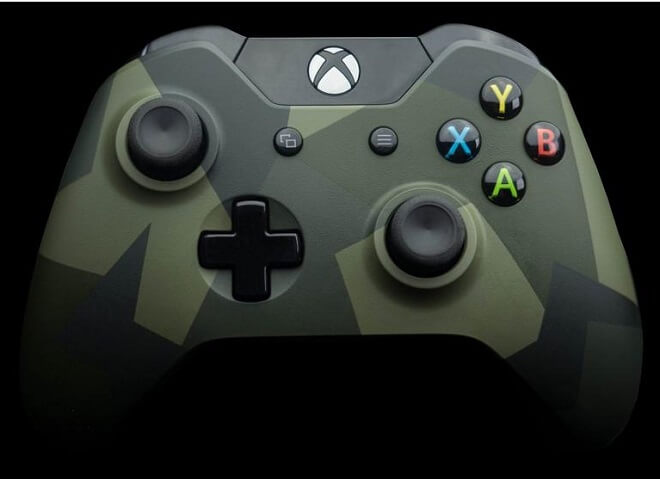 Price: $40-60 (depending on the model)
Weight: .62 lbs. (281g)
Bluetooth
Micro USB
AA batteries
Digital D-Pad
2 × Analog triggers (LT, RT)
2 × Analog sticks
11× Digital buttons
(Y, B, A, X, LB, RB, left stick click, right stick clicks, Menu, View, Xbox)
Wireless pairing button
A little more affordable than its Sony counterpart, the wireless Xbox One controller is a great option for PC gaming. If you are okay with keeping a steady supply of AA batteries nearby for your controller, this is a fantastic option for PC gaming with a controller.
The most popular controller used on Steam today is currently the Xbox 360 controller, so these numbers really give testament to how functional this brand is for computer gaming.
Although the Xbox 360 and Xbox One controllers are different, I think they are similar enough to lump into the same category. Sort of like comparing the PlayStation DualShock 2 & DualShock 3.
The Xbox One Wireless Controller also already comes instantly compatible with Windows 10, something that is extremely helpful for those who merely want to boot up a game and get playing.
Unlike the PS4 controller, which requires some extra work, the Xbox One Wireless controller can have you playing in minutes. For that fact alone, I know that a lot of eager gamers will appreciate this choice.
Microsoft Xbox Elite Wireless Controller (1698 'Elite')
---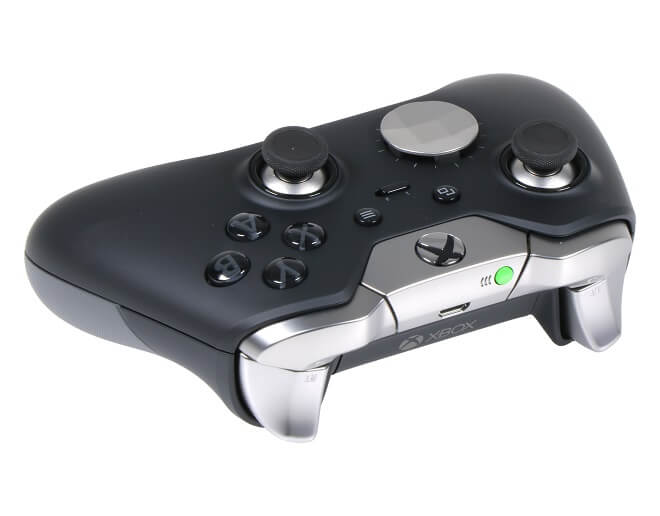 Price: $180
Weight: 348g
Carrying case
Set of 4 paddles
Set of 6 thumbsticks: standard (2), tall (2), and domed (2)
Set of 2 D-pads: faceted and standard
USB cable
AA batteries
There are also certain versions of the Xbox One Wireless controller, like the 1698 'Elite,' which unfortunately abandons the Bluetooth aspect, but makes up for it with some seriously slick design.
The 1698 'Elite' was released in 2015, while Microsoft launched the 'Elite 2' in 2019, which reassigns the Bluetooth connectivity with an even better design.
These models are considered luxurious to many gamers, and with a price tag of at least $180, the Elite might be a little steep for a gamer on a budget, and especially to those who are simply trying to play the Witcher 3: Wild Hunt on their gaming laptops.
The Elite models run for some staggering amounts, usually around $180 or so. I recommend the Elite for more gaming purists or those who are entirely familiar with the Xbox One controller and want to spiff up their gaming situation both in gameplay and aesthetics.
Logitech F310
---
Price: As low as $15, usually around $25
Gamepad
Wired
10 buttons
8-way D-pad
Dual analog sticks
Triggers
"Familiar console-like layout: Pick up and play. Your instincts will guide your actions over the familiar layout. You'll be off and gaming in no time. Crafted for a console-like control experience and innovated from traditional design, F310 fits like a glove."
In this regard, the Logitech website tells no lies. Any fan of gaming will instantly recognize the design of the Logitech F310 as resembling that of an Xbox 360 controller with aspects of a PlayStation controller.
With the Logitech, there may be no bells and whistles compared to other controllers. Still, the lower price, along with the absolutely stunning versatility and compatibility with nearly everything, makes up for its lack of creativity.
That lower price can't be beaten either. With controllers on the list skyrocketing past $50, it is really lovely to see an affordable controller on the market. This lower price, of course, makes itself apparent with the plasticky and flimsier feel to the controller.
Unfortunately, you get what you pay for in that regard. However, it doesn't sacrifice functionality or playing quality, which is the most essential feature.
However, if you pride yourself in wireless gaming, this might not be your choice, as the Logitech F310 is wired as opposed to utilizing Bluetooth technology. If you can overlook that, you really can't beat the overall deal that Logitech offers gamers.
8BitDo SN30 Pro
---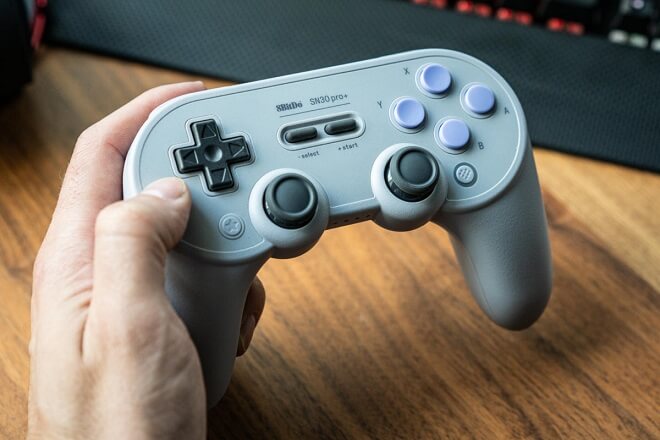 Price: $30-45
Compatibility. Windows, Steam (Windows), Raspberry Pi, Switch.
Controller Mode. X-input, Switch mode.
Special Features. Vibration. Customized Turbo function (Windows only)
Dimension / Weight. 144*63.5*32.5mm. 145g.
Connectivity. Wired USB.
Includes. SN30 Pro USB gamepad
Fans of retro gaming will instantly recognize this controller as being similar to the SNES controller of days gone by. The face buttons have a grand color scheme, evoking a truly retro style. This controller beats out the Logitech F310 in terms of actual physical build, in that it is amazingly sturdy.
When gaming with the 8BitDo SN30 Pro, I believe that games like Undertale, Enter the Gungeon, and other more retro revival games are served best by it.
Perhaps more intensive games like Sekiro: Shadows Die Twice might be more difficult, although it does have analog sticks for that purpose. It isn't recommended for those types of games, which are better served by controllers by Xbox and PlayStation.
However, if you play a lot of indie games like Stardew Valley, 2D platformers like Braid, and JRPGs like Chrono Trigger, this controller is right up your alley, and possibly a better fit than the more expensive eighth-generation console controllers.
Astro C40 TR
---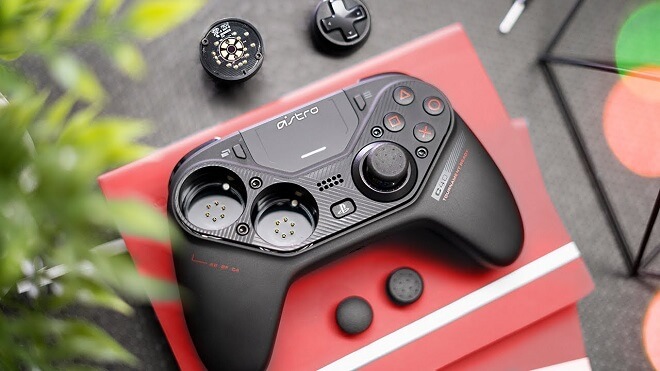 Price: $180-200
Weight: 310g
Dimensions L:168mm W:108mm H:53mm
RF Transmitter: 2.4Ghz
Wireless Latency: 5ms
Battery Type: Lithium Ion Rechargeable
Audio: 3.5mm Jack
Data/Power – Micro USB
A PlayStation 4 or Windows 8/10 PC
Open USB 2.0 port
This stunning controller is a great alternative to those who aren't into playing with an Xbox One Wireless controller. With the price tag resembling the Xbox One Elite series, this controller isn't cheap at all, but it makes up for the hefty price tag with some truly great and unique features that controllers like the Logitech and 8BitDo SN30 Pro lack.
There are a ton of customizable options for PC gaming purists out there, allowing for deep options when it comes to button mapping and analog stick sensitivity.
In that vein, you can virtually emulate the control schemes for those eighth-generation controllers as well, taking aspects that work and excluding those that don't, effectively creating the 'perfect' PC gaming controller out there.
For those of you who can drop a big chunk of money on a controller, this may be your best bet out of all of the options so far. Chances are you won't be playing some more casual games with this controller; this is geared towards hardcore gamers who dedicate their time to getting all of the high-octane gameplay out of titles like Call of Duty and Dark Souls.
This thing looks beautiful, and its sleek and stylish design offers a great alternative to those who don't enjoy the Xbox One controller's aesthetic.
Nintendo Switch Pro Controller
---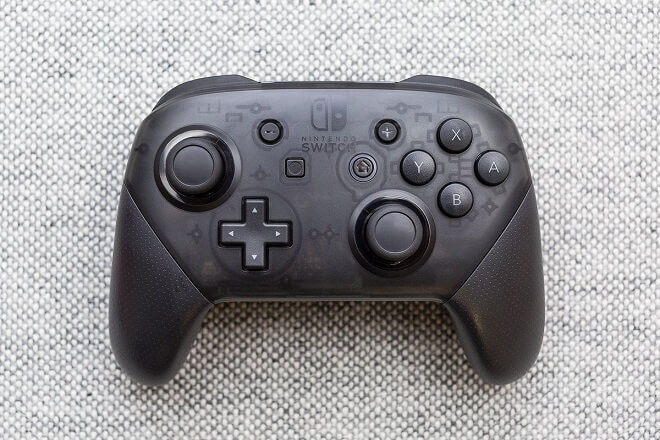 Price: $55
2 × Analog sticks
Accelerometer
Gyroscope
Digital D-pad
10 × digital face buttons (two buttons found under analog sticks; controller features an additional button for syncing purposes)
2 × digital shoulder buttons
2 × digital triggers
Connection: Bluetooth/USB-C
When I saw this amongst the options for gaming controllers, I was a bit surprised. I knew that the Nintendo Switch had excellent controls as they were, but I was genuinely impressed by this entry. It is seamlessly integrated with Steam and can be hooked up and ready to go at a moment's notice.
Not only that, but the design is pretty sleek as well, not really evoking familiarity with Nintendo and their friendly, clean white aesthetic. It's painted all black, which I know some gamers (myself included), definitely dig in controller design. But it works both stylishly and functionally.
It boasts an absolutely fantastic battery life, clocking in around 40 hours. If only some of the best controllers already in use by big consoles could have those same claims. My wallet would sure appreciate it!
Nintendo has created a robust controller here; everything feels completely natural, and it just works. With a $55 price tag, this is an excellent middle of the road option for those who don't enjoy the feel or functionality of earlier options like the Xbox One Wireless Controller or the PlayStation 4 controller. Color me surprised, Nintendo!
It also sells individual edition controllers in tandem with some great titles. These include:
Xenoblade Chronicles 2 edition: pink handles
Super Smash Bros. Ultimate edition: white handles
Splatoon 2 edition: green handle (left), pink handle (right)
Nacon Revolution Unlimited
---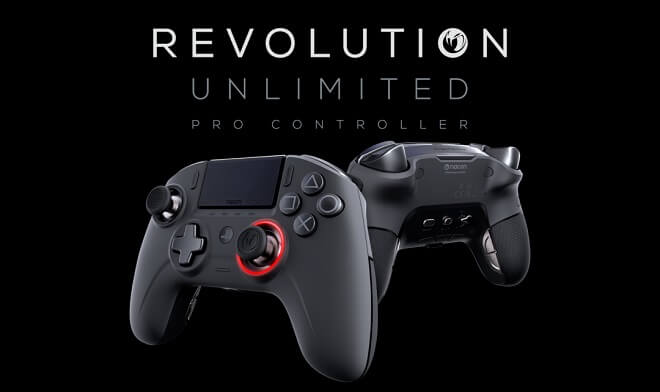 Price: $150-$180
Wireless and wired connections
Dual customizable sticks with 30°/38°/46° amplitude
On-board headset microphone and volume controls
3m braided USB-c detachable cable, transfer data + charge
4 x configurable shortcut buttons, 4* or 8-way directional pad, 2 x customizable vibration motors
Audio & chat support in wireless and wired modes
Interchangeable stick heads
Smart led indicators
3.5mm headset jack (headset not included)
On-board headset microphone and volume controls
LED player status indicator
2 x customizable vibration motors
Internal weight compartments (2 x10g, 2 x14g, 2 x16g)
Hard storage case
Whew! That's a ton of features!
This controller is a great option for those who enjoy larger buttons for clearer gameplay and input. It is made by Sony, resembling the PS4 controller in many ways.
This controller was developed with a key purpose of emphasizing eSports and more competitive gaming in mind. It resembles the PS4 controller, but it designed to fit the shape of everyone's hand sizes, allowing for more cohesive and comfortable gameplay.
That can mean the difference between a headshot and getting smoked by other players online. Another great aspect is the sheer options for customization it allows.
It presents itself as a completely customizable piece of hardware, allowing you to map buttons easily, and taking advantage of its great design to do so. Whereas the 8BitDo SN30 Pro is possibly geared towards more casual games, this controller makes to mistake in being used for hardcore gaming.
This controller is for gamers who think that the PS4 controller doesn't go far enough for their gaming needs. It does have a big price tag, but if you are a hardcore gamer, chances are you are willing to sacrifice some cash for a truly awesome gaming experience.
Which Gaming Controller Is Best For PC?
---
Right now, I would venture to say that the Xbox One Wireless controller is all around the best option. Although other options aren't based on already existing gaming consoles, the Xbox controller is general enough to make it a smoother learning curve for PC gamers than specific other controllers.
It does still boast a pretty significant price tag and requires double-A batteries for use. However, you can also find a USB connection to make the controller wired, eliminating the need for batteries. Because of that versatility and flexibility, I think your best bet is for the Xbox controller.
There is a specific alternative, like the PS4 derivative, the Nacon. Still, overall, the Xbox One wireless controller gives gamers a truly balanced and nuanced style of play for PC that other controllers just can't measure up to.
Where controllers like the Astro are fantastic, the price point and some possible awkward design hold it back as being the ideal best option for PC gaming with a controller.