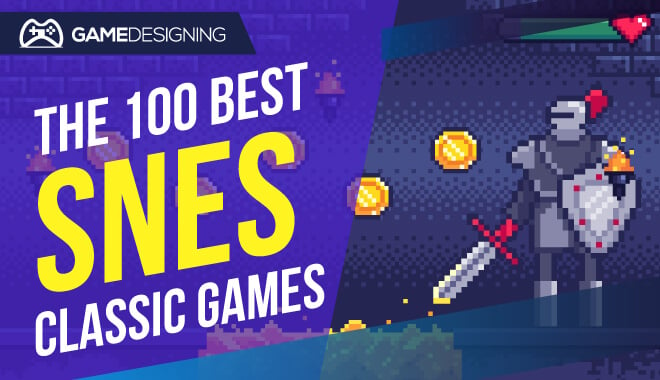 As the years pass by, video game consoles keep upping the ante on graphics, gameplay, user-friendly features, and some gimmicks.
However, what about those consoles in the past generations?
The Super Nintendo Entertainment System, or SNES, was one of the most iconic gaming consoles ever.
It had a wide array of unique titles that paved the way for others for decades to come. Here are the 100 best SNES games of all time.
Our Ranking Criteria
In addition to player and critic ratings, we use objective metrics like sales, users, and sales growth rate to make our lists (read more). Some of these data sources include:
100 Favorite SNES Games
Teenage Mutant Ninja Turtles IV: Turtles in Time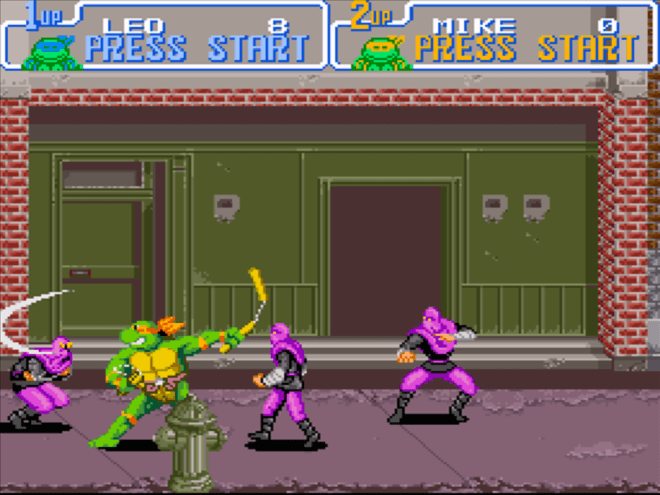 This classic was the fourth in the Ninja Turtles franchise in gaming, and boy is it a barn burner. You take on the role of one of our favorite turtles, (I recommend Leonardo, personally), and go on a quest through time to defeat Shredder himself. It's one of the best beat 'em ups ever made, and it'll take you through the sewers of New York City to prehistoric periods.
What Makes It Great
Nostalgia Factor: It is part of the iconic Teenage Mutant Ninja Turtles franchise, appealing to fans of the series with familiar characters and settings.
Classic Beat 'em Up Gameplay: The game follows the beat 'em up genre, providing straightforward and enjoyable combat mechanics that are easy to pick up and play.
Cooperative Multiplayer: Supports two-player and four-player gameplay, allowing friends to team up and enjoy the action together, enhancing the social gaming experience.
Variety of Playable Characters: Players can choose their favorite Turtle to control, each with unique strengths and weaknesses, adding replay value and strategic depth to the game.
Star Fox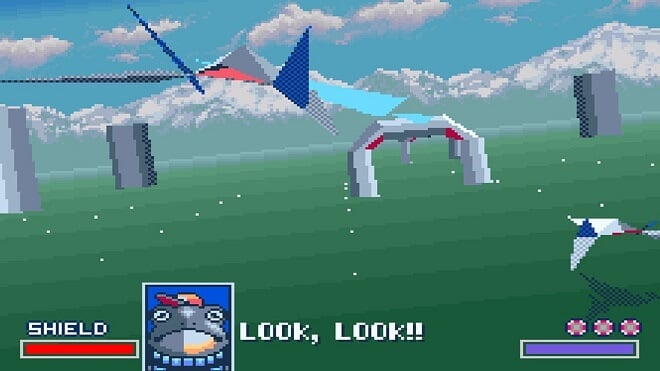 A landmark in 3D gameplay and flight sims, Star Fox has you take on the titular role of Star Fox and his fellow pilots: Slippy Toad, Falco Lombardi, and Peppy Hare. The Model 7 chip allowed for normal 2D gameplay into 3D.
Although by today's standards, 3D is rough, back in the 1990s it was revolutionary. You'll fly through the levels, shooting down bogies, and eventually face off against a classic foe—Andross.
What Makes It Great
Pioneering 3D Graphics: "Star Fox" was one of the first games to utilize 3D polygonal graphics on the Super Nintendo, offering a visually impressive and groundbreaking experience for its time.
Unique Sci-Fi Setting: The game introduces players to the Lylat System, a captivating sci-fi universe, and immerses them in a story where they take on the role of Fox McCloud and his team to combat the evil Andross.
Variety of Enemies and Bosses: "Star Fox" features a wide range of enemy types and formidable boss battles, keeping players engaged and challenged throughout the game.
Donkey Kong Country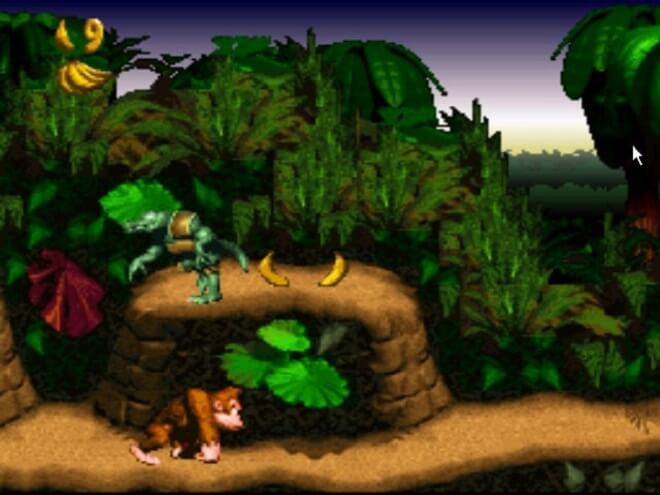 We had known about Donkey Kong through his game where he was the villain, but Donkey Kong is given a new side in this game. Alongside DK's nephew, Diddy, you need to get a golden banana from King K. Rool, the gross king alligator, and main antagonist.
It's a landmark feat of platforming gameplay, and it's seriously addictive, even today. Through 40 challenging levels, Donkey Kong Country puts a beautiful art style, creative levels, and the different benefits of both characters on display.
What Makes It Great
Revival of a Classic Franchise: The game brought the Donkey Kong franchise back into the spotlight after a long hiatus, introducing a new generation of gamers to the iconic character.
Varied Gameplay Mechanics: The game offers a variety of gameplay mechanics, including riding animal characters, throwing barrels to defeat enemies, and solving puzzles. These elements keep gameplay fresh and engaging.
Groundbreaking Graphics: "Donkey Kong Country" is known for its pre-rendered sprites converted from 3D CGI models, setting a visual standard for future games.
Super Castlevania IV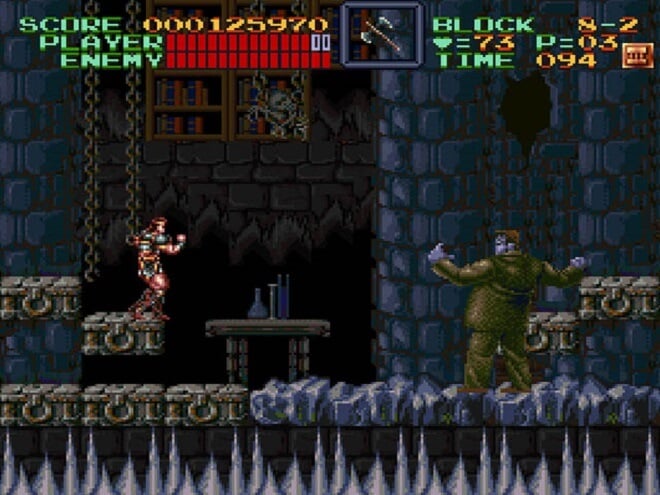 Castlevania by now has had so many iterations, however, the fourth entry on consoles was the excellent Super Castlevania IV. It's a difficult romp through Dracula's Castle, and there's no guarantee you'll survive. It added more control to the player, with Simon Belmont being able to control the iconic vampire-slaying whip in all directions.
What Makes It Great
Classic Castlevania Atmosphere: Maintains the iconic Gothic horror atmosphere of the Castlevania series, immersing players in a dark and eerie world.
Back to Basics Approach: Returns to the original plot and protagonist of the series, Count Dracula and Simon Belmont, providing a nostalgic experience for long-time fans.
Sub-Weapons: Implements a variety of sub-weapons powered by collected hearts, enhancing gameplay variety and tactical choices.
Super Mario RPG

Released in 1996, Super Mario RPG was the first game in the series to branch out to include RPG aspects. It was a smash hit, and it eventually led to games like the excellent Paper Mario and Mario & Luigi. In it, Mario and his party of characters have to recover pieces of the Star Road. It's a great blend of RPGs like those from Squaresoft and Super Mario.
What Makes It Great
Unique Fusion of Mario and RPG Elements: Combines the beloved Mario universe with traditional RPG gameplay, offering a fresh and exciting experience for both Mario fans and RPG enthusiasts.
Diverse Playable Characters: Offers a diverse cast of playable characters, each with their own unique abilities and playstyles, encouraging experimentation and strategic team composition.
Critically Acclaimed Graphics and Humor: Earned critical acclaim for its 3D-rendered graphics and humor, adding charm and visual appeal to the game.
Super Mario Kart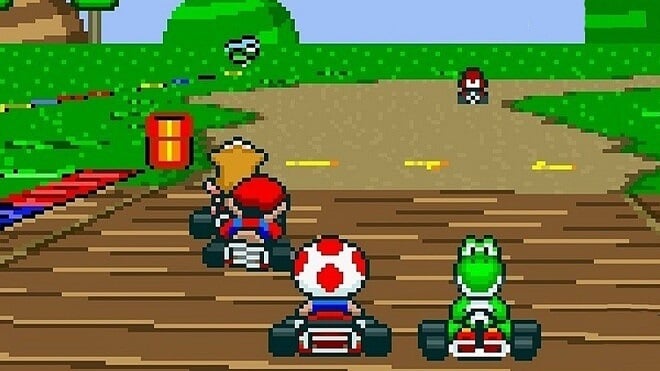 I'm calling it now: the original Mario Kart is STILL fun. It still can cause severe competitiveness, lots of trash talk, and red shells. Throughout several racing tracks, the Mode 7 software is again in use here, and it just works. What character do you play? I'm a Donkey Kong man myself.
What Makes It Great
Pioneering Kart Racing Genre: It pioneered the kart racing genre, setting a standard for fun and accessible multiplayer racing games.
Iconic Mario Characters: Features a cast of beloved Super Mario characters, allowing players to race as their favorites, each with their own unique characteristics.
Pick-Up-and-Play Appeal: Designed as an easy-to-pick-up racing game suitable for players of all skill levels, fostering a welcoming and inclusive multiplayer experience.
Innovative Item System: Introduces the item system, where players can collect power-ups from Question Blocks to use against opponents, adding an element of strategy to races.
Street Fighter II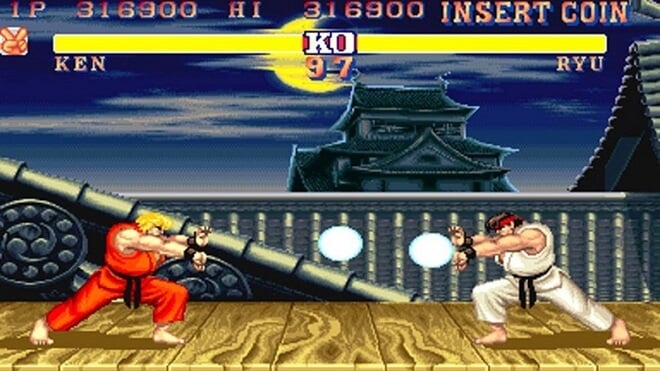 Can you count how many times Street Fighter II has been released without looking it up? Neither can I, but it's a ton. But I believe it's warranted since Street Fighter II is no doubt one of the best fighting games ever made. Ported in 1992 to the SNES, Street Fighter II has all our favorite characters like Ryu, Blanka, Chun-Li.
What Makes It Great
Genre Pioneering: Popularized and established the 2D fighting game genre, setting the standard for competitive one-on-one combat in video games.
Enhanced Gameplay Mechanics: Improved upon concepts from the original Street Fighter, introducing command-based special moves and a six-button configuration for more precise controls.
Diverse Playable Characters: Offers a selection of multiple playable characters, each with a unique fighting style, special moves, and distinct personalities, adding depth and replayability.
Cultural Impact: Sparked a renaissance for the arcade game industry and is credited with popularizing fighting games, becoming a cultural phenomenon.
Final Fantasy IV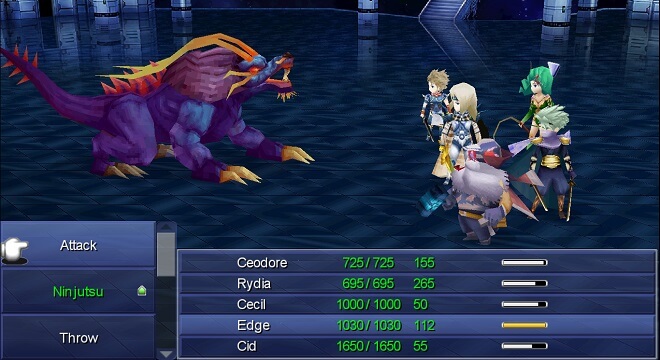 Known as Final Fantasy II in North America, Final Fantasy IV features the quest to prevent the evil wizard Golbez from achieving world domination. Character distinction through classes was introduced, and the game has sold over 4 million copies and has been ported to multiple systems.
What Makes It Great
Pioneering RPG Title: The fourth installment in the iconic Final Fantasy series, contributing to the franchise's lasting popularity and legacy.
Engaging Storyline: A compelling narrative set in a medieval fantasy world, focusing on the redemption journey of Cecil Harvey, the captain of the Red Wings of Baron.
Character-Driven Plot: Features a rich cast of characters, each with their own unique abilities and development arcs, adding depth and emotional investment to the story.
Innovative Active Time Battle (ATB) System: Introduced the groundbreaking ATB system, a real-time battle mechanic that became a series staple, enhancing combat strategy and urgency.
Super Mario World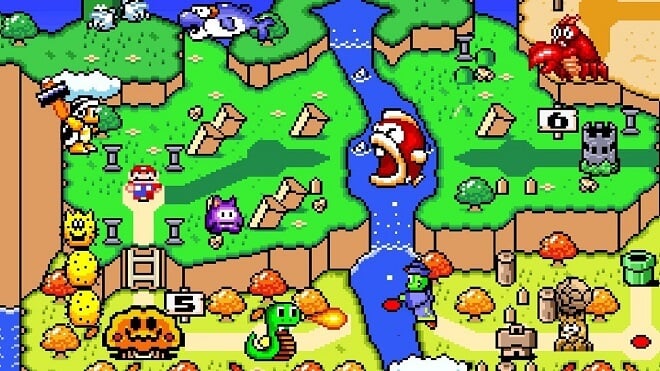 Mario's debut on the SNES is one for the ages. Getting to ride Yoshi was a revolutionary step in gaming. The game looks great and plays so solidly that it has become the gold standard for platformers. With this game, Mario knocked all of the competition off the shelf.
What Makes It Great
Launch Title for SNES: As a launch title for the Super Nintendo Entertainment System, it showcased the capabilities of the new console and set a high standard for future SNES games.
Direct Sequel with Enhancements: Builds upon the success of "Super Mario Bros. 3," retaining beloved elements like the world map and introducing new features, creating a familiar yet fresh gaming experience.
Cinematic Action Adventure: Modeled after an action movie franchise, the game's design and presentation contribute to an engaging and cinematic gameplay experience.
Critical and Commercial Success: Achieved best-selling status on the SNES, received widespread critical acclaim, and remains a staple on lists of the greatest games of all time.
Chrono Trigger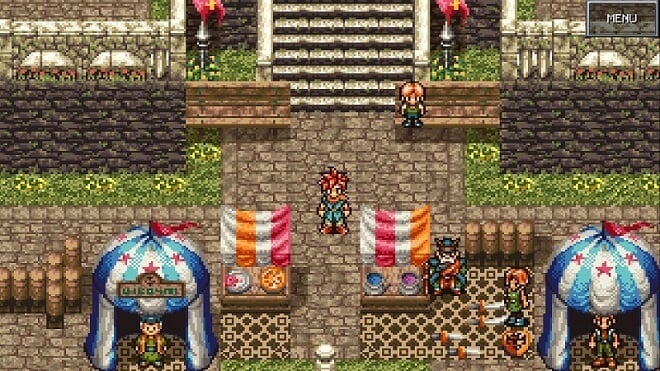 Having some of the best Final Fantasy developers behind it, Chrono Trigger is a beloved turn-based RPG that has been a staple in any RPG lovers game library. You play as Crono, the silent protagonist, and travel through time with him and his companions through a detailed and satisfying story.
It was a smashing success and paved the way for a sequel, as well as fan-made iterations of the game and more.
What Makes It Great
Timeless Classic: "Chrono Trigger" is a timeless classic from the golden era of J-RPGs in the 1990s, often considered one of the best RPGs ever made.
Compelling Story: It offers a captivating story-driven experience, with a rich narrative and well-developed characters that stand out even among other classic RPGs.
Limited Availability: Despite its status, "Chrono Trigger" has had limited re-releases, making it a valuable and sought-after title for classic J-RPG enthusiasts.
Earthbound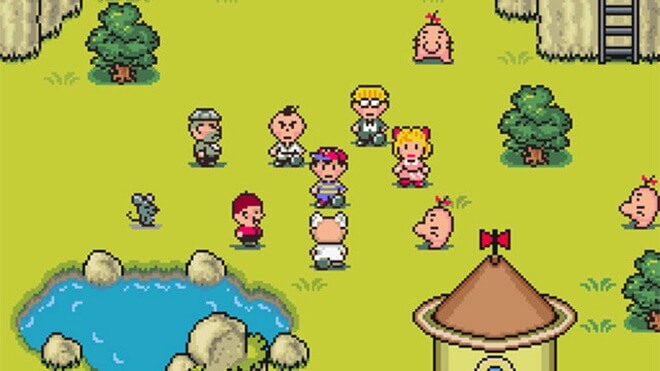 Although it didn't exactly make waves amongst critics at the time of its release, Earthbound has become more popular in recent times, becoming a cult classic. It's the second game in what's called the Mother series of games. The game follows a group of kids, led by Ness, as they try to defeat the big bad, Giygas.
What Makes It Great
Unique Tone and Pacing: "EarthBound" masterfully balances moments of challenging battles against a dark backdrop with lighthearted and humorous scenarios, providing players with a unique and engaging gaming experience.
Memorable Characters and Scenarios: The game features a cast of memorable characters and scenarios, including battling sentient piles of barf, helping monkeys fall in love, and humorous references to pop culture, making it a delightful and charming RPG.
Nostalgic 1990s Setting: "EarthBound" creatively combines traditional RPG elements with a 1990s Americana setting, using children's toys as weapons, payphones for saving progress, and references to iconic music groups, creating a nostalgic and relatable atmosphere.
The Legend of Zelda: A Link to the Past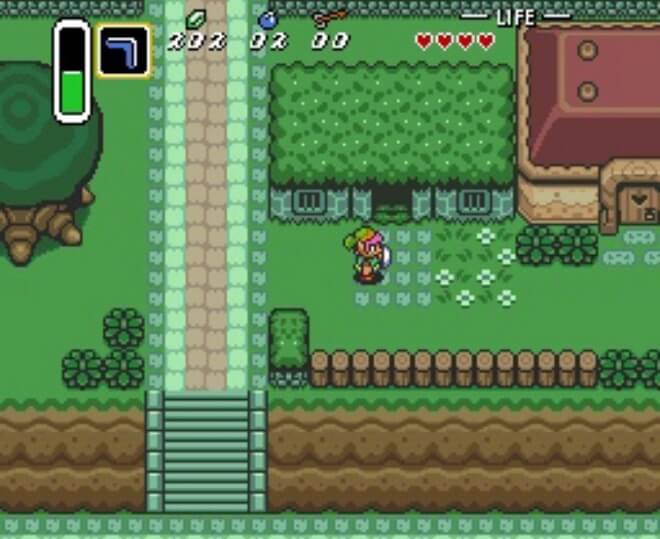 This is considered one of the best Zelda games ever, alongside Ocarina of Time and others. Link to the Past would mark a 7-year gap until Nintendo released the next console Zelda game, Ocarina of Time. Dungeon after dungeon, facing off with Ganon, and immersing yourself in the rich story and world was so satisfying.
What Makes It Great
Established Iconic Zelda Formula: The game firmly established the iconic formula of adventure game design seen in later Zelda titles, including overworld exploration, item acquisition, and storyline progression, making it a foundational game in the series.
Balanced Game Structure: It perfected the balance between overworld exploration, item gathering, and advancing the story, a formula still followed by many Zelda games today, such as "Twilight Princess," "Wind Waker," and "Ocarina of Time."
Expansion of the Original Concept: While the original "The Legend of Zelda" was groundbreaking, "A Link to the Past" expanded and refined its concepts, providing more structure, storytelling, and depth to the Zelda universe.
Combination of Freedom and Linearity: The game harmoniously blends the freedom to explore the vast world of Hyrule with a more focused and linear progression, offering players a sense of freedom while advancing the storyline.
Shadowrun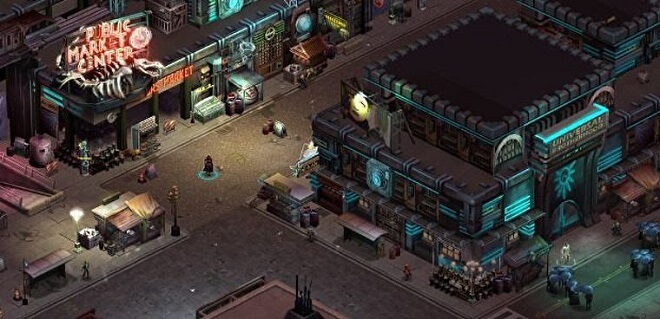 Shadowrun is a cyberpunk RPG taking heavy influence from stories like Neuromancer by William Gibson and Blade Runner. It's an adaptation from the tabletop RPG version. You play as a man with amnesia and your quest to find out who tried to have you killed.
It's a great mix of genres and spawned newer games in the form of Shadowrun Returns and Shadowrun: Hong Kong.
What Makes It Great
Engaging Storytelling: The game offers a well-written and compelling murder mystery and conspiracy tale called "The Dead Man's Switch," set in a unique sci-fi/fantasy universe, making it a captivating narrative-driven experience.
Distinctive Sci-Fi/Fantasy Fusion: The game's setting combines elements of traditional fantasy with futuristic sci-fi, featuring shotgun-toting elves, ork mages, and dwarf hackers, providing a fresh and unconventional take on the genre.
Complex RPG System: The game features a deep RPG system with a wide range of skills and abilities for character customization, offering a sense of constant progression and specialization.
Super Metroid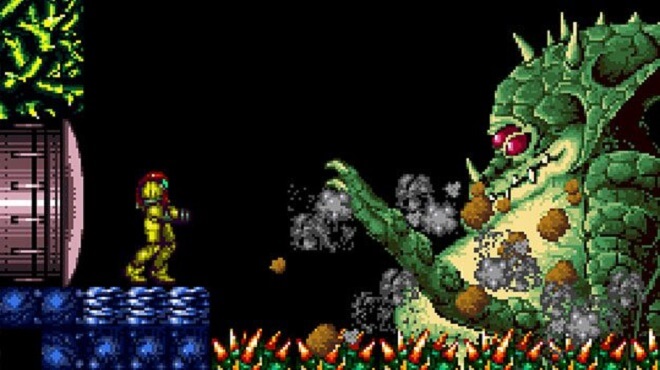 Samus Aran makes her first appearance on the SNES in this game, released in 1994. Samus is tasked with hunting down space pirate Ridley and retrieve a Metroid infant. It was responsible for creating the subgenre, (along with Castlevania), Metroidvania.
These games emphasized exploration in a large world which can be backtracked and reached using different learning abilities.
What Makes It Great
Engaging Story: The game's narrative draws players into the saga of the Metroids, featuring an intriguing mix of isolation and discovery as players explore the abandoned research facility on Planet Zebes.
Atmospheric Exploration: The game excels at creating an atmospheric and immersive world for players to explore, with a sense of isolation and mystery in the rainy, alien landscape.
Power-Up Progression: The game's progression system involves collecting power-ups, such as the Morph Ball and Ice Beam, which gradually open up new areas and abilities for protagonist Samus Aran.
Final Fantasy VI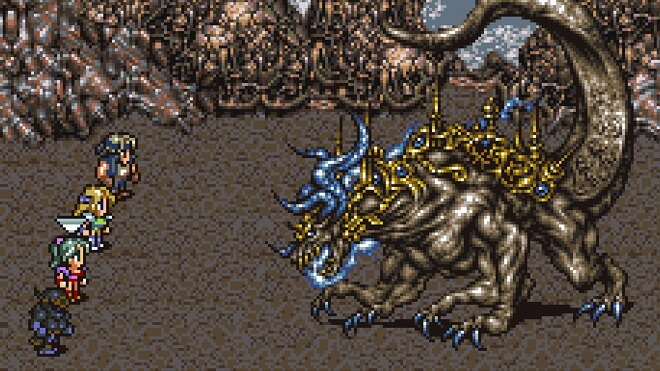 In my opinion, this installment of Final Fantasy may be one of the best, if not the best. It has a great, dark, and gritty futuristic steampunk setting with tons of deep, multifaceted characters that you'll easily love or hate.
You can play as 14 different characters and includes one of the most iconic video game villains, the Court Mage Kefka Palazzo, and his chilling laugh.
What Makes It Great
Engaging Storytelling: The game features a well-delivered and compelling narrative set in a post-apocalyptic world with a mix of magic and technology, where players join a group of adventurers known as The Returners to thwart the ambitions of the powerful empire.
Diverse and Memorable Characters: The game boasts a diverse cast of playable characters, each with a unique special ability, personality, and backstory, enhancing the player's connection to the story.
Iconic Villain: The standout villain, Kefka, is a memorable and insane character with a captivating presence, making him one of the most iconic antagonists in video game history.
Super Ghouls 'n Ghosts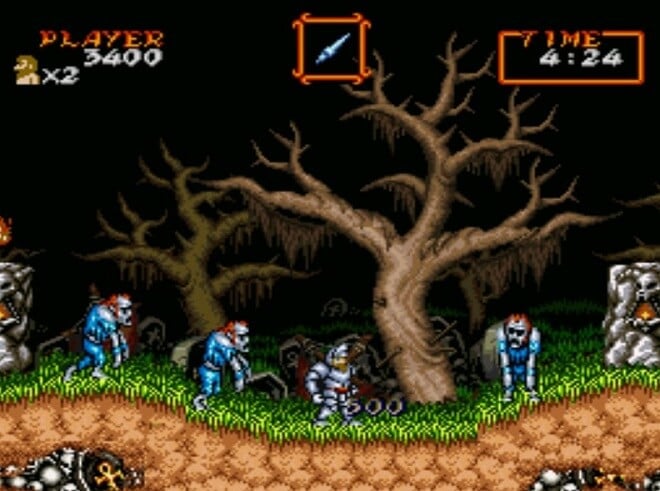 This game is a sequel to the arcade hit Ghosts 'n Goblins. In it, the Knight Arthur must rescue a princess from the titular ghouls and ghosts. Arthur traverses through haunted environments, slaying horrifying creatures, and wearing his patented boxer shorts.
It has a punishing difficulty and has features that can only be accessed by playing the game a second time for those masochistic gamers out there. This game would inspire the following games in the series, as well as the two Maximo games on the PS2 in 2001 and 2003.
What Makes It Great
Engaging Story: The game's narrative follows Arthur's quest to rescue Princess Prin Prin from the Demon Realm and stop the new menace threatening the kingdom, adding a sense of urgency and purpose to the gameplay.
Playable Character: Players assume the role of Arthur, a valiant knight, and embark on a challenging adventure filled with enemies and obstacles.
Nostalgic Gameplay: For fans of the series, "Super Ghouls 'n Ghosts" continues the classic gameplay that the franchise is known for, combining platforming, action, and challenging enemy encounters.
F-Zero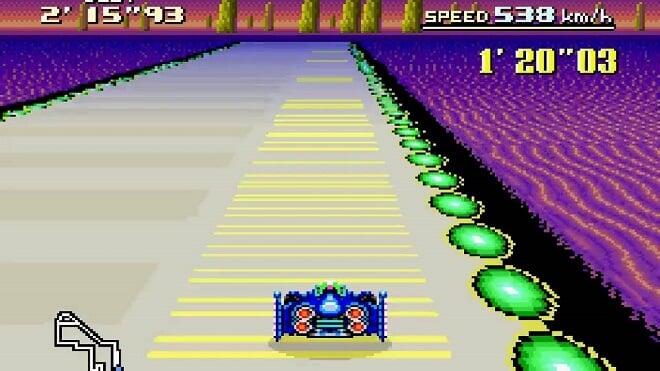 The racing game F-Zero introduces us to a wild and fast future populated by fast vehicles, colorful characters, and sweet music. This is where Captain Falcon made his debut, along with some other classic racers. It was the first game that used Mode 7 Scrolling, (even before Star Fox), to give environments a 3D, more realistic feel as you're whizzing by.
What Makes It Great
Visual Innovation: "F-Zero" was a visually stunning game for its time, utilizing the SNES's Mode-7 scaling technology to create the appearance of fully 3D graphics, setting a standard for console graphics.
Excellent Gameplay: The game offers a perfect blend of accessibility and depth in its gameplay, making it easy for newcomers to pick up and play while providing enough depth to engage experienced players.
Intuitive Controls: The game's controls are straightforward, with simple acceleration and the ability to lean left or right for tighter turns or drifting. The handling and collision physics feel just right.
Mortal Kombat II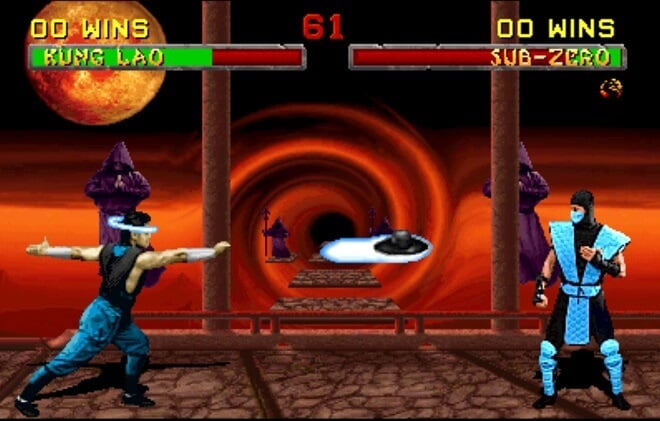 Mortal Kombat's second entry upped the ante in an already insane fighting game. It introduced the hilarious 'babality' and 'friendship' based off of the fatality system. It extended the game universe as well, adding new characters like Jax, Baraka, and Kitana.
What Makes It Great
Classic Arcade Experience: "Mortal Kombat II" is a sequel to the highly successful and controversial arcade classic, maintaining the series' reputation for intense and engaging gameplay.
Improved Gameplay: The game features 12 internationally known characters, each with a wide range of special moves and abilities. It builds upon its predecessor by introducing environmental hazards that players can use to defeat opponents.
Super Punch-Out!!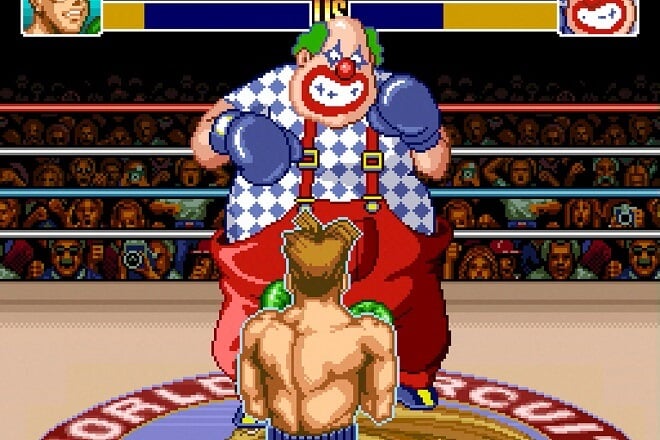 This is the fourth game in the Punch-Out!! Series of boxing/fighting games, starting with Punch-Out!! in 1984. it includes a great roster of colorful characters like Gabby Jay, Masked Muscle, and brothers Nick & Rick Bruiser.
The over-the-shoulder perspective became one of Punch-Out's biggest asset and creative direction, giving the player a new and differing look at how to play strategically.
What Makes It Great
Unique and Memorable Opponents: The game features a colorful cast of opponents, each with their own outlandish and memorable fighting styles, making every match exciting and unpredictable.
Sequel to a Classic: "Super Punch-Out!!" is the 16-bit sequel to the classic "Mike Tyson's Punch-Out!!" from the NES, inheriting and expanding upon its successful formula.
Challenging Gameplay: The core gameplay retains the essence of the original, with players controlling Little Mac and utilizing a range of punches and defensive maneuvers to defeat opponents.
Harvest Moon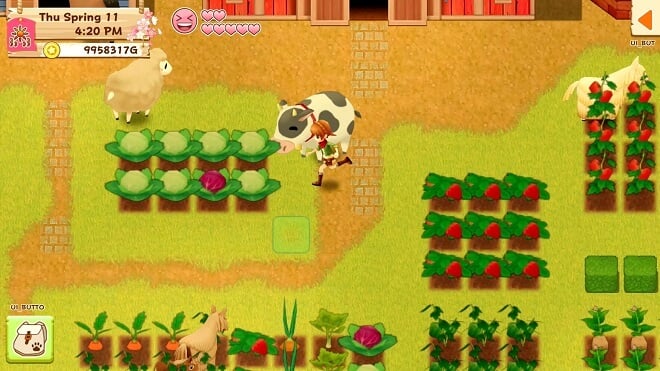 Instead of action, is the idea of building your farm and everything that goes with it is more your style? Then Harvest Moon is the game for you.
Before the numerous sequels, the original introduced gamers to the surprisingly complex, yet fun aspect of farming in-game. This opened up new avenues like socializing with other characters, owning a pet, and more.
This game spawned many sequels and spin-offs, as well as inspiring the wonderful Stardew Valley, of which it shares many similar game mechanics.
What Makes It Great
Surprising Enjoyment: Despite the concept of farming, which might seem tedious at first, "Harvest Moon" manages to turn these activities into an engaging and enjoyable gameplay experience.
Foundation for a Successful Franchise: "Harvest Moon" served as the foundation for one of the gaming industry's longest-lasting and consistently entertaining franchises, demonstrating its appeal to players.
Restoring the Family Farm: The game's premise involves players restoring a neglected family farm over a set period, adding a sense of purpose and progression to the gameplay.
Final Fight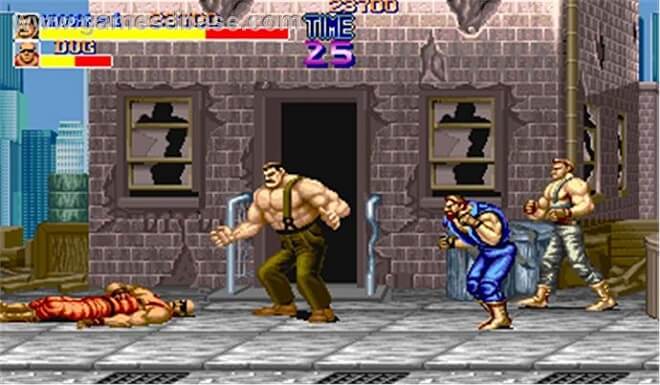 Final Fight is still a killer romp through the streets of Metro City 1980s. You play as one of the few characters, (Mike, Cody, or Guy), and proceed to move to the right of the screen in a side-scrolling fashion, beating up baddies as you go.
It was originally slated to be a Street Fighter sequel but was changed to its iconic beat 'em up style. It has sold over 3 million copies since its release in 1989.
What Makes It Great
Connected Universe: It shares a universe with the "Street Fighter" series, adding depth and familiarity to the game world for fans of both franchises.
Multiplatform Availability: The game was originally an arcade title but was later ported to various platforms, including the Super Nintendo Entertainment System, Sega CD, Sharp X68000, and Game Boy Advance, ensuring accessibility for a wide range of players.
Engaging Story: The game's storyline is set in Metro City, a crime-ridden place where citizens live in constant fear. Players assume the role of the newly-elected mayor, Mike Haggar, who vows to clean up the streets and bring peace to the city.
Super Star Wars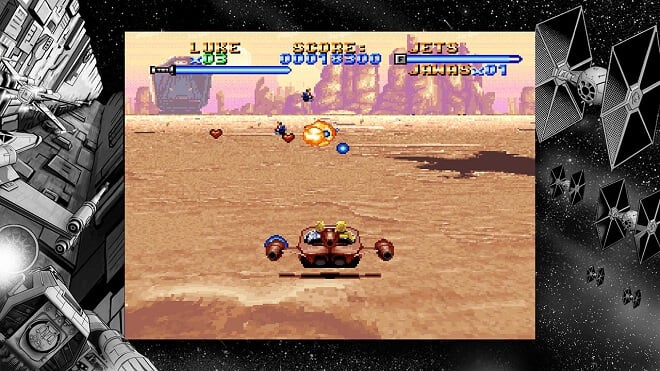 Who doesn't love Star Wars? It was only a matter of time until the beloved sci-fi series made the jump from movie screens to the SNES.
Super Star Wars generally takes you through the first film, 1977's Star Wars. You play as Luke as he turns from farmer boy to skilled Jedi.
The difficulty is punishing, but the gameplay is great fun. Electronic Gaming Monthly gave it the 'Best Action/Adventure Game of 1992'.
What Makes It Great
Faithful Structure: While the details may differ from the movie, the general structure of the game follows key plot points, such as starting on Tatooine, rescuing droids, meeting Chewbacca and Han Solo, and ultimately confronting the Death Star.
Enhanced Gameplay: The alterations made to the story are designed to create a more high-energy action experience. For example, players can engage in intense battles with iconic Star Wars creatures like the Sarlacc Monster.
Nostalgia Factor: Despite its difficulty, the game has retained its popularity over the years, appealing to both hardcore players who mastered the challenge and fans of the Star Wars franchise.
Earthworm Jim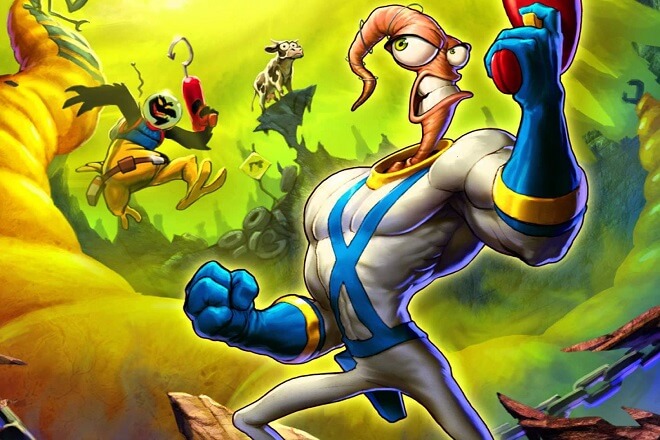 If I described the premise of this game, I'm not sure you would believe it.
A literal earthworm worm, (named Jim), wears a powerful suit of armor, giving him full-body autonomy, and battles against his nemeses, Psy-Crow, Evil the Cat, and Major Mucus. This wild game is a side-scroller that includes run and gun elements.
It's a lot of fun and has made an endearing, lasting mark in the hearts of gamers years later.
What Makes It Great
Quirky Personality: "Earthworm Jim" is known for its bizarre and unique characters and situations, which contribute to its quirky and distinctive personality.
Variety of Gameplay Elements: "Earthworm Jim" features a variety of gameplay elements, including running, gunning, swinging on ropes, and battling bizarre bosses. This diversity in gameplay keeps the experience engaging and dynamic.
Unique Bosses: "Earthworm Jim" features unconventional and memorable boss encounters, ranging from a garbage can to a wad of mucus. These unique adversaries contribute to the game's distinctive nature.
SNES Best-selling Games of All Time
You will find more infographics at Statista
Kirby's Dream Course

Kirby and mini-golf go together as well as…well…Kirby and minigolf. That's what we're dealing with here: a Kirby-themed minigolf game, and it's fun. Instead of a golf ball, you use Kirby, angling and strategically placing your shots. There are 8 courses with 8 holes each.
Kirby is tasked with making it through levels populated by enemies, culminating with the devious King Dedede.
What Makes It Great
Unique Gameplay: "Kirby's Dream Course" offers a unique blend of golf and action elements, setting it apart from traditional golf games.
Innovative 3D Gameplay: This game was the first in the Kirby series to introduce 3D gameplay and physics, adding depth and complexity to traditional 2D graphics.
Challenging Courses: The game features a variety of courses with different layouts, obstacles, and hazards, providing a steady increase in difficulty as players progress.
SimCity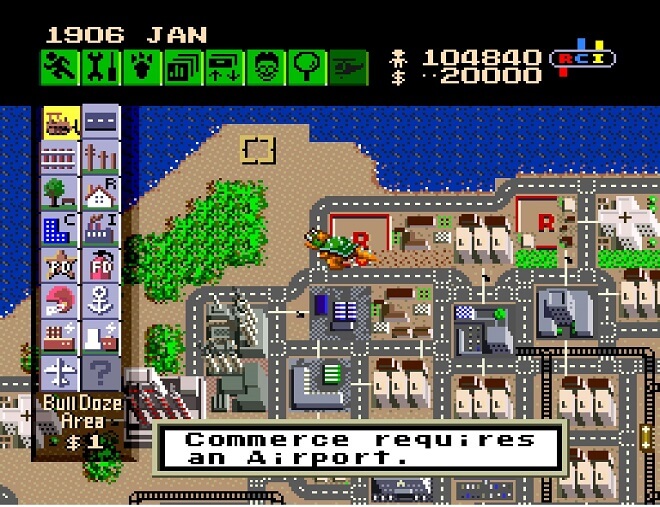 This was Maxis and Will Wright's jump to the SNES after creating this wildly popular and trailblazing city simulator. All the assets you know and love are here in one package.
What Makes It Great
Genre Pioneer: "SimCity" is a pioneering city-building simulation game that laid the foundation for many subsequent titles in the genre.
Open-Ended Gameplay: The game offers open-ended, sandbox-style gameplay, allowing players to create and manage their own city as they see fit, without strict win conditions.
Customizable City Layout: The game provides the freedom to design the city layout, including road networks, railways, and zoning decisions, allowing for creativity in city planning.
Super Star Wars: Return of the Jedi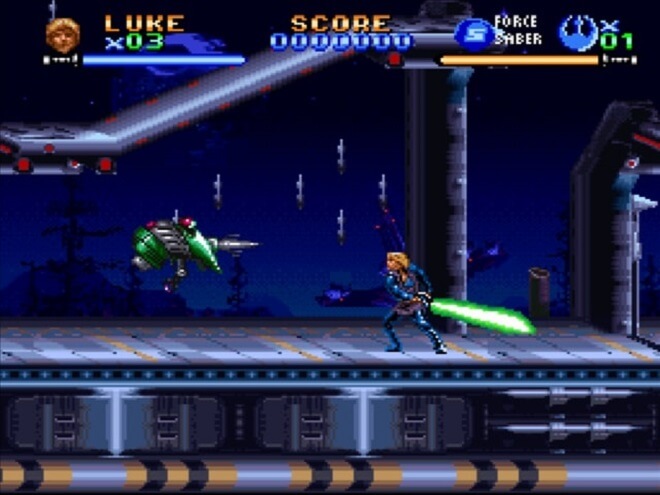 Yes, we're back with more Star Wars. This time, it covers the events of the film Star Wars: Return of the Jedi.
In this third installment of the game series, multiple characters are selectable per level, the 3D Model 7 vehicle levels, and great boss battles. Since it adds a little more action than there is in the actual movies, you'll fight Jabba the Hutt, fight through the Death Star, and more.
Most importantly, you can pilot the Millennium Falcon. Enough said.
What Makes It Great
Continuation of a Classic Trilogy: The game follows the events of the iconic "Star Wars: Episode VI – Return of the Jedi," allowing players to relive moments from the movie.
Platformer Gameplay: It offers classic platformer gameplay, where players control various characters from the Star Wars universe, including Luke Skywalker, Han Solo, Chewbacca, Leia, and Wicket the Ewok.
Varied Playable Characters: The inclusion of multiple playable characters adds variety to the gameplay, each with their unique abilities and playstyles.
Donkey Kong Country 3: Dixie Kong's Double Trouble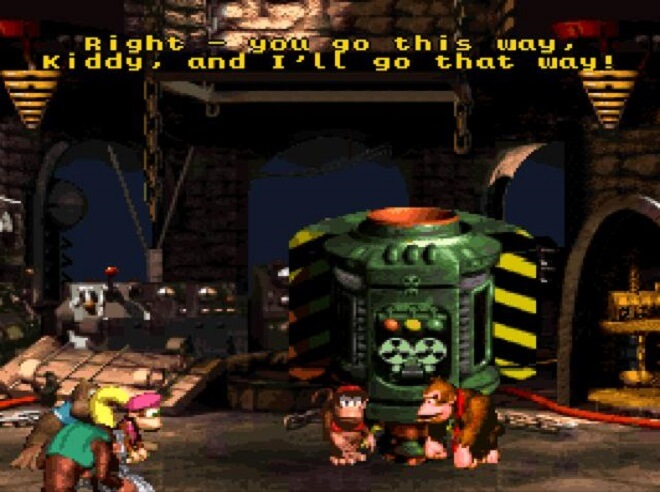 The third installment of the great Donkey Kong Country games has Dixie and Kiddy Kong on the trail of the kidnapped Donkey and Diddy Kong. It is a direct sequel to Diddy's Kong Quest, including many of the same great platforming features as the first two games. There's the classic mix of platforming, on-rails, and underwater levels spanning 48 solid levels.
What Makes It Great
Sequel to a Beloved Series: It continues the legacy of the Donkey Kong Country series, known for its exceptional platforming and memorable characters.
Two Playable Characters: Players can control both Dixie Kong and Kiddy Kong, each with their unique abilities, adding depth and variety to the gameplay.
Classic Platforming: The game offers classic platformer gameplay, with the goal of reaching the end of each level while overcoming various challenges and enemies.
Illusion of Gaia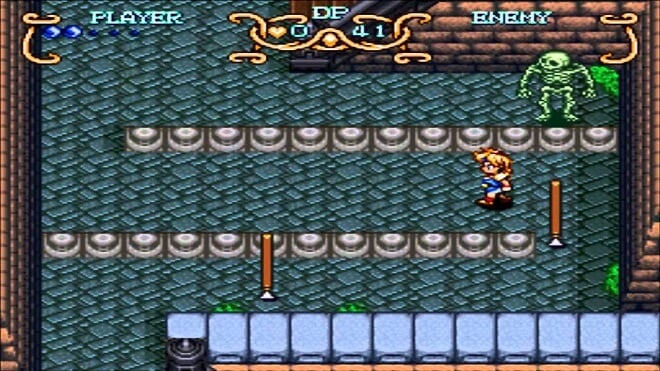 This action role-playing game takes place on a lightly fictionalized Earth, where our protagonist, Will, is informed that he has to save the world from an oncoming comet. Alongside Will, the player can have control of two other characters, Freedan, and Shadow, each with their unique abilities that move the story along.
It was praised for its puzzles and role-playing elements.
What Makes It Great
Unique Characters: The game features three playable characters, Will, Freedan, and Shadow, each with their unique abilities, adding variety to gameplay and puzzle-solving.
Character Progression: As the story unfolds, characters gain new techniques that enhance their abilities, making them more versatile and capable of overcoming challenges.
Strategic Gameplay: Players must strategically choose the right character for different situations, as some areas are impassable without a specific character's skills.
Zombies Ate My Neighbors

This is a total funfest. Straight out of the campy late 1980s and early 1990s, Zombies Ate My Neighbors follows Zeke and Julie as they attempt to rescue their neighbors from movie monsters. It's a run-and-gun through suburbs, malls, and more as you attempt to save the day.
It has become somewhat of a cult classic, as it didn't exactly garner critical praise at the time of its release. However, the humor and great gameplay make it worth checking out.
What Makes It Great
Cult Classic: "Zombies Ate My Neighbors" is considered a cult classic that has gained popularity over the years and is highly requested by fans.
Halloween-Themed Fun: Perfectly themed for Halloween, the game offers a spooky and humorous experience with goofy monsters and B-grade horror film elements.
Unique Enemies: The game features a wide variety of enemies, including zombies, alien pod people, knife-throwing munchkins, and colossal babies, adding diversity to gameplay.
Earthworm Jim 2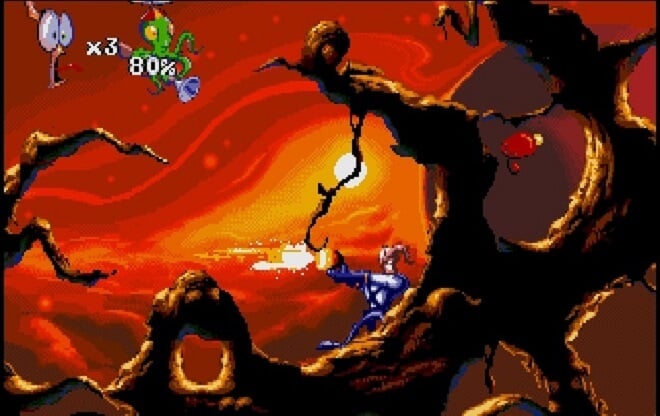 Earthworm Jim is back in this great sequel. His enemies are back as well, and he needs to rescue Princess What's-Her-Name. This time, many different levels are emphasizing different gameplay elements, building a cohesive, unique complete product which, like its predecessor, made a mark on gaming.
What Makes It Great
Return of a Classic: "Earthworm Jim 2" is a sequel to the beloved Earthworm Jim series, featuring the iconic annelid superhero.
Nostalgia: The game caters to the nostalgia of players who enjoyed the original Earthworm Jim adventures and brings back the character for an encore appearance.
Unique Gameplay: The game offers a variety of gameplay experiences, with levels featuring disconnected gimmicks, altered perspectives, and costume changes, providing a unique and often unpredictable gaming experience.
Mega Man X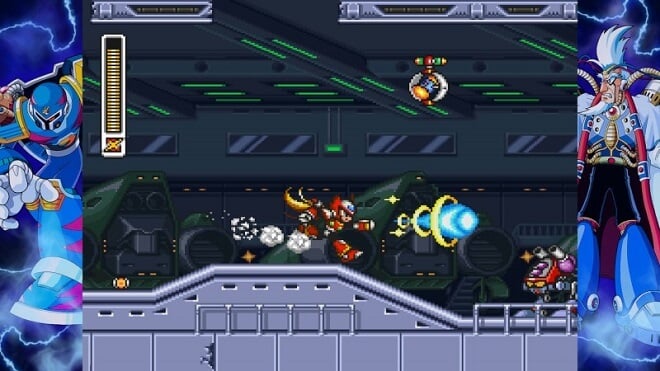 Not only was Mega Man X the first foray onto the SNES for our favorite blue bomber, but the first in the long-spanning Mega Man X series.
Those familiar with past Mega Man games will experience a lot to love here. The storyline is newer, darker, and more mature. You play as Mega Man X, a team member of the Maverick Hunters. You have great new features like the dash and scaling walls, as well as brand-new weapons.
What Makes It Great
Legacy of Mega Man: The Mega Man X series is a beloved extension of the classic Mega Man franchise, known for its challenging platformer gameplay and memorable characters.
Debut on SNES: The series made its debut on the Super Nintendo Entertainment System (SNES), utilizing the capabilities of the console to deliver a visually impressive and engaging gaming experience.
Titular Hero: Players assume the role of X, the successor to the original Mega Man. X is a robot with unlimited free will and the ability to evolve, adding depth to the character and storyline
Engaging Storyline: The series introduces an intriguing narrative with the Maverick Wars, where X, as a Maverick Hunter, fights against rebel Reploids (Mavericks) who threaten humanity's peace.
Mario Paint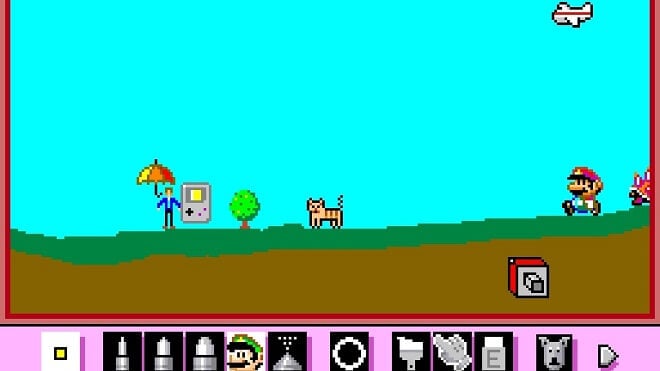 This is a fun title. It allows for your creative juices to flow within the confines of a fun, familiar world of Mario. You can create pictures, songs, and more using the tools of the Super Mario Bros. universe. There are a bunch of different stamps to add new pixels and sprites to your creation.
What Makes It Great
Intuitive Interface: The game is designed to be accessible and user-friendly, making it suitable for players of all ages and skill levels.
Super NES Mouse Integration: Mario Paint was bundled with the Super NES Mouse peripheral, enhancing the precision and ease of use for creating artwork, animations, and music.
Memorable Mario Theme: The game incorporates elements from the Super Mario series, including sprites and sound effects, adding a charming and nostalgic touch for fans of the franchise.
Donkey Kong Country 2: Diddy's Kong Quest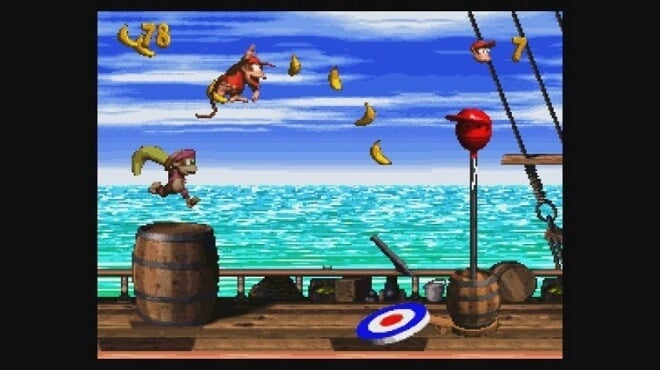 We're back with the DK crew once again in the second entry in the Donkey Kong Country games. In it, Dixie and Diddy are on the trail of King K. Rool after he kidnaps Donkey Kong. All the platforming goodness is here.
For 52 levels, you'll quickly understand why this is considered the high watermark for many action/adventure platformers.
What Makes It Great
Sequel to a Classic: It's the sequel to the highly acclaimed Donkey Kong Country, continuing the adventures in the same vibrant and engaging world.
Engaging Storyline: The game follows Diddy Kong and Dixie Kong on a quest to save Donkey Kong from the clutches of the Kremling Krew, providing a compelling narrative to drive the gameplay.
Creative Level Design: The game features intricately designed levels with various environments, obstacles, and secrets, offering a challenging and rewarding platforming experience.
Super Mario World 2: Yoshi's Island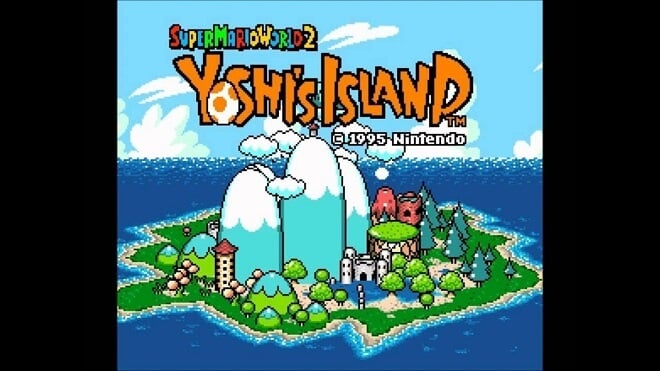 This platforming game puts us in the role of Yoshi and Baby Mario as he journeys to reunite the baby versions of Mario and Luigi from the baddies. The hand-drawn aesthetic separated it from the other games by penning its unique style for a more unique Mario game.
All the staples from Mario games are here, and you get to control different Yoshi's through over 50 levels of platforming.
What Makes It Great
Unique Gameplay Mechanics: The game introduces innovative gameplay mechanics, such as using Yoshi's tongue and eggs to defeat enemies and solve puzzles, setting it apart from traditional Mario platformers.
Advanced Graphics: It utilizes the Super FX2 graphics chip to deliver larger, more detailed sprites and impressive 3D-like effects, showcasing the SNES's capabilities.
Availability: The game has been re-released on multiple Nintendo systems, ensuring its accessibility to new generations of players.
NBA Jam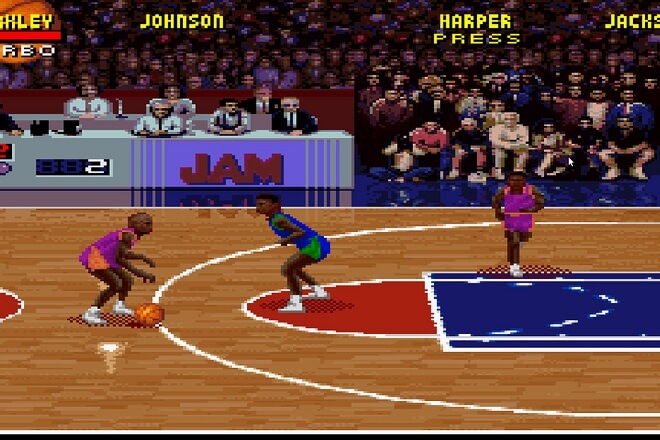 This is a seriously fun title. Fans of sports games as well as casual gamers will be more than satisfied with NBA Jam. It's a wild, exaggerated take on basketball: wild slam dunks, huge jumps, and wild basketball. This was a hugely popular comic take on the sport, and it has remained a favorite for gamers everywhere.
What Makes It Great
Over-the-Top Arcade Action: NBA Jam is known for its exaggerated, high-flying basketball gameplay that allows players to perform gravity-defying slam dunks and incredible moves, creating an exciting and fun experience.
Nostalgia: NBA Jam evokes nostalgia for fans who grew up playing the original arcade versions, making it a beloved classic in the basketball gaming genre.
Contra 3: The Alien Wars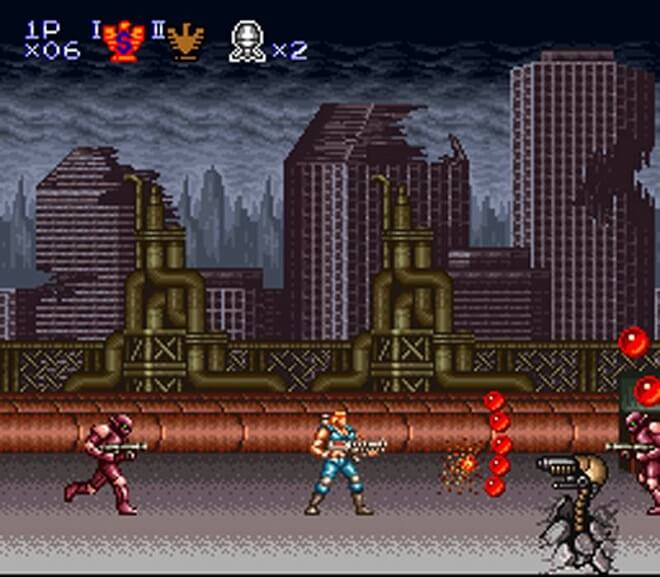 Contra is a punishingly hard action side-scroller putting you in the role of an active soldier, vanquishing encroaching aliens using crazy guns and a lot of bullets.
The third entry in the series, the graphics are great, as the SNES allowed for the developers to build upon the existing graphics from the series. Riding motorcycles, top-down views, and riding on missiles are just some awesome things the player can experience.
Make sure your adrenaline is running, because you'll need it.
What Makes It Great
Action-Packed Run-and-Gun Gameplay: Contra III offers intense run-and-gun action, making it an exciting and adrenaline-pumping gaming experience.
Complex Level Design: The game's levels are designed with complexity, offering diverse environments and opportunities for interaction, such as climbing, destroying scenery, and riding missiles.
Variety of Gameplay Styles: Contra III introduces new gameplay styles, including motorcycle chases, missile riding, and Mode 7 top-view levels, adding variety and excitement to the gameplay.
Secret of Mana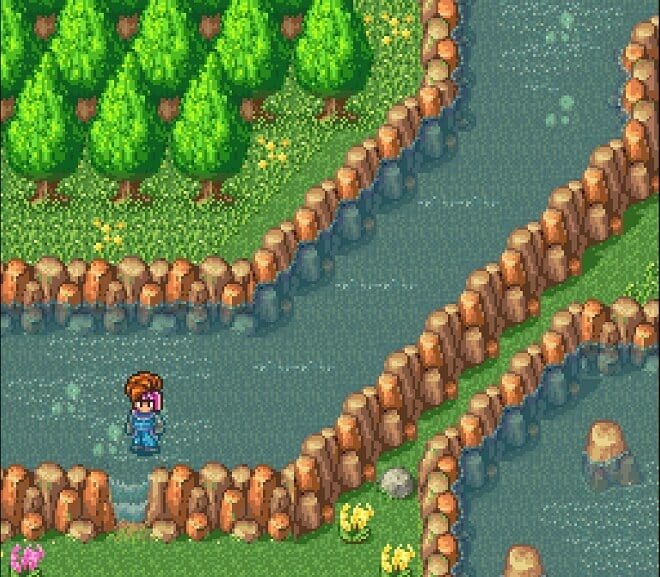 Along with Final Fantasy, Square made this gem, Secret of Mana. Unlike Final Fantasy, this game's combat is in real-time instead of it being turn-based.
The game's story revolves around 'mana' i.e. a powerful force in the world. After an ancient sword is found, our heroes are tasked with venturing to the 8 different Mana temples to energize the sword.
It has beautiful graphics and addictive gameplay, and it's now available for many different consoles.
What Makes It Great
Innovative Combat System: The game uses real-time battles, breaking away from the traditional turn-based systems. It also incorporates a unique stamina bar mechanic and a radial "ring menu" system.
Multiplayer Co-op: One of the first action RPGs to feature co-op multiplayer, allowing two or three players to join in simultaneously.
Character Diversity: The game offers three protagonists with distinct abilities and roles— a boy excelling in combat, a girl who functions as a healer, and a sprite whose magic is offensive.
Actraiser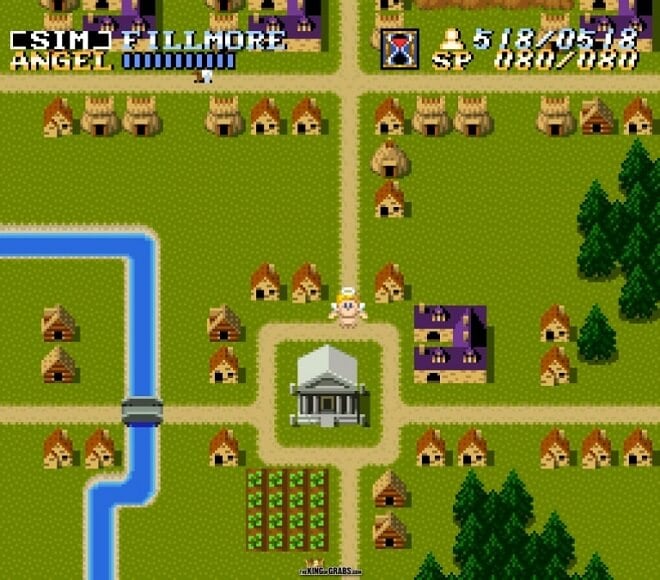 Now, this is unique. Actraiser combines both platforming and city building in this simulator. This is a battle of good versus evil here, with The Master and Tanzra facing off for world domination. You alternate between civilization-building and side-scrolling in a unique, fun platforming game.
What Makes It Great
Dynamic Gameplay Modes: The game features two distinct modes—simulation and action. In the simulation mode, you guide a civilization toward prosperity, while in the action sequences, you control a statue brought to life to defeat monsters and bosses.
Leveling Up System: The Master levels up by increasing the total population of the world, which grants an increase in hit points and SP, used for performing miracles.
Variety of Miracles and Tools: The Master can use a range of Miracles and tools to aid in both simulation and action modes. These include Magical Fire, Magical Stardust, and items like bridges and compasses offered by the people.
Super Bomberman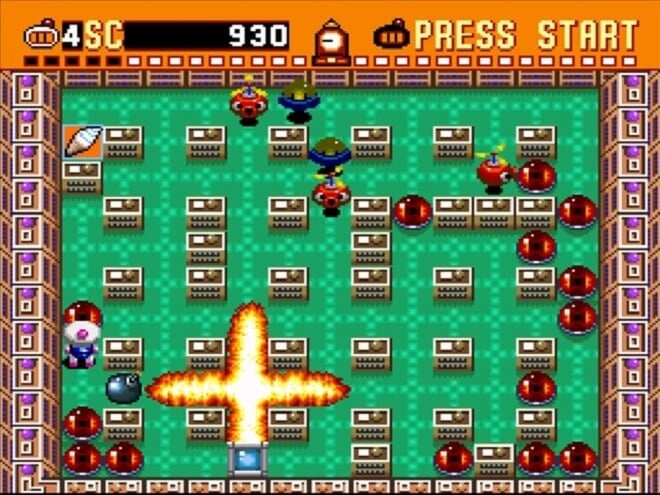 This is where the super popular Bomberman franchise began. Aside from the terrible Bomberman Act Zero, this was the premier title in the series. In it, you move either horizontally or vertically, trying to bomb opponents strategically. This is an extremely popular game for cooperative gameplay.
What Makes It Great
Traditional Style with a Twist: The game offers a traditional grid-like area where players set bombs to destroy enemies. However, it adds complexity by hiding the exit under a soft block, which can also spawn more enemies if hit by a bomb explosion.
Cooperative 2P Mode: In addition to single-player, the game can be played in a 2P cooperative mode, where Black Bomberman is controlled by the second player.
Variety of Stages: The game features multiple stages, each with its unique theme and challenges, such as Peace Town, Robot Amusement Park, and Diamond Tower.
Kirby Super Star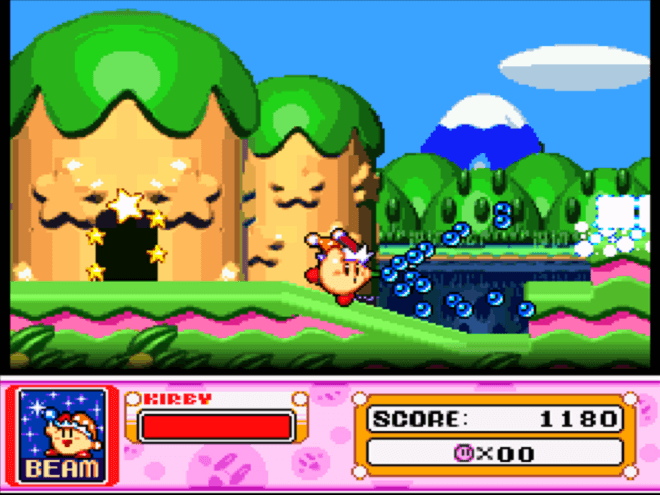 I'm a huge fan of Kirby's games on Gameboy, and the SNES version of our favorite, marshmallow-type vacuum cleaner is a win. Platforming is the name of the game, and it just works. Those familiar with the Gameboy games will be right at home with the great, colorful visuals and more.
Several game modes make up the game: Dyna Blade, Spring Breeze, Revenge of the Meta Knight, Gourmet Race, Milky Way Wishes, The Great Cave Offensive, and the Arena.
What Makes It Great
Copy Ability Hats: This game introduced the concept of Copy Ability hats, which change Kirby's appearance based on the power he is wielding. This adds a visual element to Kirby's abilities, making it easier to distinguish between them.
Analog Health Gauge: Unlike previous titles, this game features a continuous "analog" health gauge, adding a new layer of challenge and strategy to the gameplay.
Mortal Kombat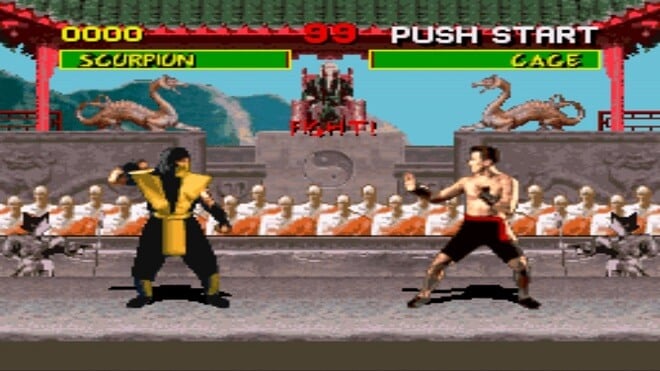 The first installment of the infamously violent fighting series, Mortal Kombat introduced gamers to characters like Johnny Cage and Scorpion. This game caused so much controversy that the game rating system was invented because of it.
What Makes It Great
Innovative Control Scheme: The game introduced a unique five-button control scheme that was different from other fighting games of its time.
Special Moves and Fatalities: The game was one of the first to introduce special moves that could be performed by tapping the joystick and pressing buttons. It also introduced the concept of "Fatalities," gruesome finishing moves that could be executed at the end of a fight.
Juggling Mechanics: Mortal Kombat introduced the concept of "juggling," where you can knock an opponent into the air and follow up with a combination of attacks while they are airborne.
Mega Man X2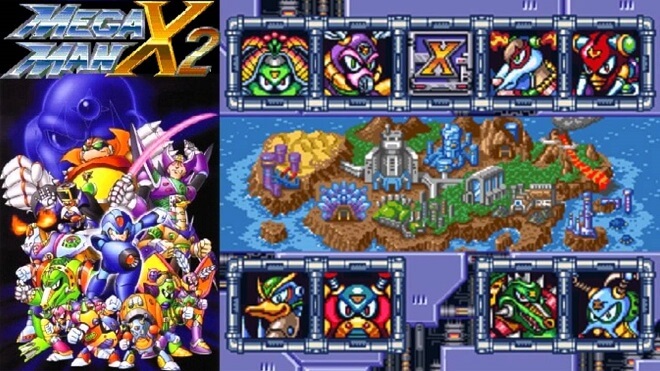 The dark and more mature storyline of Mega Man X is back in this sequel. In it, X, the Maverick Hunter, is being hunted by a trio called the X Hunters who are intent on destroying X.
The solid gameplay from Mega Man X is here with another more adult storyline for the Mega Man universe.
Some reviewers didn't like how the game was too similar to the first one in terms of gameplay; however, I believe that great gameplay should be praised! Why fix something that isn't broken?
What Makes It Great
Advanced Graphics: The game utilized the "Cx4" graphics chip, allowing for semi-transparencies and 3D effects, enhancing the visual experience compared to its predecessor.
Dynamic Bosses: The game features eight SA-Class Mavericks as bosses, each with their own unique abilities and challenges, adding variety to the gameplay.
Special Weapons and Attacks: Mega Man X2 offers a range of special weapons obtained from defeated bosses, each with its own unique application and strategy. The game also features the "Giga Crush" attack and the secret "Shoryuken" move, adding more layers to combat.
Tetris Attack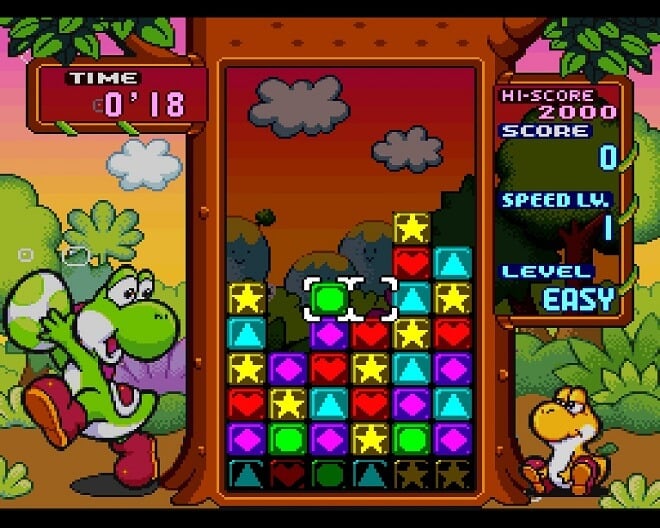 So this one is a bit of a misnomer. Although it has the Tetris license, it doesn't resemble Tetris. Sure, it's a puzzle game, and it's a ton of fun, but it's not a game of blocks like we all are familiar with. Instead, it's populated with Nintendo characters, taking place on Yoshi's Island. You play against enemies, and eventually, face off against Bowser himself.
What Makes It Great
Unique Gameplay Mechanics: Unlike traditional Tetris, Tetris Attack involves square panels rising from the bottom. Players line up three or more matching panels either horizontally or vertically to clear them.
Multiple Game Modes: The game offers various modes like Endless, Time Trial, Stage Clear, and Puzzle, each with its own set of rules and objectives, providing diverse gameplay experiences.
Tecmo Super Bowl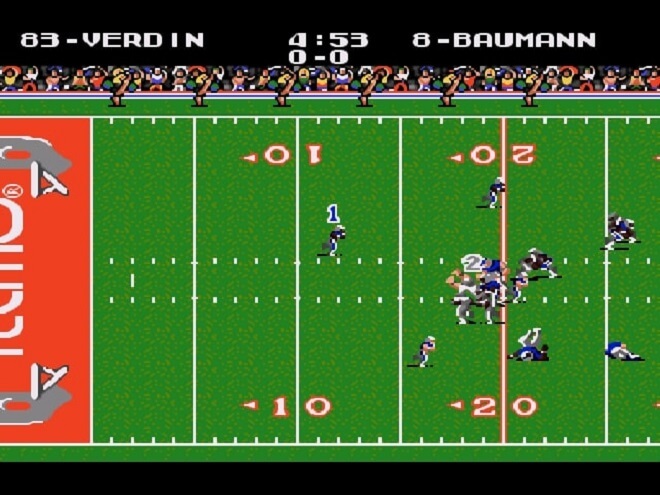 Before the Madden games, this was the very first football game to allow the use of the NFL trademarks, meaning that the teams in the game were the actual teams and players in the NFL. This is the sequel to 1989's Tecmo Bowl. This title expands greatly on it, improving playbooks, player stats, and more.
What Makes It Great
Realistic NFL Schedule: The game incorporates the full-length 1991 NFL regular season schedule, as well as the Super Bowl and the post-season Pro Bowl game, offering an authentic experience.
Gameplay Features: Tecmo Super Bowl builds upon its predecessor by introducing new gameplay elements like fumbles, five-minute quarters, and timeouts. It also includes statistical tracking, single-season NFL records, and expanded playbooks.
Disney's Aladdin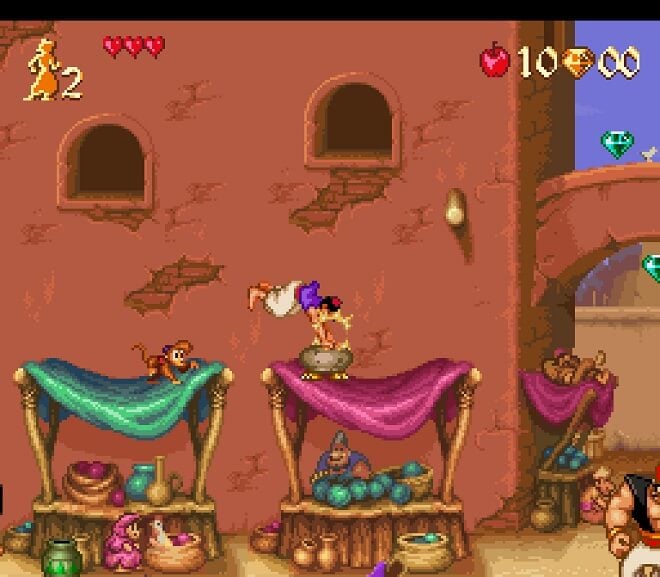 Aladdin was the first movie I saw in theaters, so of course, I had to have the video game adaptation when I got older. It is a seriously solid game with great platforming mechanics that would be great on their own, but coupled with great graphics and audio makes it an instant classic.
What Makes It Great
Best-Selling Genesis Game: The game is one of the best-selling Genesis games with four million copies sold, indicating its widespread popularity.
Unique Gameplay Mechanics: Aladdin's primary forms of offense are a scimitar for short-range attacks and apples for long-range attacks. This adds a layer of strategy to the gameplay.
Pilotwings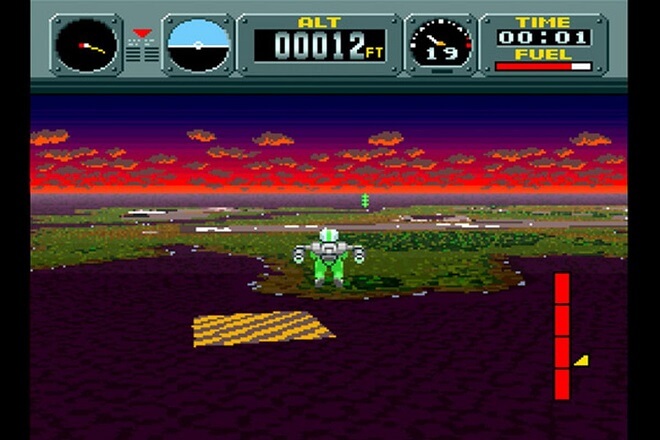 In this flight simulator, the Mode 7 chip does all the heavy lifting, and it rules. In it, you're attempting to get your pilot's license, going through different trials and different means of flying through the sky. By 1996, it had sold over 2 million copies.
What Makes It Great
Innovative Gameplay: The game diverged from traditional gaming norms by focusing on low-impact, untraditional training sessions with various pieces of flight equipment, rather than having a storyline or finish lines to cross.
Multiple Flight Methods: Pilotwings offers four different methods of flying: piloting a biplane, parachuting, using an experimental rocketbelt, and thermal-riding with a hang glider. Each method provides a unique gameplay experience.
Doom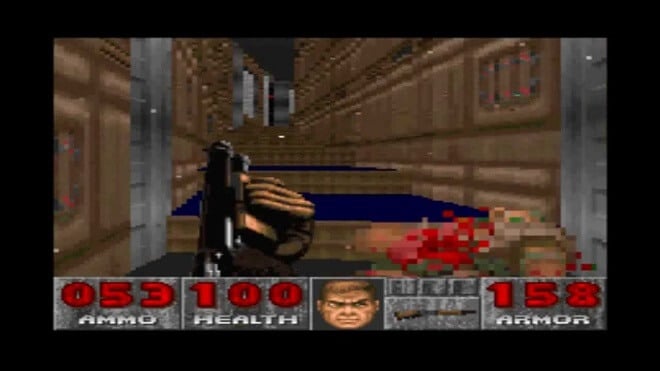 The PC first-person shooting classic made its way to home consoles, specifically the SNES, in 1995, allowing people without PCs to experience the carnage that going to Mars entails. It was a direct port of the original game, so everything those who have played it before will know what to do.
This was a great introduction to the famous FPS for people who exclusively had consoles.
What Makes It Great
Genre-Defining Gameplay: Doom was one of the first games that consolidated the first-person shooter genre. It set the standard for FPS games, introducing features like deathmatch and cooperative play.
Immersive 3D Graphics: At the time of its release, Doom's 3D graphics were unparalleled. It introduced features like altitude differences, non-orthogonal walls, full texture mapping of all surfaces, and varying light levels, contributing to the game's atmosphere and gameplay.
Modding Community: Doom was designed to be easily modifiable, allowing for a plethora of fan-made modifications and levels. This has helped the game maintain a strong and active community long after its initial release.
Secrets of Evermore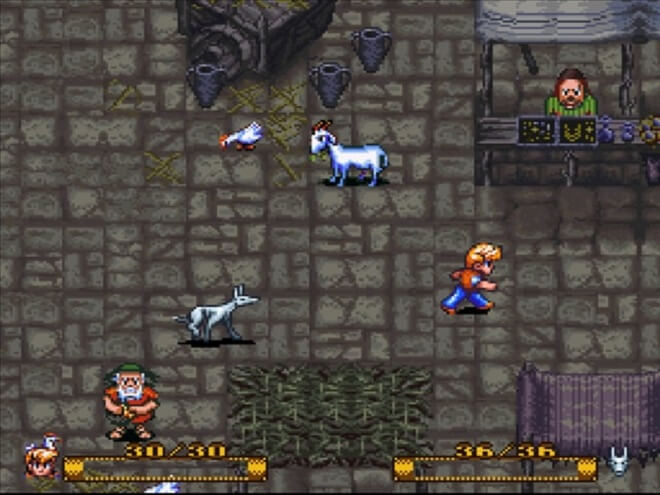 This is an action-role-playing game from the masters of the RPG, Square. This is a classic tale of a boy and his dog…that are transported to a fantastical realm where the player will play as both the boy and his shapeshifting dog.
What Makes It Great
Unique Alchemy System: Instead of a traditional magic system, the game employs a unique alchemy system where the player collects ingredients to create spells. This adds a layer of strategy and resource management to gameplay.
Dynamic Duo Gameplay: The player controls both a boy and his dog, switching between them to solve puzzles and engage in combat. This dual-character system adds depth and variety to the gameplay.
Weapon Versatility: The game features a range of weapons like swords, axes, and spears, each with its own special abilities and uses in puzzle-solving. For example, axes can knock down walls, and spears can be thrown to hit distant switches.
The Lion King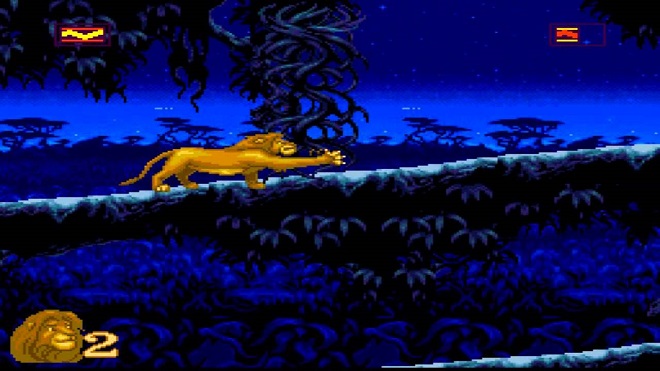 Another Disney release on the SNES, The Lion King is an adaptation of the family film of the same name. You play through different parts of the film, (with some liberties taken to extend gameplay), and see all of your favorite characters. The game is hard but extremely satisfying; defeating Scar, for example, is a serious accomplishment.
What Makes It Great
Diverse Gameplay: The game is a side-scrolling platformer that offers a variety of gameplay elements, including leaping, climbing, running, and descending from platform to platform. This keeps the gameplay engaging and challenging.
Unique Levels: The game features unique levels like "The Stampede," where the gameplay perspective changes, adding variety and excitement.
Character Abilities: The game allows you to control Simba both as a cub and as an adult, each with their own set of abilities. Cub Simba can roar, jump on enemies, and roll, while Adult Simba is stronger and has a more formidable roar.
You Should Know
Here are some interesting facts about the Super Nintendo Entertainment System (SNES):
1. Release Date: The SNES was released in Japan on November 21, 1990, and in North America on August 23, 1991.
2. Best-Selling Game: The best-selling game for the SNES was "Super Mario World" with 20.61 million copies sold.
3. Hardware: The SNES used a 16-bit processor, which was a significant upgrade from the 8-bit processor used in the original Nintendo Entertainment System (NES).
4. Audio: The SNES had advanced audio capabilities, featuring 8 channels ADPCM audio compared to the NES's 5 channels.
5. Games Library: There were 721 games released for the SNES in North America.
6. Competition: The main competitor of the SNES was the Sega Genesis. This rivalry led to the famous "console war" of the 1990s.
7. FX Chip: The SNES was the first console to use the Super FX chip, a graphics acceleration coprocessor powered by Argonaut Games, used in games like "Star Fox" to create 3D polygons.
8. End of Production: The SNES was discontinued in North America in 1999 and in Japan in 2003.
Demon's Crest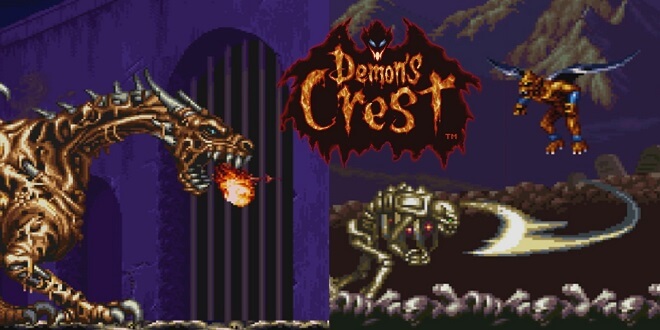 I consider the SNES the master of side-scrolling when it comes to console supremacy, and Demon's Crest furthers my point. In it, you need to collect the different crests through platforming, side-scrolling and role-playing. Firebrand is pitted against the evil Phalanx and his obsession with the different crests. Unique abilities will propel the player through different stages.
What Makes It Great
Rich Gameplay Mechanics: The game blends standard platforming with mild RPG elements. Players can revisit levels with new Crests to unlock previously inaccessible areas, items, and bosses, adding replay value.
Story Depth: The game has a compelling story that involves Firebrand's quest to reclaim the stolen Crests and defeat the Arch Demon Phalanx. This narrative depth adds another layer of engagement to the game.
Multiple Endings: Depending on the player's actions and items collected, the game has different endings, encouraging multiple playthroughs.
Mega Man X3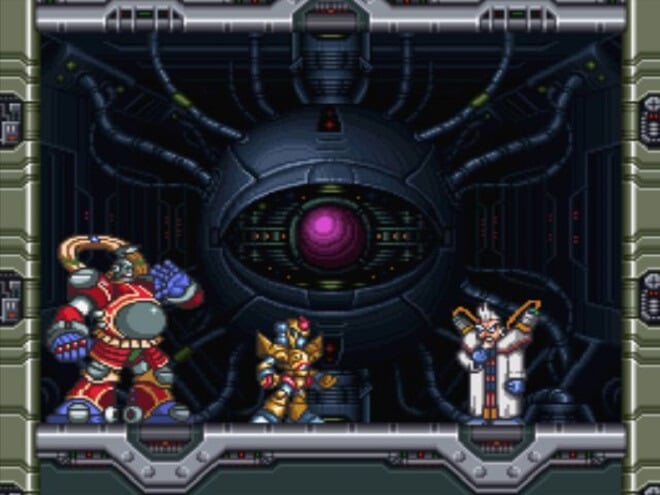 We're back in the cyborg boots of X in the third installment of the SNES's Mega Man games. Like the two previous games, the interesting storyline of rogue androids called Mavericks is on the loose causing trouble. As X and Zero, the player will collect power-ups and traverse 8 levels filled with power-ups and great platforming combat.
What Makes It Great
Playable Zero: For the first time in the series, Zero becomes a playable character, albeit in a limited capacity. This feature would later become a staple in the X series.
Enhanced Graphics: The game uses Capcom's custom "Cx4" graphics chip to offer pseudo-3D graphics and transparencies, making it visually appealing for its time.
Multiple Platforms: Originally released for the Super Nintendo Entertainment System (SNES), the game was later re-released on disks for Sega Saturn and Sony PlayStation, featuring new FMV sequences and a newly synthesized soundtrack.
Super Star Wars: The Empire Strikes Back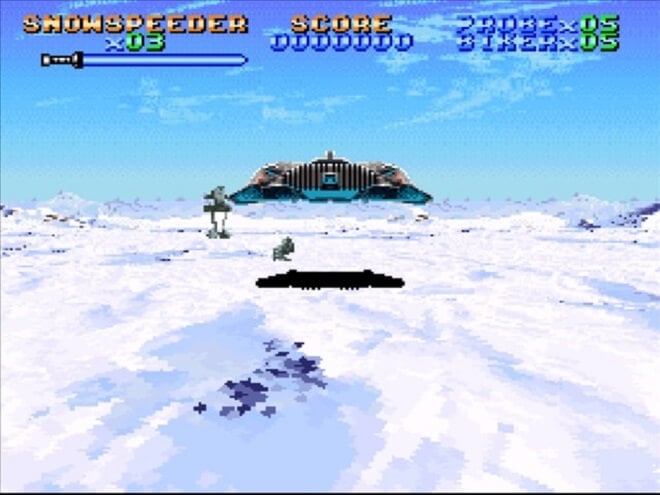 We're back in the Super Star Wars Universe, coinciding with the second Star Wars film, The Empire Strikes Back. Something revolutionary that this installment included was the hallowed double jump, making gameplay flow better than it had before.
Much is the same as the first game, but it just works. Luke gets force powers and can deflect blaster fire with his lightsaber now.
What Makes It Great
Multiple Playable Characters: The game allows players to control Luke Skywalker, Han Solo, and Chewbacca, each with their unique abilities and weapons. This adds variety to the gameplay experience.
Mode 7 Quasi-3D Sequences: The game incorporates Mode 7 graphics for vehicle sequences, providing a quasi-3D experience that was groundbreaking for its time.
Adaptation of Film Elements: While the game roughly follows the plot of the film, it takes creative liberties to extend gameplay. For example, Han Solo is carbon-frozen while searching for C-3PO, and Luke fights Cloud Cars in his X-wing fighter while approaching Cloud City.
Castlevania: Dracula X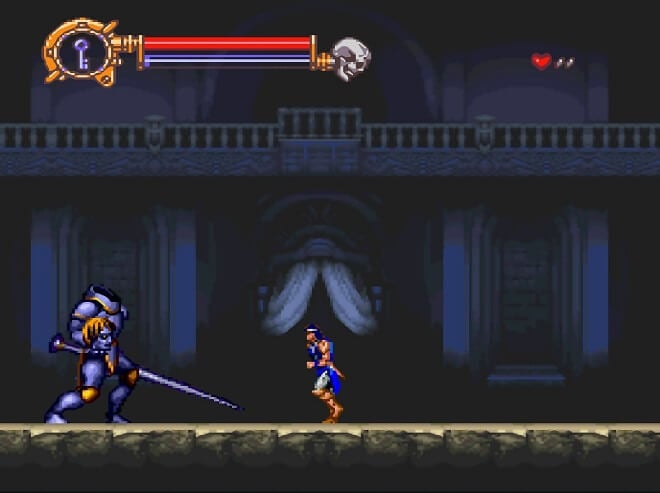 Players of Symphony of the Night will recall the scene in which Richter confronts Dracula. This is the last level of Dracula X, AKA Castlevania: Rondo of Blood. In this title, Richter Belmont is tasked with defeating Dracula, duh! Along with this, Richter is out to save his love, Annette, as well as defeat a cast of interesting monsters and henchmen.
What Makes It Great
Reimagining of a Classic: The game is a reimagining of "Castlevania: Rondo of Blood," offering a fresh take on the original while maintaining its core elements.
Character Depth: The game focuses on Richter Belmont, a descendant of Simon Belmont, who is a renowned vampire exterminator. The game also introduces other characters like Annet and Maria, adding depth to the storyline.
Gameplay Mechanics: The game attempts to return to the franchise's roots by implementing gameplay mechanics similar to the classic 8-bit era games. It also introduces special attacks and effects, making the gameplay more engaging.
Clay Fighter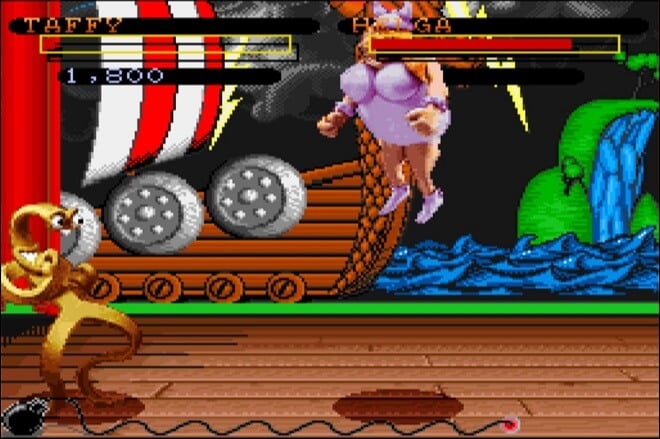 This twisted fighting game takes an interesting concept of the fighters being made of clay. The roster of fighters has creative and colorful characters like Boogerman, Bad Mr Frosty, Ickybod Clay, and the Zappa Yow Yow Boyz. It parodies its contemporary fighting games like Mortal Kombat and Street Fighter.
What Makes It Great
Unique Setting: The game takes place in an abandoned amusement park that turns into Clayland due to a mysterious purple clay meteor. This unique setting adds a layer of intrigue and originality to the game.
Character Abilities: Each Clay Fighter has special powers and abilities granted by the meteor, some of which are even unknown to them. This adds a layer of depth as players need to explore these abilities to succeed.
Diverse Roster: The game features a variety of characters, each with their own unique moves and abilities. From Bad Mr. Frosty to Blob and Blue Suede Goo, the roster is as diverse as it is entertaining.
Batman Returns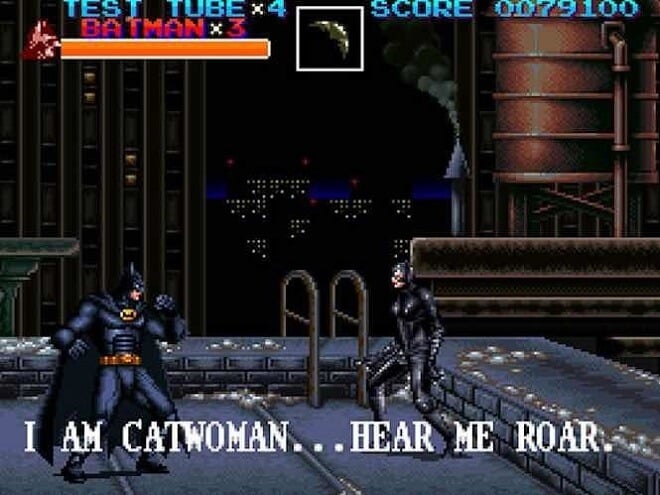 Based on the movie of the same name, this game is better than the film it was based on. It's a fighting side scroller that includes platforming elements. Its dark style is pretty cool, and you have a bunch of enemies to beat up as the caped crusader.
What Makes It Great
Diverse Gameplay Elements: Depending on the platform, the game offers different types of gameplay. For example, the Sega CD version includes 3D racing levels, and the DOS version is more of an adventure game. This variety keeps the gameplay fresh and engaging.
Faithful to the Movie: While different versions follow the movie's plot from start to finish, they each offer unique interpretations and challenges, making it more than just a simple movie tie-in.
Critical Acclaim: The game received positive reviews and even won the "Best Licensed Game of 1992" award from Electronic Gaming Monthly.
Ogre Battle: March of the Black Queen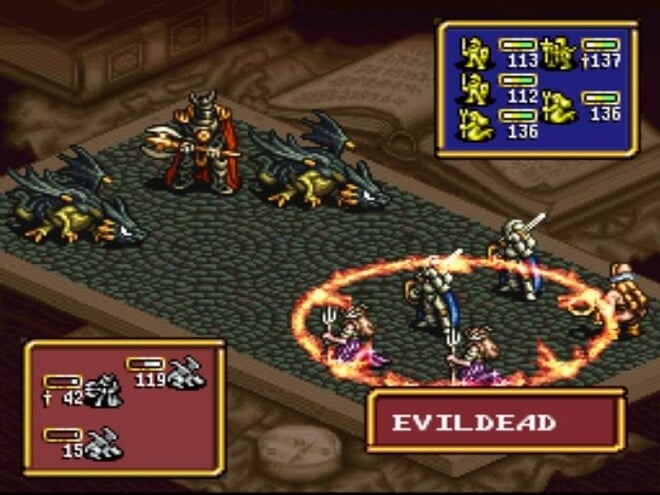 This is an RPG game released in 1995.
In it, you and your party are in a medieval world, questing to successfully rebel against a tyrannical empire. You'll journey through the empire, recruiting different classes of rebels to take the fight to the evil empress. You'll go stage by stage, eventually defeating a boss in combat, completing the mission.
It combines real-time gameplay and tactical aspects to create a unique RPG title.
What Makes It Great
Complex Moral Alignment System: The game features a unique moral alignment system that affects both gameplay and the branching storyline. Your decisions, from the types of troops you use to the actions you take, influence the game's outcome and can lead to one of 13 different endings.
Rich Gameplay Mechanics: The game combines elements of real-time tactics and role-playing. You can recruit a variety of character types, from knights and ninjas to wizards and angels. These characters can evolve or change classes, affecting their abilities and how they contribute to the battle.
Day-Night Cycle: The game features a day-night cycle that affects gameplay. For example, vampires and werewolves will only appear in the evening, and characters with high alignment fight better during the day while those with low alignment fight better at night.
Final Fight 2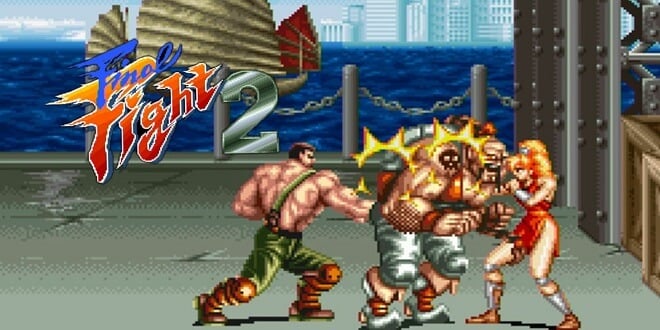 Yes, the king of beat 'em ups is back, and this time with the possibility of cooperative gameplay. This was a big step forward, as the first game on the SNES didn't allow for friends to play alongside each other like it was in the arcade. You play as either Mike, Carlos, or Maki.
What Makes It Great
Character Choices: The game allows players to choose from three main characters—Haggar, Maki, and Carlos—each with their own unique fighting styles and attributes. This adds variety and replayability to the game.
Global Stages: The game takes players on a journey through different countries, each with its own unique boss character. This adds a sense of adventure and diversity to the gameplay.
Two-Player Simultaneous Gameplay: Final Fight 2 supports two-player simultaneous gameplay, making it a great choice for cooperative play.
Final Fight 3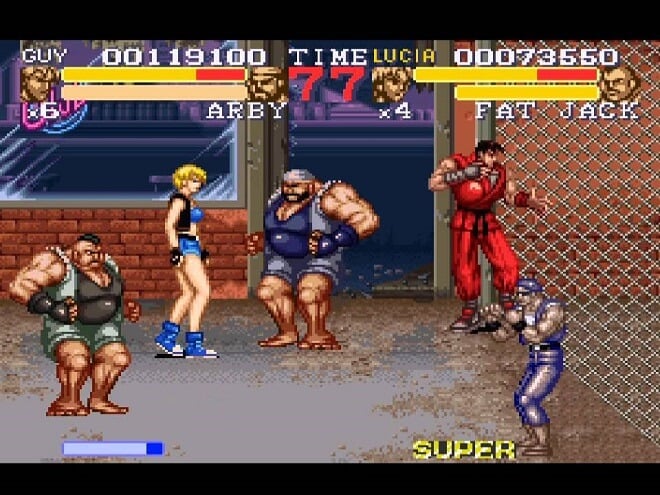 Third time's the charm here, as Final Fight 3 is the definitive Final Fight experience.
Cooperative gameplay, branching story paths, and more fighting combos are all here. All the drama of the two previous games is here: gang violence, a dramatic story, and familiar faces. You can play as Mike, Guy, Lucia, and Dean.
Along with cooperative gameplay, the player can choose to play alongside an AI bot.
What Makes It Great
AI-Controlled Second Player: One of the innovations in Final Fight 3 is the option to have the computer AI control the second player. This feature allows for a more dynamic single-player experience.
Command-Input Special Moves: Borrowing from the Street Fighter series, Final Fight 3 introduces command-input "special moves," adding depth and complexity to the combat system.
Super Gauge: The game features a Super Gauge similar to Super Street Fighter II Turbo. As the player lands hits, the gauge fills up, allowing for a devastating Super Move when full.
Knights of the Round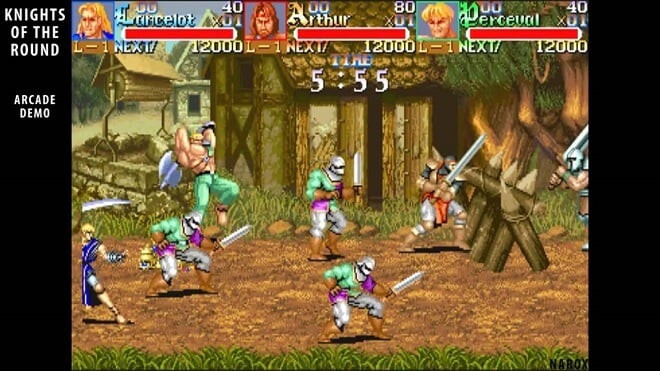 I love this game. It's a beat 'em up, but MEDIEVAL. If you're familiar with the roundtable, it was the table in which King Arthur and his knight buddies would gather around. This game is filled with great action and addictive fighting. Think of it as the medieval Final Fight.
What Makes It Great
RPG-like Level Advancement: The game features a unique leveling system where fighters get new weapons and armor as they advance, adding an RPG element to the beat 'em up genre.
Rich Fantasy Themes: The game is based loosely on the legend of King Arthur and includes a variety of fantasy elements, from magician enemies to fiendish samurai warriors, adding depth to the story and gameplay.
Desperation Attacks: Like many beat 'em ups, the game features a desperation attack that can knock out most enemies on the screen at the cost of some health, providing a tactical option in tight situations.
Star Ocean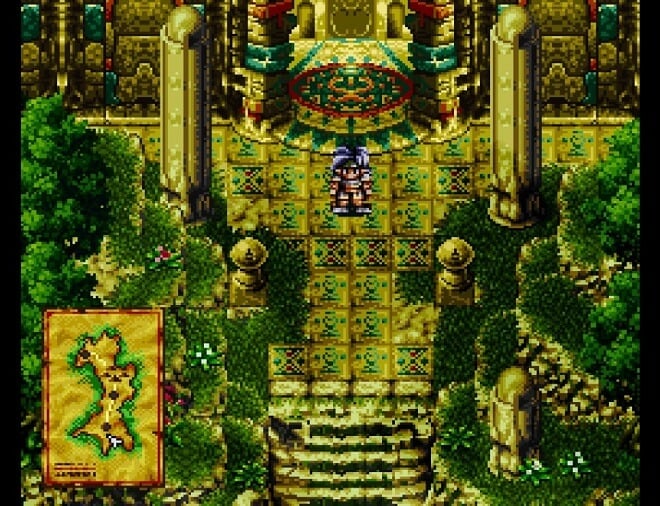 Star Ocean tells the tale of a group of friends trying to cure a disease. While in the act of doing so, they stumble upon an intergalactic war between the two superpowers. The story has all the great staples of RPG sci-fi games: future technologies, great characters, and a rich and vast world to play in.
What Makes It Great
Real-Time Battle Engines: The series is known for its real-time battle systems, where characters are fully mobile in three dimensions. This allows for dynamic combat scenarios where players can dodge, chase foes, and cast spells.
Character Design and Customization: The characters are designed to be anime-like, and in some installments, the appearance of characters changes based on the equipment they are using. This adds an extra layer of immersion and customization.
Branching Storylines and Multiple Endings: The games often feature branching paths and multiple endings, adding to the replay value and allowing players to experience different outcomes based on their choices.
Star Fox 2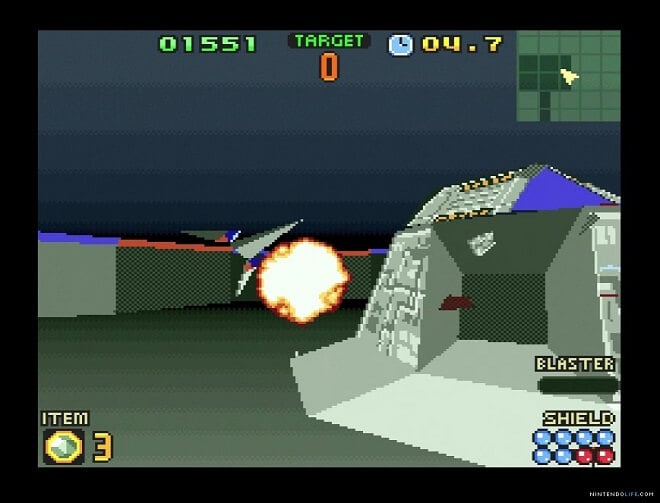 We all knew that Star Fox would spawn a sequel. It was just too popular with its 3D models and great flight combat simulation gameplay.
In the second game, the Star Fox team is back: Fox, Peppy, Falco, and Slippy all make a return in an improved game while looking to defeat the evil Andross once again.
The only caveat here is that it was famously cancelled. That's right, someone CANCELLED a Star Fox game.
What happened? The game was completed, but Nintendo wanted to wait for a Star Fox release on the N64 which would eventually become Star Fox 64. It is playable, however, on the classic SNES classic system, so it still belongs on the list!
What Makes It Great
Unique Gameplay: The gameplay of Star Fox 2 differs significantly from the original Star Fox, offering a fresh and unique experience within the series.
Diverse Objectives: The game offers a variety of objectives, including intercepting fighters, destroying enemy bases, and liberating captured planets, ensuring that gameplay remains engaging and varied.
Breath of Fire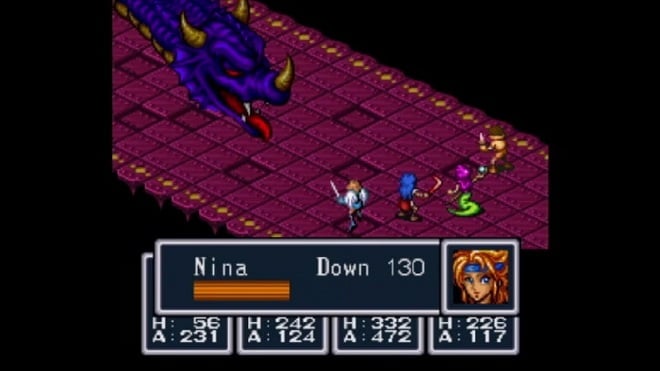 The Breath of Fire series is now a storied and celebrated RPG series. In the first game, in which Capcom calls the first traditional RPG video game, you play as Ryu who must find his lost sister. The catch is that Ryu is the last of a dying breed: a race of people who can transform into dragons.
Of course, you'll meet other characters and travel together to get to the goal of the game.
What Makes It Great
Engaging Storyline: The game offers an intriguing narrative set in a world recovering from a civil war between Light and Dark Dragon clans, with the protagonist, Ryu, embarking on a quest to rescue his captured sister and prevent the unlocking of a destructive goddess.
Diverse Gameplay Modes: Breath of Fire incorporates four distinct modes of gameplay, including overworld exploration, town and dungeon field maps, turn-based battles, and menu management, providing a well-rounded gaming experience.
Random Encounters: The element of surprise with randomly encountered enemies during field and overworld travel keeps the gameplay dynamic and challenging.
Breath of Fire II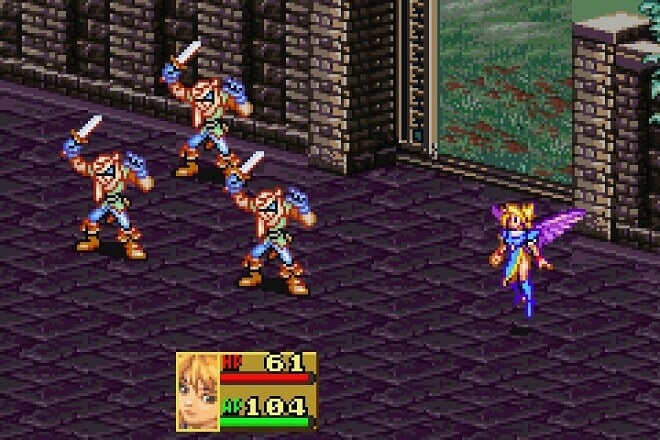 After the success of the first game, there was no surprise that Breath of Fire II was on the horizon. This is the only game in the series that is a direct sequel to a prior game. It takes place hundreds of years after the first game.
Ryu is a boy accused of a crime and must clear his name by questing in a creatively built world alongside fun and memorable characters.
What Makes It Great
Continuation of a Beloved Series: Breath of Fire II is a direct sequel to the original Breath of Fire game, offering fans of the series a chance to continue the story and explore a new chapter in the game's universe.
Immersive Role-Playing: As a role-playing game, Breath of Fire II provides an immersive gaming experience with a richly developed world, complex characters, and an engaging storyline.
Varied Gameplay Modes: The game features four distinct gameplay modes, including the world map, field map, menu screen, and battle screen, ensuring a diverse and well-rounded gaming experience.
Ultimate Mortal Kombat 3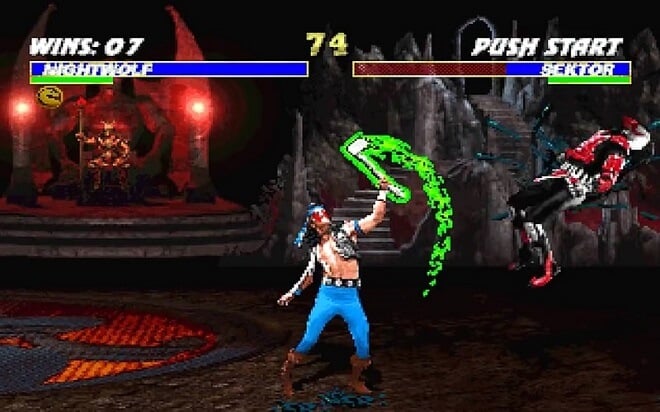 In my opinion, this is the pinnacle of the Mortal Kombat games on home systems. Believe it or not, but this game has a new, edgy attitude. It doesn't take itself too seriously, but it isn't afraid to get extremely dark in tone.
This balance of humor and darkness, along with some truly great character choices out of a stacked roster, makes this live up to its namesake of 'Ultimate'.
What Makes It Great
Continuation of the Franchise: Mortal Kombat 3 is the third installment in the highly popular Mortal Kombat series, building upon the success and legacy of its predecessors.
Enhanced Graphics and Gameplay: The game introduced improved graphics and refined gameplay mechanics, providing players with a visually stunning and engaging experience.
Compelling Storyline: The game features a captivating storyline centered around Shao Kahn's sinister plan to merge Earthrealm with Outworld, adding depth and motivation to the characters' actions.
Hagane: The Final Conflict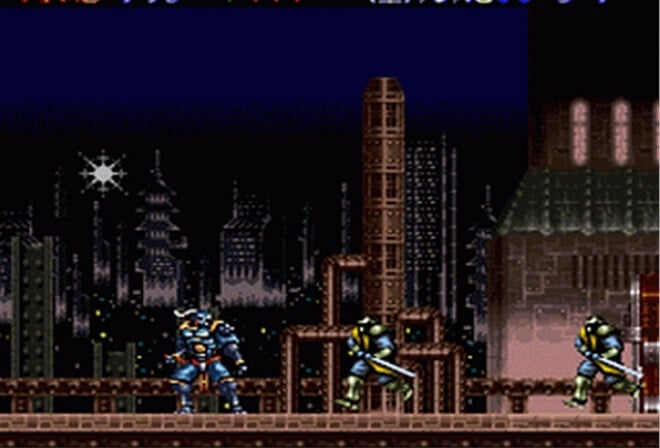 This is an action-platforming game with a ninja as the main character. Need I say more? You play as a ninja cyborg, (nice!), named Hagane. Hagane is out for revenge in a classic, great story filled with action and futuristic weapons and characters. It has great controls and design, giving it a unique feel.
What Makes It Great
Revenge-Driven Plot: The game's storyline revolves around revenge against the evil Koma clan, adding depth and motivation to Hagane's journey and making the player emotionally invested in the character's mission.
Blend of Traditional and Futuristic Aesthetics: Hagane combines traditional Japanese ninja and samurai aesthetics with a futuristic setting, creating a visually compelling and unique world for players to explore.
Challenging Gameplay: The game offers challenging platforming and action sequences, keeping players engaged and providing a satisfying level of difficulty.
Populous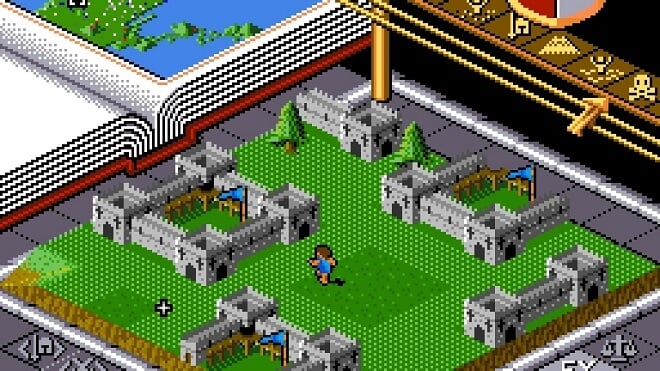 The iconic world-building game from the future Fable creator Peter Molyneux, Populous put you in the role of an omnipotent god, able to change the landscape of the world. This tradition would be further built upon in Molyneux's game Black & White.
What Makes It Great
Pioneering God Game: Populous is often regarded as the first god game, allowing players to assume the role of a deity and exercise god-like powers to manipulate and guide followers.
Historical Significance: The game holds historical significance in the gaming industry as one of the earliest god games, setting the stage for the development of the genre.
Best-Selling PC Game: Populous achieved immense commercial success, selling over four million copies, and is considered one of the best-selling PC games of all time.
Joe & Mac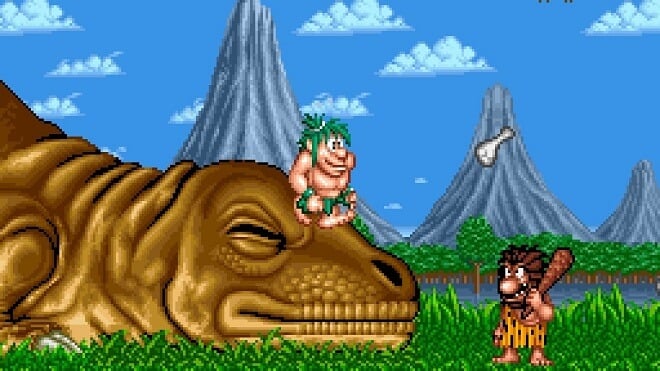 I have some pretty fond memories of this title. Joe & Mac follow two cavemen as they make their way through prehistory to save a group of women. All the good platforming stuff is here: different weapons, unique enemies, and challenging obstacles. Two-player mode is extremely fun and adds a great dynamic for some of the harder levels and bosses.
What Makes It Great
Arcade Roots: The game originated in arcades, which means it was designed for engaging and addictive gameplay, making it a great choice for both casual and dedicated gamers.
Diverse Weapons: Players have access to a variety of fun and unique weapons like boomerangs, bones, fire, flints, electricity, stone wheels, and clubs, adding variety and excitement to the gameplay.
Co-op Mode: The game features a two-player mode, allowing friends to team up and enjoy the adventure together, enhancing the overall gaming experience.
NBA Hangtime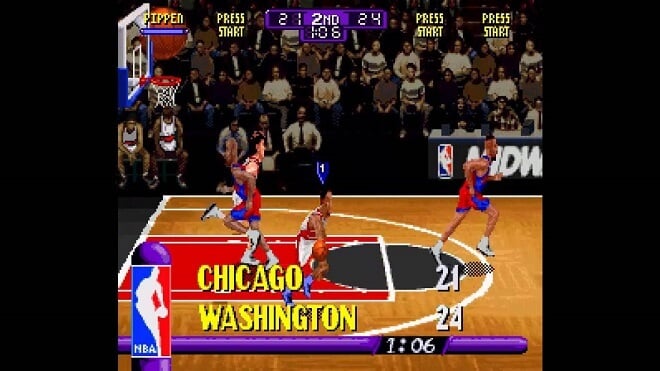 Made by the same team at Midway behind the popular NBA Jam series, NBA Hangtime follows in the same vein as the previous titles. The only reason that it has a different name is that a different company acquired NBA Jam. You get to make your player through its great create-a-player mode, leading to it becoming the norm in many sports games.
What Makes It Great
Continuation of NBA Jam Legacy: Developed by the original NBA Jam team, Hangtime carries forward the legacy of the beloved franchise, ensuring fans of the series feel right at home.
Player Creation: One of the standout features is the ability to create custom basketball players, allowing for a personalized gaming experience and strategic attribute customization
Nostalgic Appeal: For fans of arcade basketball games and the NBA Jam series, NBA Hangtime offers a nostalgic trip back to the golden era of arcade gaming.
Primal Rage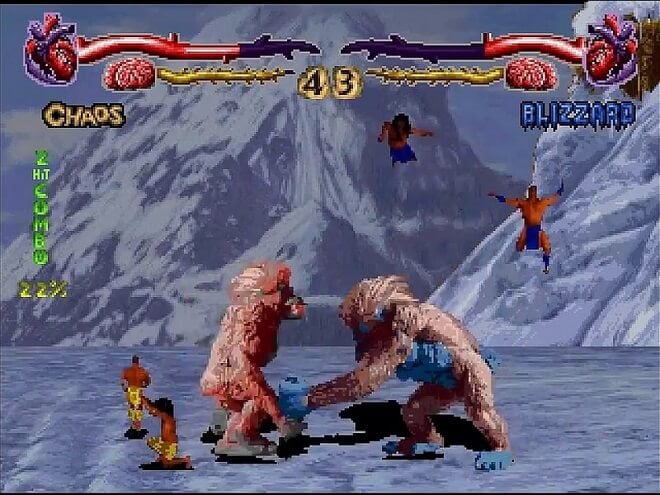 The 1990s, especially after the release of Mortal Kombat, was the golden age of fighting games. With Primal Rage, fighters take on the role of prehistoric beasts, (even though it technically takes place in the distant future). You can play as dinosaurs as well as terrifying primates, engaging in brutal combat. It even includes bloody finishers.
What Makes It Great
Unique Post-Apocalyptic Setting: Primal Rage offers a distinctive post-apocalyptic world where humanity's technological prowess has been wiped out, and ancient gods have awakened, adding depth and intrigue to the game's lore.
Traditional 2D Fighting: As a traditional 2D fighting game, Primal Rage offers straightforward and engaging one-on-one combat mechanics that are easy to pick up, making it accessible to both casual and hardcore gamers.
Shin Megami Tensei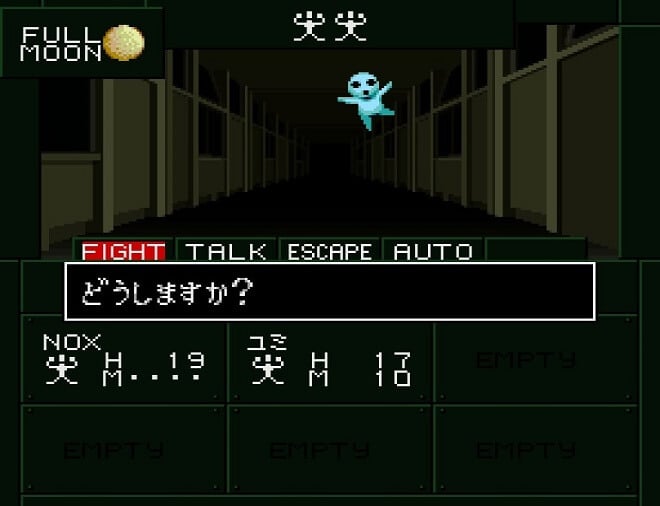 This is where it all began. Before the sweeping saga of all of these games, it all started with the original apocalyptic RPG title.
In it, you must traverse future Tokyo, (19XX), and partake in RPG elements to face off against a race of demons 30 years into the future to prevent world catastrophe. The player can make serious choices that will influence the progress of the game by siding with different factions.
What Makes It Great
Pioneering Role-Playing: Shin Megami Tensei is the first game in the renowned Shin Megami Tensei series, known for its deep and immersive role-playing experiences.
Engaging Storyline: The game's narrative unfolds with intriguing dream sequences, mysterious characters, and a post-apocalyptic Tokyo infested with demons, offering players an immersive and captivating plot.
Diverse Gameplay: Shin Megami Tensei combines top-down exploration in Tokyo with first-person dungeon exploration, offering a diverse and engaging gameplay experience.
Super Mario All-Stars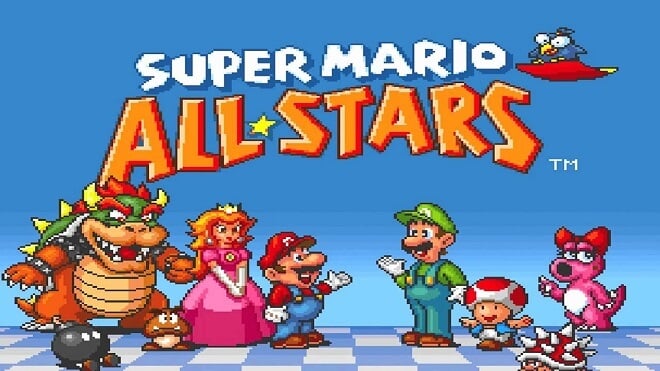 We're reunited with the varied and lovable cast of Mario characters for this great game.
It's a compilation of platforming games, specifically remakes of the Nintendo classics Super Mario Bros., Super Mario Bros.: The Lost Levels, Super Mario Bros. 2, and Super Mario Bros. 3. New physics were added, as well as glitch fixes from the original games.
As of 2015, over 10.5 million copies had been sold.
What Makes It Great
Classic Game Compilation: Super Mario All-Stars bundles together four iconic Super Mario games, making it a must-have collection for fans and newcomers alike.
Enhanced Graphics and Sound: The game enhances the graphics and sound of the original titles, providing a visually and aurally enhanced gaming experience.
Cartridge Save Feature: Unlike the original NES versions, Super Mario All-Stars includes an on-cartridge save feature, allowing players to save their progress and pick up where they left off, reducing the frustration of starting over.
Killer Instinct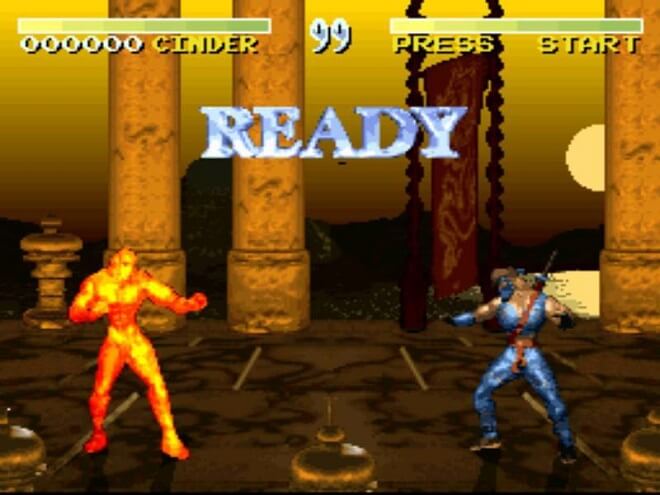 This is a super interesting fighting game with some great characters. With a unique and dark art style, this game was a great alternative to different fighting games like Mortal Kombat and Primal Rage. My favorite character is Sabrewulf.
What Makes It Great
Finishing Moves: Inspired by Mortal Kombat's Fatalities, Killer Instinct features No Mercy (Danger Move) finishers, allowing each character to defeat their opponent in a violent manner. These moves can be executed at the end of a combo or when the opponent's life bar is low, adding a thrilling finish to matches.
Humiliation Finisher: Another unique finisher, the Humiliation, forces the opponent to dance, adding a humorous and entertaining aspect to the game. It can only be used if the player has their first life bar, adding a strategic element.
Ultra Combo: A spectacular finisher that lets players deliver an extended combo with a high hit count, often exceeding 20 hits. Ultra combos offer a satisfying and visually impressive way to secure victories.
NBA Jam Tournament Edition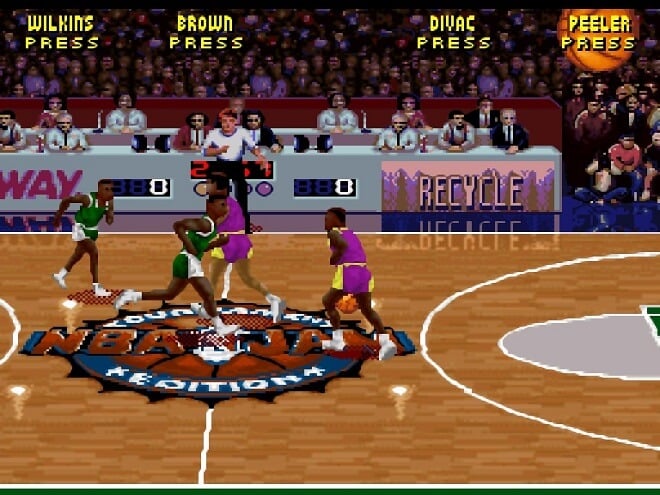 The popularity of the wild NBA Jam led to a great spin-off, tournament edition. And it's exactly that, the tournament aspect is heavily emphasized. It reminds me a lot of a precursor to a game like NFL Blitz, where the over the top aspects of the sports are blown out of proportion.
Terranigma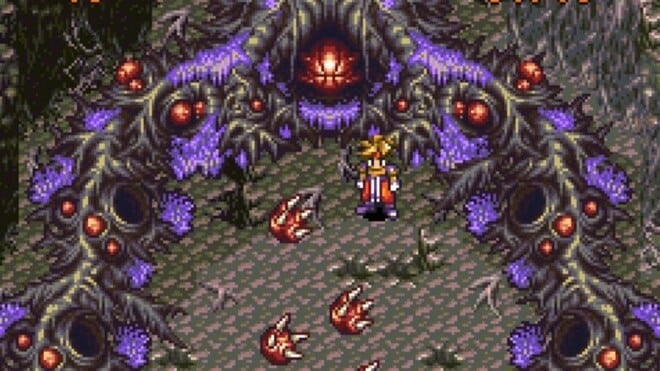 Also known as Tenchi Sōzō, Terranigma is an action role-playing game where the player engages in RPG elements through the story from a top-down perspective and real-time combat. In it, you play as Ark, a young boy who must resurrect Earth from the cataclysmic effects of a fateful battle between the devil and god.
What Makes It Great
Unique Story and Theme: Terranigma offers a compelling and unique storyline that focuses on the resurrection and evolution of the Earth. The theme of creation sets it apart from other action RPGs and provides players with a thought-provoking narrative.
Action RPG Gameplay: The game combines action-packed gameplay with RPG elements, offering a dynamic and engaging experience. Players can perform various techniques based on their position, adding depth to combat.
Character Progression: As players defeat enemies, they earn experience points that lead to character level-ups. Leveling up enhances stats like HP, strength, defense, and luck, allowing for character customization and growth.
The Lost Vikings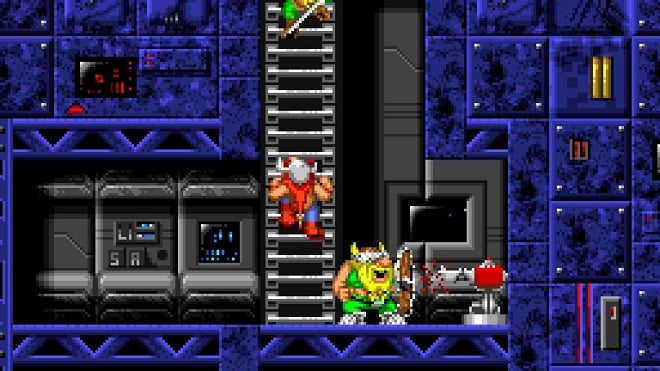 Lost Vikings is a somewhat comical puzzle-based platformer developed by Blizzard. The player takes control of 3 Vikings, (Erik the Swift, Baleog the Fierce, and Olaf the Stout), who each have different abilities to make their way through the level. The player uses the different abilities to 'crack the code' of the level and progress.
What Makes It Great
Unique Gameplay Concept: The Lost Vikings introduces a fresh and innovative gameplay concept where players control three distinct characters simultaneously, each with their own abilities and attributes. This adds depth and complexity to the puzzle-platform genre.
Diverse Abilities: Each Viking has unique skills and abilities, such as Erik's speed and wall-bashing, Baleog's sword fighting and ranged attacks, and Olaf's shield blocking and gliding. This diversity promotes strategic thinking and problem-solving.
Challenging Puzzles: The game features a variety of challenging puzzles and obstacles that require players to use the Vikings' abilities cleverly. Figuring out how to navigate levels is both satisfying and engaging.
The Legend of the Mystical Ninja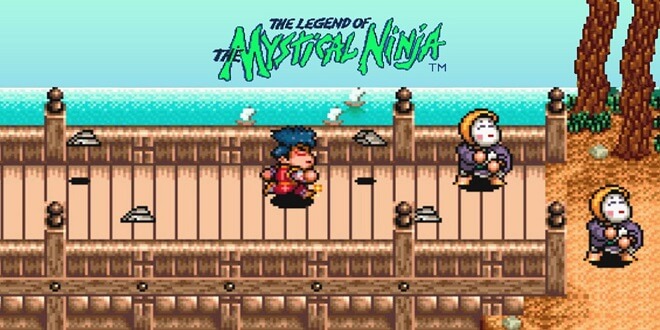 This is a great adventure game that is now part of the Goemon series. The player can play as two different characters with different abilities. You can also learn judo abilities as well, fleshing out the combat. Levels are separated into exploration and battle phases. Explore the town, then take part in platforming and combat.
What Makes It Great
Unique Blend of Genres: The game combines action, adventure, and platforming elements into a seamless and enjoyable gameplay experience.
Cultural Appeal: The game offers a unique insight into Japanese culture, with references to traditional elements like Judo, town exploration, and mini-games inspired by classic Japanese games like Gradius.
Continued Series: The success of The Legend of the Mystical Ninja led to the creation of more games in the Ganbare Goemon series, showcasing the game's lasting impact on the gaming industry.
Top Gear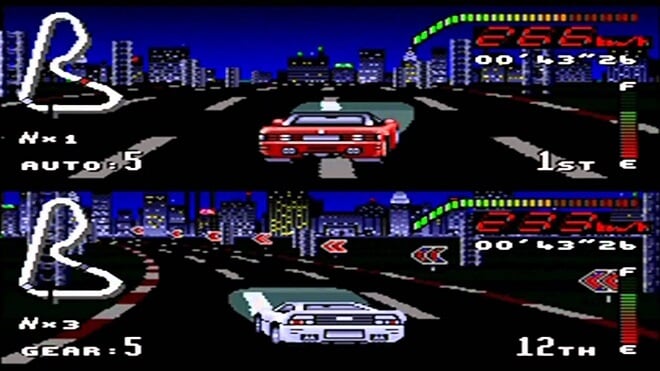 This is a great racing game for the SNES. You get full control of the cars. You control automatic or manual transmissions, controller layouts, and different cars. Although there are only 4 different cars, the Model 7 chip brings them to life through 3D processing, making the lack of options something trivial.
What Makes It Great
Early Racing Game: As one of the first racing games released for the Super NES, Top Gear holds historical significance in the racing game genre.
Continuation in the Series: Top Gear's success led to the development of sequels in the Top Gear racing game franchise, showcasing its lasting impact on the gaming industry.
Inspiration for Other Games: The popularity of Top Gear, especially in regions like Latin America, inspired other game developers, such as Aquiris Game Studio, to create games like Horizon Chase – World Tour, which pays homage to the classic racing game and its music.
Super R-Type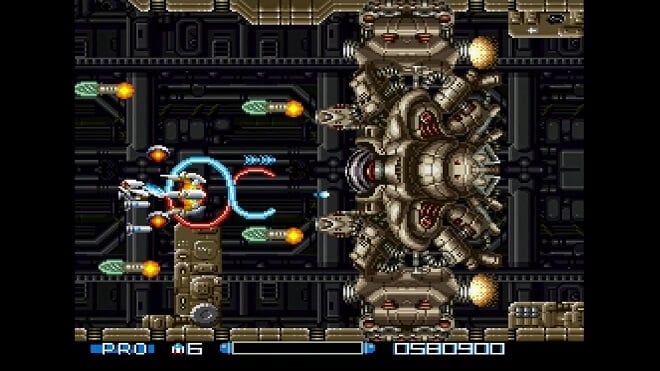 This is a shooter game that was released in 1991. It's a really difficult game, and a lot of patience and practice is needed to give it a serious attempt.
You pilot your spaceship through space, destroying alien enemies as you go while upgrading your weapons. You can get weapons like the rebound laser, counter-laser, and spread laser, each with their own special abilities.
What Makes It Great
Classic Shooter: Super R-Type is a classic side-scrolling shooter that offers the nostalgic appeal of retro gaming.
Expansion of R-Type II: The game takes R-Type II as its base and expands upon it with new stages and enemies, making it a fresh experience even for veterans of the series.
Nostalgia: For fans of the R-Type series and retro gaming enthusiasts, Super R-Type offers a nostalgic experience with its classic gameplay and challenging levels.
Rock n' Roll Racing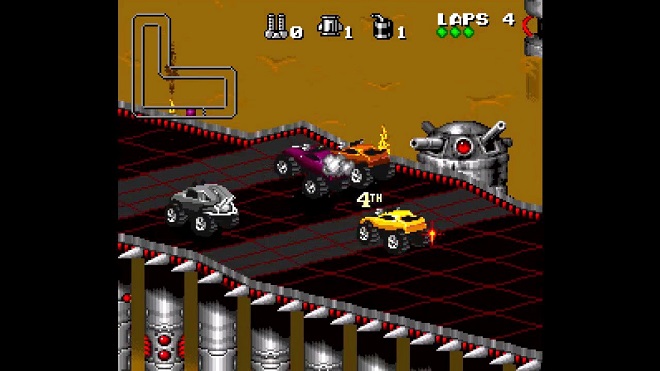 Fans of demolition derbies will love this title. It's a vehicular combat game developed by Silicon & Synapse, AKA Blizzard Entertainment.
4 racers face off in heated vehicular combat in a cartoonish world of aliens and other comic-inspired creatures. It's a racing game, but combat is the name of the game here. Blowing up, harming, and damaging your opponent is the 'real' goal here.
What Makes It Great
Isometric Perspective: The isometric perspective offers a dynamic view of the tracks, allowing players to navigate turns, slopes, hills, and dips while avoiding obstacles.
Combat Racing: While primarily a racing game, Rock n' Roll Racing places a heavy emphasis on attacking competitors' vehicles. Players can use forward and rear weapons to gain an advantage or slow down opponents.
Tiny Toons Adventures: Buster Busts Loose!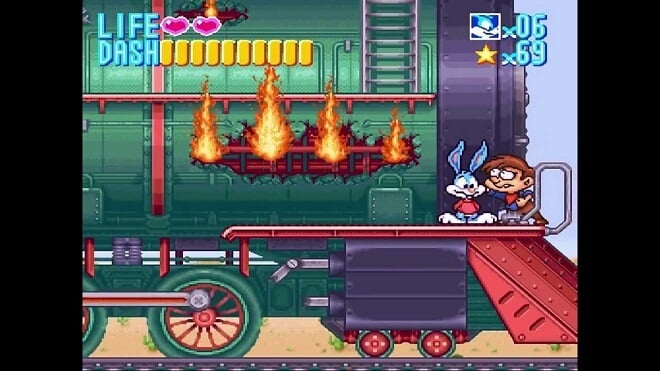 Based on the then-popular cartoon series spin-off of Looney Toons, Tiny Toons follows the adventures of the younger toons, namely Buster. Buster takes part in platforming and side-scrolling, completing different objectives depending on one of the 6 different levels.
What Makes It Great
No Specific Storyline: While some games rely heavily on a complex storyline, Buster Busts Loose provides a more episodic experience, akin to watching an episode of "Tiny Toon Adventures" in a video game format.
Character Variety: The game introduces a range of characters from the "Tiny Toon Adventures" series, each with their unique abilities and challenges, adding depth to the gameplay.
Nostalgia: For fans of the "Tiny Toon Adventures" series, the game offers a nostalgic trip back to the beloved cartoon, making it an enjoyable experience for both fans and newcomers.
The Magical Quest Starring Mickey Mouse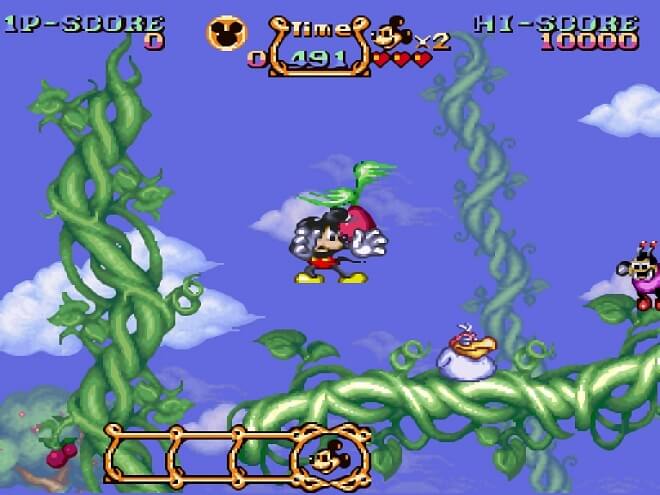 This game has received some recent praise. In it, you play as Mickey Mouse in a platforming game. Fun Disney antics ramp up as Mickey goes on a 'magical quest' to save his friends who have been kidnapped by evil forces.
What Makes It Great
Classic Disney Charm: The game features beloved Disney characters like Mickey Mouse and Minnie Mouse, offering a nostalgic and charming experience for players of all ages.
Nostalgic Value: For Disney fans and those who grew up with Mickey Mouse, the game evokes a sense of nostalgia and fond memories.
Tales of Phantasia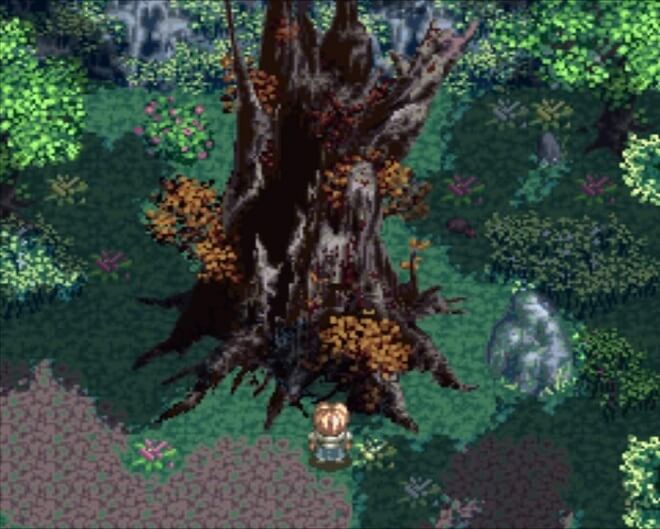 Developed by Wolf Team, Tales of Phantasia is a role-playing game. That broke ground with great voice acting and more. The story involves typical yet effective plot points of traveling with a party of lovable characters through time to defeat an evil demon king, Dhoas.
What Makes It Great
Pioneering RPG: As the first installment of the Tales series, "Tales of Phantasia" holds historical significance for RPG enthusiasts and introduces many innovative elements for its time.
Compelling Story: The game's storyline, which involves time travel and heroes fighting against an evil overlord, offers a captivating narrative that keeps players engaged.
Innovative Linear Motion Battle System: "Tales of Phantasia" introduced the Linear Motion Battle System, which became a hallmark of the Tales series. Real-time battles on a 2D plane, along with character abilities and artes, provided an engaging combat experience.
Final Fantasy V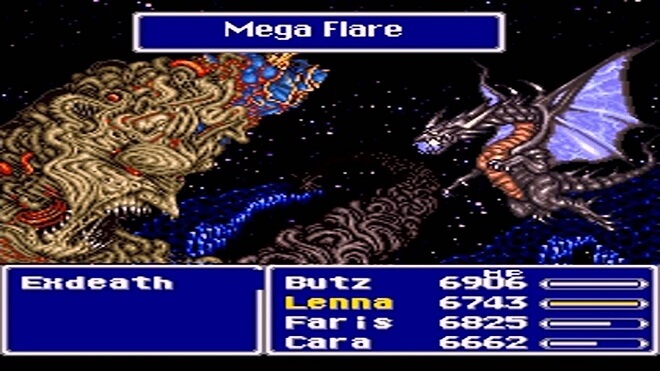 Before Final Fantasy VI would diverge away from the familiar setting, Final Fantasy V brings players into a medieval-fantasy world. In typical Final Fantasy form, the four crystals that hold the Earth's elements in check are in danger. The main characters, Bartz, Faris, Lenna, and Galuf must quest to stop whatever it is threatening the existence of their world.
What Makes It Great
Freedom of Customization: "Final Fantasy V" is praised for its Job System, allowing players to freely choose and customize character classes, providing diverse gameplay options and strategies.
Job System: The game's Job System allows characters to master different classes, each with its unique abilities, promoting a high level of customization and experimentation.
Variety of Jobs: With 22 jobs (26 in the Game Boy Advance version), including classics like Black Mage and Thief, and newcomers like Blue Mage and Mime, the game offers a wide range of character abilities to explore.
Jurassic Park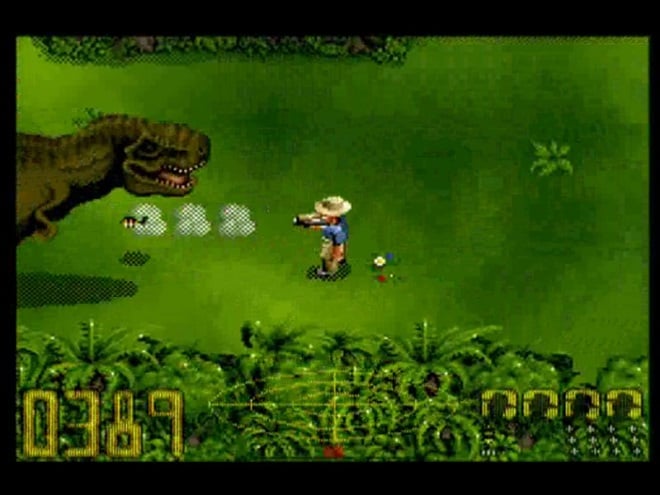 Based on the great 1993 film, Jurassic Park allows you to explore the dangerous park from the movie. It's pretty scary navigating your way around the jungle with super-powerful dinosaurs lurking around. You can even play as a raptor.
What Makes It Great
Interactive Dinosaur Encounters: Players can engage in thrilling encounters with dinosaurs, either as characters from the films or as park managers, adding an element of excitement and danger to the gameplay.
Storytelling: Games like "Jurassic Park: The Game" continue the franchise's narrative, allowing players to explore new storylines and scenarios within the Jurassic Park universe.
Top Gear 2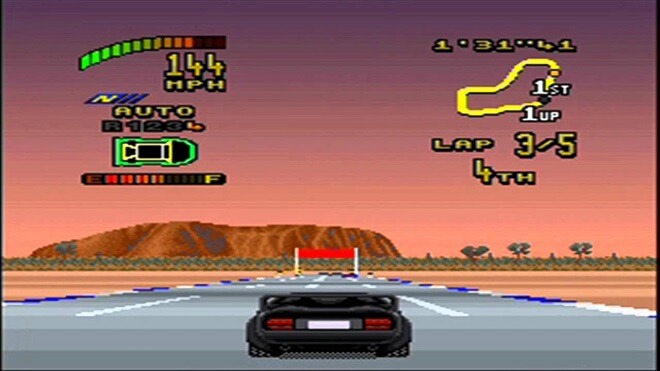 Top Gear racing is back and better than ever. This installment includes weather systems, affecting racing conditions. It also includes more dynamic damage systems for those among us who aren't exactly great drivers.
Cars can be upgraded in this game.
Along with these interesting features, the opponents are much tougher to beat, giving you an adrenaline rush while playing.
What Makes It Great
Sequel with Improvements: As a sequel to the original Top Gear game, Top Gear 2 builds upon the gameplay and graphics, offering a more refined and realistic racing experience.
Slower Cars and Tougher Opponents: Top Gear 2 introduces slower cars and tougher AI opponents, increasing the challenge and, making the gameplay more engaging for experienced players.
Wide Variety of Tracks: With 64 tracks spanning 16 countries, players have a diverse range of environments and challenges to explore, providing hours of gameplay.
Ken Griffey Jr. Presents Major League Baseball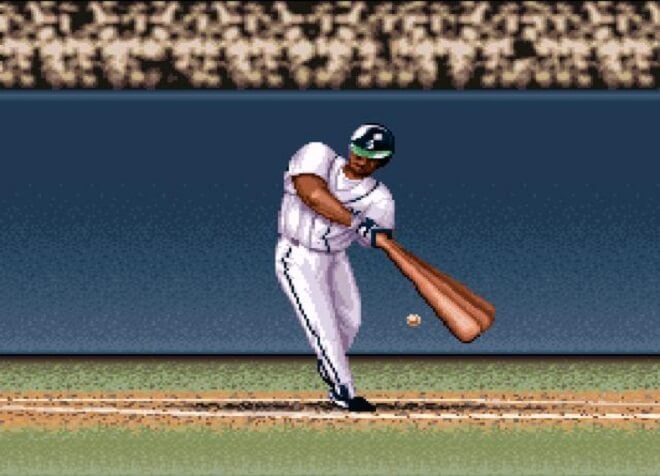 Baseball fans got their wish of a solid baseball title on the SNES, and a great poster child in the form of baseball great, Ken Griffey Jr. Real teams are included, but there aren't any real players due to licensing.
Emphasis was placed on creating vibrant and unique stadiums for each team in the game. The gameplay was great and pitching, in particular, was simple yet effective.
What Makes It Great
Realistic Stadiums: The game recreates many MLB stadiums accurately, including unique features like Dodger Stadium's slants and Fenway Park's Green Monster, enhancing the immersive experience.
Various Playing Modes: The game offers battery-backed season modes where players can choose to play a partial or full MLB season, earning playoff berths and World Series opportunities for successful seasons.
Division System: Players can choose to play with either four or six divisions, aligning with the era when MLB transitioned to six divisions, providing historical accuracy.
Lufia and the Fortress of Doom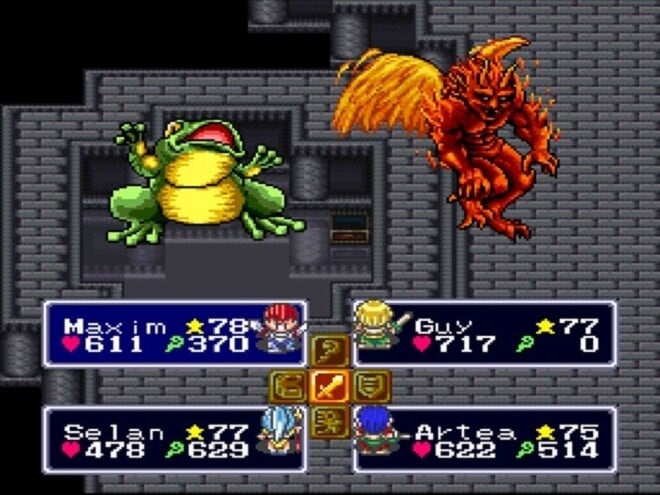 This is the first installment of a role-playing series called Lufia. You control the characters, 2D sprites, as you take part in dungeon crawls and epic traveling across the landscape. Random battles litter the world, and Maxim, Selan, Artea, and Guy are tasked with stopping the Sinistrals.
What Makes It Great
Engaging Storyline: The game features a captivating storyline with an ancient prophecy, powerful beings known as the Sinistrals, and a floating fortress, creating a compelling narrative for players to explore.
Heroic Quest: Players take on the role of brave warriors tasked with infiltrating the Fortress of Doom and defeating the Sinistrals to save the world, setting the stage for an epic adventure.
Time-Tested RPG Gameplay: Lufia & the Fortress of Doom follows traditional RPG gameplay with 2D character sprites, turn-based battles, and character progression through leveling up and acquiring new abilities.
Lufia II: Rise of the Sinistrals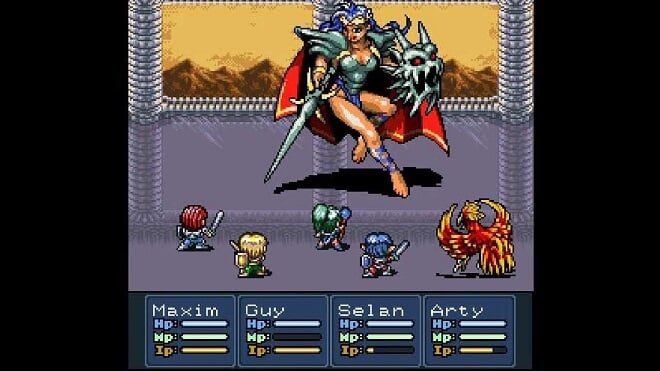 The second game in the Lufia series of role-playing games acts as a prequel, taking place right before Lufia and the Fortress of Doom. The fight against the god-like Sinistrals begins (or continues, depending on how you view the story), and you're tasked with stopping them.
Filled with puzzles and combat, the second Lufia game is a solid RPG romp through a fleshed-out fantasy world.
What Makes It Great
Compelling Prequel Story: The game serves as a prequel to the original Lufia, providing players with a deeper understanding of the world and explaining the origins of the conflict with the Sinistrals, making it engaging for fans of the series.
Elimination of Random Encounters: Unlike its predecessor, Lufia II eliminates random encounters in dungeons, creating a more immersive and strategic gaming experience.
Puzzle Elements: The game features a wide variety of puzzles, ranging from simple to highly challenging, adding an extra layer of gameplay and mental stimulation for players.
NHL 94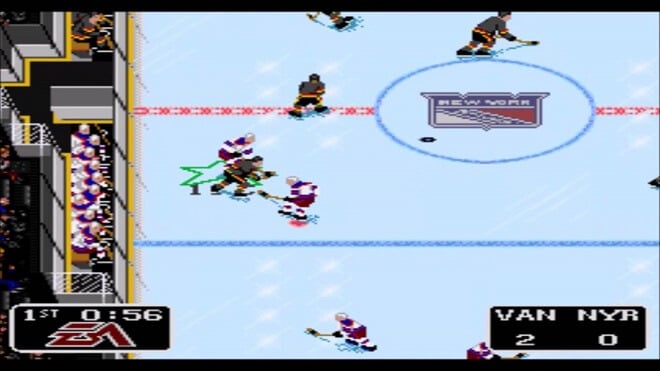 As the 1990s progressed, we were graced with some seriously great sports games, and the NHL games were excellent. The gameplay emulates the fast-paced style of real hockey, including real players, real teams, and realistic rules.
What Makes It Great
Critical Acclaim: The game received critical acclaim upon release and is often hailed as one of the greatest sports games and one of the best games ever made.
Unique Camera Angle: NHL '94 maintains a signature vertical camera angle, offering players distinct gameplay and strategic advantages over contemporary side-view hockey games, enhancing the gaming experience.
Realistic Roster: The game features team rosters and player attributes that reflect the 1993-94 NHL season, including the inclusion of the league's two new expansion teams, the Mighty Ducks of Anaheim and Florida Panthers.
Super Tennis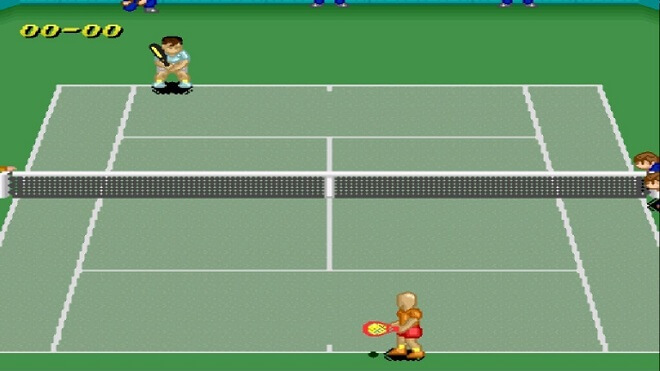 Released in 1991, Super Tennis ushered in a great period of sports titles for the SNES for years to come. Like many great games on the SNES, it utilized the Mode 7 chip for 3D aspects of gameplay. In it, you play tennis in either singles, doubles, or world circuit mode. The players were based on famous players at the time.
What Makes It Great
Tournament Variety: Super Tennis features both minor and major tournaments, each taking place on different surfaces with varying ball bounce effects. The tournaments are based on real-life counterparts, adding authenticity to the game.
Realistic Player Representations: The game features cute, short representations of top world tennis players from that era. Each playable character has their own unique talents and abilities.
Responsive Controls: Super Tennis offers responsive controls, with multiple buttons on the SNES controller performing different tennis racket moves. The direction of the ball when hit is influenced by the control pad, allowing for precise gameplay.
NHL 96

I think that NHL 96 was the pinnacle of the 1990s NHL games. It combined everything that worked before and built on it with better graphics and better skills. Each player is different, and, more importantly, a real person. Fast-paced gameplay is once again at the forefront.
What Makes It Great
Improved Graphics: NHL 96 was the first in the series to feature real-time three-dimensional graphics through the DOS version's "Virtual Stadium" technology, enhancing the visual experience.
Enhanced AI: The game boasts improved and adjustable opponent artificial intelligence, making for more challenging and engaging gameplay.
Physical Fights: NHL 96 reintroduced the ability for players to engage in physical fights, adding an extra layer of realism and excitement to the game. This feature can be toggled on or off for player preference.
Blackthorne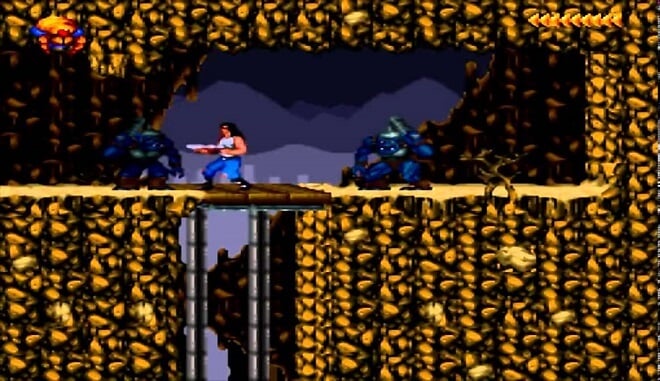 Long before World of WarCraft, Blizzard released the cinematic platformer, Blackthorne. You play as Kyle 'Blackthorne' Vlaros as he seeks revenge against the evil Sarlac. The main aspect of combat is gunplay along with making your way through maze-like levels.
What Makes It Great
Engaging Story: Blackthorne features a compelling storyline set on the mysterious planet Tuul, with themes of destiny, revenge, and the battle between light and darkness.
Character Development: Players take on the role of Kyle "Blackthorne" Vlaros, a well-developed protagonist with a backstory that adds depth to the gameplay experience.
Platforming Challenges: The game offers large platforming sequences that require players to navigate complex environments, find keys, and solve puzzles to progress through each level.
Gunfights and Combat: Combat in Blackthorne is centered around intense gunfights, adding an action-packed element to the platforming gameplay. Players must strategically use cover and return fire to defeat enemies.
Indiana Jones' Greatest Adventures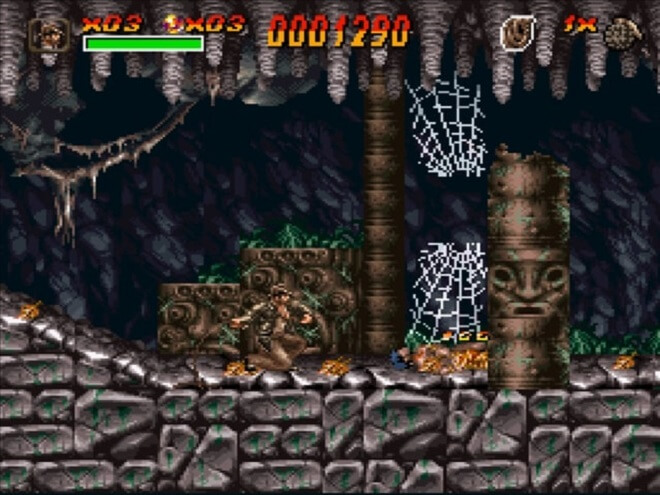 The Indiana Jones movies are some of the best action films of the latter half of the 20th century. The game tries to emulate that same energy and it achieves it. You control Indy in a platform sidescroller, taking the fight to the Nazis in levels based around the wildly popular films.
What Makes It Great
Faithful Movie Adaptation: The game faithfully adapts the iconic Indiana Jones film trilogy, including "Raiders of the Lost Ark," "Indiana Jones and the Temple of Doom," and "Indiana Jones and the Last Crusade." Players can relive key moments from these films.
Action-Packed Gameplay: The game offers action-packed gameplay with Indiana Jones as the protagonist. Players control Indiana Jones and use his signature bullwhip to attack enemies. Punching, rolling, and using weapons like guns and grenades add variety to combat.
Yoshi's Cookie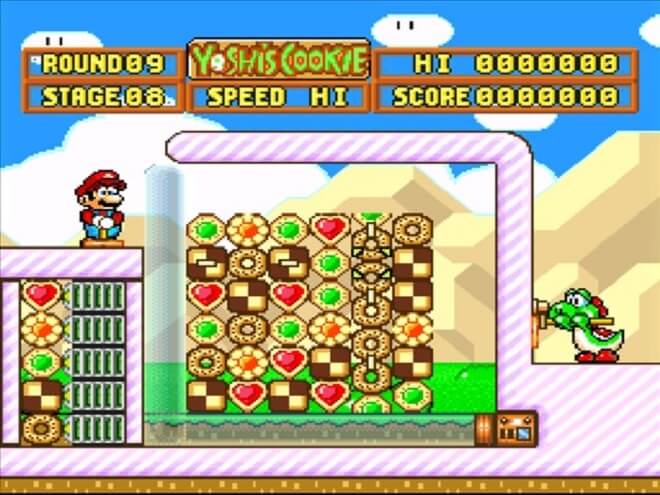 We once again join Yoshi on some colorful, wacky adventures. Instead of platforming, the emphasis is on puzzles in this Nintendo title. It's a tile-matching game where the player has to clear the board of tiles, naturally. It has been called 'simple, yet addictive'.
What Makes It Great
Nostalgia: The game includes familiar characters and elements from the Mario universe, appealing to fans of the franchise.
Re-Releases: "Yoshi's Cookie" has been re-released on modern platforms like the Wii's Virtual Console, ensuring that new generations of gamers can enjoy its addictive gameplay.
Flashback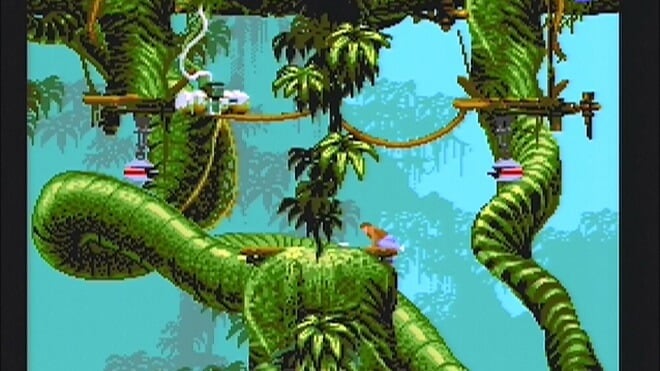 Also known as Flashback: The Quest for Identity, this is a seriously cool platforming game with a sci-fi and cinematic twist. It is similar to the Prince of Persia in terms of physics: it looks like it has real people as the characters. It works well, alongside a cool story full of intrigue and cool sci-fi elements.
What Makes It Great
Cinematic Platformer: The game falls into the cinematic platformer genre, offering a unique blend of platforming gameplay and cinematic storytelling.
Fluid Animation: "Flashback" features fully hand-drawn backdrops and rotoscoped animations, providing movements that have an unusual fluidity, enhancing the overall visual experience.
Challenging Gameplay: The game presents challenging platforming sequences that require precise timing, making it engaging for players who enjoy a test of their skills.
Spatial Puzzles: Players must solve spatial puzzles as they progress through the game, adding a cerebral element to the gameplay.
Battletoads in Battlemaniacs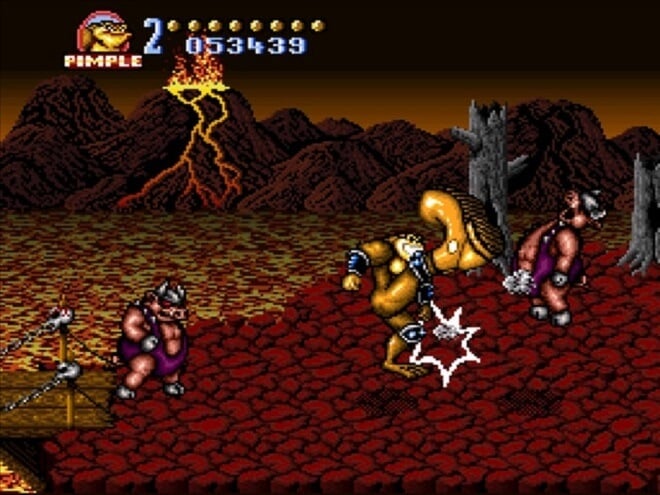 An installment of the infamous Battletoads, this game has our amphibious heroes involved in a beat 'em up within a virtual world controlled by an evil being, Silas Volkmire. You play as Rash or Pimple and take the fight to the many different enemies populating the virtual landscape. It was praised for its great music and awesome boss fights.
What Makes It Great
Engaging Storyline: The game's plot involves a virtual reality world gone awry, with the Battletoads on a mission to rescue their friends and stop the evil plans of Silas Volkmire and the Dark Queen, providing a compelling narrative.
Nostalgic Elements: Many levels in the game are enhanced or remixed versions of levels from the original Battletoads, appealing to fans of the series while offering a fresh experience.
Multiple Endings: Depending on the player's actions in the final gameplay segment, there are two possible endings, adding replay value and decision-making to the game.
Krusty's Fun House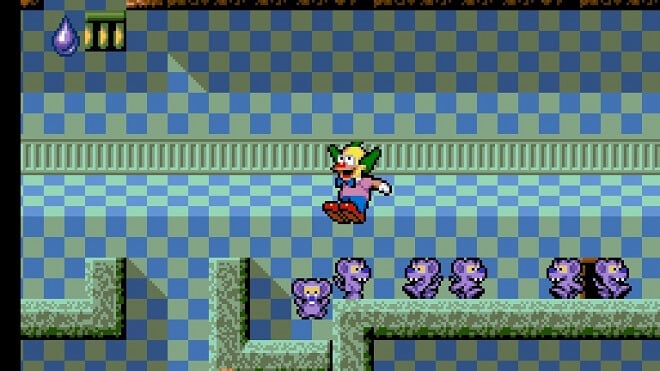 The sleazy, yet lovable Simpson's character Krusty the Clown is the driving force behind this licensed game. The player controls Krusty as he makes his way through his insane funhouse, completing mazes, and exterminating enemies. All the familiar faces from Springfield are here, including Homer, Bart, and Sideshow Mel.
What Makes It Great
Based on The Simpsons: The game is based on the popular cartoon series "The Simpsons," making it appealing to fans of the show.
Variety of Obstacles: Players encounter various obstacles and challenges in each level, including snakes and flying pigs. This variety keeps the gameplay engaging and challenging.
Character Variety: The game features different characters from "The Simpsons," including Krusty, Bart, Homer, Corporal Punishment, and Sideshow Mel, who run the extermination devices in each stage, adding a layer of humor and familiarity for fans of the series.
Fatal Fury Special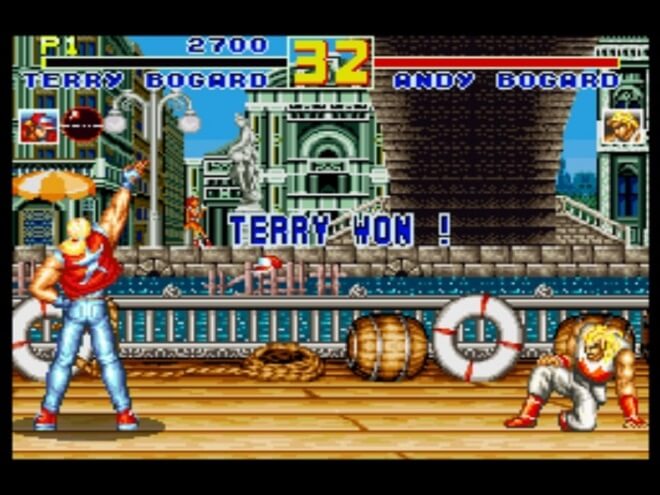 This is a fighting game by SNK, released in 1993. It is an updated version of the second game in the series, Fatal Fury 2. It builds on the second game's graphics, combo system, and speed of gameplay. You have classic characters like Terry Bogard, Joe Higashi, and Billy Kane populating the roster.
What Makes It Great
Character Additions: The game expands on "Fatal Fury 2" by adding three characters from the first Fatal Fury game, enhancing the roster and diversity of fighters.
Popularity in Japan: "Fatal Fury Special" was exceptionally popular in Japan in 1993, indicating its appeal and quality within the gaming community.
Compelling Storyline: The game features an engaging storyline with rivalries, revenge, and the return of Geese Howard, adding depth to the fighting experience.
The Simpsons: Bart's Nightmare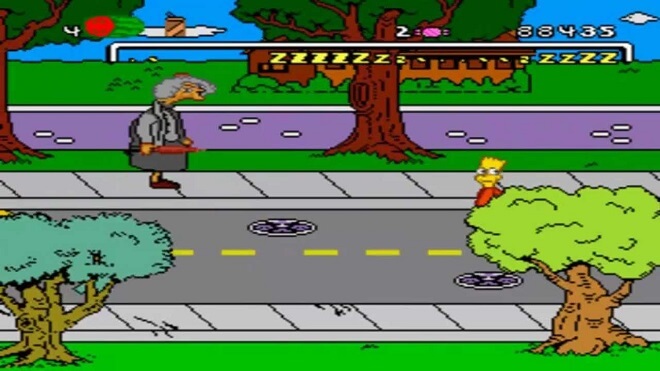 Simpson's fans had it good when it came to console games. Reeling from the disaster that was Bart vs. the Space Aliens, Bart's Nightmare is a big improvement. It's a wild adventure that is right at home in the town of Springfield. Bart falls asleep and the player is transported into his surrealist dream world.
What Makes It Great
Unique Split Gameplay: The game offers a distinctive split gameplay structure, with the first part involving exploration on the streets to find lost homework pages, and the second part featuring a variety of entertaining minigames.
Faithful to the Show: The game captures the essence of "The Simpsons" TV show, immersing players in the familiar Springfield environment and featuring recognizable characters and references from the series.
Diverse Power-Ups: Bart can collect various power-ups such as bubble gum, watermelon seeds, pillows, and his skateboard, each with its own unique effects, adding depth to the gameplay.
Challenging Enemies: Bart faces a range of enemies, including living postboxes and characters from the show. Jimbo and his gang present additional challenges as they coerce Bart into joining them temporarily.
Toy Story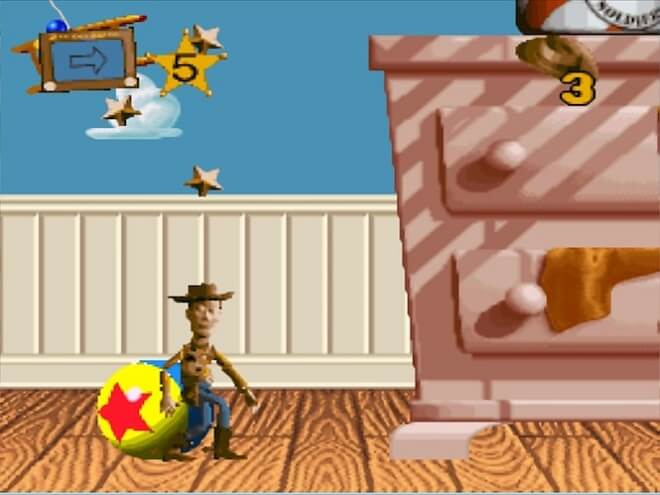 Simply put, this is a solid platforming and action/adventure game based on Pixar's beloved franchise of movies about toys that come to life when their owner is away. Fly through the air with Buzz, raid Pizza Planet, and escape from the devious Sid's room, and more.
What Makes It Great
Faithful Adaptation: The game closely follows the plot of the movie "Toy Story," allowing players to relive key moments from the film and interact with its beloved characters.
Platforming Challenges: Players control Woody through various side-scrolling platform levels filled with obstacles and enemies, adding an element of action and skill to the gameplay.
Unique Gameplay Elements: The game offers diverse gameplay experiences, including controlling R.C. in race stages and navigating a first-person maze to rescue alien squeaky toys. These changes in gameplay keep the experience fresh and engaging.
Whip Mechanic: Woody's pull-string whip is a versatile tool that can temporarily disable enemies and interact with the environment by swinging from hooks, adding depth to the platforming gameplay.
Let's Compare Notes
We want to hear from you. To ask a question about this article or to provide additional information, shoot us a message at: [email protected]
Sources
https://www.fandom.com/
https://gamefaqs.gamespot.com/pc/565064-simcity-1989/reviews/170255
https://www.mariowiki.com/Tetris_Attack
https://en.wikipedia.org/wiki/Batman_Returns_(video_games)