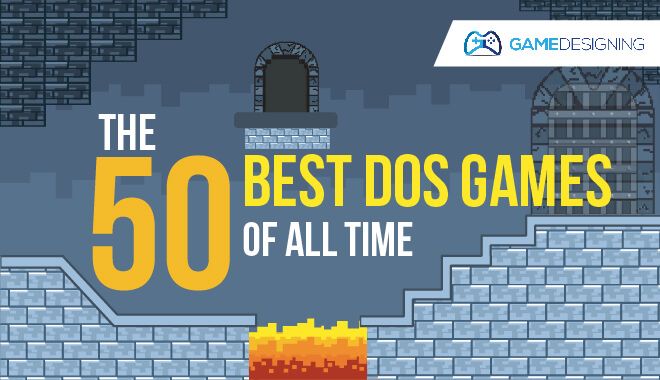 DOS was the original operating system for early Windows-based systems. DOS stands for Disk Operating System but was replaced once Windows XP launched.
DOS games were those developed under this operating system.
While some of the best DOS games can bring you back to wonderful memories of your younger years, they also laid the foundation for what we see in the gaming world today.
Compared to today's video games, even the best DOS games of all time may appear rudimentary and basic, but many of them are still a lot of fun to play.
Yes, you can still play a number of these best MS-DOS games today -usually through a browser like Google Chrome or Mozilla Firefox.
What Makes A Good DOS Game?
Debuting in 1981, MS-DOS games accounted for literally thousands of games through the 1980s and into the 90s.
A 'good' DOS game is truly in the eye of the beholder, so don't get upset, angry, or start sending hate mail because your list is different than ours.
Did the game perform well for what it was?
Was the game fun (to the point that people played it for years, sought the original disks for resale, and want to still play today with a DOS emulator framework)? Games that aren't fun don't last long, but everyone's definition is different.
Were the fundamentals of most successful games throughout history in place with these best DOS games of all time?
At the end of the day, it comes down to personal preference, but we did rely on a range of opinions when selecting the best DOS games of all time.
Our Ranking Criteria
In addition to player and critic ratings, we use objective metrics like sales, users, and sales growth rate to make our lists (read more). Some of these data sources include:
Best DOS Games
Risk
If you're familiar with the board game, then you already know what to expect from the DOS game Risk. The goal is for players to dominate the world by attacking other countries and taking over them.
Build armies, move troops strategically around to fortify positions in an attempt to strengthen your position, and attack and defend.
What Makes It Great
Test of Tactical Brilliance: Risk isn't just about conquering continents; it's about outsmarting your opponents. You'll need to be sharp and plan moves in advance. You're not just playing the game; you're playing the people.
Board Game Roots: Risk started off as a board game, and its adaptation into MS-DOS retained all that made the board game great. The rules are timeless, and the competitive nature of the game keeps you hooked.
Easy to Learn, Hard to Master: The rules are straightforward enough that even someone new to strategy games can jump in and have fun, but mastering the game will take time and effort, making it engaging for all levels of player.
SimCity 2000
This version marked a considerable shift from the original SimCity games. The views changed, providing depth of the land and underground was added so players needed to consider laying pipes, subways, and other real underground structures.
What Makes It Great
Deep Customization: This game lets you micromanage your city down to the tiniest detail. From tax rates to zoning, SimCity 2000 offers a level of control that was mind-blowing for its time and still holds up.
Advanced Graphics: The isometric view in SimCity 2000 was a game-changer. It took the top-down view from the original SimCity and made it three-dimensional. The result? A whole new level of immersion.
Arcologies and Futuristic Concepts: This game was ahead of its time, throwing in futuristic tech and utopian (or dystopian) constructs that still fuel our imaginations.
Different Scenarios, Different Challenges: Natural disasters? Alien invasion? If you think you've got your city running like a well-oiled machine, think again! The different scenarios keep you on your toes.
Why We Like It
This unassuming game thrives on even the most modest of computers. While it may not boast the visual splendor of modern games, it fills the void for city-building enthusiasts seeking a wallet-friendly alternative.
Its pixelated charm invites you into a world where dated graphics are no barrier to enjoyment.
Its widespread availability across multiple platforms, from IOS to SNES, Saturn, and Playstation, makes it a versatile classic. It's akin to a 3D rendition of SimCity, serving as a heartfelt recommendation for aficionados of retro-gaming.
This game is a testament to timeless gameplay and an enduring source of joy for those willing to embrace its pixelated allure.
Worms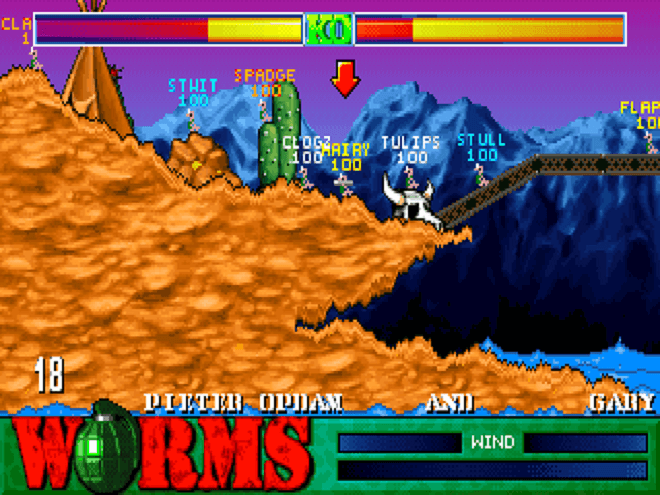 This tactical two-dimensional game is all about strategy. You can play up to four teams, each with up to four worms. The goal? Destroy your opponents' worms before they do it to you. Worms are turn-based, so you need to determine who you'll attack next. Or what moves make the most sense at that stage in the game.
What Makes It Great
Comedic Genius: This game fuses tactical gameplay with a side of absurdity that we never knew we needed. Where else can you watch a worm with a thick accent hurl a sheep explosive at an enemy?
Iconic Arsenal: Talk about variety! From banana bombs to ninja ropes, Worms offers a huge array of ridiculous and memorable weapons that keep gameplay fresh and hilariously unpredictable.
Multiplayer Madness: Worms is a game that shines when played with friends. The sheer joy (or agony) on your buddy's face as you make that impossible shot is a feeling you can't replicate.
Instant Replayability: Short match durations make it easy to say, "just one more game," turning what was intended to be a quick session into an all-night gaming marathon.
Wolfenstein 3D
This first-person shooter game is based on episodes, meaning you'll need to move through the story, accomplishing goals in order to reach the next level. As B.J. Blazkowicz, an allied spy, your job is to successfully navigate six full episodes and win the day!
What Makes It Great
Blast from the Past: Playing Wolfenstein 3D is like opening a time capsule from the early '90s. For retro gaming enthusiasts, this title is a must-play for the nostalgia factor alone.
The Godfather of FPS: We're not exaggerating when we say Wolfenstein 3D pretty much laid the foundation for the entire first-person shooter genre. If you love FPS games, you owe it to yourself to play the title that started it all.
Maze-Like Levels: The labyrinthine corridors aren't just there for show; they create an atmosphere of tension and urgency that few games could match at the time.
Strategic Enemy Placement: Each enemy type has its unique tactics, which means you have to adapt and strategize on the fly. You can't just run-and-gun your way to victory.
Mario Teaches Typing
A great way to learn and improve typing skills. In Mario Teaches Typing, there are four games to choose from, each one building on the previous one with regard to difficulty levels. Players can choose to be Mario, Luigi, or even the Princess. Type the letters or words moving across the screen and players can perform different actions to accomplish goals.
What Makes It Great
Pedagogical Excellence: Mario Teaches Typing offers an amalgamation of learning and entertainment—often referred to as 'edutainment'—which is particularly effective for skills acquisition. It offers a unique way to learn a life-long skill without the monotonous experience traditionally associated with typing tutorials.
Practical Application: Beyond its immediate gameplay, the title provides instruction and practice in a skill that has immense real-world applicability. Typing is indispensable in modern professional and academic settings.
Familiar Aesthetics and Characters: Incorporating well-loved figures from the Mario universe imbues subject matter—often considered tedious—with a layer of engagement and relatability.
Low Barrier to Entry: The game is designed to be welcoming to individuals regardless of their previous typing experience, making it a universally approachable title.
WarCraft II: Tides of Darkness
An upgrade to WarCraft, Tides of Darkness provided a number of advanced features, including fighting over sea and air (not just on land). Multiplayer mode accommodated up to eight players at once and also allowed players to choose between separate orc and human campaigns.
What Makes It Great
Setting the RTS Standard: Warcraft II isn't just another RTS game; it's the game that helped define what real-time strategy could and should be. Building, resource management, combat—this game set the gold standard.
Skirmish Mode: Outside of the main campaign, the Skirmish mode lets you mix and match factions and maps for endless gameplay opportunities. Get ready to sink countless hours into this!
Rich Narrative: The battle between Orcs and Humans is not just an aesthetic; it's a story that dives deep into the lore of Azeroth, offering a narrative richness that is hard to come by in strategy games.
Doom
No list of the best DOS games could possibly be complete without Doom. Scientists experimenting with teleportation technology out on Mars' moons inadvertently open a gateway to hell. As the last surviving marine sent to stop the demons, players must fight to keep them from destroying everything.
What Makes It Great
The FPS Trailblazer: If you've ever picked up an FPS game, you've got DOOM to thank for it. This is the game that set the template for first-person shooters.
Multiplayer Revolution: This game practically invented Deathmatch. Sure, we might be playing Fortnite and Apex Legends now, but DOOM laid the foundation for multiplayer FPS.
Fluidity and Pace: The fast-paced action is relentless. Your speed and reflexes are just as important as your aim.
Sid Meier's Civilization
Choose between a randomly generated world or focus on the real world. Either way, players build civilizations from the very beginning (from the ground up, literally). Beginning with the earliest civilizations all the way to space flights, this legendary game started it all.
What Makes It Great
Laid the Foundation: Numerous sequels and copycats have tried to capture its magic, but the OG Civilization laid the groundwork for all of them
Educational & Fun: This game literally lets you shape human history. You can transform a band of wandering nomads into a world superpower, and you'll learn a ton of history along the way.
Endless Possibilities: No two games are ever the same. Different maps, strategies, and outcomes mean you could play forever and not see it all.
Sid Meier's Civilization II
Released in 1996, this is often considered one of the best games of all time. The purpose for players is to create a civilization that will survive through the ages.
It's not enough to remain docile or neutral, but to expand, conquer, and grow the culture, influencing others along the way. The goal is to either conquer every other nation or figure out how to colonize an entirely different world.
What Makes It Great
Perfection of 4X Strategy: Civilization II didn't just ride on its predecessor's success; it honed it, adding more depth, detail, and options. This is the sequel other sequels wish they could be.
In-Depth Tech Tree: The tech tree in Civ II is more elaborate than ever. This means more research, more decisions, and a richer gameplay experience.
City Customization: This game introduced city improvements like schools, banks, and factories that directly affect how your cities perform.
Heroes of Might and Magic 2
For those who know about Heroes I, this is essentially the sequel. This fantasy-based game is set in Enroth, where magic rules. With six different castle types and six creature forms in each castle, there's always a challenge for players to use their magic to overcome.
What Makes It Great
Depth and Complexity: Forget button-mashing, this game demands your brainpower. From resource management to tactical combat, HOMM II is a masterclass in turn-based strategy.
Stunning 2D Artwork: The beautifully hand-drawn sprites and detailed environments still hold up. This game shows that you don't need 3D graphics to create a captivating world.
Iconic Soundtrack: From the menu theme to the individual faction tunes, the music is both iconic and perfectly encapsulates the fantasy setting.
Panzer General
Taking turns, this military-style game allows players to revisit some historic battles and wars. Controversy surrounded Panzer General as it was the first video game that allowed people to play as Nazis.
What Makes It Great
Bridging the Gap: Wargames can be a tough genre to get into, but Panzer General made it accessible without dumbing things down. It's the gateway drug to wargaming, and it's addictive.
A Chess Match with Tanks: The game delivers deep tactical gameplay that will have you pondering every move and counter-move. You can't just zerg rush your way through this one!
Realistic Scenarios: Modelled after real WW2 campaigns, the game gives you a sandbox to rewrite history or fall victim to the same pitfalls as your historical counterparts.
Oregon Trail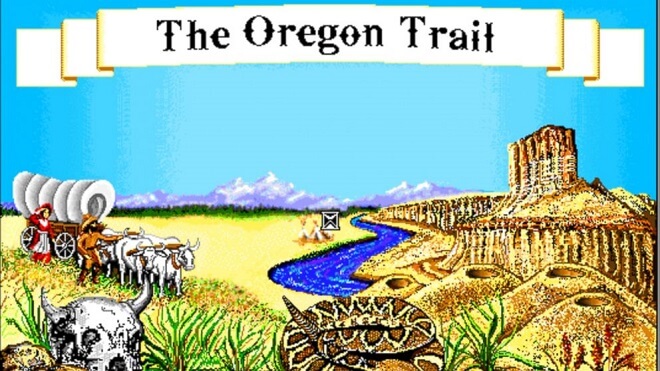 Considered by many to be the most successful educational game in history, players essentially follow the Oregon Trail as many adventures and desperate families did while seeking a new life along the West Coast of the 19th century.
What Makes It Great
Edutainment Pioneers: The Oregon Trail merged education and entertainment before it was cool. You learn about history, but you're having so much fun you don't even realize it.
Decision-Making at its Finest: Whether it's fording a river or rationing food, the choices you make are a lesson in resource management and risk assessment. Eat your heart out, modern survival games!
A Journey, Not a Sprint: Just like the real pioneers, you need to plan ahead and adapt on the go. It's not about fast reflexes; it's about smart decision-making.
SimTower
Build and manage the various operations of a modern skyscraper. Players need to plan things out properly, understand where facilities within the tower should be built, and how best to lay everything out for functionality and satisfaction.
What Makes It Great
Verticality: While most sim games focus on horizontal expansion, SimTower is all about growing upwards. The sky's the limit—literally!
Versatile Building Types: From offices and condos to shops and cinemas, the variety keeps the gameplay fresh and your tower ever-evolving.
Verticality: While most sim games focus on horizontal expansion, SimTower is all about growing upwards. The sky's the limit—literally!
Snood
This puzzle game provides grids of small shapes of different colors. Each one has a face on it and blocks are placed at the bottom of the screen that players need to manipulate, turn around, and match up with those colored shapes.
What Makes It Great
Hook, Line, and Sinker: If you've never played Snood, you've missed out on one of the most straightforward yet addictive games ever. You aim, you shoot, you match—sounds simple, but it's compelling like you wouldn't believe.
A Game of Skill, Not Chance: Unlike some other puzzle games, Snood rewards your skill. The more you play, the better you get at those crazy angle shots.
Retro Charm: The graphics may be simple, but they ooze '90s charm. It's like a trip down memory lane every time you boot up the game.
Warcraft II: Beyond the Dark
Following what happened in Warcraft II: Tides of Darkness, this version of the game picks up. There's a new invasion of Azeroth and the Alliance needs to determine the right strategy to reclaim victory. There are 12 map campaigns and five new hero characters available for either side.
What Makes It Great
RTS Renaissance: Released in 1996, Beyond the Dark Portal was a trailblazer that set many standards for the real-time strategy genre, from resource management to unit diversity.
Multi-Layered Strategy: This game makes you think—seriously. With a myriad of unit types, strategies, and objectives, you need to outwit your opponent at every turn.
Quality Over Quantity: The expansion adds to the gameplay without bloating it. Each new unit, hero, and mission feels like a meaningful addition.
Grand Theft Auto
This first version of the game that revolutionized the concept of doing whatever you'd like within a video game set the bar. It was a high bar, even at the time this DOS game was released. Players take on the role of a small-time criminal trying to make a big impression with organized crime.
What Makes It Great
The Original Sandbox: Before GTA, most games had levels. GTA had cities—whole sprawling, living, breathing cities for you to explore or exploit at your leisure.
Pioneer of the Modern Action-Adventure: It's hard to imagine now, but GTA was one of the first games that let you be the bad guy, and it stirred up its share of controversy. This, in turn, made it iconic.
Sid Meier's Colonization
This strategy game is slightly different than Civilization. Instead of building a civilization from the ground up, players seek to conquer the New World. You are the King and must establish new colonies and protect them from growing threats in this new world. Set in the time of the discovery of the Americas, this game combines strategy with some historical references.
What Makes It Great
Resource Management on Steroids: This isn't just "gather wood, build house." You've got trade, geopolitics, and even religion influencing your colony.
Complex Economic Simulation: From trading with the Natives to facing economic pressures from your home country, the game immerses you in the nitty-gritty details of colonial economics
Balanced Progression: It's not too easy to just blaze through the tech tree. Strategic planning is essential, adding more depth to the gameplay.
Theme Hospital
If you've ever wanted to get into healthcare or run your own hospital, Theme Hospital was a must-have game that provided some context of how things really run, from getting the right equipment like x-ray machines to the desks and cabinets used for storing medication, bandages, and other supplies.
What Makes It Great
Not Just Another Sim Game: This isn't just about building and managing—it's also about curing Bloaty Head disease and saving patients from Slack Tongue. Yes, it's as absurd and amazing as it sounds.
Scaling Complexity: Each new hospital presents its own set of challenges, from earthquakes to epidemics, ensuring that the gameplay stays fresh and engaging.
Customization Galore: You're not just putting down rooms; you're designing layouts, managing traffic flow, and even setting the radiators. Your choices really matter!
Doom II: Hell on Earth
For players who fought in Doom and survived, there is a new plan in place. Build large spaceships to take the remaining survivors deep into space. However, when the demons take over the only spaceport, the battle really begins.
What Makes It Great
More Monsters, More Mayhem: This sequel brought in new and terrifying foes like the Arch-Vile, the Mancubus, and the Revenant. Each enemy introduced a new layer of strategy and challenge.
Non-Linear, Complex Maps: The level design in Doom II is nothing short of a masterpiece. It pushed boundaries, encouraging exploration and rewarding players who think outside the box—or outside the hellish dungeon, as it were.
The Birth of Deathmatch: This is the game that helped popularize the concept of "deathmatch" in FPS multiplayer.
Prince of Persia
Defeat the wicked tyrant sultan and rescue the princess. It's pretty simple and straightforward for this addicting game.
What Makes It Great
Fluid, Realistic Movement: Using rotoscoping techniques, this game was miles ahead of its time in terms of animation. The smoothness of the prince's movements was nothing short of revolutionary!
Visual Storytelling: Despite its minimalistic graphics, the game managed to create a sense of place and atmosphere that was unparalleled for its time.
Skill-Based Platforming: No hand-holding here; each jump, each trap, each enemy demands precision. It's a game that feels rewarding because it IS challenging.
Command & Conquer: Red Alert
The entire franchise that was built through Command & Conquer is all about the old Soviet Union invading the United States. Gameplay for this version is built on the previous one, with new environments and missions.
What Makes It Great
Refined Resource Management: Red Alert took the classic C&C formula and upped the ante. With a more complex economic model, managing resources like ore became as critical to victory as military prowess.
Tactical Depth: From infantry to tanks to naval and air units, Red Alert offers a variety of ways to outmaneuver and crush your enemy. The game makes each unit type useful, creating a multi-layered strategy experience.
Pioneering Online Play: This is one of the games that defined online RTS multiplayer. With the then-revolutionary Westwood Online service, you could pit your skills against commanders worldwide.
Lemmings
Lemmings are notorious for getting into groups and rushing forward, even if that means heading off a cliff. In this game, players need to rescue lemmings over 120 levels.
What Makes It Great
Brain-Busting Gameplay: Lemmings didn't just make you jump from one platform to another; it made you THINK. Deciding which skill to assign to which Lemming to save the day is a masterclass in puzzle design.
Skill Variety: From builders and climbers to blockers and diggers, each Lemming skill offers a unique way to solve a level, making gameplay incredibly dynamic and strategic.
Tons of Levels: With 120 levels divided into four difficulties—Fun, Tricky, Taxing, and Mayhem—you won't run out of challenges anytime soon.
Oregon Trail II
This version improved on the original, even though it adheres to the same basic structure. With adventures and educational material, this game has long been a staple of some families' Friday night fun.
What Makes It Great
Depth of Choice: This ain't no point-and-click adventure. You're making real decisions—from your occupation to your route, even down to what you want to trade at forts. This game actually feels like you're living the pioneer life.
Historical Authenticity: The game is teeming with historical facts, geographical landmarks, and even real people you could meet along the trail. Learning has never been this fun!
Branching Routes: Unlike the original game, Oregon Trail II offers multiple routes and destinations. Want to go to California for the Gold Rush? You can! Tired of Oregon? Head to Utah instead.
Warcraft: Orcs & Humans
Players have the option to either be the humans or the orcs in this strategy game. Depending on which one a player chooses, the story arc can go in one of two ways. Using swords and sorcery, all of the best features of classic fantasy are rich in this game version.
What Makes It Great
Genre-defining Mechanics: Warcraft didn't invent the RTS, but it sure as heck popularized it. The base-building, resource gathering, and unit commands? Those things that you love in RTS games were popularized here.
Rich Lore and World-Building: This is the game where the eternal struggle between Orcs and Humans began. Azeroth was more than a map; it was a living, breathing world filled with lore and legends.
Multiple Play Styles: Whether you're Team Orc or Team Human, each side offered unique units and abilities, forcing you to adapt your strategies and keep the gameplay fresh.
SimCity
This was the original, the one that started an entire franchise. The idea is for players to build, develop, and manage a city through a wide range of scenarios, from relatively simple and straightforward to increasingly difficult. Keep up with earthquakes, floods, and fires and be the leader people want to follow.
What Makes It Great
Multi-layered Systems: This wasn't just about slapping down some buildings. You were balancing budgets, optimizing traffic, managing disasters, and so much more. No two cities were ever the same!
Risk and Reward: Managing a city in SimCity felt like walking on a tightrope. One wrong decision, and you could bankrupt your utopia, but the thrill of succeeding was unparalleled.
Stratego
Another video game that was based on a popular board game, Stratego essentially requires players to Capture the Flag of their opponent. Begin with 40 pieces, comprising a variety of military units, and defend your flag while trying to capture your enemy's flag at the same time.
What Makes It Great
A True-to-Board Adaptation: Stratego on MS-DOS captures the essence of the original board game beautifully. The rules, the pieces, and the basic premise—everything's just as you remember it, but now it's on your PC.
Your Brain is Your Best Weapon: It's not about how fast you can click; it's about outsmarting your enemy through misdirection and clever piece placement. This gives the game a timeless appeal; it's all about that big brain energy!
Duke Nukem 3D
In a futuristic Los Angeles, aliens have landed, but the pivotal character Duke is bent on making them pay for their invasion. With pistols, laser trip mines, bombs, and other paraphernalia, there is a high level of interactivity with this game and many things surrounding our titular character can explode.
What Makes It Great
FPS Groundbreaker: Duke Nukem 3D revolutionized first-person shooting with its fast-paced action, destructible environments, and intricate level design. A major leap forward for its time, setting the stage for future FPS hits!
Duke's Personality: With voice lines like "Hail to the king, baby!", Duke Nukem 3D brought a charismatic protagonist that resonated with players and became an iconic part of gaming culture.
Stunning for its Time: From bustling cities to alien spaceships, the game offers diverse and well-designed environments. The Build engine allowed for effects like dynamic lighting and verticality, which were ahead of their time.
Fallout
This role-playing game was originally critically acclaimed. While there is certainly a sense of humor throughout gameplay, the premise is that a nuclear war nearly wiped out all life on earth. A fragment of humans survived where they must scavenge and learn to restart civilization relying on underground dwellings, water purification systems, and other necessities.
What Makes It Great
Engrossing Narrative: Fallout isn't just another post-apocalyptic game; it has a deeply rooted story that combines politics, philosophy, and survival. A narrative so engaging, it makes the Mad Max universe look like a picnic!
Meaningful Choices: Fallout revolutionized the RPG genre by introducing complex moral choices. From choosing factions to saving or dooming entire settlements, your actions have real, lasting consequences in the game world.
Strategic Combat: The tactical, turn-based combat system—known as V.A.T.S.—provides depth and allows for varied approaches to situations. Whether you're a "shoot first, ask questions later" type or a diplomat, there's a playstyle for you.
The Ultimate Doom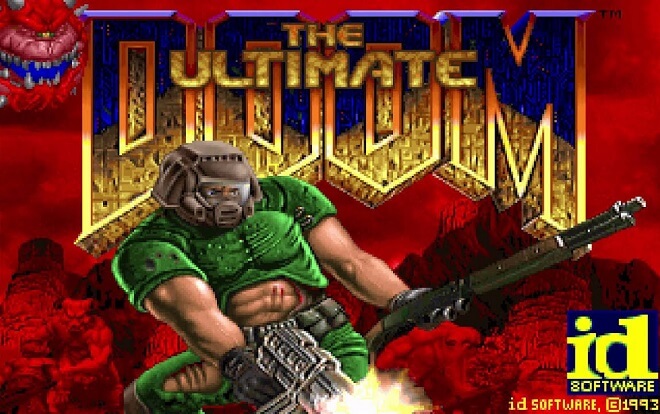 Focusing on improving the original Doom, the Ultimate Doom picks up with demons continuing to ravage the world, and the fight to save the human race continues on. This was another stop in an ongoing saga of games based on the Doom universe.
What Makes It Great
Pioneering First-Person Shooter Mechanics: Forget about the stone age of FPS; The Ultimate Doom broke new ground in terms of mechanics, bringing fluid movement and fast-paced action into the mix. This isn't just a game, it's THE game that gave birth to modern shooters!
Memorable Hellspawn: From the groaning zombies to the ferocious Cyberdemon, every enemy type is unique and brings its own set of challenges. Forget bullet sponges; these monsters make you adapt your strategies on the fly!
Explore, Don't Just Shoot: Levels are more than simple A to B corridors; they're mazes filled with secrets, traps, and rewards for those daring enough to explore.
Heroes of Might and Magic
This turn-based strategy game sees players having to accept the role of one of four heroes. They can either be the warlock, the sorceress, the barbarian, or the knight. Build up your castle, strengthen your army, and defeat the enemy in battle. That's all there is to it, but when talking about strategy games, there's a lot more planning that goes into victory.
What Makes It Great
Deep Strategic Gameplay: This isn't your run-of-the-mill hack and slash; Heroes of Might and Magic demands tactical prowess. From resource management to combat, every decision counts!
Rich Lore and Setting: The game masterfully combines elements of high fantasy with gritty realism. We're talking dragons and griffins one minute, then military strategy and resource management the next!
Varied Playstyles: Whether you want to lead an army of undead or command the noble knights, there's a faction that perfectly suits your gameplay style. Plus, each unit has unique stats and abilities, so every army feels different.
Master of Orion II: Battle at Antares
This sequel sees players taking on the role of a ruler over one of 13 races. Using a turn-based grid system engaged in combat, and as new systems can be explored, odd artifacts might be found in certain events that can be triggered, so you never know what's coming next.
What Makes It Great
Deep Strategic Layers: In Master of Orion II, you're the architect of your civilization's fate. Politics, economics, warfare—it's all in your hands! And every decision you make is a drop in the cosmic pond, creating ripples that can either propel you to victory or spell your doom.
Customization Heaven: From designing your own ships to choosing your race's traits, Master of Orion II lets you play your way. Seriously, the level of customization in this game is almost as vast as the galaxy itself.
Real-time Tactical Battles: The game features an intricate combat system that allows for real-time decision-making. Manually control your fleet's maneuvers and watch those laser beams fly!
Lords of the Realm II
One of the more unique medieval strategy games, Lords of the Realm II, doesn't rely on magic. There's also no growth in technology. As a player, the goal is to essentially manage and grow food, expand the population, and focus on keeping people happy, oh, and keeping other groups from invading.
What Makes It Great
Strategic Depth: Lords of the Realm II was way ahead of its time, combining turn-based empire-building with real-time tactical warfare. In what other game can you manage your fiefdom by day and lead a bloody siege by night?
Micromanagement Bliss: Farming, stockpiling, and yes—even tax collecting. Lords of the Realm II throws you into the nitty-gritty of medieval economics. It's so immersive you'll practically smell the hay and feel the weight of the gold in your treasury.
Siege Warfare: Most games treat sieges like any other battle. Not here! Siege mechanics in this game are a whole different ballgame, complete with catapults, battering rams, and the tension of starvation tactics. Get ready to dig in for the long haul.
The Need for Speed
Players get the opportunity to experiment with some amazing sports cars through a series of wicked tracks. Some of these tracks are open roads, meaning you will be cruising right down an oversized highway, most likely with police quickly in pursuit. One of the better options is that it allows players to choose the time of day they are racing.
What Makes It Great
First of Its Kind: This game was a pioneer in delivering a realistic driving experience. Forget arcade-like shenanigans; this was about the real weight, speed, and handling of cars. You could almost feel the G-forces just by looking at the screen!
Immersive Tracks: From coastal roads to alpine terrains, the game's environments were not just backdrops; they were fundamental to the racing experience. The diverse settings made each race feel like a new challenge.
Cops and Racers: This game brought us the tension of police chases long before it was cool. Suddenly, you weren't just racing your opponent; you were also evading the long arm of the law. Adrenaline-pumping doesn't even begin to describe it.
Family Feud
Modeled after the incredibly successful television game show that originally aired in 1970, this one was actually the first Family Feud computer game that was based on the original television game show. Two families compete against each other for points and then a big cash prize.
What Makes It Great
True to the Show: The game was designed to mimic the actual show's format, graphics, and even sound effects. Feel the spotlight and live out your TV game-show dreams!
Social Engagement: This game shines the most when played with friends or family. Whether you're teaming up or facing off, the social interaction is the lifeblood of this game, making it a fantastic party staple.
Settlers of Catan
The object of this game is to be the first player who achieves a specific count of victory points while it's your turn.
What Makes It Great
Authentic Gameplay: If you're a diehard fan of the original board game, fear not. "Catan Universe" captures the essence of the game you love, from its rules to its aesthetics. It's like having the board game, but digital, in your pocket!
Learn as You Play: he game has got you covered with interactive tutorials that make learning the game a breeze.
Sensible World of Soccer
Originally released in 1994, this game has players competing internationally in either clubs or national-based teams. There is also a career mode for an added level of excitement.
What Makes It Great
Intuitive Yet Complex: While it may look simple, SWOS offers a lot of depth. The game gives you the feel of real soccer with dribbles, passes, and goals that require skill and timing. It strikes the perfect balance between ease-of-play and gameplay depth, making it accessible for anyone to pick up and impossible for anyone to put down
Your Strategy, Your Choice: Whether you like tiki-taka or counter-attacking football, the game allows you to play your way. SWOS offers various tactical options, so you're never tied down to a specific playstyle.
Years of Play: In Career Mode, you can manage a team for up to 20 seasons. Buy players, develop talent, and aim for the top tier competitions. It's not just about controlling players on the field; it's about managing a dynasty.
Zork I: The Great Underground Empire
Players enter into an incredibly vague role in the game. They are essentially an adventure. Players are given very little in the way of instruction, but by the time you enter this white house, interesting objects can be explored, and soon it becomes clear what the purpose of it all is.
What Makes It Great
The Pioneer: Zork was revolutionary in establishing the interactive fiction genre. The game turned the narrative into an intricate puzzle, and it was a masterclass in how storytelling can be the central gameplay element.
The Theater of the Mind: No graphics? No problem! Zork proves you don't need high-definition visuals to create an immersive world. Your imagination does the heavy lifting, turning simple text descriptions into vibrant mental images. It's like reading a book where YOU are the hero.
Mario's Game Gallery
This game is actually a collection of games that were designed specifically for PCs. Players can choose between Checkers, Dominoes, Backgammon, Go Fish, and Yacht. In this, though, the only person a player gets to play against is Mario.
What Makes It Great
A Star-Studded Cast: The game doesn't just have Mario; it's a full-on party with beloved characters like Luigi, Princess Peach, and even Bowser! Their presence brings an authenticity to the game that could easily be missing from an educational title.
Classic Visuals: Even though it's a PC game from the mid-90s, the art still captures that timeless Mario aesthetic. The sprites and backdrops are pulled right from the Mario universe, giving the game an undeniable charm.
The Secret of Monkey Island
This humorous adventure game takes place in the Caribbean when pirates ruled the sea. Players get to be a young man who has always wanted to be a pirate and who begins exploring a variety of make-believe islands. Solving puzzles is part of what makes this came intriguing.
What Makes It Great
Point-and-Click Innovation: The game's interface was so ahead of its time, setting the benchmark for the countless adventure games that followed. Using verbs to interact with the world was a stroke of genius that added depth and complexity to the gameplay.
Guybrush Threepwood, Mighty Pirate™: This man—err, pirate—needs no introduction. Guybrush is one of the most iconic characters in gaming history. His clueless demeanor, wit, and charm made us root for him as we took on ghost pirates and solved ridiculous puzzles.
Comedy Gold: If ever a game could be called a comedy masterpiece, this is it. The dialogue, scenarios, and even the item descriptions are brimming with wit and humor. From insult sword-fighting to the Church of LeChuck, the game is a riot from start to finish.
Mortal Kombat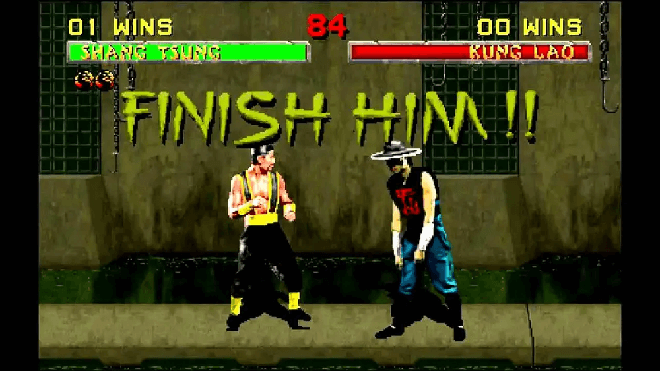 Mortal Kombat has been around for years, including a series of movies based on the original video game. This was the original. Taking place about 500 years ago, the best artisans of hand-to-hand combat competed in one of the most respected tournaments that were only held once every 50 years.
What Makes It Great
Fuel for the Fire: This game was a hot topic! Its violent nature and graphic content brought video games into the public conversation, leading to the creation of the ESRB rating system. Yes, this game literally changed the industry.
Iconic Characters: From the icy Sub-Zero to the thunderous Raiden, Mortal Kombat offered a diverse cast of characters, each with their own backstory and unique moves. Who didn't have a favorite kombatant?
You Should Know
There was some controversy surrounding the release of the DOS version of Mortal Kombat. The game was originally released with the same blood and gore effects as the arcade version, but this caused some concerns among parents and religious groups.
As a result, Acclaim Entertainment released a censored version of the game that removed the blood and gore effects. In the censored version, the blood and gore effects were replaced with a white mist. This was done to make the game more family-friendly.
However, this did not completely satisfy the critics, and the game continued to be a source of controversy.
Command & Conquer
This strategy-based game was actually designed following Dune, and the only real focus is the war raging over Tiberium, the only material anyone cares about. You can choose between 15 different missions. Units can be created from the main mineral.
What Makes It Great
Pioneering the RTS Genre: Before C&C, the real-time strategy landscape was still finding its feet. Command & Conquer burst onto the scene, showcasing what RTS could truly be—fast-paced, strategic, and most importantly, insanely fun.
GDI vs. Nod: Choosing between the disciplined Global Defense Initiative and the fanatical Brotherhood of Nod isn't just an aesthetic choice; it drastically changes your playstyle. Each faction has unique units, strengths, and weaknesses that add layers of strategy.
Cutscenes and Lore: Featuring full-motion video cutscenes with real actors, the game took storytelling in an RTS to another level. This made the conflict feel real, urgent, and dangerously plausible.
The Settlers
A real-time strategy game, The Settlers has the primary goal for players to establish a settlement, complete with a working economy and building out military units with the long-range goal of conquering rivals in other territories.
What Makes It Great
A Symphony of Systems: This game seamlessly blends city-building with resource management and military strategy. It's like the Swiss Army knife of strategy games, offering something for everyone without overwhelming players with too many options.
Visually Rich: Even for its time, "The Settlers" offered a beautifully detailed world, from the individual Settlers going about their daily tasks to the carefully crafted buildings. The visual flair not only entertained but also helped players intuitively grasp the game's mechanics.
The Art of Supply and Demand: This wasn't your average build-and-bash RTS. "The Settlers" introduced a complex economic system where resource management was as critical as military might, providing depth that many other games in the genre lacked.
The Settlers II Gold Edition
Building upon the original The Settlers, this one has players facing a new challenge of 49 different maps to create new worlds complete with thick forests and mighty volcanoes.
What Makes It Great
Refined Resource Management: Building on the success of the original, "The Settlers II" further optimized the economic systems, making resource management an even more rewarding and strategic affair. Mastering the economy is just as crucial as building a mighty army.
Pixel-Perfect Presentation: While retaining the charm of its predecessor, this sequel provided a significant visual upgrade. Each unit, building, and chunk of terrain is rendered in delicious detail, pulling you further into the game world.
Unleash Your Creativity: The game came with a built-in map editor that was practically unheard of at the time. The ability to craft your own landscapes and scenarios gave this title almost infinite replayability.
Heroes of Might and Magic II: The Price of Loyalty
Expanding on the success of Heroes of Might and Magic, this version presented new campaigns as well as a host of enhancements. There are new heroes, new artifacts, and new places to explore. Players also enjoy 24 new campaign maps they can follow in pursuit of conquest.
What Makes It Great
Diverse Roster: With six different factions to choose from, each with its own unique units, the game provides an unparalleled strategic depth. Want to lead an undead army? You got it! Prefer the more conventional knights and archers? It's all here!
Price of Loyalty Campaign: This expansion pack added new scenarios and campaigns that were not only challenging but also deeply engrossing. Intrigue, backstabbing, and heroism—all packed into one epic storyline.
Strategy Galore: The turn-based combat and map exploration are finely tuned, forcing you to plan every move meticulously. It's a cerebral exercise that rewards intelligence and punishes mistakes.
Master of Orion
This turn-based science-fiction strategy game was originally released in 1993. It provided players the option of choosing 10 different races of creatures to play, each with certain advantages, such as in trade and diplomacy or ground combat.
What Makes It Great
Pioneering Gameplay: Master of Orion is the granddaddy of 4X games. It pretty much wrote the book on the genre
Rich Strategic Layer: From choosing which star systems to colonize to balancing resources and keeping your citizens happy, the game offers an insane level of strategy that keeps you hooked for hours.
Cosmic Diversity: Ten distinct races, each with its own unique abilities and disadvantages. Whether you're the warlike Bulrathi or the diplomatic Psilons, your playstyle is accommodated.
The Lion King

Based on the incredibly popular Disney movie of the same name, in this video game, players are the young Simba who have to brave confrontations with a variety of beasts. Roar to bring certain animals into submission. But beware, if your "roar meter" is too low, you won't bring anybody to submit.
What Makes It Great
Diverse Gameplay: The game is a side-scrolling platformer that offers a variety of gameplay elements, including leaping, climbing, running, and descending from platform to platform. This keeps the gameplay engaging and challenging.
Unique Levels: The game features unique levels like "The Stampede," where the gameplay perspective changes, adding variety and excitement.
Character Abilities: The game allows you to control Simba both as a cub and as an adult, each with its own set of abilities. Cub Simba can roar, jump on enemies, and roll, while Adult Simba is stronger and has a more formidable roar.
Z: The Game
Perhaps the video game with the shortest possible title is an action strategy game that is presented from a bird's eye perspective. Robot armies are fighting against each other. As a single-player game, you would control one side. The computer would control the other. The goal is to occupy their territory.
What Makes It Great
Territory-Based Gameplay: Unlike most RTS games where resource collection is key, Z emphasizes capturing and holding territories to get ahead. You've got to think on your feet and adapt your strategy based on the map, and I absolutely love that!
No Time for Dilly-Dallying: This is not a slow build-and-bash. The action starts immediately, and the pace is breakneck. You've got to be quick with your tactics or you'll get left in the dust!
Jones in the Fast Lane
Built around the premise of a board game, this could be played by up to four players who live out one week at a time, each taking a turn. However, if only one person is playing, they get to play against the namesake, 'Jones.' The goal is to simulate a person's life.
What Makes It Great
Unique Gameplay Mechanics: Mixing the style of a board game with a video game was revolutionary at the time. It made every game session feel like a gathering with friends—even when you were playing solo.
Balanced Gameplay: It's one thing to entertain; it's another to educate. This game did both. While trying to beat your opponent, you were also learning essential life skills like time management, the importance of education, and financial planning.
Scorched Earth
This artillery video game was incredibly popular when it was first released. It's an all-out war and players can compete against up to nine friends as they try to annihilate and nuke each other into submission. At the start of each turn, players can purchase artillery, defense shields, or even parachutes to try and minimize the harm other players inflict on them.
What Makes It Great
Pioneering the Genre: Before "Worms" was even a concept, Scorched Earth was laying down the groundwork. It wasn't just a game; it was the "Mother of all Games," setting the tone for artillery and strategy games for years to come.
Retro Visuals: The VGA graphics bring a certain charm that modern games just can't match. Yes, they're simple, but the destruction and explosions are as satisfying today as they were 30 years ago.
RNG Elements: From unpredictable winds to the trajectory of your shots, the game has enough RNG to keep each match feeling fresh but not so much that it feels like a coin toss.
Theme Park
When a player sits down to play Theme Park, the action takes place in the United Kingdom on a small plot of free land that had a few hundred thousand pounds at their disposal. The goal is to build a successful amusement park with what you have.
What Makes It Great
Pioneering Business Simulation: Theme Park revolutionized the simulation genre by allowing players to design and manage their own amusement park, setting the stage for future tycoon-style games.
Creative Freedom: The game provides players with complete creative freedom to design their dream theme park, from selecting rides to customizing shops, leading to endless possibilities and unique park experiences.
Engaging Gameplay: Building a profitable park requires strategic thinking, decision-making, and resource management, making every playthrough a dynamic and engaging experience.
Battle Chess
Following the same rules as traditional chess, the only real difference is when a player seeks to take an opponent's piece, they have to battle for it. It's not just a strategy, but the skill that makes the difference here.
What Makes It Great
Unique Chess Experience: Battle Chess offers a captivating twist on traditional chess, bringing the classic game to life with 2.5D graphics and animated battles that make each move engaging and entertaining.
Diverse Battle Animations: With 35 different battle animations, Battle Chess ensures that each capture and checkmate is a visually distinct and memorable experience, adding variety and replay value.
Nostalgic Homages: The game pays homage to iconic pop-culture moments, including references to Monty Python and Indiana Jones, making it a delightful experience for fans of these franchises.
Common DOS Games Questions

What Was the First MS-DOS Game?
This is an interesting question that doesn't have any definitive answers. From our best research, DONKEY.BAS was written in BASIC language and coddled with the earliest IBM PC DOS systems shipped out in August of 1981.
While some argue that there were other DOS games made in 1980 and even one in 1979, considering that the first commercial DOS-based computer released wasn't out until August 1981, this is not realistic.
Those other games may have been out on a different platform, then written for DOS later, but that doesn't make them the first MS-DOS game ever.
Is DOS Good for Gaming?
MS-DOS (Microsoft Disk Operating System) didn't use graphical user interfaces. Everything needed to be entered using codes. There were no mice or icons. In order to get anything done, you had to use word commands at a prompt. Developing games in DOS was tough. Real tough.
Is it good for gaming? Not without help today, such as DOSBox. Playing these classics can be a lot of fun still, but they won't compete with today's modern gaming systems.
Let's Compare Notes
We want to hear from you. To ask a question about this article or to provide additional information, shoot us a message at: [email protected]
Sources
https://en.wikipedia.org/
https://www.gamespot.com/reviews/worms-review/1900-6167125/
https://www.fandom.com/
https://www.ign.com/articles/2016/05/16/doom-review-2