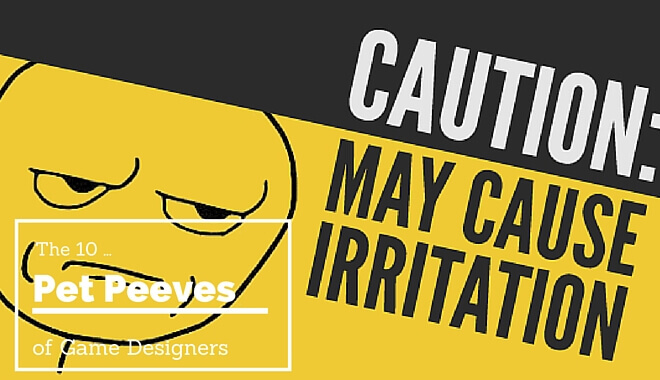 Your walk of life doesn't matter. There will always be things that bug you.
Unless you are King or Queen of Zen, little things are going to crop up every once in a while that are going to make your eye twitch and your ears squeak out a little steam.
Check out some of the pet peeves that get game designers and developers going, pulled from game design forums around the web:
1. The Mystery Bug
---
You're sure…you're absolutely positive that you entered everything correctly.
Every line, one after the other, of this code you entered carefully, diligently, exactly as it was supposed to be entered. So why, then, is it not functioning the way it's supposed to?!
What do you? You could start again from the top. Nix everything you've done and rewrite the code from ground zero.
Or you could comb through every character of every line one more time and see if you can root out the mistake.
Or you could get really lucky and realize that it was a different part of the code than you expected that was causing everything to flub, and it's a darn good thing you found it because it would have been a lot of work to rewrite all that again from the top.
2. The Phantom Bug
---
The bug that never was. It haunts you, in the waking world and the world of dreams.
Sometimes, you can get every single line of code correct and still end up with an issue.
Sometimes the code by itself is fine, but together with other lines of code, causes things to misbehave.
The opposite of synergy. Enter: the phantom bug. Good luck sorting this one out.
3. The Color Mismatch
---
The ol' "close enough" approach. This is something that usually doesn't really work for designers.
You spend a good bit of time picking the colors that are just right, only to find that, when implemented by developers, those colors only kinda match the ones you picked.
4. People Talkin' Like They Know What's Up
---
Very few people (nobody) are immune to the pull to read reactions to their work.
So, when game designers put something out, they're going to read the comments. All of them. Nothing grinds your game-design-gears like non-game developers and non-game designers complaining about game development and game design.
After all, what do they know about what it takes to create a game?!
5. Nobody else wants to play
---
Hey, let's spend minimally tens of hours, if not hundreds, developing this little gamebaby that we know will be the 'most perfect thing of all time'.
Except you keep putting time in and you start to wonder…will anyone else want to play this?
So you set up a demo and get some people to test it and…No. No one else wants to play it.
Sorry to have wasted your time, but your game just doesn't cut it on the fun scale. No one has any taste!
6. When You Don't Want to Play Your Own Game
---
What's worse than other people not wanting to play your game? Probably nothing, right?
Well, what about when you're building your own game. And you've put days' worth of hours into it. And then it starts to dawn on you.
What if… what if you don't even want to play this?! Your own game! How could this be!?
So you fire it up, just to make sure. And… oh…oh my god, no. no! NO!
You don't even get any joy out of your own game. It isn't fun.
Hey, you have to fail to move forward. Shake it off.
7. Commentless code
---
Hey, your dev buddy has all this great code and he needs to take a look at.
"Ok, sure no problem," you say. "Let me just pull it up here…. What…What? Where are all the comments? Why have you done all of this? Why didn't you leave me any notes?"
Code without any indication of what it does or why it's there is a serious waste of everyone's time.
Sometimes the game is small enough where you can get away with it. Other times there is just no excuse!
8. Vague instructions
---
"Listen, we're definitely thinking aliens. And they should be a color. And they should be a tough enemy. But not too tough! Not as tough as the robot aliens.
What are the robot aliens? Oh, I'll tell you about them another time. But yeah, not as tough as those guys. But still tough.
And definitely a color, too, don't forget that color we talked about."
Instructions like that are virtually no help at all. Clear instructions work much better. Stick with clear instructions.
9. The Unmotivated
---
You got this awesome project and a sweet office and the office even has an office dog and she's the cutest little thing!
But you're the only one that wants to put in the effort, so things move really slowly and you're left picking up a lot of slack. Whip those slackers into shape!
10. The learning curve
---
Mmmm new tech. Sounds awesome! Except oh WAIT you forgot that it is going to take some real effort to climb your way up the mercilessly-steep learning curve that comes with most new technologies!
It sucks during the climb, but just remember how sweet it is to reach the top and master the tech.