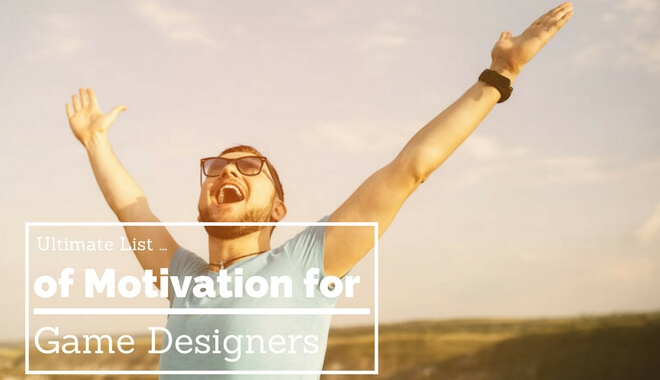 "You can do it!" You don't need to be an Adam Sandler fan to appreciate the inspirational power behind Rob Schneider's motivational mantra.
Life can inspire you. It can push you to take on new challenges. Be a better version of yourself. Start a band. Lose some weight. Find a significant other. Or build a video game.
But life always swings like a pendulum! What goes up must come down. And as you get excited about your new undertaking, so too will you get discouraged.
Problems will come up. Your willpower will run out. Like mana or stamina, willpower is a finite resource. When your own willpower runs out, you're in trouble. Your iron will begin to crack.
You've without a doubt felt this before.
Maybe you've noticed it's easier to avoid bad habits in the morning. By the time you finish school, or work, or whatever else you have going on during the day, junk food is a lot harder to resist. The call of the TV and the couch overpower the call to work on developing your video game side project.
What can you do in these times?
When a hero needs more mana, she'll drink a potion! You need a potion! A motivation potion. And although you won't actually be drinking anything, the motivation boost will replenish you.
"I am restored" you'll say. You Hanzo Main, you (new Overwatch meta means Hanzo is awesome again–haters beware).
Motivation is what we have for you today. This article has links to all kinds of motivational media… Songs, videos, images, text. It has everything you need to get back on track. To tighten your belt and get to work. To roll up your sleeves and dig in. To crack your knuckles and take care of business.
Let's get motivated.
Flight of the Silverbird
---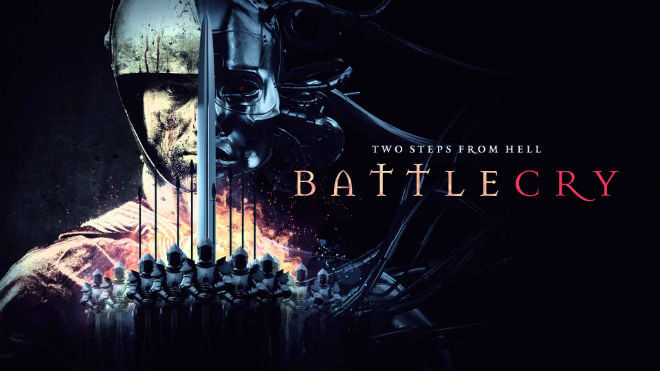 Are you familiar with the band Two Steps From Hell?
No? Prepare for greatness.
They make awesome instrumental music. It's ripe with fantasy vibes. If that's your thing, we highly advise that you buckle up–the song we picked will take you on an epic ride of motivation.
Our favorite song from a motivational standpoint is Flight of the Silverbird. Grab your best headphones and prepare for a serious kick in the behind.
You'll be uplifted. You'll be energized. Your enemies will cower before the blaze in your eye. You'll be ready to take on whatever challenge life throws at you.
With this song, you can overcome anything. Molehills, Mountains–you name it.
Enjoy the ride. Don't look back. Repeat as needed.
Paralyzed Perspective
---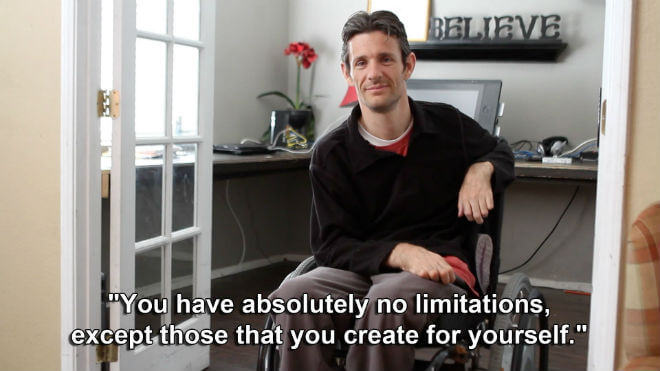 This next motivational bump is a sad but powerful video you can watch here.
It's the story of Jon Hales–a video game designer that got into an accident. The accident left him paralyzed from the chest down.
Did he stop designing games because of his new "limitations?"
Heck no. This is a list of motivational pieces, after all. Jon went on to do the impossible.
He doubled down. He dug deep. He went back to work designing games, despite the fact that he could only use his pinkies.
Because of the accident, Jon no longer possesses the motor skills necessary for typing in the conventional style. Instead, he has to move his hands and tap the necessary keys with his pinkies.
Designing a game already takes a substantial amount of time…could you imagine doing it without the use of your fingers? That is a serious time commitment. But Jon does it.
The next time you're feeling incapable, just remember that it's all in your head. You control your own fate, my friend! There's nothing you can't do!
Gary Vee Brings the Pain
---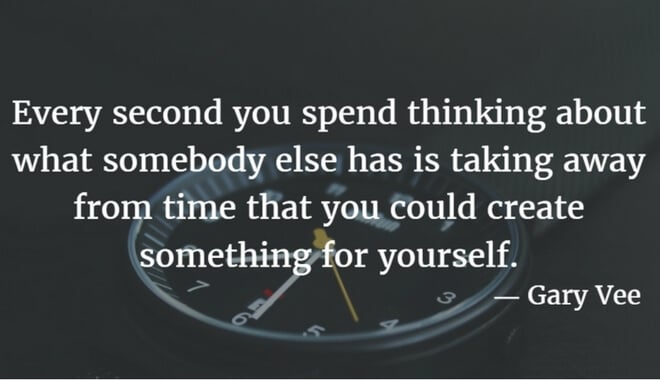 This radio interview is directed at "20-somethings." As such, the language gets explicit in some places. If you're sensitive to f-bombs, go ahead and skip this one…But, if you don't mind some cuss words, this piece will light a serious fire under your butt!
This is a general motivator. Maybe you're floundering a bit in your life. Maybe you're putting things off too long. Maybe you have some vague, lofty goal but you aren't taking any action towards it.
Gary Vaynerchuk has some advice for you.
A 22-year-old woman called into his show and he gives her some serious tough love. You can read the transcript, it's about a 17-minute read. There's also a video option if you scroll down to the bottom of the page.
It doesn't matter which way you want to receive this information–it's worthwhile. Hear it. See it. Then implement it. No one else can do this for you.
Don't waste your time comparing yourself to other people. Or wishing you had a different life. Get serious. Do the work. You're awesome, and the world will be a better place once you show it what you can do.
The Blizzard Effect
---
A great way to stay inspired is to watch people who've already gone through what you're going through.
In the case of building a game, it can be helpful to pick one of your favorite games (or development companies) and find YouTube presentations or interviews with the team behind that game (or that development company).
This Hearthstone presentation is one we've linked to before. It shows how even Blizzard doesn't get it right the first time. It took them several iterations to land on the final design for Hearthstone. In this video, you'll hear about their process and see how they make mistakes of their own.
If you liked this video, don't stop here! Search YouTube for game developers that you admire. You'll probably be able to find interviews and presentations that are informative and motivational.
They can remind you that mistakes are a great way to move forward. That adversity leads to stronger skills. And that everyone started somewhere.
Advice from the Masters
---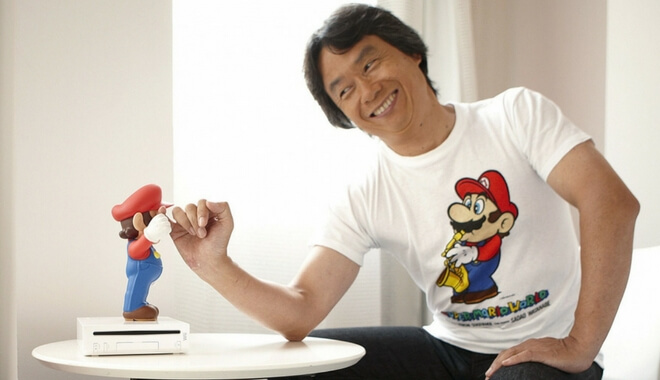 YouTube isn't the only way to get guidance from the greats. Game design legends like Shigeru Miyamoto have offered plenty of advice over their long careers. Miyamoto had some particularly great advice about designing games for the right reason– "spread the fun of games to everyone."
It's even more powerful because it came from such a respected video game developer at such a legendary game company–Nintendo.
Just like with the YouTube search above, seek out the philosophies and quotes from your favorite game designers. Get inside their heads. Research their humble beginnings. Everyone has to start somewhere–it's those who don't stop that get where they're trying to go.
Where do you want to be two years from now?
Motivational Video for Aspiring Game Programmers
---
Here's a video from YouTuber RealTutsGML. This video serves two purposes on our list.
One, it's a quick demonstration on how to properly label a YouTube video to target your audience: "Aspiring Game Programmer – Motivational Video." With a title like that, how could we not include it?
Also, it's got snippets of interviews from game creators like "Notch" from Mojang. As in the creator of Minecraft.
This is a great video to watch before you get started with a new game. Or if you just need that extra nudge to get moving again. Start small, stay focused!
Tools to Switch from Willpower to Habit
---
There are tools to keep you working harder and longer. A great resource is The Perfect Day Formula. It's a program that's put together by a man named Craig Ballantyne.
He frequently offers his Perfect Day Formula book for free (just need to pay for shipping), so if you catch one of those offers, jump on it!
Basically, the program talks about engineering your "perfect day." You've probably had a day where you felt like everything went right. You woke up when you wanted to. You felt great all day. You got a ton of work done.
You made great progress on your game or some other project. Craig's belief is that these "perfect days" don't have to be random flukes–you can consistently have them!
As we said in the beginning, willpower is a finite resource. But you can switch from willpower to the power of habits. And habits don't run on a finite resource. The problem is new habits can be hard to build–usually because they contradict the old habits you currently have in place.
Still, with just fifteen minutes a day, you can start building a more deliberate, motivated, perfect life.
He offers plenty of free information at his parent site–Early to Rise. It's worth taking a look around–see if one of the many articles on the site resonates with you (like this Ultimate Guide to Morning Routines).
The Compilation
---
Sometimes you just need some great movie quotes set to some epic scenes from great video games. This is that video compilation. It'll take you back to some of your favorite gaming moments with scenes from Halo, The Division, and more.
Rocky's famous speech kicks things off, and he doesn't pull any punches when it comes to motivation. He hits you hard. A full-force kick from the Italian Stallion directed right at your rump.
It's a fun watch. It's quick. And it'll likely leave you feeling better than you did before watching it. So what are you waiting for?
Asking the Experts
---
Sometimes staying motivated means knowing what NOT to do. That's where this article from Doctor Heidi Grant Halvorson comes in handy.
The science and psychology behind motivation is fascinating (if you ever want to read more about it, successful entrepreneur and best-selling author Ramit Sethi has some fascinating free material on psychology and "invisible scripts").
Despite all the research out there, some people still get it wrong. Dr. Halvorson sets the record straight by busting three common myths about motivation.
It's definitely worth a read because all three of these myths are popular in different circles. You've definitely seen at least one of them before. But, as Dr. Halvorson points out, some of these "motivation techniques" can actually drain your motivation.
That's exactly what you don't want… So stop making these mistakes and start making real progress!
We're all rooting for you.
The Community
---
Reddit is a beautiful thing, and if it's motivation ye' be lackin', it's at this reddit forum ye' should direct your keyboard clackin'.
No pirate ruse is necessary for entry.
Anyway… All you need for this forum is either a lack or a surplus of motivation. If you're feeling especially motivated, you could stop by and dish out some support to those in need. If you're feeling down in the dumps, then swing by and drop the motivational community a line.
Because Reddit's content voting system rules, the best advice will rise to the surface. You'll feel better in no time. It's an active discussion thread, so you won't be waiting a long time to hear from people.
Since you'll be in control of your posts, you can ask for help based on your very specific situation. It likely won't be as unique as you think it is, and there are bound to be others who've overcome the motivational block you're struggling with.
That kind of community rallying can be uplifting all on its own–but a lot of the advice in there is good in its own right.
Do as the SEALs Do
---
If an iron will and general badassery scratch you where you itch, you can always look into some motivational sayings used by the Navy SEALs.
A Navy SEAL put this article together for Forbes a while back. It has seven sayings that are popular among SEALs, and he also explains why that is. Sayings like "Get comfortable being uncomfortable" and "the only easy day was yesterday" help bring perspective to the problems and challenges you're facing now.
If you can absorb these mantras and apply them to your life, there won't be anything holding you back.
Sometimes life sucks. If you learn to "embrace the suck," then you can face anything.
Some Parting Words
---
You have more control over your situation than you think–we promise. You've overcome so much to get where you are now, whether you realize it or not.
Think about it. At one time, you were just an idea. A glimmer in the eyes of your parents.
And now look at you. You're a full-fledged human being. And you can do whatever you want to do!
Like we said. Everyone is going to encounter times when the motivation tank is empty.
You'll want to give up. You'll want to switch gears to do something that's easier. But you can beat that feeling. You can stay on track. You can find the motivation you need. And you can get it done.
Here's to you, Champ!
Now design that game!