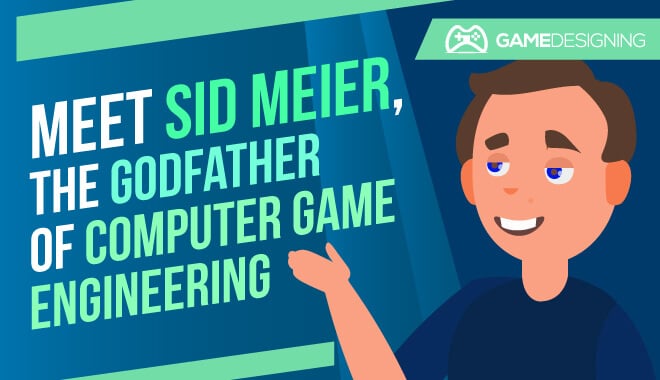 Staying up late at night, playing video games seems pretty normal. After all, if you're playing an addictive game, what good is sleep when you can have fun?
I first experienced this phenomenon in the 1990s with a game called Civilization. Thanks to some guy named Sid Meier, I was losing a ton of sleep. But it was totally worth it.
The king of just 'one more turn' strategy games, Sid Meier, has had an incredible impact on the world of video gaming.
Who is Sid Meier?
---
Sid Meier, born Sidney K. Meier in Canada, is the world-famous creator of the Civilization series of video games. These games put a strong emphasis on history, science, and learning.
While there were games that taught video gamers things, Civ did it with style and addictive gameplay. However, Civ isn't the only gaming project he has worked on, not by a long shot.
After leaving MicroProse, Meier and his colleagues formed what is now Firaxis. Meier wished for Firaxis to focus more on design principles than hardcore computer engineering.
Firaxis has been the steady developer of Civ games since 2001 with the release of Civilization III.
What Games Has Sid Meier Developed?
---
While this is by no means a definitive list, these are the most notable video games and projects Sid Meier worked on. A common theme of these games is the melding of history, science, industry, and technology.
The Civilization Series
---

No matter how far along you are in your game of Civ, you swear you'll stop playing after just 'one more turn.'
However, the game never stops evolving, having players answer various crises, develop new buildings, and settle new cities at every opportunity.
Sid Meier's Pirates!
---

For those who yearn for a life on the high seas, Sid Meier's Pirates! is the game for you. Initially released in the 1980s from Meier's previous company, MicroProse, the more notable version is the remake for consoles and PC in 2004.
Along with death-defying ship combat, pitting crew against crew, the player must partake in resource management and use strategy to dominate the high seas.
XCOM: Enemy Unknown
---

Mixing hard science fiction with tried and true 4X combat, XCOM is an unforgettable adventure of vanquishing invading aliens. XCOM: Enemy Unknown is the continuation of the celebrated XCOM series of PC games stretching back into the 1980s.
Like Civ, it follows the '4x' concept: explore, expand, exploit, and exterminate.
Sid Meier's Memoir!: A Life in Computer Games
---
If you were curious about the inner depths of Sid Meier's book, Sid Meier's Memoir!: A Life in Computer Games is a remarkable memoir, as well as a description of his rise in the video game industry.
Part life story, part in-depth examination of the video game industry, Sid's book explores how a young, eager computer developer turned a vision into a multimillion-dollar reality.
Be sure to check out the book for some more interesting inside looks at the video game industry. Meier is also a fantastic writer as well, injecting humor and his personality into the work.
Game Development Philosophy
---
If there's one thing made clear in Meier's book, it's that he believes games should be 'a series of interesting decisions'. Meier and his team at Firaxis have easily fulfilled this goal of making video games all about interesting decisions.
Whether it's attempting to conquer an enemy in Civ with diplomacy or choosing to attack a gang of swashbuckling pirates, Firaxis games have always taken this philosophy seriously.
His Impact on the Industry
---
Where would strategy games be without someone like Sid Meier?
Meier's contribution to video games has been monumental. His stalwart dedication to education, history, science, and industry earned him a coveted spot in the Academy of Interactive Arts and Sciences Hall of Fame.
GameSpot, in 1996, had this brilliant piece to say about Meier when naming him one of the most influential game designers of our time:
"Any game designer who tries to tell you that he hasn't taken anything away from a Sid Meier game is akin to a film director saying he has never watched a Hitchcock movie. For Sid is our Hitchcock, our Spielberg, our Ellington, holding to his gameplay muse, rather than being seduced by the latest technology."
And that sums Sid up: someone who doesn't bend to the latest trends, shunning what popular games of the modern era are doing now. He adds his own unique perspective to game design, allowing for the quality and dedication shown in the final product.
Sid Recommends
---
What sort of games does a game developing genius like Sid Meier recommend to other players?
The one game he recommends is Overland, a turn-based strategy game. In Overland, you control a family trying to survive on the road in the post-apocalyptic United States.
What Is Sid Working On These Days?
---
Meier's most recent Civ output, Civilization VI, continued the rich legacy of his iconic strategy game series. Adding more gameplay elements, tweaking others, and creating a vibrant, unique world, Meier has again mastered his own project.
Other than that, Meier is aiming to complete a game centered around dinosaurs. For now, it has been put on the shelf, but Meier hopes to get to it.
All in all, no one can do it like Sid Meier.