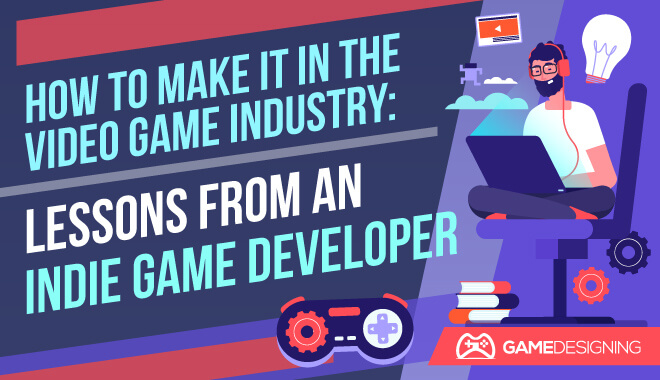 The indie game industry is perhaps more widely known for its financial failures than its success, and yet it shows no sign of slowing down.
This comes as no surprise. Developers are some of the most passionate and dedicated individuals to walk this earth. And with a multi-billion dollar gaming market to invest in, it's definitely worth the time, money, and all risk associated with it.
But why do game designers who dip their toes in indie development fail? They have the best intention for their career goals, but most are not entrepreneurs and they lack the skills to handle the business side of things.
"I wish I had known more about the business side of the industry when I had started, and I would advise any beginners to take the time to learn it for themselves," Zachary Bennett, co-founder of Silent Man Games studio, tells us.
Zach belongs to the lucky few who found success in the industry. How did he get there? It took more than luck, for sure. Opportunity and hard-work also play major roles.
Before you take the plunge, make sure you learn from someone with first-hand experience. In this article, we map out Zach's career path into life lessons that you can learn from. Be sure to take notes!
12 Lessons For Indie Game Dev Success
You Must Be Passionate About Video Games.
---
Like all video game players, Zach had an early start: "I got my start playing around with YoYo Games' GameMaker and Flash in the early 2000s. At the time, I was a huge fan of the Megaman Battle Network games, and would try to recreate them on my own."
Learn Programming.
---
Zach attended the University of Michigan in 2010. He learned the basics of programming and began to experiment with Unity and video game creation with C#.
Explore and Expand.
---
"I have been making games as a hobby since 2010, have periodically worked as a freelance game developer and design consultant, and recently started my own studio: Silent Man Games."
Start with the Basics and Make Room for Growth.
---
His first video games were all made with simple drag-and-drop software like GameMaker and Construct. He has since moved on to more robust game engines:
"These days I do all of my development in Unity, but still work on the occasional project in Unreal. Unity is especially great. It's easy to learn and has an incredible amount of flexibility whether you're creating for PC, consoles, mobile, or any combination of platforms."
Choose the Right Game Design Tools For You.
---
Zach is a fan of pixel art and a ton of other tools:
"Aseprite is easily my favorite tool for creating art and animations. It's cheap, easy to use, and offers a lot of flexibility in designing sprite sheets. Also, for some lessons in design, I find the GameMaker's Toolkit channel on YouTube to be very informative."
Establish a Routine.
---
"I start my day by checking in with business partners to stay up-to-date on any recent developments with publishing, funding, and promotional opportunities. Then, I'll check the status of any ongoing marketing campaigns and make adjustments as needed. I spend the remaining part of my day focusing on development: fixing bugs, adding content, streamlining gameplay, etc."
Start Small and Keep Going.
---
He has built dozens of prototypes over the years. The average completion period? One week!
"After about 2 years of development, I just released my first complete project, Hilt Arena. I made it with one other developer in Unity and uses a combination of Photon and SmartFoxServer to handle matchmaking and multiplayer."
Be Ready to Wear Multiple Hats and Learn How to Balance Them.
---
"I am currently working on the continued development and success of our first title, Hilt Arena. I don't have an official title or position, but take on responsibilities from many unique positions. Some days I work on development and coding, other days I manage marketing and analytics."
Understand the Basics of Business.
---
Remember what I said about wearing many hats? Indie game developers are more than just technical experts and creatives. They're entrepreneurs, too. You need to have the entrepreneurial skills needed to run a successful business.
"Funding, publishing, and marketing are all important aspects of making a successful game that many aspiring developers overlook," says Zach.
He learned the basics of business with the help of a consulting group:
"Luckily, I came across The Powell Group Consulting as I was finishing up the first build of Hilt Arena. They held seminars and networking events that provided me with the perspective on the industry beyond simply building the game, and I even joined their partner program to gain access to their expert consulting services. The knowledge and connections I made through them became invaluable in launching my projects."
Let Your Game Be Played.
---
How do you improve the development of your game? Zach tells us:
"Good or bad, getting people to play your game is the single best thing you can do to improve development. Growing your player base and getting constructive feedback is crucial to building a great gaming experience. Plus, it's incredibly motivating and inspiring when you see players having fun, or when someone praises your game."
You'll Have Better Days and You'll Have Worst Days. Learn to Live With It.
---
"The best part of being a video game designer is seeing your work come to life and watching others experience it. I never tire of watching players get drawn into and appreciate the games I create. The worst part is definitely the enormous work involved. Creating games, especially as an indie dev, requires an incredible amount of time and effort."
Zach recognizes that passion is the key motivator to remain engaged in your work.
Watch Out For Game Design Trends.
---
"VR will definitely continue to grow," he tells us. He added that games that put a unique twist on multiplayer competition will continue to find outstanding success:
"Between pre-made assets and open-minded players who don't care so much about the graphical and technical aspects of games, the barrier of entry into game development is lower than ever. While AAA titles will always have their place, it's the intensely creative, low-budget games that are the future of game development."
Connect with Zach
---
Feeling Inspired? You can learn more about Zach and his works by visiting his website: https://silentmangames.com/. His video game, Hilt Arena is now out on Android and iOS. He is active on Discord and loves hearing feedback from players.