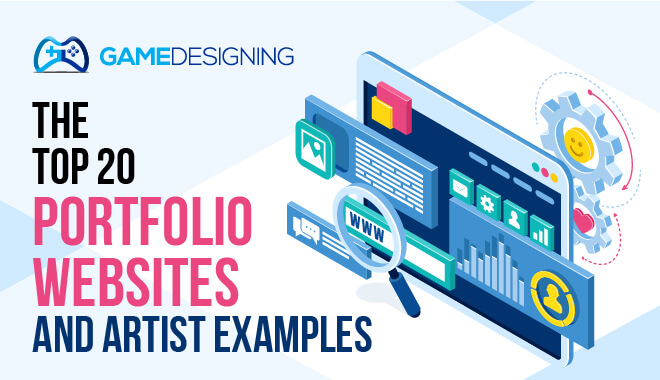 For artists today, there are many options for creating, maintaining, and sharing your portfolio.
This article will cover everything you need to know about building your digital portfolio, the tools to use, and why you should start making a portfolio now.
What Are Portfolio Websites?
There are two different types of 'portfolio websites'. First is a personal website that houses your art portfolio, and the other are tools designed to help create online portfolios, also called 'portfolio builders' or 'website builders.
First, we'll look at your personal portfolio and why you may want to build one online.
Why Are They Important?
In the old days, your portfolio was physical: basically a folder with various examples of your work. When applying for a job, you were expected to submit your portfolio or bring it along to any interviews.
Nowadays when artists build a portfolio, most do so digitally. This offers many benefits to artists.
For one, a digital portfolio is very easy to compile, especially if you work in a digital medium. Another reason is that you can include a wider range of media in a digital portfolio, such as audio, video, 3D models, and more.
Finally, a digital portfolio is easy to share with employers, collaborators, and fans with just a simple link.
While there are limitless ways you could present your work in a digital form, the most popular is through a portfolio website. A portfolio website is going to be more accessible than just a folder on your computer and can include a nice design and layout to make your work really stand out.
In addition, your portfolio may be part of a larger personal site that can also contain things like a blog, contact info, or shop.
How To Create An Online Portfolio
You could build your own site from scratch if you're savvy (and this may be a good idea if you are a web designer for example) this isn't a good option for most. That brings us to 'portfolio builders', which help users to create professional-looking websites without technical knowledge.
Some popular examples of portfolio websites include Wix, Squarespace, and Dribbble.
The harder question than if you should use a website builder is which website builder you should use. There are many different choices in this field, and often with very similar features.
The best website builder for you is going to depend on your needs, and there is no single best option. In the next section, we will compare a few popular options you may want to look into.
Top Portfolio Websites For Artists
Before we look at the many different options for website builders, let's go over some of the criteria that you could use to evaluate your choices. These may include:
Ease of use: while you can expect it to take some effort to create your portfolio site, a good option should make it easy for non-technically inclined artists to build and maintain their portfolio.
Customization options: the point of a portfolio is to stand out, so it is important that the service lets you tailor your portfolio to your own needs. This can make a big difference in the overall feel of your portfolio. This includes visual aspects of your page, but also more technical aspects like media embedding and responsive design.
Pricing: Obviously this will be a major factor in your decision of which service to use. While there are many free options, these usually come with limitations that would make you want to consider a more premium offering. The good news is, there are many different services at price points for any budget.
Squarespace
Squarespace is one of the most well-known website builders, thanks largely to their massive advertising budget, often sponsoring content creators, podcasts, and more. However, Squarespace isn't all advertising, and they have a robust platform to back up their popularity.
Squarespace has many built-in templates that can make setting up a professional-looking portfolio a breeze. The site also offers additional features for things like SEO, eCommerce, marketing, and more, which can make it a one-stop shop for website building.
Squarespace is free to start, but plans with a custom domain starting at $16 a month, with higher tiers unlocking additional features. For a digital portfolio, the basic plan would be a great start.
Wix
Wix is another major name when it comes to website-building services, and is very similar to Squarespace in terms of functionality. This means that it will have everything you need, and many things you won't need if all you want to do is make a portfolio.
The primary difference between Squarespace and Wix is that Wix provides a bit more freedom over your site design, though this can also mean a bit more effort required to get things just right.
Wix offers a free service but plans with a custom domain starting at $16 per month. You can pay for higher account tiers that will provide additional services, but the basic plan will suffice for a standard portfolio.
Dribbble
Dribbble is another well-known service for building a digital portfolio. Unlike the previous mentions, Dribbble is specifically focused on building a portfolio for artists and designers.
This means that Dribble will be very user-friendly for that purpose, but maybe a bit more limited if you plan on building a full site. The platform also offers career tools and a job board to help you find work, making it a great choice for freelancers.
A pro account on Dribbble will cost you as low as $5 per month, though it won't include a custom domain, which you will need to purchase separately to connect to your page.
WordPress
WordPress is one of the oldest and most widely used website applications on the internet, and for good reasons. WordPress has thousands of users across all sorts of industries so there is a lot of info and resources to help you get started.
The downside of WordPress is it may require some more technical knowledge to make the most of its features, though this will depend on how complex you want your page to be.
And WordPress is free…technically. The application itself can be downloaded for no cost, but unless you have your own web server you will need to pay for hosting. WordPress itself offers hosting, with a free option and a $ 10-a-month premium plan that is best for artists and freelancers.
Adobe Portfolio
If you're a creative type, you're probably familiar with Adobe. As part of its wide suite of creative applications, Adobe has created its own portfolio-building site, aptly named Adobe Portfolio.
The best reason to choose Adobe portfolio is if you already use their other products.
Not only is Portfolio well integrated with their other apps such as Photoshop and InDesign, but it is also included in their Adobe Creative Cloud subscription. This means you may already have access to Adobe portfolio without any extra cash required.
The downside is that you can't pay for Adobe Portfolio separately, and will need to sign up for a CC subscription, which can range from $10 a month to over $50.
Some Options Beyond Site Builders
Bespoke
If you really want to stand out (and have a bit of extra cash to spend) you could consider working with a web designer to create a bespoke website for your portfolio. This will be one of the most expensive options, but will also allow you the ultimate control over your portfolio.
This option is a bit more involved and would be suited for larger artists or companies rather than a beginner.
Google Drive
If you need to share your work fast and want to keep it simple, your easiest option may be to simply load your files into a service like Google Drive or another cloud storage platform. In addition to being quick and easy, this option is free to get started.
On the other hand, there are nearly no customization options, and you won't even be able to use a custom URL.
Portfolio Communities
Finally, there are numerous online communities that allow you to share your portfolio of work such as Behance, Artstation, and Deviantart. Even social networks like Instagram can serve as a de-facto portfolio.
These options are a great way to connect with fans, other artists, and potential clients, but also tend to be a bit restrictive and should ideally be used alongside a dedicated personal website.
Four Inspiring Examples of Artist Portfolio
What follows are some examples of live portfolio sites from real working artists. These can serve as a good starting point for inspiration on laying out your own portfolio and what to include. Special thanks to the artists featured here, and if you like what you see be sure to visit their sites for more!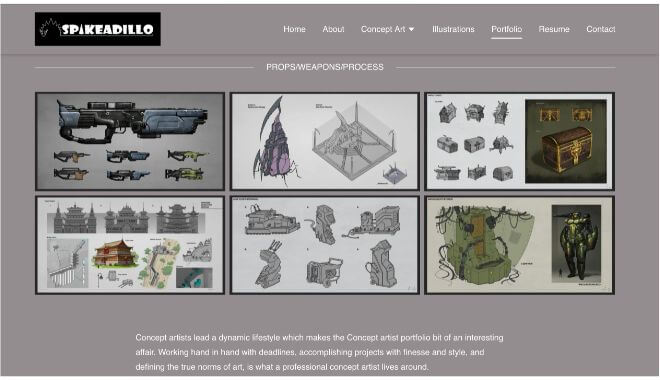 3D Character Art – Brendon Isaiah Bengtson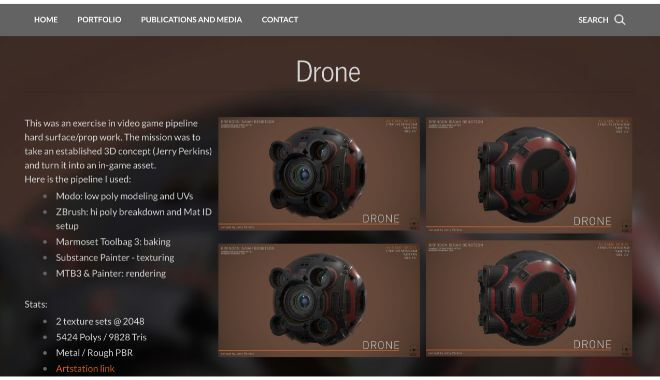 Animator / Character Artist – Mathias Takacs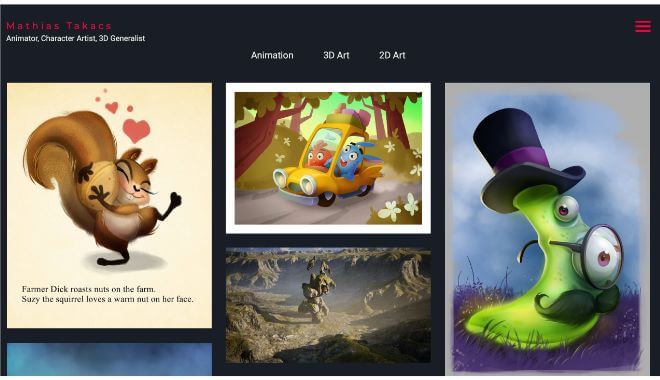 Game Designer – Manuel Correia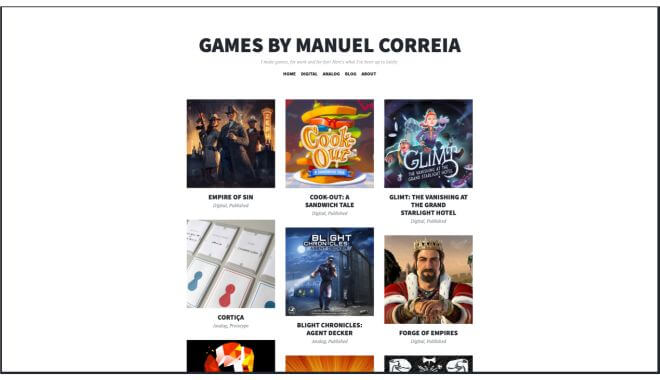 Do I Need A Portfolio?
Every artist should consider keeping a portfolio. If you are looking for creative work, this is one of the most common things that an employer will want to see from you.
Once you put in the work to get your portfolio started, it will be easy to update it with your latest work. While it's most commonly seen as a way to help you find jobs, it can also be nice to simply look back and take pride in what you have made, and to inspire your future progress.
In terms of what can go in your portfolio: anything you've made! This could be work you've done for previous jobs, projects you made for your school, or even pieces made specifically for your portfolio. The most important thing is that it shows off your style and what you're capable of.
Just remember, this is your portfolio. You should not include anyone else's work in your portfolio, especially to try to pass it off as your own.
How To Get Started
If you're just starting out, you should try and include your best works, as well as works that showcase a variety of different skills.
If you're a painter, for example, you might want to include paintings of different subjects, different mediums, and sizes. If you only include one type of work in your portfolio, it may be hard for potential employers to understand your skills.
On the other hand, don't go too broad. If you practice a few different types of art for example, consider making a portfolio for each. This way, you could send your 3D modeling portfolio to a potential employer without them having to sift through your landscape paintings.
If you are looking to start as an artist but don't have much yet for your portfolio, you may want to take some time to create one. Think about what your potential clients will be looking for, and also take a look at what other artists in your field include in their own portfolios.
Create a list of three to five ideas for portfolio pieces and work on creating those.
Final Thoughts
If you're just getting started and looking for work, remember that your portfolio is just a tool and won't get you to work on its own.
Portfolios are made to be shared! Don't be shy about sharing your portfolio with anyone who may be interested. You never know where your next job may be found!
Hopefully, you now have a great idea of why you should build a portfolio, what to put in it, and how to get it made. Now you get to do the fun part: Actually building your perfect custom portfolio. Best of luck!