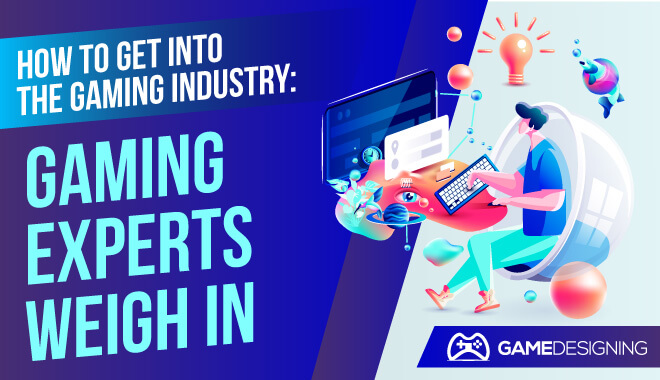 What better place to receive important game development knowledge than from the experts themselves? We wanted to see just what it took to not only become a game developer, but how to do it, and how to thrive in the industry.
The 7 Important Questions
We wanted to understand the role that gaming colleges play versus sheer talent and experience when it comes to success in the gaming industry. So, without further ado, here is the breakdown in questions we used, as we felt they were the most helpful to aspiring game designers.
How do I Start A Career In Video Game Design?
---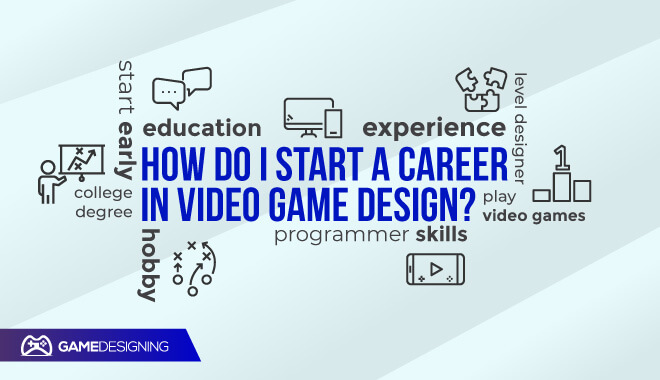 "…Having a degree is never enough. You need to have some type of proof that you can do the job for which you're applying. If you're a level designer at a website, that could be showing screenshots or videos of your levels. Or if you're a programmer, GitHub repos of games that you've created."
– Shawn Warnock, Automation Engineer at EA's mobile-centric studio-within-a-studio, Red Crow
"I started to design games because it's fun and challenging…I wanted to have the games I wanted to play. It's a kind of game…I still consider this a hobby and don't want to be considered a fully professional game designer."
– Bruno Faidutti, Game Designer
Is It Hard to Get A Job In Game Design?
---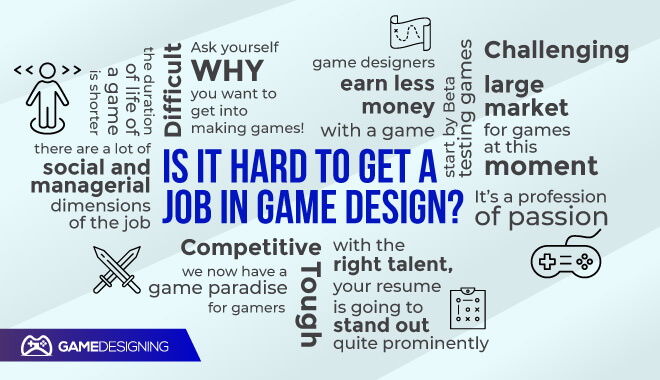 "It's always tough for most positions…it's certainly not an easy industry to break into. Programming is always the most sought-after role. A talented programmer who can demonstrate excellent programming skills in one or more areas…will have the best chance to break into the industry. The creative roles, like artists and designers, are generally much more difficult."
– Curtis Ratica, President and CEO of Ratical Games
"I'd definitely say it's very competitive. If you think you're just going to get a college degree and then get a role… you'll need more than that. You need to show a willingness to improve your skills on your own time and an ability to adapt pretty quickly. My day-to-day changes pretty rapidly."
– Shawn Warnock, Automation Engineer at EA's mobile-centric studio-within-a-studio, Red Crow
"It wasn't that hard for me, but I was lucky. And it was over 20 years ago.

It's a different story today. Millions of people want to get into video game development. There's an overabundance of candidates vs. open positions…entry-level positions are over-applied for. Even getting your resumé seen can be a challenge…normally they don't pay much."
– Chris Nash, Senior Specialist, Software Engineering
"Ask yourself WHY you want to get into making games! Is the discipline you chose something you can feel fulfilled in doing 50–60 hours a week? Research the studios you wish to work at & build out your portfolio to match their needs, style & genres. Look to create your own 'simple' game… Making your own game will separate you from other applicants…Get involved with game development community groups…Work on your networking…"
– Mark Söderwall, Game Art/Creative Direction on AAA brands
"Anyone can be a game developer. Simple. Becoming a professional though, that's another matter. It's a profession of passion. It's like acting – it's the industry of entertainment. And there is huge competition…Odds are always stacked against you, but if you have a passion, you will have the drive to achieve what you want in this life…it's gonna require your time investment. The short answer – it's as hard as everything else. But if you have a passion for it – just do it. Change the world."

– Arnold Gurskis, Professional Game Developer

"All you have to do to become a video game developer is decide that you are one and start doing any kind of work towards it. You become a video game developer when you decide you are going to do it, and then start doing it…Video Game Development is hard. It's hard when you first start learning and it never stops being hard. Throw away fear and embrace the challenge. Or don't become a game developer."
– Daniel Super, Founding Designer and CEO of Cynics United
"If you are looking for a job in a AAA gaming company, a "stable" job with good pay is, in reality, very hard. With indie games, you may have more stability as long as your games succeed, so it's a higher risk but higher reward. After all, many AAA companies started indie."
– Daniel Mosquera, Senior Game and 3D Software Engineer
"There are a lot of social and managerial dimensions of the job…In the end, what you're responsible for as a game designer is whether a game is fun or not…The game should quickly become an extension of [the player's] ego…just doing it: flying the plane, doing cool moves, trying to shoot down the guy in front of them, and feeling like they accomplished something."
– Paolo Malabuyo, Director of User Experience at Google & Adjunct Professor at Carnegie Mellon University Silicon Valley
"Although it is continually growing, the game industry is a competitive one…it is nearly impossible to get a game designer or producer job without prior development experience…if you have a portfolio of work you've done on your own, and many people have entered the game industry through entry-level jobs…"
– David Mullich, Video Game Consultant & Game Design Adjunct Professor at ArtCenter College of Design
"I would say it's competitive in terms of volume, but really, if you have the right talent and you're doing the right things, your resume is going to stand out quite prominently…don't expect that your degree is funding your job application. You've got to do more than that. But if you do more than that, and if you have the talent, I think it's quite easy to land that first job because talent is so rare."

– Jez Sherlock, Vice President of Engineering and Technology at Aspyr Media

"Start by Beta testing games: it is low-entry and allows you to connect with a lot of industry players… a lot of people get their start this way…Decide what aspect of the industry you would fit…You have to develop the skills somehow. The kids go to school now as many colleges have game design programs."
– Al Doyle, Game Design Professor
"There is a large market for games at this moment, the business is quite lucrative…The problem with a lot of the games in these modern times is the fact that greedy publishers often produce only games they believe will sell well, and in turn, have destroyed many great genres of games that we grew up with. If it's not a hack-n-slash, action-packed game with instant gratification, they want nothing to do with it…"
– Matt Pappalardo, Video Game Developer
"The advantage of today is that good games spread out in the whole world very quickly. The quality of the games is better now; many games are very good! Therefore we now have a game paradise for gamers. The game market is more international.

The disadvantages are: we have too many new games every year and the duration of life of a game is shorter. The sales in the whole game market are higher, but the sales for a single game are smaller. The game designers earn less money with a game."
– Wolfgang Kramer, Game Designer
What Does It Take To Become A Game Designer?
---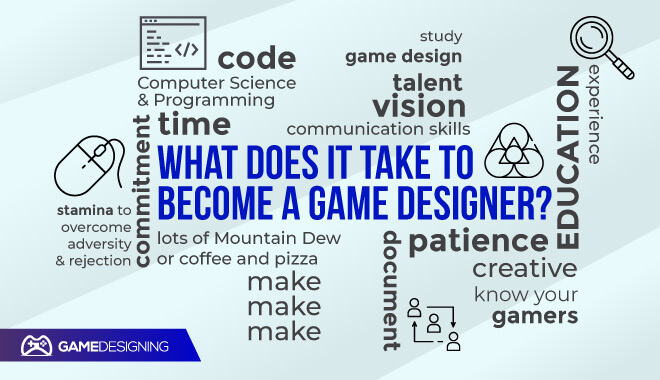 "Lots of Mountain Dew or coffee and pizza…lots of patience…commitment, and the stamina to overcome adversity and rejection. Being a game dev is the most challenging thing you can do, it's also the most rewarding."

– Mike Warner, Multimedia/instructional designer

"Time. If you are working for a company you are given time to do a thing probably under the assumption that you have the knowledge to do so. If you don't you'll require more time to learn that."
– Charalampos Koundourakis, AI Programmer at Tall Order
"The most important things are being able to communicate perfectly and clearly in writing, and also with visuals like flowcharts and diagrams to get your point across. A good designer also is familiar with all aspects of game design. I would suggest dabbling in some basic programming and game-making in Unity, Flash, or game design programs like Stencyl and Game Maker. You need to know what can actually be made in a game if you want to design one or solve a problem that arises."
– Abby Friesen, Game Designer, Filament Games
"You need creativity to have a vision, see what will make a game fun, and create a great experience. You need communication to articulate that vision to 30 or 40 or 50 other people and get them to do what you think needs to be done. And you need the dedication to see your vision through—to work your way through the disappointments and failures. When you're three months from shipping, working until 2 a.m., you need to be pretty darn dedicated."
– Paulo Malabuyo, Director of User Experience at Google & Adjunct Professor at Carnegie Mellon University Silicon Valley
"When I started, nobody had a degree…It's still possible without [one], but rare…as far as engineering experience goes, it depends what those game development programs are using to put those games together…I wouldn't rule out pure computer science programs with relevant focuses on low-level languages — on things like C++ languages. I've got an old saying: if you want to make games, make games…So it depends on which game program you go on, as to how it's viewed."
– Jez Sherlock, Vice President of Engineering and Technology at Aspyr Media
"For game development, education is of course important, but it takes a back seat to demonstrable talent and experience."

– Curtis Ratica, President and CEO of Ratical Games

"No one cares where you went to school, they only care whether you can do the job…there is a lot of competition but skills rule the day. Recent grads will be facing tough competition yet if they have the particular skills for the specific job and are willing to put in the long hours during sprints they will find their way. Smaller companies are probably easier to break into."
– Al Doyle, Game Design Professor
"To me "game designer" is a position you work your way into…you might be able to pitch your own game to your company. Starting out as a game designer is almost like trying to be conductor of a symphony orchestra without ever having played an instrument."
– Ed Magnin, A 35+ year game industry veteran, specializing in mobile games
"It can be challenging fresh out of school to go straight into game design simply because it's a competitive field…designers compose a much smaller portion of any given team. However, I have worked, at Zynga specifically, at companies that have hired junior designers straight out of specialized college programs. So it does happen."
– Estevan Aguayo, Software Engineer
"Computer Science & Programming…knowing how levels are made, what makes good level flow…understanding how people learn, how they get engaged with your game…gotta know how to balance your game on paper before you tell the computer how to do it…MAKE GAMES. Make mods. Make levels. Code. Document. Create board games, card games, RPGs, and tabletop games. Make Make Make."
– Steve Mallory, Former Game Designer at Terminal Reality
"…study game design. Game design is a form of art; for game designers, game design is their medium of expression. You can't WANT to be a game designer, you just ARE one whether you like it or not; you can aspire to have a JOB as a game designer, but that's not the same as BEING a game designer…you can't be taught to be a designer any more than you can be taught to be a novelist…Some skill-based and technique-based teaching is going to be essential, but the end result you are really aiming for is to understand the rules of game design. Then, and only then, you can break them."
– Richard A. Bartle, Game Designer, and Academic
How Much Money Does A Video Game Designer Make Per Hour?
---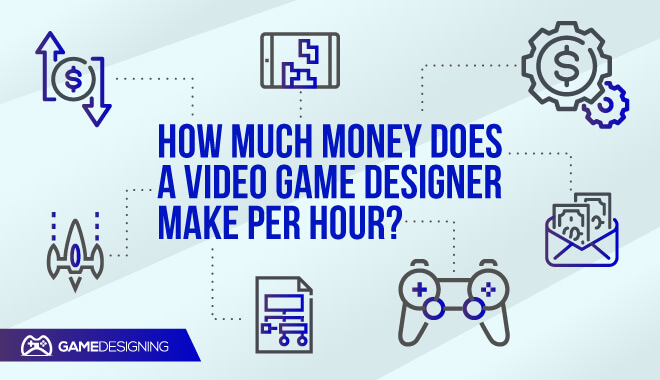 "[It's] generally high if you compare it to other full-time jobs but not as high as it can be if you worked for the large tech companies."
– Steven Srun, Gameplay Engineer at Amazon Game Studios
"Much better than I was making waiting tables. Somewhat worse than I would be making doing non-game software development."
– Daniel Super, Founding Designer and CEO of Cynics United
What Is The Highest Paying Job In The Gaming Industry?
"That depends on your position, your experience, the location of your employer, and the financial resources of your employer. However, here are average salaries of game developers in the United States from a 2014 survey conducted by Gamasutra:

Business and management: $101,572
Audio professionals: $95,682
Programmers: $93,251
Artists and animators: $74,349
Producers: $82,286
Game designers: $73,864
Quality Assurance: $54,833"
David Mullich, Video Game Consultant & Game Design Adjunct Professor at ArtCenter College of Design

Salary? It isn't really worth talking about in the abstract. It varies so much between roles and locations that there isn't much value."
– Mark Maratea, Video Game Software Architect – AAA and mobile
What's A Typical Day To Day For You?
---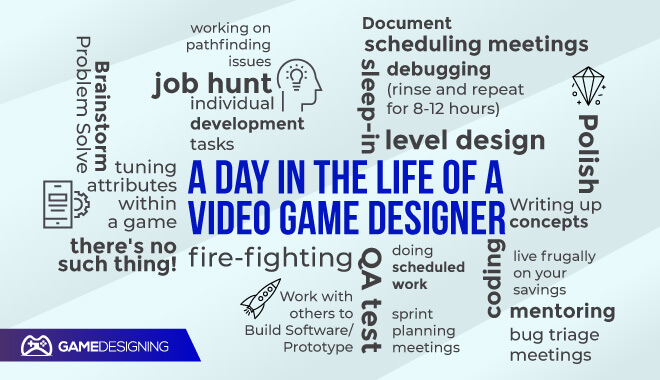 "There's no such thing! In over 17 years of working in the video game industry, I can't say that I've had a typical working day, which I'm sure is why I still love the job.

My tasks for any given day are dictated by the products that we're working on. One day I may be writing up concepts and feature ideas for potential new games…Another day may involve tuning attributes within a game…"
– Pete Low, Games Designer at Chunk
"Mornings: Meetings (maybe some time doing assigned individual development tasks)
Afternoons: Doing assigned, individual development tasks (maybe some meetings)
Evenings: Doing assigned, individual development tasks or fire-fighting
Nights: Doing assigned, individual development tasks or fire-fighting
Also, the fridge at most studios is stocked with Red Bulls, and at crunch time some meals may be provided to keep you working at your desk longer."
– David Mullich, Video Game Consultant & Game Design Adjunct Professor at ArtCenter College of Design
"Most of my day is spent making sure everything is implemented in the game correctly and making content for it if needed (such as level design). We have to know everything about the game we're working on and be able to problem-solve as issues arise. We have an entire QA team devoted to testing every feature and build, office managers, directors, sales, marketing, and customer service team members."
– Abby Friesen, Game Designer, Filament Games
"Go to the office, settle in, have a meeting, sit in front of the computer writing code or debugging code, have more meetings, rinse and repeat for 8–12 hours.

Unless you are laid off, which happens with fair regularity, then it's sleep-in, job hunt, live frugally on your savings, and hope you don't have to move to a different state again."
– Daniel Super, Founding Designer and CEO of Cynics United
"Normal Day? I spend 1–2 hrs a day in meetings, 1–2 hrs mentoring and/or helping people informally, 4 hrs doing scheduled work, and 2–4 hrs fixing bugs/reacting to issues. So bad days can easily get in the 12–16 hr range and good days are 6–8.

When I first started it was more like the 1 hr meetings and 7–12 hrs of scheduled work. However, roles evolve. As you get more senior, your job begins to focus on bigger issues."
– Mark Maratea, Video Game Software Architect – AAA and mobile
"Right now I spend most of my days working on pathfinding issues from the codebase I inherited from previous projects. It doesn't completely support what we want it to do and the limitations are holding us back from achieving what we want."
– Steve Srun, Gameplay Engineer at Amazon Game Studios
"It depends on the designer, the company, and the project. Most of the teams I have been on, everyone could be divided into engineers, artists, and designers. I am responsible for everything that is not an art asset, or the code which makes the game work, though sometimes my mockups turn into UI and art assets, and sometimes I provide configuration data which is part of the code."
– Brian Davis, Social/Mobile Game Designer (Zynga, TinyCo. ZZP)
"It will vary a lot depending on several factors. First, "game designer" is a sort of umbrella term for a number of actual occupations…Each of these roles has a set of responsibilities…On small teams and small projects, all the design roles can be assigned to a single person.

Second, it will vary depending on the stage of the project. In the beginning of the project, you would do the preproduction stuff…In the later stages, you would write more detailed specifications…On the final stages of the project, you would polish the existing content and balance.

Next, it varies from company to company: different companies have different sets of designer roles and different processes of project development."
– Dmitrii "Dimage" Sapelkin, Senior Game Designer
"It depends a lot on many different factors…my job changes massively when we are entering the final push for launch. Generally, I expect to spend my time perched on a lot of other people's desks talking through problems that have arisen or explaining the nuances of my design docs. There will be a lot of meetings too, bug triage meetings, scheduling meetings, sprint planning meetings, etc.

If I'm lucky, I'll spend maybe an hour at my own desk revising design documents, responding to emails, going through any bugs assigned to me, and so on."
– Iain Compton, Lead Game Designer
"My daily life as a Game Designer varies greatly, depending on a few factors. The main factors are: 1) what type of game I'm on 2) team size, and 3) what stage the game is in (of its life-cycle). Generally, game designers are responsible for defining all the "rules" of how a game works. Hopefully, when all the rules are put together, the resulting game is fun!

My day may be spent in many meetings to ensure everyone is on the same page and/or working directly with artists, engineers, product managers, producers, and other game designers. Once everyone is on the same page, details need to be written up in game design docs and/or prototyped to "find the fun". After details are defined, the game designer will need to be very hands-on during development to make sure things get implemented correctly as well as to navigate unforeseen issues that may arise.

Brainstorm -> Problem Solve -> Document -> Work with others to Build Software/Prototype -> Polish -> Release -> Repeat with a different feature"
– Wes Culver, Lead Game Designer at Zynga
"I prefer working early, to get my focused time while everyone else is driving in. Each day I started by playing the maps I had built overnight…to see what changes needed to be made. That usually built a list of work that ate 2-3 hours. From about 11 to lunch, I would sketch ideas for additional maps/levels and present them to my Lead. After lunch, I would sometimes jog a couple of miles with coworkers to get the blood pumping. When I got home, I would usually play competitive products until midnight. Research!"
– Harold Hanlin, Executive Producer at Zynga
"Once everybody is in the office, it's pretty common to have a team meeting. After that, everybody goes back to their desks to handle email, plan their day, and get to work. Most of the day is spent doing the core part of the job…workers usually go lunch around noon, sometimes later. Throughout the day, there may be additional meetings among a game team's subgroups…Then at the end of the day, maybe around 7:00 PM in the evening, that's when people start ending their workdays and going home for the night."
– Jason W. Bay, Game Industry Career Guide
What Do You Do As A Game Designer?
---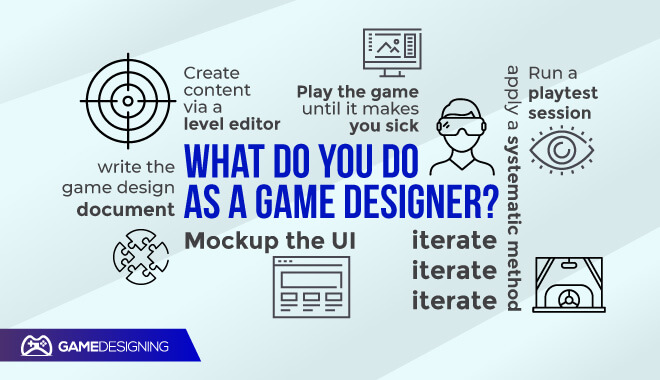 "There are several aspects of design depending on the type and scope of the project.
Things a designer might do.
Write a description, dialogue, or instruction for the player to see.
Write a document of the game design.
Fill a spreadsheet with numbers and formulas to work out a game balance.
Create content via a level editor.
Mockup the UI.
Run a playtest session.
Play the game until it makes you sick.
Iterate iterate iterate."
– Raymond Holmes, Creative Director for a small mobile games company
"Maybe it's a little unusual, but I always start from the theme. A game is a story to tell, an experience to give to the people who will play it…I develop the game mechanisms…The process can seem complex, but it comes naturally to me. Theme and mechanics blend into each other as I design the game."
– Antonio Ferrara, Game Designer
"As I got started in this game design adventure with Antonio, I completely agree with what he says. Talking together, we often get enthusiastic about an idea or story element which just comes out unexpectedly… and then it starts to naturally take shape."
– Sebastian Fiorillo, Game Designer
"I don't believe in processes and methods, and I don't think I have two games designed the same way…I really think that the surest way to fail in game design, like in many other activities, is to try to apply a systematic method."
– Bruni Faidutti, Game Designer
Bonus Tips For Aspiring Game Designers
---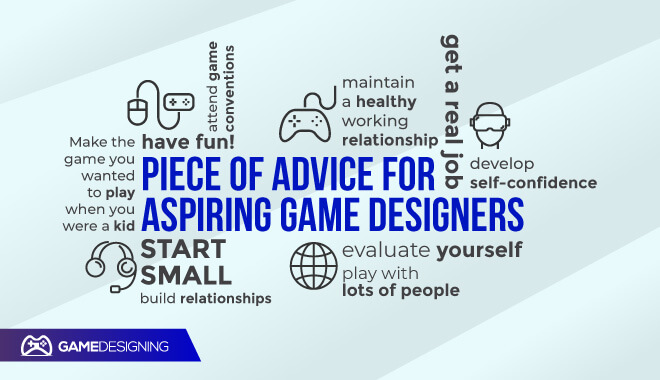 "Make the game you wanted to play when you were a kid, but with the awareness you have as an adult, and surely the players will realize they are looking at a game with a soul."
– Matt Pappalardo, Video Game Developer
"Find people you can communicate with first and foremost. Strong interpersonal communication skills from both parties is very important in maintaining a healthy working relationship."
– Sen-Foong Lim, Game Designer
"Start Small."
– Rani Baker, Game Designer
"Have fun working on it, allow yourself to become enthusiastic, but don't lose the ability to evaluate yourself."
– Sebastian Fiorillo, Game Designer
"There's no roadmap to a job in the game industry. The best thing you can do is attend game conventions, play with lots of people, and build relationships."
– Chris Leder, Game Designer at Calliope Games
"I think it's important to develop self-confidence. That would allow you to take calculated risks on behalf of your dream. And your dream better be something you love fully and beyond reason. That would allow you to put in the amount of work that others would find unreasonable. Then you will need a little bit of luck."
– Wlad Marhulets, Game Designer
"Get a real job. Oh, well, copy as much as you can from other works – to start off; you'll hit your own stride soon enough. My basic premise is: Make the system fit the situation, not vice-versa."
– Richard Berg, Game Designer
"If you go into game design to have fun, you will – and you may even make some money. If you go into game design to make money, you won't, and it won't be fun."
– Bruno Faidutti, Game Designer
Quick Recap
---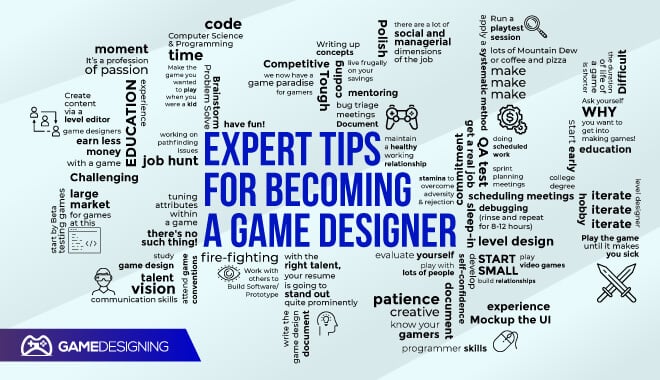 How can I get into the gaming industry without a degree?
---
Our professionals echoed the common idea that without a degree, you need to double down on your programming and computer science abilities to build a comprehensive portfolio. Getting a degree isn't the be-all end-all in this industry, as David Mullich said. He knew game developers with degrees in history, philosophy, and English who had gotten into the gaming industry.
"If you do not have the professional-grade skills, then you better exhibit the drive that is needed to learn for the kind of hours game developers are asked to work…work really really hard at getting your skills top-notch."
– Dan Super, Founding Designer and CEO of Cynics United
Is it hard to get a job in the gaming industry?
---
Our experts are in agreement when it comes to the difficulty level of breaking into the industry. Since it's extremely competitive, it may be difficult for some newbie developers trying to break into the industry. This is made more difficult if you don't have a good portfolio or professional-grade skills in certain subsets of design.
What jobs are there in the video game industry?
---
According to our experts, there are a ton of different positions under the broad umbrella of the video game industry. For example, there are game designers, game programmers, game testers, audio engineers, writers, and level designers.
What careers are in the gaming industry?
---
There are multiple different paths in the gaming industry. According to our experts, it's a very diverse field where you can explore many different paths like an audio engineer, animator, game artist, and programmer.
How do I get a job in the gaming industry?
---
You are going to need extensive experience with software and other aspects of computing and game development to even think of working at some studios. Most importantly, practice your skills until they are markedly good and apply to different tech and game companies.
What are 3 jobs related to games?
Game Designers: These are the people who actually design and implement the features of the game.
Game Testers: these are the people who test the game for bugs, glitches, and overall quality assurance
Artists: These creatives paint and draw different concept art, environments, characters, and other palettes involved in the game.
Final Thoughts
---
Wise words from both veterans and current designers in the game industry. While you can look up different answers from multiple Internet users, hearing concrete, tested answers through the pros that make the games we play is an invaluable tool.
Sources: (Quora; Get to Know a Game Designer: An Interview with Abby Friesen; Video Game Designer Profile; A Guide TO A Career In Game Development; How to Become a Game Designer – Interview with Game Design Professor, Al Doyle; A day in the life of a… Games Designer; How does the daily life of a video game designer look like?; Interview with game designer Chris Leder of Calliope Games; From Film Composer to Game Developer – An Interview with Wlad Marhulets; Game Designer Interview: Wolfgang Kramer; Interview with Legendary Game Designer Richard Berg; The Art of Design: Interviews to game designers #9 – Bruno Faidutti; TL Forum)
Bonus Content: Social Media Shareables