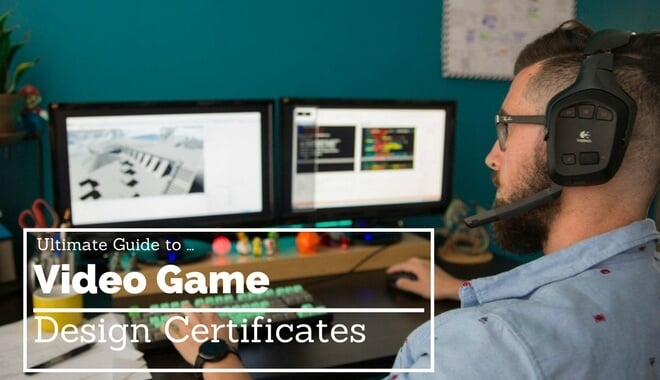 A video game design certificate is typically awarded to students who complete a 1- or 2-year intensive program on game design.
A video game design certificate program is designed to prepare students for entry-level positions in the game industry.
Certificate programs are offered at many universities and colleges, but every program will be different.
A game design certificate is different than a traditional degree, but can still be helpful in the right situation.
Will a Video Game Design Certificate Help?
---
A game development or design certification is meant more as an introduction to the subject. Upon completion, you'll have a good understanding of what game design or development is all about and foundational knowledge that you can build on in the future.
Some benefits of a certification in game design:
Give you a solid foundation in game design
Introduce you to the right teachers/mentors
Connect you with other like-minded creatives
Reveal that game design might not be for you
Picking the Right Program
---
Choosing where to get your certificate might not feel like as big of a decision as choosing where to get a degree—but you shouldn't make the choice lightly.
This is your opportunity to spend a year or two learning the ropes, building your skills, and dumping all of your free time into game design.
Here's what to look for:
Programs with alumni that work at the studios you want to work
Programs with alumni that are satisfied with their certificates (and work in the industry)
Programs with professors and instructors who've worked on projects you've heard of
Programs that attract talented learners and creators
If you can reach out to alumni directly, that's even better than reading reviews on the program's website. They're going to cherry-pick their testimonials and only feature ones that make them look appealing. Offer to buy an alumnus in the area coffee in exchange for picking her brain about the program—that's way more valuable than the program's website.
Check on Reddit. Email a professor and ask to meet him. Attend this semester's capstone showcase. Do your research.
If you find the perfect program and capitalize on it, doors might open for you.
But there's no guarantee.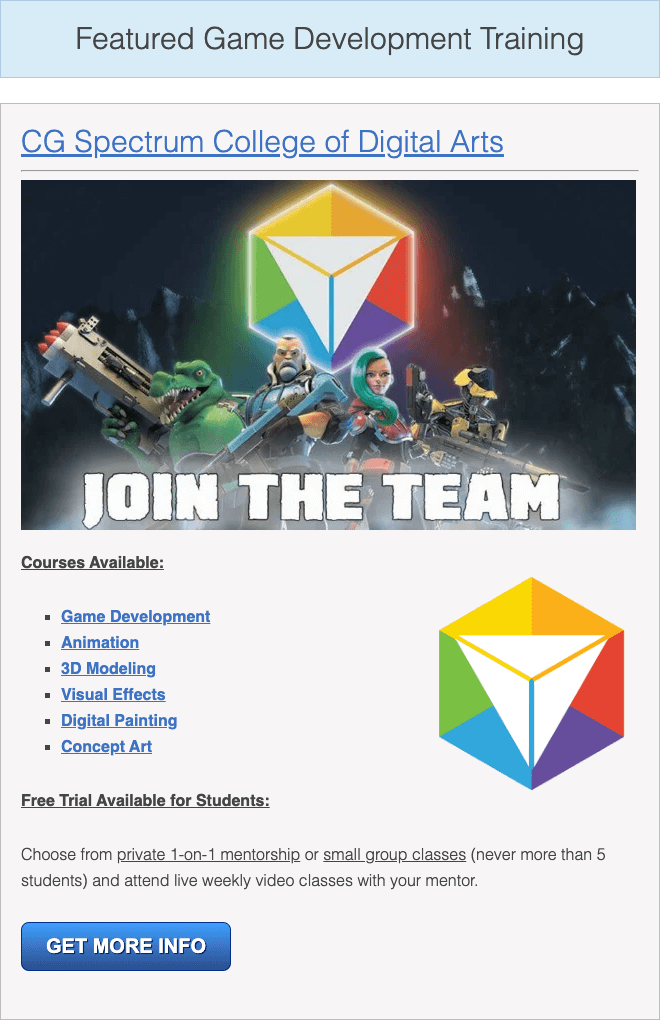 The Reasons Not to Get a Certificate
---
You don't need a video game design certificate.
The majority of people in the gaming industry right now do not have a certificate in game design.
Why not?
A couple of reasons. First, game design in college is still new. There are plenty of courses now, but many of the professionals in the industry started before these choices were available. Second, there are other ways to learn now.
For the person who can't afford college, doesn't have the time, or would prefer to learn on their own, they can. It's hard. But not impossible.
The internet makes it possible for anyone to get the experience they need. At the end of the day, your success will depend on what you can do, not how you acquired the skills.
This might change over time, but right now a piece of paper saying you're a game designer doesn't mean everything to people in the industry. Your education won't be the deciding factor for many hiring managers.
What Hiring Managers Actually Think?
---
Reddit is a treasure trove of informal advice from people currently in the industry—including hiring managers. So, we dove in—advice from the people that do the hiring (rather than the marketing team for the universities out there) is worth paying attention to.
Also, everybody is different, including hiring managers. Listen to their advice below, digest it, think about it, and then mix it into everything else you know before making a decision. Take opinions with grains of salt—they are not the only answer, but sometimes people say opinions like they're facts. This information is all just part of the puzzle.
Alright, let's get into it.
Redditor Songload is "a professional game developer who has influence over hiring" and if he sees "two resumes where one has an undergraduate degree in game design and designer credit on several projects listed, and one has an undergraduate degree in literally anything else and designer credit on several projects listed, I will always pick the person without the game design degree.
The reason is that if you see someone from a game college with projects listed they're probably class projects and it doesn't actually prove initiative…undergraduate game degrees may be quite useful educationally, but they are useless for getting jobs in the industry."
Again, just one person's opinion—but if you spend enough time on these forums you'll quickly see that certificates and degrees in game design do not guarantee placement in a job.
At the end of the day, they're just pieces of paper.
If Eligible for a Certificate, You Might Already Have the Talent
---
Here's what Redditor GameDevThrowaway99 says about going to school for game design (He's "been in the game industry for a few years. In a hiring position for all major disciplines at two studios and a publisher"):
"ALL of higher-end gaming education colleges carefully review relevant portfolios of students before they are extended offers to join the programs.
There's a good reason for this, colleges with the highest placement rates boast these numbers because students they "accept" could have already had a job in the games business with their existing portfolio…. The terrible colleges don't even bother to review portfolios. They just let anybody in and watch them flop around like a fish out of the water if the student doesn't already know something about development."
Ok—so it sounds like there's some truth in there. But as a hiring manager who doesn't spend any time on "terrible colleges"…how could he know what a school does or doesn't do for their students?
But he does bring up a very interesting point. If the stricter colleges accept your portfolio over hundreds of others…would a game design company also accept your portfolio submission over other submissions?
According to GameDevThrowaway99, there's one thing that will separate you from your competition (and it doesn't matter if you have certificates or degrees in game design).
It's your portfolio—"You want a job in the game industry? It's actually quite simple. Go make some game content for your portfolio. Seriously, that's it. That's 99% of what it takes. Build something. Make a game. Make some 3D models. Make some art. Build a level…
The portfolios we review out of game colleges all end up as identical junk…so the people that get the jobs are the ones that have something unique in their portfolio. Something that shows a desire to actually make games, not just the ability to follow instructions and earn a piece of paper." (emphasis is ours).
The Price Vs. Value Question
---
Some programs are tens of thousands of dollars for a year (or less) of certificate program training.
The New York Film School offers a game design certificate program. It's a one-year program with a tuition price tag of $31,020 (not including the $2,068 lab fee). It's less than four years at the New York Film School… but it's still a substantial amount of money.
If you've never taken out loans and paid back debt on that scale, it can be hard to imagine how frustrating it is.
Take CaptTyingKnot5, for example—a Redditor who "learned useful things, useless things and life lessons, all of which can be learned online fo FREE [sic] if you have the motivation to do so, I know my degree certainly wasn't worth the debt that came with it. For you, it would be good to network and work on group projects, but again, you can do that fo FREE online. [sic]"
The internet is crazy because it's made it easier than ever to learn how to do…well…anything!
And that includes skills like game design, game development, and game programming.
What Is An Esports Certificate?
In early 2021, a company called The Esport Certification Institute, or ECI was founded. This for-profit company had backing from some high level esports managers as well as investors and business insiders. The product they offered was a $400 course, and an exam in which, upon completion, students would be handed an esports certificate to help boost their resume when applying for careers in this new industry. The certificate would, in theory, help you get noticed when applying for a job in esports by showing you put in the work.
The only thing was, esports certificates were not a thing up until this point, and not really recognized by most teams or companies. The backlash to this concept was immediate, and the ECI was forced to take down their website.
But soon, universities would start offering esports certificates of their own, offering to give students the skills they need to enter a competitive and profitable industry that caters to billions of users every year. So now it seems to be more than just the ECI, but an actual trend that could soon be prominent all across the industry. If you're interested in esports, is this something you should consider, and what does this mean for the future of gaming?
Who Would Want an Esports Certificate?
For those who want to start a career in esports, but are having trouble finding a job or even knowing where to look, you may benefit from the training provided in the coursework, if not the certification itself.
For reasons stated below, whether the certificate will help at all is somewhat unclear. But there certainly is an incentive to be trained on the ins and outs of getting a career in Esports. While the ECI is currently down, the UNC Greensboro website now also offers a similar course as to the one ECI originally offered, This four week, online-only program offers information on aspects of esports careers such as:
How to Engage with Fans
While it's never going to be an exact science, learning to build up and cultivate an audience is an important part of becoming an esports player. Even if you have the skills to play videogames on a professional level, it takes a lot of charisma to gather the eyes you need to truly be successful.
One of the courses offers to help by teaching you how best to gather a diverse audience, and market yourself towards them. A big part of this is teaching you the ins and outs of live streaming, as well as methods to increase audience engagement.
Sponsorship
A big part of the way esports players make their money is through sponsorship. With esports attracting so many eyes, there's money to be made for the sponsor as well as the player. The course offers to teach you how to sponsor, as well as how to attract sponsorships, covering different aspects of esports as a business.
Management
If you're managing an Esports team, this section of the course could be very helpful. It discusses how to write and negotiate player contracts, how to divide up the branding rights between you, your sponsorships, and your players as well as how to keep your team engaged and performing at their best.
What sort of training they need to go through to stay competitive. Esports are just like regular sports in this regard. Team managers have a lot of work to do to keep the teams they represent in the spotlight. There is even a section covering how to create sponsorship packages.
Tournaments
This section of the course is dedicated to setting up a tournament, hosting one, and entering one. Most tournaments have limited open slots, so getting into them can be a bit tricky. And anyone who has ever hosted a party can relate to the difficulty of throwing together an event.
There are licensing agreements, rules for noise limits and safety when gathering large crowds, and of course the trick of finding and securing a venue that can even hold such a crowd. Plus how do you create tournament rules, hire security, etc. There's a lot of planning that goes into running a tournament, and this section of the course covers it.
Attending an accredited business or marketing school, and earning an actual degree may do more for you in the long run and offer similar insight. But these are courses specifically catering towards people interested in a career in esports. The courses themselves tend to be run by industry professionals, but it's best to do research on the credibility of the university itself before coming to a decision on whether or not this course is for you, as sadly there are many schools and courses out there that are more of a money grab than an actual education.
Is An Esports Certificate Worth It?
Let's be clear–unlike certification programs you can find for other careers, such as public accounting, you don't need a certificate to enter the esports industry. In fact, the concept of an Esports Certificate is so new that it's unclear whether it will even be acknowledged by potential employers.
In theory, the certificate should show that you're serious about an esports career, and are willing to put four weeks of training and $400 down to prove it. But the truth is, unless certification somehow grows into the industry standard, it may just do nothing at all.
On top of that, the courses offered are all online, and noncredit. The course has no accreditation.
So is getting an Esports certificate pointless?
Not entirely.
The courses offered do have useful information that would be difficult to get outside of full university business and marketing course.
That alone could be valuable in and of itself, assuming the courses really are what they claim to be. Plus, despite the backlash, there are prominent members of the sports industry who promote the idea.
It may well be that, if not now, then soon, having an esports certificate really does help to promote you. ECI co-founder Ryan Friedman stated that his company was an attempt to shake up the industry's reliance on unpaid internships by adding another way to be trained.
It is true that many enter the field of esports as interns, before getting promoted upwards. All of this does not mean that the practice itself isn't a bit shady.
So for the vast majority of people interested in an esports career, this is likely not worth your time and money. At least not yet. If you can easily afford the lessons and have the time to attend them, it may be of some value.
But don't overestimate what an unaccredited and largely symbolic esports certificate will do for you. It's not a free pass to an esports career, but it won't hurt your chances. The only question that remains is:
Are Game Certificates a Trend?
The launch of esports certification was met with a huge backlash from the esports community. In fact, the criticism was so severe and widespread, that the ECI actually removed the course temporarily to discuss how to move forward. The arguments against them weren't entirely without merit.
They had effectively placed a $400 price tag to earn a certificate to enter an industry that doesn't require certification. If this were widely implemented and accepted by the biggest esports teams, it would act as a form of gatekeeping.
Only people who could afford to pay a $400 bill, and to take the necessary time to go through the lessons could enter the esports field. Despite ECI's having stated a desire to promote diversity, this would create a barrier towards it.
However, several other schools, such as Ohio University and UNC Greensboro, have begun to offer their own esports programs. So far, these are geared towards the Esports business management, and they have not received the same level of critique as ECI did when they first started their program with insider support.
Esports is a billion-dollar industry, and big business has caught onto this. It's no surprise that universities would try to profit from this fairly new market, the question is; will their efforts succeed? It will largely depend on whether esports teams change their hiring practices to make having a certificate necessary.
It's not impossible, as esports companies are only getting bigger, and don't necessarily have the staff measures in place to sift through the influx of applicants. Right now the only way to tell if you'd really be qualified to join their teams is previous experience.
Certification could be a way to give someone new to the industry a bit of an edge, despite its flaws. But as of yet, this hasn't happened, and esports teams seem to treat the concept as a joke at best and a predatory scam at worst. But time will soon tell if their attitude changes.
It wouldn't be too surprising if, in a number of years, the Esports industry is as heavily managed and regulated as the NFL, with increasingly high bars of entry.
It's hard to hold up a crystal ball and really see what the future holds. A few short years ago, Bethesda was facing backlash for adding downloadable horse armor to their Elder Scrolls games. It was considered exploitative and bizarre at the time. Paying for nothing more than a skin to put on your digital horse?
Years later, for better or worse, we live in a gaming landscape rampant with premium skins, purchasable experience boosters, and loot boxes.
What was considered unthinkable a few years ago didn't just happen, it became the industry standard. as more and more companies realized there was an opportunity here. But it wasn't all bad. DLC isn't always malicious, sometimes it can breathe new life into a game you love.
In conclusion, we might be in a horse armor situation when it comes to these esports certificates.
What's seen as strange now could become tightly woven into the fabric of esports as a whole soon enough. Here's hoping it breathes new life into esports and doesn't become gaming's newest loot box controversy.
Getting Started "For FREE"
---
The reality is, some of the best options are available to you for much less money than a certificate program costs. Investing in yourself is never a bad idea, but neither is being smart about those investments.
If getting a certificate isn't the differentiator, and you need to do projects in your free time to stand out from your classmates anyway, it's worth exploring other options.
With that in mind, we'll show you some bread crumb trails.
Start Game Design without a Certificate Program
---
YouTube has how-tos and tutorials on just about anything you could want (like this 87 video playlist on Game Design from Extra Credits). Game engines, 3D modeling, sketching, how to sit properly—it's ALL on there.
Books are cheap (but still more expensive than YouTube) and have great educational value (and a subtle social value—it's really easy to connect with people over books that have made impacts on both of your lives). Three popular ones:
The Art of Game Design: A Book of Lenses (Jesse Schell)
Challenges for Game Designers (Brenda Romero and Ian Schreiber)
A Theory of Fun for Game Design (Raph Koster)
Free Game Engines
---
Download a free game engine (like Stencyl) and start messing around. Or watch the tutorials first. Use Google when you get stuck. Try Unity when you're feeling brave and excited. Unreal also provides tutorials on its website.
If you're thinking too big to design your first game, try modding with AAA assets instead. You can mod your favorite games. The mod community is talented, creative, and helpful.
No Substitute for Putting the Time In
---
Those are all steps you can take right now. You can close this article, type one of those tips into Google, and be on your way to becoming a game designer.
A paper saying you're a game designer won't be enough to convince your potential employers.
You need to put your time and creative energy into building your own games. Start working on your portfolio. Start with simple games that are fun to play. Work your way up.
You don't need to spend hours applying and tens of thousands of dollars in tuition fees—you can start with a 4.99 ebook and a pencil and paper.
You don't need a game design certificate (or a game design degree) to be successful in the industry. You need drive, you need passion, and you need talent.
Are you still excited about designing games?
Then get to work!