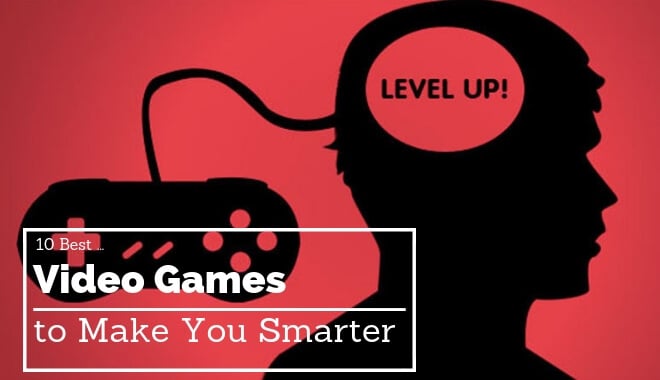 In today's world, we're always trying to improve ourselves and our performance. While many take part in gym visits, running, sports, writing workshops, and book clubs, where do you get a hold of something that will enhance things like your IQ, memory, and coordination?
If you're a gamer like me, your hand-eye coordination is second to none. However, as useful as that is, how can we use that gaming knowledge to improve our everyday life?
Want to improve your cognitive abilities, fine motor skills, and reduce anxiety?
There are limitless possibilities regarding IQ games, and here—in no particular order—are 15 that I've found to give your brain that extra edge.
Lumosity

I think this one's reputation precedes itself. I've heard about Lumosity for years before actually trying it. It boasts over 60+ cognitive games for you to play. Lumosity helps you make IQ and cognitive exercises become a normal part of your everyday life. Right on its website, it breaks down the essence of their goal:
"Take the Fit Test to get your baseline scores on 3 games. See how you stack up against others your age and take the first step in your training."
"Enjoy daily workouts that challenge 5 core cognitive abilities. Games adapt to your skill level, so you'll always be challenged."
"See your best and worst Lumosity performances and get insights into your training."
Although I like the idea of improving your skill and always being challenged, I was hooked in as soon as I was promised competition with my friends. Obviously not the aim of the app, it does add some different incentives for more competitive people. Lumosity has an impressive scientific goal, one which I'll gladly take part in. In short:
"Our scientists had 4,715 participants complete the study. Half trained with Lumosity, while the rest did online crossword puzzles to control for placebo effects…After 10 weeks, the Lumosity group improved more than the crosswords group on an aggregate assessment of cognition…
These results are promising, but we need to do more research to determine the connection between improved assessment scores and everyday tasks in participants' lives. That's our next focus."
Eidetic

Are you a student? Can't remember crucial test information and the exam is less than a week away? Eidetic states that it differentiates itself from other IQ apps by implementing "by using items that have meaning and context."
The basic framework of Eidetic is very cool—it allows you to put pretty much anything you think is interesting or fun into the app. One of your friends said something hilarious? How about a quote from your favorite movie? These can all be stored in one place. It spaces out learning this info you can better retain the info in your brain.
ReliefLink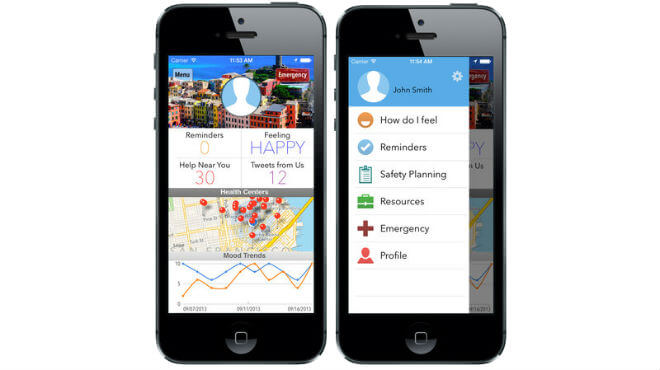 Something I think is really important is your mental health. I know I suffer from anxiety every now and then, and tracking those thoughts is helpful and constructive.
Enter ReliefLink: an app designed to help with suicide prevention, allows you to better help coping mechanisms, help you relax, experience mindfulness, (basically being better at 'living in the moment'), and countless other mental health tools and tips.
This app can even find a therapist for you! However, the app page says:
"This is app is a supplemental tool to help the user manage his/her daily mental health, monitor suicidal feelings and thoughts, and offer options for seeking help. It should not be used in place of professional mental health or medical help."
Brain Fitness Pro

One of my personal favorites is memory exercises, so this called to me immediately. Brain Fitness Pro offers memory exercises and more. You train your brain to be sharper: recall details more quickly, retain important info and others.
These only become more important as you age, as improved memory and cognitive skills will no doubt keep your brain on the forefront. It's basically the equivalent of bench-pressing your noggin. Do you mind spotting me?
CogniFit Brain Fitness

CogniFit promises scientific technology in the form of different brain exercises. You have memory, arithmetic, mental planning, and personalized brain training. It also can give you cognitive measurements based on these activities to 'map' out how well things like your visual perception and focus levels.
Apple user J. mood sang its praises, "This is definitely one of the best apps I've tried for brain fitness. I had a question about a game and chatted with their customer support on the app. They were super helpful, which is pretty rare these days. Definitely recommend for anyone who is serious about keeping their brain in shape."
Brain it On!

This one is a doozy. Physics-based puzzles are the bread and butter of this game. You have to tap into your inner artist to pass these challenging games.
"Draw shapes to solve challenging physics puzzles. They're not as easy as they look. Care to give one a try?
Dozens of brain busting physics puzzles, with more being added all the time
Compete with your friends for the Brain It On! crown
Multiple ways to solve each puzzle, can you find the best solution?
Share your unique solutions and compare with your friends
All the levels can be unlocked for free by earning stars in previous levels. You can always find dozens of new players created free levels each day on the community screen. You can also purchase the game to remove all ads, unlock all hints, unlock levels early, and unlock the level editor."
Level editor? Count me in. I'm a sucker for tinkering around with a game's physics engine. Garry's Mod, anyone?
Chain Reaction

Chain Reaction is a multiplayer (2-8) game where you face off with your opponents on a dark grid. Orbs are placed in cells and players attempt to stack up as many in a, yes you guessed it, *chain reaction* to claim each cell for themselves.
I can see how this can help with your coordination and also have a friendly, heated game with a super simple interface, and some customization options.
2048

2048 is a skilled number game that can help you with your math skills. A few reviews on the Google Play store even said it helped them significantly with math. Your basic goal is kind of like blackjack: you need to slide number tiles to add up to the ultimate number—2048.
One thing I like about this game is the developer is actively listening to the reviewers and users to better improve the game, something that I feel is unfortunately lost in today's game market. Support your indie game developers, people!
Cognito
Cognito presents its puzzles and training games through the scope of a story about spies and secret agents. I was immediately drawn to a particular puzzle; it involved a jammed parking lot and the user has to find out how to get your trapped car out of the lot.
I'm a sucker for these types of brain teasers. It will be able to harness Apple Health for better-personalized stats. It measures focus, memory, reasoning, adaptability, and speed. The app's tie in the Apple Health, along with measuring your own skills through the app will definitely prove to be a key factor of the game's survival.
Peak

Peak offers you a state-of-the-art IQ and brain training regimen. When I think of Peak, I think of it like Lumosity's cooler older brother. The game developers have a great mission statement on their site:
"Our games are designed to push you hard with short, intense workouts designed around your life. Challenge the skills that matter to you most with games that test your Focus, Memory, Problem Solving, Mental Agility, and more…Everyone is different, and Coach is here to help you reach your Peak goals.
Coach will challenge you with new workouts, track your progress, and show you where and how you can improve, keeping you motivated and pushing you further…We love games at Peak and we are passionate about research too.
We work with scientists studying the impact of video games from Cambridge, Yale, UCL and King's College London and we bring our customers games built using this research."
I love the idea of an A.I., (Coach), guiding you through the best way to use the app, as well as scientists regularly looking for better ways to implement positive brain exercises in the game.
Braingle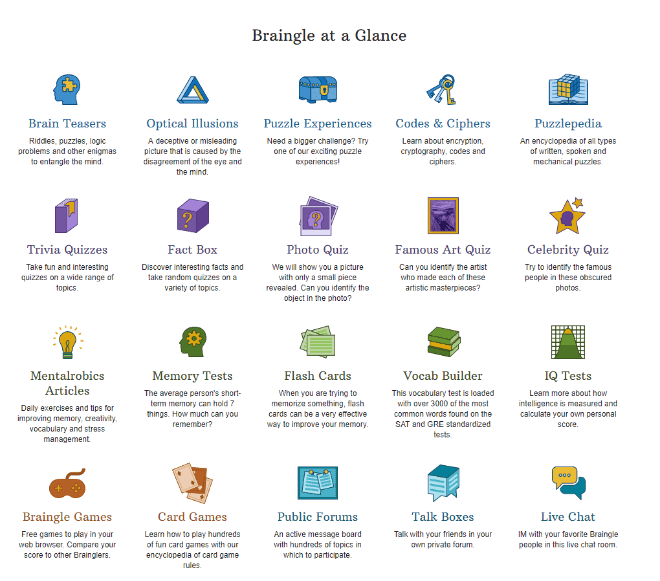 Braingle is an entire site of brain games. Braingle makes a very bold claim: that they have the world's largest collection of brain teasers. Big talk, but it's obvious from the website that they might be right. This site gives you different quizzes and exercises in the form of different categories: Puzzles, trivia, games, and 'mentalrobics'.
The games section alone splinters off into classics like checkers, chess and sudoku. Check out this site, it's packed with content that'll have you clicking for hours. In the middle of writing this, I got sidetracked by the 'trivia' section. That should be a recommendation in and of itself.
Brain Age: Train Your Brain in Minutes!

A classic, Brain Age was released on the Nintendo DS in 2006. I'm including this just because it has earned veteran status in my mind. For being an older game, it still has an amazing number of different exercises.
From simple math to more complex problems, Brain Age is designed to be used a little bit each day.
I love how this game blazed a trail for IQ games in the mainstream gaming community, showing that brain games were for everyone, not just those that did crosswords or sudoku, (but they're included!). By 2015, 19 million copies had been sold, an impressive feat for a brain game.
Brain Age 2: More Training in Minutes a Day!

You knew it was coming. The second iteration of the Brain Age franchise came in 2007 on the heels of its predecessor. The one thing that stands out to me particularly with this game is the inclusion of instrumental aspects.
I'm more musically minded, so I'm into practicing any instrument, and Brain Age makes that a reality. Brain Age 2 currently sits sandwiched between Pokémon HeartGold, SoulSilver and Pokemon Black and White on the Nintendo DS bestseller list. Nintendo is one of the leading video game companies, a really pretty good company, if you ask me.
Gorogoa

Released on December 14th, 2017 on the Nintendo Switch, Gorogoa is a new, unique take on puzzle games to help get in touch with your brain as well as your creative side.
"Gorogoa is an elegant evolution of the puzzle genre, told through a beautifully hand-drawn story…The gameplay of Gorogoa is wholly original, comprised of lavishly illustrated panels that players arrange and combine in imaginative ways to solve puzzles.
Impeccably simple, yet satisfyingly complex…Gorogoa isn't just a game – it's a work of art, expressing itself through soulful, charming illustrations and distinguished puzzle mechanics."
Gorogoa's claim of a new kind of storytelling is extremely attractive to me. The vibe and feel of the game are very relaxed and the puzzles seem more casual, but in a great way. I really enjoy this newer take on these types of games. I hope experiencing this mix of creativity and puzzle will make way for more indie developers and games of this type.
The Gardens Between

Another release for the Nintendo Switch, The Gardens Between is a story-based puzzle game based on two friends questing together. The description:
"Best friends Arina and Frendt fall into a series of vibrant, dreamlike island gardens peppered with everyday objects from their childhood. Together they embark on an emotional journey that examines the significance of their friendship: the memories they've built, what must be let go, and what should never be left behind.
Lost in a mysterious realm where cause and effect are malleable, the friends find that time flows in all directions. Manipulate time to solve puzzles and reach the apex of each isle. Follow the duo as they unpack and explore their significant moments spent together, lighting up constellations and illuminating threads of a bittersweet narrative."
A heartfelt narrative mixed with puzzles? Sounds good to me. Along with Gorogao, the creativity that can be harnessed in brain games is a very real possibility.
If you want to train your brain or go through different puzzles perhaps laced with a narrative, or even just play quick sudoku, game stores, both in-person and digital, are swarming with them. After these games, you'll be a mental warrior.