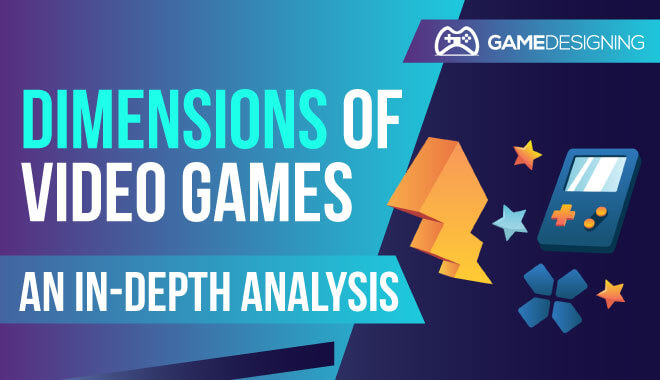 Whether it is the brand new Playstation 5, Xbox One, or an old-time PC, the dimensions video games have are varied and unique. No, not just the physical dimension.
Sure, a game being 3D brings it to life over past 2D titles. However, so much more goes into a video game world than just what the player's perspective is. Think of ambiance, times in which you felt that the story and real-time decisions affected you deeply.
Our favorite video game heroes are part of the game worlds where they feel at home. Great game design and emotional stakes foster effective game worlds.
Dimensions of Video Game Worlds
Let's break down the different dimensions into a few key concepts, beginning with the physical dimension. The player can easily immerse themselves through multiple things like the game's context, time, emotion, and more.
Physical
---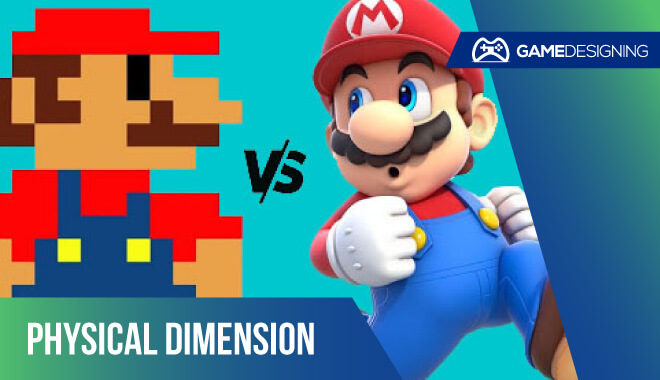 This is what you probably think of when the term 'dimension' pops up. 2D, 3D, it seems like dimensions, games, and adventure all gets along famously. Players can experience the character's journey from a few different perspectives.
2D
---
With 2D, players usually only have control of a set number of directional actions. Think of games like Mario or Castlevania: Symphony of the Night. These 2D side scrollers allowed players to move forward, backward, sideways, and (sometimes) diagonally. At the time, this was revolutionary and is still a ton of fun.
However, game designers didn't need to concern themselves with conveying a significant depth to the player. The video game character would either move left, right, up and down. Video game characters in 2D
However, there is even more nuance to the physical dimensions games have.
3D
---
With more extraordinary hardware and graphical capability, the rise of mainstream 3D titles began.
When I think of 3D games, I think of Super Mario 64. In Mario's first full-fledged adventure out of the 2D constraints he was used to, the player can control Mario in any direction. Along with greater control came a sense of greater depth. The various game worlds were colorful, creative, and felt real despite their cartoonish appearances.
While 3D games don't automatically mean that a game is more atmospheric or emotionally poignant, their approach lends itself to aspects like more astonishing graphics, a more in-depth atmosphere, and the feeling of a living, breathing game world.
3D games are more easily able to offer more immersive effects to gamers. Instead of attacking Dracula's castle by jumping on 2D platforms, players feel like they are inside the castle alongside terrifying monsters.
Temporal
---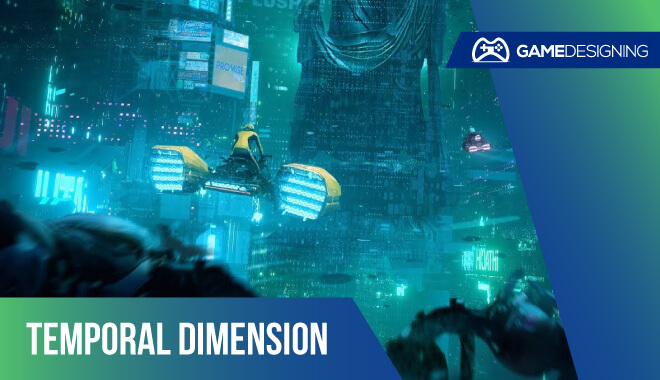 The temporal dimension, in this case, refers to time.
For example, when playing The Legend of Zelda: Ocarina of Time, there exists a more realistic day and night cycle than in other games. Fittingly, this passage of game time creates a sense of realism and adds to the game's fantastic atmosphere. It feels like there are real stakes attached to getting out of the wilderness before sundown in Hyrule.
After night falls, the drawbridge to Hyrule's castle town is raised. Not only are you out in the hostile game world on your own, but nighttime in the game world conjures forth menacing skeletons called Stalchildren.
Until the morning light, the Stalchildren relentlessly rise from the ground and attack the player. While a single Stalchild on its own isn't too terrifying, they often converge on the player in groups.
This more realistic passage of time creates the sense of a real-world left to its own devices. It also makes a sense of urgency, motivating you to run as fast as you can to safety.
In Ocarina of Time, each day lasts two minutes and thirty seconds. Although not similar to our real-world passage of time, it simulates how players react to this type of game dimension.
Environment
---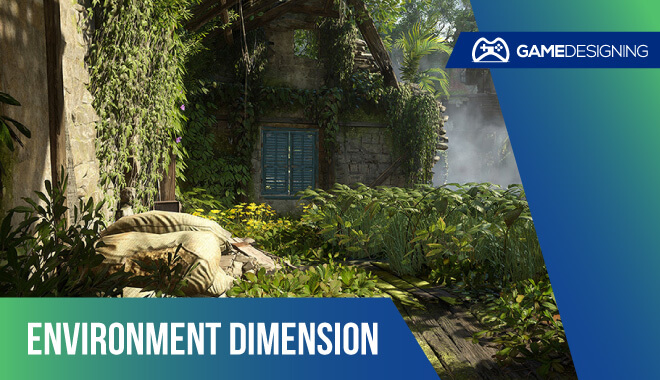 We all know that a game's environment is arguably the most significant part of a game's atmosphere. Whether it's the dirty subterranean jail cells in Silent Hill 2, or the fantastical town of Baldur's Gate, the environment tells stories that game characters and documentation could never tell effectively on their own.
While the physical dimension games have referred to the set space and limitations, the environment occupies the designated area.
Backstory and Context
---
This is where a game's backstory and cultural context come into play to flesh out the game world. Several elements, drawn on from writers and game designers, allow you to feel like the world is a real place.
In Pillars of Eternity II, the cultural context will enable you to see the value of how rich and varied different cultures are. You have peaceful and warlike tribes, backstabbing corporations, pirates, and more. You feel as if these groups and people have been at war for centuries.
Physical Environment
---
Not every game knocks it out of the park when it comes to the cultural context, and they don't have to. Sports and driving games don't need to do this, and frankly, it'd be a little weird if they did!
The physical environment is what players experience when playing the game. Whether it's a jungle or a gritty urban cityscape, the environment should immerse the player—physical surroundings matter.
If you want to pull a player into a game world, ideally, you want to make that world believable. In games like Nier: Automata, the gritty, long-destroyed environment makes you feel like you're exploring a ruined version of Earth.
The game designers succeeded in this by populating the game world with crumbling buildings, overgrowth, birds, grass, and thousands of other nuanced details. These small objects and inclusions add to the overall picture.
Emotional
---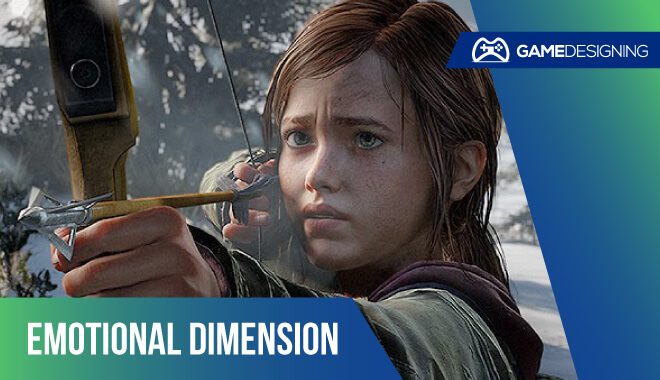 The emotional dimension of games is one that affects the player emotionally. While this can refer to how game characters feel, it's mostly aimed at making you, the player, feel some emotion.
As years go by, game stories have become so much more than an Italian plumber saving a princess. It seems with each passing season, there is a game title that attempts to pull at your heartstrings.
This is fantastic in several ways. First, it allows players to invest themselves in the game. Do they hate a character? Do they fear a character? What is giving the player motivation to complete an objective? Duty? Honor?
These things enhance gameplay and make games where you usually would go from point A to point B with little fanfare into epic journeys.
The emotional dimension also ties in heavily with the environmental dimension. Games like Resident Evil and Silent Hill strike terror into the hearts of wary gamers with their unique dark and foreboding settings.
Ethical
---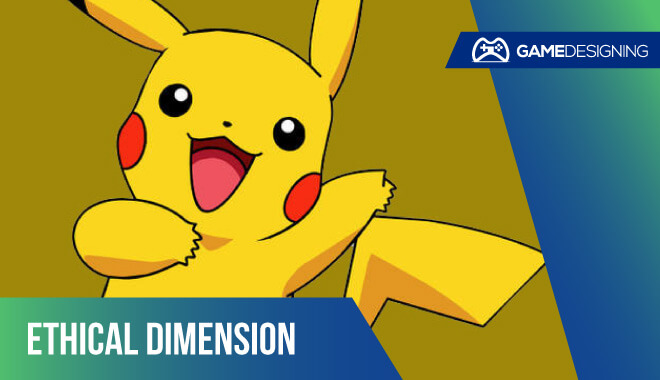 The ethical dimension points to the cultural context in the environmental dimension and emotional dimension.
Games like Fable love to put players to the test. A famous example, Fable III, has the player choose between two difficult choices.
These two choices, spend money to ease citizens' suffering but put yourself at the disadvantage of an imminent enemy attack, make the player think and deliberate. Of course, you could just ignore the citizenry and save money to outfit your army.
But what's the right choice?
In RPG games, players have the chance to play any character they usually want. Even in the Witcher, players can attack people randomly and act like a jerk. Some games outwardly say that you need to be ready for punishment if you act like a jerk.
The ethical dimension defines all of these rules for the player.
Conclusion
---
See? Games are much more than just 3D and 2D. They contain much more intensive and multifaceted aspects and effects that affect player behavior, reactions, and more.
Next time you boot up a game like Death Stranding on Playstation, take a look at the game world and see how it fits into all the dimensions. A post-apocalyptic Earth, filled with rocky crags, sheer cliffs, and unspeakable horrors.
Feel free to do this exercise with any game you choose. It's a great way of thinking of game design and how game designers execute practical ideas.