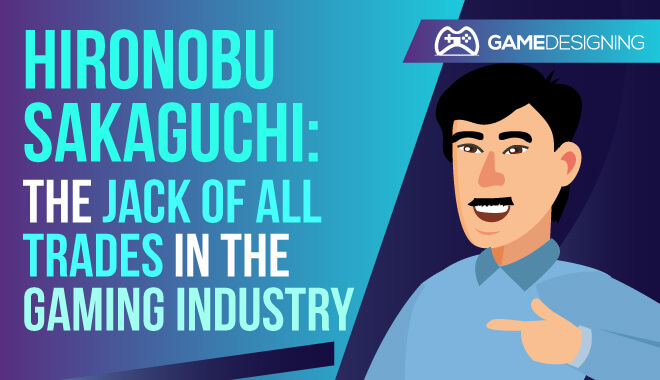 With the release of the excellent Final Fantasy VII Remake in 2020, gamers the world over once again experienced the magic of one of gaming's most celebrated franchises.
But where did such a wonderful and influential series begin? It wasn't born out of a vacuum: it was due to talented game designers like Hironobu Sakaguchi.
Short Bio
---
While you may not immediately recognize Hironobu Sakaguchi's name like other game creators, his far-reaching influence over the state of the gaming industry is breathtaking. If it wasn't for him and other talented developers at Square, (now Square Enix), we wouldn't have fantastic titles like Kingdom Hearts those in the Final Fantasy series.
Born on November 25, 1962, in Hitachi, Ibaraki, Japan, Hironobu Sakaguchi gravitated towards becoming a musician. While we would have no doubt been graced with a talented artist, we're extremely grateful that he chose game development in the mid-1980s at Square Co., Ltd. Back then, Square was a minor division of the Denyūsha Electric Company.
He eventually helped create Square's first game, The Death Trap in 1984, a text-based adventure game. The Death Trap set the stage for Sakaguchi's creative ambitions. Fast forward almost four decades later, and Sakaguchi has had a direct hand in over 60 games.
Games Credited
---
Here are some of the most notable games that Sakaguchi was responsible for.
Final Fantasy
---

Yep, he started it all. Anyone who enjoys any old school Final Fantasy game owes some serious props to Hironobu Sakaguchi.
He was the executive director of the first 5 Final Fantasy games. After Final Fantasy 5, he became the lead supervisor, executive producer, and story developer for subsequent games. That includes the iconic Final Fantasy VII, Final Fantasy Tactics, and Final Fantasy X.
It's safe to say that Final Fantasy would not be the global phenomenon it is without his amazing creative influence.
Kingdom Hearts
---

Hironobu Sakaguchi's legacy as gaming great could have been solidified with the creation of Final Fantasy. However, he was determined to keep creating. His next award-winning story would take the form of the absolutely unique and beloved Kingdom Hearts series.
Blending Disney characters like Mickey Mouse and Final Fantasy characters like Cloud Strife and Sephiroth, (it works, trust us), Hironobu Sakaguchi created one of the most unique JRPG stories.
While he didn't have a part in the subsequent sequels, his role as executive producer set off a wildfire of creativity that would last over almost 20 years.
Game Development Philosophy
---
Sakaguchi's game development philosophy is rooted in his last-ditch gambit to save Square as a game development studio. When faced with financial ruin, Sakaguchi faced an intimidating prospect: create a great game or Square is essentially dead in the water.
Sakaguchi, torn between feeling incompetent in game design (which he absolutely wasn't), decided that Square needed to make a last stand. His idea to save Square? Developing the iconic JRPG, Final Fantasy.
Yeah, I'm thinking that paid off big time. That's like saying you invented the light bulb to pay rent.
His philosophy? Tearing yourself from the fads and trends of the current gaming era. He states that this defiant act not only saved Square, but gave him the confidence to create ambitious titles like Kingdom Hearts and Parasite Eve.
His Impact on the Industry
---
To say Hironobu Sakaguchi had an important impact on the video game industry would be the understatement of the century. His invaluable creative touches to all the games he created or oversaw were responsible for some of the most influential games from Square, and arguably, all of Japan.
For those who adore the Final Fantasy series (like me) and all the story-based magic it's responsible for, we owe Sakaguchi a huge thanks.
When he eventually stepped down from his coveted position at Square in the early 2000s, he actually significantly reduced Square's influential and financial capital.
It's a pretty good sign a person is invaluable when their leaving triggers a company-wide crisis. This eventually led to Square merging with Enix, creating Square Enix, a fantastic company in its won right.
He went on to form the Mistwalker Corporation with the help of executives from Microsoft.
What is Hironobu Sakaguchi Doing Now?
---
As you would expect from a devilishly creative mind like Sakaguchi, he's still developing games. While he's no longer with Square developing Final Fantasy games, he's dabbling mainly in iOS games at his personal company, the Mistwalker Corporation in Japan.
At Mistwalker, Sakaguchi has already created over 10 games, including Blue Dragon, Lost Odyssey, and his popular Terra Battles series.