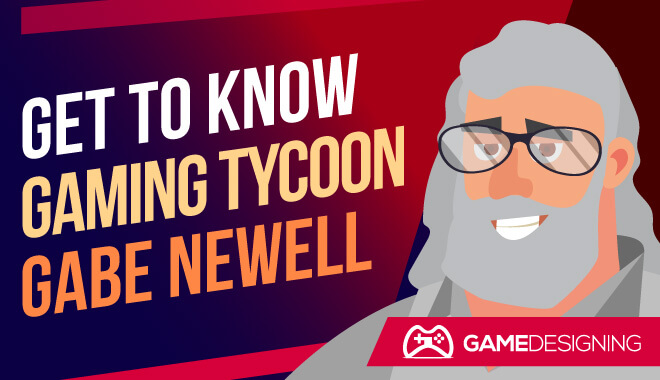 If you have spent any time playing computer games on Steam, you owe gaming tycoon Gabe Newell a debt of gratitude. I know I sure do.
All of those Steam sales? Expensive games going for only a few dollars? It's excellent, and it's the end product of Valve and Gabe Newell's hard work. Thanks to Valve, Steam, and fantastic games, Gabe Newell has a staggering net worth of over $4 billion.
Let's take a deeper dive, and see where Newell came from, what he has accomplished, and what the future holds for him and his company, Valve.
Bio
---
Newell is a native of Colorado, but he spent his college years at the illustrious Harvard University. After three years of study, he dropped out to work at a little company called Microsoft.
Although he claimed he learned a lot at Microsoft, his ambitions were bigger than Bill Gates.
Along with fellow coworker Mike Harrington, Newell formed Valve in 1996. What these two would go on to do would change the way we interact with, buy, and distribute video games.
Games Credited
---
Let's see some of Gabe Newell's most notable games.
Half-Life
---

Half-Life was revolutionary. Not only did it give rise to the amazingly popular sequels and Team Fortress 2, but it was a fantastic first-person shooter.
Combining action, sci-fi, and horror, there was truly nothing like Half-Life up until that point. Playing as the silent protagonist and scientist Gordon Freeman, players are almost immediately thrown into the dark and dangerous Black Mesa Research Facility.
After a science experiment goes horribly wrong, Freeman faces alien horrors, hostile soldiers, and more.
Half-Life 2
---

This is where Gabe Newell and Valve really took off. Half-Life 2, released in 2004, was a watershed moment for gaming.
Taking the influence from its predecessor, Half-Life 2 was an insanely detailed step up. Including a gripping, exciting story mixed with a revolutionary physics engine, Half-Life 2 impressed everyone who played it.
It won numerous awards and is a fantastic game to this day, nearly 20 years later.
Portal
---

You knew it was coming. Portal was the fantastic and groundbreaking game coming on the tail end of Half-Life 2.
As part of The Orange Box collection, Portal threw players into a challenging puzzle environment, having them use a set of two portals to get to the end of levels and solve puzzles. This was and is still an entertaining game.
It's also the origin of the popular meme 'the cake is a lie'. I won't tell you what that means: you have to play the game to find out.
His Impact on the Industry
---
To say that Gabe Newell has had an impact on the game industry is probably the understatement of the century. With the launch of Steam, he and Valve have changed the way that gamers purchase and download games.
While some have criticized DRM and lack of physical copies of games, Steam has effectively changed the world of gaming.
Why VR Might Not Be Too Far Out
---
Gabe is confident that not only are virtual reality games going to pick up steam (see what I did there?) but that they are just a few steps away from basically melding our minds with computers.
His views were made clear around the time of the much-anticipated VR title, Alyx. This game put you in the shoes of Alyx Vance, one of the main characters from Half-Life 2.
Sending a Gnome Into Space
---
You read that right. If you have ever played the Half-Life games, there is an achievement where you take a garden gnome throughout the game with the gravity gun. This is extremely difficult and has become an iconic gaming moment.
Gabe Newell, feeling inspired by the act of escorting a garden gnome, decided to launch a gnome into space. Why?
Well, although it seems silly, it's for a fantastic cause. Gnome Chompski (yes, that's its real name) went to space to raise money for his charity, The Heart of Racing. Many communities have been hit hard by the worldwide COVID-19 pandemic.
Using Gnome Chompski, Gabe Newell aims to raise money for the children's unit at New Zealand's Starship Children's Hospital.
Conclusion
---
Now that you know a bit more about one of gaming's beloved creators, it's easy to see that he and Valve have basically changed the gaming industry's makeup. With games like Half-Life 2, Portal, and Team Fortress 2, Gabe Newell focused all of his ambition, creativity, and determination on innovating games forever.
Now….where is Half-Life 3?!