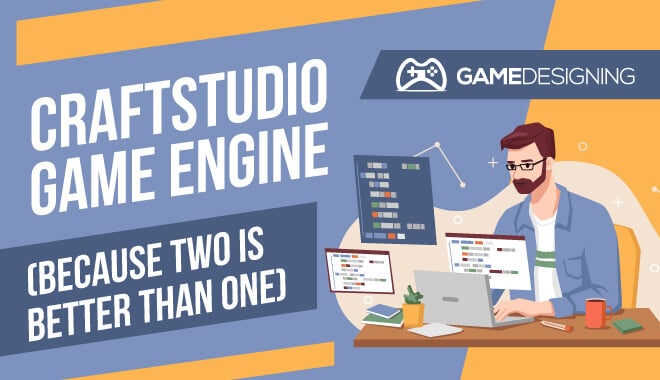 Game development is at its best when creative people join together. Although the power of the individual is considerable when realizing a vision of games (think Stardew Valley's one-person development team), when people join together for a shared vision, the end product can be a smash hit.
That's where CraftStudio comes in to change the industry.
What is CraftStudio?
---
CraftStudio is a cross-platform game engine. Even better, it emphasizes collaboration with other game developers. It was initially put on IndieGoGo for crowdfunding. It reached its goal of $16,000 and began development in earnest.
Developed back in 2011 and launched in 2017 by Élisée Maurer and Sparklin Labs, CraftStudio aimed to be a fantastic and comprehensive voxel-based game development engine.
Features
---
The central aspect of CraftStudio is maintaining game development assets in the cloud. Using this method, game developers the world over can access resources and collaborate with other talented creators.
Installation
---
To install CraftStudio, make your way to the CraftStudio official website. From there, click on 'Download.' The developers have set up an optional 'name your price' policy.
Since the developers have made the CraftStudio engine free, they need donations to keep updates and patches coming. Name your own price: what do you think is fair? $30? $1? It's up to you. However, since every game engine developer puts a ton of work into them, show a little kindness and throw a few dollars their way.
You could, of course, make your way to the downloads page regardless. Here, you have three main download options. Choose your option and begin the download.
Tutorials
---
Whether you have a familiarity with game engines or this is your very first experience with one, it's ideal for getting some outside pointers and tips. Let's look at some tutorials to get your CraftStudio journey underway.
The CraftStudio Wiki
---
This is a surprisingly in-depth resource that is perfect for first-time and long-time game developers. It's all here: any question, concern, or unclear subject is covered here in full detail.
The Official CrafStudio Site
---
What better way to learn more about how the CraftStudio engine works than from the people who developed and distributed it? On the official CraftStudio website, you can find many resources, including documentation and tutorials, if you have questions regarding any aspect of the game engine.
Canardu57's Video Series
---
For those of you out there who need a good YouTube video to help you get the hand of the look and feel of the CraftStudio engine, this channel is perfect for you. Although presented entirely in French, there are English subtitles.
Canardu57 takes you from the beginning of developing basic shapes and functions in CraftStudio to more advanced concepts to use later on in game development.
The Official CraftStudio YouTube Channel
---
Sparklin Labs has compiled multiple helpful videos for first-time CraftStudio users. Including a slew of tutorials, game trailers, and pointers, this YouTube channel isn't just a great tutorial or resource, but a great follow in general.
Reviews
---
CraftStudio has garnered some great user reviews lauding its features and ease of use. A user on ModDB says:
"This engine is very easy to use and has a pleasantly simple feel to it – while being very powerful. It is still in beta, and features are being added all the time, but it is one of the best engines out there, especially at its low price. I would thoroughly recommend it to anyone wanting to get started with game development."