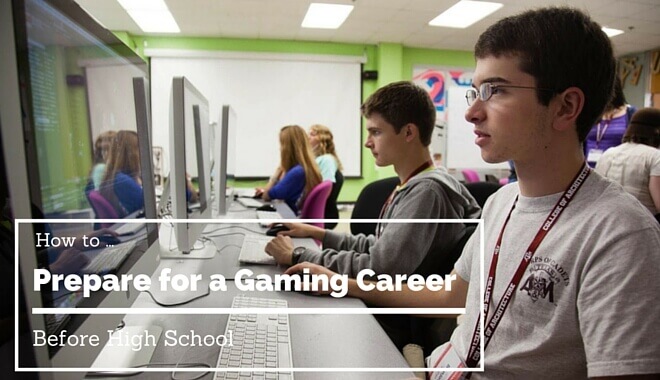 So…you've been thinking about how you really love games. Like…really love games. Like…even when you aren't playing them, you're thinking about them; you're thinking about your own ideas for games, things you wished a game would do differently.
That's great! It's never too early to recognize what you are passionate about and run with it.
If you're young, you might feel like your options are a little limited. What can you do to prepare yourself for a gaming career? What tools and resources are available to you? You're too young for college… in fact, you're not even in high school yet. So what can you do?
Well, even without high-tech, collegiate computer labs and access to experts and finely–tuned curriculums, you still have some options. Let's take a look.
What's it Gonna' Take?
---
Curiosity and creativity, the two C's. These are important to game designers. Creativity is important because it means you'll be able to come up with ideas for games. And, you'll be able to puzzle out solutions for any problems that arise during a game's creation.
Believe it or not, every feature you see in a finished game wasn't implemented on the first try.
Features and game mechanics are cut, or added, or reworked completely throughout the game development process. You'll use your creativity to both come up with the feature ideas in the first place, and to solve the issue of working them into the game.
Curiosity is important because it will expand the mental reservoir in which your creativity is stored. The more curious you are, the better equipped you'll be to come up with strong, workable ideas.
Now, this is only true if you engage with your curiosity. How do you do that? Play games! Play all kinds of games!
We aren't just talking about video games here. We're talking about board games, card games, tabletop RPGs. Branch outside of your five favorite console games.
Play free indie games on the Xbox one, download demos for arcade games, play racing and puzzle games if you usually play first-person shooters and fighting games (and vice versa).
Building up your game experience library is going to help you immensely. You'll be able to pull from different genres and game types to uniquely solve problems as you work through your own game designs.
Playing all different kinds of games also gives you a more complete sense of what's been "done" before. You will benefit from all this extra context.
What Can You Actually Do?
---
Yeah, we get it. Fostering your creativity and curiosity isn't all that sexy and appealing (although hopefully playing a ton of games sounds like fun to you).
Luckily for you, there's more you can do! You can actually make games.
You don't have to come tearing out of the gate and sprint right to video game coding (although if you've already started dabbling, good for you!).
You can do what people did before computers and consoles were invented–in the dark, dark time before video games (sounds like a nightmare)… You can design your own card games and board games!
Game design involves crafting the game's rules. It means you'll have to decide what the player can and can't do, and why he's supposed to do what he does.
Getting experience making your own rule sets for cardboard games could help train your brain to think like a game designer.
Even if you take existing games you love and mess around with the rules, you'll start separating yourself from the pack.
And of course, a quick google search will bring you some free game design software tools.
Some will be very simple and easy for you to use, others you might have to work up to. But, the tools are out there. The beauty of paper (like for card games and board games) is that it's cheap, it's quick, and it's easy.
Switching to virtual design could be slow going at first (and that's ok!).
The other option, as opposed to roughing it alone, is to look up clubs or public classes in your area, or even summer camps (or check YouTube's exhaustive how-to's!). See if you can link up with other people in your town or city that share your excitement over game design.
Good Luck and a Kick in the Butt
---
It is excellent that you want to give the game design a go. Remember to enjoy it. Ok, that's kind of cheesy.
But at this younger stage in your life, you have an excellent opportunity to create games in a pressure-free, not-too-serious environment.
No deadlines, no picky professors, just you!
Allow us to make a few more recommendations here before we sign off and leave you to it: Show your friends and show your family! Whatever game you create (even if it's bad) you should share with some people.
Getting used to receiving feedback and criticism now will only benefit you further down the line. And don't forget: every once in awhile other people have good ideas too.
Working in Gaming: