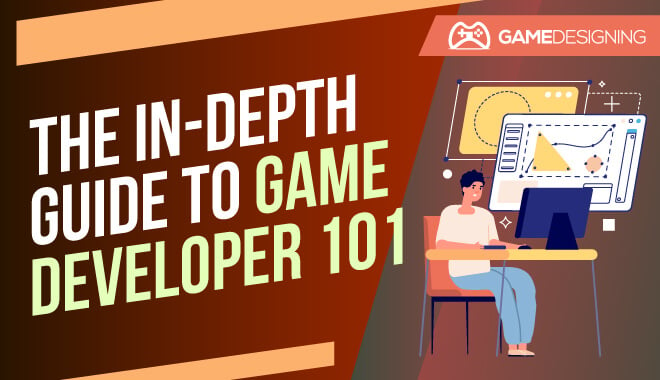 The Game Developer–an elusive, tempting career. Whether you've been coding since you were born, or been gaming since your thumbs were long enough, it's time to do some exploring.
This job profile guide is going to take a look into the lives of game developers. We'll peel back the curtain and see what actually goes into making entertainment for the masses.
What is a Video Game Developer?
---
Do you even develop games, bro?
Game developers are people like you with math, computer, or creative art skills. They spend their time programming and developing games. This includes programming console, computer, and mobile video games.
They are persistent, they are a little bit lucky, and they manage to get hired to do develop video games.
They are also programmers that fly solo. There are more free, accessible programming tools at developers' fingertips than ever.
What Does a Game Developer Do?
---
As the name suggests, game developers "make" games.
But there's more to it than that. They design, program, and test games, too.
You can follow different paths as a game developer.
One of the paths is indie game development. This entails working alone or in a small team to build a game and sell it yourself. In this role, your game developer duties will stretch far and wide. You will be responsible for many more elements of the game.
The other path is that of getting a job with a game development studio. Game development companies range in size from small to large. Not every developer will work on the same project at the same time– you can expect to work in different-sized teams.
With a larger gaming company, game developers have the opportunity to go in a more specialized direction. Each member of the team will focus on a different area of the game.
You could also go freelance, designing games or apps for companies that don't have the in-house skills to do it themselves.
Video game developers have the option to go abroad with their skills or go deep. If you want to develop games for a specific system (i,e. exclusively Xbox One or Android), you could do that. You could also specialize in a specific type of game (i.e. be the queen of real-time strategy games or action-adventure games).
While specialization is possible, it tends to make more sense when you work as part of a larger team. If your employer needs you to work on the PS4 port and you have the know-how, you might not be in a position to say no.
Specialization is also possible if you go freelance. It's usually recommended because when you do a specific thing very well, it's easier to find clients to grow your business. If my company wants to build a quick game for iOS that involves animals, who would we end up picking?
The "video game programmer" with five years' worth of experience, or
The "iOS app developer who specializes in animal-based games"
We don't even care about the fact that no experience is listed–we just see a freelancer who could hire our company's exact need.
Depending on where your career takes you, you might receive teaching opportunities or speaking opportunities. There are gaming conventions and game design conferences hosted all over the world, running at all different times. If you come up with a neat game idea, demoing the idea at these cons can be a great use of time.
Regardless of which branch of game development you want to pursue, one thing is for sure: You won't get there by doing nothing.

Advice from the Industry
---
No matter which game developer you ask, they'll all tell you that you need to work hard to get into the industry.
You can't just coast through a new "game development" degree program at a university and expect to graduate with a new job.
The successful game developers are those who develop all the time.
If they work a 9 to 5 office job, they are programming as soon as they get home, and won't stop until it was time to go to bed.
There are a lot of aspiring game developers, and not as many game developer jobs. You'll have to go above and beyond to get your dream game development job.
You have to make sure that game development is what you want to do. If you aren't spending your free time on it already, you should start now to see if you enjoy it.
Game developers aren't put on pedestals. You won't be worshipped. You won't be hailed as king or queen of the world. There's very little glory. It is a whole lot of work. Be ready for long hours, especially during crunch time.
It's not a "fun" job. It's a tedious, challenging, frustrating job. It requires maximum effort if you want to do it well. So take some time to really think about this. Make sure game development is your passion.
And if you want to get in the industry, you have to be ready to work really darn hard. Always have a finger on the industry by keeping up with video game news.
Running a blog is a good way to showcase your own critical eye. And like we've said, develop and program whenever you have the chance.
If you don't have this drive, this work ethic, you won't be able to beat out your competition. There are way more aspiring game developers than there are developer jobs. And if you aren't working the hardest…who is?
(hint: your competition)
What Can You Do to Get Started?
---
Start right now. And start small.
It's easy to get caught up in lofty game goals. You want to build League of Legends. You want to build Overwatch. You want to build the next Uncharted.
But you can't start there! The pros say you need to start with a small project. Pick a very basic concept and set a short timeline–less than a month–and build a game.
By forcing yourself to complete projects in a small window you do a few things.
One, you develop your skills. Two, you stay motivated. Small wins, like a finished game (even if it's a pong remake) are powerful motivation tools. They keep you happy, excited, and feeling like you can actually do it! Those are important feelings.
Third, you have products to show potential employers. Your portfolio is your best friend. It's better than a degree–you need to show potential employers that you can develop! That you have the chops to do what they need at a professional level. Your portfolio will help you stand out more than a degree.
Going to cons can show you what's happening in the game development world in the big and small circles. You can network, meet developers who have already gotten where you want to be, or those who are only a little further along than you are.
Who you know is important in every industry–you never know when a connection will turn into an opportunity.
How Do You Get a Job?
---
There are different approaches based on which path you're following.
Freelance
If you're a freelancer, getting jobs will require a few things.
A strong portfolio
A solid pitch
Cold emailing skills
The cold emailing skills and the solid pitch are a bit outside the scope of this job profile. There are many free resources on the web that can help you with this.
Figure out your niche, build your blog and your LinkedIn profile around that niche. Then research companies that could benefit from app or game development, and send them an email pitching the premise.
That is a super simplified version of what you need to do, but it should be enough to get the gears turning. It's a lot of work, so break it down to baby steps.
Studio
To get a job at a studio, you still need a strong portfolio.
As we mentioned earlier, portfolios are going to set you apart from your peers. Anybody can incur massive student loan debt and walk out of a university after a few years with a diploma. Not everyone can put a game together quite like you can. No one has your unique experiences. No one has your specific skillset. And you need to capitalize on that. Build games early, and build games often.
Some people recommend you start as a video game tester. This doesn't seem to be necessary anymore, though it might not hurt. From there you might be able to work your way up to becoming a programmer, then senior programmer, and then project manager. Game testing can be grueling, and there's no guarantee that the company will promote you (or even keep you on after the testing is over).
To get an industry job, you should pick your specialty. Figure out what you like most about game development…
Is it about the art? The programming? The gameplay? Pick what you love, and build the necessary skills (we'll talk more about these in a bit).
Then, don't just sit around and wait for an opportunity to fall into your lap. You need to make your own opportunities. What does that entail?
Go where the jobs are. If you went to school in Ohio, you'll have slim pickings as far as video game studios go. Places like New York, California, and Washington will have way more opportunities for you. It also means the market will be more saturated–you'll have stiffer competition.
This is where a little luck comes into play. You need to be in the right place at the right time. If you're persistent, you're far more likely to succeed.
Go to conventions. Meet professionals. Go to workshops and conferences. Participate, network, find peers. Then submit your portfolios to studios looking for game developers.
As with all industries–be ready for rejection. Look to land your first job. Just try to land any game development job, even if it's part of a five-person studio that won't be around in two years. That first job will be your launching pad, and you'll have proven to yourself (and others) that you can do it.
Skills and Education
---
As far as languages and programming tools go, C# and Unity are the "industry standards" right now. If you're looking to make a game, use Unity 3D. If you're looking to learn a language, learn C#.
C# is close to Java, so you're almost killing two birds with one stone. Studios will be happy to see you're familiar with the tools they're using. You can get started faster, and they can spend less time and money getting you up to speed. Not all studios use C# and Unity, so make sure you do your research!
Game Design degrees are on the rise. We've put together a number of guides-by-state showing the top schools for game design and game development.
Many current professionals received a degree in computer sciences–partially because it's an excellent choice for game development, and partially because game development degrees weren't widely available until much more recently.
You want to balance the creative side with the technical side. Take your creative art classes, experiment with music. And make sure you do your maths homework!
For indie game developers, a broader range of skills is invaluable.
Don't let school be an excuse for not working on your game developing skills outside of projects. Graduating with a generic school portfolio won't separate you from your peers.
But if you're building games outside of class on a regular basis, you'll be further along on your skill tree AND have a meatier portfolio. Those are the things that will make a difference in the hiring manager's eye.
The Game Developer Salary
---
Game Development is similar to a lot of other industries in that pay is based on experience and talent.
According to Glassdoor.com, the median salary for game developers is about $68,000 for the United States. The minimum is around $37,000. And the maximum is around $119,000. You can use Glassdoor to look on a state basis–this is helpful if you're planning on finding a game developer job in a specific location.
The values will change based on location. In Philadelphia, for example, the median is closer to $74,000, and the minimum is $50,000. The money isn't bad–but that's not why you should take on this career. You'll be working long hours, and those hours will only get longer during crunch time.
Being able to have a vision and make it a reality makes game development a rewarding career–if you're passionate about it. You have to love the process. Game development isn't as sexy as the finished games end up being.
Some potential challenges with Game Development
---
If you're planning to work at a studio, be prepared for a multi-disciplinary environment. You'll have different people, with different specialties, working on different areas of the same game.
That can mean different interests, different backgrounds, and different personalities. The storyboard artist is going to be very different from the project manager, who will be different from the programmer, who will be different from the game tester.
But you're all on the same team, so you have to be able to work together, even when the pressure is on and deadlines loom.
From an indie standpoint, you need to stay motivated. You'll be your own boss. You'll need to work hard without someone holding you accountable. It's not an easy thing to do. And for indie dev, it won't be the money that's motivating you. It has to be the process and vision.
Anyway…
Hopefully, we didn't make this sound too scary! It's important to understand the reality of game development, and we figured that a guide without a sugar coating would be most beneficial. We still wish you the best of luck on your journey. You can do this!