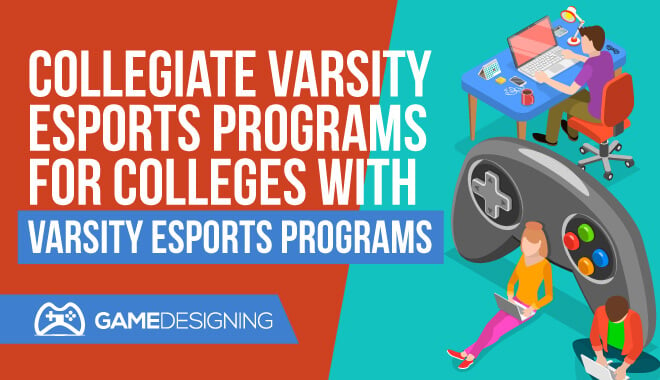 $493 million. That's the perceived value of the global esports market in 2017. Some expect that number to triple over the next couple of years, reaching $1.5 billion by 2020.
But, with the help of advertisers and investors, that number is rising much faster.
In 2017, investors contributed $750 million, making up 50% of the worldwide market size.
Advertisers and sponsors contributed over $250 million. Those numbers put the end-of-2017 market valuation of esports at 1.5 billion dollars. End-of-year projections expect esports to be a $2.3 billion market in 2022.
That's some serious growth…
And now, US colleges are jumping on board the global esports train:
Only seven colleges and universities had varsity esports programs in July of 2016. By 2018 there were 63 institutions.
The largest US organization is the National Association of Collegiate Esports (NACE), which formed in 2016. NACE is "a nonprofit membership association organized by and on behalf of our member institutions" (US colleges).
The NACE program describes a varsity esports program as "the principal teams representing a college or university. Primarily these teams compete against similar teams at peer educational institutions."
Esports, of course, are video games played competitively. This can be anything from 5 v 5 teamwork-testers like League of Legends, to 1 v 1 strategy-dominant Hearthstone, to anything-can-happen PUBG, and beyond.
Why Are College Varsity Esports a Big Deal?
The NACE website quotes an article in the June 22, 2015 issue of ESPN The Magazine, which said that 27 million people watched the 2014 championship tournament for League of Legends.
DOTA 2 pulled 20 million viewers in 2014.
Those are impressive numbers without context.
They're even more impressive when you consider the viewership for other major sporting events that year: 5 million watched the National Hockey League's Stanley Cup Finals. The World Series had 13.8 million. The NBA Finals had 15.5 million.
Clearly, professional esports is already a big deal.
Stream Hatchet's Latest Report: State of Collegiate Esports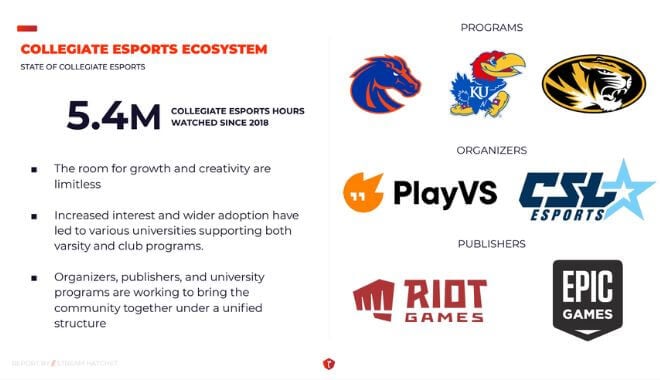 The growing popularity of college varsity esports is not just great for the future of professional esports and gaming in general (and make no mistake, it's growing: the NCAA is already considering their role in the sport).
College varsity esports is another avenue in which colleges can attract students, celebrate the diversity of interests on campus, and invest money to benefit more of their student body.
With esports, a little investing goes a long way.
Esports training facilities are more affordable than regular sports training facilities. And, with the right sponsors, some programs don't have to worry about supplying the gaming chairs, or high-end computers, or other gear.
And an esports training facility doesn't need a new, state-of-the-art million-dollar building. Many schools recommission old rooms that aren't seeing much use. They gut it, spruce it up, and fill it with gaming gear.
Boom, there's your varsity esports training facility.
When you think about the kind of money that's dumped into sports (even state taxpayer money, for things like stadiums), it's impressive to think that they're getting outwatched by esports. Part of this could be the ease of viewing, since big tournaments, like the League of Legends Worlds, are free to watch and based online.
All you need is internet access. That's significantly easier than, say, finding free MLB World Series coverage online (hint: barring free trials to service providers, a free option does not exist).
It's accessible, it's already popular, and now advertisers and sponsors are dumping hundreds of millions of dollars into it. If colleges continue to get on board with varsity programs (they show no signs of slowing down), this will be a "thing" in no time.
Future Implications?
While many in positions of power are slow to accept the place esports have in this world, everything is moving in the right direction.
The reason for the slow-to-adopt mindset probably rests in the stigma of playing video games: A lazy human's pastime. A waste of time. Nerdy. Child's entertainment. Just kids playing games.
The people in positions of power don't all understand what esports really are. They don't see the value in it, or they don't care to see the value in it, likely because of some preconceived notions or some bad intel.
If you think about it, every college sport can be distilled to "kids playing games," as Phil Alexander, a Miami University professor who teaches game design and co-directs the varsity esports team at Miami, said in an interview with Rolling Stone.
In his interview, Alexander says he'd "be shocked if we don't see major collegiate varsity leagues by 2020."
More colleges are joining every month, even with the $2500 registration fee instituted by NACE.
There's another element that Alexander mentions which is really fascinating, which Brian Crecente captures well in his article: "[Alexander] sees the connection between pro players and college reversed from traditional sports. In esports…most pro-gamers' careers end at 27 or 28 and then they want to go back to school."
This, as Alexander goes on to point out, would mean collegiate varsity esports could be a viable end-of-career option for professional esports competitors. They could get post-career scholarships, still have a place in esports, and get the education they bypassed to go pro in games in the first place.
It seems like a real win-win.
The growth of esports has everyone excited: even cities are getting involved.
Arlington, Texas, for example, is building a $10 million stadium.
They're talking about a 100,000-square-foot space that "will be the largest and most flexible esports stadium in the country."
And this esports center isn't even a new construction: they're "transforming previously underutilized space of the Arling Convention Center," which "showcases the adaptive re-use potential of esports. This innovative transformation of space is also comparatively inexpensive and more efficient than new construction. "
If you're wondering about the dynamics of varsity esports, or you're interested in becoming a varsity player yourself, this next section is for you (Keep in mind that the list of colleges with varsity esports programs grows almost daily).
20 Colleges with Varsity Esports Programs
Miami University (of Ohio)

Miami University of Ohio is a school in Division I athletics. They were the first top-tier US university to launch a varsity eSports program, and it's worked out well for them: Their varsity Overwatch team took first place in the NACE Overwatch Tournament for the 2017 season.
The varsity esports program formed after their popular student-run eSports club started asking the university for an official varsity program (if you're in a successful esports club at your college, but don't have a varsity team in place, it never hurts to start asking for one!).
Boise State University (Idaho)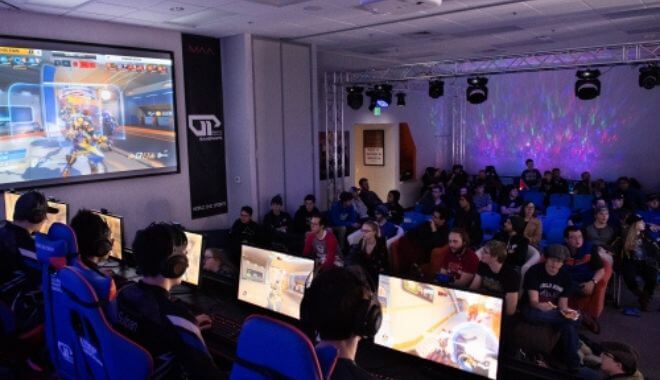 Boise State University is another Division I school (and, while the athletic division of a school doesn't matter for esports – yet – it doesn't hurt to have the support of D1 programs behind the movement).
Boise State University is part of NACE, through which they compete against other colleges in organized tournaments. The varsity program is open to both part and full-time students, undergraduates, and graduates alike.
BSU also participates in tournaments from other organizations like Collegiate Star League, TESPA, uLOL and more.
A list of their current games lineup includes Overwatch, Hearthstone, Rocket League, League of Legends, and Heroes of the Storm.
Georgia Southern University (Georgia)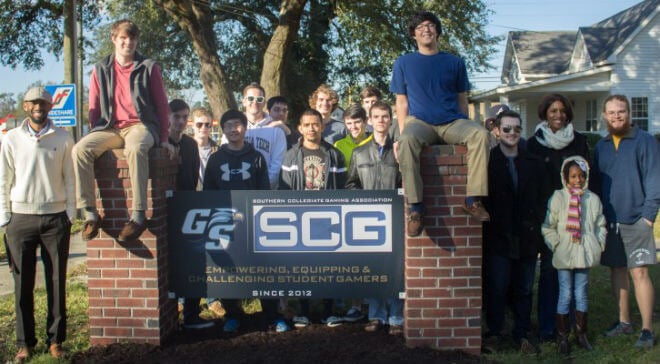 The Georgia Southern University (Division I) Eagles took second place in the NACE Overwatch championship, losing a nailbiter to Miami University in the 2017 season.
Their official Southern Collegiate Gaming website describes what they do in the varsity esports program as:
"Empowering: We empower gamers mentally physically and spiritually in order to prepare them for the real world.'
"Equipping: We equip our gamers with high-performance resources and tools to ensure their success and victory."
"Challenging: We challenge our gamers to always be better than the day before by creating a strong competitive atmosphere built around teamwork."
They have teams for a number of games: Overwatch, Rocket League, Super Smash Bros., PUBG, League of Legends, Call of Duty, and CS: GO. They also have a number of 1st and 2nd place finishes in various collegiate tournaments.
Georgia State University (Georgia)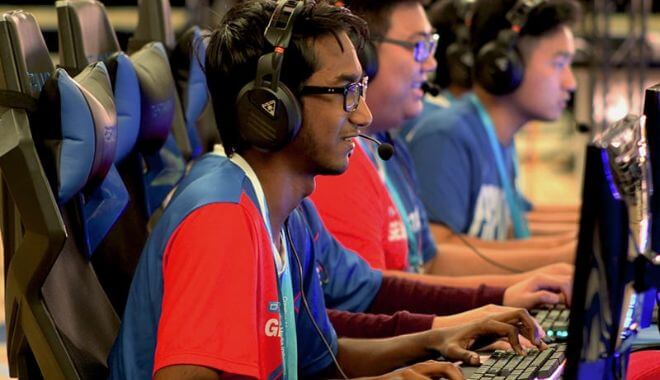 Georgia State University (Division I) joined the world of varsity esports in the 17-18 academic year. They're part of both NACE and the GEL (which stands for Georgia Esports League).
Georgia State University holds members of the varsity team "to a high academic standard and [they] must maintain eligibility at levels required for a HOPE scholarship."
Their first season games included:
Brawlhalla (in the Georgia Esports League)
League of Legends (in the NACE League)
Smite (in the NACE League)
The university uses Twitch to live stream their tournament and competition participation. Georgia State University "esports efforts include student participation in broadcasting, production, and marketing of esports and tournaments, coaching, student management, and game development."
University of California-Irvine (California)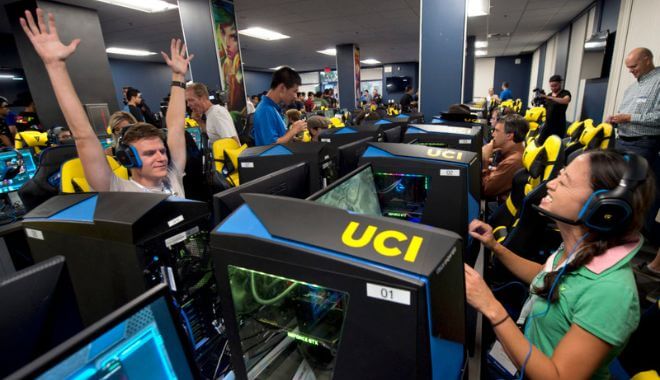 UCI (Division I) was "the first public university to create an official esports program and is regarded as one of the best and most comprehensive in the world."
The program officially started in 2016. That same year, they opened the UCI eSports Arena and started offering scholarships to their League of Legends players.
UCI promotes four "pillars" in their esports program:
Competition: They "recruit the best gamers in the world to compete for [their] teams in the top collegiate leagues in North America. [They] offer scholarships to players for both League of Legends and Overwatch."
Academics & Research: They're big on games-related research. As an example, they point to a study that showed how memory could be improved by playing Minecraft (and other 3D immersive games).
Community: UCI has a bunch of gaming clubs, and the club teams get access to jerseys, the arena, and even some travel expenses.
Entertainment: UCI puts some focus on streaming and hosting, with their shoutcasting/streaming station in the arena. They also host local tournaments for both recreational and competitive players.
University of Akron (Ohio)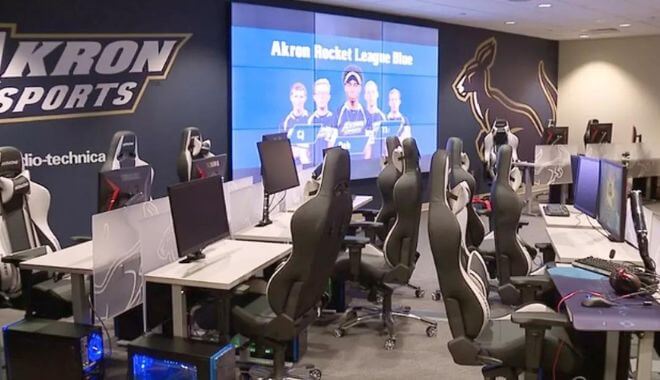 The University of Akron (another division I school) is launching its varsity esports program in the fall of 2018.
They want to assemble teams to compete in games like Overwatch, CS:GO, League of Legends, Rocket League, and Hearthstone.
They're offering scholarships for varsity gamers while encouraging gamers at all skill levels to tryout.
The program is "also looking for students in engineering, computer science, communications, health and wellness, and other fields to help build our eSports arenas, broadcast games, design materials, and assist with training and nutrition. All are welcome!"
We're wondering about the optimal diet for varsity esports players–what maximizes concentration and boosts dexterity through the roof?
University of Utah (Utah)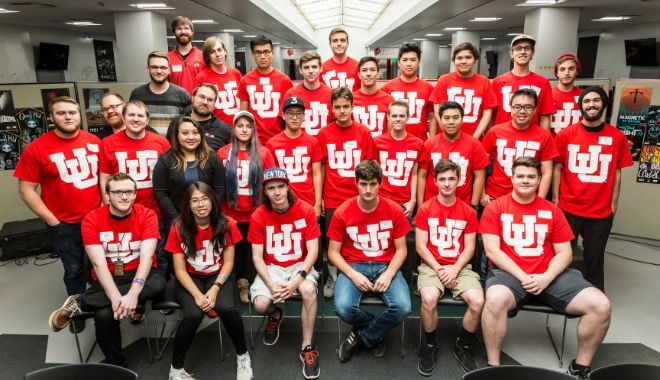 When the University of Utah (Division I) was asked: "why esports at a university?" The U responded with "the answer is actually quite simple, the University of Utah does not back away or back down from interesting things that are happening in the world that have a real impact on people."
The University of Utah was the first power five school to have a varsity esports team.
They offer partial scholarships to varsity players. Students who want to be varsity gamers at the U "must be enrolled as full-time students…maintain a nominal GPA…progress 20% of degree with each season…" and they're only "eligible for 4 seasons of play within 5 years from first full-time enrollment."
Western Kentucky University (Kentucky)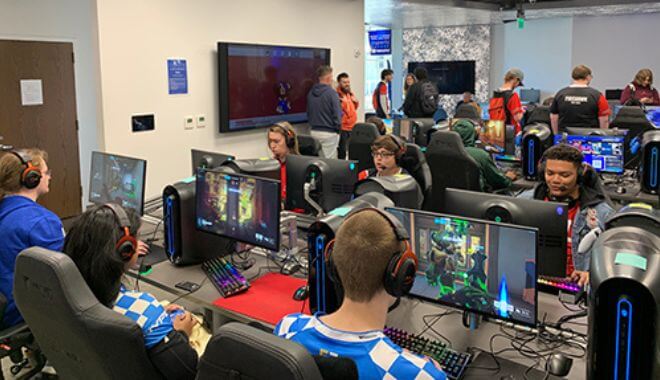 WKU (Division I) was the second public university to start a varsity team back in the fall of 2016.
Now, though, their future is looking uncertain. Because of Kentucky's budget cuts for higher education, and a recently imposed NACE membership fee of $2500, the WKU varsity esports team is struggling to stay in the game.
They only have two teams and participate in two games: League of Legends and Overwatch. The WKU team participated in the NACE Overwatch tournament for 2017.
College of St. Joseph – Vermont (Closed in 2019)
The College of St. Joseph was the first New England school to offer a varsity esports program.
The program just opened a "brand-new state-of-the-art eSports arena." The room features a big ol' viewing screen to the benefit of spectators, as well as for strategy review for varsity teams.
CSJ is currently recruiting students for teams to compete in Fortnite, Rocket League, League of Legends, and Hearthstone. The teams compete in local online tournaments, and also open their practices to spectators.
Bellevue University (Nebraska)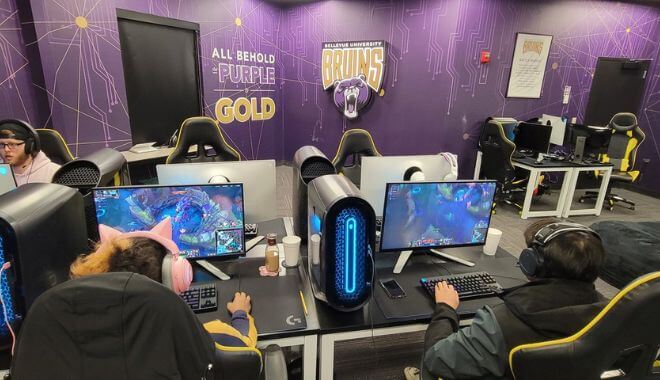 The Bellevue University Bruins esports program started in the fall of 2017.
They spared no expense on equipping their team with top tier equipment: "Alienware desktops with the best processors, the best graphics cards, extremely good gaming monitors; everything we really need to see our program succeed."
Bellevue University offers scholarships to varsity players, which, according to their promotional video, has already made a difference in one student's ability to afford an education there.
Right now, the Bruins focus on League of Legends. They have a designated training space, the "Bruin Bunker," where players can hone their LoL skills.
Embry Riddle Aeronautical University (AZ)

The Embry Riddle Aeronautical University Gold Wings esports team participates in the Collegiate Star League.
The program focuses on League of Legends. One of the Gold Wings' cherished assets is their coach, Derek 'Lohpally' Abrams, who "analyzes game footage, observes practice sessions, and focuses in on what each player–and the team as a whole–can do better."
Abrams "has played and coached E-Sports at a professional level prior to coming to Embry-Riddle."
The Gold Wings have three teams in total, their primary team which competes at the division one level, and two teams that recruit new players and compete at lower levels.
DigiPen Institute of Technology (Washington)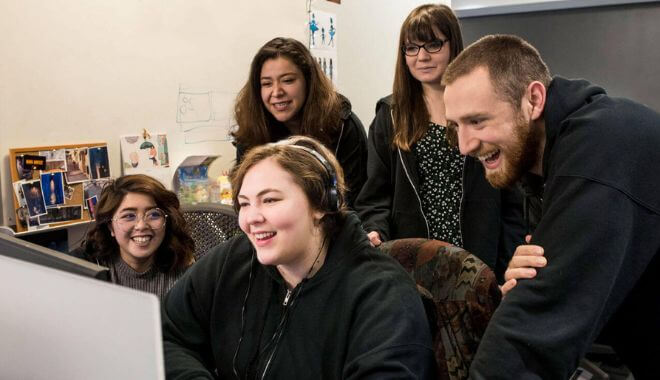 Though the information is elusive, multiple sources point to DigiPen being registered with NACE and having an esports team.
DigiPen Institute of Technology is very welcoming of gamers, offering not just a great game dev program, but also encouraging students at the institute to play student-made games, and facilitating clubs that encourage the playing of games in general.
It's worth keeping an eye on DigiPen to see how their varsity esports plans develop and unfold.
Harrisburg University (Pennsylvania)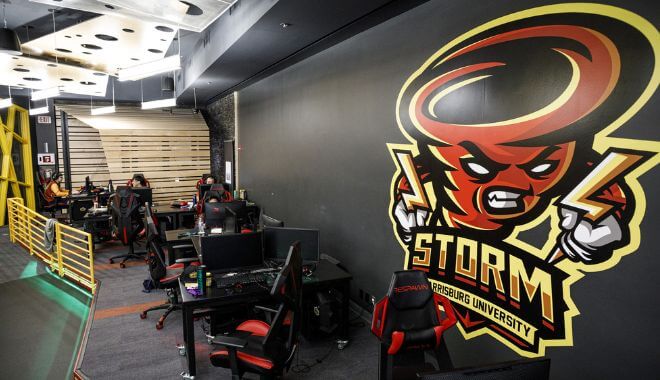 Harrisburg University only has one varsity sport: esports.
They're registered with NACE and are kicking off their inaugural season in the fall of 2018. The director of their program is Chad Smeltz, who has extensive esports coaching experience. Their head coach is Jeff Wang, who is world-ranked as a gamer.
Harrisburg University is offering full athletic scholarships to 15 students who earn a spot on the team.
The preliminary game roster includes Overwatch, Hearthstone, and League of Legends.
King University (Tennessee)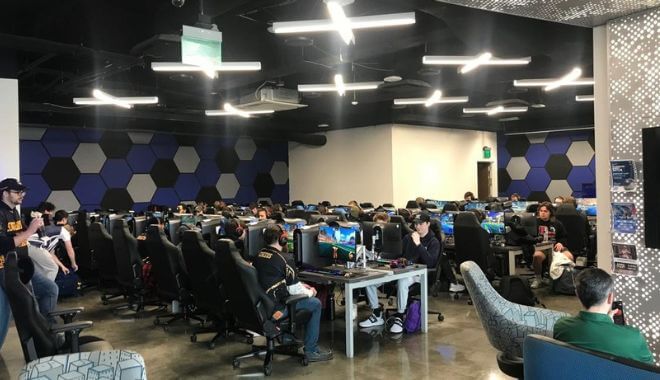 King University announced its varsity esports team and NACE membership in 2018.
King University has a proud history of picking up the slack on underserved sports: cycling, tumbling, women's wrestling, and, now, esports.
The program is planning to compete in two games in their first season: League of Legends and Overwatch. They're recruiting now and plan to compete in the 2018-19 season/academic year.
The university also plans to offer scholarships to varsity esports players.
Texas Wesleyan University (Texas)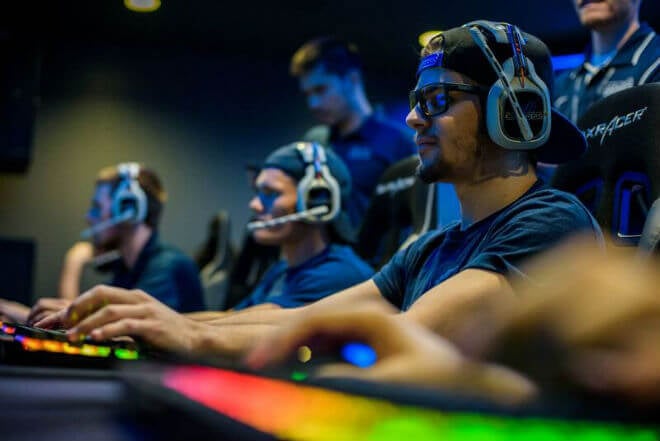 Texas Wesleyan University (a Division II athletics school, for those keeping the score at home), launched several varsity esports teams.
They're planning to compete at a varsity level in Overwatch, League of Legends, and Hearthstone.
TXWES is offering $2,000 esports scholarships that are performance-based and game history-based. They'll have up to 12 available for varsity players.
They've joined three big esports leagues: NACE (first college in Texas to do so), University League of Legends, and TESPA.
St. Ambrose University (Iowa)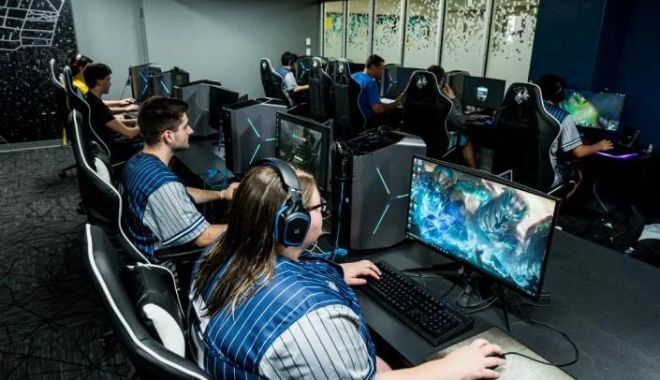 The St. Ambrose University Fighting Bees are kicking off their foray in varsity esports in the fall of 2018.
Players will have the opportunity to earn talent-based scholarships for their gaming skills in Overwatch or League of Legends, the two games SAU is focusing on for now. They plan to join NACE once their program is up and running.
SAU is another school that champions underrepresented sports: men's and women's bowling, and men's and women's swimming and diving, for example.
The program is still looking for a head coach.
University of South Carolina Sumter (SC)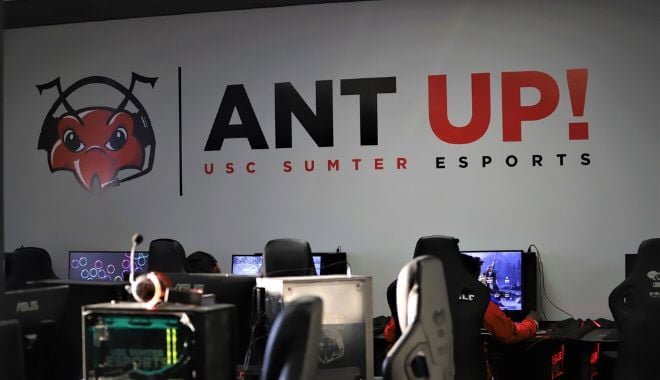 Even though the University of South Carolina Sumter's official esports page doesn't have much to go on, the USC Sumter esports team is alive and well.
The program entered its 3rd year in 2017 when it participated in the NACE Overwatch tournament. That makes USC Sumter one of the first schools to establish a varsity esports team. They offer scholarships to players, have a dedicated facility for practicing and for playing.
In 2017 there were 30 students in the program, with the number increasing each year. The program competes in Overwatch, Hearthstone, and League of Legends, but is looking to add more games to that list over the next couple years.
Kansas Wesleyan University (Kansas)
The Kansas Wesleyan University Coyotes have been on the varsity esports scene since 2015. They compete in the Collegiate Star League via League of Legends.
The program also participates in Hearthstone, Rocket League, and Overwatch, and competed in the NACE Overwatch tournament in 2017. Smash Bros will be joining that list before long (if it hasn't already).
University of Jamestown (North Dakota)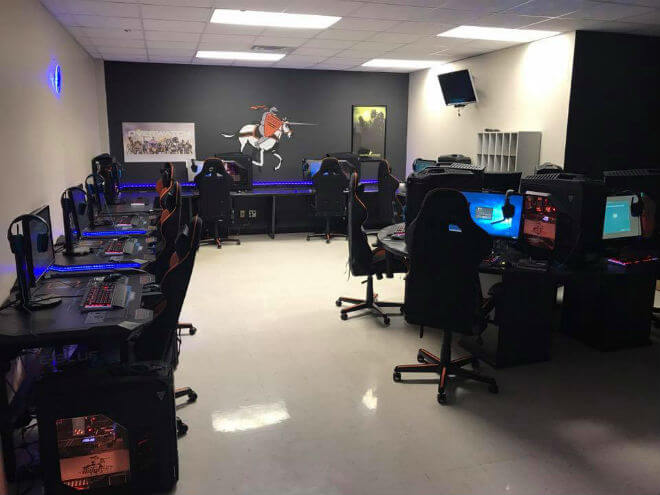 The University of Jamestown kicked off its varsity esports program in the fall of 2017. All competitions are broadcast through the UJ twitch channel.
The school is looking to fill an ambitious 25 person roster and offering up to $2000 in scholarships per varsity player. They've been actively recruiting from high school leagues around the country.
They participated in the NACE Overwatch tournament in the 2017 season.
Morningside College (Iowa)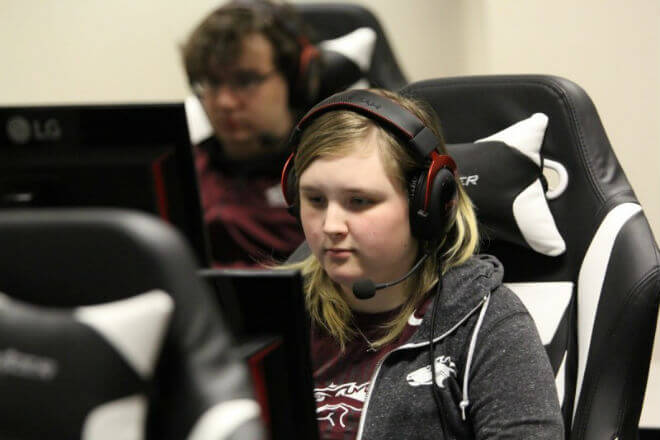 The Morningside College varsity esports program kicked off with two games, Overwatch and League of Legends. They continue to entice players with up to $5,000 per year in scholarships based on talent.
The Mustangs made it to the quarterfinals in the NACE Overwatch tournament in 2017. They finished 3-3 in their first season of League of Legends, and 4-3 in Overwatch.
The program is looking to add more games to the list, including Rocket League, CS/:GO, and Heroes of the Storm.
Sources
https://nebraskapublicmedia.org/en/news/news-articles/a-strategic-investment-nebraska-schools-going-all-in-on-esports/
https://www.harrisburgu.edu/news/hu-places-on-top-10-of-colleges-with-superior-esports-programs/
https://www.theitem.com/stories/with-numerous-upgrades-in-place-usc-sumter-esports-team-returns-to-normalcy,381741