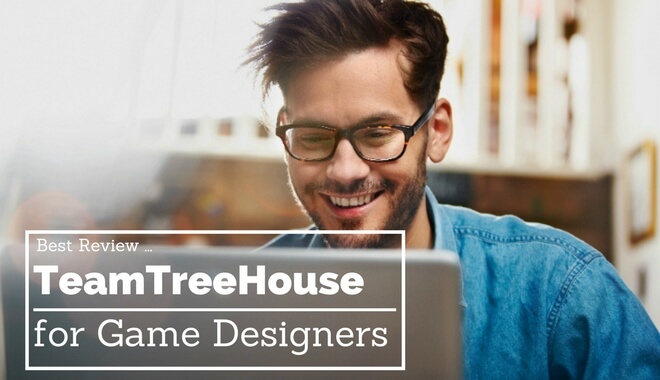 Learning, learning, everywhere. Every once in a while we take a minute to marvel at the internet and the opportunities it brings to anyone looking to develop new skills.
People used to need books for that kind of thing! (Just kidding, books are great)
Now, online learning platforms are popping up left and right. If you're looking to make a hobby out of game design, or try it for a high school project, or pursue it professionally—you can learn everything you need just by firing up the ol' MacBook.
Today, we're looking at TeamTreeHouse—specifically their game design and development courses.
TeamTreeHouse is an online platform that "brings affordable technology education to people everywhere in order to help them achieve their dreams and change the world."
An admirable mission!
But do the folks at TeamTreeHouse deliver?
Let's take a look inside this colorful platform and see how their Game Design/Development courses stack up against the greater web.
How Much Does TeamTreeHouse Cost?
---
TeamTreeHouse offers three plans. Ideally, your learning needs will fit somewhere in there. And, with the Basic Plan and the Pro Plan, if you haven't already signed up for it, you get a free 7-day trial! You can get a whole first exploratory week, on the house. Not bad.
The Basic Plan
---
The Basic Plan costs an easy $25 per month. That ends up being $300 a year (for those of you keeping score at home).
With this plan, you get:
Over 1000 Video Courses
On-demand Learning
Interactive Tools
A Supportive Student Community
This seems pretty standard for online learning platforms. The price isn't too steep, and the fact that it's monthly means, you can subscribe and unsubscribe as you see fit.
You can spend a month entrenched in a course, for hours on end, making huge advancements in the skill—only to find you don't want to go through any more courses. And it'd only cost you $25 for the month. Hard to beat pricing like that.
Let's see what else they got.
The Pro Plan
---
The Pro Plan doubles down, at least on what you owe, with a monthly price of $49.
You still get access to the 1000+ courses, but you get a handful of other benefits too:
Access to the Code Challenge Engine (which lets you practice live)
Access to Members-Only Forums
Offline Learning Access (you can download the video lessons)
Access to Industry Leader Talks
And the Vaguely Mentioned "Exclusive Bonus Content"
So for an extra 24 bucks, you can learn offline, get help from other "pro" subscribers, and peep some exclusive talks with industry leaders. And you get the Code Challenge Engine, which sounds like it could be pretty helpful.
This could be worth it. If you're learning a lot on the go, because you travel or because that's just the nature of your life, then the offline learning might be a big help. Exclusive talks…well, it's likely that the people speaking for TeamTreeHouse have spoken elsewhere—a quick YouTube search would likely turn something up.
Decisions, decisions…
Alright, moving on.
Treehouse for Teams
---
Ok, Treehouse for Teams is probably not the plan for you, considering you're likely an individual. But who knows, we'll cover it anyway.
There's no price because the price will depend on the size of your company and the scope of what you're hoping to accomplish.
Here's what you get, as per the site:
Dedicated Success Team
Customized Learning Tracks Tailored to Your Team
Reports on Individual Success
Full Access to Library and "Bonus Content"
Offline Learning (through video downloads)
Now you know, for when you start that indie dev company.
Learning Game Dev at Treehouse
---
To quote Nick Pettit, a highly-spoken teacher at Treehouse, "there really has never been a better time to start learning game development than right now. Whether you want to start an indie studio, join one of the AAA game publishers, or just give it a try, Treehouse exists to help you achieve your dreams."
This was part of Petti's announcement of one of Treehouse's newest subjects: Game Development.
Game Development
---
The Game Development program teaches students "how to code from scratch in C# using Unity."
The instructor is Nick Pettit. He has 15 years of experience as a programmer. His "most recent game for Windows, Mac, and PlayStation 4 was Greenlit on Steam in just 5 days and raised over $10,000 on Kickstarter." Which isn't too shabby when you consider how many games are vying for attention these days.
The newest course in Game Development is "how to make a video game."
The course is for beginners and will walk you through every line of code. You don't need any prior programming experience.
You'll learn:
Game Design Fundamentals
Beginner Game Programming
C# Syntax
The Unity Interface
This course is over 385 minutes long, which ends up being about 6.5 hours of material. This doesn't factor in the time that you'll spend doing the lessons or the "extra credit."
The content is broken down into sections like:
Introduction to Video Games (always a good place to start)
Unity Editor and Scene Setup
Player Input
Pickups
Score, Enemies, and Game State
And the list goes on, including subjects like game audio, and "building" and sharing a Unity Game.
The objective of the course is to "create a video game for Windows and Mac OS X where the player must hop a frog character around a swamp to collect flies. Meanwhile, a predatory bird chases the player around. You'll learn about the Unity game engine and the C# programming language, which will allow us to write the code to make the game run."
Other Courses from TeamTreeHouse
---
If you're not interested in making a frog hop game, you can check out a few of the other courses that the platform has available.
3D Art with Maya LT is a short 163-minute course that focuses on the "3D art production pipeline" like you "model, texture, and export a game model into the Unity game engine."
You'll work with Maya, as the course title suggests, and you'll learn to apply color, use modeling tools, and make use of texture maps. This is a course for beginners.
Unity Basics is another short course, clocking in at 157 minutes. It's a beginner's course, providing "a broad overview of the Unity editor interface" and will help you "learn how to use tools like the Console, which can help you debug game code when things go wrong."
You'll cover the important concepts for getting to know Unity, including:
Assets and Game Objects
Debugging Games
Lights, Audio, and Animation
And more
If Mobile Game Design is your thing, you can try the 132-minute design course. This course will teach you how to make a mobile game. You'll create:
Sketch concepts
Prototypes
Character Sketches Using Adobe Ps
Vector Graphics in Adobe Illustrator
Music and Sound Effects
Each course has a trailer you can watch if you're not sure of what to expect.
Any Extra Considerations for TeamTreeHouse?
---
As if the price and the content weren't already worth giving TTH a shot, they had to go and throw in some perks.
As a member of TeamTreeHouse, you actually get discounts for certain other services. Pretty neat. Here are some of the services you can take advantage of:
FreshBooks (90-day free trial)
InVision (free 90-day starter plan)
BundleStorm ($100 off)
Nomad PHP (first meeting is free)
Death to the Stock Photo (free photo pack)
Stamplay (2 free months)
And the list goes on and on.
For the price, the teacher experience, the course content, and the perks, it's hard to find a better online platform to kick off your learning career. And with a free seven-day trial, you have no excuse not to try it out for yourself!